Abandoning the Cinema?
Julius: I'm raising this topic to discuss movie going in 2014 in no small part due to the navel gazing nature of Bret Easton Ellis' recent obsession with his boyfriend's movie going habits. In the opening credits of The Canyons, Paul Schrader plays a montage of movie theaters that have died and decayed. Schrader includes movie theaters of all types from movie palaces to mall multiplexes. The message is that the cinematic experience is changing from the theater to the home. The public to the intimate. The big silver screen to the tiny handheld.
Ellis has been having a conversation saying that the youth of America doesn't sit down to watch films from start to finish anymore. And, that nobody goes to the movie theater anymore. In March, the MPAA released a report showing the number of tickets have been steadily declining since 2004 (from 1.5billion tickets to 1.34billion tickets). Even though the box office was up since 2012, most of that was due to the increases in ticket prices.
Anthony: I think it's interesting that both a Kickstarter-funded indie (The Canyons) and a big budget Hollywood tentpole (Transformers: Age of Extinction) both prominently feature broken down, decrepit movie theaters. The film industry has never been particularly subtle about the idea that the moviegoing experience is under siege, but it never felt more explicit than the direct addresses in the most recent Transformers or the Jump Street series. They almost seem like cries for help.
John: Since Hollywood films have long loved being self-referential, it comes as no surprise they would take, at times, chances to do a little bit of indulging in self-pity. As with so much of U.S. cultural and labor practices, globalization has had a profound effect in determining what kind of films stand the best chance of being blockbusters (for example, superhero films tend to be rather good at surmounting language barriers). And, as the movie-going experience becomes less intimate and more geared to sensory overload, then people will weigh the cost of a film ticket against that of, say, admission to an amusement park, in terms of getting the best bang for their buck.
Guy: My wife and I used to be avid moviegoers (she worked at a theater when we started dating). The biggest change in our lifestyle has come from having children; now we either take the kids to something appropriate for them or arrange to have a sitter. That makes an excursion to the theater much more of a special occasion and I catch up with a lot of movies at home now.
Social Aspects and Youth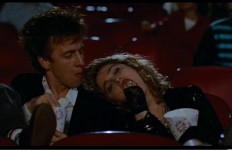 Julius: The main question is whether or not you have noticed an aversion to movie going experiences among your friends. I remember when I was a teenager, going to the movies was just one of those things we did. I grew up in Midwest suburbs, and we only had mainstream multiplexes. But, still, we would carve out a night to see stuff ranging from the good to the abhorable. Lately in my early 30s, my friends only do that on dates, or if they have free tickets. And, I generally have to carve out a full day to see a bunch of films in a row. What are your experiences of the trends?
Kevin: As someone a decade younger, I still have friends who are willing to see movies. Mostly though, I think they see the movie going experience as a means to an end, a way to center a day around for summer hangouts rather than enjoying the cinema experience itself. Sure, one friend had to see Godzilla, and Guardians generated some interest, but most times when I bring up a movie I want to see, the response is "whatever, as long as it leads to a hangout afterwards." I also have friends who outright refuse to see movies, since they feel that they'd rather spend 2 hours being active than "sitting still for two hours in the dark." So my take is that the idea of movie going as a social experience is declining, though why I can't say.
Anthony: Most of my friends only want to go to a movie if they think it's going to be worth their time. This assessment can be based on a variety of variables (director, trailers, etc.) but they're not the kind of people who are just going to go see whatever. (They're also all very busy, which adds to the pickiness) Then again they're all very invested in film, so they're not exactly part of the average moviegoing populace.
Julius: I have to say that I, only recently, understood the social aspect of going to movies. You see the movie, and you have something to talk over dinner and/or drinks afterwards. I don't understand them as a second part to a date, though. The date should be movie and a dinner. You go see a film, and then go out to dinner so you have something to talk about that can lead to other topics. When I was a teenager and we saw something like The Island of Dr. Moreau, the only thing we had to talk about was kvetching. But, nowadays, when I go with friends to see something like The Dance of Reality, we have a lot of discussion afterward. Perfect date movie if you plan for aperatifs.
The Rise of Ticket Prices and The Stagnation of Wages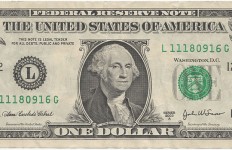 Julius: The cinema has always been a medium of Entertainment for the Masses. It's cheaper to buy a movie ticket than it does to go to most concerts, plays, symphonies and other sorts of art going. Cinema isn't as inexpensive as television, but always has been for everybody from the working classes on up. However, ticket prices have steadily risen since when I was a teenager. The MPAA reports that ticket prices have risen by 33% over the past decade, beating out inflation. At minimum wage, however, the tickets have lowered as a "per minimum wage hour" percentage from 1.2 hours per ticket to 1.12 hours per ticket. For all the kvetching about ticket prices we do, they're at least sticking with a decent ratio for the minimum wage.
The Premium Experience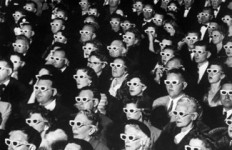 Julius: The above discussion leads into the premiums that theaters are adding in. Ticket prices are rising in part due to the 3D/IMAX/Gourmet/D-Box premium experiences where the theaters feel they can charge a premium for the experience. Nor the latest trainspotting from airlines, where some theaters charge premiums for the best seats in the theater, a practice for which I would boycott the theater. These raise the prices considerably if you're choosing to participate in these activities. I avoid these experience when I can, because I don't like 3D (I find that the screen gets too dark), and D-Box didn't really add enough to my viewing of Clash of the Titans to make it worth it.
I also found I was distracted by the Alamo Drafthouse experience where I had to write down my food and drink desires in the dark and press a button and wait for the waiter/waitress to come by and then give me my stuff. Ditto for the AMC experience which had the comfiest of chairs to fall asleep in. Does anybody here regularly participate in any of the premium experiences?
Anthony: I almost never go to 3D movies because, like you said, the projectionists never compensate the power of the projector to compensate for the f-stop drop that comes with wearing the glasses. If I've paid to see a movie, I want to be able to see the goddam movie. (Not to mention wearing 3D glasses over my regular glasses is slightly obnoxious.) As for the other amenities, there's only one theater near me that offers recliner seating that I steadfastly refuse to ever participate in, and while there are no theaters that offers dinner foods I'm a little curious to try that. Not during anything I'd take seriously, but maybe a blockbuster.
Guy: I have mixed feelings about the rise of the 3D IMAX format. For a movie that lends itself to it, it can be a great experience. I just saw Guardians of the Galaxy and the 3D with the big screen felt very immersive. Last year I saw Pacific Rim in both 3D and 2D and I didn't feel the 3D added significantly to the experience. It's hard to shake the feeling that it's driven by an industry that wants to be able to promote something not easily had at home as well as charging higher prices.
As for dine-in theater, that's a nice (if pricey) option that I have enjoyed at Wichita's Warren Theatres. It's a little distracting to have to pay before the movie is over, but it's also nice to be able to combine dinner and a movie for a special occasion (see my comments above about that).
I am in 100% agreement with Julius about paying for reserved seating and other such perks, however. It's a slippery slope from offering genuine upgrades to the experience to nickel-and-diming your customers to the point that it drives them away.
The War At Home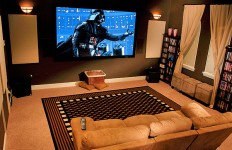 Julius:One of the things that Ellis was commenting on was the changing nature of our viewing habits. We will binge watch 10 hours of a television show, but watch a movie distractedly. At home, we have computers, smartphones, tablets, televisions, and various other screens with which we can multi-task. One of the reasons people don't go to the theater, he hypothesizes, is because we cannot multi-task there like we do at home. Hauling out your phone or tablet is a taboo that would be akin to spitting in somebody's face. Instead of giving that up, we merely wait for movies at home where we have increasingly high def televisions and home theater audio systems to match.
This debate is further exacerbated by the relatively new trend of Pay Per View (aka Video On Demand…yay rebranding!) releases AHEAD of theatrical releases, especially for lower budget films. You could rent Snowpiercer from iTunes or Comcast before most people could see it in theaters. Does anybody here actually do PPV? The numbers for PPV are generally kept private, as Scott Tobias noted in June at The Dissolve, so I'm unsure as to how many people actually do PPV.
This is even further exacerbated by the contraction of time between theater and home release for tent pole releases. Why go see a movie in a theater, when I can watch it at home in 4 months. Star Trek Into Darkness, for example, was in theaters in May, available as a digital download in August, and on physical media in early September. That's a short time for a big tent pole release.
And, then there's pirating, which I'm not going to get into. All of which are enabling people to not go to the theater and experience things at home.
Kevin: If I finally get around to renting Snowpiercer this week, that will be my first On Demand purchase ever. I don't think the modern PPV really has much power over people, and that's for one big reason, Netflix. "I'll wait for it to be on Netflix" has really become the new "I'll wait for it on [current home media]" for a lot of my peers. Back to tentpoles, I've noticed they rarely make it on streaming in a timely manner, but I have no clue if this will have a positive (more people going out to see them since they know post-theater availability is scarce) or negative (inability to keep track of the franchises means a decline in sales) affect on them.
Anthony: I've only ever rented one movie On Demand, They Came Together, and that was due to knowing it was never, ever, ever going to come anywhere near a theater near me. Neither is Snowpiercer, but I kind of want to wait until that's on a physical disc so I can watch it on a large TV.
Guy: Last year I was able to see Escape from Tomorrow On Demand (via Vudu), which was a great option for me as it never came near my local theater. Snowpiercer still hasn't come here, to my knowledge. Would I like to see these films on the big screen? Yes. But I will take advantage of VOD if it's something I really want to see.
How You Watch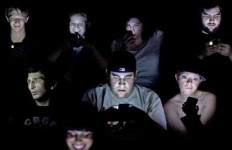 Julius: I find my attention span at home is a lot shorter than in a movie theater, unless something is truly gripping. I find I have an urge to use multiple screens to find out more information about what I'm watching, and play mindless games on my phone, and itching to do other things at times. Some of this is actually beneficial to the film, as when I'm watching a heavily symbolic film like Lisztomania, but frequently it distracts me from what I'm watching. In a theater, I have less of an urge to cross-check facts and stories or to see if I'm "reading" a film correctly. Does anybody else do this? Watch a movie as you're reading up on what a certain symbol might mean? And, does this urge hit you more at home than in a theater?
Kevin: Oh all the time. For me it's mostly my obsession with looking up actors and connecting them to other things I've seen that gets in the way, but the urge to multitask is huge. I get that urge in the theater too, but thankfully the setting makes it easier to suppress, part of why I really enjoy the theater going experience.
Anthony: I try not to look up stuff when I'm watching a movie, but sometimes my curiosity gets the better of me. Or I'll get bored, which I'm not too proud to admit. Though I usually try to pause the movie while I look stuff up, especially when it's a foreign film.
I don't know about my attention span, but I find the biggest hazard of watching a movie at home is other people. Even if I'm watching it by myself I'll have people pop into my room and ask me to do something or get something. To me it's the last great thing about going to an actual theater to watch a movie: it's perfectly acceptable to ignore everyone and it's unacceptable to take out my phone.
John: I still try to watch films at home all the way through, pausing only for a snack or bathroom break. Otherwise, I lose the "feel" of what is taking place on the screen.
Guy: If it's something I've never seen and I'm invested in it, I can avoid the urge to multitask without too much trouble. Partly, I don't really start movies unless I'm sure I'll have the time to pay attention to them; if I plan on doing something else while it's on I'll put in something I've seen before and know well, to have it on in the background.
Quality and Variety of Films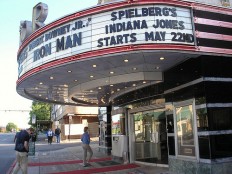 Julius: Earlier this week, Scott Tobias fell in love with this year's blockbusters at The Dissolve. Last week, Deadline reported that the domestic box office was off by 18% from last year for the time period of May through August (aka Summer season). Which confirms Ellis' thoughts that fewer people are going to the movies. Could one of the reasons be that so many people were burned by last year's tent poles? Or, that this year's ten poles just seems so much the same, and not nearly as exciting as last years crop of films?
I'm of the mind that the films I want to see are increasingly not the same tent pole films that Hollywood is offering year after year. The style of films are set to make the domestic box office negligible. We'll be seeing more and more of the generic comic book/sci fi action movies and fewer of the explicitly American film because the generic movies play better world wide. Transformers 4 made $790m foreign (for $1b worldwide box office) so far, while Iron Man 3 made $806m foreign (for $1.3b worldwide). Contrastingly, The Heat bombed outside of America, making only $70m foreign for a total of $230m worldwide box office.
I suspect this means that we'll be getting more of the same that we've been getting summer after summer. Does that encourage you to get out and see the latest tentpole? Or, does that mean you'll wait for home video for most of these releases?
Kevin: I think I'll keep the same strategy I've always had and reward quality with my dollars. Last year's films weren't that great, so I didn't spend much on films. I agree with Scott that this year is a bumper crop for blockbusters, so I've been going to theaters more this year. It's strange that this box office is down from last year though. So many more films seem to be generating interest this year, from well agreed on successes like Guardians and Dawn of the Planet of the Apes to more polarizing movies like Godzilla and Lucy. There were even more gawker-pulling trainwrecks this year in films like Trans4mers and Ninja Turtles. It certainly feels like more people are talking about the movies this year, so it's strange that's not translating into ticket sales.
Anthony: I think it's a fair assessment that Americans got burned by last year's blockbusters, because not only are all the trailers cut in a fairly similar manner, but the cinematography makes most of them look identical, so I think it's easier for moviegoers to decide that all of these movies really are the same and, thus, skippable.
Meanwhile, some of the big successes of the year were often radically different. The Fault in Our Stars didn't look like anything that came out this summer, and while Guardians of the Galaxy fits more comfortably into the current sci-fi action wave, it distinguished itself with a trailer that highlighted its vintage soundtrack and a sense of humor that distanced itself from the super serious tone of other action movies.
The Future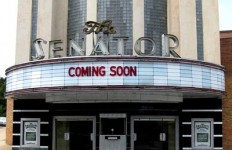 Julius: What I hope for is the domestic implosion of the tent pole mega release and coming back a more variety of studio-driven medium budget films. More risks and fewer "sure" things. I already buy tickets for movies like The Dance of Reality, Snowpiercer, Boyhood, and Lucy, movies I'd hope would point towards riskier films with more original IP. I like going to the theater to see these films and share in a communal experience. But, with the advancing schedule of the Marvel Cinematic Universe, the onslaught of DC films setting up dates, and Pixar also squatting on dates years in advance, all I can see is tent pole, tent pole, tent pole.
I'll continue supporting the original IP when I can. But, I wonder if the studios will react to the current domestic exhaustion of tent poles. Or, if they'll just raise the ticket prices to try to close the gap.
Anthony: I agree that part of the problem is what Hollywood makes, but equally important is the stuff that is made available to general audiences. I live in an area where the nearest independent theater is more than 20 miles away, parking is sparse, and it only has three screens. I'd love to see more independent film but a lot of it simply doesn't get down here or, when it does, it's there for a week and then it's gone. I saw Boyhood at that theater last week, and this weekend it got picked up by one of the multiplexes, but that's a rarity. Stuff like Venus in Furs and Life Itself passes through far too quickly, not even giving it a chance to catch on with general audiences.
Honestly, when it comes to Hollywood learning any kind of lesson I'll always bet against it.
John: I think Anthony makes great points. The films I really want to see usually require multiple hours of travel. But I find it interesting that the number of these films almost exactly corresponds with the amount of time I have available. Does that mean I have become more choosy, or that there are less films to choose from?
Guy: Related to the migration of viewing to VOD and Netflix, the big tentpoles are often the kind of movie that are most rewarding on the big screen: lots of special effects, big sounds, immersive experiences. Fairly or unfairly, many people think a talky human-interest story without giant robots in it will play just as well on their television, so they don't bother to see it in the theater. Hollywood knows this and continues to pour money into films that get butts in seats.