Action movies do not draw their unholy power from spectacle but from intensity, and I will shut up about that when directors and producers start acting on it.  William Friedkin's The French Connection endures as a masterwork of the genre, including one of the legendary car chases among its setpieces and finishing on one of the bleakest endings ever.  John Frankenheimer's French Connection II was Hollywood at its most mercenary, but he, Gene Hackman as Popeye Doyle, and the rest of the creative team were just too professional to make anything less than a solid, well-crafted slab o' entertainment.  It's not an essential movie, but it's also NOT OPTIONAL.  And in its final scene, it's a lot more than that, creating something with all the power of the original.  (Look, I'm writing about the last scene here.  You think there might be some SPOILERS?)
Frankenheimer was one of the most reliable, craftsmanlike directors around, so how good his films were depended on how good the stories were; when he had a great story (The Train, The Manchurian Candidate, Seconds, Ronin), he made a great movie.  French Connection II has a good-enough story, but his sense of craft and story meant that he created great action scenes, no matter how good the movie, because he understood something fundamental that a lot of contemporary directors have never learned:  action scenes are stories.  They depend on character and a sequence of beats; they have beginnings, middles, and ends; they have rises, falls, and pauses; and they must build to a conclusion that is, as Aristotle always sez, surprising and inevitable.
This scene begins with the raid on Alain Charnier's (Fernando Rey) heroin-smuggling operation.  The French Connection ended with Charnier (aka Frog One) getting away, and II has Doyle in Marseilles trying to get to him.  (It largely hasn't gone well, of which more shortly.)  Doyle and a buncha French cops break in and we go directly into a large-scale and gratifyingly loud gun battle.  Frankenhimer tracks three different sites of action:  the main lab room, which then spills into a garage as other characters trying to get to a truck, and Charnier and an associate flat-out running away.  This last one provides a wonderfully random grace note, as a small dog runs away from the camera as Charnier runs towards it, because it's France and why not.  Doyle and a French cop, of course, come running after Charnier a moment after the dog exits.  
In this part of the sequence, Frankenheimer narrows down the action, bringing the story down to Doyle and Charnier.  The characters-getting-to-the-truck scene resolves with a neat little kick of realism, as Charnier's lead partner gets in and tries to drive off, and the lead French cop Barthélémy closes the garage door on him just enough to stop the truck.  A contemporary American action movie would have the truck go through the doors, which might look cool but would keep that part of the scene going, but Frankenheimer and Newton's First Law of Motion instead sends Charnier's partner flying through the windshield.  That gives Barthélémy a satisfying beat of ownage and finishes the story for the second rank of characters.  Now Don Ellis' score kicks in to emphasize that we're coming down to Doyle and Charnier.
Ellis, who died young, was forever exploring different, tricky time signatures, and this is a rollicking, energetic, even fun piece in quintuple time with shifting accents.  It's now a straight-up foot chase as Charnier and associate exit the building, and then the cop with Doyle shoots the associate and they're both out of the game.  All the minor characters have finished their stories, with only Doyle pursuing Charnier left.  As the chase progresses, Frankenheimer gradually mixes down the music so that eventually the percussion sounds at the same level as Doyle's footsteps.  Making it loud at the beginning is almost a stage direction (exit Charnier, pursued by some non-giving up cop guy); keeping it going would make this scene too enjoyable.
Foot chases, really chases of any kind, sound like a great cinematic subject (frames, motion in them, and if you can provide a road map, even better) but they risk becoming repetitious:  if X chases Y, the default shot sequence is 1) Y runs across location, cut to 2) X runs across location, 3) repeat with another location.  There's an earlier chase in this film that had that problem; here, Frankenheimer gets around it by quickly having Charnier board a trolley bus, and keeping Doyle and the bus in the same frame–no crosscutting is necessary.  Frankenheimer carefully keeps them separated in the frame as much as he dares, showing just how far Doyle has to go to catch up.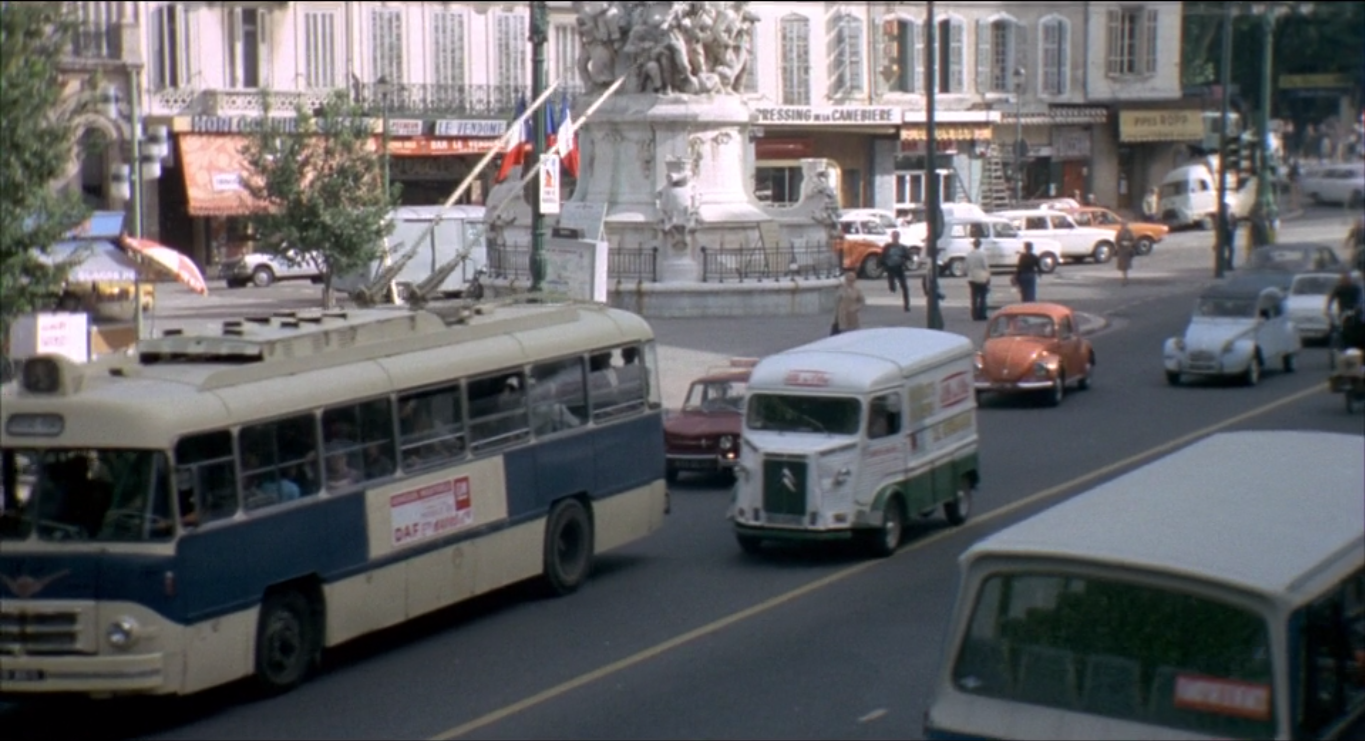 (In this shot, look for Doyle between the statue and the post, the only person who looks like he's running.)  Again, so much in action scenes depends on knowing where everything and everyone is, and Frankeheimer uses that well here.  He brings in two more visual techniques to make the image even more dynamic,  In the first, he begins with an extreme long shot and then closes in on Doyle, moving in on a diagonal to the direction Doyle runs; this is effective but not shocking, because he's been using this camera move all through the film.  Second, and more surprising, he starts cutting in a brief (no more than two seconds long) shots from Doyle's POV.  I mean that in the most literal sense–it's from a handheld camera at the level of Doyle's head, like a first-person shooter videogame.  Frankenheimer gives these shots a red tinge (Steven Soderbergh probably picked up an idea or two here) and uses them sparingly.  Staying entirely in the perspective of a running character becomes completely disorienting–we don't so much see what's going on as wind up in the character's headspace; Joe Carnahan used this in the opening scene of Narc.  (We'll see if the upcoming Hardcore Henry can bring this off.)  Here, the first-person shots are exciting, jarring, but they don't take us out of the sequence.
Going to Doyle's POV, and cutting in shots of Charnier watching Doyle, brings in another important story element:  can Doyle see Charnier?  Another thing I'll never stop repeating:  Brian dePalma's observation that movies are about what people see, and great chase scenes can use that.  (dePalma's Carlito's Way finishes with a chase that's a ten-minute-plus game of Where in This Shot Is Al Pacino?)  The framing, Doyle's POV shots, and the reaction shots on Charnier all show that the two of them know where the other one is.  Then, the break in the chase:  the bus stops at the Marseilles docks, Doyle catches up, and Frankenheimer carefully includes a moment where Doyle goes around the back of the bus and would miss Charnier getting out.  Frankenheimer smartly doesn't show Charnier leaving, which keeps our identification with Doyle at this point.  Charnier's gone, and all we have is Doyle at the docks, bumping into everyone, looking around, as lost as he's been for the whole movie.  (There's no score at this point either.)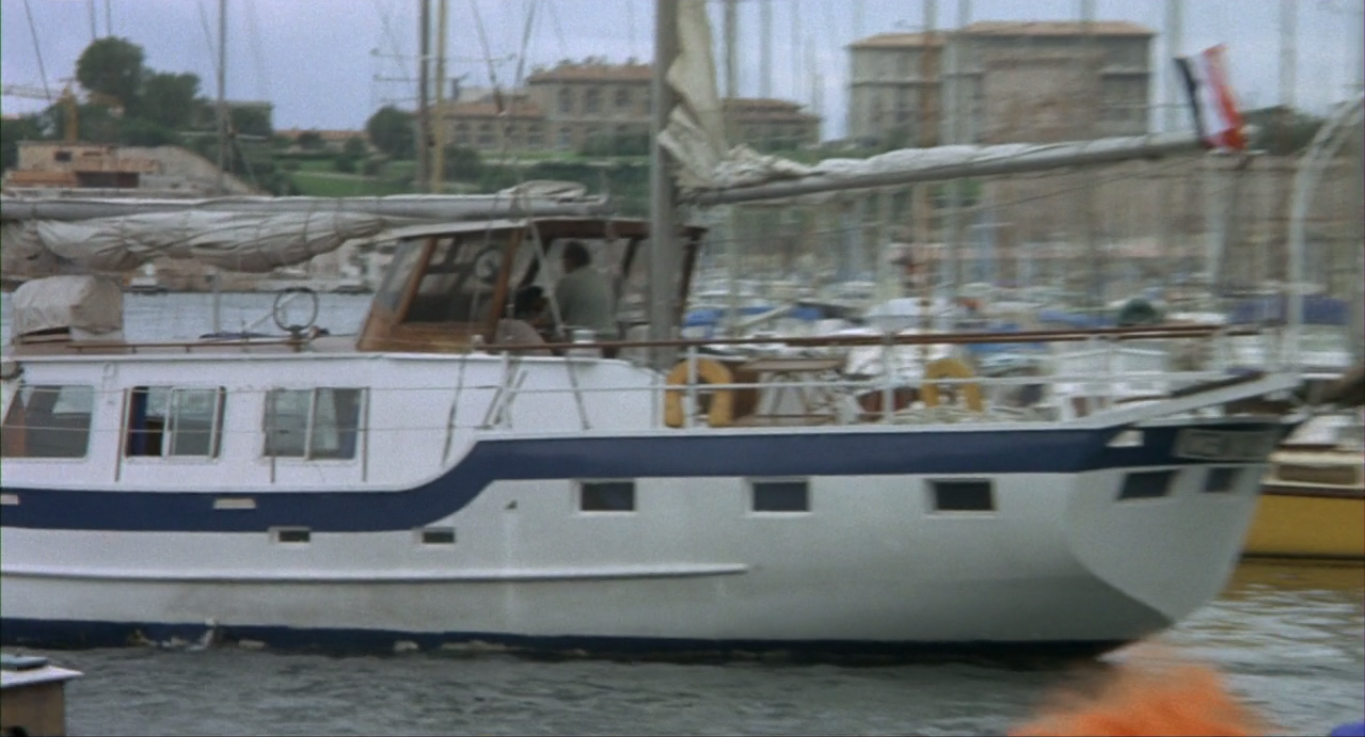 Doyle gets the quickest glimpse of Charnier going below deck on a yacht headed out to sea, and that launches the second half of the chase.  We and Doyle only see Charnier for maybe one second, and only from the back (costuming Rey in a white suit pays off here) so we're not sure if it's him, but it's enough for Doyle.  (Michael Mann's Collateral took this idea about as far as it could go, finishing with a chase where Tom Cruise's Vincent actually can't see who he's chasing until the very last moment.)  In addition to being visually compelling, it fits French Connection II's whole story; this has been a movie about a desperate man acting desperately, and it's all too believable that he'll keep going at just this hint.
Ellis' score comes back here, but it's completely changed, droning, dissonant, sticking only to the highest and lowest registers.  The energy of the first cue is gone, replaced with dread; more than anything, it sounds like the final music of The French Connection, where Doyle killed an FBI man and lost Charnier.  The first cue was here we go! and the second is this is not gonna end well.  As with the first cue, Frankenheimer starts dropping the volume; it's a benefit of both cues they have strong rhythms, so we can keep tracking them mentally even when they're quiet.  In our consciousness, the music is like the glimpses of the yacht, in the background but still present.
Frankenheimer puts Doyle's breathing in the foreground of the soundtrack, and it's not just breathing, it's the grunts and gasps and chokes of a man near exhaustion.  That's what all of French Connection II has been about, breaking Doyle.  In the first film, he was completely in his element, never more so than when he kept a car impounded for hours, leaving the smugglers completely stuck in New York bureaucracy.  Here, he's been used as bait for Charnier, addicted to heroin, crying in a stone cell in the basement, alone.  He's been behind Charnier every step of the way, in all senses.  Here in the last scene, Frankenheimer pays attention to what this costs Doyle, and Hackman shows every level of his failing energy.  He started running with good form; here, he's stumbling, bending over, shaking his head, struggling to climb over fences.  Frankenheimer and Hackman remember a basic rule of action scenes, really of all storytelling:  weakness makes the protagonist compelling, not strength.  We literally see and hear everything Doyle has to overcome to get to the final station, where he's alone at the edge of the sea and for the first time, the yacht and (just maybe) Charnier are behind him.
When Doyle kneels and draws a gun from his ankle holster, he becomes iconic in a way that he hasn't been for all of French Connection II.  In these last moments, he's been all-too-human, his body not able to keep up with his will.  This movie has shown a respect for realism, the real challenges of an American cop in France; even in this sequence, there's a respect for the real physics of bodies, cars, and windshields.  Here at the end, though, Frankenheimer lets that go to come down to an elemental, genre-based conflict.  Now Doyle has gotten ahead (again, literally) of Charnier for a single moment; action movies, like horror, don't work on metaphor or implication, they work by making the conflicts visible.  Hackman plays realism so well, but here the concentration in his face and body–and the slightly low angle that Frankenheimer gives him–makes him look legendary.  (No wonder the poster was made from this shot.)  Charnier, sure he's safe, steps onto the deck and into the sun, and now we know it's him.  Frankenheimer gives him an iconic moment too, a European prince gazing out over his rightful domain.  Waiting for him is another icon, the Ugly American, all loud Hawai'ian shirt and face of an avenging potato.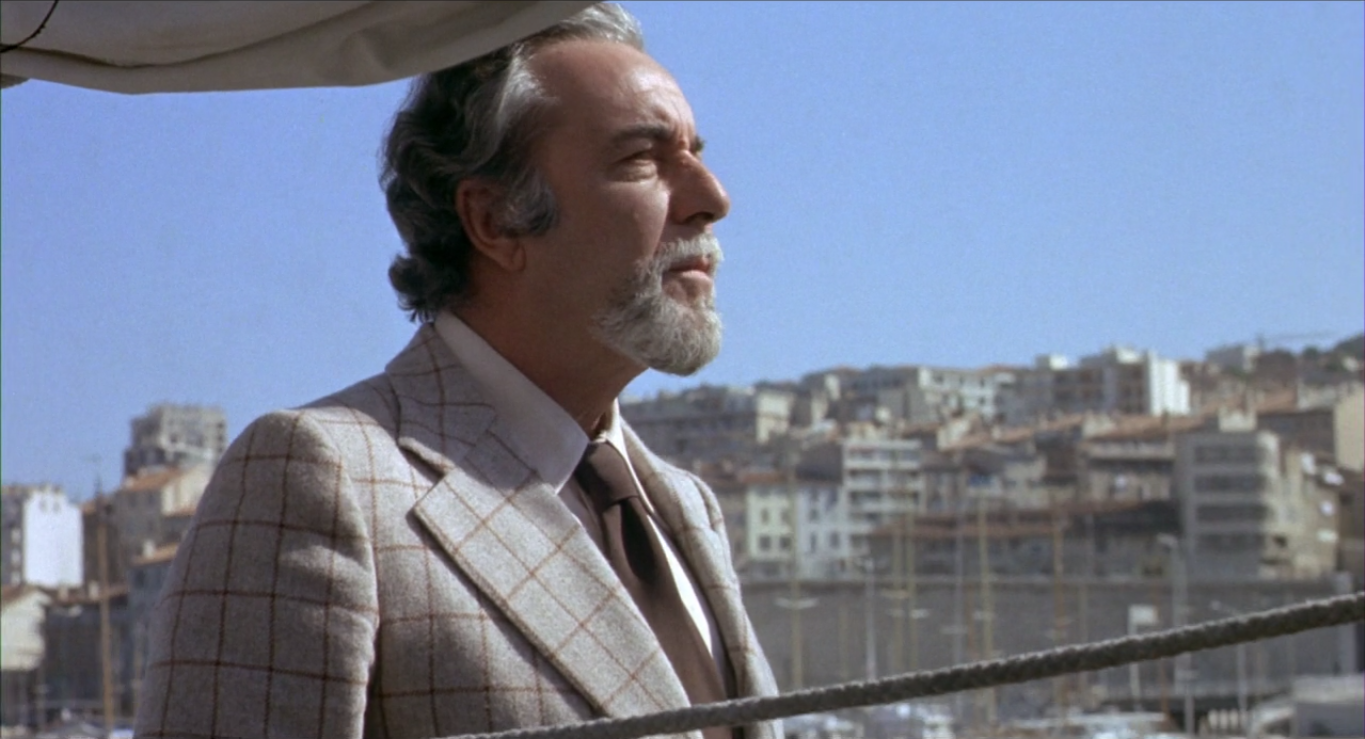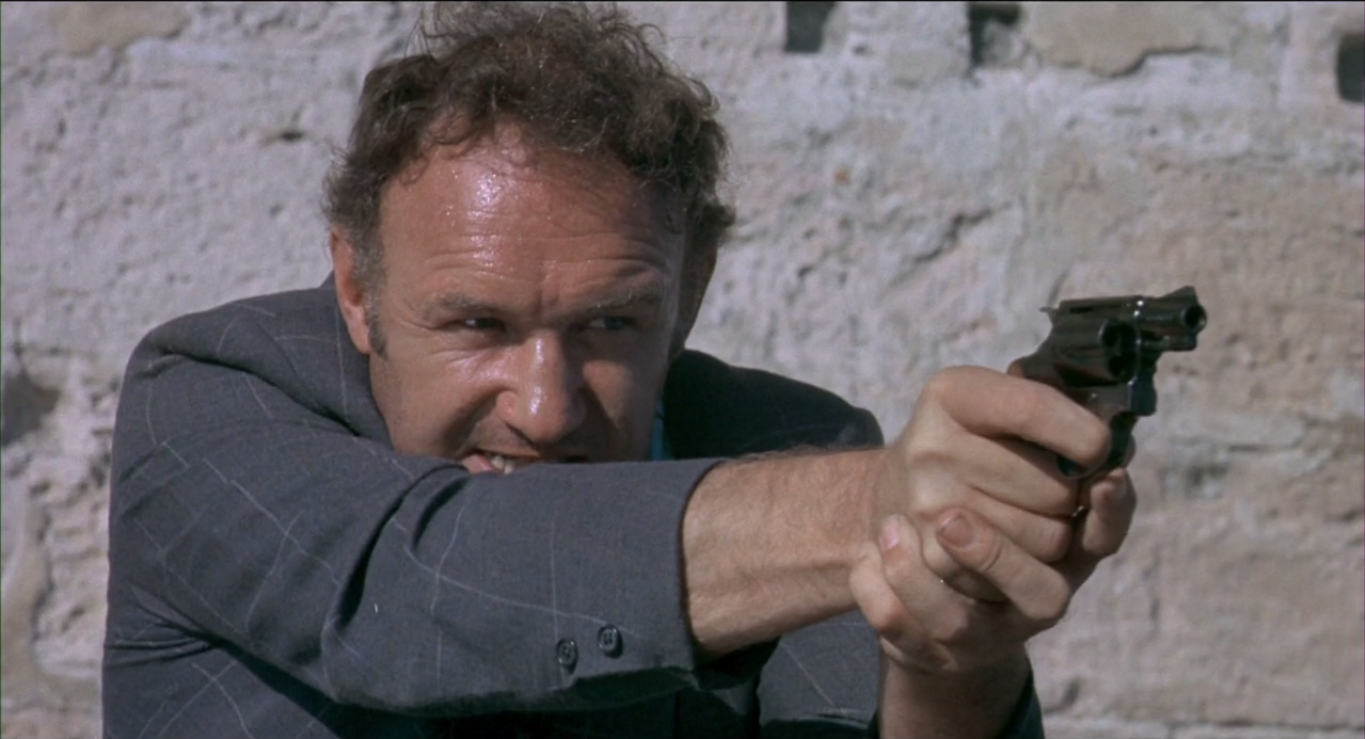 Doyle yells Charnier! (the only true dialogue in this sequence) and Charnier turns; Rey's expression isn't recognition but puzzlement, like he can't quite process this.  Doyle's is all rage and focus, the man who, a few scenes ago, burned down the entire hotel where he'd been held captive, just because he could.  We feel that he didn't call out to give Charnier any kind of chance but simply so Charnier could see the bullet coming.  (Think of Robert deNiro and Kevin Gage in Heat:  "Look at me.  Look at me.")  Frankenheimer pauses just a bit, a trick that any editor or composer will use to drive up the suspense to excruciating levels.  Then Doyle, like all iconic American shooters from the Ringo Kid to Collateral's Vincent, puts one shot right in the heart.  With his own heart still hammering, firing from a short-barreled pistol, Doyle hits the X-ring of a target on a moving platform; also, he kills a defenseless man.  Ownage, let's remember, has a force beyond probability, realism, or morality.  He shoots again, the sound mixed loud, and Charnier gets caught for a moment on the boat's cables and hasn't even finished falling when the movie ends.
In a way I can't fully explain, abrupt, no-epilogue endings feel atheistic.  David Cronenberg, who does these endings better than perhaps anyone, said that in his movies, credit sequences were like "vestibules":  they were a space between your everyday life and the movie, they gave you a chance to adjust and get ready for what was coming.  Epilogues feel that way too; they're a transition between the action of the movie and a larger world.  They let you know that that world continues, people go back to their jobs and their meals.  The opposite of the ending here would be Dog Day Afternoon, where the story ends just as abruptly but we see the action continue; in fact, action continues under the end credits.  That feels like a resumption of everyday life, which is to say our lives.  Ending without an epilogue, then, denies any larger world, or any larger dimension or larger life to the characters.  Doyle is only his action and when that action is completed, this world disappears, goes literally to black; maybe existentialist is a better description than atheist.
Even among abrupt endings, this one is perhaps the most memorable among films that are not Threads.  The sound of the second gunshot hasn't fully died away and Charnier hasn't fallen all the way to the deck at the cut to black, and there's only a few blank frames (about a quarter of a second) before the end title music kicks in and "A JOHN FRANKENHEIMER Film" appears on screen.  Usually, after a final cut to black, we get some time with the black screen before any credits show up, a moment to process "OK, it's over."  David Chase went all the way with this idea, giving us a long pause at the end of The Sopranos so we could think "OK, it's over, what the precise fuck happened here?"  (His original intention was for no credits at all, and the black screen to go all the way to the HBO logo.)  The cut-in-action, the abrupt cuts in sound, the quick jump into the credits, even the quick cuts between the credits, all of these things jolt us in the audience.  By the time we register what happened, the movie hasn't ended, it's already ended; we don't get that moment to reflect, we discover that the world of the movie has gone.  If movies are dreams, Frankenheimer finishes this one with what feels like a slap in the face, one that literally has his name on it:  wake the fuck up.  That's how Popeye Doyle would do it too.