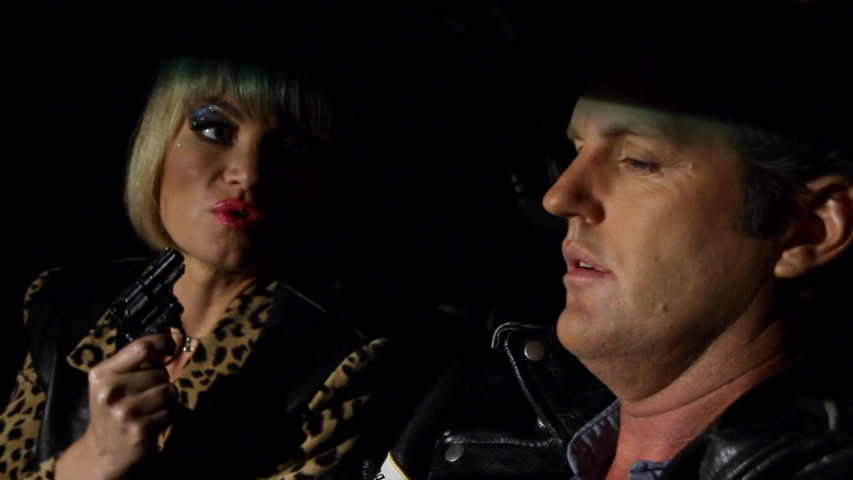 Rena Riffel is pissed off.
I guess I would be too. You spend 5 years climbing the Hollywood ladder to land a pair of prominent bit parts in a pair of high profile movies. Then, those movies flop and so does your career. It's enough to kill somebody.
Riffel had started, as many actresses do, with uncredited bit parts. When she was finally offered a part in a multi-million dollar movie helmed by one of the hottest directors in Hollywood, I imagine she thought it was her big break. That director was Paul Verhoeven, who was fresh off the triple streak of Robocop, Total Recall, and 1992's Basic Instinct. Better yet, the film was scripted by Joe Eszterhas, who co-wrote Basic Instinct as well as Flashdance and Jagged Edge. The best part was probably that her character wasn't just named, but she even had a small scene centered around her name. The movie? Showgirls. The character: Penny (aka Hope).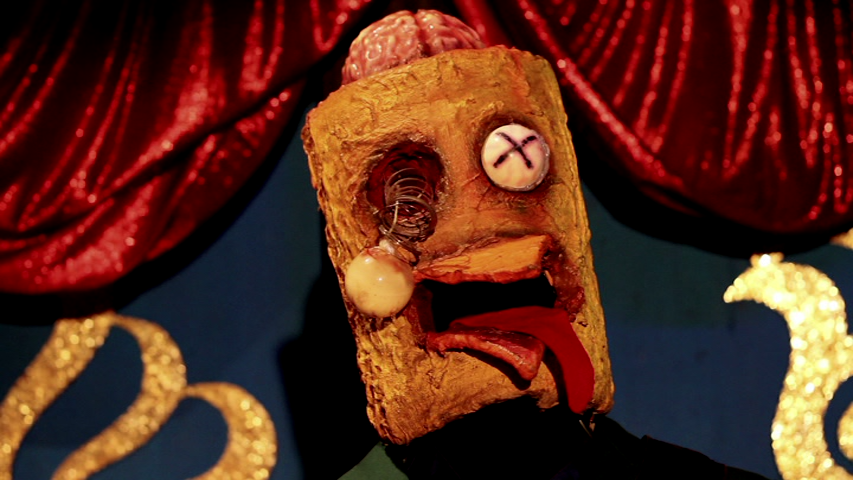 Showgirls was a flop of epic proportions. It failed at the box office, became joke fodder for late night talk shows, was even a punchline in Scream 2, and killed the careers of all the bit players, as well as star Elizabeth Berkeley. It was such a big flop, it also killed the box office of the next stripper movie to follow in its wake, 1996's Striptease, in which Rena Riffel also had a bit part.
After Striptease, Rena Riffel struggled to land a part that wasn't a stripper or a prostitute, with her only other major showing being in David Lynch's Mulholland Drive as Laney the prostitute. Otherwise, she was in movies with titles like The Pornographer, Dark Confessions, and National Lampoon's Gold Digger. Finally, she had enough and made her own production company. She directed her own movie, starring herself, Trasharella, a low budget b-movie musical horror comedy. This gave her the basis to finally kick the teeth in on the movie that killed her career.
---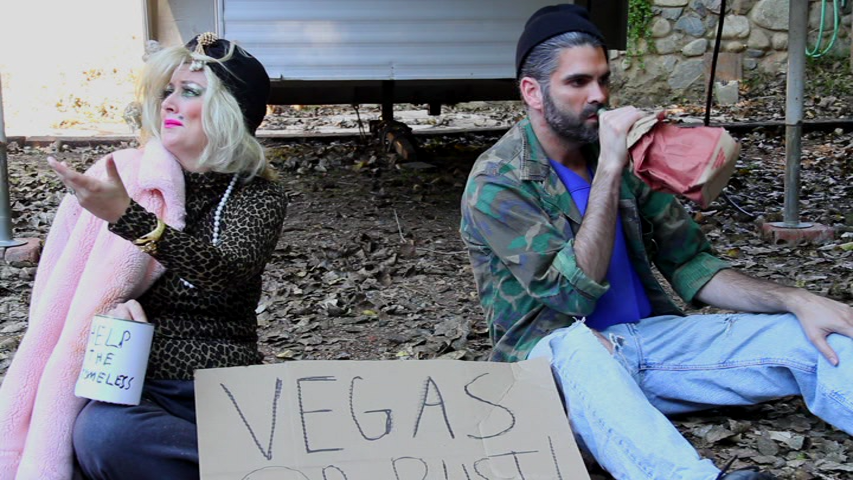 While Rena Riffel struggled to find fame in Hollywood, Showgirls rose in infamy. All the way back to 1997, Peaches Christ, a San Francisco drag queen, started showing Showgirls as an annual part of her midnight mass series. Eventually, the midnight mass screenings would include staged recreations of the film highlights, and also a lap dance free for all from a bunch of volunteers in a variety of costumes (you have to buy a large popcorn). They now occur at the Castro Theater, one of the classic movie houses.
Simultaneously, David Schmader had been touring with the DVD of Showgirls, giving annotated screenings with the fast forward and rewind button handy. He started here in Seattle, but eventually took the screenings on tour and became infamous enough to secure his role on the commentary track of the VIP edition (and subsequent blu-rays) of Showgirls. His screenings highlight the quotability of Showgirls, as well as the ridiculousness and the cinematic trashiness.
Even your faithful reader was holding screenings back in the midwest of Showgirls complete with drinking games. I started holding these screenings in 2001, after I had witnessed the glory of Showgirls on widescreen VHS (OMG). These screenings had a regular cast of my favorite outcasts in the audience, and they were joyous fun.
Showgirls had raised in infamy, yet Rena Riffel's career would not recover. This was probably not aided by David Schmader making a special note of Rena Riffel's participation in the commentary track, wondering where Rena Riffel had gone. Eventually, Rena Riffel would finally become secure with her place in Hollywood infamy. She even showed up at Peaches Christ's 15th annual Showgirls screening.
But, that doesn't mean she wasn't still angry.
---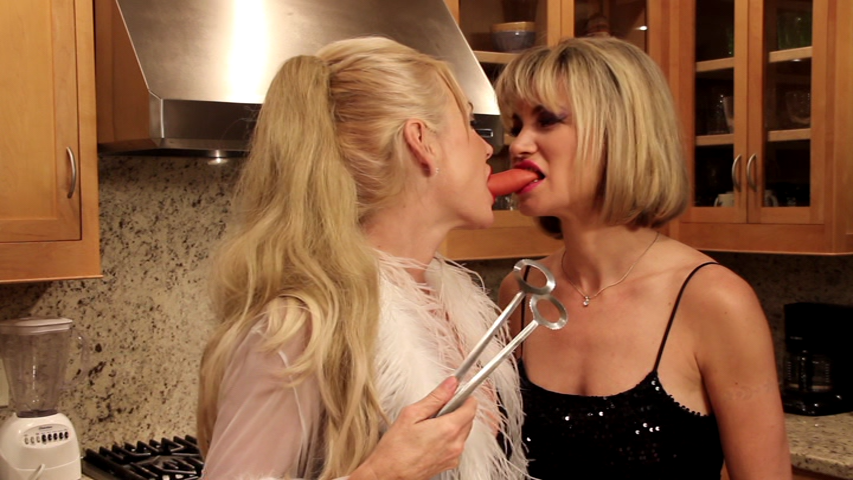 Showgirls 2: Penny's From Heaven is Rena Riffel taking Showgirls and skinning it alive. The plot is a surreal amalgam of plot elements of Showgirls as retold by an extremely drunk or high fanatic combined with clues of the sequel dropped by the original film.
Rena Riffel's Penny is the black heart of the movie, and is the literalized version of all the criticisms aimed at Elizabeth Berkeley's Nomi Malone. Penny is still married to James, the black security/valet/dancer/choreographer from the original movie who gets Penny pregnant. James is now a t-shirt maker with terrible sayings on them ("Life sucks. Shit Happens. Where do you get these, off t-shirts?"), but doesn't make enough money from his job to give Penny the life she wants. Penny leaves James, and starts hitchhiking to Hollywood (Nomi's destination in the final frames), where she catches a ride in a Porsche from Jeffrey, played by Dewey Weber who gave Nomi her ride to Vegas. Jeffrey steals her luggage, leaving her destitute in the middle of the woods, as one does.
Penny stumbles onto a drug deal or murder and into a lot of cash, which she brazenly spends on a variety of overly expensive items, including a French maid who cleans up after her. She hooks up with Godhardt, who takes her to a party where she is pimped out for the weekend to a rich guy. After protesting and saying she's not a prostitute, she's a dancer, Godhardt kinda takes her under his wing, which his client/fiancee Katya is none too happy about. Katya is already a star dancer, and is everything that Penny wants to be. Meanwhile, Penny still wants to make it to Hollywood to become famous.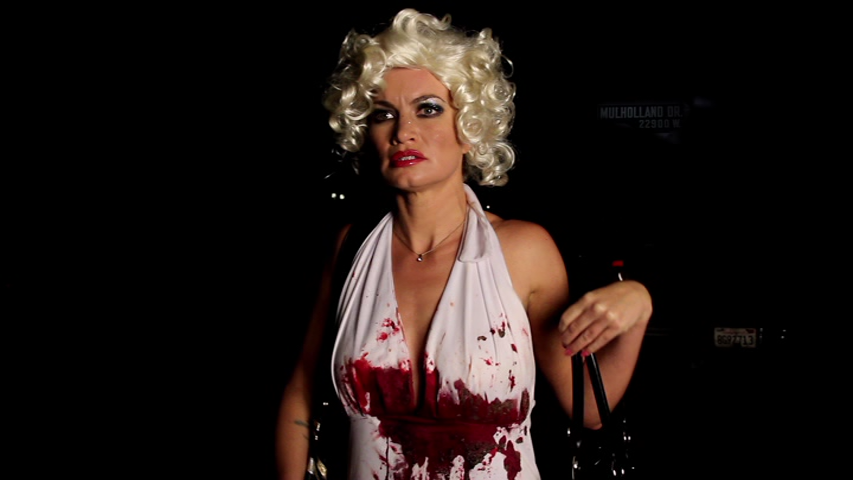 If that wasn't enough, Rena Riffel plays Penny like a severely dumb blonde who periodically has emotional flashes of anger and petulance. She fills the movie with quotables, including recalling some of the best lines from the original. In a lesbionic hot dog scene that mirrors the Spago scene, Penny muses, "In Vegas, everybody's a vegetarian. They only eat brown rice and vegetables." Penny constantly repeats that she needs to take ballet classes at Alvin Ailey or Julliard. At one point, somebody comments, "I don't know what's worse: your dancing or your camel toe."
The budget for Showgirls 2 is miniscule. Riffel had a Kickstarter for the movie, budgeted at $5,000 (it made $5,200). Riffel knew she wasn't going to have the $45,000,000 that the original Showgirls was budgeted at. Instead of making a movie which tried to emulated the film, she just ripped it to shreds. The fancy scenes at the Cheetah are replaced by a Tiki Bar. The Spago scene is hot dogs over stove in a kitchen in a house. Several of the outdoor scenes look like they were done on a forest turnout on Route 101 in Northern California. All of the cheapness really help sell the satire. Where Showgirls was rich and lush trying to mask its trash qualities, Showgirls 2 is cheap and garish pointing out the awfulness of the original.
Clocking in at 2:20 (the same running time as the original), Showgirls 2 almost tries your patience. But, the ludicrous and surreal plotting, the references to Rena Riffel's career (she also directly references/pisses on David Lynch and Mulholland Drive), the gratuitous dialogue, the terrible sets, and the intentional awfulness of the whole venture creates an ethereal bitterly hilarious air of audaciousness that makes Showgirls 2 eminently watchable. Unfortunately, in order to get the humor, you must either be well versed in Showgirls and its lore, or have watched it as part of a double feature. Riffel walks the fine line of shitty low budget filmmaking and winking satire, but only if you know what she's referencing does one turn into the other.
Availability: Showgirls 2: Penny's From Heaven is streaming on Snag Films
All images from Showgirls 2