The last time we heard from masturbation joke connoisseur Woody Allen, his new movie, Cafe Society, was chosen as the opening night film of the Cannes Film Festival. Of course, Hollywood Ending was also the opening night film of the Cannes Film Festival, and look where that got it. But there was reason to be hopeful about this one, given that Woody has been operating on more or less a consistent pattern of "every three years, I turn out a real critical winner" since Hollywood Ending, and since I've never felt cheated after watching an Allen film. Plus, Vittorio goddamn bitch-ass Storaro is the cinematographer, and that man could make an outhouse look like a riot of color and beauty. And that cast, full of people who've done wonderfully in past Allen films (Jesse Eisenberg, Corey Stoll, Parker Posey) and people who feel like they just kinda belong in an Allen film (Kristen Stewart, Paul Schneider, Jeannie Berlin, Steve Carell*). But even I, the (irrational) man who found Irrational Man to be mostly delightful(ly irrational, man), was unprepared for how good Cafe Society looks. Today, the trailer was released, and oh boy, what a trailer.
Allen trailers are almost never very good; Magic in the Moonlight's was lucky if it produced more than a shrug from people who aren't hardcore into cinematography, Irrational Man and Midnight in Paris's were clever only in retrospect, avoiding spoilers while leaving out what made those movies interesting. But this trailer (maybe because it wasn't cut by Sony Pictures Classics) is pretty much fire. None of the trailers I mentioned previously were very funny at all, whereas I laughed more during this trailer than I did during the entirety of Whatever Works (I know, faint praise and such). Not to mention it leaves plenty of room for the viewer to imagine all the laughs that may come their way just from the broad outlines the trailer provides (god knows I'll never get sick of Allen's takes on the mob and Hollywood phonies). Not to mention the massive ensemble led by a younger character in the middle of a fascinating era in American entertainment rings all kinds of bells relating it to Radio Days, the most purely enjoyable of Allen's films. Plus, the cast seems to be having a ball, with Eisenberg doing a great Woody impression, Carell proving effortless in a role Bruce Willis seems to have been dreadfully miscast in, Kristen Stewart looking absolutely lovely, Corey Stoll proving that he's very hard to recognize with a rug slapped on his noggin, and Jeannie Berlin basically reprising her role as Aunt Reet in Inherent Vice. But the real revelation here is the filmmaking in these two short minutes. It's well-known that Allen always shoots exclusively for warm colors, but it appears that Storaro (a master of the use of color; just read about his preparation for any of his movies and you'll see a man who knows what colors represent more than God does) has convinced him otherwise, as, in addition to the typically gorgeous orange and red hues, we get plenty of blue- and cool-tinted scenes (seemingly mostly in the sequences set in New York). And Allen's camera movements, which have mostly been nothing to write home about (and this is coming from someone who finds Allen to be a much stronger visual stylist than many), are bolder and more frequent here. I don't want to jump the gun here, but from this footage it seems like Storaro has pushed Allen visually more than any cinematographer since Gordon Willis. And I almost forgot to mention the poster art. Posters for Allen's recent films have been either boring (To Rome With Love, Irrational Man, and Blue Jasmine) or hilariously bad (Magic in the Moonlight), and here the designers hit it out of the park, with easily the best poster for an Allen film since Midnight in Paris's one-sheet.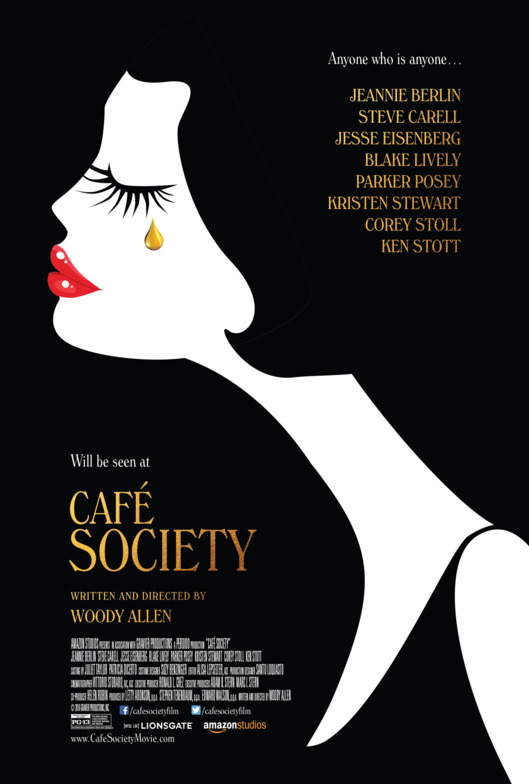 Cafe Society will open in the U.S. on August 12, and we'll know if it's any good when the Cannes Film Festival starts on May 11.
Oh, and there's also that other thing Allen is making. The thing with Miley Cyrus. Yes, Allen is still working hard on his television series for Amazon, despite his knowledge of TV beginning and ending at televised basketball and PBS. Since last time, much has happened with it, and I will do my levelheaded best to cover it all. First up, Allen found a DoP to shoot the series, and it's not any of the cinematographers who give me a hard-on. Instead, it's Eigil Bryld. You don't know his name, most likely, but there's a very good chance you've seen his work, since he shot the first season of House of Cards (probably what got him the job here), In Bruges, and Not Fade Away. I look forward to seeing his work for Allen, but the bigger news about the show is in the cast, which is goddamn loaded. There's the aforementioned Cyrus, Elaine May, and Allen himself, plus Carol and The Big Short's John Magaro and another House of Cards alum, Rachel Brosnahan, all of whom appear in all six episodes of the show. But even more interesting folk are only making one-episode appearances. Among that bunch are the likes of Lewis Black, Joy Behar, Christine Ebersole, Douglas McGrath (Allen's cowriter on Bullets Over Broadway), and Michael Rapaport (making his first appearance in an Allen film since Small Time Crooks back in 2000). With a cast like that, you almost forget that the showrunner/writer/director has openly said that he has no idea what the fuck he's doing.
*Technically, Steve Carell was in Melinda and Melinda, but that was such a small part that we might as well round down and count this as his first.