Gifs! The image format that dare not speak its name for fear of dividing the room into warring "hard g" and "soft g" factions. In a world increasingly giving more space to visuals where words used to go – you know what I'm talking about 😉 – .gifs are either a fun shorthand for expressing a thought, feeling or reaction concisely, or a conversational crutch that substitutes a pop culture reference in place of meaningful dialog. Of course,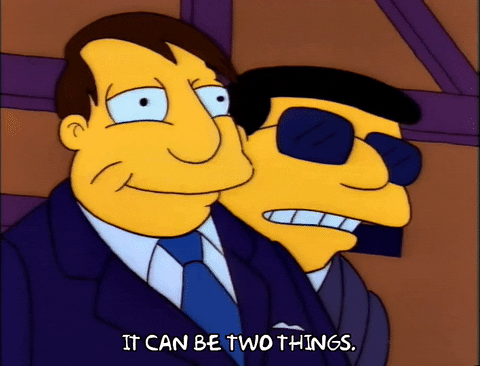 But as thorough as the Internet can be, there's a few movie and show moments I find myself reaching for that are inexplicably missing. Available gifs tend toward more popular and recent releases (some studios and networks even curate their own collections). And of course one could create a .gif themselves even with limited technical knowledge. So it would be fair to say these are images I want, but not so badly as to spend an hour making them.
"Gee, I liked it." from Singin' in the Rain
Lina Lamont (Jean Hagen)'s cheerful reaction to the disaster of a movie she and Don Lockwood (Gene Kelly) just made would be the perfect response to an Internet community pile-on of a film that you, well, kinda dug. Her obliviousness surrounded by sour faces underscores the feeling one gets having no better defense for, say, Les Miserables other than personal preference.
"I vote aye! Ayyyyyeeeee!" from Lincoln
Lincoln contains the most effective climax consisting mostly of a role call vote, the outcome of which we already know. It also contains the perfect post in response to a poll or any simple yes or no question, as Representative George Yeaman (Michael Stuhlbarg) makes his surprise tying vote.
"Full of torment, Bob. Thanks for asking." from The Assassination of Jesse James by the Coward Robert Ford
We've had our fun with Mad Men's "Not great, Bob." Now it's time to upgrade with a laconic Paul Schneider, aka Mark Brendanawicz from the first two seasons of Parks and Recreation in a cowboy hat.
"Deserve's go nothing to do with it" from The Wire / Unforgiven
Somebody pointed out to me that this quote is spoken by both badass cowboy Clint Eastwood and streetwise thug Snoop, the implications of which spin my brain even now. That nobody has captured either is an oversight the Internet must fix. Not because I deserve it.
Your turn, gang – how do you feel about gifs when it comes to online communication? Are there any moments missing from the endless supply?