Was there a more consistent source of humor for Soviet artists in the 1920s than the urban housing crisis? The post-revolution Civil War and famine had driven millions to the cities, which given the nation's severely constricted economy, found themselves in no position to provide adequate housing, sanitation, and services to manage the population boom. Among the measures introduced to curb the crisis were communal living, including the commandeering and division of existing homes and apartments among the newly arrived peasants, now living side-by-side, and with little privacy, alongside their urban counterparts.
It was a boon for humorists: in literature, for example, we have Zoshchenko's short stories, including the brilliant "The Crisis", or any number of Bulgakov's major works, like Heart of a Dog and The Master and Margarita; in cinema we have films like Abram Room's Bed and Sofa and even Protazanov's Aelita: Queen of Mars that find humor in the slapstick complications of people living nearly on top of one another.
Add to these the opening act of Boris Barnet's 1928 film The House on Trubnaya, which details the clutter, chaos, and communality of this kind of living arrangement. Barnet stages these scenes in a single location, the large vertical stairwell connecting the apartments, which he fills with a Tatiesque tableau of housekeepers, woodchoppers, screaming children, dangerously falling objects, and … uh, a stuffed leopard. As in Tati, Barnet builds neither a well-oiled machine nor an avalanche of chaos, but a tightrope walk down the middle, where the very precariousness of the balance is a major source of the humor.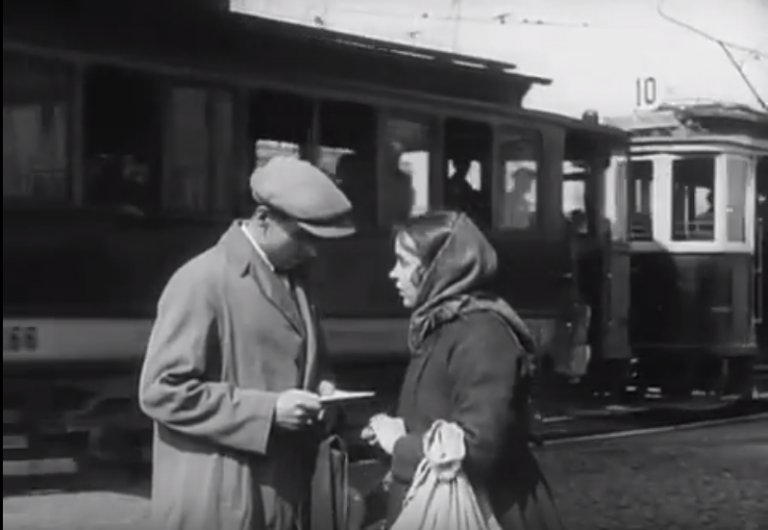 Would that the rest of the film were quite as interesting. Abandoning the delicious world of communal living, The House on Trubnaya recenters on a fairly conventional plot about a gentle-hearted rube named Parasha (Vera Maretskaya) who, finding herself adrift in the Big City, eventually wins over everyone around her through her guileless simplicity and hard work. It has a villain in the form of bourgeois parasite Golikov (Vladimir Fogel), a hairdresser exploiting New Economic Policy-era laxity to keep himself and his lazy wife in something approaching luxury. It presents a heroic version of The People in the form of a Housekeeper's Union. It turns on familiar tropes of just-missed connections and mistaken identity. All this works better than it should for three reasons: it's charming and funny, which is not always a given in Soviet silent film, its pacing and editing are swift (in the "American" style, which had by then conquered Soviet montage), and it contains a number of oddball touches likely due to its literary pedigree: the original screenplay by Bella Zorich was rewritten by a murderer's row of literary talents, including Anatoly Marienhof and Viktor Shklovsky.
Shklovsky is most famous in the west for literary theory, particularly the notion of ostranenie, usually translated as "defamiliarization", "estrangement", or the one I prefer, "enstrangement" (after Benjamin Sher). Briefly, Shklovsky argued that enstrangement was a rejuvenating process central to art, that it involves taking rote expression and perception of phenomena and using various devices to halt our perception and re-view anew. Art makes us look again. If I tell you what happened at work today, I usually default to stock forms and devices, what we might call a prosaic and informational approach. But if I tweak the formula — if I mess with the structure, or use non-standard devices or language, if I foreground certain kinds of style that slow down our absorption of the material — we start looking at this as artistic, as a disruption of norms, and this allows us a fresher perception of that material. Norms are naturally contextual rather than absolute, so art revives itself periodically by rupturing our present expectations. Later generations of audiences can even find renewed interest in works that now seem unexpected or "defamiliar" in their own context.
An easy example: flashbacks were already an accepted form of film grammar by 1928, but in this famous scene, Barnet draws explicit attention to his by making the process literal. A hapless Parasha has been chasing a goose through the street and is nearly hit by a tram when Barnet freezes the frame, adds an intertitle that reads, "We forgot to tell how the goose ended up in Moscow, and what happened the day before," then replays the shot in reverse before cutting to "the day before". We are "stopping and rewinding" in a literal but contextually unfamiliar way. (Note as well the verb, "tell" rather than "show" – another sign of the film's literary pedigree.)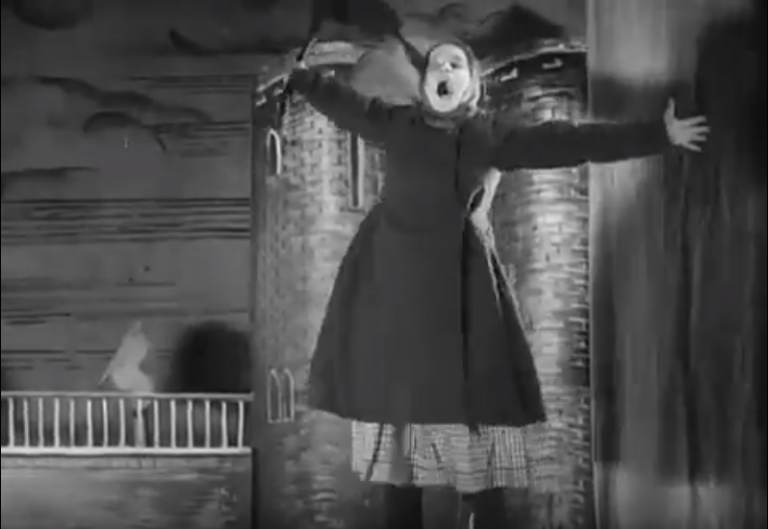 All that said, The House on Trubnaya wears its experimental qualities lightly. Most of the film is conventionally plotted and conventionally filmed, an efficient mechanism for delivering gags alongside the necessary political messaging. One of the best examples of both comes in a joke that can't be explained in the subtitles: when the bourgeois Golikovs try to fool the newly installed Party delegate by decorating their apartment to look less luxurious and more "Marxist", they mislabel a portrait of Mikhail Kalinin as Bukharin. Hilarious!
I don't know who contributed what to the screenplay, but a third act play-within-a-film feels like one of the movie's more delightfully meta Shklovskian touches. Parasha walks into an amateur production of "The Storming of the Bastille" and somehow confuses the stage for reality, so when the heroic French revolutionary leader appears to fall, shot in the back by an evil general (played by Golikov, no less), Parasha runs onstage to assault the "general" and rouse the audience into action. The audience is delighted by the unplanned spectacle and carries her out hoisted on their shoulders.
So much going on here. On one hand, the film seems to be parodying the commonly told story of first-time cinemagoers mistakenly reacting to the screen as reality (fleeing from an oncoming train, shooting back at bank robbers). That the spectacle is live action in Parasha's world feels like a cheeky reversal of the trope. On the other hand, it's also a sly bit of… well, let's say it retells a doctrinaire Russian revolutionary line in an enstranged form: sensing injustice, the hardworking peasant woman rushes to the aid of the fallen, condemns the aristocrat/bourgeois (Golikov embodying both at that moment), and exhorts the masses to follow her. It's parodic without being satiric – that is, the film takes the material seriously while playing with its formal expression.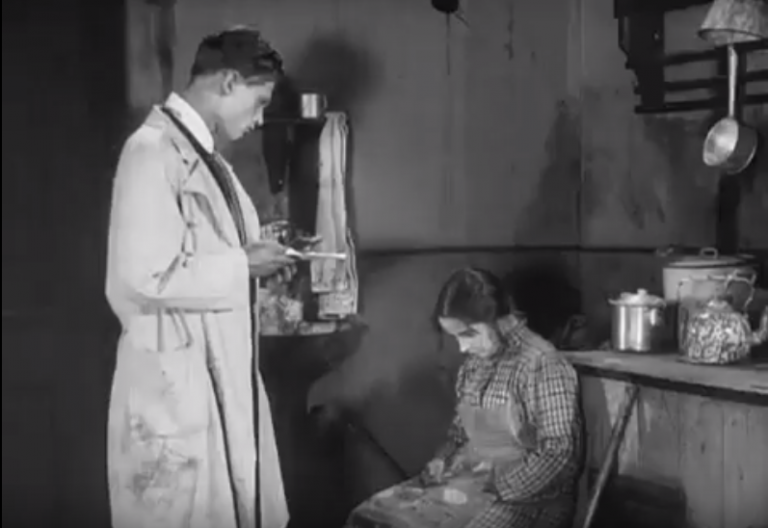 In an article for Sight and Sound, film scholar Mark Le Fanu argues for The House on Trubnaya as the ideal film for rediscovering the joys of silent cinema, "an exquisite comedy… not in the least sentimental." In one respect I agree with him: Barnet's film marries a number of the best qualities of Soviet film of the 1920s in an easily digestible package. It opens with documentary snippets that'd be perfectly at home in Vertov's Man with a Movie Camera and juggles various forms of slapstick, romance, intrigue, and propaganda. On the other hand, Le Fanu somewhat overstates the film's political "daring" (there's little here that's subversive, although a late scene in which Parasha feels abandoned after a Party parade comes close), and I'm not so certain its simplicity and structural weaknesses merit it the same pantheon as the usual classics.
More strongly in Le Fanu's favor is the argument that films like The House on Trubnaya are far more emblematic of 1920s Soviet cinema than many of the canonical works. The failure of Soviet montage against the juggernaut of American-style editing means that we can appreciate Barnet's work as conventional — that is, as an example of something that became commonplace to the point of unexceptionality — while e.g. Eisensteinian montage withered on the vine and thus looks to us as fresher and more historically interesting. More enstranged, if you will. But Trubnaya remains delightful, and that's a quality too easy to undervalue.
Some notes:
I couldn't embed a gif for the header, so please at least watch a minute or so of the scene in question. It's really magnificent work, drawing directly from theatrical spectacle, but in a way that uses the camera's freedom to dolly and pedestal around the staircase for a closer look. (At one point, in what seems a cheeky nod to Eisenstein's Strike, Barnet juxtaposes an axe chopping wood with a mother beating her child.) Barnet highlights funny individual areas of the stairwell before pulling back into a Tatiesque wide shot of dynamic complexity (around the 6:00 mark).
Speaking of which, if you want to watch the movie on Youtube, most of the versions are terrible: a bad transfer with a jarring and inept modern score. This visual clarity in this version is somewhat better, and the piano/violin score feels more era-appropriate. The one downside: no title translations. The plot is mostly straightforward enough, but there are some bits involving the Housekeepers Union that may be harder to follow. (And jokes! "Are you in a Union?" "No, I'm single [i.e. unmarried woman].")
Other Barnet works of interest: he made a memorable acting debut as one of the leads in Kuleshov's The Extraordinary Adventures of Mr. West in the Land of the Bolsheviks playing, of all things, a cowpoke bodyguard. His best-known works as director include the comedy The Girl with the Hatbox and his first sound film, The Bluest of Seas. He also did pulled off triple duty as actor/writer/director of the popular spy thriller Miss Mend. Like so many artists of his generation, he eventually ended his own life.