. . .the [Richard Nixon] story not as he might want it to be told–no matter how formally honest he might be, revealing every last legal and moral crime–but as a judgment he might dream, and from which he cannot awake.  (Greil Marcus, not writing about Secret Honor)
A man walks into a room, observed first by a bank of black-and-white monitors.  The room is a study of some kind, with wood paneling, books, and portraits.  He pours himself a Scotch, sets up a tape recorder and a microphone, and also a Chekhovian gun.  The man is Richard Nixon (Philip Baker Hall), sometime after his resignation from the Presidency and his pardon by Gerald Ford, and for the next 85 minutes he's going to set the record straight, he's going to reveal the real story behind Watergate and his resignation:  "the prisoner in the dock is guilty of one crime only, of being Richard Milhous Nixon."  This is the entirety of the film Secret Honor, one of the best, most necessary, and least known films of Hall, director Robert Altman, and American history.  
As a director's work, it sounds almost like an academic or even philosophical exercise (Altman filmed it at the University of Michigan with students making up most of the crew):  assign a director best known for sprawling works with huge ensembles and overlapping dialogue a one-character, one-set, one-act play.  (Donald Freed and Arnold Stone wrote it and Hall performed it in the original stage version.  Robert Harders, who directed Hall on stage, gets credited here as associate director.)  Altman does something here that's like Bach arranging a three-voice fugue for solo violin:  since it's not possible to create multiple presences that cause our attention to shift between them, Altman and Bach keep shifting our attention on a single presence.  Altman purchased a special camera rig, "almost like an airplane" in Hall's words, that could pan and tilt and almost glide its vision around the set.  Altman has always employed fluid camerawork (think of The Player's great title sequence) but Pierre Mignot's cinematography here outdoes them all.  The movements and the editing are so complex and spontaneous that they can't be reduced to any kind of formal scheme (at least, I don't care to try); they come across as a second consciousness.  Compare this to another one-character stage adaptation from a few years later, Jonathan Demme's Swimming to Cambodia:  there, at every moment, Demme's camera reinforced and shaded Spalding Gray's monologue, zooming to what he wants us to see, changing the lighting on him for drama, receding to illustrate what he's saying.  In Secret Honor, the camera not only never stops moving, it never stops changing its approach.  Sometimes it drifts off of Hall, often coming to rest on the bank of monitors that watch him; by some alchemy, the image on the monitors resembles Nixon much more than Hall does, perhaps because almost all of us have only seen Nixon on television and Hall's performance is intimate, psychological, hyperpersonal.  (Going to the monitors also drains the image of color, and Altman will get off them by cutting to a shot of Hall.  The shift from black-and-white to color and then the jump back feels like a key change, something Tarkovsky did in Solaris.)  If there's a community here, it's in the portraits on the walls that Nixon keeps addressing:  Eisenhower, Lincoln, Wilson, Kissinger, and finally Nixon's mother, all silent, all judging.  Sometimes Altman cuts back to a single shot of the microphone, often with a slight push-in; it feels merciless, like the camera or the mic wants Nixon to keep talking, to incriminate himself.  The camera sometimes chases Hall, sometimes jumps back from him; it's like the POV of a killer in Generic Slasher Movie or the "Observer" perspective in Samuel Beckett's Film.  Whatever the consciousness is, it's not friendly to Nixon, it's not scared of him, and it won't let him alone.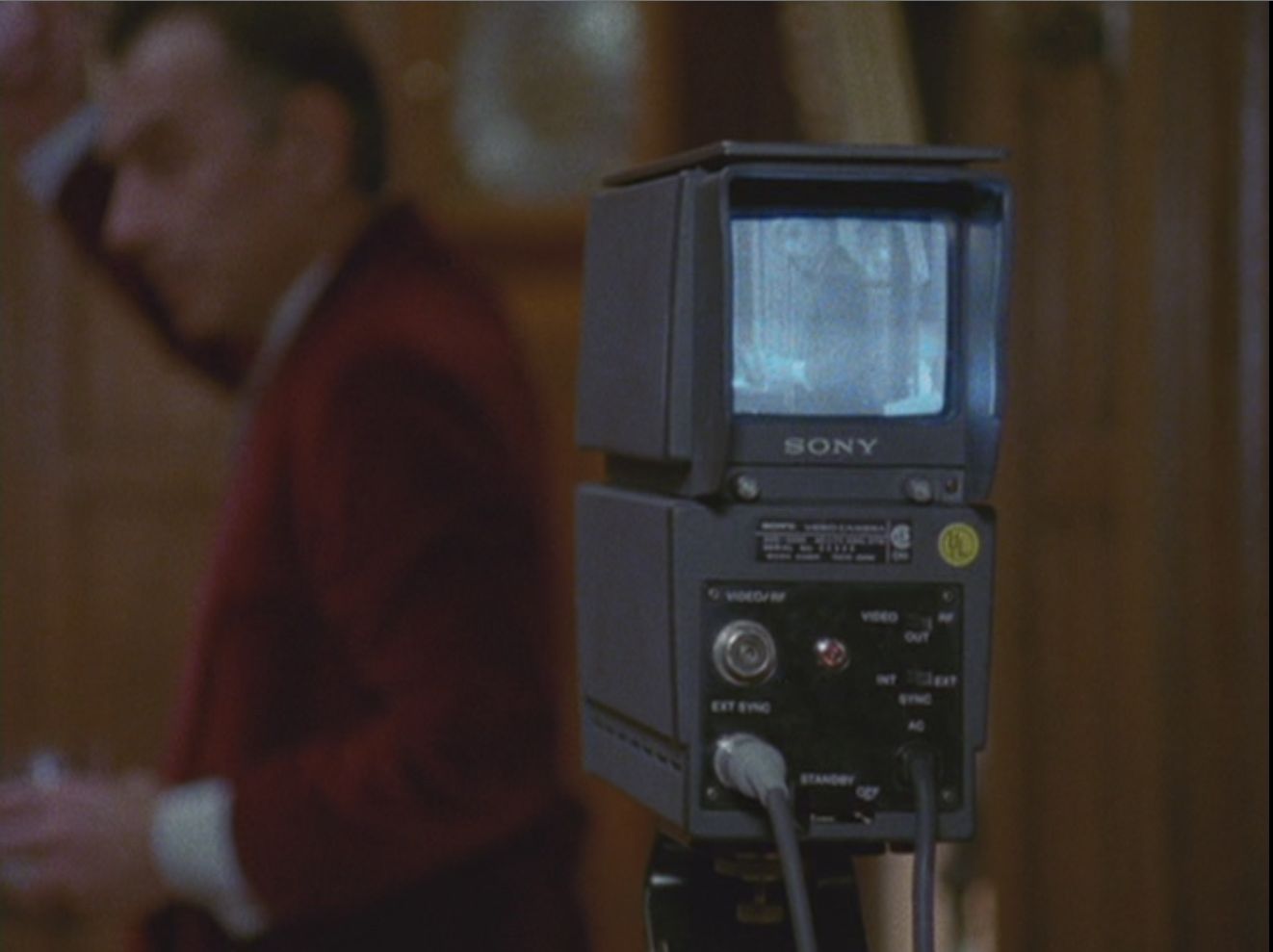 As a character actor, Hall effortlessly and indelibly plays men of authority and history.  Much of his impact comes from doing so little, letting characters react to him, letting the camera just observe that incredible face, craggy like the coast of Scotland.  PT Anderson got some great performances from him, starting right away with his first film, Sydney/Hard Eight, but his best work for Anderson was in Magnolia.  His Jimmy Gator was just as damaged as everyone else but had the most to answer for, and it was exactly the way Hall could barely react to–could barely acknowledge–what he'd done that made it work.  Every other actor in Magnolia erupts; Hall crumbles from the inside.  For me, though, his best work was in the second season of Millennium, playing the new leader of the Millennium Group will full commitment.  Glen Morgan and James Wong took over the show from Chris Carter and went all-in on a conspiracy theory that went from the Crucifixion to the end of the world, and I had no doubt that Hall's Old Man was in on all of it.  (Even more impressive:  Hall himself didn't give a damn about the plot.  Dude just did his job better than anyone else could have.)  And of course, no one who sees his Lt. Bookman on Seinfeld ever forgets him, or would ever dare to write in a library book again.  (Although maybe that's how you get your kicks, joyboy.)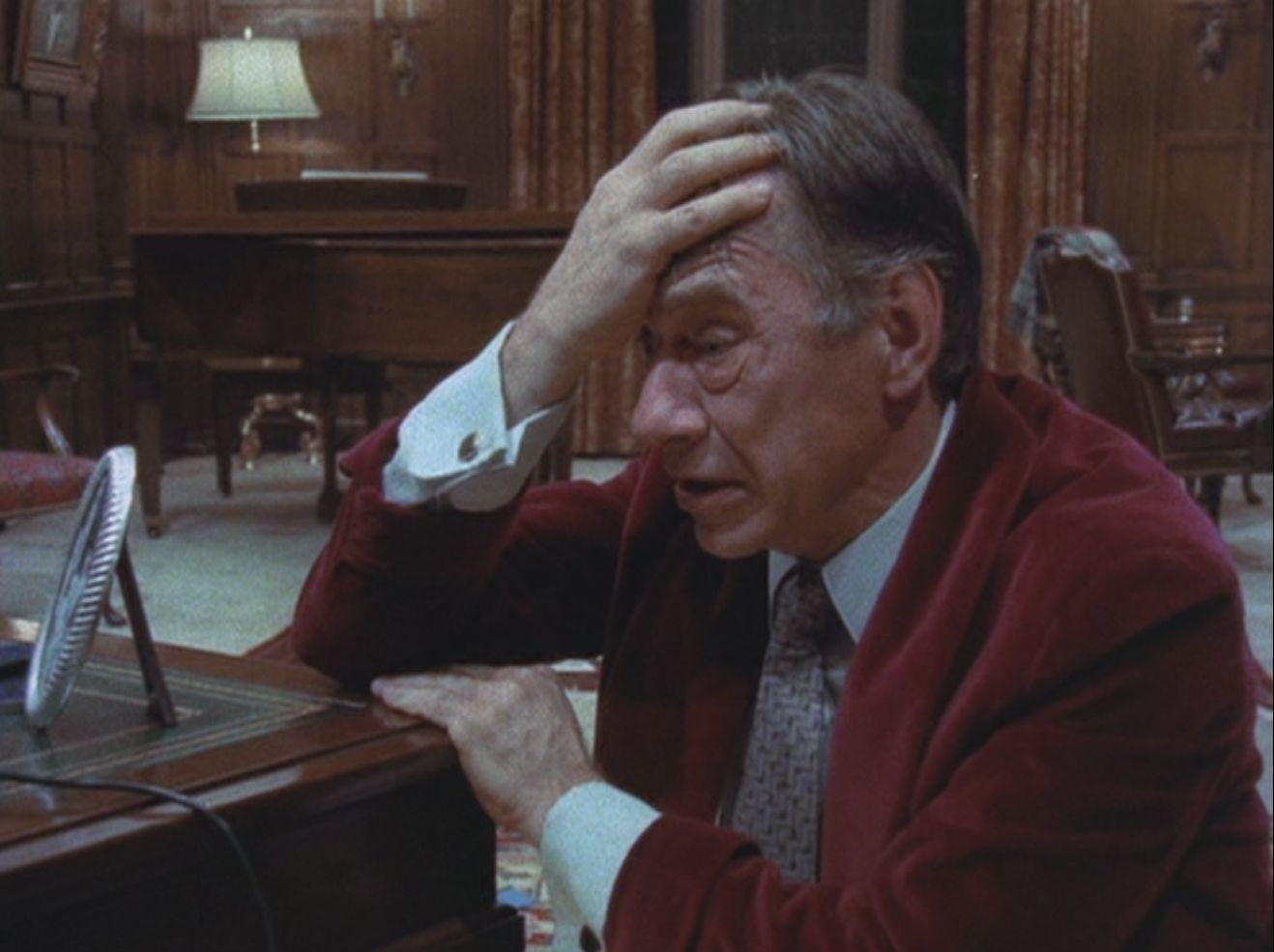 In the context of Hall's other work, this performance shocks.  Possibly because Secret Honor originated on the stage, there's no reserve, nothing held back.  He blusters, cries, babbles, curses, pontificates, mumbles, cowers, bullies; he does all of these things not just at full volume and full expression, but also while constantly switching between them.  Not just mid-sentence, either; Hall's Nixon sometimes can't actually finish a word or a gesture before jumping to another one, then another one, then another one.  I've never seen anything so emotional and raw from Hall, ever.  This can sound like the worst kind of ACTING!!! but Hall and Altman make it organic, and each justifies the other:  the violence of the direction matches the violence of the performance.  No wonder Hall is sweating by the halfway mark, another callback to the Nixon legend.  He catches a quality so many observers of Nixon saw, and one so often visible on television:  the way he was so uncomfortable in his own skin.  It's painful to watch at moments, someone so continually immersed in struggle with himself; he's on the same, rare level as the best and strangest of Brando and Nicolas Cage:  a monster, and monstrously sympathetic.  (Cage's underappreciated work as Little Junior in Barbet Schroeder's underseen Kiss of Death has this quality, and this power–and guess who played his father?)  It's an Expressionist performance, all the things Nixon wanted to say and feel finally let loose for us, not the real man but the true man.
What is he saying, then?  There's a conspiracy to be revealed, yes, but that's only the throughline that keeps Nixon talking, and what he talks about is a never-ending, free-associating stream of resentment, jealousy, and hurt.  Beginning with the death of his brothers by tuberculosis, everything and everyone is against him; everyone else is a winner except him.  Altman shoots the portraits the way Nixon sees them, as judges and rivals, relentlessly zooming in (to take just one case) on the "whoremonger" Kissinger; he also does some great staging here, at one point using the 4:3 frame to trap Hall in a pit between Wilson and Eisenhower.  The words and Hall's ranting, jangling delivery are those of a self-judging man who hates himself for the bad things he's done (his guilt over burning Helen Gahagan Douglas in his run for Congress is almost a physical thing on the screen) and hates the people above him even more, because they made him do it:  "What the hell do I get for following orders for thirty goddamn years?"  Hunter S. Thompson, whose writing on Nixon remains the best portrayal of the man,¹ called it
the kind of guilt-driven energy that most of our politicians–from the county assessor level all the way up to the White House–seem to thrive on. . . .The details might vary, but the base line never changes:  "I will feel more guilty tomorrow than I felt yesterday. . . .But of course I have no choice:  They have made me what I am and by god, they'll pay for it."
That's what made Nixon so dangerous and so evil:  an addict of resentment, he kept gaining power but never achieving peace, until he had the power to destroy all humanity with a phone call, and saw enemies around every corner of the White House.  Neither of those are metaphors.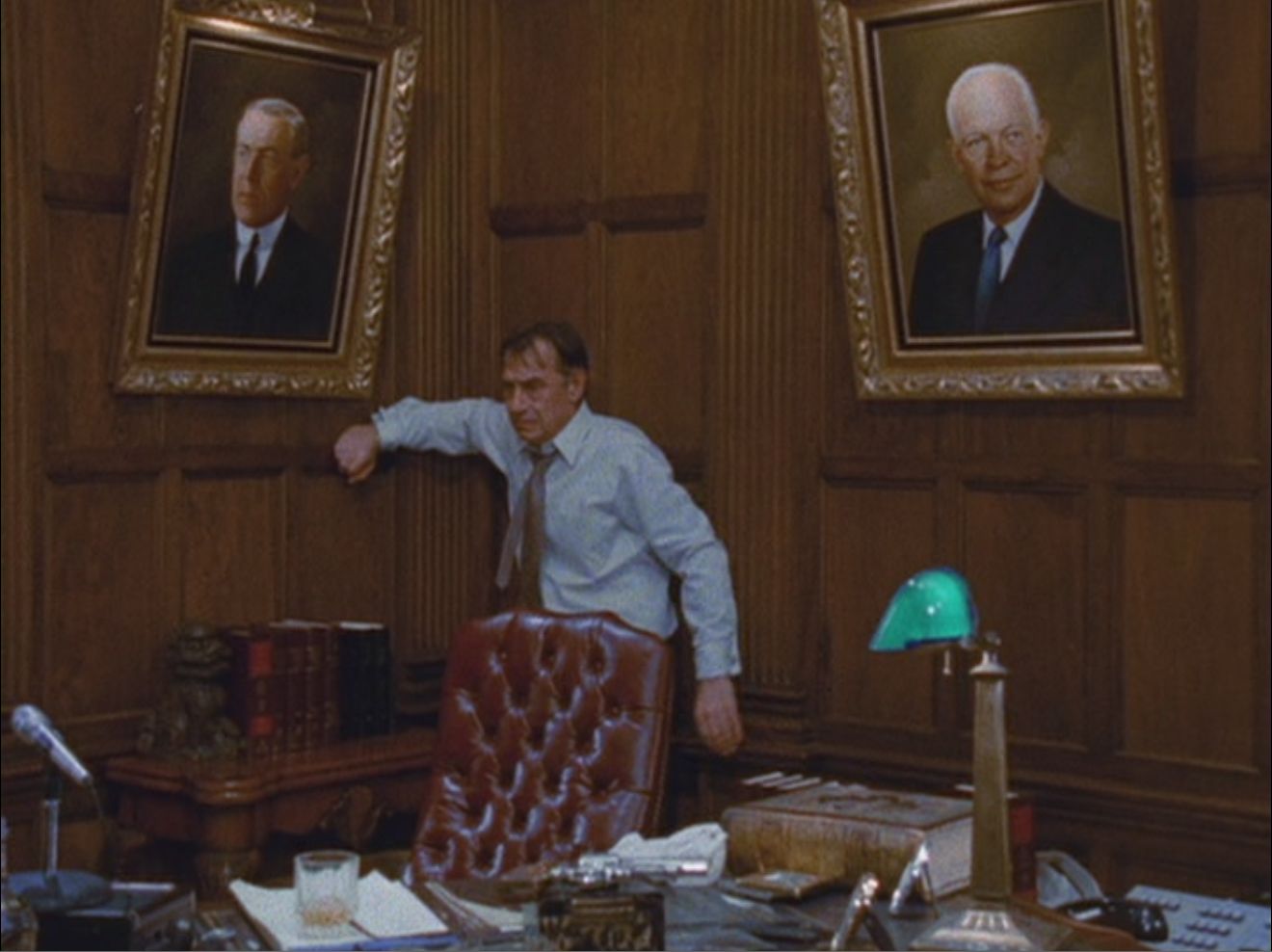 There's not really a narrative here, except for the gradual revelation of the conspiracy, but there doesn't need to be.  Secret Honor is nearly a pure cinematic form of storytelling, with Altman and Hall trying to convey a psychology rather than record an action.  There's no particular reason, for example, for Nixon's confrontation with the portraits to come in the order they do; only his dialogue with his mother's picture ("Arf?  Arf arf?") has to come where it does, near the end.  All the tension and forward drive comes from Hall's performance and Altman's direction, one more case of cinema as visual music.  (George Burt's genre-shifting, amelodic score is a good example of music that doesn't work on its own but does work as a score, providing one more layer of tension in the mix.)  Following the roving camera and the jumps of Hall's words is like following a twisty, doubling, tripling melody in Bach's fugue for solo violin, one where there's continuity but it takes effort to hear it–and the effort pays off.  Also like a big single movement of music, there are points where it all slows down and pauses, usually marked off by Hall saying "Roberto, would you erase all that crap, please" and like a fugue, there are repeated motifs, especially the recurring cry of "fuck 'em!" and Altman uses that.  He gives the last image of Hall to the TV monitor, repeats it fuck 'em! fragments it fuck em'! and finally disintegrates it fuck em'! into static and cries of four more years! Four more years!, a historical fiction dissolving into history.  (Reverse that sequence and you have the opening of his Vincent and Theo.)  Altman's endings often dissolve the border between his film and our world, and this may be his best.  
Freed and Stone openly declare in a title card that the conspiracy at the core of Secret Honor is fiction:  after WW2, Nixon was recruited by the "Committee of 100" at the annual Bohemian Grove meeting (that's a real thing:  Donald Rumsfeld and Dick Cheney were regular guests) to be their puppet, and after 1972, they intended for him to pass a Constitutional amendment and run for a third term to preserve the war in Vietnam indefinitely, bring China into the international orbit, and maximize the trade of heroin.  (That word appears only once, and Hall loads it with disgust and defeat.)  Nixon couldn't handle this, and with no way to expose the conspiracy, he orchestrated his own downfall–right down to the tapes–to deny the Committee their prize.  ("He chose secret honor.  Secret honor, and public shame.")  It's as elaborate a master plan as, say, The X-Files and a lot less plausible.  Whether or not this is what Freed and Stone intended, it benefits the film and Hall's performance in a simple way:  this feels like delusion, like the workings of one man's desperate failing mind.  Compare it to Oliver Stone's Nixon, which portrayed a similar all-powerful conspiracy:  like in JFK, Stone illustrates the conspiracy, gives what he considers evidence, even has a staggeringly ahistorical (even antihistorical) scene where Nixon receives the Revealed Truth from a protestor ("You can't stop it, can you? Even if you wanted to. Because it's not you, it's the system. The system won't let you stop it.")  Stone, as always, reaches for some kind of hidden truth about America and uses Nixon to do it, but really only tells us the same old leftist conspiracy he's been selling since Salvador.  Altman, Freed, and Arnold Stone look only at Nixon but they really do tell us something about his country.
Of the many versions of the American creed, spoken and unspoken, one of the most enduring and unavoidable is A Nation of Winners.  Rise above, not rise with; if there's a problem with being poor, then stop being poor.  You can win, no matter your background, color, creed, if you just work hard enough, tough it through the breaks, so on–and if you don't, well what's wrong with you?  That latter part has always been there, and it became louder and louder with the rise of Nixon.  The creed has become a promise to the winners, that the losers shall not interfere with their winning, nor shall they even disturb their consciences with their presence:  Nixon's "silent majority," Reagan's deep misreading of "Born in the U. S. A.," Mitt Romney's 47%, Donald Trump's walls and "extreme vetting," and probably clearest of all, Kevin Williamson's screed in the National Review–not a defense of privilege, but a rant against those without privilege for continuing to exist.  Joan Didion, as usual, elegantly described the creed during Nixon's first term:
ideas shared in almost all the people in America's small cities and towns and by at least some of the people in America's large cities. . . .There was the belief in business success as a transcendent ideal.  There was the faith that if one transforms oneself from an "introvert" to an "extrovert," if one learns to "speak effectively" and "do a job," success and its concomitant, spiritual grace, follow naturally.
Nixon, a self-described "introvert in an extrovert profession," believed in the creed, proclaimed it (it's the concluding section of his acceptance speech at the 1968 Republican National Convention, and some of it appears here), and that belief goes all through Secret Honor:  the hard childhood, the service, the studying (his high school nickname was Iron Butt), driving his future wife Pat on dates with other boys because he believed that hard work pays off, that it turns you from a Loser into a Winner.  And it doesn't, and that's the tragedy of Nixon.  No matter how much power he had, no one loved him for it; no matter what he did, he'd never be one of the portraits on the walls; no matter how much he Won, he was still a Loser: "I dream of failure every night of my life."  His tragic flaw was insecurity, his inability to accept himself; Anthony Lukas, in Nightmare:  the Underside of the Nixon Years, argues that Watergate happened because Nixon didn't just want to win the 1972 election, he wanted a landslide, because nothing else would make him feel like a Winner.  He got it, and look what happened next:  Watergate and Nixon's downfall was the second-act Reversal of tragedy, and Secret Honor is the third-act soliloquy of its hero, when all the action has already happened, where the self-damnation has been carried out, and there's nothing left to do but recognize that.  Like so many tragic figures, from Oedipus to Mary Tyrone to Vic Mackey, this is the part where the hero will do anything, even die, to avoid that recognition, and that's the real throughline of the movie.
In tragedy, success is tied intimately to downfall; you're destroyed by what you do best.  What brought Nixon to such power was his belief in the American creed, but even more, it was his resentment that it didn't work.  He was the man who embodied the hatred of so many Americans who felt as he did:  that they'd followed the rules, worked hard, done as they were told, and yet. . .no one liked them for it.  The hatred of the "silent majority" (which, as of this writing, is a pretty fuckin' loud minority) isn't based on material things; they are enraged over loss of status, not wealth, and that's something that politicians from Nixon to Reagan to Trump² all get.  None of these politicians intend to restore America to prosperity, safety, or liberty–none of them intend to do anything.  These politicians exist in order to assure their constituency that nothing has changed, and the more the world changes, the more strident and lethal this movement becomes.  The world is not static nor is it fair, and Nixon made his career by raging against that.  Secret Honor portrays that rage, the final act of what could be called (slightly modifying Garry Wills) the tragedy of the self-made man, in a nearly pure and purely cinematic form, and 2016 is a particularly bad time to ignore it.
¹Part Two of The Great Shark Hunt comprises a selection of Thompson's writing on Nixon from the 1968 campaign to after the pardon of 1974, and it's both the best writing on Nixon and the best writing Thompson ever did.  Nixon is a figure both large enough and important enough in American history that he's inspired a lot of great writing, and great portrayals in TV and film; I hope our own Michael G chooses him for a "The Faces Of. . ." article someday.  Great as Secret Honor is, Hall is second among filmed Nixons.  The best Nixon is one that I'm sure the creators didn't know they were making:  President Josiah Bartlet, alone and cursing out God in the National Cathedral in The West Wing's second season finale.  For a portrayal where the dominant tone was undying goodness, this was just shocking, as Martin Sheen just let rip a pettiness and meanness that I'd never seen in Bartlet or any other performance of his.  Here was the Nixon who was really "one of us" (the title of Tom Wicker's study of him) railing against God, "the ultimate elite" in the words of AV Club commenter colby.  What followed in the episode, especially the long concluding montage set to "Brothers in Arms," showed the real difference between Bartlet and Nixon, and showed why Nixon destroyed himself and Bartlet didn't:  because Bartlet had real friends and a real community around him, and could accept their help and their love.  Kissinger once asked "can you imagine what this man would have been had somebody loved him?"  (The line appears in Wicker's book and Oliver Stone used it in Nixon.)  The West Wing answers that question.  All credit to Sheen, to Thomas Schlamme's simple direction, and most of all to writer Aaron Sorkin.  I never pass up an opportunity to slam him, so let me now offer my unrestricted praise and admiration for what he did here.
²Trump's current prominence comes from his unreflective embodiment of his base's hatreds (there is a distinction between his base and those who are only voting for him) and because he has pursued only one thing in his life:  not success but its appearance.  He is beyond hollow, not a self-made man but a self-made façade, his only self-worth the surfaces of his possessions, which include the people in his life; even for a politician, he's bereft of policy, with no way to achieve success but only the ability to yell its slogans, loudly.  His literary equivalent isn't Secret Honor's Nixon or any tragic figure, it's Bret Easton Ellis' Patrick Bateman, the man who lived with nothing but privilege, knows nothing but brand names, lives in no reality but his own, and has "not a single identifiable emotion except for greed and disgust."  (All this becomes more pronounced with every generation:  look at Trump's sons.)  Ellis reminds us of the essential hollowness and boredom of such men.  Whatever can be said about the movement, whatever happens two weeks from this writing, let that be his epitaph.  He deserves no better.