Our book club has gone through quite a few series novels so far – Right Ho, Jeeves; Anne of Green Gables; Clay's Ark; The Hitch-Hiker's Guide To The Galaxy; Whose Body. I think Ark is meaningfully different than the other four though, the Seed to Harvest series it is part of is loosely connected by character and more strongly by theme, there is very little crossover from one book to the next.
But those four other books are more in line with what I think a general definition of series fiction would entail – a group of novels following the adventures of a main character or characters, with each book serving as a complete tale even if a larger narrative is also in play. Anne, Guide and Body all start ongoing stories that move through distinct time periods and come to eventual conclusions (planned or otherwise) while Jeeves exists in an eternal present that still accumulates and accommodates past adventures and characters. In her write-up of Right Ho, Jeeves, Casper describes his stories as "Always the same beats, but with the details and characters changed up to keep it fresh," while in her discussion of Whose Body, Gillianren notes how series lead Lord Peter Wimsey's character is developed over the course of the series, and how supporting players get greater depth as well.
The changes, whether of character or of detail, are what make readers of a series fans. We check in with people who remain familiar in many ways but have now found new challenges or have altered in some small way from the last time we saw them – let alone from how we first met them. (And often these alterations are still there to track and be entertained by even when reading out of order.) Like meeting up with a friend, this is a simple but bone-deep comfort, and creating and maintaining it over numerous books takes skills the one-off novelist isn't necessarily using.
Because many series are constructed so a reader can start (or continue) anywhere in the saga. This is more likely to occur in the timeless or constantly contemporary mode, but even series where characters age and grow often allow for this – I've been bouncing around in Reginald Hill's Dalziel/Pascoe novels about two Yorkshire policemen and have had no issues figuring out what's up at any time, whether I'm in 1990 or 2010. In every book, the series novelist has to reintroduce their characters and their milieu while not making this tedious for the constant reader or confusing for the newbie, maintain the style they've developed while not repeating themselves, plot a story that is complete and interesting while not ultimately too disruptive of the status quo. Because all of this will happen again in the next book, and instead of being a chore it will be something the reader looks forward to.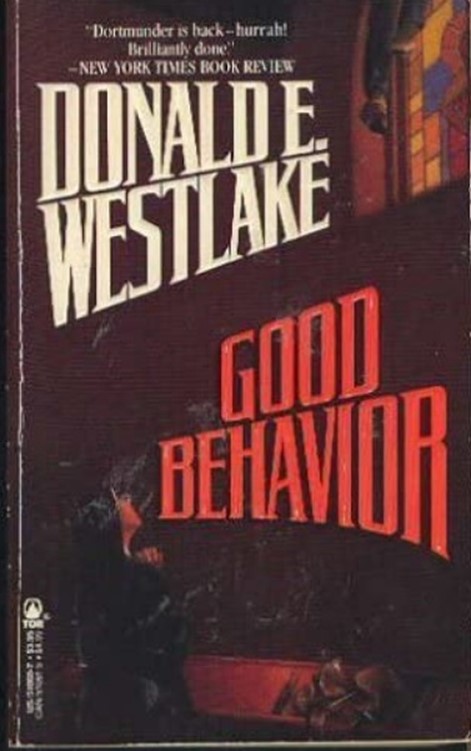 By the time Good Behavior was published in 1985, readers had become acquainted with series lead John Dortmunder over five previous books. Dortmunder was an unlikely character to begin and maintain a series – his author, Donald Westlake, had written numerous comic crime novels but they were all stand-alones and usually involved people sucked into criminal situations. But under his pen name Richard Stark, Westlake had developed a series character, the entirely humorless heister Parker, who coldly robs and brutally kills and lets nothing stop him. Until one day, when Stark came up with a plot where Parker had to steal a diamond, and then steal it again, and steal it again. This was ridiculous, farce, the one thing Parker could not deal with, so Stark junked the idea (later reworking elements for The Black Ice Score). But Westlake realized another thief – one whose life was made up of ridiculous elements and a bungling cast, one who realized he was stuck in a comedy and would shrug his way through it – could make this story work.
In many ways Dortmunder is not that different from Parker, which we'll hopefully get into later. But compared to our roster of series leads, he is like some combination of Bertie Wooster and Jeeves – beset by misfortune often of his own making and forced to ingeniously scheme his way out of the soup. His life is also eternally present, Dortmunder is middle-aged in 1970 and in 2008, and while there are some changes to track there are many constants too. Every Dortmunder book showcases his loyal if obstreperous friends, his local bar and its maladjusted regulars, and his home of New York City and the various oddballs and obstacles it presents. It's the details that provide the differences – another pleasure of series fiction is how a solid structure in every book (a thief runs into increasingly complex problems while engaging in his profession) allows the author to make tangents and observations on a variety of topics (in this case, Catholic theology, neo-feudalism and the difficulties of quitting smoking make appearances) in each new adventure.
Because in series fiction we're also checking in with the writer as well as the characters, and Donald Westlake is a wry, often laugh-out-loud hilarious commenter on what he sees in the world Dortmunder must navigate. Author and character alike become friends to spend time with. If you've met them before I hope you're as pleased as I am to visit them again; if this is your first time making their acquaintance I hope this introduction will be the start of a beautiful friendship.