(Apologies to the two dearly-departed previous heads of the Solute Record Club, but I cannot let the release of this new U2 album go by unmentioned here.)
I guess one can't complain too much about the three-year wait between Songs of Innocence (which, again, was really good and it's a shame all the pissing and moaning about its release has completely overshadowed it still), considering it's still better than the five-year wait between No Line on the Horizon and that, or the complete abandonment of the much-hyped-up follow-up to No Line, Songs of Ascent. But still, guys, maybe you can just release an album without tinkering with it for years on end? Scott and Scott told you that much two years ago, and yet here we are.
One look at the credits of Songs of Experience is enough to produce worry that all that time in the oven may have hurt the finished product. The innumerable producing and engineering credits brings to mind the obscene number of cooks in the kitchen with How to Dismantle an Atomic Bomb (they also share two producers, Jacknife Lee and Steve Lillywhite), and U2 definitely should not be taking examples from that particular album. But Innocence managed to succeed despite having much the same problem, so how does this one fare?
Fears of this being the totally bland "rawk" album Atomic Bomb was are thankfully assuaged by the opener, the unfortunately-titled "Love is All We Have Left". In fact, it doesn't feature Thedge, Adam Clay2000pounds, or Larry Mullen Sr.'s Son at all, the instrumentation limited to a steady bed of synth-strings that Bonobos croons over. And there's a surprising bit of 808s and Heartbreak-esque Auto-Tune in the mix too. It's a totally gorgeous-sounding song, sort of like an entire song of the intro to "Zooropa", and the lyrics are mercifully not nearly as cloying as that title would suggest (although I'm not sure how I feel about Bonobos saying the phrase "best day ever" in the first line). So far, so (surprisingly) good.
From there, the rest of the band comes in for the garage-y rocker "Lights of Home", featuring background vocals by the Haim sisters (I dearly hope they brought Paul Thomas Anderson to the recording studio that day). It's thankfully more in the mode of straightforward, no-bullshit rock of Songs of Innocence (especially the guitar sound of the "Cedarwood Road" and "Volcano") than the freeze-dried, fussy Atomic Bomb, with a pretty great Thedge solo. And then the final verse (where Haim really come in) ties itself to the last album's epic "Iris (Hold Me Close)" in a pretty unexpected, understated way.
I was not impressed when I listened to this album's first single, "You're the Best Thing About Me", which felt like a totally forgettable bit of U2-by-numbers. Well, as with "The Miracle (of Joey Ramone)" before it, I did like it more in the context of the album, and I found myself warming to its bounciness and slight charms. The chorus is maybe a little anemic to me still, but the verses are fun and the whole thing is a lovely little throwaway. Why it was chosen to be the first single over better and more anthemic songs on the album, god only knows, but it wouldn't be a late-period U2 album if they didn't fuck up the release somehow.
The second single, "Get Out of Your Own Way", immediately follows, starting with a synth build-up reminiscent of the one in "City of Blinding Lights". That song was one of the few highlights of Atomic Bomb, and this one is a pretty great stadium-ready anthem too, albeit with a few lyrical clunkers stuck in there ("Lincoln's ghost"? Really, Bonobos?). It's concluded by a spoken-word part by Kendrick Lamar, which continues in the next track, and the source of the U2 sample on Lamar's last album, "American Soul". It's got a really appealing glam stomp that takes it far, but the lyrics take some pretty prominent missteps, namely indulging in Bono's bad habit of referring to everything or -one as "rock and roll", and also coining the term "Refu-Jesus", which I can only respond to with: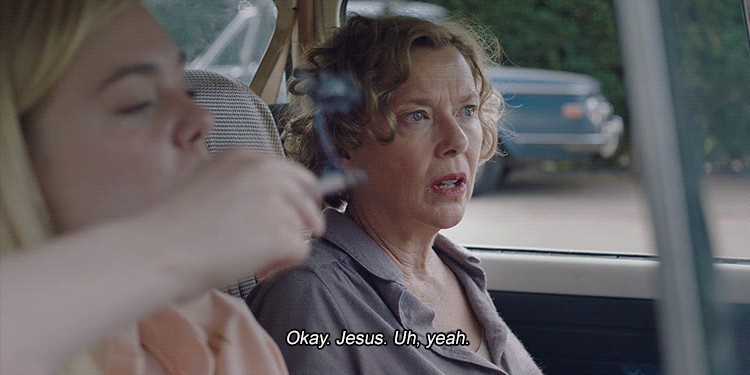 Almost equally as unappealing is the title of the next song, "Summer of Love", so thank Christ the only 60s part of the song is the obvious influence of "Time of the Season" (it was amusing to hear Scott & Scott fumble so badly trying to come up with its name). And the title is ironic anyway, because the song is about summer on the west coast of Syria, which is anything but lovely. And it's paired with "Red Flag Day", which is about the band's stay at the opposite end of the country, all sun and surf in spite of the very real pain occurring next door. They're both good, and not as ungodly preachy as they could be (I guess I'm grading this whole album on a curve of what Bono could've done instead of it), but they don't really stick out for me like they should. The next song, "The Showman (Little More Better)" (my god, did they fucking drop the ball on these titles), definitely doesn't have to worry about not sticking out, as a cheeky bit of levity after the preceding heaviness, poking fun at the pretensions and pettiness of the performer (without resorting to the heavy-handedness of "Stand Up Comedy" and the like). It has a similar sweet acoustic backdrop to "Wild Honey", but with more of a point and a genuine sense of fun compared to "Honey" having the fun of corporate-mandated picnic. It's slight, but quite enjoyable.
If the album kinda loses its way in the middle, it gets back on its feet with "The Little Things That Give You Away", a slow-burn love song that builds to a truly anthemic crescendo that I can only imagine will absolutely slay in concert (and presumably has already, as it premiered during the band's last tour). And then it slows even further down with "Landlady" (Jesus fucking Christ, these titles make me want to rip my skin off and I like these songs), a beautifully straightforward tribute by Bono to his wife. It's sort of a partner song to the last album's "Song to Someone", which was about early infatuation while this covers the thrills of domestic routine. It's totally lovely, and leads unexpectedly to the best pure rock song on the album, "The Blackout" (released as the first song, not single, from the album). Anchored by a tremendous Adam Clay2000pounds bassline, this is a total barnstormer that addresses this current sociopolitical garbage fire without putting too fine a point on it. Even the Bonobos lyrical clunkers here are him being a goofball rather than him putting on his Serious Thinker hat (he rhymes Ned with Fred, and then Jack with Zach).
"Love is Bigger Than Anything in its Way" (okay, U2, you only get to use one title with the format "Love is [something grand]" per album, at very most) comes next, and it's pretty good, but maybe the least memorable song on the album (amusingly, the least memorable song on the last album, "This is Where You Can Reach Me Now", came in the exact same spot as this one), but it is followed up with the album's closer and its very best song, "13 (There is a Light)". If that parenthetical sounds familiar to you, it's because it's part of the chorus of "Song for Someone", and this turns out to be a powerful reworking of that song, with the soaring anthemic qualities of "Someone" turned off in favor of something quieter and even more moving (it's a great bookend with the first song, with both driven only by Bono's aching voice and a keyboard backdrop). And Bono rewrites the lyrics around the chorus, making what was once about young love into something even more universal, a hymn for strength in trying times (and not just for the listener; notably, Bono clarifies here that the someone is "someone like me").
Songs of Experience is ultimately a slightly lesser work than Innocence was, and its stabs at current events can be pretty clumsy in the expected Bonobos way (Innocence was all the better for remaining strictly personal). But this is still a damn good album, far better than any of their 2000s albums and an encouraging sign for them continuing long in the future (although hopefully we won't have to wait too far in the future for the follow-up).
What did you think?
Track listing
Classics: Love is All We Have Left, Lights of Home, Get Out of Your Own Way, The Little Things That Give You Away, Landlady, The Blackout, 13 (There is a Light)
Great Bits: You're the Best Thing About Me, American Soul, Summer of Love, Red Flag Day, The Showman (Little More Better), Love is Bigger Than Anything in its Way
U2 Album Rankings
Achtung Baby
Pop
The Joshua Tree
Zooropa
The Unforgettable Fire
War
Songs of Innocence
Boy
Songs of Experience
All That You Can't Leave Behind
No Line on the Horizon
Passengers: Original Soundtracks 1
October
Rattle and Hum
How to Dismantle an Atomic Bomb