Back again with our supplement to the annual "Moments" article (as well as a supplement tot the Best TV of 2020 list), the small-screen counterpart to the silver screen highlights there. Let's get started:
Black Monday – Blair's Flashback
Watching Blair Pfaff's rise from gee-shucks midwesterner to ruthless Wall Street trader was one of the many fascinating stories of Black Monday's first two seasons (even setting aside his discovery of his sexuality as part of that journey), but by the end of the second season Blair seems to have gone far too far with his ambition and ruthlessness, alienating nearly everyone around him in the end. He uses Congressman Roger Harris (Tuc Watkins), his lover, to get close to megachurch power broker Newell Swofford, leverages his marriage to Tiff Georgina (Casey Wilson) to further ingratiate himself to the pastor's flock (and leading her to divorce him), and when he cuts a deal with Swofford that leads a-now outed Harris to kill himself, Blair offers– backstabbing Mo (Don Cheadle) in the process– to step in his place in Congress. Newell backs him, with one condition: He has to attend Newell's conversion therapy. Which includes electroshock treatment.
That would be shocking enough, the lengths which Blair has gone to seize power and what it may cost him, but there's one more twist here. Blair has talked more than once about how his abusive father died in the middle of beating him one day, but in the last scene of the season, during the treatment, Blair starts having flashbacks to his childhood, and we get a major reveal of his character: After the abuse started, Blair began putting ground glass in his father's food, and that's what ultimately killed him. 
The reveal puts certain an element of Blair's character: If you were still torn between whether Wall Street made Blair into the monster he is, or whether he always had that ruthlessness in him, the question is answered once and for all. (R.C.)
wallflower here.  I didn't see a lot of TV this year; The Flight Attendant was the standout, a screwball noir with Kaley Cuoco delivering the breakout performance I'd been waiting for her to give.  In terms of moments, I can only think of three, one of which I liked:
"How much fucking charm do you think you have?" The Undoing was just oh-so-prestigious and oh-so-boring, with Nicole Kidman's reactions to a series of Shocking Revelations substituting for plot.  (It has a lot in common with The Flight Attendant and does worse on every point, none more so than the difference between Cuoco searching for information and Kidman receiving same.  Protagonists, motherfuckers, learn what they are.)  This could have been a great 1990s Law & Order episode, but here it's padded out so much that I gave up on it before the final episode.*  (Somehow the mystery gets more twisty and more boring at the same time.)  There's one spectacular moment, when defense attorney Noma Dumezweni calls out Hugh Grant with the line above.  It's the right beat with the right actor, because he shows the rot under the Hugh Grant persona here; you can imagine his lawyer saying the same thing to him back in 1993 after his arrest, and he'd give the same reaction of anger and pride.  Just as good, and an actual moment of plot, is Dumezweni immediately realizing that the best play is to let Grant use that charm to save himself.  There's a reason Law & Order was about the professionals rather than the perps (every time Edgar Ramírez wasn't on screen in The Undoing, I was asking "where's Edgar Ramírez?"), and a reason it wrapped up its stories in 42 minutes.
(* – Some time after writing this, I finished the series and my God that final episode is as awful as you've heard, with creator David E. Kelley apparently deciding "Hugh Grant showing moral rot" isn't enough and instead going for, in the final minutes, "Hugh Grant turns into Jack Torrance." (Plus helicopters.)  Also, for anyone who searches "The Undoing dishwasher":  I share your confusion.)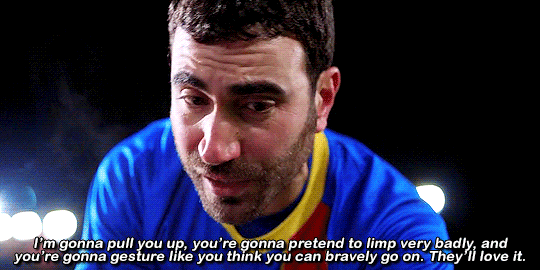 Ted Lasso – Rebecca Confesses / Roy Kent
I mentioned a couple of my favorite Ted Lasso moments in my article on the show, mostly centered around Ted meeting Rupert Mannion and having his number immediately. But two more merit mention:
First, Rebecca's confession to Ted that she's been trying to sabotage the club all season. It's a great moment because it's the deepest test of Ted's optimism and faith in other people, and he responds exactly like you would expect– or should have expected. (Like I've referenced here many times before– drama, powerful, confirming something old, etc.) And it gives us a great comic moment when Rebecca implores her second-in-command Higgins to come back to work and he asks about Ted: "That little fucker forgave me!"
And the second comes in the finale, as aging midfielder Roy Kent, relegated to the bench after a stretch of poor play, chooses to play in the finale rather than take the out of sitting out with "injury" and not risking his next contract– and after coming off the bench and successfully catching hotshot-former-teammate Jamie Tartt on a breakaway, suffers a serious injury in the process. It could be a career-ender for Kent, and he knows it, but he still tries to walk his way off the field. But in a mirror image of what happened in an early episode (see the GIF above), young Nigerian player Sam tells Roy to stay down for a little while. "Listen." The crowd is cheering a tune they've certainly sung many times before:
"Royyyy Kennnnt, Royyyy Kennnnt, he's here, he's there, he's every-fucking-where, Royyyy Kennnnt, Royyyy Kennnnt!"
It's a neat little moment that captures the majesty and passion of soccer and soccer fandom in a way that has to be experienced, not told. (R.C.)
January 11, AFC Divisional Playoff: Houston goes up 21-0 on Kansas City in the first quarter
Memorable largely because nobody watching the game really thought Houston would go on to win, even after extending their lead to 24-0 in the second quarter (they lost 51-31), but in hindsight, that kicked off not only the beginning of the Patrick Mahomes dynasty, but perhaps the most dramatic behind-the-scenes year in pro sports*, one that left the Texans the most dysfunctional and disarrayed in the NFL:
It started when the front-office team of head coach / GM Bill O'Brien and "character coach" Jack Easterby traded superstar receiver DeAndre Hopkins for an insultingly low offer;

Got worse when O'Brien was fired after an 0-4 start and Easterby– with no football-relevant experience, with a background primarily as a pastor and motivational speaker– was elevated to GM;

Got exposed in a December

Sports Illustrated

report

 detailing Easterby's rise, his ambition and ability to get in the ear of the biggest suit in the room (in this case, owner Cal McNair, who inherited the team when his father Bob died in 2018), and his ability to alienate everyone working around him who can't help his rise to power or doesn't fit his vision of the culture;

And culminated in January with star QB Deshaun Watson, who still played at an elite level for a 4-12 team desperately low on talent otherwise, making known his anger that his recommendations for hiring a coach were ultimately ignored by McNair and Easterby. (Easterby's choice for general manager was Patriots executive Nick Caserio, who worked with Easterby previously– a choice that completely ignored the recommendations of the search firm McNair hired.)
It got so bad that lifelong Texan and possible future Hall of Famer Andre Johnson spoke out in support of Watson's position and to call for Easterby's firing. Houston's mayor, Sylvester Turner, pleaded for Watson to stay. Everyone in Houston can see where the problem is with the team culture, except McNair, who either doesn't notice, doesn't care, or doesn't listen to anyone except Easterby. As of this writing, Watson hasn't been traded, but that seems increasingly a foregone conclusion given that Watson's relationship to the team has deteriorated so much it can't be fixed "unless Cal McNair can fire himself." As Houston-based sportswriter Rivers McCown put it, "What if Cal McNair is just a family-focused goober who happened to own a football team and saw it as a cheat code for respect at cocktail events rather than a description to be lived up to?" To be continued in 2021. (R.C.)
(* – although, as of January 13, possibly not even the most dramatic behind-the-scenes year in Houston pro sports.)
The Boys: Nothing sums up Amazon's Edgiest!™️ offering like the twofer of having its women forced to participate in an Endgame-style Girls Get It Done! moment for an in-universe Endgame-style movie (complete with full corporate marketing, a Legally Not JJ Abrams director, and the line "the new Joss rewrite really sings, huh?"–wow, they don't care whose toes they step on!) at the beginning of the season and then doing the exact same thing–a full girl and girl and girl on girl fight–at the end, same characters, played straight, literally becoming the thing it mocked, one more way The Boys' need to make a point in the moment overrides any kind of coherent plot or tone.  All ups and shouts, though, to Aya Cash, who made everyone either raise their game or blew them the fuck off the screen with her portrayal of Stormfront (aka Captain Nazi Germany), terrifying and heartbreaking as a woman out of her own time who found her home in ours. (wallflower)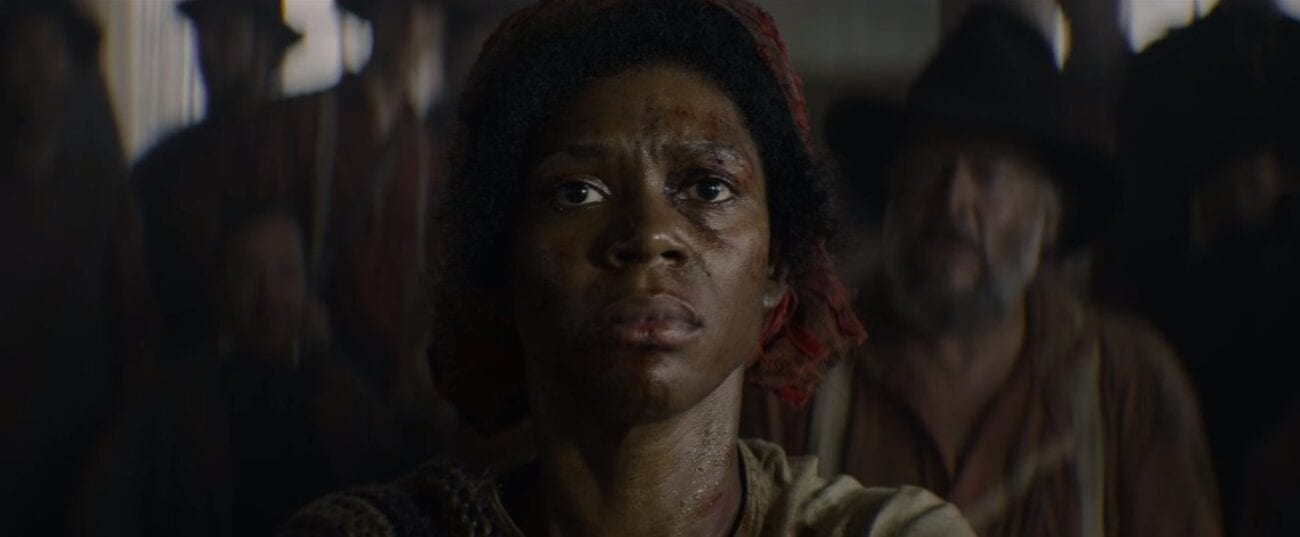 The Good Lord Bird – The Face
Ethan Hawke as Osawatomie John Brown could provide a number of memorable moments for me alone, but the one moment that has remained with me the most comes from an episode he barely appears in. The Good Lord Bird has a number of portrayals of Black faces, putting a human face on the abolitionist struggle in a powerful way, probably most notably in the end-of-series montage, but this moment comes from a much earlier episode.
In the second episode, Henry/Henrietta/Onion finds himself separated from the Brown posse and riding with his pal Bob to Missouri (with Steve Zahn and his crew, not by choice). Missouri is a slave state, so Onion and Bob quickly have to adapt to survive and find a way out. When the slaves kept outside (either as field hands or to be sold) learn that Onion can read and write, one of them– Sibonia (played by Crystal Lee Brown), whom everyone thinks is mentally unwell, takes a rare opportunity to approach him and ask him to write a letter that will gather some outside support for a rebellion by these slaves. Onion agrees, but after confiding in Pie, his mentor inside, she warns him it's too risky, and he can't find the means to do so safely.
Then the plot comes out and the locals decide to hang some of the slaves in retribution. Sibonia is brought forth to testify. She refuses to implicate anyone else, and in speaking to the town's reverend, lays out not only what a great sin against God's word it is to treat Black people in this way– "It was you and your wife that taught me Jesus has no respect of persons"– but also tells him, even though she and the reverend's wife are friends, that she would have killed them first, "just to show them that followed me that I could sacrifice my love to have justice for them." Her testimony leads the reverend to quit the town, wanting no further part of this great injustice.
We see Onion watching the hanging, set to Nina Simone's version of "I Shall Be Released," and intercut with his visions of her visage during her testimony. That's the moment I want to highlight: Sibonia's face, that look of unbreakable will, of the knowledge of the evil being wrought and of the fearlessness it takes to forfeit one's life to stand up to it, is indelible and has stuck with me long after many other moments from the show have faded. (R.C.)
Zoey's Extraordinary Playlist – Mitch's Last Moments
I covered this moment in my article on the show, but it's so potent it deserves to be mentioned again. Zoey's final words to Mitch are not only a culmination of the season and her arc, but also an inversion of what she said in the pilot, when she was floundering and didn't know what to do. And she gets to share one more moment with Mitch, a dance in her song-mind, before he passes. This show inspired, excited, and devastated us throughout the first season, and no moment was more heartbreaking than Mitch's last. The show managed to take such a subject and make it emotionally effective without being mawkish or overbearing, consistently each episode, and this was the culmination of all that work by the writers and actors in the first season. (R.C.)
Avenue 5 is not a good show; it started off promisingly but devolved into Armando Iannucci delivering on his worst instincts, a bunch of non-characters who do nothing except act stupidly and then insult each other with variations on "look at how stupid you acted," with only Zach Woods worth watching after the first few episodes. In perhaps its stupidest scene, some passengers of the spaceship Avenue 5 (guess what the title references) refuse to believe that the space outside is real ("it's VFX!") and one by one, open an airlock and kill themselves, refusing to believe in the dead bodies right in front of their eyes.  Broadcast on March 8th, the year's most base and ridiculous scene was also its most accurate.  2020, rest in infamy. (wallflower)
Mr. Show Zoomtacular Annual Business Call For Charity – "Eat It"
If, like me, you found the "Imagine" celebrity sing-along video at the beginning of the pandemic– or, for that matter, the "I'm Responsible" video in the wake of George Floyd's murder– a perfect example of celebrity cluelessness and insulation from ordinary people and what they want and need, the conclusion to Mr. Show's Zoom reunion was a welcome antidote to the cloying self-regard masquerading as concern. (R.C.)