Major spoilers for Christopher Nolan films follow
Among some circles, Christopher Nolan has been derided as a pretentious charlatan, a crypto-neocon propagandist, or a peddler of Hollywood bombast asserting size over substance.
But of all the complaints and charges level against him in the High Court of Film and Film Lovers, the most penetrating and damnable is the claim that he is the dreaded U-word: uncinematic.
Nolan, his detractors lament, makes *radio*. Talky, plot-driven films with a cool, cold style, or, as some would allege, a lack thereof.
But while Nolan's films are heavy on both dialogue and exposition — so much so that I would argue his films are best appreciated if you view the exposition as part of the rhythms of the film, and not just blocks of learning to be gotten past ASAP– and thus mark off many of the boxes that are found on the Checklist of the Uncinematic, what these criticisms miss is Nolan's persistent and masterful utilization of one of cinema's most potent and rare strengths: the depiction of the flow of time — and more importantly, its fragmentation.
Cinema is uniquely suited to depicting the passage of time, and the disruption of the natural flow of time. More than prose, which starts and stops at the reader's discretion as opposed to the artist's, or theatre, which is simply too real and "in the moment" to truly convince you that you're watching many years pass or time turn in on itself, the movies are a medium that reflect the rise and fall of time's arrow, or its chaotic disruption, in a way that feels as natural and real as any other element of the storytelling. The recent film Boyhood inspired plaudits and praises for its gradual and subtle transition from one year of time to another; but perhaps just as compelling, to this writer, was the way Christopher Nolan's 2014 film Interstellar took the all-too-human reaction to the passage of time and amplified it, turning it into top-notch science fiction wonderment.
This is not new to Nolan's filmography. The man appears to be downright obsessed with the manipulation and splintering of time. In nearly all of his films so far, the altered perception of time is an essential part of the storytelling and themes.
Interstellar is perhaps the most clear case of this artistic obsession. In the film, astronaut-turned-farmer-turned-astronaut Cooper (Matthew McConaughey) is chosen to pilot a top secret mission beyond Earth's orbit with the hope of finding a livable planet for humanity to migrate to. To do this, he must leave behind his 10-year-old daughter Murph (Mackenzie Foy) on the family farm back on Earth. But due to the nature of his voyage — traveling at near light speed — 25 years pass on Earth while Cooper only seems to experience a few days. In what may be the film's best scene, Cooper weeps while he watches, over a few minutes, 25 years worth of one-way transmissions from Earth, unable to interact as his daughter transforms from a red-haired little moppet to a fully grown (but still red-haired) Jessica Chastain. It's every parent's anxiety heightened to cosmic levels: they really do grow up so fast. Boyhood meets Bradbury.
The rest of the film's plot is far too complicated to adequately explain, but I'll try anyways — Cooper survives entering a black hole and does his part to change the course of human history, before being deposited on the other side and waking up in a hospital on a space station, with news that his daughter is coming to visit him. His daughter, by this point, is no longer Jessica Chastain but has aged into Ellen Burstyn. In a touching scene, Cooper holds his daughter (now old enough to be his grandmother) one last time. No parent should have to watch their child die, the elderly Murph tells him as she bids him goodbye. Cooper has missed his daughter's lifetime, with his own still ahead of him. It's a great example of science fiction using the as-yet-impossibilites of life to tell a real human story. Who among us hasn't ever experienced the sensation that life has passed them by?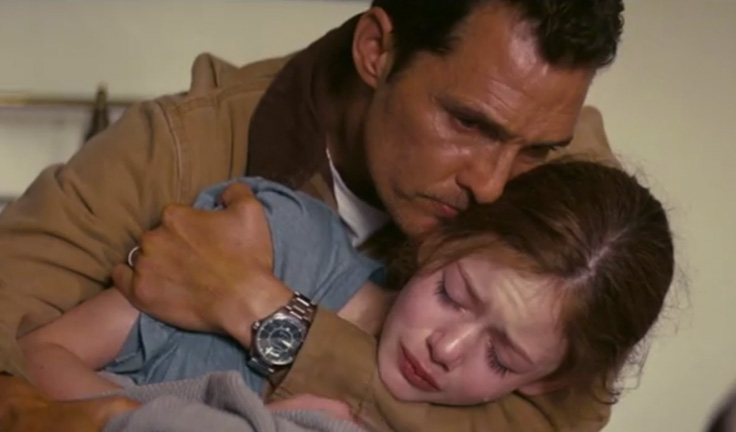 Nolan's 2010 blockbuster Inception is in a similar vein. The film — probably the purest expression of Nolan's pet themes and aesthetics — is about a team of highly-skilled criminals who are able to engineer and exploit the literal dreams of others. Led by the haunted Cobb (Leonardo DiCaprio, in a role that's tempting to read as Nolan's stand-in) the team ventures into the mind of a wealthy businessman, creating and implanting various layers of dreams for the man to go through while he dozes off on an overseas flight. The conceit of the film is that each "level" of dreaming operates on a different scale of time: the deeper you go into dreams, the more time passes. Like Cooper in Interstellar, Cobb is a man out of time, but while Cooper misses out of the rest of the world while he experiences only a brief period of time, Cobb lives a long, long life while the rest of the world takes no notice. It is eventually revealed that Cobb has been hardened by the several generations spent in a constructed dreamworld with his wife Mal (Marion Cotillard), growing old together while their physical bodies barely aged.
In the thrilling climax to the film, each member of Cobb's team acts on a different level of the dream, outrunning foes and facing enemies over their own timespan. With a feat of bravura editing by Lee Smith, Nolan takes the century old cross-cutting techniques established by D.W. Griffith and mashes it with action movie slo-mo, while making both literal and plot-driven. Each strand of action going on is really going on, and it's going on at the rate we see. When this sequence ends, and time resumes its natural flow, it's like a harbor after a storm: a welcome respite lying just above the remains of a particularly dangerous day. Inception is Nolan's greatest technical accomplishment, taking something that his detractors have read as thudding literalism (the dreams seen in the film are hardly Fellini or Lynch) and welding it with genuine artistic innovation, giving audiences the filmic techniques they're used to seeing and bringing them to their logical, but as yet untapped, conclusions.
Even outside of his science fiction films, Nolan dives headfirst into the adjustment of time's natural flow. In 2002's Insomnia, a detective played by Al Pacino accidentally kills a police colleague and covers up the deed. While trying to solve another murder in small-town Alaska, the detective, Dormer, is guilt-ridden and restless, and driven to insomnia — made all the worse because Alaska is currently undergoing its "midnight sun". Dormer's inner torment is shown in the landscape around him; the sleepless man is mocked by a world that surrounds him with perpetual daylight. Most of the world will never experience a situation like this, so Nolan's use of the midnight sun (borrowing from the Norwegian film of the same name) is, in its own way, just a fantastical and bizarre as the timeslips experienced by Cobb and Cooper in Inception and Interstellar.
The diegetic time alterations of these films are cousins to another Nolan tactic: the breaking up of plot to present multiple non-linear timeframes. In his Batman films, particularly the first and last, Nolan jumbles up the timeline shown to viewers, cherry-picking which bit of the story he will tell you next. As a writer, Nolan seems to have a great love of building elaborate and arcane universes for his films to take place in, and the viewer pieces together complex backstories as the films progress. The universe of his Dark Knight trilogy is a doozy, consisting of an ambiguously ethnic mercenary's star-crossed love affair with the daughter of an unseen warlord; an ancient cult responsible for the Sack of Rome, the Black Death, and Great Fire of London; two (!) fictional economic depressions; and a whole mess of faked deaths, real deaths, and super-shady supervillain backstories. One almost feels that a whole trilogy of films could be made simply showing what happens offscreen in The Dark Knight Rises.
In these films (as well as his dueling-magicians-mystery The Prestige, which takes the form of multiple overlapping diaries written from different perspectives on the same events) Nolan seems to relish giving the audience little bits of the story but not the whole thing; tantalizing the viewer with a seemingly out-of-context moment or image. Though the Batman story is as well known nowadays as the birth of Moses, Nolan holds off on familiarity: Batman Begins starts not with the iconic murder of the Waynes, but with the young Bruce Wayne suddenly falling into a cavern full of bats before jumping ahead to an adult Bruce stuck in a Chinese prison. The next hour of the film cuts between this Chinese-set narrative and flashbacks to Bruce's childhood and youth, all before putting Batman onscreen; this is a fairly complex structure for a tentpole superhero film, and was even more so in 2005. The Dark Knight Rises similarly utilizes flashbacks to spool out a multi-decade backstory, but also challenges the audience's implicit trust of flashbacks by using the same scenes multiple times, each with a different context, and slightly more footage to indicate the learning of new information. This is not as a thematically important as the time-bending Nolan indulges in in his other films, but is still evidence of Nolan's overall interesting in the subtle and unsubtle shifts of the hands of time.
These two approaches, the narrative approach to time-bending (seen in Inception or Interstellar) and the stylistic approach to time-bending (seen in The Prestige or the Batman films), coalesce in his breakthrough film, the film that put Christopher Nolan on the map: 2000's Memento. Leonard (played by Guy Pearce) suffered a brain injury and now suffers from anterograde amnesia — he cannot retain new memories for longer than a few minutes. As such, he is stuck in a past that only grows more and more distant with each passing minute. Obsessed with finding the men who gave him the injury and killed his wife, Leonard is forced to rely on handwritten notes, Polaroids, and tattoos to keep himself informed of his situation. It's a highly captivating premise for a thriller, and the film is made even more exciting by Nolan's choice to present the film in a very specific fashion. There are two different timelines interspersed with each other, one in color, the other in black-and-white. It becomes clear to the viewer early on that each color sequence takes place before the previous one, in a sense replicating Leonard's broken mind; just as Leonard is continuously unaware of what happened to him just a few minutes before, the viewer is also left in the dark. In a scene of nicely dark humor (a quality Nolan is so often criticized as lacking), Leonard finds himself breathlessly running, with no idea of what he's doing. When he sees a man running alongside him, a distance away, he thinks to himself "Oh, I'm chasing this guy." He heads towards the other man, before the guy pulls out a gun, changes course and fires at Leonard. "Nope. He's chasing me," Leonard wryly notes in Pearce's voiceover.
But Nolan does not leave it at that — there is another timeline. In these black-and-white scenes, Nolan shows a Leonard sitting alone in a hotel room, speaking with an unseen, unheard caller on the telephone. We are free of context, as locked off and isolated as Leonard is from the outside world. When the hell are we? The audience is left in the dark until the end, when the two timelines converge — the end of the black-and-white timeline marks the beginning of the color timeline. Just as the characters of Inception plunge a man further and further into the world of dreams, and dreams-within-dreams, Nolan constructs within Memento multiple layers of time, each moving in a different direction, interspersed with each other until they are one and same.
For a filmmaker too often derided as cold and sterile, Nolan must simply delight in Hitchcockian audience manipulation, stringing us along like a skillful magician. With this in mind, Nolan's apparently humorless facade seems more like a bit of stagecraft itself — a great illusionist will maintain an aura of solemnity and reverence, all the better to preserve the mystique of the magic, and to distract the audience from the sleight-of-hand and the wicked amusement he takes in fooling us all. If Nolan is a magician, then the stretching, bending, and breaking of time is his greatest magic trick. And what could be more cinematic than that?