Tonight is the opening night of the TWIST – Seattle Queer Film Festival. Formerly known as the Seattle Lesbian and Gay Film Festival (SLGFF), Twist is celebrating its 22nd birthday this year by loudly shouting "BE SEEN!" In 2017, the first year of Donald Trump's presidency, standing up and being counted is more important than ever. Queer visibility in front of the camera is more important than ever, and queer audiences have to show up to continue being counted.
The official rebranding from "Lesbian and Gay" to the more inclusive "Queer" represents a wider recognition of the various queer identities under the rainbow umbrella. Fret not, Gay and Lesbian identities are still represented throughout the festival, but so is bisexuality, asexuality, polyamory, genderqueer, transgenderism and the various ranges within the quiltbag.
Tonight's gala opens with Jennifer Kroot's and Bill Weber's crowd-pleasing documentary The Untold Tales of Armistead Maupin. From the team who made 2014's To Be Takei, Kroot and Weber present an insider look into the life of Armistead Maupin, author of the landmark queer book series Tales From The City, later adapted into three acclaimed miniseries by Channel 4 and Showtime. Documenting queer life in 1970s San Francisco, Tales From the City began as a fast-paced soap opera about life in the city that became a living document of our changing world.
Yesterday afternoon, I got to interview Danny Tayara, Twist's brand new Festival Director, Senior Programmer for Three Dollar Bill Cinema, Twist's umbrella organization, and Program Manager for Reel Queer Youth, Three Dollar Bill Cinema's summer youth filmmaking process. Danny Tayara is also Twist's first gender non-conforming festival director, identifying as a white/Syrian genderqueer male/female (using he, she, and they pronouns) with a queer sexuality. In addition to those positions, she also manages the screening committees for Three Dollar Bill and a host of of other minor roles. Our discussion ranged from programming to their career path to the state of the festival and audience expectations. We talked for a significant period of time, and below I present an edited version of our conversation.
---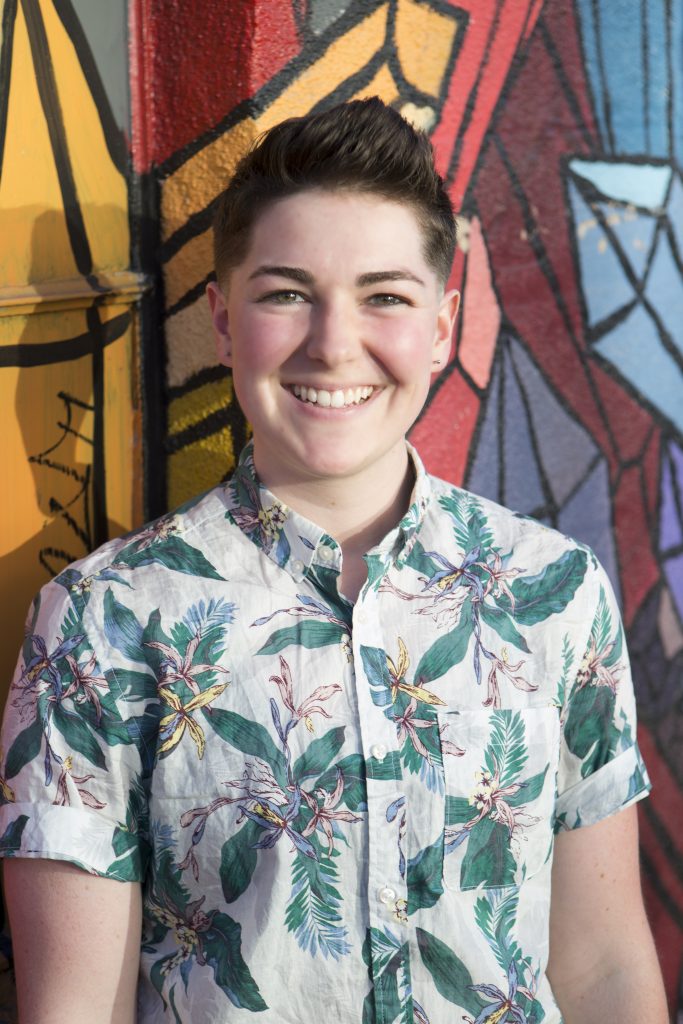 JK: You're Twist's first genderqueer festival director, how did you come into this position?
DT: I first got involved as a participant in the Reel Queer Youth program. And, while that was happening, Jason [Plourde], who's now the Executive Director of Three Dollar Bill Cinema, asked me if I would be his programming assistant, which was a 12 hour-a-week position on a stipend. I continued working from then on; working my was up from Programming Assistant, as basically an intern, and then into a paid position as the Programming Coordinator at 20 hours a week. Now, my title is Senior Programmer for Three Dollar Bill, one of two. Sam Berliner is the other one; he's the festival director for Translations. We both take the lead on each.
JK: For those who don't know, what is the Reel Queer Youth program?
DT: Reel Queer Youth is a week long video production and media literacy program for queer youth and allies ages 13-20. The first three days are really workshop intensive. We learn about lighting and camera basics and audio basics of all the equipment. We learn how to write scripts and structure stories. For two days we break into groups to shoot short films and for another two days we edit them. By the end, we have short films we can screen at our film festival and other film festivals worldwide.
JK: I believe you actually have a showcase for all that.
DT: We do. We have a Three Dollar Bill Cinema showcase. It's at 1pm on the last day of the festival, Oct 22, at the AMC Pacific Place. And it is free. We are showcasing the films from this year's Reel Queer Youth Programs that we hosted in Seattle and Tacoma this year. We are showcasing films from Blanket Fort Films' Motion Picture Program as well as the films from Blanket Fort Films' Three Day Filmmaking Challenge.
JK: So, what all does the Three Dollar Bill Cinema umbrella encompass?
DT: There's Twist and Reel Queer Youth. In the spring, we do Translations, Seattle's Transgender Film Festival. We also have a traveling best of festival for Twist, it's called Twist Tops. In addition, we have a few other annual events like our free summer movies at Cal Anderson Park and our annual holiday screening of Auntie Mame.
JK: Let's move on to Twist. You changed the name last year from Seattle Gay and Lesbian Film Festival, quite the mouthful, to Twist – Seattle Queer Film Festival. Why the change?
DT: There were a few reasons behind the name change. One is that the name change, yeah, used to be a mouthful. Seattle Lesbian and Gay Film Festival was a lot to say and it was also inaccurate. Our films, after a certain point started to be more varied in the identities we represented. So, rather than just be lesbian and gay films, we wanted it to be known that we had transgender and gender non-conforming content as well. There wasn't really a good way to say that without limiting ourselves to certain identities and excluding others. So, we felt that the word queer was a good way to encompass all the identities under that umbrella without excluding anyone.
JK: "Queer," historically, has been a charged word in the community but has since become a more blanket term for the umbrella.
DT: I know that the word "Queer" is still harsh for some but we felt that being in Seattle, being in such a progressive community, that folks would understand the name change from lesbian and gay to queer. And the word Twist came about because Seattle Queer Film Festival is still kind of a lot to say and we wanted to brand ourselves with a single syllable, easy to say, single name. And the tagline that follows wouldn't necessarily need to be said because we'd established ourselves as TWIST. We like that word because it has more than a couple meanings. We felt that it was fun, engaging, easy to say, and symmetrical. That's why we write it in all caps. And the I is twisted, which is fun. We want people to know that when they come here, they're gonna have a good time and that they can play.
JK: What's your goal with this year's film festival?
DT: My goal is to make sure that anyone, particularly minorities and under-represented communities, feel welcome at this festival. That they are represented on screen and in stories. That they're validated and heard and seen. That's where our theme comes in, "Be Seen." Be seen: be validated in your identity. Be seen: see yourselves on screen. Be seen: Share your stories, hear other people's stories. I tried to do that by programming films with a social justice lens. We have our $5@5 documentary program, where at 5pm at the Northwest Film Forum, you can see a documentary for $5. All of them have something to do with activism or people of color, trans folks, gender non-conforming folks, artists, athletes. Not just in documentaries, I also wanted to center people of color in the main programming as well.
JK: One of the running themes on The Solute is that we try to champion other voices, and we love seeing other stories and other cultures presented. But, as an audience, this can conflict with our desire to see ourselves presented on screen. How is Twist presenting the wider array of voices as a way to broaden the audience's horizons?
DT: I would hope that people coming to our festival wouldn't be put off by the idea of there being a diversity and variety of identities represented in the films. I really want to bring a light to people that their experiences and understanding of the world is only going to be enriched by seeing more than just what they've seen typically over and over again. For instance, I could have picked any films for the Gala screenings, but I really wanted to focus on a screening of Saturday Church as the centerpiece.
JK: Tell us about Saturday Church.
DT: Saturday Church is a musical narrative about a young person named Ulysses who gets kicked out of his house and finds refuge on the piers with drag queens and trans folks in a weekly event called Saturday Church. It's a place for houseless young folks and black folks to get a hot meal and find community with each other. The film touches on youth homelessness and black lives and experiences and gender exploration and fluidity, drag, dance music. I just feel so lucky that we are able to witness these stories and so grateful that these directors are able to bring these amazing stories in a way that are accessible to people who may not have considered being, say, a homeless black youth. I hope people realize that supporting people like Yancy Ford, who directed Strong Island, and Damon Cardasis [director of Saturday Church] and seeing these films and engages with the film translates to the director and encourages more stories like this. I hope that, by programming things like Saturday Church, we'll see more like that.
JK: As a filmmaker and a festival director, if you had to give some tips, either to features or short filmmakers, what would that be?
DT: Tips for short filmmakers: Unless your film is really really good, and I'm not saying your family and friends think its good, but that its really good…you probably can't get away with a film that's longer than 10 minutes. It's really hard to program a short in a shorts program that's longer than 10 minutes. And, I feel really bad that I have to say no to filmmakers, but unless its amazing, we can't screen a film that's like 20 minutes because that takes an opportunity away from other filmmakers and we want to include as many as we can.
For features and shorts, it doesn't matter which, make sure that the story you're telling is original and that it's something we haven't really seen before. If you're submitting to a queer festival specifically, try to advance past a Queer 101 or Trans 101 story. What I mean is "This is when I started testosterone" and "this is when I got top surgery." There is value in Queer 101 and Trans 101, and I don't mean to trivialize content like that. But, as a queer film festival, we've seen a lot of that and there are so many films that go beyond that.
Try to get at people's authentic stories and who they are. It's more compelling to watch a trans person experiencing something other than their transition or their gender identity exploration. It's more intriguing to me to watch a horror movie about a trans person as the main character or a romantic comedy about two queer people going on some kind of wild adventure as opposed to, say, coming out to families.
JK: I totally get it. As somebody who's been out for awhile, I feel like we see a lot of the same stories over and over again, especially the coming out story. And, every year, we see stories about people coming out again and again and again and again… On the other hand, every year we have more and more people coming out every year. So, how do we reconcile the Queer 101 needs of the newly out audience with the needs of the audience who has been out for decades and have seen these stories every year.
DT: I try to have a variety and a balance of all of that. We have a free "How To Be A Trans Ally" workshop that's a free event run by the director of Gender Diversity and the founder of Gender Odyssey conference. That is very much a Trans 101 event. It's free, accessible, ASL interpreted. And then we have things that range all the way on the other side of the spectrum including our In the Dark program of thriller shorts and Ultraviolet program of experimental shorts. To keep that variety, we can't just accept every Queer 101 film, but we have to have those. So, I say "Keep [advancing your story] in mind" because we need to have a variety, but I also need to make room for those stories as well.
JK: Twist does have the Queer Out program.
DT: Yeah! Queer Out is centered around self-discovery and coming out. If you want or need to see that stuff, that's still sort of a middle ground between the Queer 101 basics and…
JK: Between the horror or, like, the experimental. As you said, there is the In the Dark and Ultraviolet programs. Ultraviolet, the experimental program, does have a lot of strange things in it. Do you think newly out people would get those films?
DT: I don't want to say its inaccessible for a newly out person, but these are, without the context of having been involved in the queer community for a period of time, I could see how people could potentially misconstrue or misinterpret the messaging.
JK: Which is something that's a little risky.
DT: It's a little risky. It's a little in your face. It can be a little tough to chew and swallow.
JK: Which is one of the tougher aspects of In the Dark. It's October, and last week I did a mini run of queer horror films. One of the things I ran into was, based on the historical queer relationship with horror cinema, there seemed to still be a lot of reticence within the queer community to movies about horror and violence.
DT: Absolutely. But, I don't want to be relegated to just like "Happy Me, I'm Gay" stories…
JK: Yeah, we have a lot of queer filmmakers working within the horror genre – Don Mancini, who does Child's Play, David DeCoteau who does those non-queer-but-queer 1515 horror movies or Chris Peckover of Better Watch Out – without making queer horror films.
DT: Yeah, I don't want to limit any of our stories or exclude ourselves from any particular kind of storytelling because of what it may look like to people on the outside. This is a film festival for anyone, but especially for queer people. So, if a straight person comes to our festival and, after seeing a horror film, walks away thinking all queer people are murderers…I don't think we want someone like that around anyway! There are some tough subjects in the In The Dark program.
It's similar to U Up? our erotic shorts program. I didn't want to shy away from that. I mean, my mom hates when I talk about porn. She hates that queer people are known for being "overly sexual" and "in your face" about our sexuality. But, in reality, we're just like everybody else…we're just less afraid to openly discuss things. Nothing is taboo here. I'm sex positive, and I want people to know there's nothing wrong with people having sex. Let's be honest about people watching porn. So, yeah, we have an erotic shorts program and that's OK! That's something to be celebrated.
JK: Which is another thing that I've run into with sexuality in queer film. It seems tempered lately. Is there a trend to bring sexuality back?
DT: I don't know. I don't know exactly where the community is on that. I know that personally, as a filmmaker, I'm not afraid of that stuff. I just know that it can get tricky for distribution on Netflix and stuff like that. I know that, as a film festival, TWIST can show generally explicit content and I hope, that by programming this stuff, that filmmakers and directors and cast and crew will understand that we support content with a range of sexuality and that we're not going to shy away from it because of what people may think. I don't know if that will shift things, but I hope.
JK: Which brings us back to your filmmaking. You hold down a full time job here, but you're also a filmmaker yourself. One of your shorts, The Curse, is a highlight of the In The Dark program, and you've also had stuff program at Dan Savage's Hump! Film Festival. How do you do that?
DT: I feel very strongly that I need to have at least one personal project in motion at all times. It's often two or three because not everything goes at the timeline you wish. I collaborate with many different people, so on one project I might be waiting for an email from someone before I can move on, so I'll start working on my other project. In the mad runup to the film festival, I've taken a bit of a hiatus from that. But, I've consistently been making films since the first day I learned how to make one. I've done a number of film challenges and docs an short narratives.
I also have started distributing my films through CFDC (Canadian Filmmakers Distribution Center). It helps with the screening fees and the paperwork for submission…
JK: So, how do you gather your team?
DT: It took me awhile to gather the team that I work well with. My good friend Brody Willis, executive director of Blanket Fort Films (a non-profit that provides access to filmmaking equipment and education for minorities and underrepresented people), has been a supporter and collaborator of mine ever since I've known them. They are my cinematographer. They will follow me to the end of the Earth. Ari Chivukula has been a collaborator of mine and we met through the Lion's Mane Art Collective.
So, I meet a lot of people through art collectives and at film festivals. Frameline, Outfest, going to events and parties…basically talking to people. Being on panels where I meet other panelists and audience members. At Sundance, I snuck my way into the Outfest Filmmaker's Brunch and that's where I met the composer for Spa Night and I asked them to be my composer for The Curse. So, yeah, parties, brunches, social events…
JK: And, how do you finance it?
DT: That's why I have a full time job…so I can afford to do my independent projects. Most of what I was doing is self-funded. I don't have any debt and don't want to go in debt for any project; that freaks me out. So, I try to barter or I'll put a certain amount of my own money in it. I also do everything. For awhile, I was distributing, I was marketing, I was editing, I was directing, I was writing, I was ASL interpreting. I was feeding everyone, I was cooking, I was crafting. I was just kind of running around like a chicken with my head cut off. Sometimes, Ari Chivukula would finance about one of my films every year. Filmmakers also get a portion of ticket sales from Hump! So, we basically come out even.
JK: Any last quick tips for filmmakers on how to make their films?
DT: A few quick tips: I use Studio Binder, which is a website for sending out call sheets and building out storyboards and a centralized location for scripts. Definitely socialize: go to filmmaker parties and meetup events. Go to film festivals, even if you don't have a film in the festival. Always go to the film festival with a printed flyer for your film. Have a website…a real website…with a reel on your website. Just be accessible to people. Try to make genuine human connections with people because that's where you're gonna find your collaborators. Without collaborators I couldn't do what I do.