Since Cinemascore began operation in 1979 only 19 films have received the lowest score. In this series I'll be reviewing those 19 films. This week, William Friedkin's long awaited return to horror, Bug.
So What is it?
 After making a series of small, but generally well regarded films in the 1960s, William Friedkin burst into the mainstream with 1971's The French Connection, one of the definitive movies of New Hollywood, and a film that won him an Oscar. He followed that with The Exorcist, a bonafide cultural phenomenon. Adjusted for inflation, The Exorcist is still the highest grossing R-rated film ever made (9th all-time unadjusted, and #1 for 30 years following its release). But Friedkin's time at the top would be short lived. His next film, the masterpiece Sorcerer, was released to mixed reviews and was steamrolled at the box office by a little flick called Star Wars (I've never heard of it either). In 1980, sandwiched between a pair of largely forgotten comedies, he directed Cruising, a gritty thriller set in New York's gay s&m subculture. It ended up inspiring boycotts and protests from both the conservative religious community and the gay community for being both too critical and not critical enough of homosexuality.  In 1985 he directed To Live and Die in LA, one of the best movies of it's genre, but critics found it "too stylish" and general audiences weren't interested in Friedkin's negative and cynical view of police work. And for the rest of the 80s and 90s, Friedkin would bounce back and forth from TV work and theatrical failures, while the critical community bemoaned the loss of the once great talent that they had helped bury. In 2006 Friedkin was coming off a pair of theatrically released movies, 2000's Terms of Engagement and 2003's underrated thriller, The Hunted (ask your dad about it), and decided to take a shoestring budget and adapt the 1996 Tracy Letts play Bug, even getting Michael Shannon to reprise his role. Bug is a grim and claustrophobic psychological horror film that follows an aging alcoholic drug addict as she begins a relationship with a paranoid schizophrenic, and gets sucked into his self destructive delusions.
The movie opens with an unsteady helicopter shot lurching towards an isolated motel off the side of a desolate highway.  We pan closer and closer until it seems like we we're going to crash into the building and then there's a hard cut into the interior of one of the filthy rooms.  Agnes (Ashley Judd) is there, alone. The lighting and the make-up strip away her movie star looks (at least, as much as possible). Her skin is red and puffy and we can see all the lines in her face. Her eyes are cloudy and unfocused. They drift around, always behind the action, the way it is with long time drunks. A phone rings, loud and shrill, but when Agnes answers it there's no one on the line. She paces around the room, and we notice the many empty liquor bottles. The phone rings again and again. Agnes always answers, each time more agitated, more angry. Always to silence. There's a hard cut to the next morning, and we get the sense that most of Agnes's nights are like this. She goes grocery shopping, buying little more than liquor, and barely holding it together long enough to get out of the store. Next we see her at her job as a waitress in a dive bar. She works there with her best, and possibly only, friend, RC (Lynn Collins) and we get a few snippets of backstory. Agnes's abusive ex-husband has just been released from prison, and she suspects he's the one responsible for the calls. RC introduces Agnes to Peter (Michael Shannon), and the three plan to go to a party, but end up back at Agnes's place.  RC needs to leave for an emergency, and Peter stays. The two are uncomfortable, but clearly drawn to eachother, and Agnes invites Peter to stay the night, although he has no interest in sex. In the morning Peter goes to pick up breakfast and Agnes's ex husband, Jerry (Harry Connick Jr.) appears. He's possessive, threatening, and physically abusive. Jerry leaves when Peter returns, but threatens to return shortly. Now alone, Agnes tells Peter about her son who was kidnapped ten years earlier, and invites him to stay. She feels safer with him there. He tells her,
"You're never really safe.  One time, maybe, a long time ago, people were safe, but that's all over. Not anymore, not on this planet. We'll never really be safe again. We can't be, not with all the technology, the chemicals, the information. Well, I don't like to think about that. Sometimes, though, when you're lying in bed at night, you can feel it.  All the machines, people working their machines, the works, humming. I don't like to go on about it, 'cause it freaks people out."
 Anges is a little freaked out herself, but still feels safer with him around.  Shannon brings a vulnerability and a neediness to his performance, and it draws out the nurturing side of Agnes. In the stage version, the age gap between the two is larger, and this surrogate mother/son relationship is more explicit. I prefer the relationship as it is in the film, where that aspect is subtler. One part of Agnes's phycology instead of a magic key that explains all of her decisions.
The two sleep together, both admitting that they've been alone for a long time.  This triggers a psychotic break in Peter, who wakes up after their night together complaining of a bug bite and insisting they search the room for the creature.  Agnes is different now, at ease and flirtatious and Peter, too, is less guarded. Peter finds an aphid on the bed sheet, completely invisible to the audience, and after some convincing, Agnes has seen it too.  Peter decides to fumigate in the morning, but when Agnes suggests telling the manager, he freaks out and flees the motel.  Agnes pleads with him to stay, and cusses him out, but when he leaves she locks herself in the bathroom and collapses on the floor.  Peter returns and Shannon delivers a long rambling monologue about his time in the military where they experimented on him- gave him some disease- implanted bugs in his body- but he escaped and now they are after him.  The whole time the camera holds on Judd's face. She's breaking into tears, silently going through a whole litany of emotions.  Relief at his return, horror and disbelief at his story, pity and defeat.  When Shannon stops speaking, she opens up the door and delivers one line,
"Don't leave me." 
 She'll go along with his delusion all the way, and she knows it. The rest of the film follows their descent into that delusion. At first Agnes pushes back against Peter, but he's very sensitive and her skepticism becomes gentler and gentler until eventually it disappears and the act of pretending to believe turns to honest belief.  The two begin to cover themselves in cuts and gashes, as they try to dig out the insects living under their skin. Peter even begins pulling out his teeth, believing that they conceal egg sacks.  They transform their living space, first by hanging flypaper from the ceilings, then later, by covering the walls in aluminum foil, the space lit only by the blue glow of the bug zappers that fill the room. The set design is oppressive and suffocating, and you can't help feeling that if you could just pull them out of this room, let them shower and get some sunlight and some fresh air the "bugs" would disappear. Even just watching the room is enough to make your skin crawl, to have you developing phantom itches.
A phyciatrist (Brían F. O'Byrne) comes to the motel looking for Peter, and tries to persuade Agnes to give him up. When he sees how deeply she's bought into Peter's delusions, he changes course and claims to be a part of the conspiracy and offers to reunite Agnes with her son. Peter returns and kills the man. Agnes freaks out, but Peter claims he was a robot, and puts her hand on the corpse. "See! It's synthetic. It's not even close." Agnes seems to think it's pretty close, but she wants to believe. And when Peter pushes her to "put it all together," Judd delivers an absolute showstopper of a monologue. It seems at least half improvised, and her wild breathless delivery drives it into that uncomfortable embarrassing sort of authenticity that actors rarely expose. It's a long, increasingly manic tirade that filters through a dozen different emotions; confusion, epiphany, anger, and finally a sort of frenzied joy and relief at getting through the thing.  It absorbs all of Peter's conspiracy theories into an even vaster one, centered on her own life and explaining every tragedy and personal failing she's experienced. The movie does a great job of understanding why this delesusion would be so appealing to Agnes. Both by understanding her loneliness and what she's willing to give up to have another person to share her life with. But also in the way that all her problems can be given a single face. A single villian. And that as fearsome and overwhelming as that villain may be, there are still things to do in opposition. Walls that need to be covered with tin foil, food that needs to be examined under the microscope, spots that need to be carved out of her skin (the self harm is appealing too, a welcome relief from her guilt). It's also a nice touch that although both character's delusions feed off the other, they both place themselves at the center of the conspiracy. For Peter this is all about his time in the army, for Agnes it's about her son's kidnapping.
The two having worked themselves into a fever, and with a body now sharing the room, settle on a final course of action. They enter the bathroom, strip naked, douse themselves in gasoline, and incinerate themselves. The only way to absolutely destroy the bugs. Although this seems to be a spur of the moment decision, it was likely their end game for a while. They had barrels of gasoline ready, for one. And they move into it smoothly and naturally. There's no convincing, no arguing, no surprise, and they both seem happy and accepting of this fate. It's easier to go out in a blaze of glory than be ground down by the incomprehensible cruelties of life.
So why the F?
Bug is one of the most aggressively unpleasant movies ever released. The sets are filthy and shot in muddy yellows or sickly blues. The characters are unsympathetic, dumb, aggravating, but still too pitiful to be truly hated. The sound design is abrasive, and even the editing is jarring. The movie will also break from it's grimy realism occasionally for brief stylistic flourishes or tiny absurdist touches. Take the sex scene for example. Michael Shannon, Frankenstein looking motherfucker that he is, awkwardly tells Ashley Judd, "I haven't been to bed with a woman in a long time, but I think I could go to bed with you." Judd responds by contorting her face as though she's about to cry, then laugh, then stands up and with a cold seriousness and thousand-yard stare says, "come here, boy", the camera pushing in on "boy", and leads him into the bedroom. This leads directly to a slightly psychedelic montage, all hands, and breasts, and swirling flesh with a bit of insect imagery thrown in for good measure, punctured by closeups on the actors' uncomfortable faces and scored to the same discordant horror music that underlies the rest of the film. This is to say, that audiences who haven't completely bought into the conceit or tone of the movie will find plenty mockable about it. Friedkin himself has described the film as a dark comedy, though I suspect he's just being difficult. On top of all that, the trailer promised something more supernatural and far less bleak.
So were they right?
Bug is a great movie and one of the best horror films of it's era, but I can't imagine the filmmakers were all that surprised by the response to it.  This movie was never going to have more than niche appeal, and it was always going to take time for it to find its audience. As much as I wish people were more willing to meet challenging films halfway, I can't really blame them for being upset when they're blindsided by a movie this intentionally off putting. It doesn't seem to have bothered Friedkin much, his next film would be another Tracy Letts adaptation, this one more overtly comic, and maybe darker as well.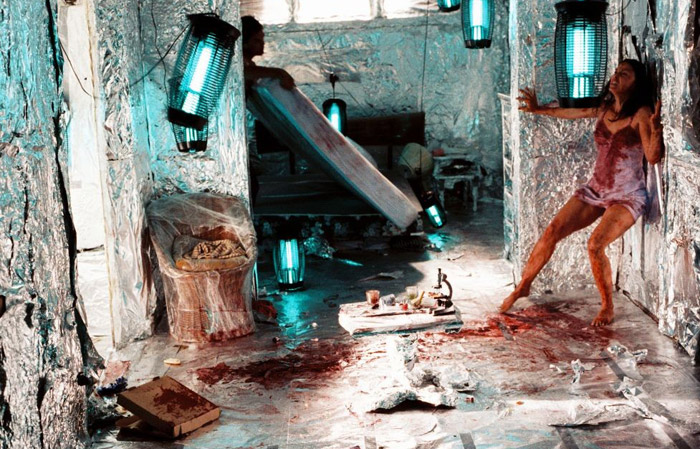 Up Next: A cult auteur tries something more mainstream and loses what's left of his audience.