Since Cinemascore began operation in 1979 only 19 films have received the lowest score. In this series I'll be reviewing those 19 films. This week, Jane Campion takes Meg Ryan's career in a new direction, the direction of not having a career anymore.
[Editorial note: The version watched for this essay was the unrated director's cut, coming in a full 30 seconds longer than the Theatrical Release that got the failing grade.  Any differences between the opinion of the author and the opinions of the general audiences may be attributed to this discrepancy]
So What is it?
 I love the tagline of this film, "Everything You Know About Desire Is Dead Wrong."  It's another way of saying this movie isn't going to give you what you want.
In The Cut: You're Not Going To Like This, But That's Because You're Dumb
 They're right, too.  This is one of those movies straddling several genres in a way that's alienating for anyone with anything but the most eclectic taste. The movie is an erotic thriller. But it's less of a thriller than it is a romantic drama set against the backdrop of a series of grisly killings. And it's less of a romantic drama than it is a character study and a meditation on the risks and danger one is willing to accept in the pursuit of sexual pleasure. But it's not exactly an art house snob piece either. The mystery elements are taken seriously, and the film has a sense of humor about itself. As in the image at the bottom of the article, where Meg Ryan teaches an English class in front of a drawing of a giant red penis, the humor comes less in the form of outright jokes and more in a general sense of playfulness. A willingness to acknowledge its own pretentions. That scene ends with Ryan asking her class how many women have to die in order to make a story good, and getting the answer, "At least three."  She grins at this, and the movie itself goes on to kill at least three women.
We open with Meg Ryan, a single English teacher living in New York City alongside her half-sister (Jennifer Jason Leigh), on her way to meet a student at a bar to help him with a project he's writing on John Wayne Gacy. While there, she ventures into the basement and witnesses a girl giving a man a blowjob. She can't make out his face, but she notices a 3 of spades tattoo on his wrist.  She's fixated on this, and later masturbates while reflecting on the experience. The next day detective Mark Ruffalo shows up at her apartment telling her that same woman's dismembered body was found just outside. She notices his 3 of spades tattoo and flirts with him, trying to figure out if he saw her peeping, but he doesn't give anything away. He does ask her out, and after discussing it with her sister, she agrees to a date.  Ruffalo is aggressive, but good in bed, and the two begin a relationship. But as the bodies start to pile up, and the killings get closer and closer to Ryan, she becomes torn between her attraction to Ruffalo and her increasing suspicions of him.
The potential for violence exists in all the men that surround her. There's her student who's interested in serial killings and sympathetic to John Wayne Gacy.  "Didn't you say every word a writer writes has to be a reflection of themselves?" he asks her.  He's also big and black and the police glob onto him as a suspect immediately. Then there's Mark Ruffalo himself. He has that tattoo and there's an edge to all their interactions. And there's his partner, who once tried to kill his wife. And there's Kevin Bacon, a one night stand turned increasingly aggressive stalker.  The movie has an interesting relationship with stalking. Ryan seems to view it as a minor annoyance. Even after she returns home to find Bacon half naked and waiting for her, she never informs the police, or even tells her own cop boyfriend that this man is becoming dangerous. On top of this, Jennifer Jason Lee is herself stalking a man.  The movie seems to view obsession and violence as an inescapable part of our sexual natures.
The solution to the mystery is pretty obvious to those familiar with the genre. The killer turns out to be the one suspect that is standing around a bunch of scenes with no clear narrative purpose and whom the film isn't drawing any particular suspicion to. But predictable endings aren't the same as dramatically unsatisfying endings, and from the perspective of the character, her suspicions and lack of suspicions all make sense and mean something within the context of the story. The formal plot is secondary to Ryan's emotional journey, it's something that effects her far more than she effects it. And the film does a great job of putting us in her headspace, becoming increasingly impressionistic as she becomes less sure of her surroundings and guided more by impulse, fear, and lust. The aesthetics – soft focus and earthy tones with bits of vibrant red splashed in at key spots, give the whole film a murky dreamlike quality. A woozy romanticism that masks the underlying danger.
So Why The F?
 For most of the people that make up the general audience, the only creative force that they are aware of in a movie is the star. Sure, they don't literally think that the actors are framing the shots and building the sets and making the words up themselves, but they still see movies as basically being a product of the people on the screen. It has always been this way with Hollywood, and for a while it worked pretty well. If you liked one John Wayne, or Charlie Chaplin, or Humphrey Bogart movie, you'd probably enjoy most of their others as well. And if I tell you a film is a typical John Wayne movie, you probably have a pretty good idea of what to expect.  But then Marlon Brando came along and he didn't want to be typecast, and suddenly the industry changed.  Modern stars demand versatility. They refuse to be pigeonholed. What the hell is a Brad Pitt movie?  Is it a comedy, drama, thriller, period piece? What's the tone?  Is Pitt smart or dumb? Is he the hero, villain, comic relief?  But Meg Ryan? Meg Ryan is a genre onto herself. She was one of the most successful actors of the 1990s, and the defining actress of the romantic comedy. And as such, she was one of the last performers who still had a sizable fanbase that would show up for anything she was in, because they like Meg Ryan movies. In The Cut may star Meg Ryan, but it is not a Meg Ryan movie.
Now the studio didn't go so far as trying to sell this as You've Got Mail Too, but they didn't quite prepare their audience for just how much of a departure this would be for Ryan either. This was sold as a mystery thriller- yes, but one where Ryan was still a lovesick young woman who would fall in love with handsome Mark Ruffalo.  Guided by the Academy-approved Jane Campion, one of those directors that everyone's seen the trailers to all her movies, even if they haven't gotten around to seeing the movies themselves.  She makes gauzy romantic period dramas for the Oscars. The sorts of movies where sophisticated British people fall in love and Harvey Keitel most certainly does not hang dong.
In the trailer for this, Mark Ruffalo tells Meg Ryan, "I can be anything you want me to be. I can be your best friend, If you want me to." in the movie he goes on to say, "You want me to lick your pussy? No problem. Ain't much I haven't done. Only thing I won't do is beat you up."  He says it less like a moral stance and more like a particular kink he tried and didn't take to.  In the trailer, Jennifer Jason Lee tells her to go on a date, "for the exercise" In the film she tells her to fuck a potentially violent stranger, "for the exercise."
It also didn't help that by 2003 the erotic thriller was pretty much a dead genre. 1999's Eyes Wide Shut (D-) narrowly missed a spot in this series (out of respect for the dead I suppose), and the genre wouldn't produce another bonafide hit until Gone Girl (B) came around eleven years later. In The Cut has an odd relationship to the genre as well. It's not an outright parody or pastiche like Wild Things (C+), but it's not an entirely straight take on it either. It's sort of an affectionate deconstruction that becomes more sincere, and more preposterous the closer it gets to its climax.
So Were they right?
 I joke about the extra 30 seconds, but they're hardly insignificant. The cuts are, unsurprisingly, all explicitly sexual and the cumulative effect is that they essentially strip away our sense of Meg Ryan's sexual desire, which is the foundational motivating factor for the character. The first set of cuts comes in the scene where Ryan witnesses the blow job. This scene is shot in montage, cutting between Ryan's reaction as she hides and watches, a wide shot of the two bodies draped in shadow, a close up of the penis in the woman's mouth, and a close up of the man's hand on the back of her head, pulling her hair. Ryan is attracted to the sex, but aware of the violence surrounding it and afraid of being caught. When the theatrical cut removes the penis, it shifts Ryan's reaction so instead of being attracted to the sex but weary of the violence, she becomes attracted to the violence itself. The other cuts double down on this, both coming from a pair of sex scenes between Ryan and Ruffalo. The first when he goes down on her and the second when she takes charge of one of their trysts. Both scenes are left narratively intact but spend less time on Ryan's pleasure. The cumulative effect changes the story from being about a woman throwing herself into a dangerous world in search of sex and companionship, to a story about a self-destructive woman who's attracted to danger, but never quite implodes. Is that enough to warrant an F? No. But it probably robbed the film of a few scattered As.
It's worth noting that the scene where Meg Ryan cradles her sister's decapitated head in her lap, was not cut. De-articulations being a natural part of life and the sort of thing adults ought to be able to see in a movie without getting too squeamish or giggly.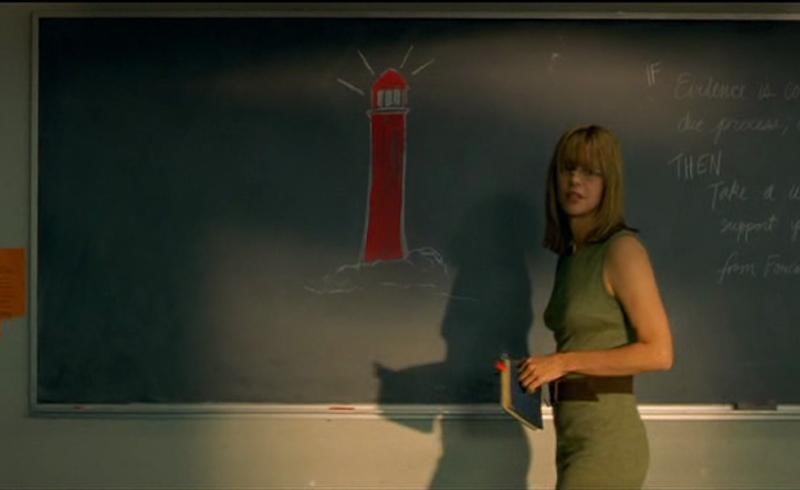 Next time:  There were so many knock-off Tarantino movies in the late 90s, that even Nora Ephron was making them