Since Cinemascore began operation in 1979 only 19 films have received the lowest score. In this series I'll be reviewing those 19 films. This week, Steven Soderbergh presents us with a flawless but perhaps soul-less duplicate in Solaris.
So What is it?
Remaking Solaris might be the ballsiest thing any filmmaker has ever done.  Remaking any classic is a risk, but Solaris isn't just any classic. For many film fans it's the classic. Smart and slow and thoughtful and mysterious, its devotees have an almost spiritual relationship with it. And Solaris is as far from a glitzy Hollywood production as you can imagine, not just an independent film or a foreign film but a Soviet film. To remake Solaris seems almost sacrilegious, bordering on an act of war.
And yet, for all the passion of its greatest admirers, it's not a movie that has much name recognition with the larger public. And to the extent the public even knows what it is, it's synonymous with a certain type of long, slow, pretentious, and impenetrable art house cinema, a reputation that is not entirely unearned. Solaris is a very internal story where not a lot happens and the main narrative drive is one man making peace with the limits of his capacity to understand the world. It's a good story, but it's always going to have a limited audience. It's amazing anyone was willing to put up the money for this movie. But with producer James Cameron coming off the highest grossing movie of all time (a movie that was supposed to be the biggest flop of all time, at that) and Steven Soderbergh having been nominated for two best director Oscars in a single year, and following that with the smash hit remake of Ocean's Eleven (B+), and with superstar George Clooney signed on as the lead, Solaris was one of those clearly doomed projects that was impossible for any studio to turn down.
The plot of Soderbergh's Solaris is simple enough to fit in a single sentence – George Clooney plays a widower who is sent to investigate an almost deserted spaceship orbiting the planet Solaris, where he encounters a facsimile of his dead wife and ultimately decides to stay with the memory rather than return to Earth. To really discuss this movie is to discuss the ways in which it departs from Tarkovsky's film. Soderbergh makes two major changes in readapting the material. First, he cuts a full hour off the run time. And second, he narrows the focus of the film, dropping most of the spiritual, philosophical, and science fiction themes, and focusing almost entirely on the relationship between the two lovers.
Tarkovsky's version opens with Kris Kelvin visiting his father's home in the country.  While there, he meets with an old man who had been a pilot in his younger days, who shows Kris a video of a military hearing where the pilot (then in his 20s) describes a mission he flew on the planet Solaris, which is covered by a giant living ocean also called Solaris (the space station is also sometimes referred to as the Solaris Station – this is far less confusing in the films than it will be in this essay). On the mission he was searching for another pilot who had gone missing, and when he arrives at the crash site, he discovers a giant child floating over the ocean – which he recognizes to be the other man's deceased son. There's some argument between the scientists and the military officials over whether this is real or just a delusion and what should be done about it, and the man turns off the video. He tells Kris that the Solaris project has made little progress in the many years that have passed, and the crew has experienced a high number of mental breakdowns and suicides. One of the scientists that remains on Solaris is an old friend of Kris's and has requested that Kris (who is a clinical psychiatrist) travel to the station and asses the situation, potentially shutting down the mission altogether. The older man leaves and we follow as he drives away through a modern city (Tokyo in reality, though unnamed in the film). Though he says nothing, the man seems haunted by the memories he's just re-lived, and we get a sense of the surreal and isolating world that has been wrought by modern technology.
This is roughly the first third of the movie, and it sets up most of the themes Tarkovsky will be exploring through the rest of the film; the mystery of Solaris, the conflict between spiritual and material needs and the way modern society is geared towards fulfilling only one set of those needs, memory and the recreation of memory, deep regrets and the way those regrets shape who we are and how we engage with the world, the limits of human experience and understanding in the face of something far larger than ourselves…
Soderbergh cuts all that. We see a few moments of George Clooney, handsome psychiatrist, living alone in a nondescript future city, and then he's called to Solaris with as little exposition as possible. What takes 45 minutes in the original, takes 5 in the remake. Once on the spaceship, Tarkovsky uses long slow shots to carefully build the geography of the station, create a sense of isolation and tension, and to slowly ease us into the plot. Soderbergh uses quick jarring edits to jump from scene to scene, and location to location. Where Tarkovsky's film is hypnotic and the long steady camera work lends a naturalism that helps ground the sci-fi elements; Soderberg's version is dreamlike and uneasy, memories fade into the present, the lines between fantasy and reality blur.  
On the station, Kelvin discovers that his friend has committed suicide and he meets the two remaining crew members. In the Russian version there is an older scientist, comfortably corruptible, affable but melancholy, helpful but a bit lazy, slightly philosophical but not the type to fight about it; and another more driven scientist who's hostile towards Kelvin, secretive and sure of himself, but not unreasonable or unable to be persuaded. In Soderbergh's version the older, affable man becomes a younger man, a fidgety Jeremy Davies, a savant type who spouts buzzed barely-coherent hippy philosophy interspersed with bits of solid practical information. He's not particularly important to the story. The other scientist is played by Viola Davis and is more driven and less curious than her Russian counterpart.  She has an instinctual aversion to the apparitions that haunt Solaris, she wants to destroy them and return to Earth. Clooney, however, wants to bring his wife back to Earth with them (a flat out impossibility in the older version). This conflict largely drives the plot, whereas in Tarkovsky's version, although there is conflict between the three men, they are mostly all on the same side in trying to understand the phenomenon of Solaris.
After meeting Davi(e)s, Clooney goes to his cabin to sleep and dreams of his wife Rheya (Natascha McElhone) and when he awakes she is in bed with him. At this point, Soderbergh stops streamlining and begins adding material of his own. The film begins to follow a flashback structure, as the story of Clooney and McElhone's relationship – from courtship through marriage to her eventual suicide, is told concurrently with the story on Solaris. These flashbacks are handled very well. Clooney and McElhone have great chemistry, and these scenes are warm and intimate and natural, particularly in juxtaposition to the cold and sterile space station. McElhone does a great job distinguishing between the real Rheya, who's playful, a little combative, and at times distant and her doppelganger, who's more submissive and has less of an inner life initially.  And the first cut between Clooney's dream and the reality of Rheya in his bed is a moment of pure cinema.
Clooney reacts in horror and quickly navigates this version of Rheya into an escape pod and launches her into orbit. But the next night she re-materializes and this time Clooney embraces the delusion, and treats her like his wife.  Soderbergh allows the two romances to unfold concurrently. Chris and Rheya fall in love, marry, drift apart, until Rheya has an abortion without discussing it with her husband, and he leaves her, only to return and find she's killed herself. On Solaris Chris questions the degree to which nu-Rheya is real, but protects her against Viola Davis, and slowly begins to see her as his wife.
As nu-Rheya spends more time on Solaris, she becomes more self aware, but she's trapped by Chris's memories of her and soon becomes suicidal. With Davis's help she uses a sci-fi vaporizer to destroy herself, however this drains too much power from the ship which is on a collision course with the planet, and so the crew must evacuate. It's discovered that Jeremy Davies (who had an identical twin brother) is also an apparition, having killed his original in self defense immediately upon entering existence. This really adds nothing to the story, and in fact conflicts with some of the other things we know about these ghosts. Tarkovsky's version does not include this detail.
Viola Davis and George Clooney evacuate the space station. Back on Earth Clooney is again consumed with loneliness and regret, "haunted by the idea that he had remembered her wrong." In a scene that mirrors one of the opening scenes, Clooney is chopping vegetables and cuts his finger. When he washes the cut, the wound disappears, and suddenly he remembers that at the last moment he abandoned the escape pod to stay on Solaris. McElhone is in the kitchen with him. The two embrace. Perhaps they are two lovers who have found each other in paradise. Or perhaps they are two shadows, soulless puppets created by Solaris to live in eternal mockery untethered from humanity.
So Why the F?
This one really just comes down to the marketing. This is a somber, melancholy, art house sci-fi movie that was sold as a romance and/or a horror film depending on the trailer you saw. l also imagine that there was at least one moviegoer who found it overly derivative of Sphere (C-).
So Were they right?
Solaris is a difficult movie to evaluate. It isn't a bad movie, and it certainly isn't an F, but it never escapes the shadow of Tarkovsky's original (well, original-er, as even Tarkovsky's film was the second adaptation of the novel). I like a lot of things about this movie. The performances are very strong, the cinematography is excellent, and the world building is subtle – effectively futurey while still feeling authentic and lived-in.
But the movie drops almost everything I find interesting about the original. The spirituality is gone. Solaris itself, the strange, terrifying, awe-inspiring incomprehensible being that is the driving force of the earlier film, is a nonentity in Soderbergh's, a big ball of CGI with absolutely no personality or agency of its own. Likewise, the problem-solving of the sci-fi premise – how do you communicate with something beyond your capacity to understand? – is only hinted at.
In fact, very little of Soderbergh's movie is beyond our capacity to understand. In Tarkovsky's version, Kelvin's wife is a far from perfect replica, and it is unclear how much she is a reflection of Kris and how much she is a reflection of Solaris itself and how much she is her own being with her own free will. Her suicide comes suddenly, as it had for her predecessor, and we don't know the degree to which it was her own conscious choice, or to which she was predestined towards it, or to which it is Kris's own failure. Kris never understood why his wife killed herself in either iteration, nor does he fully understand his own emotions and decisions within these relationships. The limits of empathy and of self-awareness are one of the major themes of the film, and there's a current of existential loneliness running beneath its surface. In Soderbergh's version, Rheya says, "I'm suicidal because you remember me that way." Oh, okay then. The original Rheya kills herself because Chris leaves her after she has an abortion, and we know exactly how the two women compare to each other. When questioned about her opposition to the visitors, Viola Davis says bluntly, "It's not human and I'm threatened by that." It's not that this subtext wasn't a part of the characters before, but everything's flattened and simplified. Everyone loses their nuance and their mystery.
Soderbergh also keeps some plotting that conflicts with his new focus. Tarkovsky plays up the uncanny nature of the "guests" and so Kris's initial reaction is understandable. Once he's killed the first doppelganger, the older scientist laughs at him and tells him that they will keep returning, and Kris realizes he doesn't have the strength to keep destroying this image of his wife, and purposefully, consciously, gives in to the delusion. The doppelganger very quickly develops a personality separate from his wife (though the audience never meets the original, making Hari both more uncanny and more empathetic than Rheya) and the relationship between Kris and Hari is something unique, both selfish and painful for him, and ultimately as spiritual as it is romantic. (One detail I love from the original is that when Kris finally abandons Earth to stay on Solaris, it's his father, not his wife, who greets him. A man is more than one relationship and there's more to a person than you can learn in a single film.)  Rheya, on the other hand, is a more perfect replica, and Clooney spends much of the film questioning whether or not she really is his wife. This makes his initial choice to kill her much harsher and out of sync with his natural character progression, and muddles the themes that are much more about love and grief than the more cosmically minded source material.
Soderbergh's film is beautiful and touching, but it has no reason to be, and it's ultimately most interesting in the way it illuminates some of Tarkovsky's choices. I would recommend it to people with an academic curiosity, or to those who are satisfied approaching a film on a purely aesthetic level, but to everyone else, your time is better spent rewatching the original.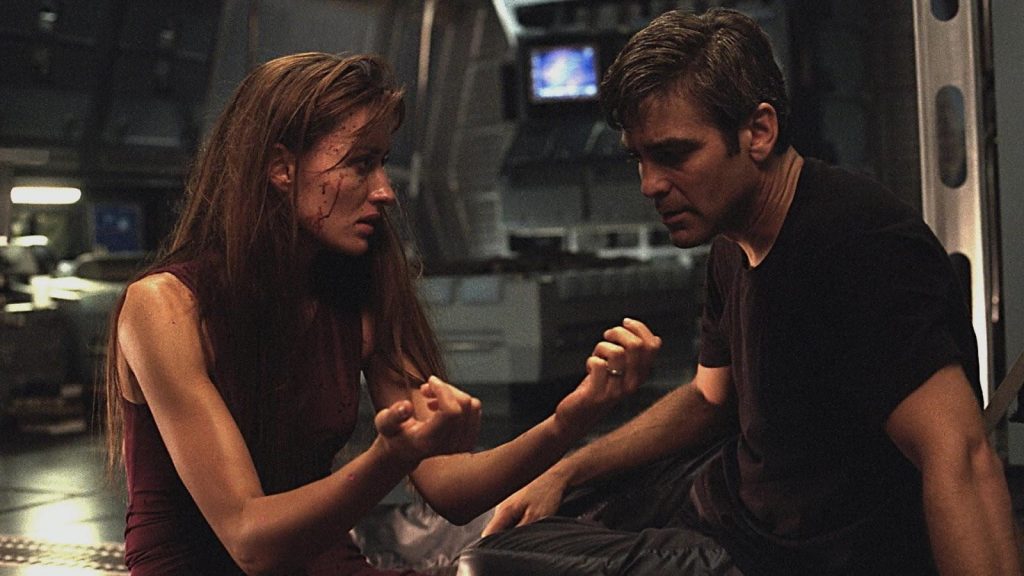 Next Time:  Last we checked in with Tara Reid she was stealing scenes in Robert Altman movies.  Let's see how she's doing four years later.
---
Note: An earlier version of this article misstated the last name of actor Jeremy Davies. Insofar as The Solute regrets anything, we regret the error.