Periodically, there are movies that fly underneath everybody's radar. Sometimes these are great movies and become titled "hidden gems" or "deep cuts." But, then there are the bad ones that nobody remembers and should be left to the dustbins of video stores going out of business. Such is the case with 2003's View From the Top, a ostensibly comedic movie about stewardesses that purports to be a worthwhile trip down funny girl lane. Don't believe it.
View From the Top is a typical March/April movie. A March/April movie is any movie that would normally be a January dump, but the executives think there's enough of some quality to give it legs. That quality could be a big name attached to a terrible movie, or a concept weird enough to fly. 2003's March films included the appalling Bringing Down the House with Steve Martin and Queen Latifah, the appalling Dreamcatcher from Steven King, and the joyously bizarre The Core about exploding a nuclear bomb at the center of the Earth to prevent global disaster. In 1997, Romy and Michele's High School Reunion was released on April 25, embracing an extremely ironic and silly execution. View From the Top belongs to the big name category, as it's lousy with a bunch of higher-profile actors slumming it for no apparent reason.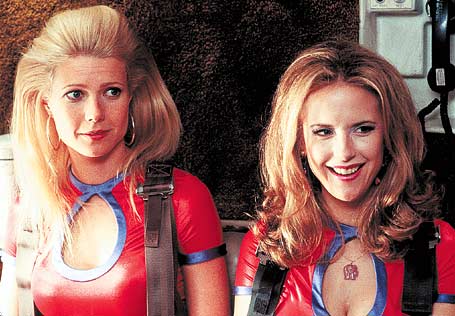 Gwenyth Paltrow leads View From the Top as Not Romy, a poor blond girl from the deep south whose biggest dream is to be anywhere but home. After a brief detour married to an assistant manager at Big Lots (Marc Blucas), she ditches her life and starts climbing up the stewardess ladder in order to be…well…anywhere but her deep south home. At Sierra Airlines, a budget airline whose uniform is cleavage and big hair, Not Romy makes friends with Not Michele (Christina Applegate), a stewardess who uses her personality to make up for her lack of intelligence and class.
While suntanning on the beach on their weekends off – imagining that stewardesses never work the weekends is just one of many hilarious leaps of logic this movie makes – Not Romy meets Not Sandy Frink (Mark Ruffalo), an upper middle class law student. Not Romy and Not Sandy get along famously, until Not Romy has her big break to try out for Royalty Airlines.
In the world of View From the Top, anybody can write a book and land on Oprah to yell at Dr. Phil. Candice Bergen is the stewardess author who wrote a best selling book about being a stewardess and making it to the top. Bergen tries so hard to make this superstar stewardess character work, but Superstar's real success in life is that she married rich and so she had the opportunity to play rich. You see, Superstar met some guy in first class on a trip to Paris, and married him. Thus, all stewardesses should aspire to work first class on international flights so they can meet the husband of their dreams (unless they already have one).
Before we can get there, Not Romy and Not Michele have to make it through basic training for Stewardesses, led by the bitter cross-eyed Mike Myers who is trying to out-camp his role in a movie where little else is camp. Sadly, he's about the only person in this movie who manages to get any laughs from his bipolar edition of a corporate trainer whose anger has to fight with the forced happiness. And, he's not that funny.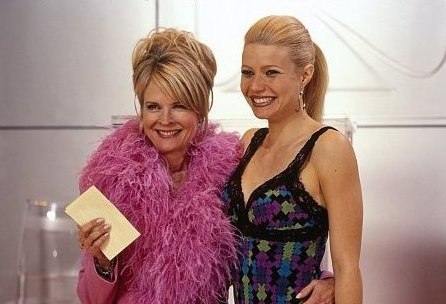 After they take their final exam, Not Michele gets bumped to International First Class, while Not Romy is stuck with commuter flights. Fortunately, this position allows her to stay with Not Sandy Frink, who is still going through law school. Eventually, Not Romy hits up Murphy Brown, with whom she had bonded at a dinner party, being all, "WTF? I was the BEST!" Murphy Brown is all, I dunno, let's see your test. They find out that Not Michele had changed the code numbers on the tests, thus swapping the two exams. Realizing their mistake, and also learning that Not Michele is probably a klepto because she stole a bunch of shark soap from that dinner party (yes, really), Royalty Airlines allows Not Romy to retake her exam.
Wouldn't you know it? The same day that Not Romy gets to retake her exam, Not Sandy comes home being top of his class. But, Not Sandy wants to stay in Cleveland while Not Romy wants to live in New York City and fly to Paris. In the end, however, love matters most for women, and Not Romy comes home to marry Not Sandy and resume her life as a commuter stewardess.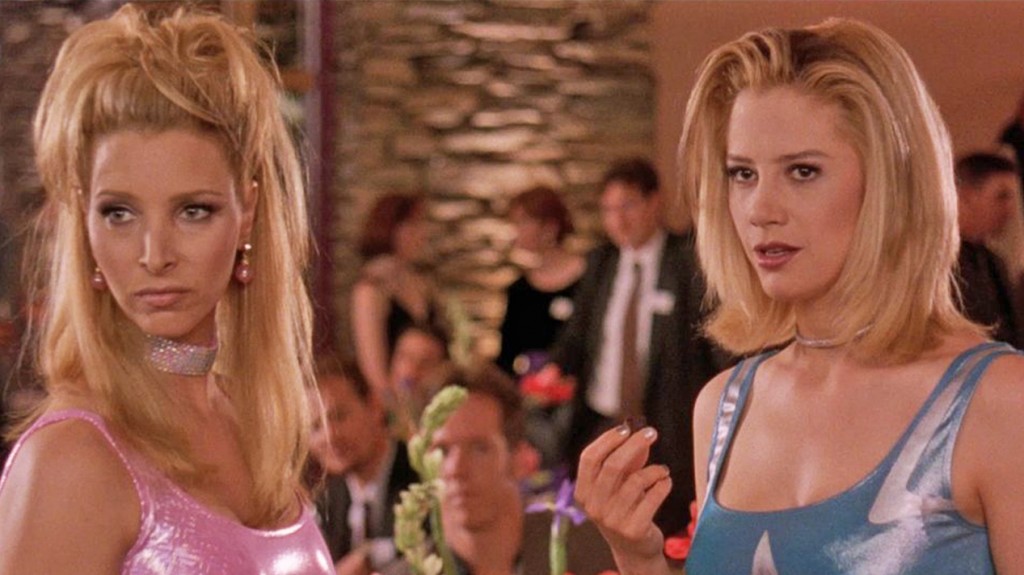 Upon reading this recap, one might think that I'm being snarky by renaming Gwenyth Paltrow as Not Romy, but this movie is trying so hard to be Romy and Michele fanfic it hurts. The hair, the fashion, the colors, the backstory, and the attempt at a bubbly visual style are all part of the aping. Right down to a repeated use of Cyndi Lauper's Time After Time, View From the Top just wants to be Romy and Michele 2.
Romy and Michele's High School Reunion was a movie that dabbled in irony, where Romy and Michele were thinking it was perfectly alright to exist as unemployed layabouts because a rich geek who loves you will come out of nowhere to loan you the money for your dress shop, while the movie was saying this was all patently ridiculous and you should not be taking it seriously. Contrastingly, I'm not sure if View From the Top thinks that dreaming to become a first class flight attendant is such a terrible thing.
I think View From the Top actually believes that Romy and Michele was as serious as Mahogany. If you note, both View From the Top and Mahogany have the same plot structure. A poor but beautiful, girl dreams of making it big. So, they pursue their career with gusto, meeting the man of their dreams along the way. The man needs to prepare for his big career in law, but the women can't be stopped and press on without him. Once they make it to where they want to go, they realize that they really need a man to make their lives complete. They both give up their careers to live in a po-dunk neighborhood with the man they truly love.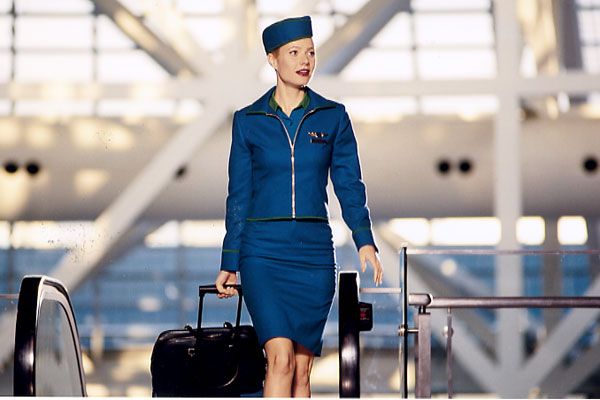 Where Mahogany was wearing its class and racial politics on its sleeve, View From the Top is as lost as ever. It has a token gay steward, and also has a single token black stewardess (Stacey Dash has an extended cameo throughout the training session). Where Diana Ross was clearly from the streets of Detroit and knew how to play through the various class levels in Mahogany, Gwenyth Paltrow oozes nothing but private school training, even when she's being dumped at Big Lots. Where Mahogany had rich white people and poor black people, View From the Top has rich clueless white people and poor classy white people and poor classless white people. Where Mahogany was at once an movie about a glamorous black woman fighting to the top and a hate letter to Diana Ross, View From the Top is just another white person getting opportunities from other white people. But, I suppose what's most damning is that Mahogany becomes an internationally renowned model and designer, granting women everywhere permission to dream big (even if it might not be what you want). In View From the Top, Not Romy becomes a stewardess (meanwhile, Mark Ruffalo becomes a lawyer and his career move is mentioned in a newspaper).
Perhaps the biggest bafflement is the cast. The first mistake was Gwenyth Paltrow, because she has no idea what its like to be dirt poor. Then, they got Christina Applegate as her slightly trashier foil, which would have been a great idea. Christina Applegate started as the ditzy lower-class sexpot Kelly Bundy in Married…With Children, and could have pulled this role off in her sleep. Probably in the interest of a PG-13 rating, they tried to tame her in order to make Paltrow look funnier. Instead of going for the whole White Face/Red Nose pairing, View From the Top grounds out all comic instincts in order to believe in its message.
Beyond the two stars, this movie has future-Academy-Award-nominee Mark Ruffalo, Murphy Brown, Chad Everett (Airplane 2), George Kennedy (Airport and The Naked Gun), Stacey Dash (Clueless), Mike Myers, Rob Lowe, Kelly Preston, and Marc Blucas. Other than Gwenyth Paltrow, with a cast like this the movie should have been something more like Zucker-Abrams-Zucker for stewardesses. But, the deadly serious vibe from View From the Top reassures us that whatever dream you have, it's OK and we're not going to make fun of you.
Of course, the final, toxic, subtext of the movie is that dreaming of being a first class stewardess is a perfectly amazing dream. With a job as a stewardess, you can afford a 1-bedroom apartment in New York City on some high floor with a balcony. You can buy fancy designer clothes, and being a stewardess is like jetsetting for Not Rich people. Of course, View From the Top also downplays everything about first class, which just looks like second class but a little roomier and you get warm nuts. The underlying subtext is that rich people aren't that different from poor people, and you're living well enough, so why look higher than this. There's nothing much more than what you have.
This whole debacle ends just like a lot of movies from the late '90s and early '00s ended: with both comedic outtakes and karaoke. Oh, wait…it's not just any karaoke, it's corporate karaoke. The final moments of video of View From the Top is their made up song, We Are Royalty, a corporate song based from We Are Family, with all the lameness that idea entails. So, I'm going to show it to you. Enjoy!
Years later, Lisa Kudrow and Gwenyth Paltrow would face each other in a much funnier segment of Lisa Kudrow's Web Therapy. Just by their acting choices, Lisa Kudrow loves calling attention to her artifices, while Paltrow is perfectly content to let everything ride. Perhaps, that's the problem with View From the Top. You never know if it is going for satire or purity – if it's ironic or genuine – and, as such, you're never sure what foot you're standing on. Maybe, that could be genius. But, I wish it were funnier.