There are all kinds of "bad" movies. Movies that are bad because they are offensive, bad because they are amateurish, bad because they are cheap, bad because they piss off the fans. And of course there is the "good" bad movie that probably contains all of the above faults but turns them into something entertaining, and that points to what makes a true Bad movie. 
I first heard of Bela Lugosi Meets A Brooklyn Gorilla when I was a kid via a Dave Barry column; even though Barry is known for his integrity of Not Making This Up, I figured he was goofing on Abbott and Costello encountering various monsters. Because how low-rent is that title? Not a monster but the guy playing the monster, not fighting or versus but "meets," not even The Brooklyn Gorilla, an exclusive ape, but one of presumably many. But it turned out, to my surprise, that the movie was real, its title suggested to the filmmakers by the ten-year-old son of one of the movie's producers. This despite the movie repeatedly emphasizing said gorilla is from the Bronx.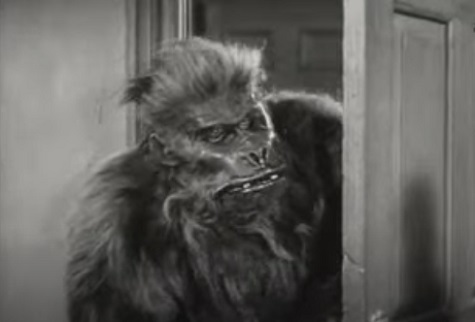 The gorilla is actually Duke Mitchell, played by Duke Mitchell, a lounge singer who falls out of a plane with partner Sammy Petrillo (played by Sammy Petrillo) onto the South Seas island of Koka Kola. They're rescued by cheerful jungle natives, with Mitchell romancing the pretty one and Petrillo furiously and disgustedly rejecting the advances of the fat one, and get mixed up with a mad scientist (Lugosi, of course) who is also on the island for some reason. This Dr. Zabor is performing de-evolutionary experiments, some decades before the process was perfected in Ohio, turning chimps into monkeys and eventually Mitchell into a silverback. Many shenanigans ensue.
None of this is bad on its face. The islanders are what you would expect of the time, although there is a witch doctor who is constantly wearing a "wacky" mask and looks like a walking totem pole. The science is dumb but funny, the jungle and evil lab sets are cheap but effective and William Beaudine, who directed more than 100 movies between the '20s and the '70s and banged this one out in six days, keeps things moving along competently if not with much flair — it's not like there's a bunch of boom mikes popping into the frame.
But Mitchell and Petrillo are almost always in the frame, and that's a huge problem. The two had an act riffing on Dean Martin and Jerry Lewis, largely based on Petrillo's impersonation in both physical appearance and vocal technique. Imagine Steve Urkel and Lina Lamont having a child that grows up to be one of the Chipmunks and you have an inkling of how annoying Petrillo is — Lewis modulated his adenoidal nerd and Petrillo turns it up to 11 all the time, finding his own devolution from childlike into infantile. And while he is a near-dead ringer for Lewis, with a similarly rubbery face, Petrillo has little of Lewis' ability for physical comedy. Every second he is onscreen is excruciating, and the movie has the gall to finally shoot him in the gut and then reveal it as a dream sequence.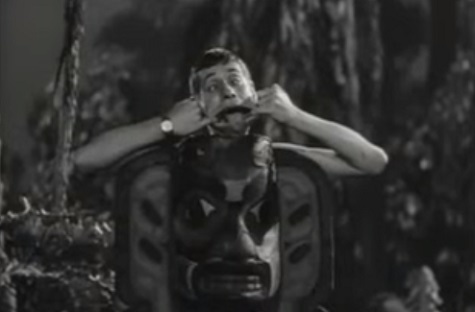 And amazingly, Mitchell matches him. He's trying for Martin's laconic cool but at best hits dull amiability. He gets a few musical numbers, and they don't even have the decency to be ear-splittingly bad: they're sappy slogs with unearned confidence and leaned-on consonants. I once read a review of a forgotten musical (I think Glenn Kenny wrote the piece) that said when people were talking you longed for the singing to start and then when the singing began, you wanted the talking to return — that's the horrible no-man's land this movie finds.
A 1986 piece in McCall's lets some players and fans speak up for BLMABG, especially compared to other "bad" movies like the work of Ed Wood: "Bela Lugosi at least has consistent character development, plot turns, photography and actors; in Plan 9, day and night are interchangeable," the article argues, and this is very true. I'd add the other actors in the Mitchell/Petrillo pic are fine and Lugosi is a pro, going hambone evil and not looking down his nose at the movie he's in. But this is what makes the movie worse to watch than something crappier in execution — there is no weirdness to marvel at or personal insanity to puzzle over, just decent craftspeople helping a vile goblin child and shit-throated warbler ply their trade. But don't take my word for it, ask Martin Landau, who took inspiration for his portrayal of Lugosi in "Ed Wood" from the legend's performance here: "A movie called Bela Lugosi Meets a Brooklyn Gorilla, have you ever seen that movie? Well that movie makes Ed Woods' films look like Gone With The Wind."
Jerry Lewis, who actually gave Petrillo his start in the business by hiring him as a double for a sketch, tried to sue BLMABG out of existence and a plan to buy the negative was scotched when the producers failed to agree on a price. In principle it is good that this remains out in the world. In practice Jerry Lewis was absolutely right to want this destroyed. Later in life, Petrillo made softcore porn and Mitchell made Mafia exploitation flicks. Those sound bad but entertaining (Mitchell's in particular) as opposed to a 75-minute movie I paused half a dozen times to check on how much more was left to go. Offensive, amateurish, cheap, antagonistic — it's fun to classify badness and maybe even find something good in it (or argue that the judgment of badness is wrong in the first place). But not everything can be entertaining, even in an unintentional way. Some things are just bad.