It usually begins like this: Céline and Julie Go Boating is one of cinema's greatest masterpieces.
I'd rather begin a different way: Céline and Julie Go Boating is awesome and hilarious, an unlikely mashup of Looney Tunes and soap opera, of magic tricks and murder mysteries, and its bonkers final act is some of the most deeply satisfying stuff I've ever seen in a movie. For maybe the whole final half hour, I was on the edge of my seat in one of those "I can't believe what I'm watching" states of complete joy.
Canonization is a heavy crown. If we call it "a three-hour film from one of the most eminent French New Wave directors," it sounds like homework. If we note that film historian David Thomson called it "the most radical narrative film" since Citizen Kane,1 maybe it lands a spot on my "movies I need to watch to feel like I know something about movies" queue that I tend to overlook for something fast and stupid on a tired weeknight. Okay, sure, it's that kind of film and it deserves those accolades, but like a lot of ostensible homework films, it's much more entertaining and exhilarating than what the dusty old canon sometimes evokes.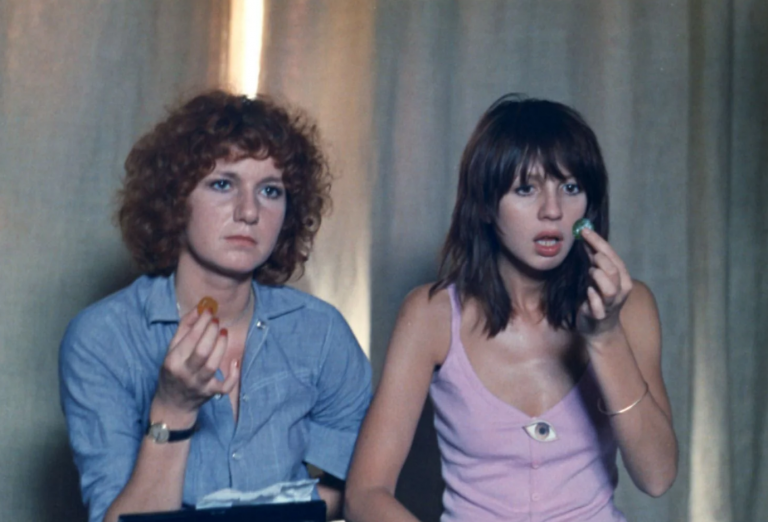 Here's the setup: Dominique Labourier is Julie, a librarian who, while sitting in a park one day, maybe conjures up Céline (Juliet Berto), a would-be stage magician who happens to drop her sunglasses as she passes through the park. The intrigued Julie follows Céline like Alice after the White Rabbit, and the two women begin an intensive pas-de-deux: they absorb, enjoy, and even (purposely!) wreck each other's lives as they set out on their path of creative destruction through their very own urban Wonderland. Neither they nor Rivette bother providing any context for why they do so: they are unleashed in Paris like two agents of chaos wrecking everything in their path.2
And then comes the House. Through the power of a magical piece of candy (!), one or the other woman finds herself in the middle of a very stiff, very gloomy adaptation of Henry James' novel The Other House (Why? Who cares!), where they, playing some minor role like "housekeeper" or "nurse," look on passively as a drama of love, betrayal, and murder (with an exceptional Bulle Ogier) takes place around them. As the story comes to an end, the house ejects them into the street with something like partial amnesia, and they try to piece together their memories of what happened to understand what steps they should take next.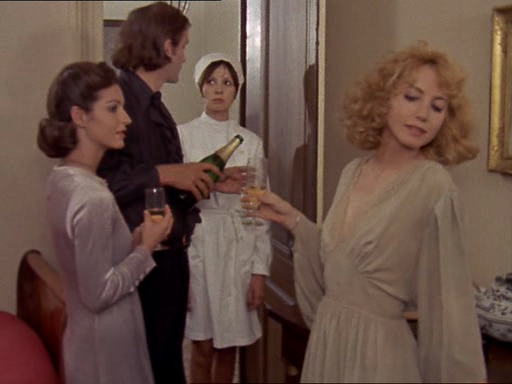 Written out like this, it's hard to believe a movie like this ever got made, much less was popular, much less is so widely beloved, much less was so very influential. There's a reason so many essays on Céline and Julie tie it to Lynch's Mulholland Drive, another film about female friendship and mystery and unreality and a final act that goes far off the rails (the actual "boating" scene in Céline and Julie nails that perfect Lynchian alignment of comedy and unease, though the movie itself is far more slapstick than horror).3
I wish I had more time to unpack this movie at length, to talk about how Rivette had all the actors take part in the process of screenwriting (not improvising, as is often erroneously claimed), how he uses recurrent visual motifs to create a feeling of magical unreality even to the Paris neighborhoods they filmed in (sometimes without telling passersby, which is even funnier!), how the film's on-screen "exorcisms" also seem to speak to how the film "exorcises" the demons of Rivette's previous work, OUT 1, how the current State of the Industry and the streaming re-/de- volution has made this, a film beloved both by audience and critics, very difficult to get ahold of in the United States. Alas, work deadlines this month ended up taking over my life. It's enough to make you wish you were in Paris, in a park, sucking on a piece of candy, waiting for something magical to pass you by.
Notes:
1. He also called it "delightful," for the record, and also his "favourite of films".
2. This description makes it sound like Daisies, and they'd make for a kickass double feature, but that's really where the similarity ends: Rivette is still a classical director, while Chytilová is a punk rocker laying glorious waste to the medium itself.
3. A joke within a joke here: "go boating" is a French idiom for getting caught up in a story, but Rivette figures, why not? let's put them on an actual boat.