Who Shot It: Emmanuel Lubezki. Lubezki is now a three-time Oscar winner, and you know what? That's good. It's a good thing that he's that. Lubezki has been kicking ass and taking names as a cinematographer for 25 years now. But before he became the cinematographer you hire when you want to shoot something handheld and make it look great, Lubezki's style was no less distinctive… but it was a completely different style altogether. He began his most lasting cinematic collaboration back in school at Mexico, with Alfonso Cuaron. Together, they worked on several episodes of the Mexican anthology series Hora Marcada, and they made their first feature film together, the unfunny if beautifully-shot sex farce Solo con tu pareja. From there, they made their American debut together, with an episode of the neo-noir anthology series Fallen Angels, with Lubezki also shooting an episode of the series directed by Steven Soderbergh (*cut to: The Narrator orgasming at the thought*), and they made two American films together by the end of the decade; the wonderful A Little Princess and the decently underrated Great Expectations, before creating their three best-known films together in the 2000s; Y tu mama tambien, Children of Men, and Gravity. But their 90s work is completely removed stylistically from those three, with an emphasis on sweeping camera movements and lush lighting schemes. This style of Lubezki's would be the one he would continue to use for the rest of the 90s, on American films like Twenty Bucks, The Birdcage, Reality Bites (a former entry in the series), A Walk in the Clouds (another former entry in the series), Meet Joe Black (another goddamn entry in the series), and Sleepy Hollow, plus the Mexican crossover hit Like Water for Chocolate. But the shift to the 2000s led to the creation of the Lubezki we all know and love, with Rodrigo Garcia's Things You Can Tell Just By Looking With Her being the first of his films to be shot entirely handheld, with (seemingly) natural lighting. From then on, he applied those skills to the likes of Michael Mann's Ali, the Coen brothers' Burn After Reading, and Niels Mueller's The Assassination of Richard Nixon, taking a break into the middle to shoot two "children's" films; A Series of Unfortunate Events (which is good, I swear) and The Cat in the Hat (another former entry in the series, which is an abomination unto the Lord) He also formed another major collaboration during this time period, with Terrence Malick, with whom he's created some of the most jaw-droppingly beautiful images of the 21th century in The New World, The Tree of Life, and To the Wonder (they have two other projects in the pipeline together, one, Knight of Cups, comes out in two days from when this is initially published). Now he's working with Alejandro González Iñárritu, starting with short-form projects (the wonderful Nike ad "Write the Future" and a segment of the omnibus film To Each His Own Cinema) before making Birdman together and netting Lubezki his second Oscar. It's a great movie, and fuck y'all, and their second collaboration, The Revenant, also looked crazypants amazing and earned Lubezki a third Oscar, one which he deserved, and again, fuck y'all. Coming soon is Lubezki's second movie with Rodrigo Garcia, Last Days in the Desert, which promises to feature much stunning location photography as it tells the story of Jesus's 40-day 40-night trudge through the desert and fast. But we're not talking about any of those good later films. We're talking about a film that Lubezki shot when he was just a foreign guy barely inching his way towards Hollywood.
What Do You Mean, Story?: Sometimes, a film will fail to live up its marketing. But other times, the marketing seems to be set up so that there's no possible way for the film itself to live up to it, whether by being inaccurate or being crazy on levels previously unknown to man. Take today's entry, David Marconi's The Harvest, as an example. First, the tagline on the poster:
Charlie's living his movie script. The good parts. The sexy parts. The body parts.
Pretty good, right? It promises a meta-thriller with blood and sex, leaving the film with room to deliver on the promises given. And now let's take a look at the tagline on the film's DVD.
They stole one of his kidneys. Now they've come for the other one.
Is that the best tagline ever or the worst one? Fuck if I can tell. Now, this tagline raises many, many questions right off the bat, even without the comparison. Why did they stop at one the first time? Why take his kidneys in the first place? And only more are raised comparing it to its theatrical tagline. Since this unnamed man in the second one is presumably Charlie, why did he write a script about kidney-theft? Why are there "sexy parts" of a script (and a movie) where a guy is under constant threat of having his one remaining kidney stolen? Are the only body parts we're going to see (presumably) severed kidneys (and maybe just kidney, singular)? Already, the smart man would probably bet big on the film itself not providing nearly as much joy as the taglines. But does it manage to entertain even the slightest bit as much as the promise of involuntary kidney-theft?
A harvester tends to his wheatfield. As he goes to take a bite of a sub, he is shot in the head and killed by a man in a suit. That is what we initially see of Charlie Pope (Miguel Ferrer)'s movie script. He decides to take his script to Mexico, where, pushed by his producer (Harvey Fierstein), he'll research the contract killing that inspired it. His first day there, he's told that it wasn't a contract hit at all, the victim was a child molester (Fierstein insists that the studio does not make movies about molesters), and there was a crooked cop involved. Soon after, he meets a lovely lady named Natalie (Leilani Sarelle), who works as a stripper at a very shady nightclub, where Charlie tries to extract information about the crime from (the guy he questions doesn't budge, but he does pull a Mookie/Vanilla Ice-in-Cool as Ice with Natalie). He then decides to take Natalie out on the town, culminating in a visit on the beach that ends not with nookie, but with unconsciousness induced by blunt force to the head. He's then wheeled into surgery, having blue-tinted flashbacks (wow much Soderbergh) to a fateful meeting with Fierstein on the way there. After the surgery is done, he escapes, trudging through swamp and collapsing on a golf course, eventually being told by a doctor that, yes, his right kidney was removed. Naturally, he wants to figure out who did this to him and if Natalie set him up (the whole murder of the child molester thing is a red herring). Also, the reason why the guys come back for his other kidney is because, while they only needed one, the kidney they took from him was in bad enough shape that they needed another one.
No, this movie is not nearly as trashy as that glorious DVD tagline makes it seem. It's not even really that bad. It's just… fine, I guess. Marconi's script is at least moderately clever, with the best moments being the final punchline and the revelation of why the scene in Charlie's script took place in a wheatfield. Marconi as director, however, struggles a bit to pull the story off with the low budget he's working with. But the bigger problem is the Charlie-Natalie subplot, which is completely uninvolving and leads to more than one unnecessary lovemaking scene, including a bit of attempted cunnilingus as Charlie's behind the wheel of a car (in other words, the sexy parts do not jibe well with the body parts). Miguel Ferrer is, as usual, good in the lead, and he does help to lead the film through some rougher patches, but even he can't save unmotivated slo-mo sex. But at least it's some fabulously-lit unmotivated slo-mo sex.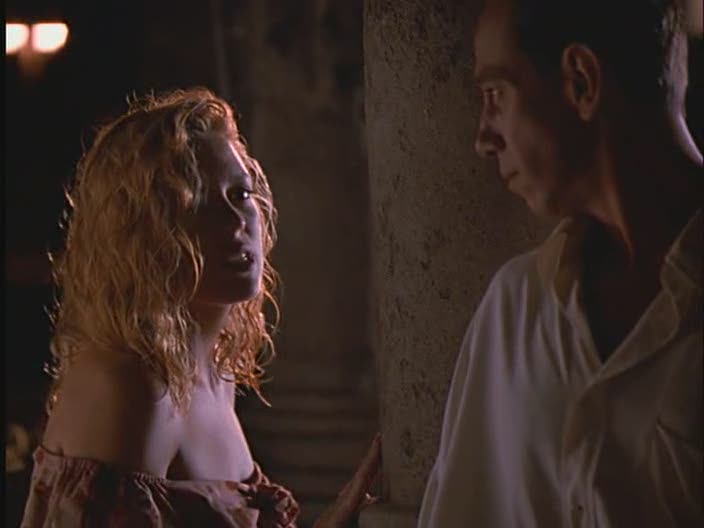 Screw That, Let's Talk Pretty Pictures: I was a little worried on the outset that Lubezki's signature (at least at the time) might not be particularly visible on this low-budget production. Those fears were immediately put to rest by the first frames of the film, where Miguel Ferrer writing his script is depicted in tight shots where orange is the completely dominant color. And those fears were completely thrown out the window by the time we got to the visualizations of Charlie's script, in which the harvester is murdered in the middle of a gorgeous, lush vision of a wheatfield. This is totally in Lubezki's 90s wheelhouse, in which he was more than content to explore how romantically he could light films. Indeed, when Charlie goes to Mexico, the images become even more consistently warm and lush, whether it's the result of the foliage outside of Charlie's residence (here, as in many of his early films, green is a fixture, as it's the only color you can light to look both warm and cold) or his dalliances with Sarelle, which look positively blazing at times (a sequence of them at a bar is lit mostly with candles, and both actors nearly look like tomatoes). But always at the corner of the frame, there are shadows that even Lubezki's perfectly translucent beams of light can't break into, and those bode ill for Charlie's chances in Mexico. Just look at the scene of him talking to the police after the surgery. The room looks golden-brown with the windows shut, and when the officer decides to open them, it seems to make everything warmer except Charlie, who's cast in even harder shadows than before.
Favorite Shot: An overhead shot of Charlie sitting in the shower, looking positively golden in the middle of impenetrable shadows as the camera slowly pushes in on him, has to take the cake here.
Is It Worth Watching: I mean, if you're similarly deprived of major Lubezki projects to watch, sure, yeah.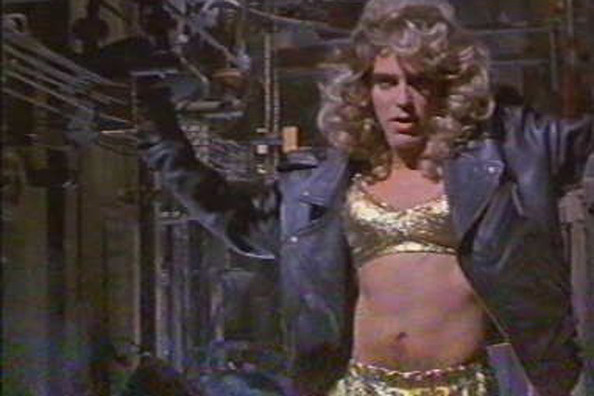 Stray Observations:
If you've been looking for a movie where George Clooney, dressing like a woman, lip-synchs to "Heaven is a Place on Earth" in Emmanuel Lubezki lighting, then disregard every complaint I have about this film and watch it immediately.
This is only one part of a wave of upcoming Emmanuel Lubezki #content from me. At some part in the future, look out for a piece on three episodes of the Showtime series Fallen Angels, two shot by Lubezki, two directed by Steven Soderbergh, and one directed by Alfonso Cuaron. And next week on the series…
Up Next: Una película que entró la colección del criterio.