The problem with package films is that they're uneven. Yes, even Fantasia—it's good, but it's good in different ways, and how do you discuss "The Sorceror's Apprentice" and "Night on Bald Mountain" and the silly bit with the sound effects as a single movie? Similarly, with Melody Time, you have to remember that we have Johnny Appleseed's clear Mary Blair visuals (look at the backgrounds as Johnny's going through the wilderness and tell me you can't see it) and the simple picture book stylings of "Little Toot" and the never-been-done-before pastel work of "Trees." Is Melody Time uneven? Of course it is!
This one is a collection of seven shorts. All are set to music; unlike the highbrow Fantasia, this was more popular entertainment. Frances Langford sings "Once Upon a Wintertime" to the romance, quarrel, and reconciliation of young lovers. Freddy Martin and His Orchestra play the "Bumble Boogie" over a bee pursued by piano keys representing the playing of Jack Fina. Dennis Day tells us the story of Johnny Appleseed. The Andrews Sisters sing about Little Toot. Fred Waring and the Pennsylvanians perform an adaptatation of Joyce Kilmer's "Trees." The Dinning Sisters perform "Blame It On the Samba," lyrics written to Ernesto Nazareth's "Apanhei-te, Cavaquinho," with organ by Ethel Smith. And Roy Rogers tells Bobby Driscoll and Luanna Patten the story of Pecos Bill.
I tell you, though, if I were the uncredited Clarence Nash or Pinto Colvig, I would've been pissed. Because prominent in the credits is "Trigger the Smartest Horse in the Movies." And while I grant you that Clarence Nash cannot be said to be the smartest horse in the movies, and while neither he nor Colvig actually appear in the flesh, so to speak, it is true that Nash as Donald Duck and Colvig as the Aracuan Bird are both actually, you know, people. I suppose it's kind of impressive to get a horse to whinny on cue, as Trigger does, but still. I'll admit that I'd forgotten, since the last time I saw it, that the Pecos Bill segment does include live action bits, so I'm less annoyed than I had been at it!
A bigger problem with the segment, though, is that Disney's tendency to erase their history gets in their way again. This is one of the places Warners is ahead of them—the "this is our history, and erasing it is worse" attitude serves us all better. Whereas Disney decided to literally erase pretty well everything where Bill is smoking, because yeah. In places, this leaves us with weird hand gestures, but it also means they've cut the tornado sequence to basically nothing. But, you know, it's fine that he spends the whole cartoon shooting guns? Though the release of Make Mine Music cuts "The Martins and the Coys," so yeah.
All these segments except "Trees" became extremely familiar to those of us who grew up with Disney clip shows as children, which is interesting, because "Trees" was the most artistically creative. I mean, the segment itself is kind of dull, but apparently, the cels were first frosted, then drawn on with pastel, then laquered to protect the pastel. It's a shame it's in service of the most skippable section. Even the music just makes me think, "That's the guy who invented the blender, right?" (No. But he was the investor.)
"Bumble Boogie" is an adaptation of Rimsky-Korsakov's "Flight of the Bumblebee" set to a boogie-woogie beat, and it's one of many pieces considered and rejected for Fantasia. Possibly it would've been used had the original plan been used, with pieces taken out and new ones put in on a regular basis. I wonder, then, if that would have meant a constantly changing feel to the movie, with an assortment of musical styles. Would you have gotten something where you had "The Sorceror's Apprentice," "All the Cats Join In," and "Bumble Boogie"?
"Blame It on the Samba" feels instead leftover from Saludos Amigos or The Three Caballeros. It's Donald Duck and José Carioca. They are depressed. The samba will make them feel better. They descend into its vaguely hallucinatory world along with the Aracuan Bird. Ethel Smith plays the organ at them. I mean, it's a fine segment, but it's kind of weird.
"Little Toot," honestly, is one of the ones where I get why people aren't as in to these movies. It really does feel like a short that you'd put before Dumbo or something, not part of something you'd spend money on all by itself. After all, these were intended to be inexpensive, and "Little Toot" is one of the ones that feels cheap. It's an adaptation of a storybook, not even public domain, but it feels as though they got it for not much and are hoping it'll make them a lot more than it cost. Which if fine as far as it goes, but only the Andrews Sisters make it worthwhile.
"Once Upon a Wintertime" is familiar to anyone who's seen all those myriad Disney winter clip shows. It starts out with the humans and the rabbits and the birds courting, and then the girl falls down while skating, and the rabbits fight, and there's this whole parallel in the animals' relationships, and the young males have to save the young females from falling over a waterfall, as is apparently a regular hazard in wintertime courtship I guess? The animation here is also extremely Mary Blair.
Which does at last bring us to Johnny Appleseed. Even as a child, I was aware that it had something that other Disney products didn't tend to—namely an explicit religious foundation. Not the Swedenborgian beliefs of the real, historical John Chapman; well, that's a bit much to get into over the course of seventeen minutes. Honestly, even as an adult, I couldn't tell you anything about the beliefs of the Swedenborgians. What I can tell you is that this is not just Kronk grinding the whole story to a halt while he argues with his shoulder angel and devil. It isn't that Johnny has a guardian angel; it's that "The Lord Is Good to Me" is a song we could've sung in church when I was a kid. Because it turns out it's an actual hymn that John Chapman sang.
Oh, I don't expect the cartoon to get into the fact that his religious objection to grafting (apparently) meant that his apples were best suited to cidermaking. Or any of the other weird bits of history. The idea of a man planting orchards in the middle of nowhere's a better legend than the idea of a man setting up nurseries of trees that he'd leave in care of a trusted neighbour and visit every year or two so he could sell trees to fund planting more of them, too. It is a little surprising, though, that Disney chose instead to go with "welp, he's dead and going to Heaven to plant apple trees there now."
It's funny, though, what cost-cutting in the '40s looked like at the Disney studios. Because this is still, for the most part, an attractive film. I wish someone would do more with the pastel animation of "Trees," honestly—that could be an absolutely gorgeous feature, with the right story behind it. Probably awfully time-consuming, though, which is probably why I'm pretty sure not even Disney ever did much with it again.
Seriously, I don't normally do this, but come on.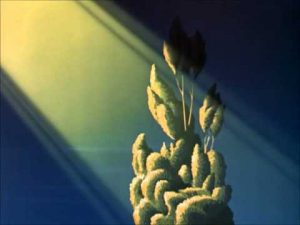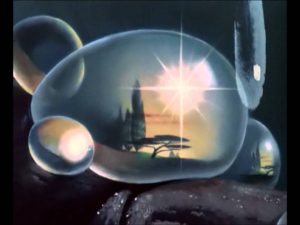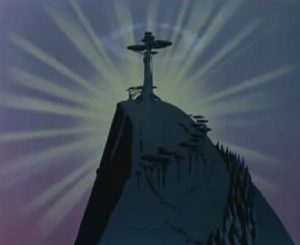 This movie is so much prettier than people talk about!
I bought this movie especially to write about it; help fund more articles like this by supporting my Patreon!