Now, I think the vast majority of Barbie viewers got the point that Ken is not just the bad guy, but a dimwit. And I think the vast majority of viewers who have latched onto him ("He's literally me!") are doing it ironically because it's funny. I don't even think the guys who have sincerely come to identify with Ken and see him as the only sympathetic character and an expression of their feelings about the world are even all that complicated or difficult to comprehend, and I think much of it is tied into the same reason people ironically enjoy the character – they recognise Ryan Gosling's total and utter commitment to him. One thing that comes up with cinema discussion all the time is the idea of romanticising concepts – Trauffaut's famous declaration that it's impossible to make an anti-war film, because film inherently makes its imagery glamorous. In recent Solute conversation – I forget who said it first or if they were quoting anyone – it's been observed that this goes the other way, where war itself has an inherent glamour that cinema sees.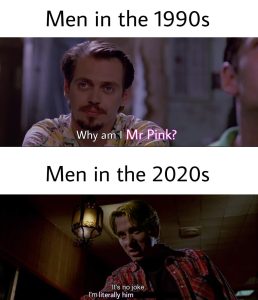 Something that's been puzzling me lately is how other people seem to struggle to separate having conflicting emotions about the one object, person, or concept. In this case, people are conflating (knowingly or otherwise) their admiration for Gosling as a performer for Ken's actions as a character, which could not be more wildly different; Ken is emotional and completely lacks self-awareness whereas Gosling has complete control over himself and is precisely following the goal of each shot (my favourite moment of his acting is how he stares at Barbie while walking away from her on the park bench). Apparently the image of Ken must be either All Good or All Bad, rather than recognised as a few different concepts – a performance by actor Ryan Gosling, a person named Ken, a script by Greta Gerwig and Noah Baumbach, footage edited by Nick Houy and overseen by Gerwig, etc – each of which can have its own individual emotional reaction and interpretation and are tied together into one larger thing.
One could extrapolate further from this and suggest that a film could romanticise a 'bad' thing and still be good – indeed, this is something the Solute's Shield fans love about that show, as it shows why people are authoritarian assholes.
The usual objection to romanticism – and I consider this a reasonable concern – is "what if someone stupid were to see and imitate the bad things about this?". My response, as is often true, is twofold: one, if it weren't Ken, it would be something else. Two, expressing a morally good theory will not guarantee a lack of human error in the practice. By all accounts, the first season of Ted Lasso was a truly moral work which elegantly laid out how to be a good person in a convincing and sincere way, and not only did many of its fans miss the point and start harassing people, not even Ted Lasso or Ted Lasso could live up to it. I always end up finding myself thinking of the legions of young men who saw My Little Pony: Friendship Is Magic, a show for little girls about how sharing and taking care of each other is a good thing, and decided it depicted a libertarian patriarchal paradise. There is no story that can decide how people react to it.