It shouldn't be surprising that July-December dominates most best of film lists. This is the time of year for movies jostling for awards, with some good and some bad. These movies usually dominate best of lists due to both proximity and quality. In the movies making up my top 10 of the first half of 2015, there was little connective tissue. Here, in the back half, there's a lot more social commentary both about society and our economic status. Well…I don't really have a connective theme. Here's my top 10 for the second half of 2015.
---
10. Goodnight Mommy
No other horror movie in 2015 affected me on such a visceral level as Goodnight Mommy. The plot is simple: A mother returns home from some sort of facial surgery to take care of her mischievous sons, and things go haywire. Directed by Veronika Franz and Severin Fiala, Goodnight Mommy starts off with the sickly feeling that something's wrong, and their filmmaking gets increasingly tense until the extremely violent finale rips the audience to shreds. Rather than just being an intense style exercise, Franz and Fiala tie in themes of female identity and self worth as valued in beauty, youth, and motherhood. The sheer terror leaves the audience feeling dirty, as all great horror movies should.
---
9. The Look of Silence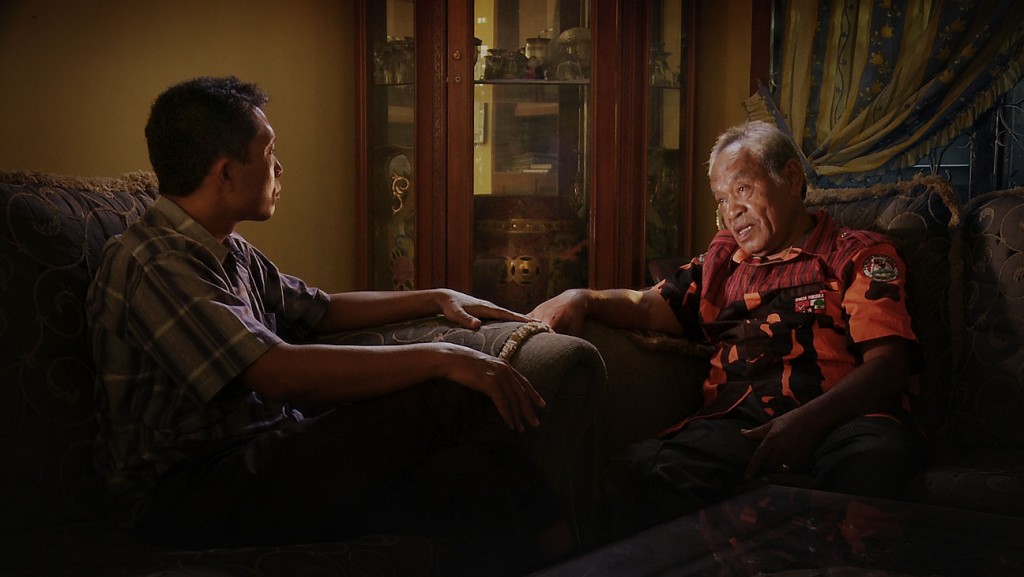 Joshua Oppenheimer's companion piece to The Act of Killing, The Look of Silence explores the Cambodian genocide from the perspective of a family destroyed by one of the brutal murders. Following a man seeks for answers from the unrepentant perpetrators of the injustice, Oppenheimer asks about morality in the face of your victim. Though the winners always write the history, what happens to the victims is just as important.
---
8. Rock the Casbah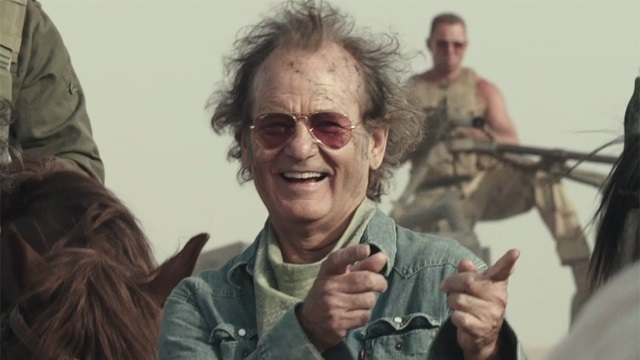 Irony is dead. Barry Sonnenfeld's Rock the Casbah is perhaps the most ironic movie of 2015, and it hurts so good. Rock the Casbah tells the inspirational story of a young woman defying all tradition in Afghanistan a defeating sexism through song as filtered through the eyes of a cynical white American. Sonnenfeld's screenplay runs through every bad cliche in the book, from the Hooker With The Heart Of Gold to saving the Muslim world through a cheesy American song. There are many signposts along the way that this is a deeply dishonest film, the biggest of which is Bill Murray, who seems to have the attitude of "Pay Me." Murray, whose persona has been built on not having a sincere bone in his body, whose sarcasm is laden with such sarcasm you never know if he's being honest. He embodies the true nature of Rock the Casbah.
In a year dismissively dubbed The Year of Outrage, where every bit of media is taken as face value and analyzed as deep reflections of an artist's soul, Rock the Casbah was never going to succeed with any serious credibility. It is the embodiment of everything that kneejerk liberals hate about American culture – American white-dude centrism, older male younger female relationships, hookers – that nobody was going to be able to chop through the surface to see that it's really a sarcastic piece of work. It operates in the same manner as the movie-within-a-movie as media critique trope that's all too common…except without being in its own movie. Flipping the movie in my head, it's one of the few movies where I died laughing about 10 minutes after it was over. By being such an sharply honed blade of bitterness,  it's all that much more hilarious.
---
7. The Hateful Eight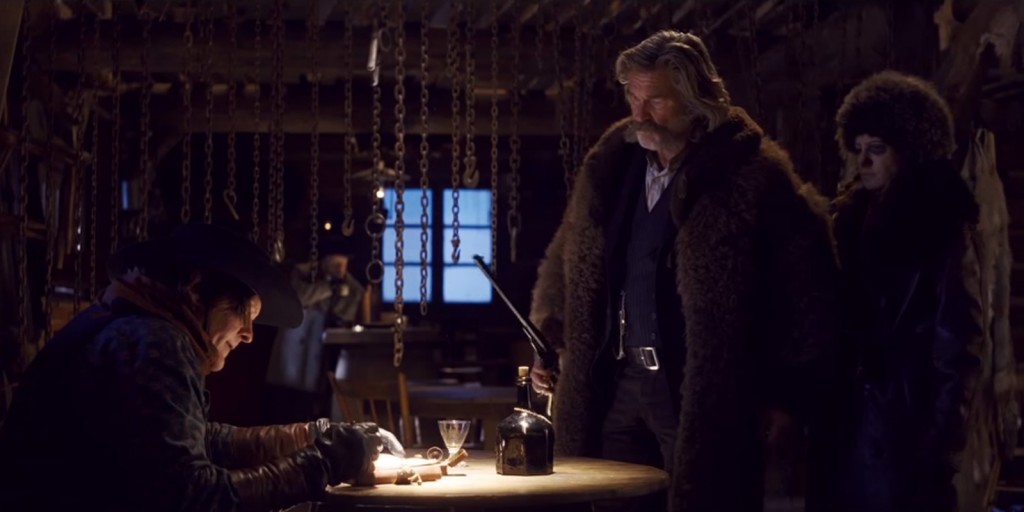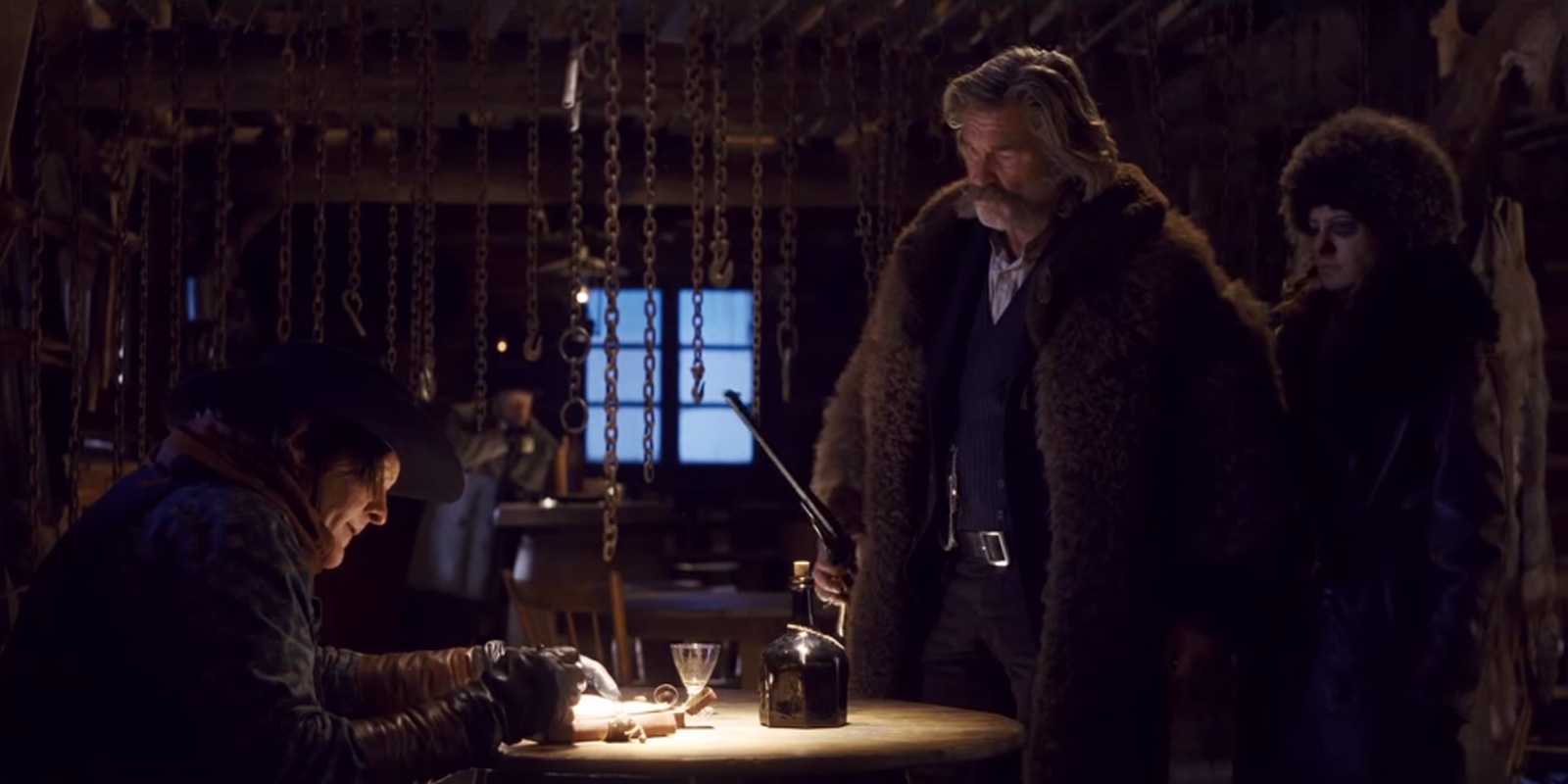 Many newsmakers and clickbaiters have dubbed 2015 The Year of Outrage. It's true. America is pissed, and it has a lot to be pissed about. Quentin Tarantino's latest movie, The Hateful Eight, is perhaps his angriest film yet. Tarantino's usual gestalt is a pastiche of happy-go-lucky amorality that borders if not rolls around in nihilistic joy. With Eight, QT eschews that cheerful exterior to expose a disgusted film about the origins of modern America.
Echoing the latter works of Sam Peckinpah – Bring Me the Head of Alfredo Garcia displays much of the same old man anger at the world – QT fills Eight with a motley crew of awful selfish people doing awful selfish things in order to further their own agenda. Using a cabin as a bottle version of America, the wary travelers (nobody actually belongs in the cabin) range from Southern soldiers to bounty hunters to gang members. But, nobody is angrier than the black man who has to self-promote himself with lies in order to gain any amount of legitimacy. Eight is a deeply cruel movie that wrestles with the blood deals on which modern America was founded.
---
6. 99 Homes
If Eight is a deeply cruel movie about the selfishness surrounding America's founding, 99 Homes is a deeply cruel movie about the selfishness surrounding America's new reality. Following the collapse of the economy, many economic vultures preyed on the American Dream by repossessing homes through legal and illegal means. Ramin Bahrani turns this ugly story of American Survival into a potboiler of moral corruption.
Andrew Garfield (The Social Network) turns in a strong performance as a man who, after losing his house, becomes a lead repo man. But, it's Michael Shannon as the greedy prospector who steals the show, displaying a self-serving vacancy exposing the mentality that leads one to become a cog in a system of oppression. This basic story of modern American life will always end up being didactic, but Bahrani makes sure he never stops moving.
---
5. Carol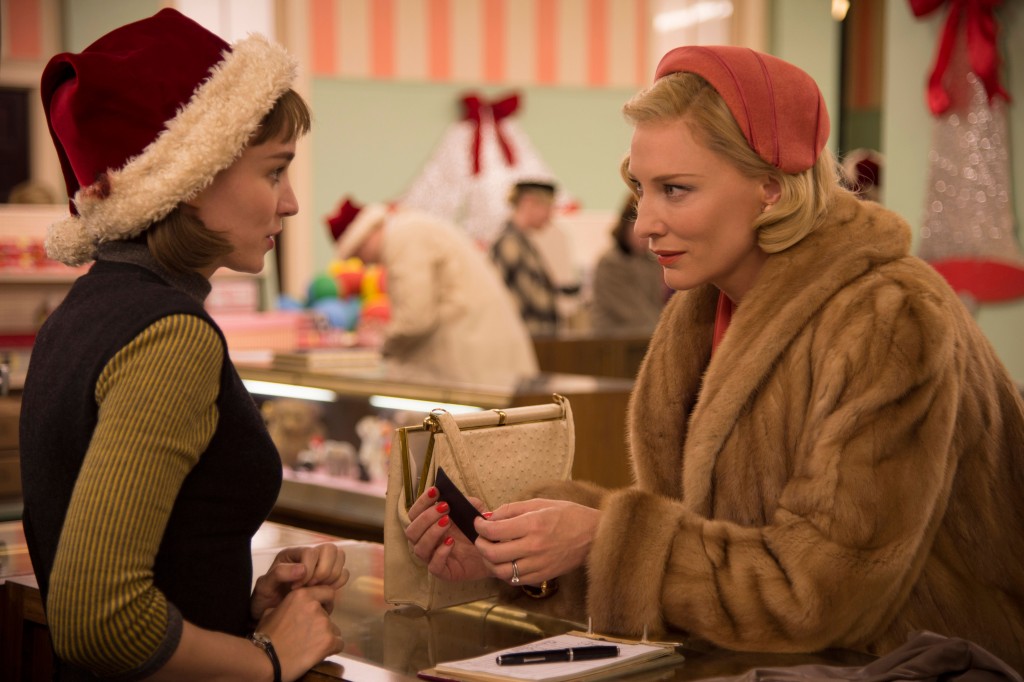 Carol is the work of a man obsessed with Classic Hollywood. Haynes made his big splash on the scene with Poison, a film exploring male homosexuality through the use of classic movie genres and old constructions of celebrity and fame. With Carol, he constructs a classic romantic drama (sometimes dubbed, derisively and not, the Woman's Picture) that eschews melodramatics for a measured and understated exploration of homosexual desire in an era where such expressions were taboo and illegal.
The blossoming love story between Carol (Cate Blanchett) and Therese (Rooney Mara) starts with little more than a glance and an intonation; what would be termed a Cruise to the right kind of eye and personality. Under a blanket of societal oppression, such expressions were kept on the down low, in secret, and not to be expressed in the open air. Haynes' work here is a masterful construction of glances and looks and colors and mannerisms that Carol is one of the few pieces of almost true cinema on this list. Carol plays against the modern trend of having every character tell you exactly what's happening, why, and how they're feeling about it. Almost wordless in several sections, paragraphs of description are conveyed through an exchanged glance, a stolen moment, a wordless touch. Carol is a mature work by a master of the craft, requiring one to actually sit and watch without heightened melodrama and big swells of bombastic score to underline the emotions.
---
4. Blind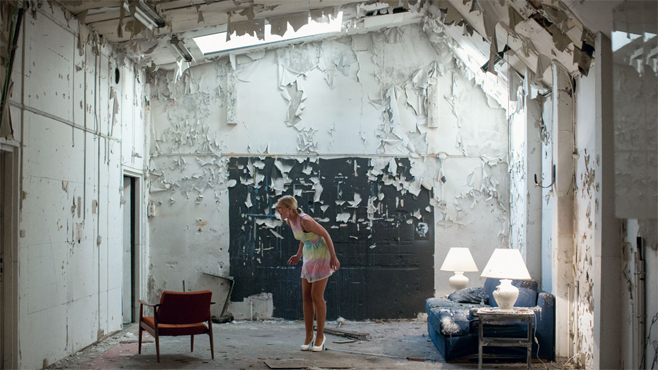 Cinema is dependent on imagery, and sighted people are dependent on eyesight to verify our truth. So, what happens when you had your sight and the lost it as an adult? The central question at the heart of Eskil Vogt's Blind is just how much we depend on our visuals to confirm our realities. Ingrid (Ellen Dorrit Petersen) is a married accomplished author who recently went blind and is having to deal with reconciling her new reality of darkness with her imagination of reality.
Ingrid stays in her apartment during the day, and throws herself into fantasies of reality that cannot be confirmed. She dreams of being watched by the porn-obsessed pervert who lives across the street, or fantasizes about her husband staying home to watch her new routines. When she spills things while cooking, she imagines that she created a disaster area of her kitchen. In bed with her husband, she concocts a story that he's flirting with a young woman and is set to carry out an affair. Is any of this real? We don't know because Vogt's camera is Ingrid's imagination. Because she isn't subject to visual confirmation, neither are we. Blind is constantly playing with the audience, challenging our concept of reality, and whether visuals are confirmation enough.
---
3. American Ultra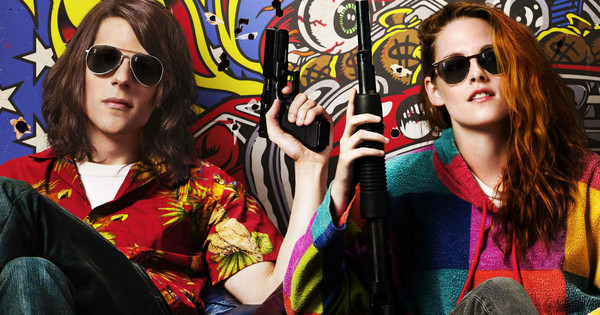 American Ultra is America. It's a weed-induced rant about government paranoia, superheroes, ultraviolence, drug dealing, and action movie ultra violence. Mike Howell (Jesse Eisenberg) is a brainwashed force of nature created by the government but weeded into submission. His stoner girlfriend, Phoebe (Kristen Stewart), is also his handler who makes sure he can't leave the city and never gets activated. That is until the government decides that Mike's program was a failure and they have to kill the subjects, and then a rogue CIA agent (Connie Britton) activates him even as her rival (Topher Grace) is trying to kill him and then a war happens in small town America without caring about the actual citizens.
There's a sweet romance at the heart, but there's also a wicked metaphor about two factions of government fighting it out over your life without actually caring about your person are willing to destroy small town America to prove themselves correct. Ultra invites us to draw hazy drug-induced parallels to the two party system, the war on drugs, poverty, and all sorts of other elements in our modern culture. Are these lines actually there? Are we just being paranoid and grasping at straws? Isn't that the best embrace and critique of our culture? That it's also so much fun, sharing much DNA with Paul Walker's Running Scared, just makes it icing.
---
2. Tangerine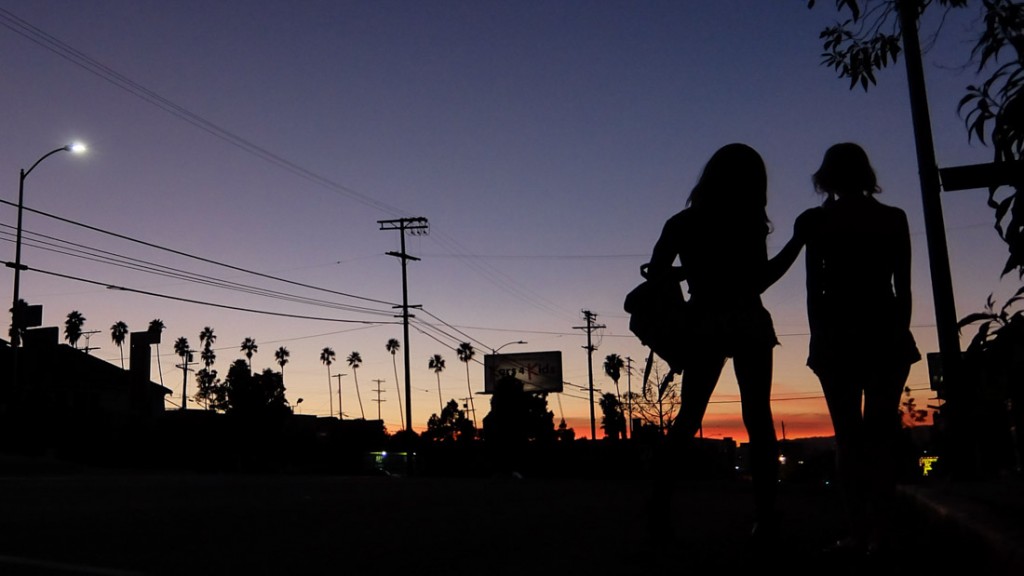 Tangerine is a masterpiece of cinema. On one level, it's a total trash road trip around seedy LA about a just-released transsexual sex worker dead set on seeking revenge on the woman who slept with her man (and her pimp) while she was in the slammer. On another, it's perhaps the most human treatment of sex workers that allows them to exist in their own reality without denigrating their existence or making a mockery of the characters. That the visual language is so radical and extreme, because it was filmed on three iPhones, is just icing on the cake.
Sean S. Baker's film might have been a total failure if it wasn't for the powerhouse acting of Mya Taylor and Kitana Kiki Rodriguez, who possess both magnetism and humanity through their story of the streets. These women didn't create passive frivolous characters, but instead made toughened, hard-as-nails kick ass characters who are well past taking shit from anybody. This is a blisteringly hilarious film that shifts gears several times, and nails each genre change. Few movies are this fiercely defiant and original.
---
1. The Big Short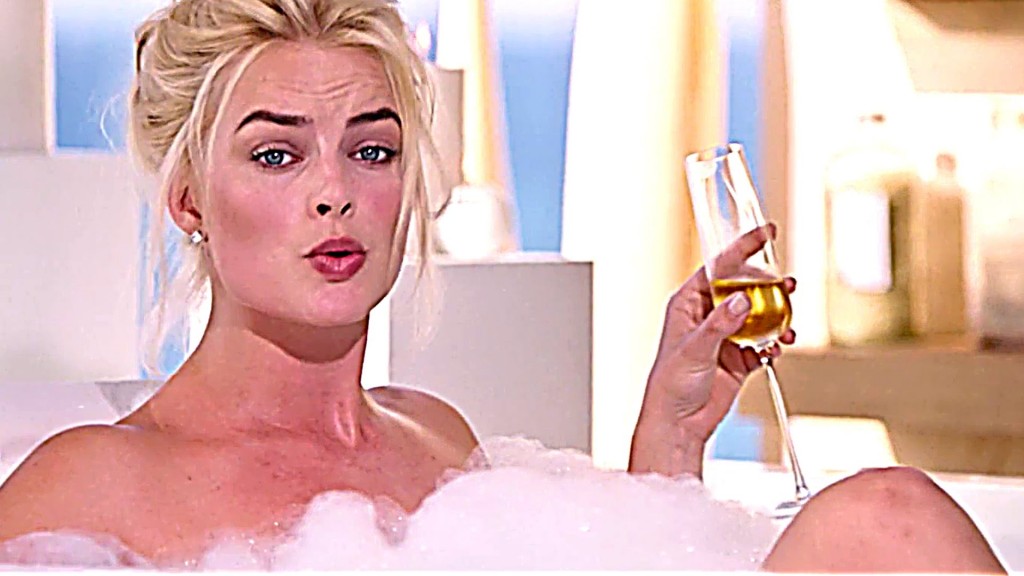 Speaking of fiercely defiant and original art, Adam McKay's The Big Short is a blistering Brechtian Fuck You of a film eviscerating the financial crisis through pure rage and laughing through the tears. An ensemble movie about 4 different groups of characters who all saw the Housing Bubble that caused the financial crisis of 2007, Adam McKay denies the movie a heart. Ryan Gosling's Jared Vennett narrates the film dripping with authorial contempt, though he is arguably the most despicable character in the film. While working as a trader, Jared hears about the bubble from California hedge fund manager Michael Burry (Christian Bale), and, despite being in the best position to stop it, profits from the knowledge by giving information to an angry New York hedge fund manager Mark Baum (Steve Carrell). Meanwhile, small time investors Charlie Geller (John Magaro) and Jamie Shipley (Finn Wittrock) catch wind of the bubble and make deals using retired banker Ben Rickert (Brad Pitt), and everybody in this movie values personal profit over the health of the economy; greed over community. There are no heroes. We all know how this movie ends.
McKay knows this. He's fucking pissed off, and he made a movie about six grotesque people who saw people doing the wrong thing and profited from it. To communicate his disgust, he employs avant garde Brechtian techniques that constantly rips the audience out of the movie. Brecht believed that a simple play of emotional identification left an audience complacent, and constantly broke the walls of creative constructs to force the audience to engage with the play on an entirely different level. He thought that plays should be political and cause audiences to reassess their reality.
McKay took a book on Brechtian techniques – random non-diagetic sounds, loud abrasive music, speaking to the audience, reading stage directions, lying and admitting he's lying – and made a movie out of it. And, it worked. The Big Short is fast, furious, intelligent, and infuriating; it's a horror movie posing as a drama posing as a comedy. There are no easy answers here, and McKay doesn't pose any. He just knows that he's fucking pissed off, and made the best possible angry-as-all-hell movie to engage the complacent public.
---
Honorable Mentions:
Breathe – Girls can be brutal as fuck. In Breathe, a timid high school girl who falls into a toxic friendship with a strong brash girl, and slowly the ties that bind come to strangle. Over the course of 90 minutes, Mélanie Laurent ratchets up the tension until all the air has been sucked out of the room. Breathe also has a tracking shot for the ages.
The Black Panthers: Vanguard of the Revolution – With Beyoncé channeling the visuals of the Black Panthers in her Super Bowl performance, it helps to understand everything The Panthers was about. Though Vanguard hews far too close to PBS's info dump for its own good (it airs on Independence Lens on Tuesday, February 16), Stanley Nelson, Jr. provides so much information that he recontextualizes the Black Panthers' myth from history book reactions against their militant visuals to the reality of being a community group that promoted equality while providing free breakfast to poor kids on their way to school.
Chi-Raq – I love this movie. I loathe this movie. Chi-Raq is a primal scream about gang violence that completely reduces most black characters to caricatures. It's half a social satire and half a brutally honest didactic rant about gun violence. In other words, it's a Spike Lee joint, and he's back on the top of his game, until he hits the bottom of his barrel. All of Spike Lee's films are referenced in this singularity that works like gangbusters about 60-70% of the time, and falls flat on its ass about 30-40%, sometimes all at once. It's a required viewing.
Circle – The central conceit – a group of people have been kidnapped and put on a soundstage that kills somebody every 2 minutes based on votes – is a basic reality show gone sci-fi. That the group represents a demographic cross-section of America illustrates that the intent is to assess how our politics influence our personal, and what survival and judgement looks like in the face of individual survival. It's also funnier than it should be.
10,000 KM – A 15 minute tracking shot around an apartment exposes how intimate a Barcelona couple is, when the female gets an opportunity to be a resident in California. Suddenly, the couple has to deal with their long distance relationship through modern technology. The faux intimacy of webcams just further emphasizes the physical distance; its harder to forgive and forget when you don't have physical contact. 10,000 KM is an insightful little film that asks you to bring your personal experiences with you.
---
2015 Final Top 10
1. The Big Short
2. Tangerine
3. When Marnie Was There
4. Inside Out
5. Ex Machina
6. American Ultra
7. White God
8. The Duke of Burgundy
9. Blind
10. Carol