They say that building a top ten is like building a mix tape. Especially for critics and cinephiles, your top ten becomes as much about the state of Hollywood as a reflection of what you saw and who you are at that point in your life. When you build your top ten list, you have to pick out which ones you like best, which spoke to you the most, which might be underseen or underrated, which will butt heads with another. You don't want to put all the blockbusters in one place, and you don't want to have a whole section be the foreign film ghetto people will skip over. You have to show variety, but you can't be too culturally obscure.
In the past few years, since I've been going to film festivals, this process has become incredibly difficult. In January 2015, you have to remember that one obscure cult movie you fell in love at a film festival in 2013 finally got an American release in February of 2014. Did that one German avant-garde film about the transsexual that uses an opera from Schoenberg ever get officially released? What about that amazing movie that probably has no chance of distribution because it doesn't really have the rights to any of its footage? Or that other amazing movie from the year before that is in the same boat?
As such, it's incredibly difficult to make sure your film lists stay within the January-December release dates, and that you remember all of them and which ones were which. I have been constructing mine since December, and this past week, I noticed that two more had unexpected official releases in 2014. With this in mind, I'm going to start off with my current blind spots for 2014. These are the films I haven't seen, but have a strong change of  resonating with me.
Julius Kassendorf's Blind Spots of 2014 (as of January 2015)
Beyond the Lights (I have to keep telling myself it's not about football)
The Congress
Dear White People
Locke
Love is Strange
A Most Violent Year (seriously, it is at 68 screens as of this week, can we still call it a 2014 film?)
Only Lovers Left Alive
Sin City 2
Zero Theorem
There are a lot of "essentials" and "worst of" movies on the short list, which is why I am putting this caveat at the beginning. Manohla Dargis of the New York Times said that 1,000 movies opened in New York City this year. It's impossible for any film critic to have seen all of those movies, so all critics have these caveats even if they don't mention them.
---
I mentioned earlier that it's difficult to keep track of what is distributed and what isn't. Especially when it comes to foreign and niche films. So, I present my top movies that don't have an official release date yet.
Julius Kassendorf's Favorite (Still Unreleased) Festival Movies of 2014
Out in the Night – This documentary might as well be subtitled "Intersectionality." Director blair dorosh-walther unpacks the story of The New Jersey 4, a group of black lesbians from New Jersey who were harassed by a guy in the Greenwich Village. When a fight broke out against their harasser, they were arrested, labeled a "killer lesbian gang," and sent to prison for 3.5-11 years. Dorosh-walther lays out the intersectionality of being poor, black, and lesbian, and asks us if this range of repression added to the easy judgement and conviction of these women, both in the legal and the public sectors. I believe this is supposed to show up on PBS at some point soon, but it is still running the festival circuit.
Blackbird – Patrik-Ian Polk, director of the Noah's Arc television series, adapted a tale of finding your way as a homosexual teen when you're surrounded by oppressive messages yet you know who you are. Taking its tone from the African-American Baptist dramas, the emotions and situations run high and low, full of passion and brutality. If you're not ready to give yourself over to the soaring emotions, this may not be for you.
Long Distance (aka 10,000 KM) – A Spanish movie about how technology affects our relationships. Opening with a 20 minute single take, Long Distance tells the tale of a Spanish couple who are split apart by their careers. The woman has an opportunity for a residency in California, while the man has his life in Madrid. But, the new technologies, like Skype, allows them to stay in touch, but how does it affect their relationship?
The Third One – A simple tale of a gay couple who pick up a kid on the internets, and bring him in for a threesome. Even though it feels right for when I was the age of the third one, the technology feels a little old. Still, everything else in this movie is perfect. From the initial awkwardness to the dinner of posturing to the secondary awkwardness of transitioning from dinner to sex. And, the after good sex glow. Simplistic in its tale, the techniques it uses match the subject perfectly.
Creep – A brutally funny "found footage" horror movie Patrick Brice answers an ad from Craigslist by Mark Duplass to create a movie for his unborn son. But, is Duplass a harmless socially-awkward guy or is he a dangerous creep?
Pierrot Lunaire – Bruce LaBruce exercising his avant garde skills for once. Using the Schoenberg opera Pierrot Lunaire, LaBruce tells the story of a butch lesbian who is rejected by her lover's father for not being a man, and kills for a fake penis. It's just such a sensory overload, there's no other way to describe it.
---
I've previously addressed that the overarching theme for 2014 is Adventures Through the Male Ego. It was difficult to find a movie that weren't about the Deconstruction of the White Male, and when we weren't deconstructing the white male, we were watching white men do shit. Diversity was a huge problem in 2014, making any movie dealing with women and female issues feel practically revolutionary. Regardless of gender issues, there were only a handful of minority films to see release.
With diversity issues like these, I wanted to give bonus points just for dealing with minority issues. Top Five, for instance, almost made my list because it was half of a great movie tied to half of a shitty movie and was also a film dealing with minority issues. I almost wanted to put Under the Skin on my list simply because it was an interesting arty film dealing with female identity, even though I think it was as trite as it was deep. Eventually, I had to get over myself and realize that minorities just didn't have that great of a year this year (where the hell are all the Latin-identity films?!) and settle for a list that is remarkably devoid of color. At least I've already seen a couple of movies about minority characters set to release in 2015 that are amazing.
Another running theme this year is the exploration of wealth, corruption, government, and the economy. Starting with Cheap Thrills at the beginning of the year, Hollywood's films just wouldn't let up with their analysis of corruption among the wealthy and/or powerful. Captain America: The Winter Soldier dealt with paranoia in the time of government corruption. Snowpiercer dealt with economic caste systems. Citizenfour was a documentary about government snooping and corruption of the news. Foxcatcher used an 80s homophobic trope (more on the return of homophobia in a later piece) to tell an allegory for the wealthy wanting to own everything they see. If you're a big fan of the thinly veiled political movie, 2014 had a treasure trove of movies for you.
This year, I could only come up with a top five list, and felt that the rest of the movies were equally deserving of mention. As a result, the first five are locked in order for this year, and the rest of the great movies of the year are listed alphabetically, in an honorable mention sort of fashion. There were a lot of movies that had a wide range of qualities making most of them incomparable. I would recommend all of them at the drop of a hat.
Julius Kassendorf's Top Five
---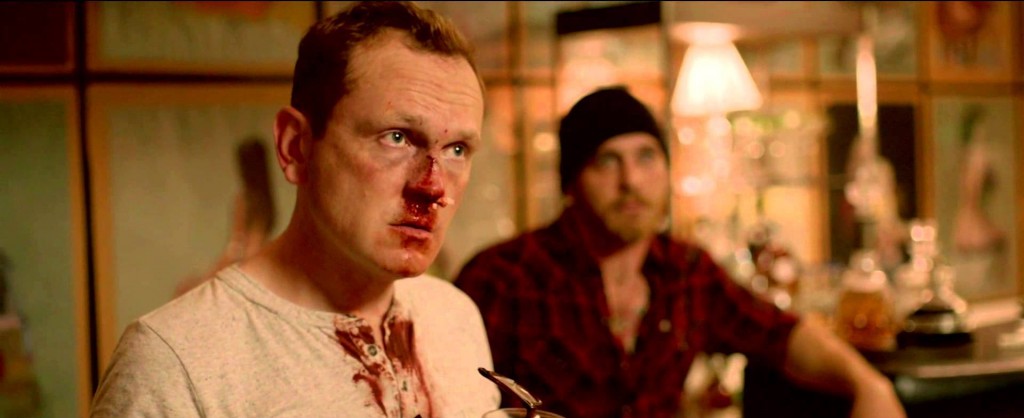 1. Cheap Thrills
The first of two movies in 2014 that asks "How much is your soul worth?", Cheap Thrills keeps the laughs coming even as it descends into the dark hell of capitalism. New father Craig (Pat Healy) is getting evicted from his apartment and loses his job as a mechanic. Drinking a regret beer, he meets up with newly released ex-con Vince (Ethan Embry) to discuss their woes. They, in turn, are recruited by Colin (David Koechner) and Violet (Sara Paxton) to compete in bar dares for money. Starting innocuously with getting the bartender to slap you, the bets and money escalate as Colin challenges their morals for money.
Directed by E.L. Katz, Cheap Thrills is a movie that commits to both its allegory of the social system without sacrificing entertainment. It doesn't stop to check in with the audience's morals, nor does it ever become a heavy slog telling you that what you're watching is wrong, Katz trusts that the audience will be smart enough to figure out the immorality of the situation. Simultaneously, it puts you in the shoes of the desperately poor, and asks what you would do in their situation without judging them for their decisions. Though Cheap Thrills is sledgehammer obvious, it doesn't pretend to know the answers. It simply lays out the situation as it exists, and lets you do the thinking for yourself. You know, once you're done squirming in your seat.
---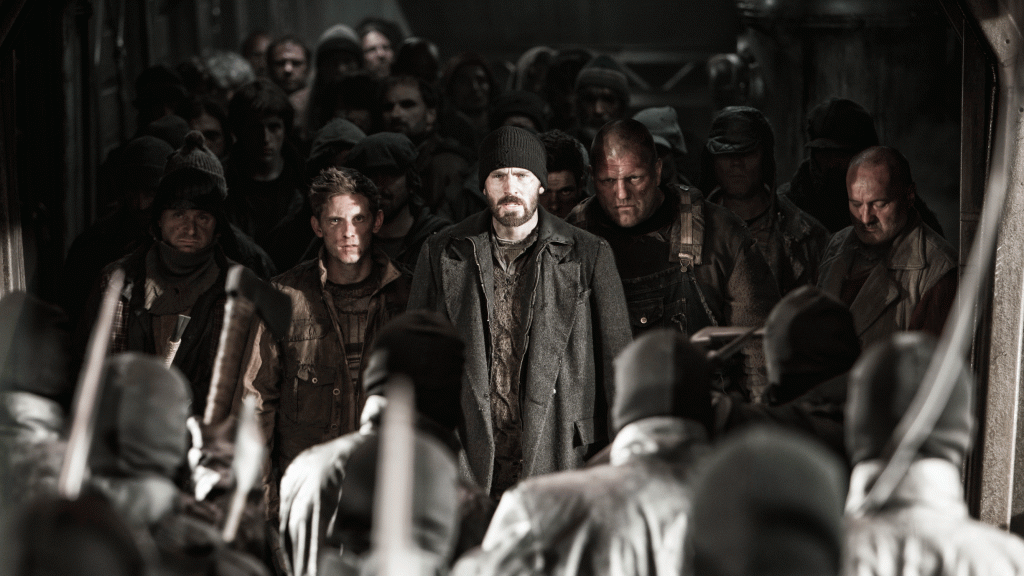 2. Snowpiercer
This was one of the most ambitious messes of a movie since Southland Tales. Bong Joon-Ho, director of cult favorites The Host and Mother tries his hand at a sci-fi political action movie. The world of Snowpiercer has been frozen over due to human meddling with the environment to fix global warming without giving up our creature comforts. No life can survive, except for a perpetual motion train which cycles around its track every year. The train is divided into sections representing an economic caste system. The poor are lazy freeloaders who have to sacrifice children for the good of the middle class. The middle of the train is the worker class with agriculture and education. The front is the upper class, with drugs and partying. The drugs have also meandered their way down to lower class.
But, one poor guy has had enough of his station in life, and goes on a rampage to overtake the train. Even though this seems like a straight forward plot, the end of the movie gives everything far more depth than it had previously had; in hindsight, its one of the only ways to make a satisfying ending. But, that doesn't mean there weren't some bumps along the way. Bong Joon-Ho has problems staging the early fight sequences, creating a confusing and conflicting mess of imagery making it near impossible to decipher who is where. As the movie goes on, and fewer people are involved, Joon-Ho gets a grip on it, but it still makes one long for Joon-Ho to have brought in Gareth Edwards as a guest director.
The visual style – art direction and cinematography –  in the non-fight sequences makes up for the lack of grace during the fight sequences. People have compared the visual style to Terry Gilliam, and they're not wrong. The style is cluttered and dirty when it needs to be, and clean when it needs to be. The politics of the image more than make up for the periodic bad camera angle. Whatever bad juju is left is glossed over by Tilda Swinton's epic role as the voice of the conductor, a fascistic quasi-Metatron if you will.
---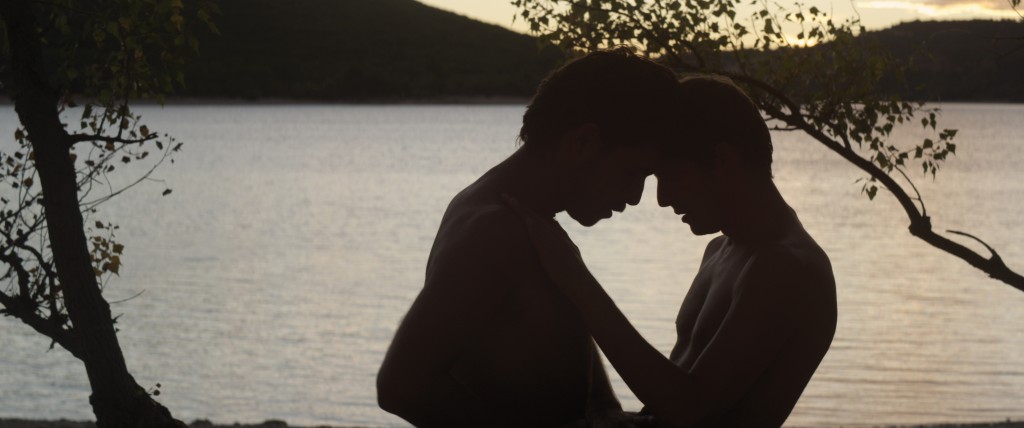 3. Stranger By The Lake
A 1940s dimestore noir has been turned into a sun-dappled sex-filled dirge by way of 1970s porno. Building upon the visual structure of Boys in the Sand, Stranger By The Lake details the cadre of characters who frequent a French gay nude beach before a murder occurs. Whether you think it's a regressive movie in regards to its homosexual politics or a needed corrective to all of the "gays are good" films that have flooded queer cinema since the mid 1990s, Stranger By The Lake is an entertainingly dark look at the effects of loneliness and sexuality in a community that has fought for its right to fuck who they want.
The best part of Stranger By The Lake is that it is the first non-pornographic gay film in ages that doesn't shy away from sexuality. In fact, sexuality and intimacy is the point of Stranger By The Lake. The explicit displays of homosexual sex, with a completely neutral eye, makes Stranger an intriguing and important milestone in queer cinema. On top of that, it gets all of the nuances of the hookup hole community just perfect.
---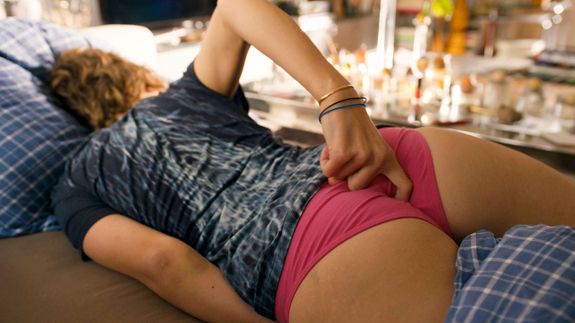 4. Wetlands
It's rare that a movie about women opens with the main character jamming a finger down the back of her pants to scratch her asshole while skateboarding down the street. It's rarer for a woman to be telling us that she's scratching her asshole because she has hemorrhoids. With an opening image like that, Wetlands threw down the gavel for making the most gleefully gross romantic comedy in ages. Adapted from the novel by Charlotte Roche, Wetlands is an assault on the moral judgments that repress women into being polite figures of society. Pushing the number of bodily fluids well past any of the male raunch comedies, Wetlands does so without losing sight of the character at the center of the film.
David Wnendt visually apes Trainspotting to emphasize the rudeness of the comedy, while giving it the added effect of being nostalgic. Most of Wetlands is told in a stream-of-consciousness manner with flashbacks upon flashbacks, time shifting through memory as Carla Juri's Helen takes us through what led her to be in the hospital. For a movie this daring, it's difficult to deny that the ending is a bit pat, but it's no less romantic than the finales of Superbad and American Pie. Some tropes can't be abused away.
---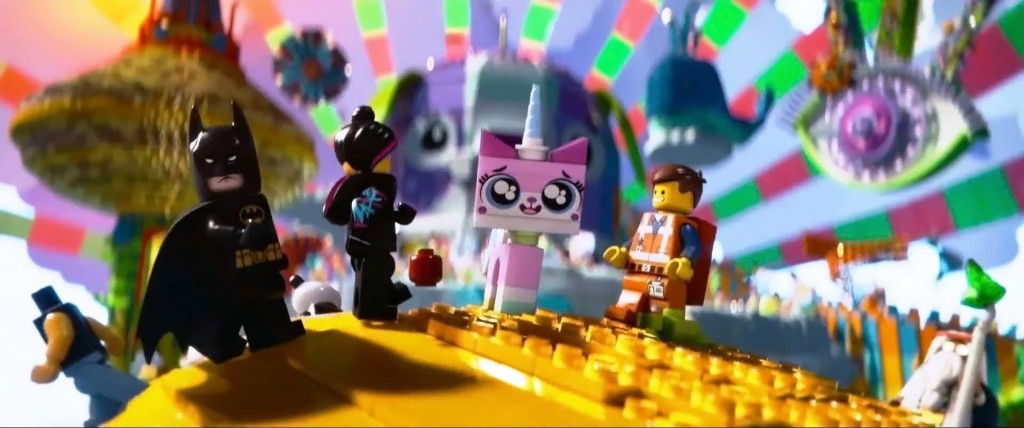 5. The Lego Movie
The most entertaining family film in ages, The Lego Movie layers the intelligence and satire with double meaning so that the film will grow with repeated viewings. While the surface movie is a yarn about superheroes trying to save the world from a conformist fascist corporation, the ur-movie is about fathers and sons mirroring how one role can mimic another role. The use of layering and metaphors is matched by The Lego Movie's use of irony: a movie with a trademarked product in the title is so nakedly against corporations. or a bright bubble-gum techno song called Everything is Awesome actually intones the death of cool with the mercenary cheer of uniformity.
Lord and Miller, creators of The Lego Movie, spend so much time playing with people's expectations that you almost come to forget that the surface is just a perfectly executed yarn with great CGI, inventive ideas that are clever and turn into foreshadowing, and an zesty sunshine appeal that runs up against the big comic book movies of late. While watching The Lego Movie, you can either relax and just trust in the movie, or you can choose to engage with it on its various levels. Both viewing styles bear fruitful rewards, a feat accomplished by few.
---
Honorable Mentions (in alphabetical order)
The Babadook – A genuine creeper about a single mother and her annoying kid being stalked by a children's book. Originality and truthful emotion abound.
Big Eyes – Tim Burton comes back to the fold with a calm true-life tale of a female artist whose work was claimed by her fame-seeking husband. Burton tones down the weird, but keeps enough visual interest to make this amazing.
Boyhood – Did you know this was filmed over 12 years with the same actor? The constant aging of the characters adds to the honesty of this universal-to-the-working/middle-class-suburban-American story about a kid growing up with a single mother trying to make a life for herself and her kids.
The Circle – A docufilm about the first gay magazine in Switzerland, and the society that developed around it because homosexuality was widely illegal. The innovative format mixes re-enactments with an interview of the first legally married couple in Switzerland who met through the magazine.
Citizenfour – I never thought I'd see a good adaptation of a William Gibson novel. This isn't an adaptation of a Gibson novel, but merely a documentary about Edward Snowden that resembles a Gibson novel (specifically the Pattern Recognition cycle), complete with government oppression and cybercrimes. Must see.
Dead Snow 2 – If Dead Snow was a lark on the Evil Dead side of things, Dead Snow 2 ups the ante by embracing the old Peter Jackson spirit. Who needs subtlety when you have a guy with a severed zombie arm and the ability to resurrect people?
The Den – A horror movie in the vein of the third segment of V/H/S, where a woman talks to the wrong person on a Chatroulette-style site, and gets a stalker. The usual structure of the stalker movie remains intact, freshened up by the use of new technology. Impeccably made for a horror film.
Grand Piano – Speaking of visual innovation in service of a cheap story, Grand Piano is an all-style-no-substance suspense thriller that's as deep as a glass of water. Consciously stealing from Brian DePalma while mixing in Giallo techniques, the style of Grand Piano is ridiculously great, even if the story is silly as hell.
Interior. Leather Bar.  – James Franco at his most pretentious, he employs gay film Director Travis Mathews to co-direct the faux documentary Interior. Leather Bar. Ostensibly about recreating missing sex scenes from Cruising, Interior. Leather Bar. is actually a treatise on what its like being a gay man surrounded by heterosexuality through placing a straight person in an area surrounded by explicit homosexuality. Hilarious.
The Internet's Own Boy – A call to action movie about the life of Aaron Schwartz, co-developer of RSS feeds, innovator of crowd-sourcing, and political activist. Schwartz died by committing suicide after downloading publicly-funded essays from a private for-profit rights holder.
Lilting – A sweet and sad movie about what death means when you're in the closet. Intersecting the lives of a traditional Chinese-speaking mother and her closeted-to-her dead son's British partner, the look of old world vs new world, and modern vs tradition is a surprisingly touching film.
Lucy – Luc Besson takes the piss out of everything from The Matrix to The Tree of Life. In what might be termed the first post-modern spoof, Lucy is a woman caught in a drug deal who unlocks the ability to use 100% of her brain, unleashing powers to manipulate time and space…lovingly narrated by Morgan Freeman. Hilarious.
Nightcrawler – The new Network, Nightcrawler skewers the immorality of business, media, and greed through a tale about an ambulance-chasing videographer selling his videos to a local news station. As tense as it is blackly hilarious, this is a bitter look at how you have to be an immoral asshole to get anything in this world.
Nymphomaniac (Director's Cut) – Nymphomaniac is Lars Von Trier on Lars Von Trier, where he sees himself as a woman who is willing to fuck like a man (like a gay man, to be precise). The director's cut may be bloated, but it restores rhythm missing in some scenes, and further emphasizes that Lars sees himself as both the woman and the critical man listening to the woman. The ending is perfect.
Selma – The problem with the current media cycle is that our memory is becoming shorter and shorter. Selma reminds us, with visceral horror, how vicious the fight for the right to vote was. Selma simultaneously asks us if something as concrete and basic as voting was a difficult fight, why would anything be easy, and tells us that leaders of these movements were humans like the rest of us. It's a beautiful, well-paced, fully realized execution of a short time period.
Whiplash – A high-intensity film about making your way with an abusive asshole of a mentor forcing you to be perfect. The execution is perfect, even if it is about finding your advocate through your adversary.
Wild – An emotional gut punch of a movie about a journey of a damaged woman. Supremely executed but extremely flawed, Wild will probably be a great first viewing to those on its wavelength but slowly decay through its all-too-apparent flaws. It's the Slumdog Millionaire syndrome.
Witching and Bitching – A blast of a movie that begins with a sponge, a mouse, and a man and ends with an ancient evil, Witching and Bitching is yet another bullet of a movie from Alex de la Iglesia. Unfortunately, it's fucked up sexual politics almost get in the way of its Dead Alive-esque energy.