In 1992, Todd Haynes' Poison was released on home video by Fox Lorber in 3 different versions: NC-17, Unrated, and R-Rated. The R-rated version made several cuts to placate the MPAA, while the Unrated cut was the NC-17 cut only without a single shot of an erect penis.
In 1995, Gregg Araki's The Doom Generation was also slapped with an NC-17 and was released in 2 different versions, with the R-rated cut having 13 minutes of sex removed from the film.
Despite being a queer themed film, Poison did not feature queer sexuality with any explicitness. The sex featured in The Doom Generation was primarily heterosexual with occasional queer tinges. In the early 90s, the only truly explicit sexuality being displayed on screen was heterosexuality and hetero-aimed lesbianism. Madonna dabbled in queer sexuality with her Justify My Love music video, and Sex book, but it felt like a straight woman playing around with taboos. Basic Instinct, despite having a bisexual lead, features more hetero sex than queer sex.
Queer sex, especially queer male sex, would get you slapped with a hard rating and keep you from being advertised in the papers. As the rating system, and the MPAA, played an increasingly important role in marketing and booking, the explicitness of all cinema, including queer cinema, downgraded itself from erotic realism to softcore playacting.
It wasn't always this way. In the 1960s, Andy Warhol was exploring rampant nudity with his early works like My Hustler. In the 1970s, the emergence of porno chic allowed homosexuality to be explored through semi- or fully-pornographic movies, including through Radley Metzger's bisexual-themed Score! and the films of Wakefield Poole.
As porno chic died down, and AIDS rampaged through the queer community, explicit examples of sexuality stopped becoming celebrated. The last celebratory explicit film that wasn't purely a pornographic video, could possibly be 1980's Taxi Zum Klo. As HIV was spread through sex, sex became seen as dirty, or dangerous despite the gay movement's urge to fight back against the darkness. Instead, queer cinema became screams raging against the political indecencies that occurred, and justifiably so.
It wasn't until the late 1990s that queer displays of sexuality were being celebrated in all of their glory.
---
New Queer Explicit
For the sake of this essay, the New Queer Explicit Movement started in 1993, but continues to this day. The defining characteristics of the movement are a progressive attitude toward sexuality, and a desire to show all types of sexuality – including queer, deviant, and heteronormative sexuality – with an equal amount of frankness. The displays of explicit sexuality could have a variety of intents – from political posturing to attempts at inclusiveness – as long as it refused to condemn sexuality as a principle.
The Movement had a mini test wave from 1993-1997, started by Bruce LaBruce, and ending with David DeCoteau and Gregg Araki. The real movement started in 2004 with The Raspberry Reich, and continues in fits and spurts to this day. The first mini-wave were directors working against the general sexuality of the queer movement.  The main wave directors were working against the established, conservative, attitudes towards sexuality established by the heteronormative culture.
---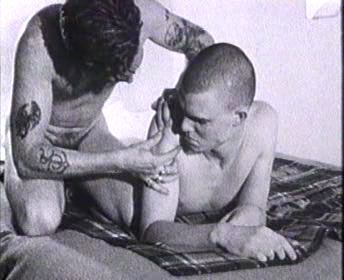 Bruce LaBruce
Bruce LaBruce, director of the 1993 QueerCore/New Queer Cinema classic No Skin Off My Ass, is the godfather of the movement. No Skin Off My Ass was a political punk queer film about a male hairdresser obsessed with a male skinhead that frequently straddled the line between arthouse and pornography.
Bruce LaBruce's style politicized and celebrated sex as a form of art and communication. He intercut the semi-romantic story of the hairdresser and the skinhead with political rantings and scenes of hardcore sexuality. Bruce LaBruce celebrated gay men having sex in an explicit way to reconfirm that gay men actually did more than chastely kiss, and that queer sex was more than just the doom and gloom that queer directors usually portrayed it as.
In the 13 years between Taxi Zum Klo and No Skin Off My Ass, gay characters, outside hardcore pornography, would only be allowed to kiss on screen. If the gay characters did any more than that, they would be punished for it because AIDS or morality. Mind you, the AIDS crisis was a big deal, and one should not discount it's seriousness. But, because of it, depictions of queer sexuality went dark.
LaBruce's next film would be dark, but also sassy, with his 1996 follow-up Hustler White, which featured explicit sex used in a gay re-telling of Sunset Blvd. With Hustler White, he would use real prostitutes and models in order to recreate a prostitution feel complete with explicit visits with johns. LaBruce's approach to gay sex in his cinema seemed to be, "We do it, let's show it."
Hustler White became notorious for its variety of scenes, including a particularly explicit scene featuring an amputee fetishist. With its attitude toward sex, Hustler White became the second entry in the New Queer Explicit Movement.
---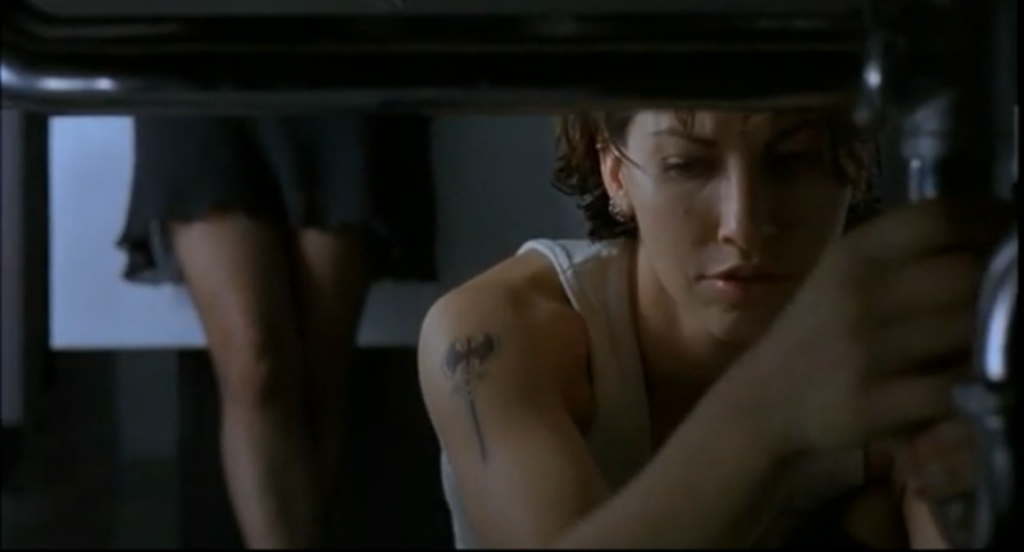 Bound
1996 had a film of queer sexuality gone explicit in the most random of places. Two filmmakers who had previously worked as screenwriters, decided they wanted to make movies so they could have full control. The Wachowskis made Bound, a neo-noir genre film about two women stealing from the mob. The film was made by two guys for a heterosexual audience on a low budget. Intended as a calling card, Bound is one of the most stylish Hitchcock films this side of Hitchcock.
But, Bound features something unusual. Lesbians who aren't demonized. Or, at least a lesbian and a bisexual. Jennifer Tilly is married to the mobster Caesar, but seduces her next door neighbor (Gina Gershon). Together, they hatch a plot to steal money from the mob and then drive off into the sunset. Normally, this type of film is made for hetero sensibilities, featuring leering lesbian make out scenes, or otherwise making the lesbianism an excuse for crass exploitation.
The Wachowskis inserted a single sex scene at the climax of Act 1. Gershon and Tilly finally have sex, and it is both explicit and erotic in a way that doesn't completely objectify the actresses to the heterosexual eye. It's also celebratory, and a scene which is more about these two characters than pure exploitation. The scene is exactly one sex act long, featuring mutual digital stimulation, but the explicitness of the scene, as well as the steamy foreplay seduction scene which happened a few scenes earlier, has an impact that lands with a nice big thump right in the middle of a generally sex neutral film. Compared to the majority of the films listed in this essay, Bound is less interested in depicting actual sex or sexual acts, but still manages to be more explicit than most of the movies that it separates itself from.
Years after Bound was released, one of the Wachowskis would eventually come out as a trans female under the power of a kinky dominatrix, which starts to explain how this scene became one of the hallmark lesbian scenes in cinema. That it was also the coming together of two queer lovers in an explicit way without condemning them for their sexuality made Bound a rarity in cinema.
---
The Watermelon Woman
In 1996, Cheryl Dunye also released a lesbian movie with an explicit sex scene. The Watermelon Woman is a movie by lesbians for lesbians, and centers around the racial fetishism Dunye experienced as a black lesbian. Dunye explores this intersectionality by placing herself at the center of a fictional search for a hot black actress who played the Mammy type character in old movies about the South under the name The Watermelon Woman.
Dunye's exploration of race focuses largely on the difference between acceptance and fetishism, as well as the concept of cultural differences. She explores lesbian culture in the past and present, lesbian culture between whites and blacks, rich and poor, and wraps it in her present time. While she's exposing the lesbian culture to racial criticism, she also decided to expose her body in a reclamation of both her skin and her mind.
The Watermelon Woman only features one bathroom scene with nudity, and one semi-explicit sex scene, but this is more than most lesbian movies I have witnessed, which normally cut away once you get to the good stuff. Cheryl Dunye seemed to want to open up all the aspects of lesbian life that she experienced.
Still, the sex in The Watermelon Woman isn't fraught with damage or distress. Instead, the sex is presented as zesty and rather hot, while the relationship problems had nothing much to do with the actual sex in the movie. Part of the result ended up being that lesbian sex isn't neurotic, even if the people who may be having it are.
---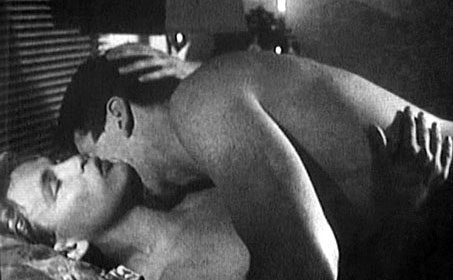 Leather Jacket Love Story
In 1997, David DeCoteau was probably screaming to get out of the closet. He started out his career in the 80s with such exploitation classics as Creepazoids and Sorority Babes at the Slimeball Bowl-a-Rama. DeCoteau had spent the better part of a decade making heterosexual exploitation, if not outright softcore, feature films where he would expose actresses breasts for the titillation of straight male crowds. He had the same work ethic as Jim Wynorski, where he would be making up to 3 or 4 films a year, all featuring women's breasts.
But, in 1997, he made a very small film about queer sexuality, Leather Jacket Love Story. The film is a coming of age story about a bratty young twink type who moved out of his parents' house and moved to Silverdale to hover at a coffee shop. There, he meets an older muscle bear in a leather jacket, whom he falls in love with. The movie moves through the first stages of their relationship as they figure out they actually want to have a relationship.
Leather Jacket Love Story is a typically sweet and syrupy gay film about a coming of age and a romance all at once. But, DeCoteau fills LJLS with scenes of sexuality that exist just this side of hardcore. The sex DeCoteau depicts in LJLS is not straight up love either. The centerpiece sex scene, which is the primary coupling between the twink and the leather daddy, features plenty of kink as well as erect penises and various other examples of explicit sexuality that regularly gets chopped out of R-rated cinema. In the third act crisis, the twink goes with his friends to a bathhouse which came straight out of the video for Frankie Goes to Hollywood's Relax.
Leather Jacket Love Story marked a tide change for David DeCoteau. For the 2 years or so following the release of LJLS, DeCoteau would return to his straight exploitation. But, in 2000, he would make Voodoo Academy, a horror movie with a hetero storyline, but extremely homoerotic trappings. The majority of his post-2000 oeuvre would be filled with cheap horror movies with heterosexual plots filmed in the most homoerotic way imaginable.
---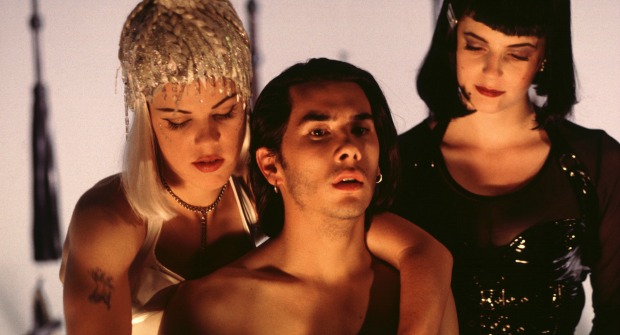 Nowhere and the Teen Apocalypse Trilogy
1997 was a year that the last of the Gen Xers turned 18, and the in between generations came of age. In just a handful of years, the Millenials would be taking the reins as the youth generation. 1997 was also the year that Gregg Araki finished his elegy to Generation X, postulating that Gen X youth culture would die by being assimilated into an upcoming, unknown, alien culture that emulated raves and costumes.
Nowhere was the third of Araki's Teen Apocalypse Trilogy, which started with Totally F***ed Up and The Doom Generation. With each movie, he postulated a different way that youth culture ends up dying. Totally F***ed Up killed itself by suicide and indifference, The Doom Generation was killed by homophobic religious nationalistic nutbags, and Nowhere ends with youth culture walking out the window with a literal alien.
Gregg Araki is a queer filmmaker, who blew up on the scene with his first feature, the New Queer Cinema classic, The Living End, featuring two guys who discover they have AIDS and go on an irresponsible crime spree as retaliation against a culture that didn't want them. With the Teen Apocalypse trilogy, Araki toned down the binary sexuality, and made everybody queer to varying degrees. The Doom Generation features two guys having sex, separately, with Rose McGowan until the climactic threesome where you stop knowing whose body belongs to who, and what body part you're looking at.
Nowhere was the most explicit of the movies, featuring a variety of explicit-ish sex scenes of varying degrees of hetero and queer sexualities, including fetishistic sex and sexual assault (which is not glorified and leads down a harsh road). Nowhere was being perfectly honest about youthful sexuality, including the various experimentations that happen as we discover ourselves and each other.
Nowhere was released the same year as Ellen's The Puppy Episode became a controversy. Gregg Araki would switch his sexuality in public going from an avowed gay to a mainly hetero guy, and get married to a woman soon after the film was released.