There Will Be Blood, which has been getting some good notices lately, portrays a historical transformation of such scale that it becomes mythic.  This is a film that begins with a barren landscape, Ligetian music that's at the edge of noise, and no words; the first person we see is Daniel Day-Lewis' Daniel Plainview as Vulcan himself, enkindling fire from the underworld, alone.  Then we see the black, almost purple sludge bubbling up from the Earth, a father (Paul S. Tompkins) anointing his son with it, and then he gets sacrificed; and that ichor from the bowels of the planet will change the life of everything and everyone who lives on its surface.  (And as of this writing, it may yet kill us all.)  It's a film about the birth of what Dan Yergin (in his masterwork The Prize) called Hydrocarbon Man, and it goes far past what we think of as politics.¹
Paul Thomas Anderson plays this as the prologue to his films centered in Southern California (Los Angeles, the San Fernando Valley, and points north); it's the origin story of his own universe.  He directs with an incredible sensitivity to the look of the past, using historical photographs and newsreels to model the mines, pits, houses, and derricks that make up this world, filming some scenes with his own 1910 Pathé camera.  He uses the background of the image to tell a continual story of civilization following Plainview's oil wells into the landscape; with every jump forward in time, there are more houses, roads, and buildings there.  And in one scene, he shows the chasm between the world of Daniel Plainview and the world he made.
If Plainview was a different person, this scene would be the formal end of the story.  Plainview and his impostor brother Henry (Kevin J. O'Connor) meet with two representatives from Standard Oil, young and old:  H. M. Tilford (David Warshofsky) and J. J. Carter (Charles Thomas Doyle). Carter is something of a token here; I'm pretty sure Standard sent him to the meeting to give Plainview an idea of what his future could be.  Tilford will do almost all the talking, Carter will have one line (more on this shortly), and Henry spends the scene listening and absorbing, something that becomes clearer on the second viewing.  We're well into the second half of the film here:  Plainview has already given his legendary speech about "I look at people and see nothing worth liking" to Henry, and in the preceding scene he exiles his adopted son H. W. (Dillon Freaser) in one of Anderson's most brutal tracking shots.  (In contrast, Anderson and cinematographer Robert Elswit shoot this scene straightforwardly, shot/reverse shot on the speakers, letting the actors carry the moment.)  By now, we know Plainview well enough to see what's coming next.
The first exchange sets a warning that Tilford misses:  "How's your boy?" "Thank you for asking."  "Is there anything we can do?"  "'Thanks for asking' is enough."  Watching There Will Be Blood as a whole, it's clear to me and to others that Plainview loves H. W. deeply, but he doesn't know how to express it, and it gets destroyed by a drive within him that's much more powerful and essential.  One way he can express his love is to make H. W. his property, and no one can tell him what to do there–no one can even be concerned.  Tilford's words may be a ploy² or they may be genuine.  I choose to believe the latter, because Tilford may be able to express his feelings about others in a way that Plainview can't.  
The look of the characters sets the contrast too.  Plainview's suits never fit him and that's an immediate contrast with the other three men–even Henry wears his suit better.  He's also physically marked from his years of working with oil; we can see in the final scenes that the oil has become literally embedded in his flesh like the mark of Cain.  Tilford is absolutely immaculate, a slightly chubby man (he has what was once called a businessman's paunch) with the full suit:  vest, chain, hat.  Carter is of the generation before Plainview but he's wearing the suit well–his one line of dialogue tells us he took the offer that Tilford makes to Plainview and lives comfortably now:  "I've scratched around in the dirt, son."  Anderson always gets great body language from his actors; there's a scene in the Magnolia DVD documentary where we see him work with Jason Robards to get the right floaty arm movements of a dying man.  Here, Tilford almost always slightly leans back; the wooden chair here might as well be a leather recliner for all he cares.  Plainview is never comfortable unless he's doing something (whether it's chiseling ore with a pick or bashing Paul Dano's head in with a bowling pin) and he spends much of this scene in motion–shifting in his seat, leaning forward, leaning back, gesturing, standing up.  No one else moves, especially not Tilford; this dude lives in the boardroom, makes deals on paper, and controls a fortune far beyond Plainview's scope, and he's comfortable with all of this.  By his morals he's doing Plainview a favor, welcoming him into that world of comfort.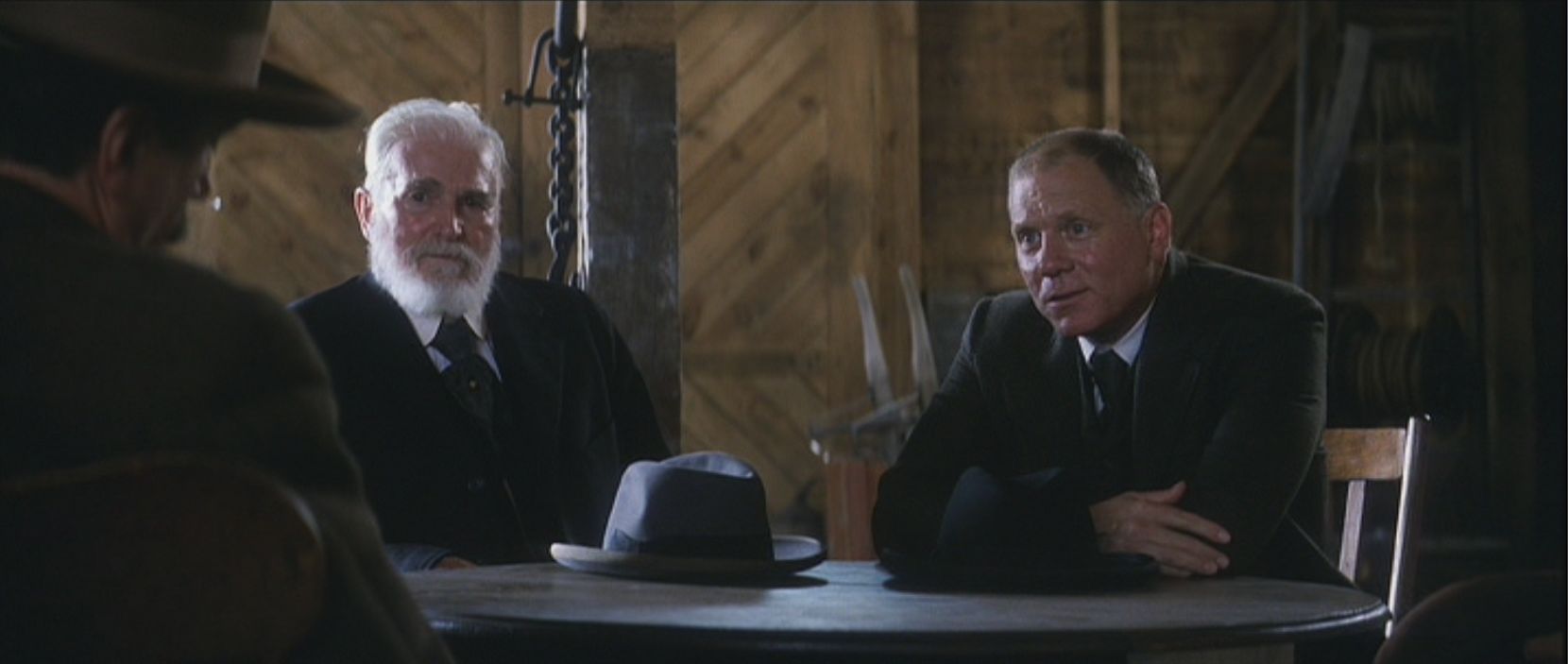 That favor is simple:  he's going to buy out Plainview's oil fields.  He starts with fields already mentioned in a telegram and after Plainview instantly agrees, he moves on to everything and his offer:  "we'll make you a millionaire while you're sitting here from one minute to the next."  (Even now, even with The Social Network reminding us that a million is no longer cool, "millionaire" still has force.  A hundred years earlier, it had even more.)  Plainview engages in no small talk; he speaks only of the business in complete sentences and minimum words.   (He agrees to the smaller initial buyout in five words:  "That's a deal.  What's next?")  Tilford doesn't so much waste words as take his time with them, spin them out as a contemporary speaker would.  Close your eyes, ignore the meaning, and listen only to the cadences of the words:  Warshofsky plays Tilford as an entirely modern person, so different from the clipped patterns of speech that Day-Lewis gives Plainview.
Plainview answers the offer with a simple question:  "And what else would I do with myself?" and it throws Tilford.  (He gets thrown off-balance a lot during this conversation but never once changes his posture.)  Asked again, Tilford says "take care of your son; I don't know what you would do," and the two men aren't just facing each other across a table, they're on the two opposite sides of the industrial age, the producer and the consumer, what Daniel Bell called "the cultural contradictions of capitalism."  Tilford's ethic, in his posture, clothes, and speech is that of consumption and luxury:  life is to be enjoyed, it is to use the wealth of capitalism to have more time with your child; the final line of his pitch is "now let us help you."  Plainview's ethic is that of the producer, and it's what we see him do from the first scene of There Will Be Blood to the last:  produce, make money, increase wealth, and overcome every obstacle in your way.  Nothing can stop Daniel Plainview, not a broken leg or an exploding well or a deaf son or an annoying preacher or a fake brother or an offer to just stop and rest and love, and that's why he's so terrifying.  He not just uninterested in the offer, he's positively offended by it, by this businessman who thinks Plainview is like him:  "you fellas would have to scratch around in the dirt like the rest of us rather than buying up someone else's hard work."  (Plainview's nearly first lines of dialogue, one of the few passages straight from the source novel, Upton Sinclair's Oil!, identify him as more than a mere businessman:  "So, ladies and gentlemen, if I say I'm an oil man, you've got to agree.")  For Tilford, money gets exchanged for time with your family; for Plainview, it gets exchanged for work.
Anderson smartly doesn't give any origin or explanation to Plainview; there's no psychology to him, he is simply is the iconic force of producer capitalism.  This is, again, a good definition of iconic:  the embodiment of an abstraction.³  Day-Lewis' performance fulfills that embodiment, even in a quiet scene like this; he is possessed by a force that doesn't even let him consider this offer, that doesn't let him be anything else, and you can see it right down to the twitches of his eyes.  That's his tragedy, and it's the central problem of industrial capitalism:  it can never stop producing.  The producers and consumers make each other possible, but the two ethics cannot be reconciled.  
When Plainview says "one night I'm going to come to your house, wherever you're sleeping, and I'm going to cut your throat," it's a complete surprise to Tilford but not to us, and not to anyone else around the table–Carter, in particular, doesn't react.  Day-Lewis can always play his characters' unconscious movements and gestures so well, and throughout this scene his volcanic anger has been building like Pacino's in The Godfather Part 2.  Tilford's offers have no meaning to him, he only hears the continual challenge to his control of everything around him–and that includes H. W.  The next scene, led into with Jonny Greenwood's score at its most dissonant, has one of his signature lines:  "why don't I own this?"
Warshofsky plays Tilford smartly in the back half of this scene; he responds to Plainview's threat not so much with fear as with disbelief.  Plainview absolutely means it, and Tilford understands maybe 10% of that.  (Later, when they meet again in H. W.'s presence, Plainview repeats the threat and then Warshofsky plays the fear.  It's clear that Tilford realized later after the first meeting how serious Plainview was.  I don't think he sleeps very well.)  His response in this scene is that of a consumer and businessman:  "I'm not telling you anything!  I'm asking you to be reasonable!  If I've offended you, I'm apologize"; the words of a man, again, who lives by a different code and a different language than Plainview.  Day-Lewis has given a quartet of great performances as iconic Americans:  Plainview, Hawkeye in The Last of the Mohicans, Bill the Butcher in Gangs of New York, and Lincoln, and the common link to all of them (besides greatness and ownage) is that these are men in transition, living out of one historical epoch into another.
The world Daniel Plainview made is our world, and Tilford is part of that world.  It's a world of reason, families that can take care of each other (many have noted that Plainview gets Paul Dano's sister out of an abusive family), luxury, and technology; it's a world of a great middle class driving cars that run on the fuel Plainview dug from the ground.   It's not out of the question that this world is coming to an end, destroyed, like Plainview, by the thing that made it.  Like all great tragic characters, Plainview gets a chance to avoid his self-destruction here; like all great tragic characters, he can't take it because of who he is.  History and drama can't go back and fix themselves, they can't stay as they were.  They only go forward.
¹I think of There Will Be Blood as historical and mythic rather than political because talking about "politics" in this context usually means talking the language of American politics, and this is a story that goes far beyond America.  (Anderson deliberately removed all the story about the Socialist movement in America in adapting Sinclair's novel.  He also removed the exclamation points.)  In the same way that Breaking Bad could be shifted to Colombia without losing anything, we can easily imagine the essential story of There Will Be Blood moved to, say, Tsarist Russia.  Let's call the main character Josef Dzhugashvili; let's say he gets his start in the refineries of the Caucasus mountains rather than the silver mines of New Mexico.  You can easily imagine his rise to power, his destruction of all his enemies, and how much his promotion of industry transformed the world along the way; maybe this guy will organize some kind of "five-year plan" for industrial development.  You could easily hear him deliver Plainview's "people" monologue, and one of his speeches would sound just right coming from Plainview:  "To choose one's victims, to prepare one's plans minutely, to slake an implacable vengeance, and then to go to bed–there is nothing sweeter in the world."  I'm thinking of calling it Man of Steel.  Anyone know if that title's been taken?
²Like Michael Scott, Tilford probably has an index card with "Daniel Plainview: deaf son H. W." on it, but unlike Michael, he doesn't color-code it in green, meaning go, which means he doesn't know to "go ahead and shut up about it."
³Day-Lewis won Best Actor in 2007 for this, and Best Supporting Actor went to Javier Bardem in No Country for Old Men, playing the equally iconic and equally murderous Anton Chigurh.  Bardem said that he initially tried to figure out Chigurh's history and psychology, and only was able to play Chigurh when he realized that Chigurh has neither.  Like Plainview, he just exists, and both of them end their films still at large in our world.