The best scene in the best movie of the 00s wasn't shown in theaters; it appears only in David Fincher's director's cut of Zodiac.  This version adds in perhaps four minutes, and just over two of those minutes are a single scene, just past the midpoint of the film, that displays so much of what makes Zodiac so great–its care in laying out details, its respect for the actuality of police work, and Fincher's ability to make a conversation between three men and one voice visually compelling.
Earlier in the film, Detectives Dave Toschi (Mark Ruffalo), Bill Armstrong (Anthony Edwards), and Jack Mulanax (Elias Koteas) interviewed their major suspect in the Zodiac killings, Arthur Leigh Allen (John Carroll Lynch), and that got them some additional details that made them suspicious, but they were unable to obtain a search warrant.  About a year later in narrative time, Allen moved from Vallejo to Santa Rosa; the new jurisdiction means that there's now an opportunity to ask a different judge for a warrant.  (Jurisdictional confusions and collisions are always part of real-life police work; an early scene of this kind of thing was the moment I knew I was watching a great movie.)  Toschi and Armstrong go about the process of re-interviewing witnesses, getting a second opinion on the handwriting, and in this scene, they and their boss Marty Lee (Dermot Mulroney) make their case to an assistant DA via speakerphone.
From the standpoint of the police procedural genre, then, this scene is worse than useless:  not just exposition, but a recap of information we already have.  In the theatrical release, this scene gets replaced with a single image–a hand with a sheet of paper and Mulroney saying "you have your warrant."  Putting this scene back shows the ways in which Zodiac differs from the traditional procedural.
"Police procedural" misnames the genre, because most procedurals are really focused on the result, not the process; it's about catching the bad guy. Zodiac is the rare procedural work that's really about the procedure; it's concerned with the actual practices of police and amateur detective work, what James Ellroy called "the slow accretion of detail" and the cost borne by those who do the work.  In a traditional procedural, getting a warrant is just one more obstacle our protagonists overcome on the way to bad-guy-catching; here, it's essential to seeing what detectives have to do.  Producer Larry Alexander said the highest compliment he's received is the number of homicide detectives who call Zodiac the most accurate film about their jobs.
By showing this work, Zodiac becomes something unique, what Elbert Ventura called "a Hollywood film that champions due process."  This isn't a film that has any respect for the loose cannon, for the detective who, darn it, knows the truth and will break all the rules to do it.  In that story, it's the procedure that prevents us from getting to the single, all-powerful truth.  Zodiac shows us the opposite, something we rarely see in our popular culture:  the value of following the correct procedure.  (Ventura notes how, in a later scene, Graysmith gets so caught up in his own need to be right that he starts trying to talk witnesses into his own belief.)  It doesn't produce absolute truth–it's never meant to–but it produces a society where we can all live with each other, and one where the weight of the state only comes down where there is evidence beyond a reasonable doubt.
Zodiac gets a lot of love from fans of the true-crime genre; I think it was Lurky McLurkerson who noted that true-crime gets its power from its attention to detail, and there are few films as detail-loaded as this one.  We see this with the first words on the screen:  instead of "Based on a true story," we see "What follows is based on actual case files."  (One of the ways Fincher manifests this is that the Zodiac killings we see are entirely based on evidence and testimony, and this is why we don't see the first kill, and why a different actor plays the Zodiac each time.)  It's quite accurate to say that Zodiac isn't about truth, but actuality, and it's not about a story but about the files.  All through the film, we see the information–detectives writing down information, boxes of files that fill up rooms, handwriting samples on the screen, overlays of codes on the screen.  It's about the creation of detail, and how that detail gets understood, analyzed, remembered, and forgotten.
This gives Zodiac its unique approach to truth.  Zodiac doesn't hold that there's an absolute truth, and it doesn't go in for a weak relativism, where everyone sees things their own way, and that can never be reconciled, and isn't that fascinating?  (Looking at you, thousands of essays on Rashomon.)  Here, truth operates in the way best described by Michel Foucault:  every claim on truth corresponds to a legitimate act of power.  One kind of claim allows you to investigate; one kind of claim allows you to publish a newspaper article; one kind of claim gets you a warrant; one kind of claim gets you a conviction; one kind of claim allows you to write a book.  Zodiac shows, so carefully, the difference between the claims, and what has to be done at each stage.  There are no loose cannons in Zodiac, no one who feels he has the one absolute truth and holds to it in defiance of all.  There's a community of researchers here, interacting with each other and moving forward very carefully.
In this scene, we come to the level of truth where a warrant can be issued.  In order to do that, Armstrong, Toschi, and Lee have to do more than just give an exposition dump, they have to lay it all out in a coherent narrative, with footnotes.  Some information gets evaluated as highly certain ("That gives us two sources on the ciphers and two on the flashlight"); some earlier information gets reevaluated ("We never had much confidence in the composite from the kids; the patrolman who saw Zodiac that night said he didn't look much like the sketch"); some information gets thrown out ("The bottom line is, this Allen can't alibi up on anything.")  Given Zodiac's commitment to knowledge as something directly connected to legitimate action, the scene ends with the DA saying "Let's take it to a judge," and we cut to Toschi and Armstrong arriving at Allen's trailer for a search. (In its focus on the constant evaluation of information and drawing conclusions from that, Zodiac is one of the best films ever made about science.)  This scene anticipates another scene at the end, where Robert Graysmith will lay out his theory of the case to Toschi, and it ends with another statement that connects a level of knowledge to a specific action:  "finish your book."
That allows this scene not only to have value to the whole film, it forces Fincher, writer James Vanderbilt, and the actors to make it dramatic.  That's crucial to make this scene interesting; it's an example of Damon Lindelof's Shot Computer Rule:  if a character gives exposition, there has to be a reason for the character to do it, not just a need for the audience to hear it.  The characters have a clear goal in the scene:  get the warrant.  In drama, we need to see people do something, not sit around and think.  Fincher and Vanderbilt are smart enough to make it not just all smooth explanation; they provide interaction between the characters and the voice from the speaker.  At one point, the voice says "what about the bomb?" wanting to know if they can tie Allen to the bomb threats.  Fincher cuts to Toschi looking at Armstrong, as if to say "what about that, Bill?" and then cuts to Armstrong, hesitating–Fincher and Edwards show that Armstrong hadn't considered that–and then saying "Allen works as a chemist."  It's a mini-story in two shots.  Fincher and his actors here play at a level where they can convey the difference between saying what they've prepared and thinking on the fly, and it charges the scene with more energy.
Much like Michael Mann's films, there's a poetry in the compression of language here, as the characters relay information as directly as they can.  The phrases and the inflections convey the way all these characters have worked together before and will do so again; no one here is trying to impress or convince each other.  These are professionals, and they have the specialized language of professionals.  Anthony Edwards' Bill Armstrong remains my favorite performance in a Fincher film, and it's the work of a pro all the way through:  smart, reserved, but with an undercurrent of warmth and humanity always present.  (Edwards' other great performance, Mark Greene on the television series ER, was just as much about a professional, and had even more of a professional's language.)  Fincher shows as much commitment as Mann to the virtue of professionalism here, but he doesn't make them archetypes the way Mann does.  These are men on a job, and the Zodiac is one case among many; note also that Fincher's detectives make it through the film with their relationships intact.
Fincher has established himself as the best director of interior spaces in all cinema, and he has some great ones in Zodiac:  Allen's trailer, Graysmith's apartment, the Chronicle's offices, (my favorite) the break room where Allen gets interrogated.  What makes Fincher so good at directing these spaces isn't just his awareness of the space, but how people are arranged in the space, and how that can make for visual and dramatic interest.  Lee's office doesn't allow for nearly as much interest as the other spaces, yet Fincher still finds simple, effective things to do here.  A more conventional director would have placed the district attorney in the office, or cut between this office and the DA's office.  Having the DA only present as a voice led to the key to this scene:  Fincher understood that the speaker is a fourth character in the room.  Right away, this is a challenge:  ignore the speaker and you lose the feel of it as a character (it would turn the DA's voice into voiceover); show it too much and it's gonna look strange, because we keep seeing an inanimate object.  (Zodiac is Fincher's subtlest work as a director, and it's necessary that we don't see the direction.)  Fincher solves this problem with the shots he uses in the office.  There are seven kinds of shots here that Fincher uses to compose the scene.  The first is a wide shot of all four characters, arranged in a diamond formation, with the speaker nearest us; it's an over-the-shoulder shot of the speaker, showing how everyone is talking to it: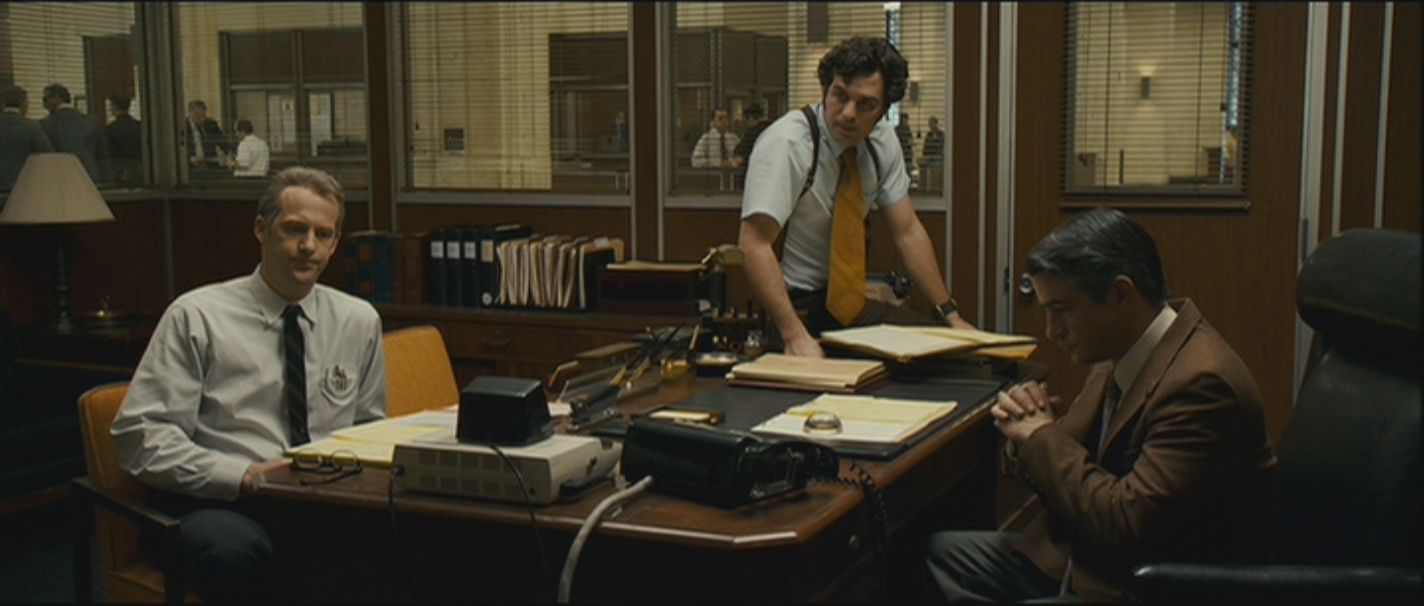 Note that the diamond of the four characters is not symmetrical; it's slightly tilted (horizontally by shooting off-center and vertically by Toschi sitting on the desk), making it look more natural.  (Fincher used symmetrical compositions in the interview with Allen to drive up the intensity.)  Four more shots are medium close-ups on each character.  It's the other two that are the most interesting, two shots of two characters each: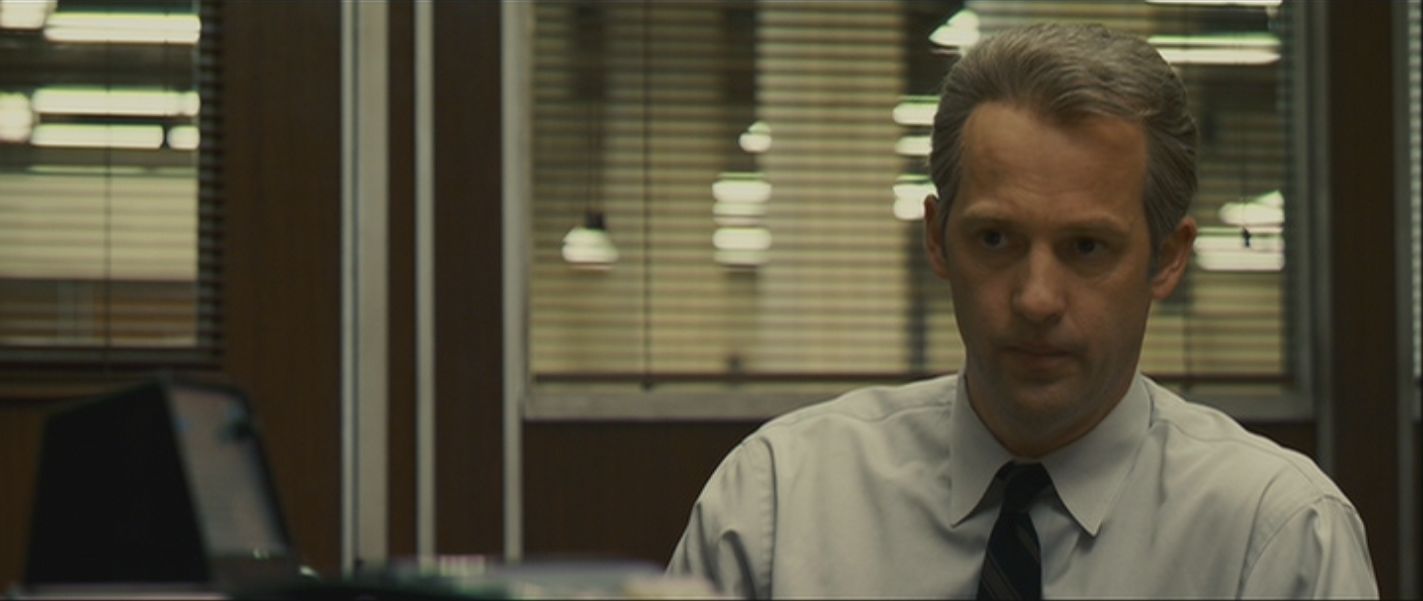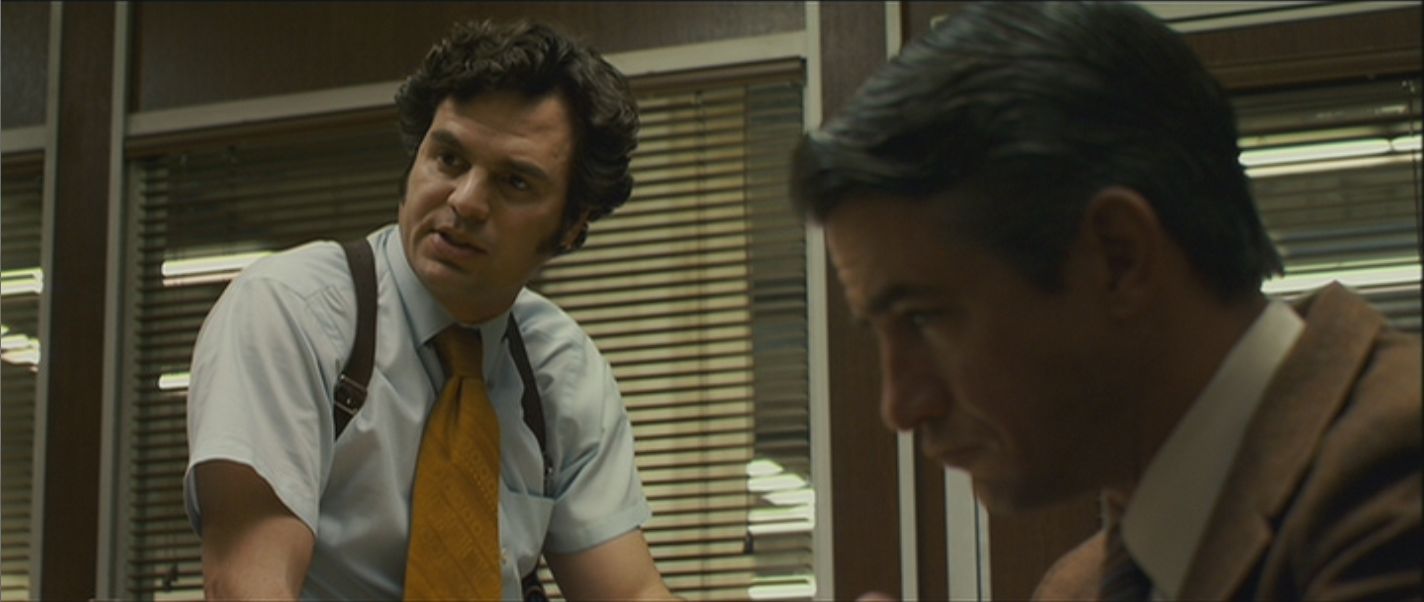 These symmetrically composed two-shots give a sense of the speaker having an equal value as Armstrong, because we already feel, through dialogue and action, that Toschi and Lee have equal standing.  We've had scenes with Toschi, Armstrong, and Lee talking to each other, and they were always conferences, never Lee giving orders.  The four close-ups and the two two-shots create a sense of four equal presences.  Using the two-shot of the speaker and Armstrong allows us to keep seeing the speaker, but not seeing it so much that we're taken out of the movie.  (The scene begins with Armstrong speaking in the previous scene, and then cuts to the speaker/Armstrong shot, with the speaker in focus and Armstrong out of focus.)  Another way Fincher keeps the sense of four equal characters here is to use the verticals on the walls to isolate each character in his own frame; at times it seems like he's cutting between portraits.  Even a simple move like tracking Lee leaning back in the chair keeps the scene visually active.
Four people talking can be exciting, revealing, suspenseful if it's done right.  It's been argued that realistic portrayals of police work simply can't make for good movies, because the actions of interviewing, paperwork, following and discarding leads, so on, just doesn't make for good cinema.  I've always enjoyed the way Zodiac implicitly responds to its own critics:  if you don't like this, Dirty Harry may be more your thing.  What all of Zodiac explicitly shows, especially in this scene, is how exciting cinema can be without compromising any of its realism.  It's a challenge to do that, no doubt, and one that Fincher and his team took straight-on and bested.