The Shield broadcast its final episode in November 2008, so yes that qualifies it for Year of the Month.  We've convened the Solute Strike Team, consisting of veteran Shield watchers and more recent converts, to talk about the series as a whole:  what made it work, what it meant (and means) to us, and its ongoing legacy.  There will be SPOILERS coming up right away and continuing through the Conversation entire.
wallflower: I didn't finish up The Shield until some years after it ended.  I can distinctly remember shotgunning the final season in a day and watching the last six episodes the way I have ever since, in one unbroken sitting.  That first time through, I finished at something like 2am, and I just sat there stunned for I don't know how long. In addition to the sheer pain and hope of it–Ronnie getting crushed, Vic getting away with everything and nothing, Claudette on her way to death "sooner rather than later," Aceveda on his way to Mayor, Corrine just maybe finding a measure of peace, Dutch just maybe getting a date, and Shane, Mara, and Jackson dead forever–I was awestruck by how elegant and necessary those last five hours played out the events, how one after another the options for everyone closed off, and how it couldn't happen any other way.  It was like nothing I'd ever seen on television, and some years later it would send me back to the ancient texts to understand its power. At the time I was sure, though, I would never see anything like it again, and so far, ten years out, I've been right.
What were your reactions to the end, whether you saw it in 2008, 2017 or anytime in between?
Conor Malcolm Crockford: I knew a good chunk of the ending – it'd been spoiled for me years ago, though that didn't bug me too much because those final hours are indeed collectively Human in the greatest possible sense: so well conceived and executed that it was still incredibly effective, a mix of love, horror, and pathos stirred into a single form. I finished it in 2017 in a rush, especially the last two episodes (a similar move I pulled recently with The Terror). I couldn't just put it off. I had to see the inevitable.
What struck me the most were how life goes on after the destruction of the Strike Team and the last bonds between these men is completely gone: Tina has her anniversary as a cop, the District heads out on a call, Aceveda will become mayor. And that's both hopeful and awful, because Farmington is always screwed (and Aceveda is the kind of man who doesn't much care for any actual change – Robert Huggins' death is the signal of where that kind of challenge will go in the world of The Shield), but the people around endure. The Strike Team becomes a story, a fucked up incident beat cops can talk about, even if they'll never have the full account like we have. That's our power as an audience.
The second thing was how Vic's recognition comes. Because it doesn't. He is so, tantalizingly, frustratingly close to seeing how his actions have led him to an empty life and a folded up photograph. The camera floats around his face, zooming in, hungry for him to collapse. But he shakes it off, as he always does. And takes his gun and goes.
Drunk Napoleon: Well, most of you guys watched my reaction in real time – literally so, when I basically liveblogged the ending. I checked out the article that has my reaction recently ("Ten minutes in. Everything is FUCKED"/"TWENTY MINUTES IN EVERYTHING IS MORE FUCKED"), and was surprised by responses I had that seemed to stick hard; believing Ronnie didn't deserve what he got, being less enthused about Aceveda's potential as mayor than I started, and most of all, being surprised by my own surprise at how Vic's confession made me feel. I began the show despising Vic, thinking him a smug bully; that's still technically true at the end, but I was so in his head (related to but distinct from 'on his side') that when he told Olivia everything he'd done, I was shocked to realise he could be seen as kind of a bad guy.
It's funny, actually; I watched The Shield in the first place because I wanted to expose myself to new and interesting ideas, and like all the characters in the show I got exactly what I asked for. It shook my very worldview, and continues to shake it as I try and process what it all means even two years later. The Shield's relentless and unsentimental dramatic construction makes it sneakily one of the great philosophical works of fiction, not just in its day-to-day moral questions like "what's the best way to police" or "is it right to strangle a cat to understand a serial killer" but in the sense of how you survive after answering them – to not just have a worldview, but live by it. It's weird to say that a show described as "Mountain Dew XXXTREME" gave me some sense of inner peace, but it did.
ZoeZ: Like Conor, I knew the shape of the ending going in, but that didn't matter: I don't think my emotional involvement has ever been so total.  Necessary, inevitable–these are the right words to be using. I was shaken by "Family Meeting," and I still am. When I think about those last few hours, I don't feel awe or inspiration or appreciation, but an almost-unbearable tension and empathy.  I think about Shane standing there listening to Mara read to Jackson, about Claudette telling Dutch to just keep doing what friends do, about Ronnie being dragged away screaming. About Vic's eyes flickering back and forth, REM on the verge of waking up from this dream he's had of being a good man, and then–no.
I binge-watched the series in 2012.  When I'd ordered one season online and it was threatening to arrive a few days later than expected, I went out and bought it again; returned the shipped season when it finally arrived.  I didn't want to wait.
The Shield has had a permanent impact on how I think about drama, storytelling, and morality.  The ending is what brings all that home. I'll always remember Shawn Ryan talking about the murder-suicide in his post-show interview with Alan Sepinwall: this is an immensely fucked-up thing but it's a fucked-up thing that people do, and as such, here it is for you to empathize with, and for you to empathize with in a dangerous way, a way that is rooted in choices and feelings rather than in psychology.  The Shield is full of different kinds of people, but there's never a diagnostic sense to it, never the sense that being a particular kind of person will keep you from doing a particular kind of thing.  Or, for that matter, fate you to do it. I know when I watch it that I could do anything these characters do: that's the terrifying responsibility and glory of being human.
Babalugats: I believe my reaction at the time was "Holy Shit!"  
Since words like inevitable, necessary, and elegant have already been used, I'll go with complete.  The Shield is a complete work in a way that isn't supposed to be possible in long form serialized storytelling.  You get the idea that if you gave the creators a time machine, gave them the chance to go back and rework narrative threads and characterization and foreshadowing, address all the problems of the show with total perfect hindsight of what the finished project would be, that (with the exception of a single misguided episode) they wouldn't really change anything at all. The ending of The Shield is the culmination of a journey that has been advancing relentlessly for seven years, launched by the choices characters made in the very first episode. The Shield isn't just a great series, it's a miracle. A 65 hour long story without an ounce of fat. This is perhaps most remarkable when it comes to Shane, who does a thing that is monstrous and incomprehensible, but still feels right for his character, even though that character is never treated like a monster. He ends the show as both the most loathsome and most sympathetic. It's a daring choice from an artistic perspective, all but impossible to pull off and even under the best circumstances alienating and devastating to the audience, but the show does it because it is the correct way for the story to end. There will be shows with better acting than The Shield, with higher production values, better cinematography, sharper dialogue. But there will never be another show that runs as long as The Shield and feels so complete.
Ruck Cohlchez: I first watched The Shield in 2012, having already heard about its excellent ending but not knowing all of the details. What I wasn't prepared for are the many things that people have cited already, the things that led to that ending and made it so great: The completeness, the necessity, and the humanity of it all. The ending was perfect because Vic made exactly the choices Vic would have made; like the best tragic heroes, Vic got what he wanted in the end, but only at terrible cost, at the expense of everything else in his life that ever mattered to him. The ending couldn't have been perfect if it hadn't been so well set up by the storytelling discipline, by the way the characters took actions that led to consequences they had to escape, and how that cycle caused a steady escalation of the stakes, until the Strike Team was playing for life, death, and stakes even higher than that.
What really makes the show is Vic's tragic flaw, which he extended to the rest of the team: The unwillingness to admit even to themselves that they'd done evil; the need to remain righteous even as they did wrong. I remember when I first copped to how hollow their self-justifications were and how essentially self-serving they were: When Danny confronts Vic at the end of season 2, when they've let her job be sacrificed to protect themselves. "You're always talking about your boys being such standup guys. Let's see how much of a standup guy you really are." And, of course, Vic won't do the right thing if it means legitimately sacrificing himself. He might have been willing to do so when it looked like they had no choice with Armadillo, but not now that they'd gotten away with it.
The other all-time moment that functions as a combination of performance and spot-on dramatic writing and character choice: The garage confrontation in the season 5 finale, and the moment where, watching for the first time, I whispered, "Holy shit, he's gonna kill him." Marvelous writing to bring Shane to the point where he feels like he has to kill Lem to protect the rest of the team and his family (and marvelous writing to bring him there organically, in a way where we can empathize with his choice, as horrible as it is), and marvelous acting by Walton Goggins to subtly communicate how he's having to weigh the decision himself, and then psyching himself up to do it.
But what I took was a story that was gripping and engaging like nothing I'd seen on TV before. Breaking Bad at its best could match the suspense and the intensity, but The Shield's relentless forward momentum and watching the characters making each decision, step by step, completely plausible at the time, even justifiable, down this dark, dark, road made the impact, the final destination, that much more powerful and overwhelming. That much more real and human. I don't know if a show will ever blow my mind, my heart, and my guts like that again.
IN ITS TIME
Babalugats: Since the impetus for this conversation is Year Of The Month, How do you think The Shield reflected the time in which it was made?  Premiering a year after 9/11 and exiting just as Obama took office, the show, though never as overtly political as something like The Wire, is very much a product of the Bush era. Does watching it outside of that era change the way you experience it? Does a corrupt but hypercompetent politician seem more appealing in the age of Trump than he did in the age of Dick Cheney? Does Vic Mackey feel like more of an outright villain as police brutality has become a more visible issue? Does anybody think the show is an extended allegory for the Iraq war?
Conor Malcolm Crockford: That last bit is called "Pulling a Nowalk" in some circles! Watching the show does feel, as bizarrely as it sounds, like entering the past in terms of visuals and feeling. (The Bourne Identity was released in 2002 and the paranoia and grittiness of that film and Supremacy are honed to a fine point in The Shield.) It's now a period show, which sounds odd to me because I grew up in that era, but it's true. The Shield belongs to the early 2000's.
I can't say I want hypercompetent/corrupt people before or after Trump, frankly, but that's my leftism peeking out. My disdain for authority continues even as I try to grapple with the notion of having authority or being any kind of leader.
wallflower: Although The Shield started as a product, potentially an archetypal product, not just of the Bush era but Bushism (on a second-season commentary, Michael Chiklis sez something like "I imagine a lot of people would like to see Vic Mackey in a locked room with bin Laden"), it pretty quickly outgrew that for a couple of reasons.  The first (and actually lesser) reason is that Vic, the Getter of Results You Stupid Chief, starts as an American archetype with roots that go way back, far before 2002. Harry Callahan is part of the genealogy here, as are about ⅓ of all Sylvester Stallone's characters; maybe this character starts with the mythologizing of Wyatt Earp.  That's why it seemed profoundly silly to make The Shield an allegory for the Second Iraq War–really, that's the only thing in history this out-of-control authority figure reminds you of, Brandon?
The second and greater reason The Shield still lands outside the Bush era and will continue to do so:  its fidelity to the rules of storytelling, what Babalugats called its completeness.  Writing about A Connecticut Yankee in King Arthur's Court, Kurt Vonnegut notes how Mark Twain starts the story as a wacky time-travel adventure as the title character goes back into the past, and ends it with a full-on machine-gun massacre.  "What a funny story," Vonnegut deadpans, and follows it by saying Twain didn't write that ending, his premise did. What got Twain that ending, what got The Shield its ending, was sticking to the rules of story and continually asking what has to happen next?  Ryan and the writers, it seems to me, never sought to praise or criticize Vic (or Shane, or Mara, or Dutch, etc.), they just kept asking that question, and when they got to the end, with so many lives destroyed, they stopped.
The art that endures goes beyond its creator's intentions, and that's not a bad definition of life, either.  That's why, unlike art that's made with the (often explicit) intent of criticizing or praising a particular moment in history, The Shield has lasted past its moment and I think it will continue to do so.  It's also why I feel distant from a lot of debates about "how should we feel about watching [cultural work] now that we know [member of creative team] did [horrible thing]?"  (Matt Zoller Seitz recently wrote a typically zollerseitzian essay about this.)  The Shield isn't just my favorite show, it's a show where I've worked hard to make sure my name, such as it is, will always be associated with it; and it's a show where a principal cast member killed his wife in front of their children.  That has affected nothing about how I see The Shield, or what I have to say about it, because it's a work that exists past the character of its creators and past the politics of its time, and our time.
ZoeZ: The Shield comes out of a line of thinking that was popular in the early 2000s, definitely, but Shawn Ryan's great, defining choice was to ask his question in a way that got him a narrative rather than an essay.  Not "What is the terrible cost of using violence to gain security?" but "If someone uses violence to gain security, what happens?"  Meditations age in a way that narratives don't, as wallflower said.
What defines The Shield as part of its time for me is more its lack of self-consciousness.  It came along right at the start of the Second Golden Age of TV, right when people were acknowledging that this was a medium that really could produce art but before critics had started codifying what that art "should" look like.  Ambition was bubbling up everywhere and the high/low line wasn't firmly drawn. I think it's when a lot of showrunners tackled classic concepts with unusual vigor and sincerity: Okay, now I can do this right.  And what "right" meant varied tremendously.  There's much more of a critical consensus now about what kinds of entertainment are worthy and there's a much more established stylebook.  Slow pace, disorganized timeline, narrative ambiguity, withheld gratification.
But The Shield came before the umpteenth thinkpiece about the male antihero in TV.  It isn't responding to criticism.  Say what you will about "Co-Pilot," but at least it's not an episode where the action stops so Vic and Shane can implicitly address Twitter.  It's sadly rare now, I think, to have an invisible showrunner; to have art that doesn't indicate how you should view it.
Babalugats: That's a very insightful point. The Shield was always conscious of its audience; trying to be entertaining, funny, and exciting, in a way a lot of prestige television does not, but it never seemed to care what anybody thought about the creators themselves. It is not a show that tries to win you over with its good taste or its righteous politics. It isn't trying to impress anybody and it's not afraid of being enjoyed in the wrong way.  I've always felt one of the defining traits of art (at least of popular mainstream American art) following 9-11 was a desire to be apolitical. To prioritize national unity over anything petty or divisive. The Shield both reflects and refutes this attitude. In it's unwillingness to ever allow itself to become polemic. And because of course your show about police, and torture, and crime, and corruption, and race, is political. But the desire to explore these themes without lecturing the audience allows it to evolve alongside that audience.
Drunk Napoleon: This is really an extension of what Conor is saying about the show being a period piece, but for me, the thing that really marks it as an 00's era show is the style. Now, I'm coming from this question as someone who was a teenage boy all through the 00's, but it feels like every other show or movie from that era was gritty, handheld, and intentionally ugly; heck, the feel of the show, down to its oft-terrible soundtrack, actually reminds me of a lot of PS2 games. As ZoeZ says, the handbook for television's style has changed, and one of the things I love about the show is how it takes a lot of common basic visual ideas and ends up building something meaningful and occasionally beautiful out of it–other shows from then would have jittery cameras and 16mm film and filthy sets, but they wouldn't go so far as to build their own grammar and language out of those elements; there are shows now that have built their own grammar and language, but they wouldn't use close-ups as adjectives and cuts as verbs.
Ruck Cohlchez: First, I'm pleased we're all taking shots at Brandon Nowalk. Second, what most makes The Shield a product of the early 2000s is the prevalence of nu-metal and -adjacent butt rock, which was the style at the time.
Quips aside, a few of The Shield's plotting and background elements reveal a specific time period. The show takes place in that small window, less than a decade, when cell phones were prevalent but smart phones were not. Most interestingly to me, and I don't know what it means exactly, is that Vic's final fate is to land at an agency that didn't exist when the series began. If I were the type to read Heavy Meaningful Symbolism into things, and also to have the wisdom of 2018 while commenting on 2008, I might say that of course an unaccountable, fascistic law enforcement agency is Vic's landing spot. (Really, the darkest version of this show has Vic somehow back on the streets for ICE, and probably with even less oversight than he had with the LAPD. In the America of 2018, that might be a more likely fate for him with ICE than what actually happened.)
Speaking of Heavy Meaningful Symbolism, I also want to expand on ZoeZ's point about The Shield coming at a time before it was codified what prestige television "should" look and feel like. One reason I've been reluctant to get into most TV dramas in the post-Second Golden Age (Embarrassment of Riches?) era is that so many of the shows seem more committed to trappings and signifiers of the genre, to the self-seriousness, rather than to telling a good and cohesive story. (I think Zoe's description is eloquent and accurate and exactly why I don't bother most of the time.) Whether it's something like The Americans building plot momentum and then simply stalling it out for long periods of time, Fargo operating with thin plots and characters patched together by performance and references to the Coen oeuvre, or Westworld using an entire season on a prologue and on a tricky multiple-timelines-mystery-box plot which essentially revealed there was nothing in the mystery box, the modern model for "prestige drama" seems to be spending on great actors and production values, loading shows with conscious symbolism and significance, and not so much worrying about having a powerful and moving story. It is, as wallflower has made the comparison before, a method of making television much more like a painting than a drama, something to admire rather than love. The Shield has no such self-consciousness, and its style is both perfect for the show it is and something you wouldn't be nearly as likely to see these days given the degree to which Prestige Television seems to often mean "making sure every dollar in the budget is visible on screen." (That said, even at the time the show's aesthetic often caused critics not to take it seriously or give it its proper due.)
Interestingly, while this Embarrassment Of Riches period of TV has created more staid dramas, it has also, I think, freed up comedies to become more serialized, incorporate dramatic structures, and take more risks. Just this year alone, two of my favorite new comedies, A.P. Bio and Barry, respectively set up and paid off a tragedy of hubris and a tragedy of a bad man who thinks he can outrun his past and become good. Both stories owe a little something to Vic Mackey, particularly Barry Berkman's desperate avoidance of recognition. (Also, I'm not sure the extent to which we can legitimately call Barry a comedy.)
But even that side note speaks to what makes The Shield powerful–the basic story being told is one that transcends the time period and even the cop genre, even to the point where you can take lessons and notes from it and apply it to comedies and make them stronger, make their characters feel real, make us invested in their decisions. As long as bad men who will stop at nothing to hold on to their fiction that they are good exist, The Shield will matter. As long as we have tragic heroes whose hubris leads them to keep digging themselves in deeper until they lose everything, The Shield will matter. As long as our decisions matter, The Shield will matter.
"LET ME REMIND YOU OF SOME THINGS. . ."
Drunk Napoleon: One thing I wanna talk about is the writing on a line-by-line basis. More often than not, the popular perception of good writing tends to be whether or not you can rip a line out of context and use it as a conversational battering ram ("I am the danger!"), with a close second being poetic compression of a larger set of ideas. The Shield's tight dramatic structure left very little room for the former, but in my view it perfected the latter. The best example of all of this, to me, is the infamous "sweet butter" line. It's one of the most intense moments of verbal ownage in the entire series (I'm always left hooting and hollering watching it), and it only really works within the context of the show and the scene–I don't foresee revenge-fucking anyone's ex-wife, although now I'm totally prepped for it if it ever happens – and it's the most spectacular example of Vic needlessly escalating the situation. As ZoeZ once pointed out, Vic had already won at this point, and he tried to turn success into total scorch-the-earth victory; unfortunately for him, Kavanaugh wasn't season-one-era Dutch, and was fully prepared to escalate back.
What are some of your favourite individual lines, and why?
Conor Malcolm Crockford: As we've discussed The Shield isn't flowery or poetic–for me the dialogue is precise, exact, and does what it must, like a perfect cut from an expert surgeon. The lines stick in the mind because of their power, their instant impact. Unlike The Sopranos or Six Feet Under, the writing is rooted in old pulp and crime, not literature. They sum up the journeys, the choices of the characters: "You don't have the stomach to place Lem with Antwon." "I didn't used to." There are so, so many lines I adore ("We killed–a cop-uh") but I keep coming back to the enormous exchange "Do you realize what you've done to me?" and Chiklis' truthful, eternal "I've done worse." Vic's mask of self righteousness slips back on eventually in these episodes, but Vic Mackey for that moment is a daemon, beyond humanity and in the realm of pure power and action.  
ZoeZ: "What was that you were saying about my f—-t n—-r son?" and "One-time, doing time, for a long, long time."  If Antwon weren't already one of TV's great antagonists, those two moments–control regained, control established, all other ideas about who was running this thing put to bed–would seal the deal.
But there really are a lot of places where what is said is just perfectly what needs to be said, where the dialogue is as governed by necessity as everything else.  And a lot of those moments, unsurprisingly, come fast and furious towards the end: "the last three years."  "What about my goddamn choice?"  "I wish I never met him." "This is what the hero left on his way out the door."  And then there's the precision of the start of Vic's confession, where he can exactly locate the moment of his fall: "During a raid on a drug dealer named Two-Time, I shot and killed Detective Terry Crowley."  It would be a different scene if he said anything else–if he started with the context for that choice or if he said it the same way Shane had–and that's maybe my favorite way to evaluate The Shield's dialogue.
Drunk Napoleon: Speaking of hooting and hollering, I do that for "What was that you were saying about my furfer nurfer son?" too. It reminds me of what Tarantino said about The Thing, that the tension bounces around from character to character until it has nowhere to go but out to the audience; here, the claustrophobic nature of both the setting (the interrogation room, which could double as a closet if it were a little bigger) and the framing (intense close-ups, natch) means you can almost see the ownage bouncing around.
Babalugats: My favorite line on the show is an absolute throw away joke,
"I can't be a party to anything unethical." It doesn't matter who said it or under what context, the idea that anyone in the world of The Shield could think they could live their life without being party to anything unethical is patently absurd and nakedly dishonest. I'm also partial to "You told them? All of it?!" Where most shows would have a whole teary eyed speech, The Shield compresses it down to six words. Ronnie can accept the betrayal, but not the stupid needless betrayal.
wallflower: I think that line was Dutch to Billings late in season seven, and Billings calls him out on it soon enough:  Dutch has already done a shit-ton of, oh let's just call them dubiously ethical things by then, and it's just silly to get all upset about one more.
Drunk Napoleon's point is crucial to how The Shield operates at its best:  words are actions here, not decoration, not poetry, and sure as hell not memes for our benefit.  I'm already on record with appreciation for Corrine's "that is my price, and you have to pay some kind of price!" but there's another favorite at almost the exact other end of the series entire:  in "Dragonchasers," Dutch comes back into the interrogation room, sees Shawn from Rockford's outline of Dutch's psychology on the board, waves Claudette off (an anticipation of the reverse happening in "Man Inside"), and sits down and says "tell me more."  On the second viewing and after, I just totally cheer that line. Dutch has seen Shawn's weakness and knows just what his counter-move is: sit down, let the other cops do their jobs, and let himself get totally owned. Everything he's done on this case from "Cherrypoppers" onward leads to this moment, and Dutch/Karnes completely commits to it.  Even more than with "then how come a lowly civil servant like me just caught you?" this is the victory, and the devastating scene at the end of the episode is the cost.
Drunk Napoleon: Oh man, on this subject, I can't believe it took me this long to think of the Billings lines! There's a line really late in the show I've always loved, when Billings gets sick of the crap he's getting: "From now on, whatever's between zero and the city-mandated minimum? We'll call that the Billings."
I love this line because it contracts Billings whole viewpoint into a single, quite clever sentence; in fact, the cleverness of the line's construction serves the story dramatically, because its catchiness and memorability makes it easier to remember. We know going forward that Billings will now do the absolute least that's required of him, and everything he does is either an extension or meaningful contradiction of it. The strength of the first season is that all the characters actually get a Billings line, and the weakness of the first season is that they're all scattered about in random spots, which is part of why it takes a while to get going. "I just like to solve puzzles", "But he was innocent, don't you get that?!", "Just once, can't we do what we're supposed to do, then stop?", and most forcefully, most dramatically, "Get over it. Don't bring it up again."
As someone who tries to practically apply the storytelling lessons of The Shield, this is one of the most important ones: all your cleverness goes into the story's conception. If your thing is putting words together, put all your effort into your character expressing their motivation, and the rest will naturally flow from there. If your thing is brutal ownage, kick the story off with some, and the story will flow from there. If your thing is strange and unique worldbuilding, or complex and profound worldviews, or a deep love of the superhero genre, kick the story off with that and drama will do the rest.
Ruck Cohlchez: The one I probably use the most in real life is Kavanaugh's "What's this?! What's this?!" at the end of "Trophy."
As others have said, what makes the dialogue powerful here isn't its floridness or craft, it's the necessity, directness, and precision; it's the potency of the action behind it. I almost don't feel like "favorite lines" does it justice, because as much of anything they're favorite moments. To pick one I do really like that hasn't been used yet, there's nothing artsy about "Your daughter's dead! You made her run away, she got killed!" But it's the righteous fury with which Billings says it, the absolute refusal to be anything but direct, to soften the blow, that drives home Billings' morality. He may not give a damn about the job the vast majority of the time, but he takes pride in his role as a father, as a defender of children, and has no patience for someone who would use that role to do something so monstrous.
Other favorites, many of which were an expression of how genuinely funny the show could be:
"Every scar is a victory." Of a piece with Dutch's "Tell me more" in that Armadillo reveals he has already done what Dutch has decided to do there: that is, lose the battle to win the war.
"The captain doesn't like excuses–" "He just wants results!" Shane and Lem in tandem is a great example of the realistic and well-observed humor you can pull off when you write complete characters.
"You made us all look guilty." "You are guilty!" Army gets it in a way the others don't.
"Look, just pick the goddamn number and shove it up your ass!" Because there's no way a scene that unbearably tense should also be funny.
"Corrine's working with the police." Even more than the later scene in which Mara refuses to leave, this line, and how unhesitating she is in delivering it, show that her commitment to Shane is total. Together, until the end, no matter what. (Another example of how the show's expertly written and disciplined drama allows characters to reveal the depths of their true character, of the elements of them that are utterly unbreakable even at the highest stakes.)
"The truth may not always lead us down the road we want, but it's the only way to fix this place." I don't believe The Shield had a moral mission statement, but its characters certainly did, and Claudette's moral mission statement is, by my measure, the one worth following.
"You just keep doing what friends do. It means a lot." Also a great mission statement for. . .well, friendship.
"Terry's the guy you're looking for. You gotta find Terry, he's the one who needs to be in here!" Because, let's face it, it's funny that they stunt cast Jimmy Johnson as a guy in the cage, put him in an unrecognizable beard, and had him call out Terry Bradshaw.
ZoeZ: I'm glad Ruck Cohlchez mentioned that moment with Billings, because he has another understated line in that episode that I've always liked: "I happen to be an excellent father."  It has the same simple truth to it as Ed Harris in Gone Baby Gone, saying with his last breath, "I love children."  It's a complete mission statement. We finally know where Billings puts his effort, and it's such a small, meaningful moment.
And in more "dialogue as action," I always get chills in the interrogation scene that seals Shane's exit from the Barn, especially in the moment where Dutch puts the pieces together and drags a huge, messy horror into the light: "Shane Vendrell hired you to kill Ronnie Gardocki?"  He hits the solution before he has any clue about the rest of it, and it's such a perfect encapsulation of how far everything has degraded.
Drunk Napoleon: "No, Dutch, Shane Warne."
Ruck Cohlchez: I had to look up who that was.
Conor Malcolm Crockford: I have to mention the very careful use of the phrase "spared", as in "I would've SPARED Lem!" which so beautifully sums up how much of a God Complex Vic has. He has ultimate power over everyone, and that means he can take life or allow its preservation. Whether Vic would have killed Lem when push came to shove is an open question, but Vic's mindset at least is that he could have because he thinks he's capable of everything. (Shane's totally accurate/hilarious response to this is "Oh please! Would you listen to yourself?", which is matched in season seven with Ronnie's "Do you have any idea how insane you sound right now?" The wall of hubris and delusion keeps crumbling.)
Ruck Cohlchez: You guys hit many of my favorite lines before I got here– "We killed. A cop-puh." and "Now what were you saying about my [BLEEEEEEEEEEEEEEP] son?" among them– but I'm gonna add two more great lines I want to mention, that you all reminded me of. Zoe bringing up Dutch's realization in "Parricide" reminds me of Two-Man's response to the detectives: "Why don't you take a look at what you got going on in your own house?" And Conor's excellent point about Vic's used of "spared" as an indicator of his God complex reminds me of Shane's response, and how cleanly he has Vic's number: "And I stepped up and put Lem down, so you could go to sleep every night believing that."
THAT INTERVIEW WITH ALAN SEPINWALL:
Since this is the final time we're going to discuss this, was there any point in the run of the series where you said to yourself, "Man, I wish I hadn't made Vic kill a cop way back when, because it kind of gets in the way of the point I want to make here?"
No.
Drunk Napoleon: Alan Sepinwall collated two interviews with Shawn Ryan after the finale (one that was a phone call he had with him, the other a group chat he and multiple other critics had with Ryan and FX President John Landgraf). The above quote is the bluntest example of a recurring situation that goes through the interviews, of Sepinwall trying to nudge Ryan into explaining what the story's moral is, and Ryan brushing him off; it's not that Sepinwall's insights aren't interesting, but he keeps assuming Ryan is pushing a rhetorical point when he's simply showing what would plausibly happen
The most interesting insight into Ryan's creative process is the amount of research he talks about. Julien's issues with his sexuality, the self-immolation of the Strike Team, all the way up to Shane's final decision; he looked up as many case studies of these issues as possible, and it's as if he stocked up a database of Actions he could draw on when working out what the characters would do next.
Also, to add to the words everyone used to summarise the series, a critic uses one that I really like: "uncompromising". Ultimately, nobody gets to meet the show halfway. It's either do or die.
Any thoughts to add here?
Conor Malcolm Crockford: I respect Sepinwall as a critic but it says volumes that he thinks there needs to be a specific "point" instead of just action or a story (which if its working will create a point anyway). A lot of critics can't seem to fathom that things in stories can just happen without making strict ideological sense or pointing to a message. Drama is about creating organic messages through choice, not through manipulation.
Babalugats:  I'm not sure I totally agree with that last bit there, Napoleon. When I think of a show that you can't meet halfway, a real do-or-die experience, I think of something like the new Twin Peaks. That's a show that doesn't have a lot of surface pleasures. It's off putting, slow, full of strange and often non-literal narrative tangents that don't lead anywhere, and purposefully pushing against what much of its audience wants to see. That's the sort of show in which you need to accept and commit to what David Lynch is doing, or you might as well not watch. But The Shield isn't like that. There's a good chunk of the fanbase that watched the show because they wanted to see Vic Mackey bust heads, and they weren't wrong necessarily. The Shield is pretty much the high bar for action on tv. I imagine there were probably some fans who thought it was first and foremost a great procedural about Dutch and Claudette, with the Strike Team as an interesting side story. If you want to watch the show and dissect its politics, that isn't the way the writers intended for it to be watched, but there's still plenty there to explore. As ZoeZ says, The Shield doesn't indicate how you should view it. Its remarkably flexible entertainment.
Drunk Napoleon: I'm actually referring to the characters there, Babalugats–Vic doesn't get the luxury of being both a cop and a criminal, Shane doesn't get the luxury of both Lem and Mara. The show won't compromise with the characters. But you're right about the show's flexibility; I'm reminded of Whedon's description of Firefly as being nine people looking into the black and seeing nine different things, and that very much applies with us here, looking at The Shield. And it also reminds me of looking through the Youtube comments of scenes from Shield – you can pass through six comments and get twelve different opinions on what's happening, from people wishing Dutch had been the one to catch Vic to people celebrating Vic's authoritarianism.
Babalugats: Well in that case, I do totally agree with you there.
wallflower: What a perfect question-and-answer to show the collision between contemporary criticism and classic drama!  Listening to the commentaries, you get the same kind of effect: Ryan et al. always cared about characters and actions; discussions about meaning or the relevance to contemporary politics showed up occasionally, but that's it.  (No discussion of the Second Iraq War, as far as I can remember.) As the series developed, you could hear how much all the characters took on a reality for the actors, writers, and directors; Michael Chiklis and Jay Karnes do the commentary for season six's "Back to One" and when Chiklis says of Tina "oh my God she is totally into you!" Karnes' reaction is a completely Dutchmanic double-take.  It's like a sidewaysverse moment in Lost:  in a different universe, Vic and Dutch would've been friends.  Dutch would always be trying to get Vic hooked on this mid-price Chardonnay he'd discovered in Wine Enthusiast magazine.
That's the great advantage to telling a story as your first priority, as I apparently said somewhere before.  No matter how good a job you do, if you make your work to make a point about contemporary issues, then it's not gonna last longer than those issues.  If you create the kind of large, meaningful characters that The Shield does, and if you take them to the limits of their moralities, push them to the point where they reveal everything about themselves, not only will they last, but they'll also never stop being relevant.  
Babalugats:  The amount of research that went into the show is interesting, and I think it's reflected in one of the things that makes The Shield unique within its genre; its sense of history. Most cop shows are about day to day life. About procedure and maintenance.  In Law and Order or CSI, the individual detectives, even the cities in which they operate in, are interchangeable. Even The Wire sees its characters as a function of a system that stretches indefinitely in either direction. Each generation of cops and criminals are replaced by the next, and the each generation will play out the same dramas as the generation before it.
But on The Shield nothing is permanent except human nature. The generations of cops are different from each other. Vic and Gilroy are dinosaurs. Claudette is made of different stuff and shaped by different experiences than Danny or Tina. There is a history to the streets, eras of peace and war, prosperity and chaos.  The Strike Team is a new idea. The Barn itself is a new precinct in constant danger of shutting down. And it's a very different precinct under Aceveda than it is under Rawlings, or Claudette, or god-help-us, Billings. We can even imagine a version of the show where Vic is made captain, and it would not at all be like what we've seen. Choices matter on The Shield. Individuals matter. And the world changes.
ZoeZ: I like that.  There's a lack of hubris to it–it insists that people matter while at the same time refusing to treat anything we've created as eternal.
There are so many great moments in that interview, but one I particularly like is where Shawn Ryan talks about an ending for Vic that never made it past the discussion phase, and it's an ending that's all about the public record vs. the truth, a thematic ending that they couldn't push for, ultimately, over what felt more natural.  It's the same thing with his commentary on whether or not the ending should push people to finally condemn Vic and Shane: what they do isn't about the audience, it's about whether or not they were capable of it and whether or not the circumstances would press them to it.
Complete side-note, but if you'd asked me before I reread this, I would have told you Kurt Sutter was the one who came up with "The Shield: It's So Wrong."  I wonder what about Sutter's subsequent career could have possibly made me think that?
Ruck Cohlchez: I'd just like to reiterate how bereft I find most TV criticism of actual merit or insight, mostly due to consistent focus on Today's Issues over art for art's sake.
Drunk Napoleon: I find myself thinking actually about critics who need some kind of morally positive statement from a show–like, I saw someone who disliked the ending of The Americans because it didn't sufficiently punish the protagonists for their crimes (Sepinwall isn't quite that kind of critic, but I had no idea where else to put this thought). The way they talked about it, wanting someone of reasonable intelligence and morals to at least point out to Philip and Elizabeth that what they're doing is Wrong, if not to come down upon them. And of course my mind jumped to The Shield, which not only has Vic in his own personal hell, and not only has multiple characters tell Vic to his face he's a bad person, the climax of the whole thing is a morally principled black woman telling the big bad white male authoritarian he's a bad person. If you wanted to sell The Shield to this kind of critic, you could probably do it by telling them that as long as they're patient, they'll get a rebuke to the whole He Gets Results You Stupid Chief concept; I picture them having a similar emotional arc to me, of initial horror giving way to pleasure at seeing the Strike Team get what's coming to them. I'm not sure what to make of this thought, but I think it's true.
Ruck Cohlchez: What makes The Shield work is that there's no sense that what Drunk Napoleon just described is the conscious attempt by the show to Send a Message; it's the natural end product of all the choices Vic and the rest of the Strike Team have made. It's telling that Claudette's final assessment of Vic isn't a line calling him a bad person; it's "This is what the hero left on his way out the door." These are the Results, says the Stupid Chief.
The show never feels like the writers were writing to a point; it always feels like they wrote the inevitable consequences of the actions the characters took. By prioritizing the storytelling, the sequence of action and consequence, over teaching its characters or its audience moral lessons, The Shield actually makes any lessons it has to teach land that much harder. (And as with the best drama, those lessons tend to be "Your actions have consequences and you are responsible for them.")
GREAT MOMENTS IN OWNAGE
wallflower: can't believe I didn't lead with this, but what are your Great Moments in Ownage throughout the series?  There are already many scattered throughout this conversation, but a favorite class of mine is Vic Gets Owned.  One of the things The Shield got right about Vic was that he was smart, powerful, competent, and sometimes those things are just not enough.  Gilroy shooting an informant in front of him ("WHAT DID YOU DO?" "Nothing you haven't done") or Antwon's stone-cold assurance that Lem is going to die ("and you can set your watch to that–inevitability") are moments when we see real fear and damage in Vic, the sense that what he's unleashed can't be contained, and because of that, they're moments when the plot necessarily ticks forward.  What The Shield got was the irreversible nature of ownage, and used that as one of its essential structures.
Conor Malcolm Crockford: Side note to Vic getting owned is Vic shouting "I don't know! I don't know!" as he comes up with another plan on the fly to save Lem. It's amazing because for the first time Vic is truly over-fucking-whelmed. So much has been done, none of it worked, and now a friend could die. It's the most purely sympathetic I feel towards him on the show.
Many great moments in Ownage have been mentioned, but I enjoy two scenes in particular of Aceveda owning: Aceveda destroying his rapist with a few well-chosen facts and threats. "Do you know. . .the things I can do?" And the Great Pezuela-Aceveda fight of 2008: panting, sweat, blood, and rage, culminating in Aceveda's total domination of the financial backer who seemed to have him by the balls. (Like Lane and Pete fighting, this isn't pretty or romantic, and both are about to collapse to the ground.) Vic wanting to intercede and Aceveda pulling his gun on him because he HAS to do this on his own is the cherry on top.
Drunk Napoleon: One of my absolute favourites is another perfect example of the show achieving poetic compression via dramatic structure: Dutch completely owning the fat killer. There's a single line in it that's always moved me: "I've caught a lot of killers. White killers, black killers, smart killers, dumb killers. Never anyone as fat as you, though." In any other show, this would be a Meaningful part of Dutch summarising his character development in a climactic speech (in fact, Claudette gets a very similar line in the finale: "I've even interviewed a few innocent people."). This is who and what he is: a detective, and a damn good one. On The Shield, it's almost a throwaway line setting up owning a random killer, and then he just completely verbally demolishes the guy, teaching us one thing: do not kill someone around Dutch and expect to get away with it. Many shows try to be Two Things–many other shows try to create meaning out of a character being a total badass; The Shield achieves it by being one thing and allowing many other ideas to collate around it.
Babalugats:  The introduction of Shane in the beginning of season four. Vic and Ronnie stumble onto an active murder scene, and Shane appears out of the darkness, alone, searching the house. Vic questions him, and Shane gives him nothing and denies nothing, hardly even acknowledging his presence. VIc asks about his son,
"Did you pick a name?"
"Jackson."
"As in Michael?"
"As in Stonewall."
Shane has become an almost elemental force of evil and corruption here. What Vic would be if he didn't feel the need to justify his actions. It's short lived, the world of The Shield doesn't allow for any kind of purity to last, even the bad kinds, but for a moment Shane has become the baddest motherfucker in LA, and Vic is terrified.
ZoeZ: Oh, I love that scene.  Especially the way Shane just matter-of-factly eliminates any moral difference between the two of them: "You know how it is."
Ruck Cohlchez: "No, I don't." Ahahahah, okay, Vic, sure.
It has been mentioned, but Aceveda's ". . .the things I can do" speech to  Juan Lozano is just brutal ownage and deserves repeating.
Some of my favorites yet to be mentioned:
"Natural. But small."
Mara letting Vic know she's been dealing with guys like him her whole life and will not have any of his bullshit. (Mara is definitely the character where audience opinion, I think, most dramatically shifts by the end of the series. In those early episodes, it's easy to see her as the wet blanket who crashes the boys' club. In the end, after seeing what she gives Shane, and where following Vic really leads him, it's hard not to think she was absolutely right.)
An Antwon moment not mentioned: "You'll never find out who offed them pigs. I'll go to sleep every night smiling on that one."
Claudette laying the smack down on Lloyd in the finale.
One more that I wasn't sure whether to fit here or just in the earlier quotes section, especially since the actual ownage took place when Claudette got him to break, but Fatima confronting Kleavon after he's confessed is so potent, letting him know just what exactly he's forsaken, difficult as it is for her to confront him. "Your soul is gonna BURN! I'll come visit you, but you'll never see Mama or Auntie again!"
ZoeZ: Oh, so many, even in addition to what's already been mentioned.  Shane saying, "Goddamn hypocrite," to Vic, so much flatter and more final than Vic's grandstanding of "I hope they catch you"; Vic has some moral high ground in that conversation, but he just can't land a single punch, because Shane's already accepted what he's done.  And another definitive, stomach-churning one from their relationship, this one effectively deadly: "I'll send you a postcard from Space Mountain." It hurts too much to be a favorite, but it's perfect writing: hearing that line, I entirely understand why Shane would want to escape that future however he could, why he would want his kids as far from Vic Mackey's ownership as possible.
Already mentioned elsewhere, but "So how come a lowly civil servant like me just caught you?" and "This is what the hero left on his way out the door."
And, okay, Conor already mentioned it in this section, but if I'm going to be repetitive anyway, we are morally obligated to quote ZMF's summary of the Aceveda/Pezuela scene: ACEVEDA PUTTING A STONE FUCKING BEATDOWN ON BITCHASS PEZUELA AND PULLING HIS FUCKING PISTOLA ON MACKEY WAS SOME OF THE MOST HARDCORE SHIT EVER IT WAS LIKE HOLY SHIT EVEN MACKEY DOESN'T WANT ANY OF THAT.  ACEVEDA FUCKING RUNS SHIT AND EVERYBODY HERE NEEDS TO RECOGNIZE
Ruck Cohlchez: Just wanted to second "Goddamn hypocrite" as well as the necessity of including ACEVEDA FUCKING RUNS SHIT etc., and add one more I love: Mara showing up at Corrine's door and laying every truth about the Strike Team and the current situation on her. (To paraphrase another, lesser, show, one thing she can't say is that she hasn't been told. But The Shield being The Shield, Corrine acts on that information.)
Drunk Napoleon: Let's talk some more action. I'm always partial to moments where the violence just suddenly escalates way beyond what literally anybody was expecting; one of my favourite Vic moments is him just ramming a fucking car right through a wall to solve a problem. In that same vein, the Russian just tipping his chair and blowing himself the fuck up is one of the biggest "heart jumping out my throat" moments, always shocking me no matter how many times I see it. It almost seems to happen a second earlier than it should.
wallflower: The simple and undeniable power of great editing:  set us up to expect something and then have it land sooner than we think.
One moment that shows what The Shield does without ever seeming to do anything:  in the "'Til Kingdom Come" montage that closes out "Extraction" (still the best musical montage I've ever seen on television), the longshot of Ronnie beating up Darius, the guy who clocked him earlier in the episode.  Ronnie lands punch after punch steadily (he's a little winded) as the other guys hold Darius up, and the camera keeps its distance from the whole thing, never looking away. These are our protagonists, remember; this is the guy who our hearts will all break for in the end.  This is ownage, in its most absolute form: the absolute domination of one over another, beyond any argument or morality, and the steady gaze of the camera says to us don't pretend it's anything else.  (It throws forward to the torture of Guardo, another long passage where we don't get to look away.)  
Then the closing beat on the sequence as Vic throws down the Strike Team's card, then the transition as he alone gazes out over the world they have reclaimed and the music ends; and then the transition to Kavanaugh and Lem:  the peak of ownage and hope, followed immediately by the turn into the final Reversal. Not just great action, but action as one more part of great, fluid, visceral storytelling, done with nothing more than the elements of The Shield's visual grammar that remained unchanged for the whole series.
Conor Malcolm Crockford: One of the rules of The Shield is that people just aren't going to do what you expect, and often that will fuck up your whole day, even your life. (The other version of this "Things aren't going to go exactly like you want them to sometimes.") Criminals like Antwon and Pezuela have agendas, plans, rationales that you can't know about. Poor Kern's fate alone is proof of that: it's a great, gripping heist sequence, barely lit and shrouded in darkness, but the Strike Team has no idea what's beneath the surface of the job, and that's that Kern needs to go. (A great touch that Vic, master manipulator, immediately deduces what Antwon actually wanted.)
A great Pure action scene I can think of off the top of my head is Lem versus the two crooks. (Maybe three?) Compressed into a tiny apartment, its one man trying to survive against two people bent on killing him, and its sensational. And it shows how good Kenny Johnson would be as a sympathetic heavy in action movies.
wallflower: To this day, I can't believe that Johnson wasn't cast as Jack Reacher.
ZoeZ: Did we actually get this far in the Conversation without mentioning the Shane/Tavon fight?  That's a fundamentally perfect action scene, pure tension translated into pure adrenaline, and ended unexpectedly, with Mara's full-strength clocking of Tavon across the head with the iron.  And, because it's The Shield, it has even more force as a boulder rolling downhill, with consequences both immediate–Tavon's accident–and eventual–it's entirely possible that if Lem doesn't have to dirty his soul by lying to Tavon, Lem doesn't burn the money.  And it's all the foreshadowing you'll ever need for the Ballad of Shane and Mara: she will not let him go down alone and he will not let her pay for the mess he's made.
Another small, perfect action choice that I've always loved is that the shot that kills Terry isn't execution-neat: there's something more distinctive about the bullet going in through his cheek.  It's a specific death, not a generic one. There's something about it that says this is what you would dream of, afterwards. This off-center wound.
Conor Malcolm Crockford: Damn, should've mentioned that Shane/Tavon fight. The body language and images are what I remember: The way Tavon tackles Shane and knocks the entire apartment into a heap. Mara terrified and looking at Tavon after clocking him. Shane trying to run after him (possibly to kill the guy in a violent haze), his clothes in tatters and his legs barely able to work, Mara gripping him to make him fucking stay. It's incredible.
Ruck Cohlchez: To build on what Drunk Napoleon said, it's often the sudden escalations that really stick with me. Vic pulling the knife on Emolia. Antwon getting Shane and Army under his thumb.
The Mexicans taking out the Armenians in "Animal Control" is another standout for how quick and thorough it is, although unlike my earlier examples, we're anticipating the escalation, and much more of the tension comes from whether or not Shane will get out of it. Shane's dousing-with-gasoline gambit in the hostage situation in early season six is another memorable one to me, especially how it's driven by the weight of the guilt he's carrying around.
And, of course, Shane dropping off a sandwich.
THE CHARACTERS
wallflower: Recently in conversation with ZoeZ, we talked about what makes characters matter to us.  There's a consistent thing about all my favorite characters, and I have never come up with a better word for it than largeness.  It's not about how much detail or symbolism or meaning or ACTING! they get loaded with, and it's also not about the stakes they play for:  Mad Men's characters are as large as The Shield; Lost's Bernard and Rose, who do everything they can to sit out the action, are just as large as John Locke.
Largeness is a theatrical quality; it's not about appearance or language or history but about the action.  I'm still grappling with this definition, but what does it for me is the commitment. The long plot of The Shield is about the Strike Team, but there's just as much commitment, and therefore just as much action and story with everyone else.  Look at Billings, Dutch, and Aceveda: none of them were necessary as anything but plot devices for the Strike Team (Aceveda especially), but they all had their own commitments and struggles.  As ZoeZ said, watching Billings' genuine protectiveness about children beat out his laziness was goddamn thrilling, and it led to a real conflict with Dutch in the last season.  Dutch struggled the whole series against what was worst in his nature, and hit that turning point at the end of season four; somewhere Drunk Napoleon sez that if you want to grow as a person, look at Dutch at the beginning of the series and the end, and then ask "what did he do to get there?"
I don't think I'll ever stop admiring David Aceveda.  The Ed Exley of Farmington, his commitment was always to his own career and he paid the price for that, but he always made other people pay a higher price.  Always plotting two steps ahead of everyone else and never letting his emotions getting in the way of a deal–and paying the price for that too. The Shield's characters are not moral exemplars, they're not likable and not meant to be, but dammit, they earn our respect.  That's what I mean by large characters: you can never look down on them.
What are your thoughts on The Shield, considered as a character study rather than a full-tilt drama?
Babalugats:  Frankly I don't see much distinction between the two. The Shield understands that good drama always needs to be rooted in character.  And that characters are defined by the decisions they make. This is all there is to storytelling.
As for what makes a character engaging to watch, that's the billion dollar question isn't it? I think for The Shield it was the fact that all of the characters had something they wanted and they were all willing to do what was necessary to get it. No one was simply a plot device. No one existed solely as a part of somebody else's story. And the show was largely structured around forcing everyone to accept that one single thing they wanted, at the cost of everything else. Does Dutch want to get ahead in his job, or to be good at it? Does Claudette want justice or life? Would Shane rather see his family broken up, or dead? Perhaps this is why Ronnie's story feels so unfair. He's the only character that doesn't get what he wants. The only character not allowed to choose his own fate.
Ruck Cohlchez: Babalugats here gets to something I've been thinking about lately: The way the conversation around television these days underlines a divide between "character-based" and "plot-based," with the implication that the latter is "lesser," and failing to understand it's an unnecessary distinction. This ties into my frequent complains about how often modern prestige drama is just about characters who Have Feelings and Have Psychology: The Shield is "plot-based" because its characters actually take action, but that plot only matters because the characters matter, because they're so boldly drawn, so strongly written and performed, and so strongly human, even if we don't get the meticulous backstory and psychological portraits we might get from other shows.
Drunk Napoleon: The thing that strikes me about the acting on the show is how you see the actions and history of the characters weigh them down over time. I don't believe in a soul as a metaphysical, uh, thing, but it does work as a useful word for energy a person projects, and the energy of everyone changes over the years (perhaps 'having a soul' is the phrase you're looking for, wallflower). Julian and Aceveda harden over time, as both give up warmth and charm for effectiveness; Claudette does the opposite, positively flowering when she becomes Captain and becoming a welcome beacon of light in a very dark couple of seasons. She hasn't lost any of her toughness, it's just her idealism has become unleashed–what was always present within becomes without.
Dutch, thinking about it, becomes to opposite to Claudette. Early on, he's dependent on other people, not just in the sense that he wants emotional validation but in that he expects them to have the same style as him, formulating theories and profiles (this is why, as wallflower has often observed, Dutch underestimates Vic and not vice versa – all Vic cares about is results you stupid Chief, which makes him a great team player and leader, while Dutch searches for the most effective method). Early in the series, what we mainly see of Dutch is his creativity and curiosity, and we have to strain to see the logical mindset that holds it all together; by the end, that dynamic has flipped. What we see (and what Billings' lawyer sees) is the quiet intelligence, and you have to know Dutch to see ideas churning over in his mind. My understanding of maturity is that it's knowing when to do things and when not to do things, and Dutch matures.
Shane is one of the most interesting of all to me, because his viewpoint is initially the most alien. From the outside, his actions are patently stupid and impulsive; he gets better, but the guy simply cannot think long-term. But he slowly reveals himself as one of the strongest moralists on the show. The first big sign that The Shield will be the greatest American drama is when he and Vic have precisely the opposite reactions to killing Terry – that Vic can get over it and not bring it up again, while Shane is inconsolable. Shane is actually not that different from Claudette (or even Lem) in that he has a clear sense of Things That Are Right and Things That Are Wrong; what makes him different is that he often acts first and analyses later. From his perspective, it's not that Shane is impulsive, it's that he's rapidly collecting as much data as possible to sort later; he has to work himself up to kill Lem, but he can do it in the first place because he's already attacked this idea from all the angles involved–he's killed to protect one family, he's done things that hurt his various families–and this is just a matter of bigger scale and weighing up which is less wrong. Sometimes this attitude makes Shane commit evil – for example, he's a giant racist – but sometimes this attitude is appropriate; he can reconcile himself to his decisions much easier than Vic can.
Babalugats:  One thing The Shield demonstrates is the value of casting for diversity. Not just as a moral or political value. Not even as a way to tap into an underutilized talent pool. (Although in a more judicious world The Shield wouldn't have been able to afford half its cast.) But because when all your characters look different, the audience can't help but absorb everything about them. CCH Pounder is an actress with a face, she carries a history with her, when you put her next to Jay Karnes–in his cheap suit with an ever present hint of smugness in his voice–suddenly you have a dynamic. No backstory, no big speeches, just by having the two actors in the same space we immediately know so much about them. Paula Garcés is gorgeous, and the characters are able to react to that beauty. It's allowed to be a part of her character, and it creates conflicts and drives the plot.  Michael Chiklis has that short guy toughness, that Joe Pesci or James Cagney toughness, absolute confidence as a substitution for physical intimidation with a live-wire ruthlessness to his movements that comes from so often being at a disadvantage. Kenny Johnson is a pleaser in the way a lot of big guys are pleasers, always trying not to frighten anybody, always taking up a little more space than he wants to be. Walton Goggins lacks the athleticism of the other team members, and he's got that hard luck face with the big forehead and the caveman brow, always just a little more expressive than he wants it to be, and it gives him a chip on his shoulder–something to prove. There is a dynamic to the Strike Team that you wouldn't get if they were four ex-models in perfectly tailored suits.  David Marciano as Billings–what a beautiful mug. He doesn't even need to open his mouth and you know this man.
Drunk Napoleon: I love that you call attention to Claudette and Dutch's dynamic. There's really nothing like it anywhere else in television; there's a moment towards the end where they're hanging out in the pews, quietly debriefing together, and even though I'm fairly certain they say absolutely nothing emotional, Karnes' sympathy and Pounder's fear and uncertainty make it feel beautiful. Moments like that feel like the payoff of all the hard work Dutch, Claudette, Karnes, and Pounder put into their relationship, and it acts as a nice counter to the utter bleakness of the Strike Team.
ZoeZ: I love Babalugats's point about Kenny Johnson, in particular–he's big but restrained in his size to the point where his defining physical characteristic (besides the rightly-admired hair) is his solidity, something the show will work hard, season by season, to gradually erode.  He's the team's rock, its moral center, and once he's gone, of course the foundations collapse; my money says that even if the circumstances of his death had been completely different, the Strike Team would have fallen apart within a year anyway.  He was the only one who held the family together because he was the only one, year after year, who kept thinking of them that way.
Goggins and Rees Snell make great counterpoints to each other, physically and temperamentally, and it's something the show uses perfectly in the final seasons.  Shane's endlessly expressive–when he's buttoned-down, it's not because he's able to hide what he's feeling but because, terrifyingly, in those moments he's just really not feeling anything, it's why he can't give anything to that confrontation with Vic about Lem, he can't fake it–and Ronnie's much milder, feeling things as inconveniences rather than mortal wounds and knowing the life-or-death decisions as they come, unwilling to be swayed from them by sentimentality or anything else.  They're complete opposites, and when that break into enmity, it does so believably–"That prick's a wild card on the best of days," Ronnie says about Shane, whereas Shane, who has Vic-related tunnel vision, half-forgets that Ronnie exists–but the show gives you a couple of moments before that where you can see how they would sometimes get along.  Again, there's that crucial sense that things could have gone another way. Or, as a friend of mine once put it, how many times do you think Ronnie had to come over to Shane's house to fix his wifi?
I think a defining trait of Shield characters for me is that they all choose who they are, and they all suffer for that choice, even when that choice is what we'd commonly define as good.  Dutch has to strip away his ego to catch Shawn-from-Rockford, has to give up his enjoyment of the victory in order to get it. Claudette makes a choice governed by righteousness and then has to give up the power to again do good on that kind of scale, at least for a while.  It's a rule that holds true even for more minor characters like the Decoy Squad or Diro. Even Kevin Hiatt–
Nah, I'm just kidding.  We were talking about characters.
We've all talked before about how the show's characters are archetypal, which is true, but something that makes them resonate with me is that they're often just a little bit weirder, just a little bit more alive; there's a Deadwood-ian pleasure in the "wide range of human" here, which makes sense for the two contemporary shows that have most drawn on Shakespeare.  Without ever slowing down, we get a lot of little details that fill out the characters in all their strange glory: Tina improvising the excuse about having gonorrhea in her throat, Ronnie's shock at the idea of dry-cleaning Oriental rugs, Dutch's horribly awkward date and "Hungry Like the Wolf" solo.  And think of all the vivid supporting characters. Tulips! The Future Mrs. Aceveda!
wallflower: speaking of which, The Shield was so good at something necessary for a seven-year work of storytelling:  moving players from supporting to leading, or letting supporting characters take the lead.  (See also: Lost, where possibly the best decision in the entire series was moving Michael Emerson from plot element to Big Bad.)  Ronnie is one of the former, but the greatest example is Mara. The reason characters like her get so much hate is straight-up misogyny; but there's often a problem with them as characters, in that they only exist as obstacles for the male protagonists.  That could never be Mara: with her own ambitions, her own desires, and a fierce love for Shane, her relation to Vic isn't so much antagonistic as superior. She doesn't fight him because she won before the game even started: she wants a family with Shane and she knows just who Vic is.  (As Ruck Cohlchez noted, she owns Vic right away.)  All this and Michele Hicks played here with such a fierce core of anger, you could feel, as Babalugats said, the weight of her past in every scene; you could see in those huge eyes why she could never leave Shane, could never not forgive him.  And if she loved him less, she would have saved maybe herself, certainly Jackson and Franny Abby.  That's why it's tragedy: what is best in you is what is worst in you.
Another great and underrated (certainly by me) character and actor:  Aurora Aceveda, played by Camilla Monet (née Sanes). We see less of her than of Mara, but she's just as powerful a character and for the same reasons:  she's never simply an obstacle, she always has her own desires. She's just as loyal as Mara, and just as fierce, embodied in the line "a less self-confident woman would think you're having an affair."  She simply has a limit that Mara doesn't and she knows it; in the fourth-season premiere "The Cure," she tells David that she's done everything she can for him, the trip to Hawai'i, the therapy, and she can't help him anymore:  not a rejection, but an acknowledgment that this is as far as she can go. She has Mara's love combined with Ronnie's self-knowledge, and she and David are together without, y'know, getting a lot of people killed at the end of the series.  Following ZoeZ, this is one of the only reasons I would want to see a Shield sequel:  if David did have an affair with Kimberly McCullough's Dina, Aurora would scorch the earth (like twenty city blocks) to bring her down.
Conor Malcolm Crockford: I could imagine Aurora finding out about the sex worker and letting it go because she'd understand what David needed to do and why.
Y'all summed it up but every character on The Shield has depth and desires unknown to us until they're acted upon or gradually revealed, even the dumbasses. Every person onscreen is a full being whether owned or owning. They can be massive assholes, but nevertheless they're people.
Babalugats:  The Shield was never ashamed of the, let's say problematic, aspects of the show. It understands the pleasure of doing bad things, and understands the appeal of it's bad men, and I think that helped them a lot in the writing of the women. Because we understand why all these women have chosen the men they are with.  There's a scene in the second season where Corrine has run off with her kids, and Vic finds her with a private eye she's hired. He's this huge muscle bound meathead, and as soon as you see him you understand so much about the Mackey marriage. Vic is a guy who likes to protect women, and Corrine likes to be protected, and her arc through the whole show is about slowly shouldering responsibility for her own life. There's so much intimacy between Shane and Mara. So much openness, and honesty, and you can see how highly he thinks of her, and how much those things mean to her. They're terrible for each other, both building off of each other's impulsiveness in a way that would be disastrous even if they weren't playing for such life or death stakes, but you can also see how deeply they're bound to each other. Aurora could easily come off as a domineering shrew on a lesser show, but here we see how much she genuinely admires her husband. She isn't pushing him out of greed or social ambition, but because she knows what he is capable of and what he needs from her to achieve it. The scene where David tells her about his rape is one of the most difficult to watch in the whole series. We see her entire image of her husband shatter, how ill equipped she is to deal with it. Her response is cruel, but it's entirely human, and we never lose sight of her as a person. A lot of shows treat their female characters as political symbols. The voice of morality or reason. And this often leads them stranded in dramatic limbo, unable to take part in the action or truely oppose it because the status quo requires them to stand around in fruitless disapproval. The Shield does not do this. It's women are flawed, they make choices, and they have an impact on the story. They're characters, and not simply narrative devices.
Ruck Cohlchez: Following up both on what I said earlier and an attempt to answer this question more honestly, what makes The Shield's characters so interesting, I think, is that their decisions and their character growth are less about psychology and more about morality. It's so unlike most shows in that regard and I think that's one reason the show cuts deeper, the characters remain indelible: What motivates them goes back to fundamental human traits that run deeper than the way our histories and pasts inform our decisions.
Their growth is not an attempt to reconcile their psychologies; it's an attempt to live more by the fundamental truths they believe. It's Dutch learning to set aside his arrogance and remove (in fits and starts for sure, but it's something we see in some of his best moments). It's Claudette learning how to be an effective leader without compromising her character.
Similarly, what makes the characters on The Shield great–and there are very few of them who aren't–is that they all have clear moralities and motivations. Many of the characters are relatively simple in their number of traits–no one here has the complex psychology of Tony Soprano or backstory of Don Draper–but those traits are strong and clear, and thus the players in The Shield's drama tend to be representative of a more universal humanity than the intricate character studies of other Prestige Dramas. Hence our stronger ability to identify with them, rather than merely admire or be intrigued by them.
Since y'all brought her up, one of my favorite of Aurora Aceveda's expressions of character is her "Divorce? I'm not even going to entertain this." She knows something is wrong with David, but has come too far and worked too hard to give up–whether you read that on their marriage itself or on their mutual ambitions, it's ambiguous; I think it's both.
Drunk Napoleon: I was thinking about Aceveda, and it reminded of a recurring observation wallflower made in his essays, about how the worst of the characters is often the best in them (I think it's come up a few times in this conversation, too). Aceveda's purity of motivation opens him up to manipulation early on; everyone knows all he really wants is to be mayor, and Vic exploits that enough to pull Aceveda into complicity with him until by season two they're basically working together. But then, it occurs to me that Aceveda realises this, and by season seven (hell, by season five) he's playing Vic way more effectively than Vic ever played him. Are there any other significant cases you guys like where a character's best and worst actions are tied into the same trait?
Babalugats: The Shield does not divide it's characters into moral teams. Everyone has a specific motivation, and that allows all these partnerships and betrayals to develop naturally. There's a complexity to the relationships that other shows never approach. It's what wallflower has called exponential (as opposed to linear) plotting. This also means that individual traits aren't inherently positive or negative. Shane's Shane-ness doesn't make him evil, but it does shape his actions and those actions have consequences. Vic is creative and ruthless, and that is useful when he's pitted against true monsters, and dangerous when pursuing his own criminal ends. Claudette's stubbornness allows her to bring down the Strike Team, but it's also an obstacle for her. Dutch's curiosity makes him a good detective, but also leads him to some dark places. Aceveda is going to be a very corrupt mayor, but he's also going to get shit done. The world of The Shield is not Karmic, there are actions and there are consequences, and any moral judgements are left for the audience.
THE ENDING
wallflower: One of the characteristics of great storytelling is that the characters take up residence in our mind; they should be described well enough that our imagination can somehow complete them. A good practical test:  can you imagine what the characters are doing when the author doesn't tell us? The Shield pulled this off according to the rules of drama:  we know what everybody wants.  That's why you can have a statement like Jay Karnes':  everybody has an answer to "what is Vic going to do?" at the end of the series, and everyone is sure that they're right.  (I've never heard that kind of conversation about The Sopranos:  the question "what happened at the end?" soaks up all the attention, and since it never gets answered, there's no point to asking what happens next.)  My answer: Vic dutifully does his day job at ICE and spends his free time looking for people he deems worse than him to beat up. It would take less than six months in my estimation for him to pick a fight with the wrong guy and end up in a wheelchair.  His final fate is to hang out with Van Bro and shoot the shit about the good old days. The one redemptive thing about him: he leaves Corrine and the kids alone. He can recognize that much.
What do you think happens after the end?
Conor Malcolm Crockford: I don't know if I have a continuation for Vic–I've made guesses and don't have a logical end. I have more of an image: a man with his gun, attacking people in the neighborhood he used to own, less ownage now and more attempts at domination, at the worldview that he used to parade for everybody whether or not they believed it. Vic becomes a king in exile, without the divine right.
I'm actually slightly more interested to see where Ronnie goes, because Ronnie is such a fucking badass that, as much as cops in prison are pretty much dead, I'd love to see a movie or show about Ronnie in prison, trying to stay alive, hustling–even if he only makes it a day, he carries on. Shawn Ryan has even mentioned imagining Ronnie with a shaved head and muscling into a white supremacist gang. There's so much drama to make of a man who is at peace with anything he does.
Drunk Napoleon: Would it be cheeky of me to say I don't think about it at all? Like, at first I speculated obviously, but sitting in and taking in all of everyone's theories makes me back up and look at what we actually get. Something goes off in Vic's head, he grabs his gun, and he heads out to own. That's all I need to know.
I am with Conor on wanting to see what happens to Ronnie, though, and to an extent if I do want a Shield continuation, I want it to be about Farmington and the Barn, with Vic not even being mentioned (except maybe as a legend. I often wonder how people will remember how Ronnie's arrest went down).
ZoeZ: I'm fully on record as wanting a starring-Ronnie-and-Aceveda sequel series.  In fact, didn't we cobble together a decent pitch for that? We should really dust that off in these revival-friendly days.
I'll agree that I think Vic leaves Corrine and the kids alone.  Her last standoff with him was too much–if he faces her again, he knows he'll be seeing her see him as he is, and he would buckle under it.  He'll recast her in his head as the Woman Who Took His Kids, but he'll know deep-down that it's better to leave it alone, better to just look at that picture and say that he was, and would always have been, a great father.  He lets that much be.
But nothing else.  That he'll hate working at ICE is obvious, because the work is rote and meaningless to him and he's known and hated, but my best guess would be that he'll slowly make it into something he finds bearable.  (Or he'll die trying.) He's not short on resourcefulness or ideas, and I can see him continuously looking for one more play, one more person who will trust him just long enough. It'll be harder now that he's out in the open, but, if I'm going to be cynical, it won't be impossible.  It's part of the show's lore that cop fans often shrugged off Terry's death–"He was a rat"–and I think Vic would find those people. He wouldn't like having to do it, because it would mean dealing with what he's done at least in the roundabout way of talking about how justified it was, but he'd do it.  Step by step, he'd find solid ground. Then power. Enough, anyway, to preserve some of his illusions, though they'll never entirely get back to what they were. He'll never get back to being a cop in the truest sense, with the idea of public service and public protection. When his stint at ICE is done, he's in the private world, where the money is better but you have to be at least a little honest about being in it for yourself.
And he won't write or visit Ronnie in prison.  I'm pretty sure of that. Ronnie's out of the picture in more ways than one.
Babalugats: I think Vic wastes away in his new job, and within three years he's either drunk himself to death, committed suicide, or violated his deal and dies hiding in Mexico like Gilroy.  If there's a story left to be told it's the story of how high Aceveda will rise, how much of his soul he'll sell on the way, and how brutal his reckoning will be. And the question of whether or not Cassidy goes looking for her dad.
Ruck Cohlchez: Honestly, I'm with Napoleon in that I don't really think about what happened to Vic afterward. This story is over. But if I look into my crystal ball, I see a Vic trying to carry out his need to own and dominate, but without the backing of his team or his badge, almost immediately getting his ass kicked. I don't even know where he'd go to achieve the kind of domination he's looking for; I'm pretty confident the streets know who he is by name and reputation and wouldn't mind a little payback.
I think Vic probably doesn't track down Corrine and the kids, but I think I agree more with ZoeZ than wallflower: It's less a redemptive aspect of Vic's character and more a function of the importance of maintaining his illusions to his sense of self.
Reading some of your suggestions, I can definitely see Vic finding some allies at his new agency even though he's out in the open (see what I said earlier about ICE), and referencing what ZoeZ says, the "Terry was a rat" folks weren't just cop fans; they were actual cops.
Given the way he looks when he leaves the office for the first (and last) time, though, I don't know if he's going to stick around long enough to build those alliances.
Hopefully Claudette lives long enough for Danny to have gained enough experience to be promoted to captain when she dies. Hopefully Dutch makes it work with the lawyer Billings described differently. Hopefully Corrine manages to build a decent home life for the kids, and hopefully Cassidy gets through her anger in a healthy way, whether or not she ever tries to find Vic again (although hopefully she doesn't; I see him being a lot of trouble if that happens).[
I'm a little curious to see what it looks like for Julien when his illusions finally collapse around him, but, uh, we're definitely never going to get to see that.
And you guys have said it already, but Ronnie and Aceveda are the two stories I'm most interested in following afterward, one starting a brand new journey where every day will be a fight for his life, and the other continuing on his singular journey that began well before the series started and will end. . .well, if I knew where it would end, I wouldn't be interested in following it.
TEN YEARS LATER
wallflower: Great stories change us, sometimes by giving us a language to understand the world (how many of us use Simpsons or Lebowski quotes to get through the day?) and sometimes by helping us understand ourselves.  A change in me already begun but completed through watching and writing about The Shield was the certainty that action is character.  So much of contemporary critical discourse, even when it comes to politics, is about attitude–how are we supposed to feel about this?  These kind of discussions seem like endless handwringing, an attempt to not to understand one's emotional responses but to calibrate their appearance in front of everyone else.  (Why yes, this does have something to do with a Certain Other Series, recently completed.)  I have no patience with that any more, and I find it liberating.  Who you are isn't your self-image, it's not what you feel, it's not even your reason, however right or wrong that is.  Who you are is what you do and nothing else.
Continuing the classical lessons from this most classic drama, Drunk Napoleon has noted that the power of The Shield is that it allows you to accept what is worst in you.  Tragedy functions on an arc of knowing, from a single act, through its consequences, to the acknowledgement of them.  It's a demonstration of the Socratic rule know thyself, where the modern rule might be called fix thyself.  The Shield, through showing its characters actions and their consequences and really nothing else, generates empathy for everyone, and in doing so generated empathy for all parts of me.  I do think that storytelling makes us better people, and by that I don't mean a nicer person or a more progressive person. Storytelling, like language itself, increases the scope of our world.  I can say that I understand myself and others better than I did ten years ago, including people and parts of myself that are not nice at all, nor progressive, and The Shield had a lot to do with that.
What is The Shield's legacy for you?
Drunk Napoleon: It radically changed the way I see myself and the world. Beginning with the most practical: I write better stories, more consistently. The thing about The Shield is, while I don't want to downplay the difficulty of writing and making a TV show and the sheer scope of detail it has to roll with, what it does is actually very easy, because great storytelling is one of the easiest activities on the planet. Once you commit to the initial action, you're limited to the things that could happen in response to that action, and then limited further by your own knowledge of things that could happen, and then further by the things each character would do in response (a consistent mistake I make is forgetting to write Billings lines, elegantly limiting character's potential actions). And the further you get in, the more limited the actions become until there's only one left. And it doesn't matter which action you pick, so long as it fits in the chain of cause-and-effect. This is probably why dramatic structure is so forgiving of mediocrity of imagination.
Secondly, I take greater pleasure in actions for their own sake, before consequence has set in. Dutch is the best expression of why: at the beginning, he's pulled in all different directions, his motivations muddled up by a need for approval and a kick out of dominating people. Over time, he comes to burn off his anxiety and recognise what he really wants out of life, and chasing actions that genuinely fulfill him in a long-term way. I always thought him turning down the role of Captain at the end of season four was a major sign of his growth; if he'd been asked in season one, he would have jumped on it and it would have been a disaster. I don't know if it would have been bad for him to take it on when he was asked–maybe the pressure would bring out a new side to him, and he'd lead the Barn into a new era of puzzle-solving on a grand scale; maybe he'd crack under the pressure and the Barn would have burned out before the Strike Team's tragedy came to a head. But I do think Dutch's decision made sense, and it's the kind of reasonable action I try to incorporate into my own life. It's a view of every action as self-expression; the approval of others or financial success or whatever would be nice but are ultimately optional.
Finally, not only do I try to reconcile myself to my past decisions, The Shield gave me a lot of tools to do so. It was very easy to say I didn't want to be like Vic and Shane based solely on the first episode; it was impossible to say that based on "Family Meeting". Every decision they made, Good or Bad, brought them to where they were at the end; I can see how decisions I thought were wrong or moronic at the time were the only right decision I could have made with the information I had at the time. And seeing the Strike Team genuinely trapped in every decision they've made makes it easier to see how I'm not trapped in mine – that because I've done nothing as bad as shoot a cop in the face, I have more freedom than I previously assumed.
ZoeZ: "God says take what you want and pay for it."–Surprisingly not a quote featured on the back of The Shield complete series box-set.
The Shield taught me a lot of what I now know about choices and consequences.  Often, now, I find myself thinking, You can do that, but you have to take everything that comes after.  There is no clean way to live in the world, and The Shield emphasizes that.  It isn't just that you can't shoot a cop in the face and get away with it, it's that Claudette has to understand that when she exposes the problems in the DA's office, she's buying all those overturned convictions, too.  I can see how all this could be paralyzing, but it's not, and it never makes me feel powerless, because it draws your attention to each and every choice, every option you're constantly being given. Claudette's move freezes Dutch out of the work he loves?  Dutch isn't helpless there–it's his decision, his active choice, to stay partnered with Claudette despite that, his eventual decision to compromise himself morally in order to get back to doing what he does best. And it's Claudette's decision to go along with that for him.
"Intentional/intentionality" is a buzzword that's going around in academic administration lately.  It annoys me to no end, but it's nonetheless appropriate for this particular lesson: What you do matters, so be intentional.  No, scratch that: The choices you make matter, so know what they are and fucking mean them.  That's better.
Artistically, The Shield made me more impatient than ever with art that can't be bothered to see the humanity in its characters and make them more than well-written indictments or arguments about what's best.  I need to know that nothing is ruled out ipso facto, that you could have a good and admirable character who could strangle a cat and a good and admirable character who could, to his disgust, come up with the best way to dispose of a body; on the other side of that, that any Vic could have a Connie.  And I need to feel that everyone involved matters, which is the reason I sometimes got impatient with Breaking Bad, where everyone's choices were subsumed by Walt's, and the reason I gave up fairly early on in House of Cards, where there just wasn't enough moral diversity to make the characters unpredictable.  I need plans to not go simply; I need them to be complicated by other characters with other motivations, virtues, and faults.  (And I get endlessly frustrated when I fail to get this right in my own writing–unlike Drunk Napoleon, I don't find it easy, more's the pity.)
Babalugats:  When I was in middle school Ebert and Roper had the coveted 12:30 on a Sunday night time slot, and I used to tape it every week and watch it after school the next day.  My VCR didn't have a timer, so I would also record a few hours after the show, and for a while, that meant reruns of The Shield. I watched most of the first two seasons that way, though they weren't always shown in order and even at 1:00 in the morning they were censored for broadcast television. I saw this at a time that my mind was just opening up. I was learning how to think. And finally becoming aware of the world around me. I saw it before I was introduced to Scorsese, Mann, Friedkin, Fincher, or the whole host of films that create the foundation of the show.  It made a big impression on me. Though the show didn't last long and was quickly replaced by infomercials. And as I got older and started developing my own taste, as I watched more and more "golden era" television shows that failed to live up to my expectations, I began to wonder if The Shield really was as good as I remembered, or if it only felt so radical because I was viewing it with such young eyes. It certainly didn't have the same critical and cultural following that other mediocre programs had gained. And so for many years I left it alone, not wanting to undermine my memory of it. It was less than a year ago that I decided to revisit it. It's only been a few months since I finished it.
How can I say what it's legacy is when I've lived with it for so long and known it so briefly? The Shield is tied up in the deep soft parts of my brain, tangled up with foundational ideas of art and storytelling and manhood. And it's on the top of my mind, as a new story that I just saw and will still need a few years before I've taken it apart and built it back as something new. I can say though, that serialized television has always felt slow to me, and in the last few months has felt intolerably slow.
Conor Malcolm Crockford: The Shield has fucked up how I watch TV and how I see things, and for that I blame you all!!! (Note to self, change "blame" to "thank".) TV is so much slower now, especially Marvel Netflix series, and I desperately want action, decision, consequence, not ideology or super long analogies-as-dialogue. (I slowly turned on the Fargo series as a direct result.) I'm not in the giving vein with series now, unless they gain their own spirit and style. And it's slowly affecting my writing as well – after writing a very personal and non-plot heavy story, I want to get back to plot and action as soon as possible. There's something fun about constructing threads then just filling in the gaps with things that flesh out what you're creating, make it deeper. But you only do what is necessary.
But on a more personal note, The Shield was the perfect thing to watch at a point in my life where I'd become more masculine, more internal and interested in alternative points of view, different kinds of moralities. It influenced my philosophies on these aspects while confirming some of them at the same time. The Shield is oddly perfect for autistics–it code switches constantly and contains a universal empathy and morality all at once. You can understand why people commit certain actions–but there are things that you should not do, and god fucking help you if you do them. Shane killing Lem, a man he loves, is an embodiment of this – I watched with tears rolling down my cheeks. I cried because I understood exactly why Shane killed him. I cried because I had seen these men as friends even when they were fighting. And I cried because I knew intuitively that Shane was now doomed. There is no coming back from that. None.
The Shield helps me consider my actions, releases me from certain feelings and torments, forces me to think about how other people think, and leaves me in awe of its power. That's everything I want fiction to do.
Ruck Cohlchez: Many of you have covered what I wanted to, from understanding the importance of your own decisions and of coming to self-knowledge to two more I want to highlight. Like Conor, The Shield has ruined other TV drama for me–much like I'm not interested in TV critics as moral beacons, I'm not interested in TV writers as philosophers. If you're a storyteller, tell me a story. ("Can't we just once do what we're supposed to do and then stop?") Tell me a story that matters, tell me a story that makes me care, tell me a story that moves me, whether to laugh or cry or anything and everything in between. Like Zoe, I want to watch characters who are full humans and not just arguments, and I won't settle for less.
What the properly structured and acted drama of The Shield does for us is make us feel the show, not just appreciate it. That's what sets it apart. So much prestige television and criticism thereof seems to prioritize the intellectual over the other parts of the experience: What's important is not to feel, but to understand. (To the extent we feel, it's still largely intellectual or psychological.) For me, though, if all I find myself taking from a show is an admiration, the show has failed. We admire the dead; we connect with the living.
And like wallflower, The Shield gives me a common language with other fans of the show in a way only a handful of shows ever have, the kind of shared language that is the product not only of a certain work but of a shared viewpoint expressed by that work. Almost all of these works, though, are comedies (besides the two wallflower mentioned, I'd add to varying degrees MST3K, Monty Python, and Mr. Show as works that develop their own language among fans in the same way), and I think in part because The Shield is a drama, that viewpoint is fuller and more complete: It's not just a certain sense of humor or perspective on the world; it's a certain innate understanding of what it means to be human.
The Shield is not only valuable because of how it makes us feel, but how those feelings make us connect with others, and how the show, more than any drama I've seen, fosters a community between those who love it. And in The Shield's case, it's more than any drama I've seen because the people who love it love it because it has brought them more in touch with what it means to be human, with the importance of knowledge, acceptance, and action, and because we see that in each other.
So in short: The Shield's legacy for me. . .is you guys. It's the community that sprung forth from wallflower's reviews. It's those reviews and the subsequent discussions that helped me understand why I appreciated it, why it hit me as hard as it did. It's the way it's put me more in touch with my own humanity, and the way it's helped me recognize the same in others– especially the others who feel the same way. I might never become a regular at The Solute if it wasn't for our little Shield community. And it's that same sense of community and recognition of common humanity that carries through with the friends I've introduced to the show who have been similarly affected by it. It's something that brings all of us closer together in the community of humanity.
And if that isn't love, I guess I'll just never know.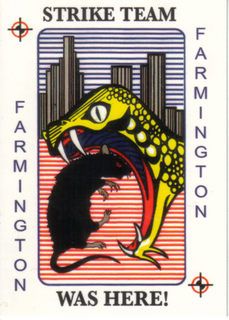 Drunk Napoleon: [casually flicks Strike Team card onto ground]