Given the heavily serialized nature of The Shield, it's necessary to discuss future episodes to fully appreciate what's happening now.  In these reviews, the first part will only reveal events up to and including the current episodes, and the second part will be marked with a SPOILER warning and will reveal events from future episodes.  Commenters, please mark SPOILERS for first-time viewers.  (You know why.)  Wad VanDerTurf has generously indexed my reviews of previous episodes here.
"It makes sense."
Through both of these episodes so many characters face the same question–is it even possible any more to do the right thing?  What will be the cost of acting rightly, and who will pay it?  At the beginning of the series, the continual questions were:  who will pay for people doing the wrong thing?  (Julien and Danny often wound up at the bad end of those questions.)  What will it cost to stop them?  Now, though, late in the story, the price of doing everything, including good, has escalated.  That becomes clearer in "Genocide" and then fully surfaces in "Game Face," the first flat-out masterwork of Act Three, part two.
With his primary flaw of self-righteousness and the secondary flaw of hubris, Vic is of course the focus of these dilemmas.  He's trying to do the right thing, as he and only he defines it.  About the Rezian/Pezuela/so much else situation, Shane will be the voice, literally, of the alternative action; he says at the beginning of "Genocide," "it's time to finish this job while we can still control the casualties."  Vic counters that he has to start thinking about the "big picture"–he'll be out of a job soon and bringing in Pezuela will give him a legacy.  Vic puts his argument entirely in terms of civic duty, saying that if they don't stop Pezuela, it'll unleash a new level of violence and corruption on Farmington.  The thing is, that new level of violence is here, with City Controller Robert Martin, who Vic helped last season and blackmailed here, shot dead by Pezuela's crew; Vic's hubris leads him to think that because he's allied with Pezuela, he controls him, and that's not even close to what's actually happening.  At the beginning of "Game Face," there's a repeat of the earlier conversation, with clearer terms.  Shane:  "are you not understanding that this master plan of yours is backfiring?"  Vic:  "putting Pezuela away is a down payment on me being able to live with myself.  If you can't understand that, at least respect it."  Vic doesn't just want to do good, he's become the idealist here, unable to see the facts and bodies right in front of him.
Vic's the focus of decision, but most of the action plays out through Shane, who's still the primary contact for Rezian.  Rezian's dealing from a weakened position, which is one of the things that makes it plausible that he allies with Shane and doesn't try to kill Vic's family for the Money Train–at least not yet.  He calls in favor #2 with Shane and Vic, setting up a meet with Pezuela's crew, and admitting he doesn't have the blackmail box.  Favor #3, which will clear the Money Train debt, will be to find the box and give it to him, so he can surrender it to the Mexicans.  There's such absolute relief on Shane's face when Rezian pitches that, and much of Shane's story in "Game Face" is his attempt to pitch Vic and then Vic via Ronnie ("good, you've always been the logical one") to hand over the box.  Shane, though, doesn't know that Vic no longer has it.  When Ronnie goes to Vic about the box–unsurprisingly, Ronnie sides with Shane on this–Vic admits he doesn't have the box anymore and we cut to commercial on a very worried Ronnie.  I really wonder, even if Vic had the box, would he give it up to Rezian?  Or is his desire to do something good outweighing all other options?
It's stunning, the layers of complexity and irony at work in what Vic's trying to do.  There's the clear irony of Vic trying to prevent violence and corruption (I have no idea how Vic can say those words with a straight face) in Farmington after he's created so much of it over so many years (just one example:  how many people died because the Money Train robbery brought Margos back to Farmington?), including the current Mexican-Armenian fight and the death of Martin, entirely provoked by him.  Vic's agenda has always been to maintain an acceptable level of violence and profit by it, and that agenda leaves a longer line of corpses behind it every day.  Vic's justification has always been that he's better than whoever he fights, the implicit morality of so much of our popular culture that centers on the "antihero":  yeah, they're bad, but the villains are worse.
To The Shield's great credit, Shane sees right through that attitude, as he tells Ronnie "Vic takes down someone who's done worse deeds than him, it balances accounts for Terry."  Of all people, Shane knows that there are some acts that can never be balanced or accounted for.  He understands the limits of present action created by past actions.  He also knows that Pezuela isn't any kind of supervillain–get rid of him and there will be another one right behind him.  The stories and characters of Vic, Shane, and Ronnie are perfect for this kind of moral inquiry.  Ronnie doesn't need to balance any accounts because Ronnie feels no guilt–he doesn't believe in God, and fears no judgment, only consequence.  Shane feels the weight of everything he does, but he has Mara's love, and more importantly, her forgiveness.  (Some acts can never be balanced.  They can only be forgiven.)  Vic doesn't have anyone who can forgive him, and not just because he's driven Corrine away.  It's because he will never even acknowledge that he's done wrong (that's, of course, part of the reason Corrine is gone).  All he can do is keep trying to make things right, and that's causing more risk, and more casualties.
Vic's attempt to make things right adds another irony here, and one so well suited to The Shield's commitment to genre.  In trying to be a good cop in the last weeks of his job, Vic has gotten involved with criminals to an extent he never has before, but more than that, he's acting out a classic criminal story.  He's now the professional criminal trying to make One Last Score before he retires from the life, but it's a score measured in morality rather than $.  If we're fans of this show, we've seen enough crime drama to know how that usually turns out.  It adds another layer of foreboding to the danger that keeps piling up around Vic.
It's also to The Shield's great credit that it shows the limits of Vic's approach to the world, limits most strongly seen with his family.  The Shield doesn't make the move of simply ignoring his life with Corrine and his children, and it also doesn't have Vic ignore them.  Rather, family is one more thing Vic believes he can fix, and it's becoming clearer as Cassidy grows up (my, that happened fast) that he can't.  Vic needs so much to control and dominate, he can only take about 45 seconds of Cassidy not responding before he shifts into rage.  In "Game Face," we find Cassidy isn't just attending pimp-and-ho parties, she's actually supplying the drugs (great scene where Vic finds out, interrogating a kid just like any other perp), and Corrine's saying "I give up."  It's in this season that casting Autumn Chiklis really pays off–there are a lot of scenes where you can see Cassidy and Vic have the same expressions, because Autumn and Michael Chiklis already do.  She's a good nonverbal actor, too, doing the exact stance of a teenager you just can't reach.  It's nothing too shocking or out of the ordinary in raising a teenager in the 2000s, but that's not good enough for Vic.  He has to see himself as the good, supercompetent guy on all fronts, and that's falling apart here.
That continues when Danny gives Vic the papers that will have him legally give up his rights to their son.  It's a small plot, but so powerful, because it hits him in that fundamental self-righteousness.  It's something that's even more exaggerated with women, because Vic (no matter how much he lies or cheats) sees himself as the noble protector.  Now what Danny's doing tells him the same thing Emolia's betrayal did in "Tapa Boca":  you are not special, you are not trustworthy, I don't see you as the eternal good guy, and deal with it.  She openly says in "Game Face" "you want to see Lee have a good upbringing, stay out of his life." What makes this go so directly to Vic's sense of self-worth is that Danny isn't asking to change anything, she's just putting it in writing.  Vic doesn't have to do anything different here, all he has to do is acknowledge what's already true, and that idea so clearly stuns and angers him.
Another major focus of the cost of doing the right thing springs up with what looks like just another case of the week in "Genocide":  Lloyd.  It seems straightforward–another student broke into the home of Lloyd and Rita (his mom) and Lloyd got a gun and shot him–but it comes off as too straightforward for Dutch.  "One thing I've learned from that sack of conspiracy theories you call a head, the Wagenbach Freakmeter points to red, you listen," says Billings.  (David Marciano and Jay Karnes need to give seminars in Desk Acting.)  Kyle Gallner still had baby fat when he played Lloyd, and he makes him uncommunicative in an ambiguous way–is he hiding something, or is he just a teenager who lives mostly in his head?  (The Desk Acting Seminar will be scheduled right after Gallner and Autumn Chiklis' Sullen Practicum.  They're different variations on teenagers, with a layer of anger to Chiklis that Gallner doesn't have.)   Dutch investigates, and begins gently questioning Rita.  (Frances Fisher adds one more to the gallery of The Shield's expressive, memorable faces.)  When he calls back Lloyd and has him sign a statement (and Billings gets Rita away from the monitor), he does one of his best interrogations, questioning and circling Lloyd, and then moving into a reconstruction of the crime, with the camera resetting and going wide on him, the better to show him closing in on Lloyd.  He ends right next to him, looking up, in a similar staging in the Dutch/Falks conversation in "Strays."  He's learned from that conversation, and now has some idea what it's like to be a killer.  When we see Dutch later in the episode, watching the tape over and over again, he thinks not only that Lloyd deliberately led the victim into his home to kill him, but that he's got a serial killer in the making.
The question for Dutch now, in "Game Face," is what can you do to stop him?  Well, he needs more evidence, so he brings in an FBI profiler, and there's a fun, quick scene of the two of them talking shop over tacos.  The profiler's just back from China, and the government's proud of having their first major serial killer.  He runs some psych tests on Lloyd, and he's not quite sure whether he's a killer or not.  Meanwhile, Dutch reverses the pattern Billings identified by chatting up Rita.  He's not using his professional life to get someone into his personal life, but drawing someone into his personal life ("and please, call me Dutch") as a way of executing a professional responsibility.  What's fascinating, and allies with the theme of what-good-can-you-do?, is that Dutch isn't motivated by fame or a big win.  He tells Claudette he wants to prevent Lloyd from killing, not haul him in after he kills again; as he does it, he's leaning back against a broken wall in the break room, a neat symbolic image of the need to do what we can with the broken tools we have.
With an unsure response from the profiler and nothing conclusive from Rita, Dutch recruits, in "Game Face," the services of someone else on the scene.  Following the final-season tradition (already seen in last week's episodes) of bringing back minor characters, Kleavon Gardner has returned.  He's become a jailhouse lawyer and (apparently) hired an investigator to go through Claudette's garbage, and has one of her discarded pill bottles.  He's trying to reopen the case based on Claudette's illness and drug regimen.  CCH Pounder, as ever, is an extraordinary actress, and so subtle; there's contempt for Kleavon in her scenes, but nothing like before.  Now she knows what she needs more than anything is to appear normal.  It's not a strategy that has a chance of actually reopening the case, but Kleavon can expose the extent of Claudette's illness.  ADA Encardi makes the deal ("don't do this, Beth" "It's not your call to make"–the way Claudette says "Beth" tells you so much about the bond between the two of them), changing Kleavon's death sentence to life without parole in exchange for a guilty plea.
Adding this episode to his scenes in seasons four and five make Ray Campbell one of the best guest actors this show ever had–only Sticky Fingaz as Kern Little and Jamie Brown as Connie are in contention.  Kleavon has a great arc in The Shield; when we first met him in season four, he was so intelligent (and still is), but you could already see the tension in him, and when Dutch interrogated him, you could see the crack in his psyche.  In season five, he played a trapped animal, with the intelligence still there, and Claudette wedged into the crack and broke him.  Here, he's changed again, in command, self-assured, but it's only after he agrees to the guilty plea that he really becomes whole.  That's when Dutch calls Kleavon in to look at the tape of Lloyd.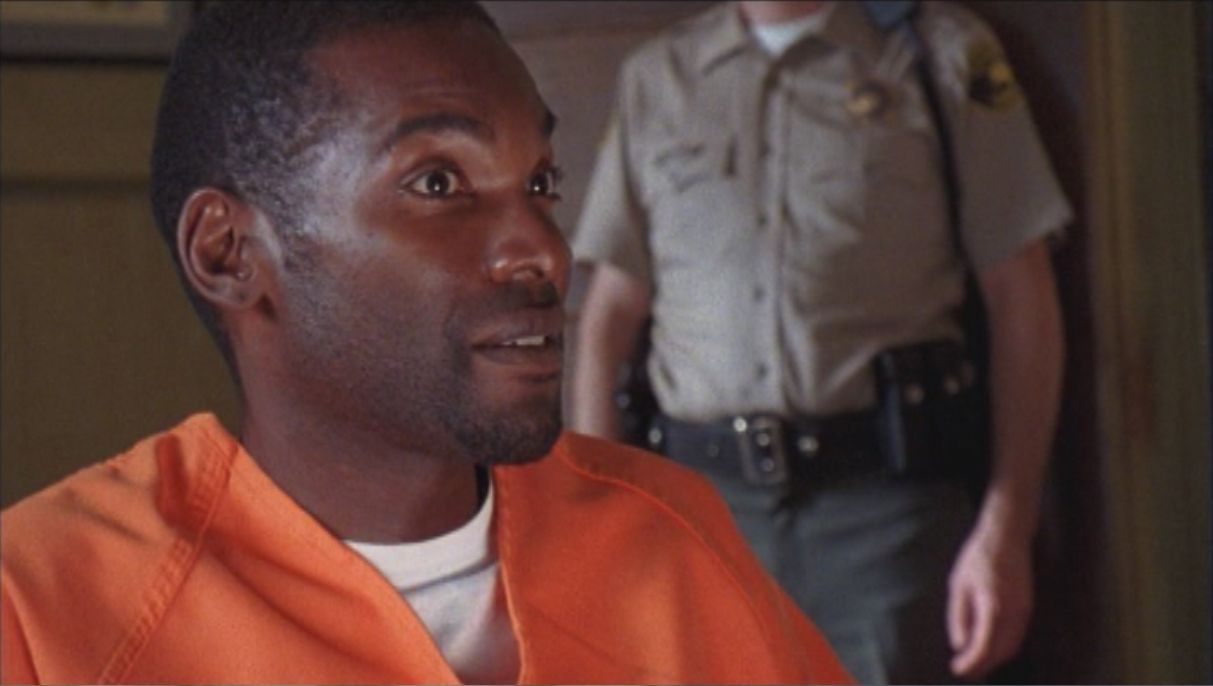 It's a moment that's reminiscent of something Thomas Harris noted about Hannibal Lecter in Red Dragon–Lecter would respond to inquiries from colleagues, just never about himself.  Dutch treats Kleavon just like a fellow professional profiler, and Kleavon's just completely relaxed and open.  We saw this with Kavanaugh and with Shane:  you have to confess, to admit you're evil, to say it and take the consequences, to be at peace with yourself.   Kleavon watches the tape and immediately pegs Lloyd as a killer.  It's a moment that goes, once again, to the theme of self-righteousness.  I've described self-righteousness as being Vic's tragic flaw, but we all share it to some extent; I suspect most of us do not see ourselves as serial killers.  (I suspect that's a good thing.)  That's something, though, that prevents us from empathizing with killers.  Dutch isn't a killer (strangling one cat was as far as he got), so he can't quite see what Lloyd is.  Kleavon isn't just a killer, he has fully admitted he is one now.  So it's Kleavon who can see, clearly and instantly.
This moment also goes to the methods of The Shield, not just the themes.  This show has always privileged empathy over analysis, because that's what storytelling does.  There's nothing really wrong with analyzing, and people like Dutch and the profiler aren't made to look like fools for doing it.  It's just that people don't always reveal their truth through analysis; they reveal it in their bodies and their voices and their faces as they act.  That's the fundamental premise of drama, and it's why drama has to be performed.  Kleavon knows Lloyd is a killer because he's got the look, the one he sees every day in the mirror.  The Shield isn't a thesis, because that's not what tells you the truth of people.  It's a drama, the genre that's about people doing things, and us watching them.
The Dutch/Lloyd/Kleavon story spins into Claudette's story.  Encardi made the deal and protected her, for now, but Claudette realizes that if Kleavon can find out how sick she is, that knowledge will go wide soon enough.  (That sense of the clock starting to tick is all through "Game Face," not just with this plot.  More on this shortly.)  In the last act of "Game Face," Claudette calls Danny in to her office, and admits "I'm. . .I'm not well," and that pause tells you so much.  Claudette won't look at Danny on the first "I'm," and psychs herself up to look at her on "I'm not well."  Claudette never admits weakness to anyone but Dutch, and to him only rarely; think of how long it took her in season five to do so, and what her weakness cost her in her battle with Kleavon.  Danny now becomes the second person in the barn to receive any trust from Claudette, as she asks Danny to be her assistant.  For her part, Danny follows up on the moment where she admitted her weakness in "Money Shot," and agrees; Catherine Dent smiles in a more open and happy way than we've seen in a long time.  Thematically, it's a moment that binds the two major stories of the episode.  Danny and Claudette here join Shane and Ronnie among the characters who can admit that their options are limited now, no matter what the intentions.
There's so much happening in the master plot in these episodes that I've been blitzing right by the case-of-the-week, but "Game Face" has a great one, largely because it brings back another character, Dina.  (I'll skip JC MacKenzie's return until next week.)  She's not that necessary for the plot, because anyone could have given the information she gives, but who cares.  She's still stealing cars, and she's still played with so much fun and energy by Kimberly McCullough, and she gets an entrance by firing a shotgun blast through a door.  (Shane's "God dammit Dina!" is straight out of Punisher:  War Zone.  As Patton Oswalt sez, he's not shocked and horrified, he's annoyed.)  Her wistful little line about her dead partner–"I liked him.  Coulda been the one"–is wonderful, because she's totally sincere, but not broken up about it.  Dina always knew her business has certain risks.  The plot pays off in a good, well-staged set piece, with Julien leading a raid and freeing a kidnap and rape victim, done with a sense of space and how to use it.  (It's a painful long shot when we first see her on the mattress.)  It also ties back to the main plot, as Claudette realizes it's a Vic-authored plan, and makes sure Olivia takes responsibility for it.  Another great moment:  Laurie Holden's quick "bring the pain."  Yet another great moment:  everyone knows about Shane and Tilly.  You can't expect anything to be forgotten on The Shield.
One story goes spinning into another, figures from the past come back as players; this is the essence of "Game Face"'s great storytelling.  (The thematic unity is a bonus.)  At one point in the middle of the episode, we move from Encardi and Claudette to Dutch and Billings to Vic and Corrine and then back to the carjacking case, all while staying almost in one place on the floor of the Barn.  This sense of so many things happening at once and characters barely having any time to react to them, much less deal with them or master them, marks so many great Shield episodes–season two's "Dead Soldiers" and season five's "Of Mice and Lem" are other strong examples.  Still another aspect of "Game Face"'s great storytelling:  the multiple ticking clocks that run throughout the episode.  One of them gets set in motion by Rezian–how long can Shane and Vic keep playing him with no blackmail box?  The other was set up by the end of "Genocide," where Aceveda reveals that there's a file on Olivia.  (That's so hilariously in character for Aceveda–you know he went through the whole box and mentally indexed it.)  Vic responds with one of his rare completely open moments–she knows "enough to blow it with Pezuela and get us both killed."  That's one of the best cliffhangers in the entire series, and it charges all of "Game Face."  Behind every moment are the questions of "does Pezuela know?  How will Vic deal with Olivia?"
The end of "Game Face" resolves two major stories, but doesn't finish them, setting both of them up for the next step.  It's done as two home invasions, the first with Dutch showing up at Lloyd and Rita's (scary moment of opening the door and he's just there, with a new look in his eyes, pure death stare) to let Lloyd know he's on to him.  Lloyd plays him beautifully, telling Rita (just out of the shower, making what Dutch is doing even more embarrassing/inappropriate) that Dutch is just here to let them know that the investigation is over.  And Vic flat-out breaks into Olivia's home and confronts her there, and she lets him know just how much she's on the hook to Pezuela.  She was the one who got the body-draggers across the border in "Coefficient of Drag," and she's been building a file on Vic, too, most likely to make sure he stays a bought cop.  (I suspect Pezuela has recognized the danger of Vic's conscience.  It's not clear if Pezuela shares Vic's inability to recognize what he doesn't control.)  Laurie Holden breaks down so well, with those piercing eyes swimming in tears; there's also a sense from Olivia that she expected this moment.  Vic concludes the episode by saying "you're talking to the right guy," and oh no.  Vic not only has a chance to do the right thing here, he has the chance to help a woman in trouble, two of his most recurring weaknesses.  It's an interesting twist that Vic and Dutch have become so much alike here.  Drama builds to the revelation of character, and what we're seeing with Vic and Dutch is they're now trying to do the right thing, no matter what the cost.  What we've learned in the last eighty episodes is that there will be a cost, and they don't know what it is.
---
THE SPOILER DISTRICT
Part of what makes "Game Face" so good is its speed, but that isn't possible without the work done in "Genocide," which is the best kind of table-setting episode, the kind that doesn't seem to be one at all.  So many crucial plot points for the last episodes are snapped into place here–Lloyd, Danny's quitclaim, what Pezuela is willing to do, Vic's big-picture thinking, Olivia's file, and most importantly, the final favor of getting the blackmail box to the Armenians, which sets up the hit on Shane.  That's where everything turns, but a lot had to be done to get us there.  One of the things that impresses me on this rewatch is the way the writers set everything up well in advance, and then launch into the consequences, and everything is set by the end of "Genocide."  It's a reversal of the kind of strategy often favored by Breaking Bad, in fact it's an exact reversal of that show's fourth season, which had nine episodes of setup and then the last four episodes just took off.  Here, after four episodes of setup, "Game Face" begins the acceleration that will jump to another level in "Animal Control" and again in "Parricide."
Two quick details that throw forward:  Corrine's clearly already taking drugs, and the shot of Dutch at the door in "Game Face" anticipates Mara at the door in "Parricide," and it's just as scary both times.
Dutch has got some hubris of his own with Lloyd, and it's going to lead him to pressure him so much that Lloyd snaps and kills Rita.  That your hubris leads you to act and create the thing you're trying to prevent is such a classical ending, and ties into the deepest theme of The Shield–actions have consequences.  (It also relates to the definition of hubris, which is believing that you can control events.  We're going to see that theme play out so powerfully in "Animal Control.")  Consequence is a more basic concept than judgment, and it's what distinguishes the morality of The Shield from works like The Sopranos and Breaking Bad.  On The Shield, you don't get the ending you deserve, you get the ending you make.