Welcome to part 2 of our Best of the 2010s series! In the previous installment, we unfurled an aggregated list of the community's top 25 films, as ranked and elucidated by eighteen Soluters (a big hand again to Son of Griff for doing the actual aggregation). It represented a fairly balanced consensus of the kind of user who frequents this site: on average, each of the poll's participants got about 4-5 of their top ten choices into the final 25. But even for an average respondent, that means 5-6 of their very highly regarded films didn't elicit as much love from other readers. While it would have been impossible to put together a timely collection of appreciations of all these outside choices, we wanted to have a small celebration of some of these others, an alternate list that pulls together some of the favorite movies into a canonical counterargument of sorts.
Some of the films discussed below are actual runners-up, movies that came achingly close to making our cut of top-25 but missed out by a vote or two. Others are orphans, movies that appeared on only one of the eighteen lists submitted. What they all share in common is passion: they were all highly ranked (usually top five) by individual users and reflect the idiosyncrasies of this community's tastes just as the Top-25 list reflected its commonalities. Here we have more experimental films, more foreign films, more animation, more unashamedly pop fare. Here are movies that go wackier, darker, stranger, more family-friendly, more decidedly not family-friendly, movies that were not afraid to alienate some viewers — and clearly did! — but that also found a champion, or a handful of champions, and thus deserve their own appreciation, as well.
No rankings this time, because how would you even? The list below is presented alphabetically. Enjoy!
🎞🎞🎞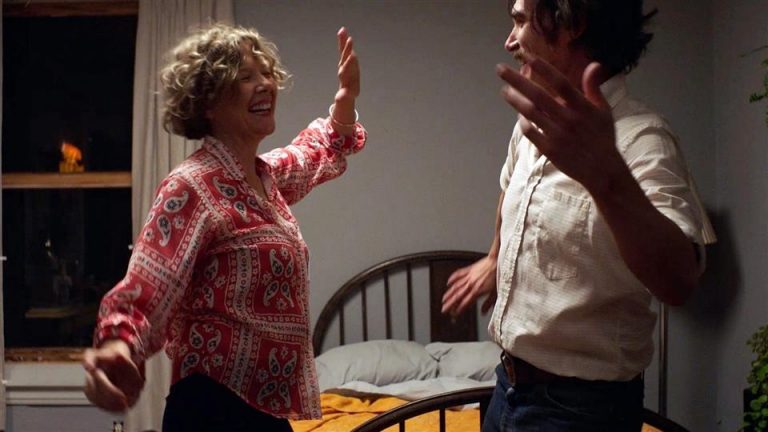 20TH CENTURY WOMEN
Mike Mills, 2016
The big one, quite simply. Much like The Tree of Life, a true intimate epic, finding the secret of humanity in the smallest places. In sequences like the one where Jimmy Carter's "crisis of confidence" speech plays over the faceless, fast-motion masses of Koyaanisqatsi, it becomes an essay film about humanity's attempts to find meaning in nothingness. But what makes it special is its core, a story of five people trying to find meaning in each other and failing. Even the biographical montages for each character start to feel like tragic misinterpretations, shot down just by one heartbroken Annette Bening stare and the pain in Elle Fanning's voice when she says "that's just your version of me, that's not me." But it's not just hurt, it's the joy of loving someone enough to want to understand them. Every time I watch this, I feel the weight of the world come down on my shoulders and lift right off them, because I now understand the world and its people better. Quite simply, I really want to give Mike Mills a hug. (The Narrator)
🎞🎞🎞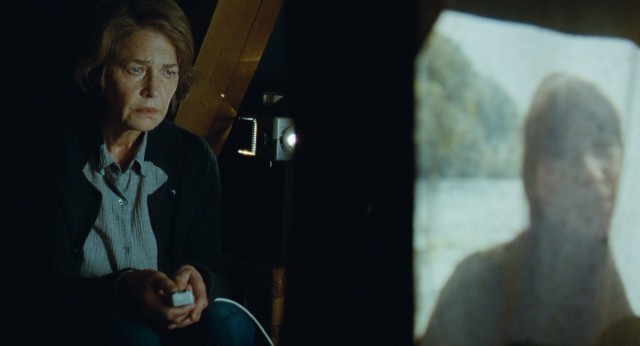 45 YEARS
Andrew Haigh, 2015
Writer-director Andrew Haigh had a great decade (all three of his theatrical features could have made this list), but this is the one that left me sitting in a dark room sobbing for half an hour and feeling off-balance for days afterwards. If I've found certain… other stories about marriages falling apart to feel somewhat limp by comparison, it's because this one cuts deepest of all, a tragic look at what it means to pledge your limited time on this earth to another person, at the tremendous risk that even the most well-meaning couples take when offering themselves to each other at the highest levels of intimacy and vulnerability. While the movie doesn't skimp on dialogue, all the important stuff is what happens in Charlotte Rampling's eyes: the unanswered questions, the attempts at sympathy, at connection, the feelings of rejection, of isolation, of pride, of anger, of acquiescence, of defeat. It's a massive performance built almost entirely out of silent grace notes. Now all it takes is a measure or two of The Platters singing "Smoke Gets in Your Eyes," and I can feel everything well up inside and collapse again. (pico)
🎞🎞🎞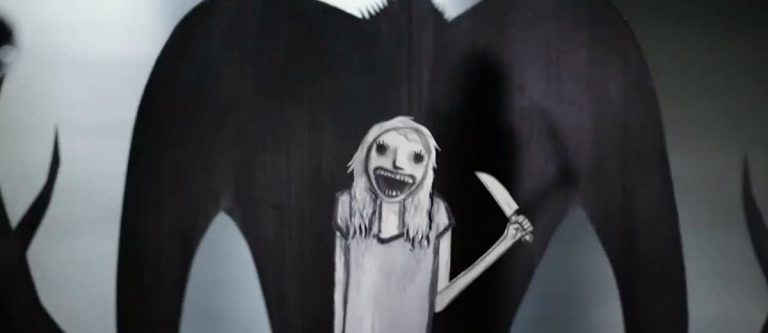 THE BABADOOK
Jennifer Kent, 2015
Lots of horror movies make you want to shut your eyes or look away; about halfway through The Babadook I just wanted the movie to stop its assault. As a mother and child are haunted and hunted by a boogeyman they've unwittingly called into existence writer/director Jennifer Kent shows she understands how horror proceeds from the loss of control and the lack of hope it will ever return. But she also understands how rage can proceed from horror and become entwined with it, and Essie Davis fully embodies this idea, at one point levitating with fury and loathing. But most of all, the movie knows in its bones that while its monsters can contain metaphors, they wound and kill because they are real, and no amount of looking away or hiding behind symbols and semantics can change their reality. They can only be faced. (Miller)
🎞🎞🎞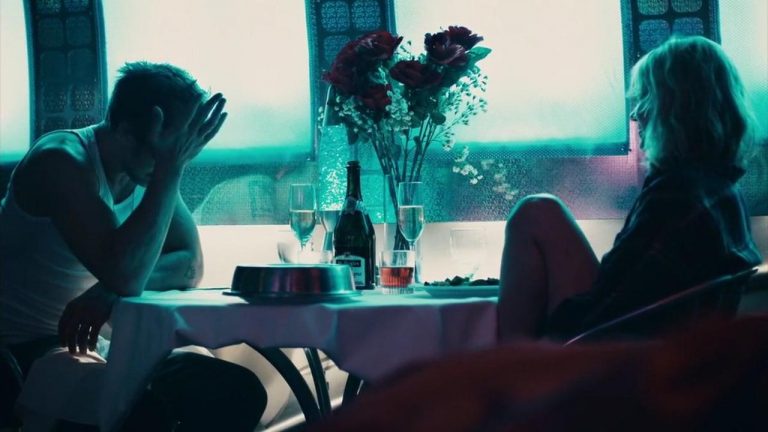 BLUE VALENTINE
Derek Cianfrance, 2010
This film, a non-linear depiction of the gestation and dissolution of a marriage, is the kind of thing I watch when other people would watch horror movies. In a way, it's the dark shadow of Her. That film was about two people coming together, growing apart, and benefitting from the experience. This movie is about two people being what the other needs for a time, and then that time being over. The genius of the film is that every decision both partners make is encoded into them by their past and their outside experiences. (Astounding given that it's partially improvised.) This marriage goes wrong, but on any other day it might just as well have gone right. And that is the seed of its terror. We're all just hanging by a thread, and the world is too big to protect yourself from. Especially you can't protect yourself from the whims of those you love. Worse yet, you can't protect them from yours. (Cliffy73)
🎞🎞🎞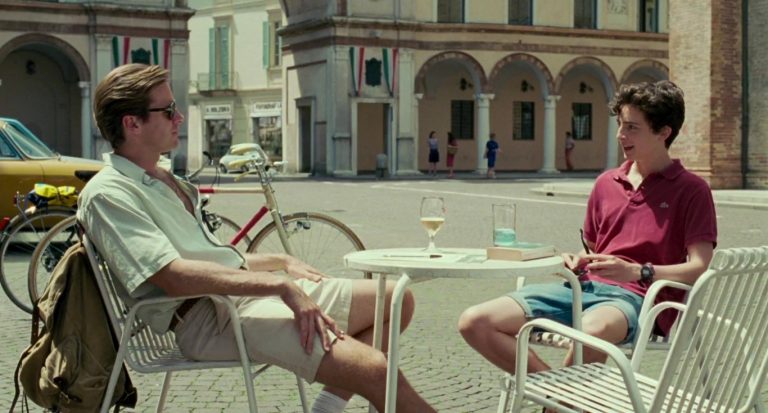 CALL ME BY YOUR NAME
Luca Guadagnino, 2017
Call Me by Your Name is a film that loves people. It loves them for who they are and what they do: for their minds and bodies, desires and obsessions, the languages they speak and the connections they forge, the art they make and the history they leave behind. This is a love expressed without ostentation; it permeates the film, as natural and vital as the fresh summer air its characters breathe. Desire is everywhere, including sexual desire, but it's merely a part of a larger hunger for life, a communion with nature—the setting, rural summer Italy circa 1983, is nothing if not a physical environment, all stone and greenery and water,—and the slow-burning affair between Elio (Timothée Chalamet) and Oliver (Armie Hammer) similarly becomes a history within history and a world within a world, at once immediate and inevitably fleeting. The film observes it with wit and warmth, creating a hangout idyll—a world of intellectualism and joie de vivre, cigarette smoke and dinners under the trees, "Words" by F.R. David and bike rides through the sleepy countryside—whose very miraculousness underlines its fragility without ever having to openly betray it. It's sensual and disciplined, romantic and wise, and aesthetically, emotionally and thematically unified. (Jake Gittes)
🎞🎞🎞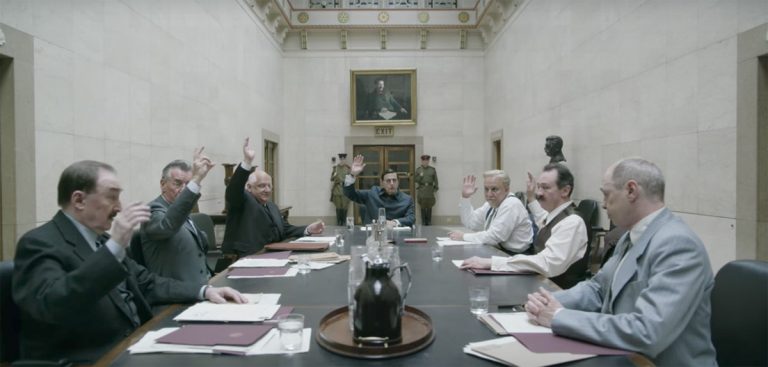 THE DEATH OF STALIN
Armando Iannucci, 2017
To me, Armando Iannucci is Aaron Sorkin's evil twin. Both men write about the halls of power with precise and idiosyncratic language, but whereas Sorkin grandstands in a liberal fantasy, Iannucci profanely mocks craven and selfish political leadership. Matt Zoller Seitz described it as though "Stanley Kubrick and the Marx Brothers had a baby", and I'd sit it easily alongside Dr. Strangelove in the canon of political satire (I'd love to see Zhukov and Turgidson plan an offensive together). The Soviet leaders aren't just portrayed as evil, but petty and stupid. But the absurdity never masks their evil, and it slowly gives way to horror – though of course it ends on a grim punchline, undercutting so much of their scheming. This movie shouldn't have worked – turning the horrors of the Soviet Union into something laugh-out-loud funny feels tasteless. But instead, Iannucci and his cast made something searing, where the laughs end as you realize that the petty, greedy, and stupid are still the ones on control. (scb0212)
🎞🎞🎞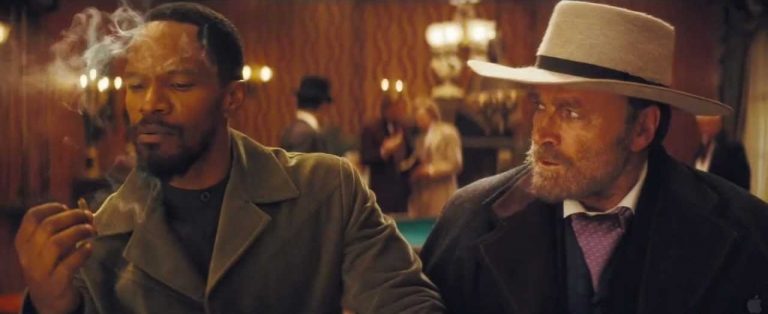 DJANGO UNCHAINED
Quentin Tarantino, 2012
My read on Django Unchained is that it is the saga of the black hero through movie history, first as a silent background element, then as blundering comic relief, then the funny sidekick, then as the main lead (with Waltz assuming the role of the sidekick), and finally in the last act as the sole lead and hero of his own story. This is why the villain is playing a minstrel stereotype (Has there ever been a more effective use of an actor's star presence? It's viscerally uncomfortable watching Mr. Bad Motherfucker himself in such a subservient performance). Notice how often Tarantino lets his camera focus on the black witnesses to Django's exploits. Notice-
Haha, no. What I like about this movie is that it is a riotously funny, exciting, propulsive, romantic, emotionally harrowing, and unbelievably cathartic film with a cast of ringers all doing near career best work. It's a perfect adventure movie. It may have some insightful things to say about race, the legacy of slavery, and Hollywood's own complicated relationship with those issues. But mostly it's just a damn good watch. (Babalugats)
🎞🎞🎞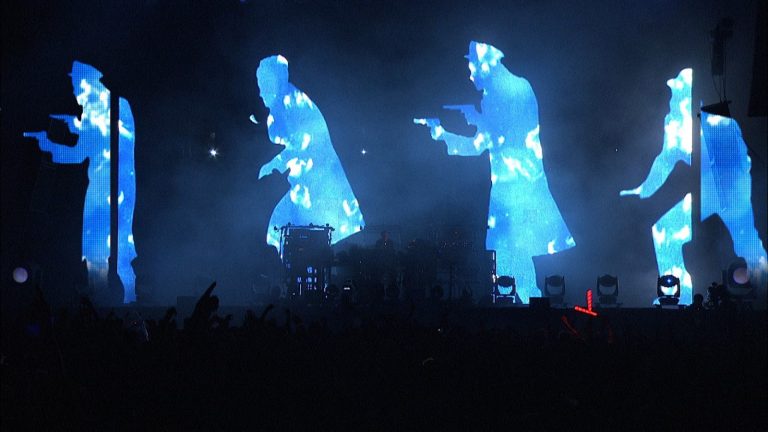 DON'T THINK: THE CHEMICAL BROTHERS (LIVE FROM JAPAN)
Adam Smith, 2011
Something happened the first time I watched The Chemical Brothers' first concert film that is probably a foregone conclusion in retrospect but came as a surprise for me at the time: I started dancing in from of the TV. I couldn't help it. Sure, the Brothers' mad electronic beats have scored so much of my life that they can get me on my feet anytime. What I didn't expect was that the visuals would be just as key. We see virtually every configuration of light possible. We see flares lighting up the night. We see bizarre animations jump out of giant screens and into the audience. Adam Smith, the duo's long-time multimedia director, serves as the movie's director, and knowing every image and every song in and out he maximizes their impact at every turn. Smith is helped by one of the most energetic sets in the duo's long career but also by the audience. Shot at the Fuji Rock Festival in Japan in 2011, Smith puts his cameras in the middle  of the ecstatic, delirious audience. You see them scream and bug out, be surprised by the set, share in their excitement with each other and freak out and enjoy the madness together. By the end of the show I stopped feeling like an idiot jumping in front of the TV. I may have never been to Japan, but I can credibly say that I know what it felt to be like in that night in 2011 thanks to this remarkable concert film. (Guillermo Jiménez)
🎞🎞🎞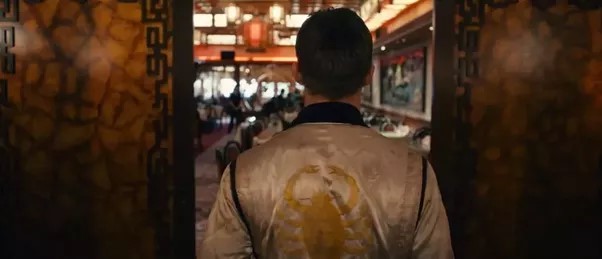 DRIVE
Nicolas Windig Refn, 2011
Drive is one of the most instantly influential films ever made. It reminds me of Halloween or The Warriors that way. All of a sudden, every low budget genre movie was bathed in blue and purple neon light with a throwback 80s electronic soundtrack droning in the background as the lead character stared pensively across a nightclub or a parking lot. But, like it's forbearers, Drive remains untouched and unsurpassed by its many imitators. This is largely due to the shear craftsmanship of the film. There is likely not a single better constructed sequence in the entire decade than the opening chase here. The cast is incredible, from Gosling (is any actor working today better at falling in love?) and Mulligan in the lead, to the murders row of supporting actors, Christina Hendricks, Bryan Cranston, Ron Perlman, pre-break-out Oscar Isaac, and Albert Brooks in a role he should have won an Oscar for. Rare for Refn, this is an incredibly tightly plotted story. Movies that allow stretches with little to no dialogue are often accused of being "slow", but there is not a single wasted frame in the whole film. Every scene, every shot, every interaction moves the characters, the relationships, and the story forward. And then there is the pure sincerity of the thing. The movie wears its influences on its sleeve (or perhaps emblazoned on its jacket) from Jean-Pierre Melville, to Michael Mann, to Walter Hill, to Shane, to Vanishing Point, to Halloween, to a thousand others, but this is no homage or deconstruction or ironic reimagining. This is the genuine article. A true evolution of the genre. (Babalugats)
🎞🎞🎞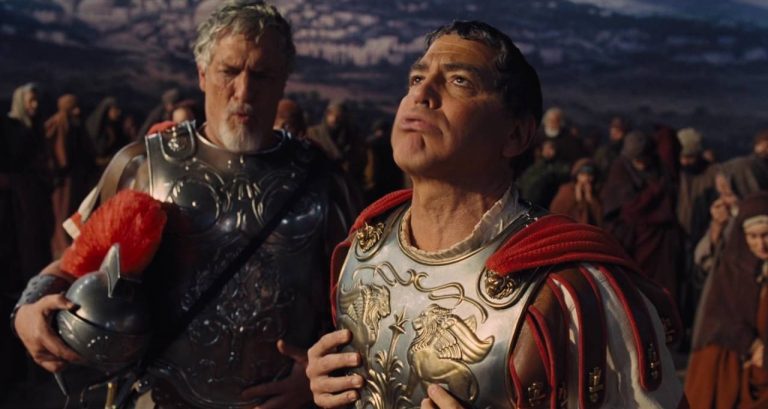 HAIL, CAESAR!
Joel and Ethan Coen, 2017
Despite some fairly decent box office Hail, Caesar! seemed to arrive to shrugs amongst film nerds, but it's proving to have that wonderful, long-lasting quality of the best Coen Brothers films: re-watchable inscrutability. With Hail, Caesar! the Coens dreamed up another gorgeous, mordant, puzzling treatise on morality and theology, by way of wacky, left-of-centre shenanigans. (Rosy Fingers)
🎞🎞🎞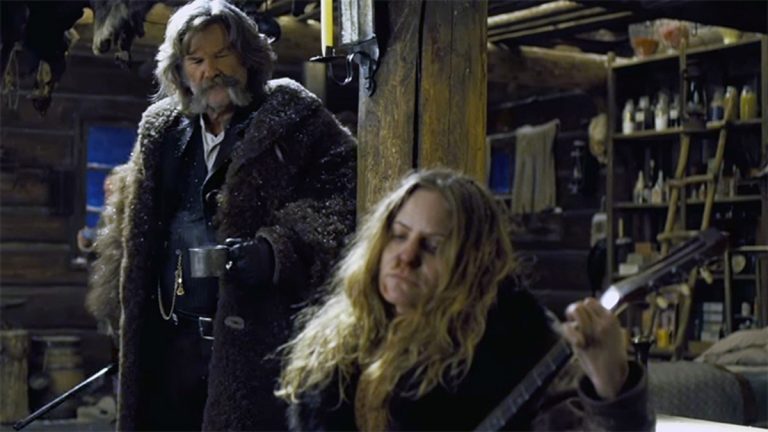 THE HATEFUL EIGHT
Quentin Tarantino, 2015
The Hateful Eight claims its spot on this list because it is, at least so far, the purest example of the mature style of America's Greatest Living Director. For those who haven't seen it, this is a film about two late-19th-century bounty hunters who, with their captive, take refuge during a blizzard at an isolated roadhouse, where they meet a cast of suspicious characters. As you might imagine, mayhem eventually ensues. But only after two hours of a cozy mystery drawing-room scene as only Ultra Panavision 70 could show it. What I mean by Tarantino's mature style is the one he seemed to have discovered while editing Kill Bill and refined over his next couple films. His imagination as a screenwriter and a visual artist is so fecund, there is no way he could fit every facet of a story into a single film. So instead, he dispenses with exposition, scene transition, table setting of every kind. Instead of writing a three-hour movie and then cutting the most exciting set piece because it doesn't move the story forward like every other director in history has, he writes a five-hour movie and then cuts every scene that isn't the most exciting set piece. We're smart. We can figure it out. The Hateful Eight is a parable about America. It's a gun-control polemic. It's a broad comedy. It's a lamentation over the frustrated promise of civil rights. It's a feminist statement. It's a monument to empathy. It's an apologia for Tarantino's past excesses — no, strike that, it's an apology. No one could make all that into a movie that flows seamlessly from Act I to Act III. But the alternative is to sacrifice ambition, and that we should not abide. (Cliffy73)
🎞🎞🎞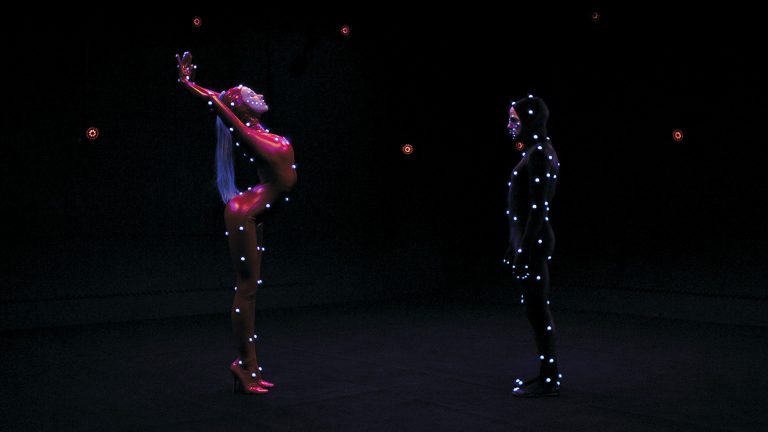 HOLY MOTORS
Leos Carax, 2012
A lot of this century has involved the draining of individual and personal characteristics from the art made or manufactured (as well as the destruction of ways for artists to monetize their work). Thank fuck then for the sheer idiosyncratic mayhem that is Holy Motors, Leos Carax and Denis Lavant's deranged masterpiece. By far the 2012 indie is certainly the most…unique of any major "movie made about movies". Lavant stars as a mysterious actor whose transformations enact bizarre cinematic scenarios even without cameras rolling. That involves nearly kidnapping Eva Mendes, doing perverted things in green screen, and inhabiting a musical number featuring Kylie Minogue. The result is romantic, hilarious, disgusting, and embracing of the shared chaos we as filmgoers love. (C.M. Crockford)
🎞🎞🎞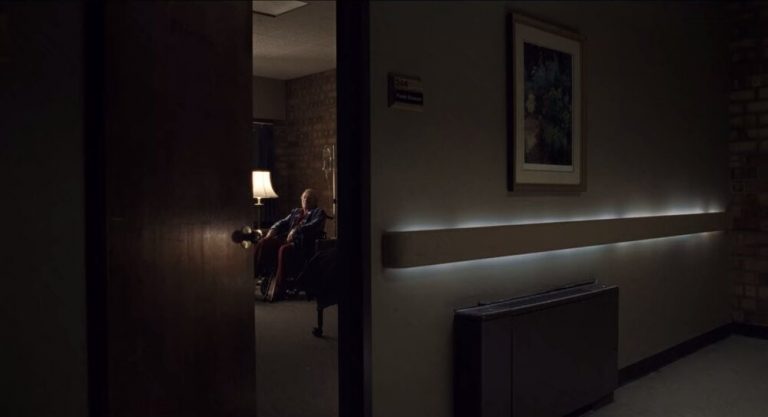 THE IRISHMAN
Martin Scorsese, 2019
Martin Scorsese's films often combine Italian neo-realist social observation, French Nouvelle Vague formalist experimentation, and the melodramatic theatricality of Hollywood and the Actor's Studio in ways that usually collide rather than synthesize. These qualities meld most successfully in his crime film epics, particularly The Irishman. It's partly an ethno-American history pageant, focusing on how "house painter" Frank Sheeran's association with Philadelphia mobsters and Jimmy Hoffa shaped his violent character and personal loyalties. The director calibrates his typically baroque camera moves, voice overs, and elliptical editing to clarify the story's expansive scope. It's also perhaps the last go-around for the second generation of method actors to flex their mettle to material of a grand and tragic nature. Whereas a younger Scorsese ended the respective falls of Henry Hill, Sam Rothstein, and Jordan Belfort with a truncated moment of reflection, Sheeran's fate unfolds with ample time to explore the long-term consequences caused by an unredeemable action. In this valediction to America's moral forfeit, Scorsese feels fully invested in classical tragedy, not just thematically but in how he tailors his restless style to a precise mode of storytelling. (Son of Griff)
🎞🎞🎞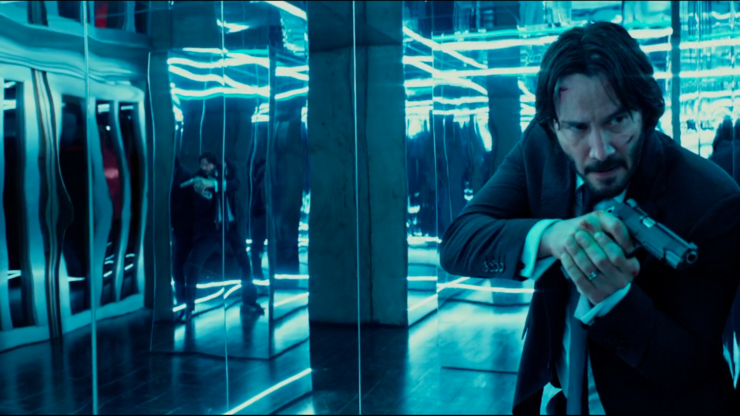 JOHN WICK: CHAPTER 2
Chad Stahelski, 2017
Many genres tend to excess. One is the action movie. Another is opera. In its second chapter, the revenge-thriller series John Wick embraces its operatic side, doubling down on themes of honor and oath-taking, going to Italy, even capping one plot thread with the suicide of a beautiful woman in a huge bathtub that slowly fills with her blood. (This being a John Wick film, she doesn't bleed out before John gives her a quick bullet to the head, in service of the aforementioned oath-taking.) As opera merges disreputable elements to make high art, so does JW2. Opera works with the trashiest and most ridiculous parts of melodrama and romance, and the most crowd-pleasing aspects of classical music. JW2 shows us you can make cinematic Art that's fast rather than slow, about constantly acting out impulses rather than forever repressing them, and that's mostly images of a sweaty Keanu Reeves. (benedett)
🎞🎞🎞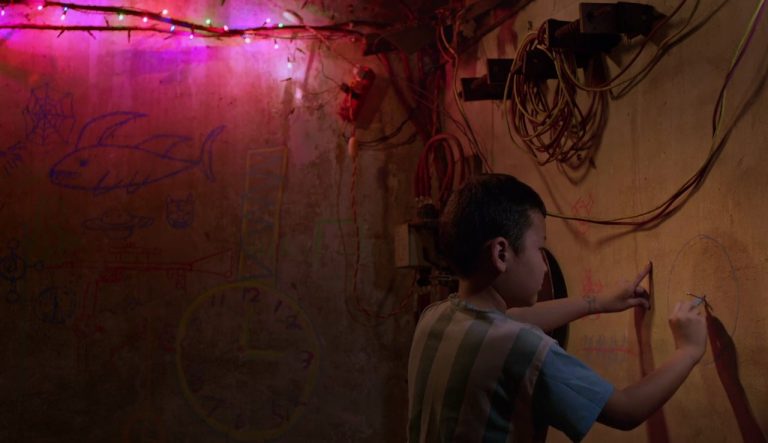 KAILI BLUES
Bi Gan, 2015
The 2010s were a tremendous decade for cinema in languages other than English, a fact that's inevitably flattened out by these systems of aggregation. And while I'd love to make a case for a dozen of them, it's Bi Gan's first, Tarkovsky-inflected feature that feels to me the most radical, most expressively unique voice of the last ten years. Much like my favorite film of the previous decade (Apichatpong Weerasethakul's Tropical Malady), this is a film cleft in two and thus in dialogue with itself. Its secrets are best left unspoiled for new viewers, but it promises a different kind of movie experience, one that reconfigures the basic elements of cinematic grammar for purposes that are personal, poetic, and even spiritual. Originally titled after Fernando Pessoa's fragmentary dream-collection The Book of Disquiet, Kaili Blues challenges us to watch differently, to accept the flow of time and space (and of time in space) differently, to extract meaning from these elements differently. And it culminates in my favorite final shot of the decade. (pico)
🎞🎞🎞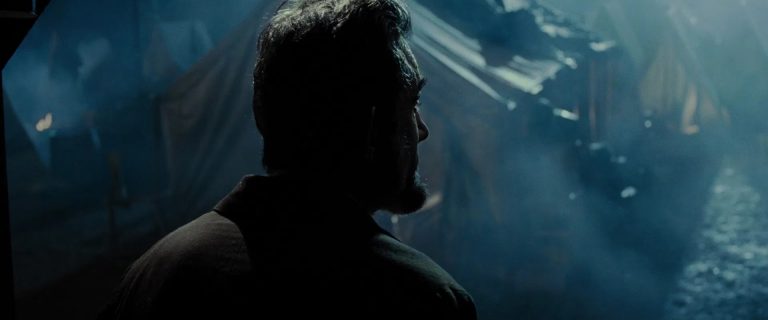 LINCOLN
Stephen Spielberg, 2012
I've stumped for this film unto self-parody, and I suspect if the film's worst decision didn't come at the end it would have more support. Spielberg and Kushner forgo the irksome sprawl of most biopics to examine one historical tipping point. Danial Day-Lewis's performance conjures a fathomable man that nonetheless lives up to 150 years of mythology. Add an entertaining (yes!) recreation of 1860s Washington, a literal half-drained swamp where scabrous ruffians are as much a part of the political process as the self-important senators. Lincoln skips the schoolroom history and reminds us that all progress is born in mud. (The Ploughman)
🎞🎞🎞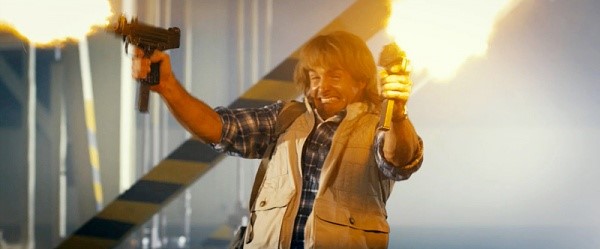 MACGRUBER
Jorma Taccone, 2010
Simply the funniest movie of the decade, MacGruber succeeds because of its commitment to comedy and attention to detail. The direction and cinematography get the details right of the 'roided-up 80s action films it's spoofing, and the absurdity and extremity of both MacGruber's behavior and the vile personal traits (and incompetence) that lead him to do those things are never backed away from or softened in either the writing or performance. This movie bombed at the box office because of that commitment, because the film is determined to make MacGruber so deeply unlikeable and to never wink at the camera. But it's that same level of commitment applied to pushing everything to the limit and playing it straight that keeps MacGruber so funny and rewatchable, that makes the film so jam-packed with absolutely bananas comic scenes and set pieces. Some tremendous performances all around, from Will Forte's fearless turn as MacGruber, to Val Kilmer's delightful villain, to Ryan Phillippe's straight man, and more, make the material shine. You'll laugh until your sides hurt, over and over. (Ruck Cohlchez)
🎞🎞🎞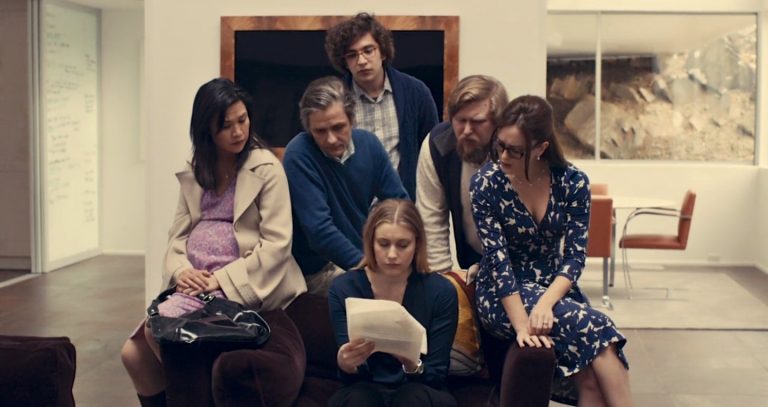 MISTRESS AMERICA
Noah Baumbach, 2015
Frances Ha gets most of the hosannas as far as the Baumbach-Gerwig collaborations go, but this, its relatively unheralded sister film, is even better. I don't think it has any competition for the title of funniest film of the decade, with nary a line, an edit, or even a breath going by that doesn't produce a laugh. By the time of its centerpiece, a closed-room farce involving pregnant women, nosy girlfriends, and apple bongs, it enters a screwball transcendence that far too few modern comedies have the guts to commit to. If it was just funny, it would earn a spot on my list no problem, but repeat viewings have also unearthed its sneaky poignancy, a portrait of dreams crushed and relationships destroyed in the blink of an eye. It's every bit the equal of Frances Ha's depiction of female friendship as a rock to hold onto while getting swept out to sea, and it uses the word "cuckold" a lot more than Frances does. (The Narrator)
🎞🎞🎞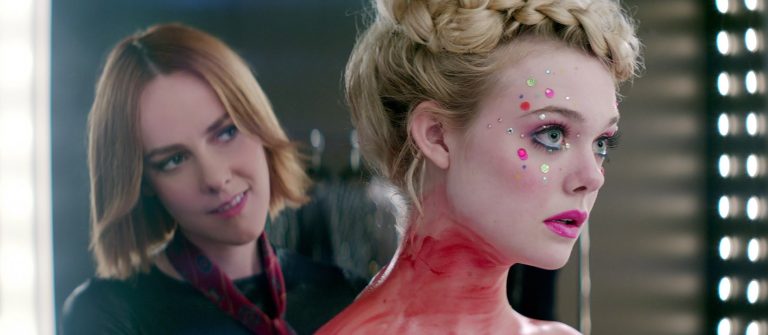 THE NEON DEMON
Nicolas Winding Refn, 2016
The Neon Demon is nothing new; movies warning actresses about the evils of Hollywood are as old as Hollywood itself. Its freshness stems from making fame into a demonic allure that debases, objectifies, and dehumanizes anybody who comes within an inch of its presence (nevertheless makes out with it in a neon-lit mirror pyramid). Fame isn't a physical entity unto itself; it's a cult with dozens of cultists doing the devil's work: the model peddler who sells underage models for nude fashion shoots with molesting photographers, the sex trafficker who sells off-the-bus teenagers with no chance at success, the makeup artist who sees women as bodies to be made up, owned, and fucked, the fashion designer who uses women to promote surface ideals of sex and beauty, and the director himself who makes the proceedings as sexy and hypnotic as possible. Everybody is drawn to the fire of fame, including the model who, if she doesn't play along, will literally be chewed up and spit back out.
Refn's style pushes The Neon Demon over the top: Natasha Braier's lush, deeply-saturated, high-contrast cinematography combines with Cliff Martinez's droning-but-driving sex-dungeon techno and the full art direction/set design/lighting team to draw you in to this sleazy, skeezy, city of lust and sin. Refn isn't content to indict Hollywood and himself; by creating a sticky fashion-shoot atmosphere, The Neon Demon indicts the audience for creating the market that allows fame to thrive. The audience wants to watch beautiful people in beautiful things; beauty becomes the currency that creates fame; and there's nothing more disgusting than that. That few viewers recognized Refn's all-encompassing condemnation demonstrates just how right Refn is. (Julius Kassendorf)
🎞🎞🎞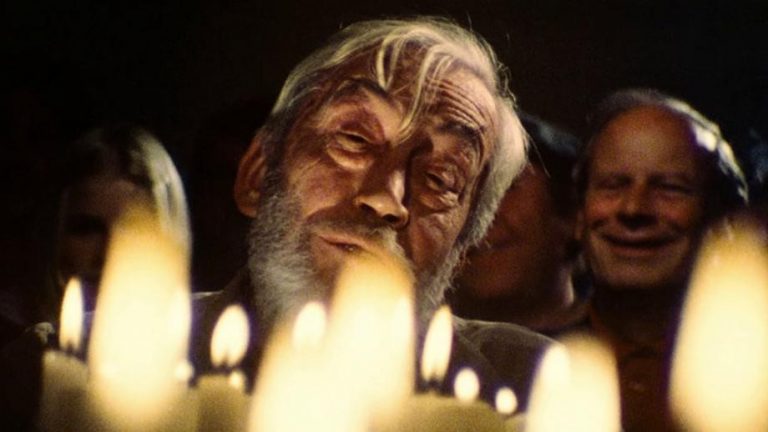 THE OTHER SIDE OF THE WIND
Orson Welles, 2018
Forget Quentin Tarantino. Orson Welles final (to date) is the real Once Upon a Time…In Hollywood. Long delayed due to financing and legal troubles, what might have been first experienced as a biting satire of the auteurial hubris of 70s American New Wave cinema arrived as a bitter memorial to an age of filmmaking experimentation that no longer exists. Many believe that Welles was ruined by the studio system, and that the somewhat technical shoddiness in later films show him being forced to work in reduced circumstances. The Other Side of the Wind, like F for Fake, displays a flamboyant adeptness at adapting to the vicissitudes of independent production while indulging an interest in the untapped possibilities of continuity editing. While using reverse angles to heighten the audience's identification with the characters, Welles piles on self-conscious layers of theatrical irony. Film stocks switch. The photographer captures another in anticipation of the next cut, and he intersperses ongoing character commentary within a movie within the movie. Due to the director's stature, this will be among the most studied films released in the 2010s, but it is also among the most stylistically fun and self laceratingly caustic movies about the film industry ever made. (Son of Griff)
🎞🎞🎞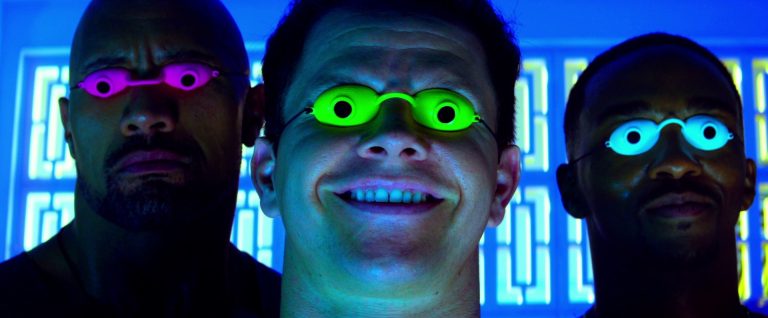 PAIN & GAIN
Michael Bay, 2013
If The Neon Demon is the best movie of the decade, Pain & Gain is the most representative of the decade; arriving 3 years too early to be fully appreciated. Michael Bay's portrait of America is a distillation of pure misanthropy, loathing the stupid, greedy, and teeming masses and the system that keeps them oppressed. Inspired by the real-life Sun Gym Gang, Pain & Gain is about a group of roided-out muscleheads who commit a series of half-baked get-rich-quick schemes that ends with kidnapping, disfiguration, and bloody bloody murder. Michael Bay views the criminals, the victims, the investigators, and their goals with enough disdain to drip off the screen to leave pools of floppy steroid sweat in the buttery popcorn of the audience who didn't really show up.
Arriving 5 years after the American housing crisis, 2 years before The Big Short, and 3 years before the angry, disillusioned, masses supported the ascension of Donald Trump on shouts of Lock Her Up, Pain & Gain is placed square between the greed that crashed the economy and the raging xenophobic reaction that threatens our country. Michael Bay understands the desire of greed and materialism while condemning the greed of the characters involved and pointing to the disgust expressed by people who still desire wealth for themselves and resent their station in life. Nobody escapes this life unscathed.
Interesting postscript to the story left out of the film: after the original trial, the kidnapping victim was then put on trial for a $14m Medicare scam and sentenced to 4 years. Everybody is a criminal. (Julius Kassendorf)
🎞🎞🎞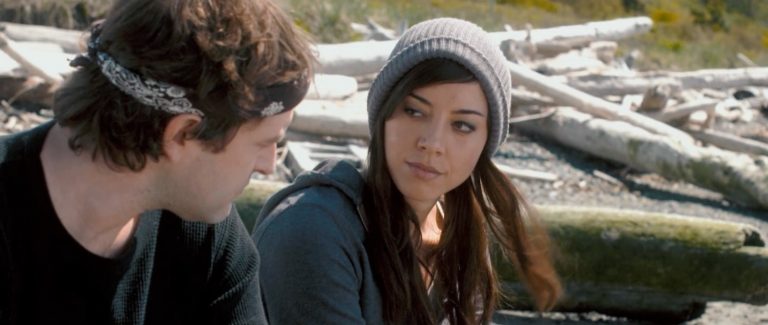 SAFETY NOT GUARANTEED
Colin Trevorrow, 2012
Based on an internet meme and steeped in nostalgia, Safety Not Guaranteed might be the most 2010s film of the decade. Despite that, it deftly deals with timeless themes of loneliness, alienation and the need for human connection without becoming mawkish or heavy-handed. This film about a pessimistic young magazine intern Darius (Aubrey Plaza, who subtly reveals the chinks in her cynical millennial armor), investigating Kenneth (an excellent Mark Duplass), a cheerful weirdo who claims that he built a time machine, has a lot of fun playing with standard movies clichés (the liar revealed, manic pixie dream girl, etc.), that I wondered if screenwriter Derek Connolly purposely sought to subvert tropes that he hates when he was writing it, but it's a delicate blend of humor and sadness that leaves an impact. Like Kenneth, the film dares to wear its heart on its sleeve, and sincerely believes in the salvation of its wounded characters. (clytie)
🎞🎞🎞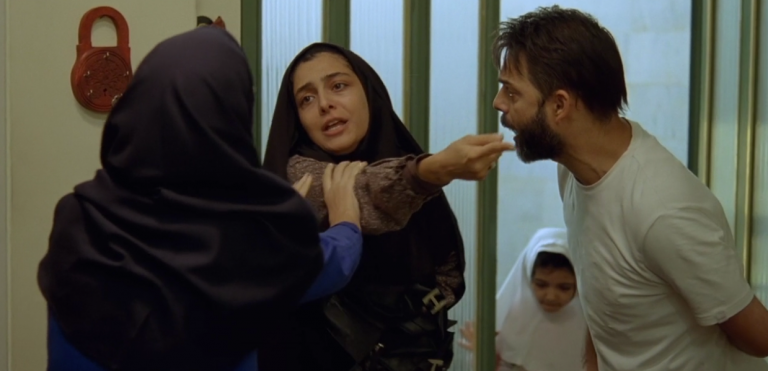 A SEPARATION
Asghar Farhadi, 2011
The film's strength is in depicting life as being very similar around the world. Farhadi depicts events objectively. The handheld camera is at eye-level with the actors, as if we are a witness in the room, never prompting us how to feel or judge one character more than the other. Adding to the realism is a group of actors who make their characters feel credible. We feel sympathy for a character one moment, frustration and anger the next. Characters go to work, pick-up kids at school, fix dinner, take care of an ill parent, and have marital issues. The title could be a reference to how people who are on friendly terms can suddenly become split. Pride causes people to withhold truths or tell outright lies. What one person perceives as a small event or unintentional action in the heat of the moment, may not be viewed the same by someone else, and can spiral out of control. Such adult actions affect the innocent, causing further separation. Asghar Farhadi captures a realistic portrayal of life in Iran. But the themes and events of everyday life are universal. (Man With A Robot Arm)
🎞🎞🎞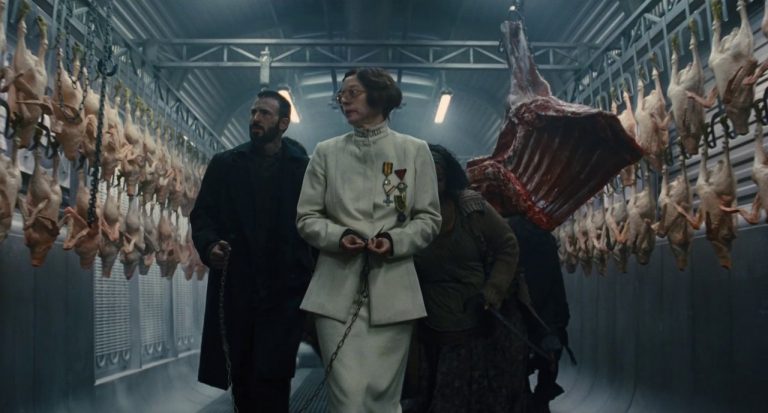 SNOWPIERCER
Bong Joon-ho, 2013
A fascinating concept– in a post-apocalyptic world (cause by man's attempt to engineer a solution to climate change, no less), the only surviving life on Earth exists on a self-sustaining train that circles the globe once a year and is heavily segregated– turns into both a killer action film and a literal metaphor for class warfare. Bong Joon-ho's English-language debut stands out both for its vividly constructed world and for its outstanding use of tight spaces for action scenes. The different "levels" of the train give the film an almost video-game feel, as each car Chris Evans' Curtis leads the caboose rebels into presents a new environment, new challenges, and new layers to the train's socioeconomic strata. Evans is a revelation here, headlining a killer cast (Tilda Swinton, John Hurt, Octavia Spencer, and more), although Song Kang-ho arguably steals the show as the junkie explosives expert. The end sequence is the perfect twist and capper to the film (with a great surprise guest turn), and if there's a moral question posed by the nature of Snowpiercer, Bong seems to answer it firmly and decisively with those final minutes. A propulsive thrill ride of an action film steeped in the class consciousness that would inform Bong's future Best Picture winner Parasite. (Ruck Cohlchez)
🎞🎞🎞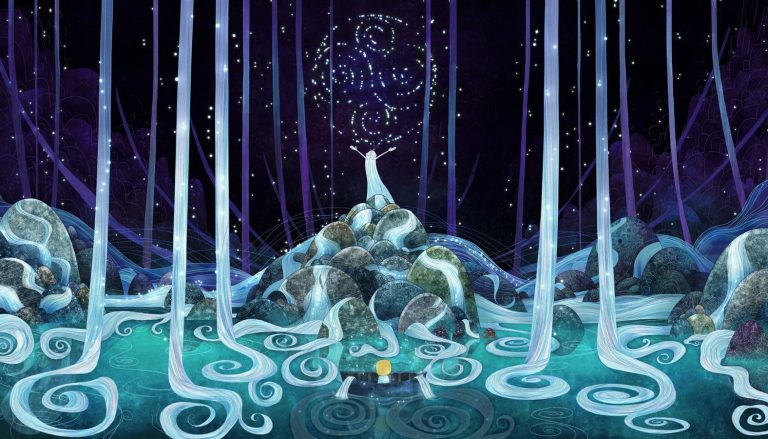 SONG OF THE SEA
Tomm Moore, 2014
Pixar and Disney's CGI-heavy domination has led to many hand-wringing thinkpieces about the inevitable death of traditional animation, but Ireland's Cartoon Saloon are one of many studios still producing hand-drawn beauty, and Song of the Sea is their best work yet. The story pulls from Irish folklore in a way that lends itself perfectly to some gorgeous art and music, all of which contributes perfectly to one of the most sweetly melancholic adventures ever put on the screen. The tale of two small-town children being drawn into a magical quest owes a lot to Studio Ghibli's lower-key works but the art style and atmosphere is wholly unique and frequently breathtaking. (vomas)
🎞🎞🎞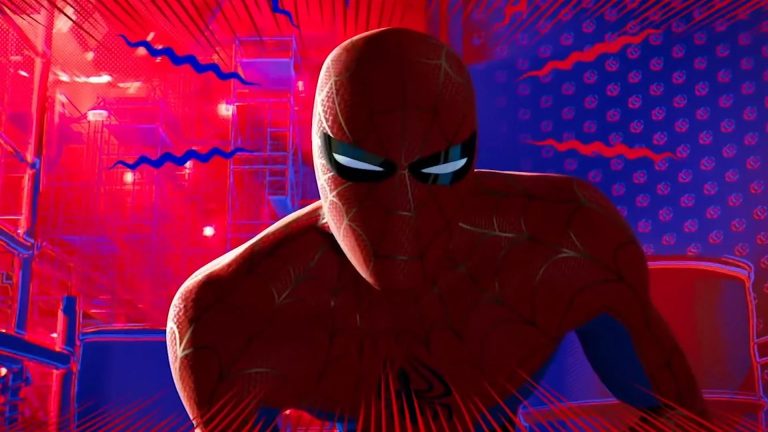 SPIDER-MAN: INTO THE SPIDER-VERSE
Bob Persichetti, Peter Ramsey, and Rodney Rothman, 2018
"Realism" has been the byword in superhero films for a while now, making the costumes and superpowers look like they belong in the real world. But superhero comics are utter weird stories, and animation allows that weird imagination to run wild. Spider-Man: Into the Spider-Verse leans into the comic book aspect hard, making it the most exciting, exhilarating superhero movie so far. It's a smattering of visual styles, sometimes blending multiple aesthetics in the same frame as the various Spider-People interact. Plus we finally see Miles Morales on-screen! More than anything, it's a celebration – of Spider-Man, of superheroes, of animation, of heroism itself ("It always fits… eventually."). It's pure joy to watch. (scb0212)
🎞🎞🎞

UPSTREAM COLOR
Shane Carruth, 2013
I hope there's a movie out there that tells a story like your dreams tell a story, strangely paced, with jarring cuts, yet ultimately an effortless watch. For me, that film is Upstream Color. Both the style and the themes of UC have kept me hooked. This is the story of love as a literal parasite, and that may mean that love is painful or sad, but not that it's phony. And that doesn't mean that more love, true love, won't follow in its wake. There's a way to film this as a dark comedy, or with austere anger. (Which would be a lot like Tarkovsky's Stalker.) This is the sad way, the painful way, and ultimately the romantic way. (benedett)
🎞🎞🎞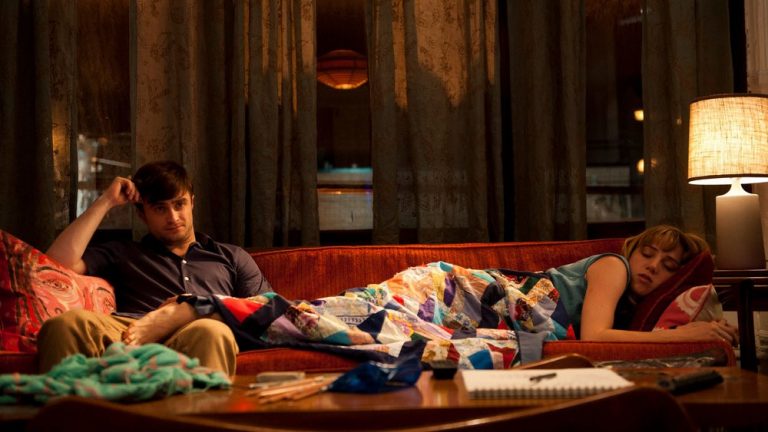 WHAT IF? (aka THE F WORD)
Michael Dowse, 2013
The confusingly re-titled What If initially appears to be yet another attempt to update When Harry Met Sally for a new generation, but the writing is so sharp and the cast so strong that it escapes that film's long shadow through sheer force of will. Stylish, bitterly funny and genuinely romantic, it may find most resonance with people who've been on the wrong side of an unrequited love – but haven't most people fallen at least a little into that trap at some point? Daniel Radcliffe and Zoe Kazan have great chemistry, Adam Driver and Mackenzie Davis provide anarchic energy as the best friends from hell and the Toronto setting feels fresh in an ocean of New York movies. The soundtrack and animated interludes may be a little twee for some tastes but they're a welcome antidote to the bland sitcom-style lack of style employed by many recent comedies. (vomas)
🎞🎞🎞