At the start of March, a deadly tornado missed where I was staying in East Nashville by a mile (for me, 7 minutes walking distance). I thought, at the time, perhaps the most traumatizing moment of 2020 had already happened.
A week later, I was preparing for COVID-19 lockdown at home. Always a big part of my nighty routine, listening to records became, over the long months that followed, a crucial way for me to stay grounded. As previously-booked shows and recording sessions for my band evaporated, I got deeper into this part of my routine, and realized that, maybe as never before, I was thinking through the music I was listening to.
And such a realization aligned with how the most memorable 2020 films found ways to pair music with their visuals that surpass the conventional idea of a soundtrack.
I.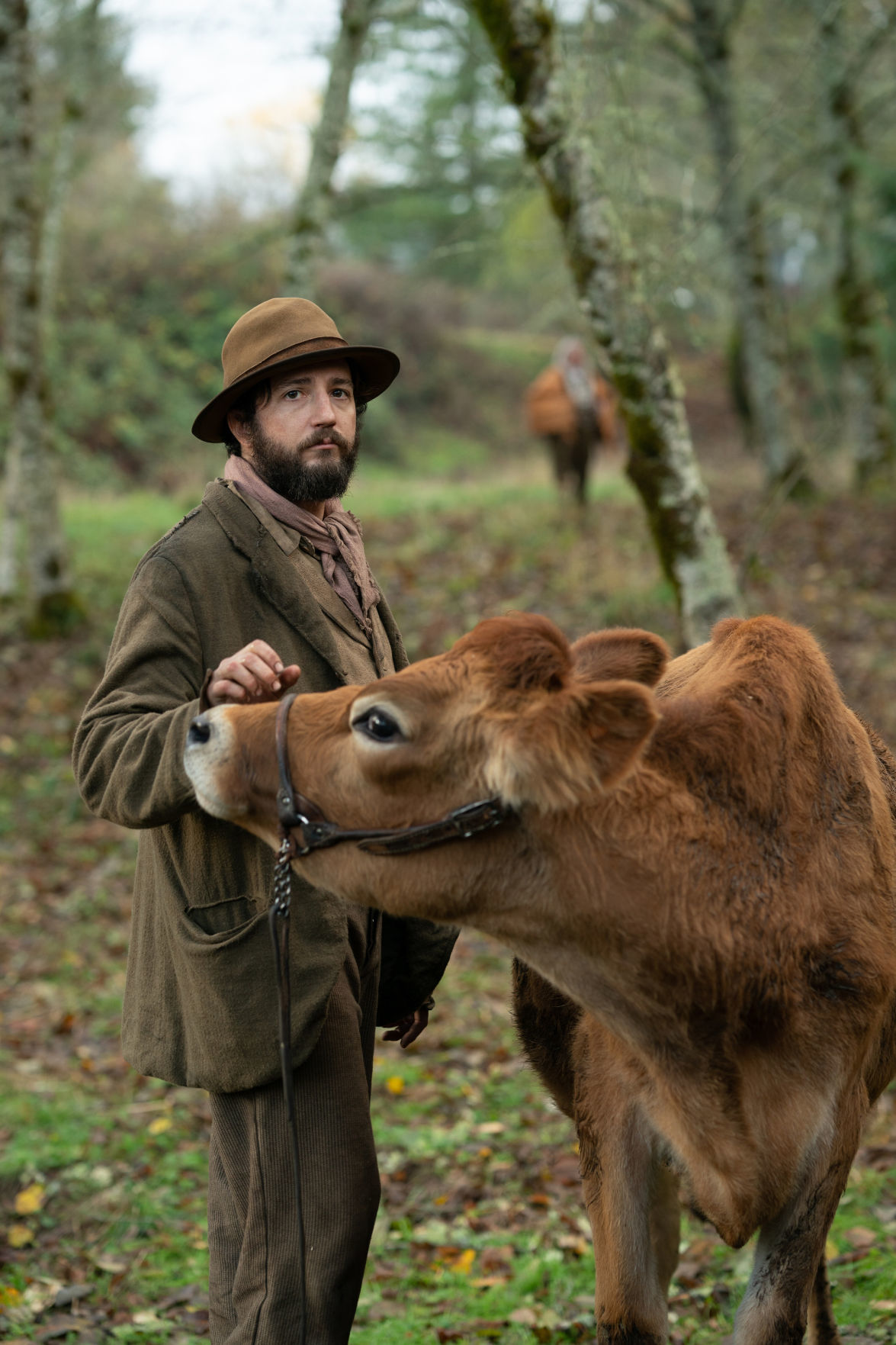 The music in First Cow feels the closest to me. I had previously met the composer, William Tyler, after seeing him play in Chicago (we chatted about his favorite Grateful Dead bootlegs). A virtuoso guitarist, Tyler eschews solos and uses his precise fingerpicking to create shimmering soundscapes. In First Cow, he takes a more minimalist approach, which, as he has written, he credits to Kelly Reichardt, the director and co-writer. Tyler recalls that "she challenged me to confront some of my own melodic and compositional tendencies towards, as she put it, sentimentality: 'Don't tell people how to feel with this. Be open to the moment.'"
The film unfolds a story about milk stolen from a friendly, but lonely (having lost her mate and calf), cow, left unguarded, for the startup of an 1820 Oregon-territory biscuit-baking business. As the tension builds through tonal shifts between deadpan comedy and tragedy, the cook and his best friend/business partner are caught in the act, and must flee from the murderous owner of the cow and his men. These tonal shifts often take place in silence.
But the decisive scene works with Tyler's music. Dazed from a head injury sustained in the initial escape and all alone, the cook searches for his friend while trying to avoid being captured. He walks past the cow, now fenced off from him. The sound of Tyler's guitar floats in the air, a sparse melody neither anchored to a major or minor key. The sense of possibility is almost overwhelming with regards to relationships (and not just among human animals) being transformed or destroyed. Indeed, the moment is open.
II.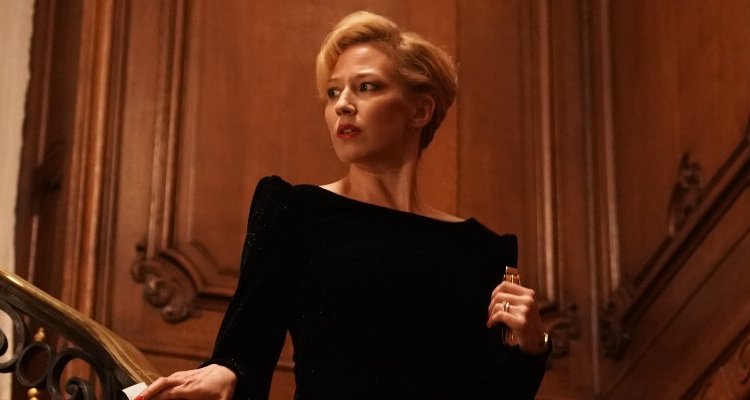 I saw Carrie Coon in several 2011-12 stage productions in Chicago, and was certainly not the first to take note of her expressively physical acting. Bringing this physicality to The Nest makes the film's 1980s yuppie downfall as domestic horror (the margin calls are coming from inside of the house!) hit way much harder. Coon is paired off with Jude Law, playing a hapless English financier, who, aspiring above his station, installs his family in a decrepit mansion outside of London. Because Coon does more with her character, a fiery American horse trainer, Law can do less, underplaying to the point of his character becoming a symbol of the psychic oblivion of the Reagan years.
Forced to shovel out a neighbor's stable to partially offset the financial losses of her husband's get-rich-quick schemes, Coon puts on a stoic front, but afterwards we observe her rubbing her aching hands. The breaking point is an ill-fated business dinner in the city, where, having entirely lost her patience, she tells her husband to sod off in front of the people he's been sucking up to.
She runs off to a nearby club, and fueled by drink, gyrates to Bronski Beat, "Smalltown Boy" (1984). The crowd appears to part before her; the song's lyrics, somewhat obscured by the booming bass-heavy mix, draw upon the singer's mistreatment as a closeted youth in Scotland, and have an air of defiance. Coon extends her arms like she's attempting to uncoil from her own desperation, but the song's liberatory potential is not meant for her. It turns out that, like her husband, she has little awareness of the cultural ground moving under her feet.
III.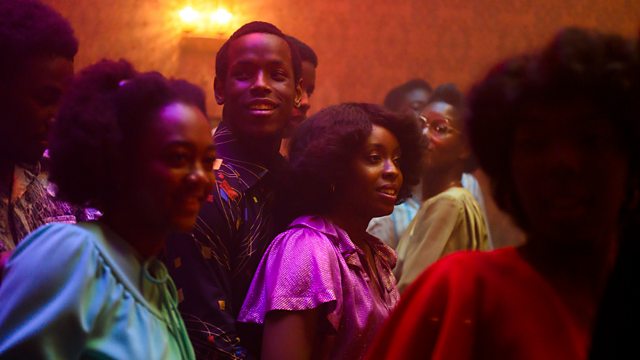 If you're going to throw a successful house party in a 1980 South London West-Indian community, you'd better hire a first-rate sound system, which is a scaled-up version of a typical DJ rig. What really distinguishes Steve McQueen's quasi-documentary approach in Lovers Rock is his focus on setting up this complex system. As someone who has run sound at house parties, I appreciate McQueen's careful attention to detail. The massive speakers require two men to carry them up the narrow stairwell (houses are rarely designed to make it easy to load in/out), while one man guards the van, for even bulky sound gear can be easily stolen. Then comes the lengthy process of connecting speakers to amplifiers and testing the entire system.
In the adjacent kitchen, the women are singing, a cappella, "Silly Games" (1979), signifying a distinctly gendered division of labor. The men do a mic check; there will be toasting, the reggae equivalent of rapping (the first widely-popular rap song, The Sugarhill Gang, "Rapper's Delight" released a year before) over the music.
All of the mesmerizing moments of dance-floor romance during the party would've never happened without these critical earlier scenes. They play lovers rock, as Stephen Robinson explains in his AV Club review of the film, a "bass-heavy, soulful" genre of reggae. Over the sound system, we can hear the music—and its message—loud and clear.
IV.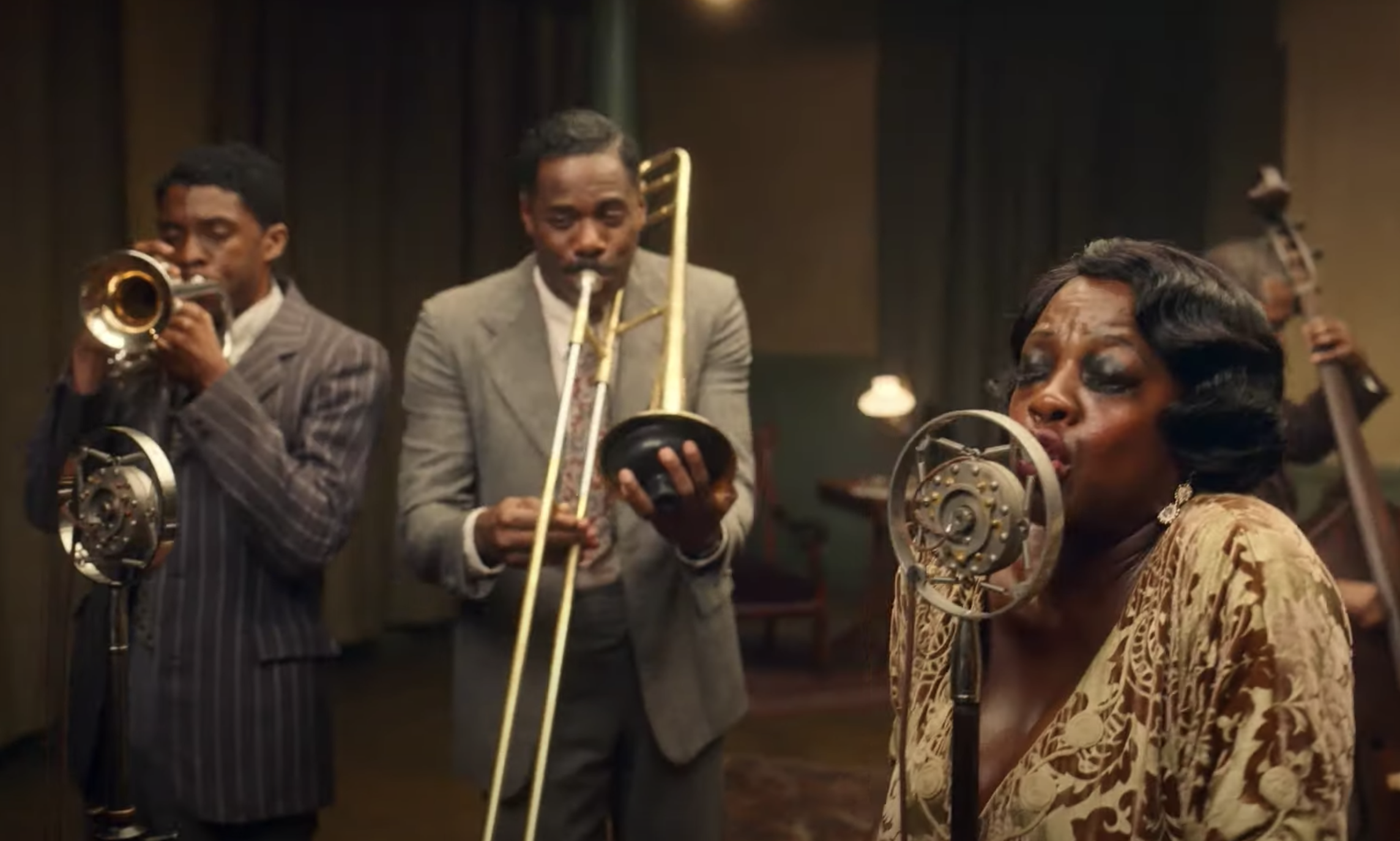 George C. Wolfe hasn't directed all that many films. But why should he, when he's the New York theater director? So, I'm ecstatic that he's helming a film adaptation of Ma Rainey's Black Bottom, August Wilson's 1982 play that stages a devastating indictment of music-business racial exploitation in 1927 Chicago through the power struggle between Black musicians, Ma Rainey, the legendary singer, and Levee, the ambitious trumpeter in her band. Played respectively by Viola Davis and Chadwick Boseman (sadly his last role), Ma Rainey and Levee are complex characters with the unlikeable but all-too-necessary musician survival skill of being assholes to each other, and those around them.
As Davis and Boseman push each other to a volcanic intensity, the breaking point becomes the recording of the title song. Ma Rainey wants to record it as a slower blues number, while Levee wants to record it as sophisticated jazz. Wolfe and screenwriter Ruben Santiago-Hudson portray Levee as a trailblazing artist, and, unfortunately—in Ma Rainey, tragically—these artists rarely get their just reward.
At his lowest point, Levee sells one of his own songs to the white studio owner for a mere pittance. In the last scene, not in the play, we watch an all-white band record his song. It's not recorded with any noticeable degree of incompetence, like we might expect, say, in This Is Spinal Tap (1984) or Ishtar (1987). As the camera pans the room, some of the band members look as if they could've been hastily recruited from after-school band practice. There follows a close-up of the vocalist, who sings about loving "my jelly roll," seemingly without any awareness of the double-entendre.
Although Wolfe and Santiago-Hudson remind us in this scene that racism is more insidious when it remains less visible, the telltale signs are there. The punch line emerges in a crucial music-historical moment: we zoom in on the white conductor's hands, enforcing a rigid beat; five years later, Duke Ellington released a song with the unforgettable catch-phrase, "It don't mean a thing if it ain't got that swing." Like a jazz cat would say, "You dig?"
Note: the one film I couldn't watch before I wrote my review was Nomadland, a road narrative. Since this genre can feature the interesting use of music, I wish I could've seen it.