Tune in Next Week is an ongoing feature, examining serials one chapter at a time. You can watch Chapter Seven here.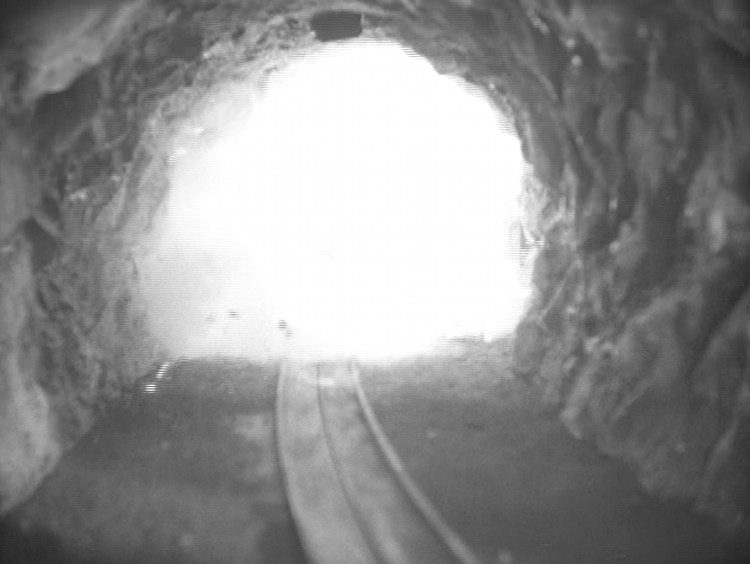 At the end of Chapter Six, Buck Rogers and Wilma Deering had abducted Prince Tallen from the Forum in which the Council of the Wise met. Tallen, under the influence of one of Killer Kane's amnesia helmets, had followed Captain Laska's command to approve the treaty between Kane and Saturn, and rather than be arrested, Buck was determined to figure out why his friend Tallen had turned against him. Aboard a commandeered rail car, the three were brought up short by Laska closing the gates. Unable to stop, the car appeared to crash in a violent explosion.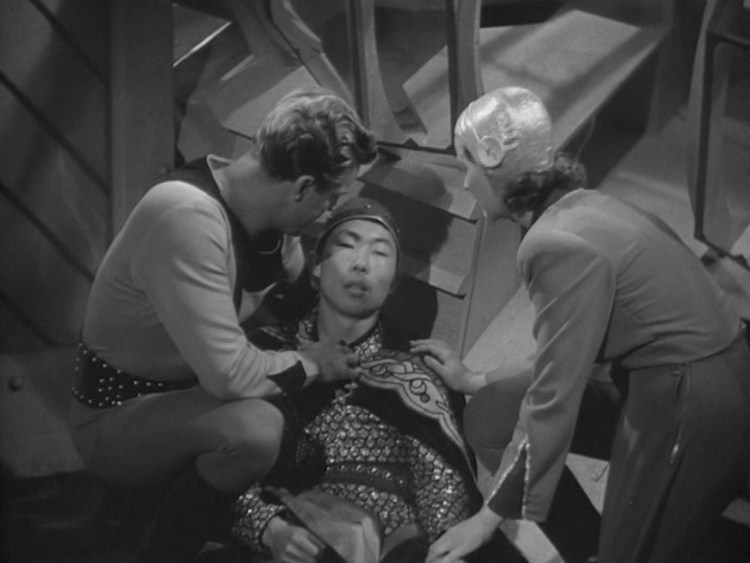 So far, I haven't written much about the "cheats" by which serial filmmakers would get their heroes out of the seemingly inescapable jams that formed the cliffhangers at the end of each chapter. You may recall Stephen King's Misery (or Rob Reiner's film adaptation starring Kathy Bates), in which crazed fan Annie Wilkes rails against the kind of cheat that rewrites the ending, so that where Rocket Man didn't get out of the cockadoodie car the first time, in the next chapter he is shown jumping to safety just before the car plummets over a cliff. In my previous series, Fates Worse Than Death, I gave out an Annie Wilkes Award for the most egregious cheats of this kind.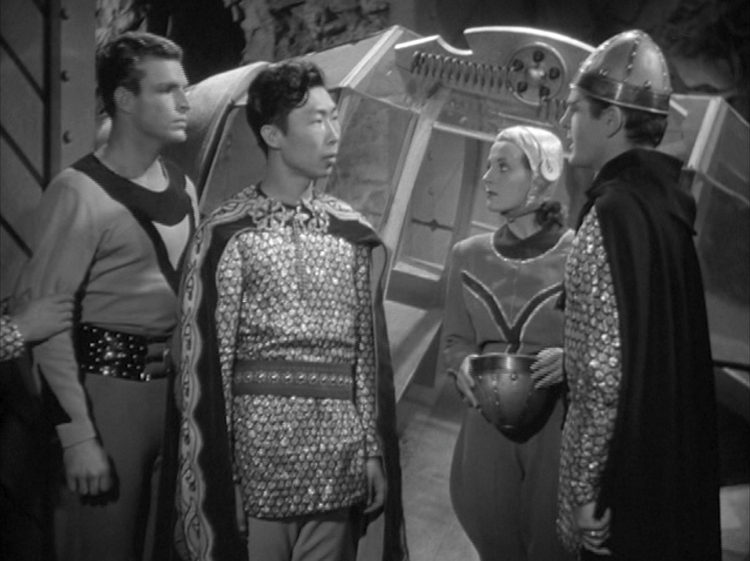 Each studio had their own style and approach: Mascot, which later became Republic, was by far the most shameless in cheating or rewriting the resolutions of cliffhangers, to the point that it is often comical when watching chapters back-to-back. Universal was more conservative, but not above this sort of thing. So far, the ending of "The Unknown Command" is the most direct setup for that kind of cheat in this serial: there's little opportunity for our heroes to escape the car before it rams into the gate, and the explosion that follows would surely be deadly. As "Primitive Urge" began, I fully expected them to either jump out just in time, or for the gate to not quite close (yes, sometimes the cheats were that brazen), or for some other deus ex machina to save them. That doesn't happen, however: the crash occurs, with the three on board, and they turn out to be okay. Not a cheat, but a little unsatisfying nonetheless. (Those rail cars must have excellent safety ratings.)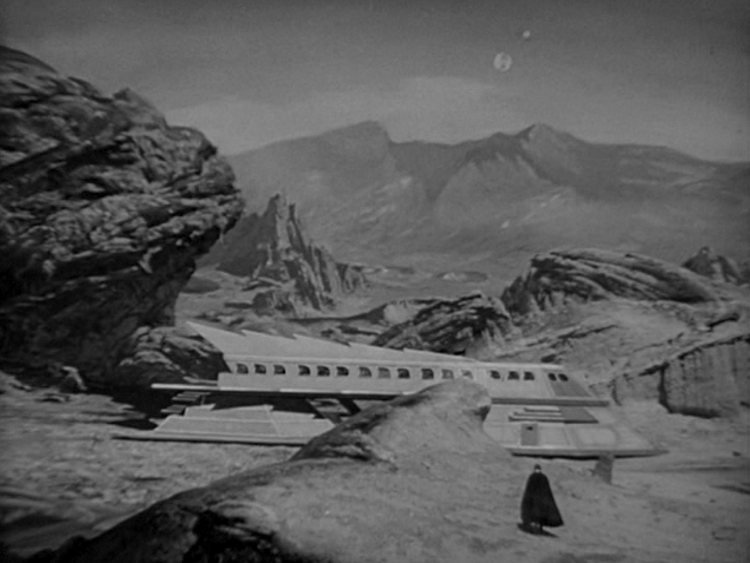 In fact, the crash is so light that it doesn't even knock Tallen's mind-control helmet off (something else that I thought might happen); no, it isn't until Buck and Wilma are checking to make sure that a dazed Tallen is all right that they remove his helmet, at which point he comes to and is back to his old self. Once Buck explains the situation ("I had you sentenced to death?" Tallen asks), Tallen informs his guards of the truth.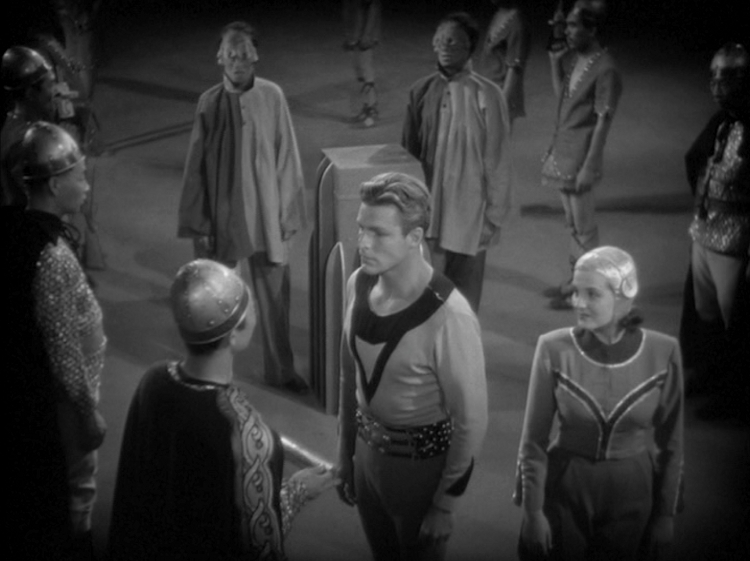 Meanwhile, Captain Laska is arrested for closing the gate and endangering Prince Tallen, but he manages to overpower the guard watching him and, stealing his cape and helmet, sneaks aboard another car heading toward the wreckage. Rather than confront the earthlings, whose names Tallen has cleared with the guards, Laska heads for his ship, where his three subordinates have been locked up ("What happened?" "Buck Rogers."). Kane's men take off in the ship just before Buck and a squad of Saturnians can arrest them. (Incidentally, I didn't notice until watching this serial how much Buster Crabbe ungracefully flails his arms when he's in a hurry, and now it never ceases to amuse me; he won his gold medal for swimming, not running, after all.)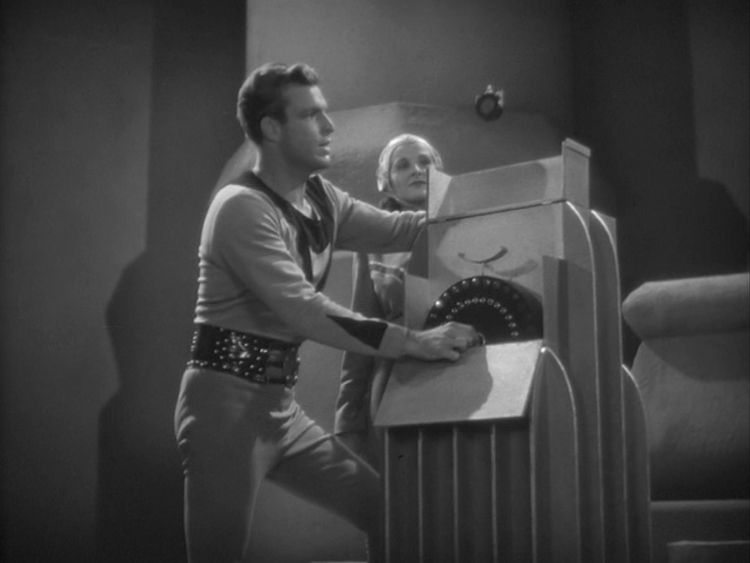 Assuming that Kane's men are returning to Earth, Buck and the Saturnians return to the Forum, where Aldar and the other members of the Council finally sign the treaty pledging cooperation between Saturn and the Hidden City (printed on a sheet of transparent plastic, because this is the future). Aldar is amazed that Buck can speak directly to Dr. Huer on Earth with the world's largest cathedral radio, dragged from the ship. Finally, everything is going to be set right!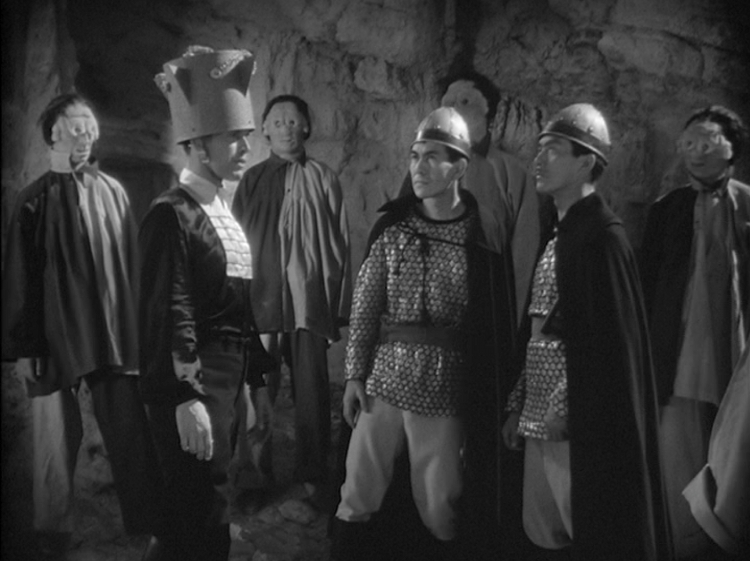 Or is it? Instead of returning to Earth to face Leader Kane's wrath, Laska and his men just cruise around looking for somewhere to set down and regroup. Under cover of night, two of Laska's patrol discover the robot who had been left for dead in the last chapter. Now only stunned, the robot has been surrounded by a crowd of Zuggs who take it for a god. Realizing that the Zuggs will follow the seemingly divine robot, Laska commands it to rouse the Zuggs into attacking and overthrowing their masters, the Saturnians.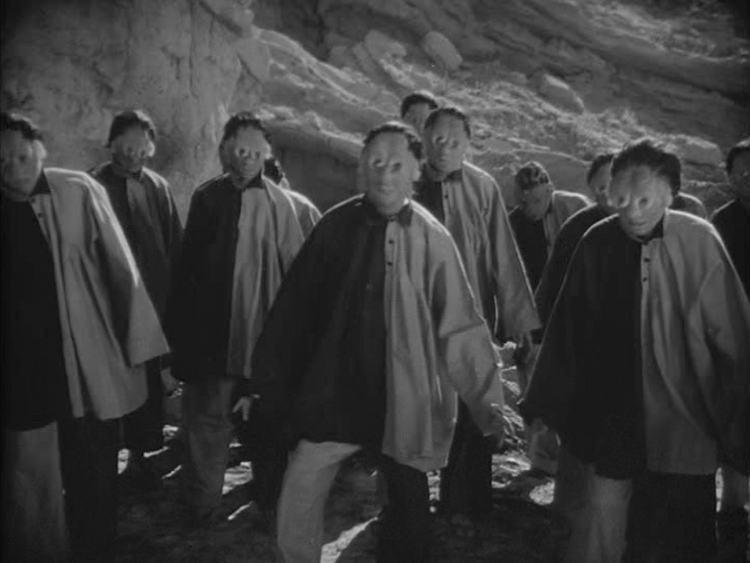 I expected something like this to happen with the Zuggs: in previous chapters, the Saturnians have repeatedly described this grunt labor force as "quite harmless . . . unless we instruct them to be otherwise." The Zuggs resemble H. G. Wells' Morlocks, or other caricatured underclasses in science fiction: there is a complete separation between the Zuggs, the physical laborers, and the ruling Council of the Wise, who have so far been so immobile that they might as well be literal brains preserved in jars. Of course there is a colonial dimension to the idea of a limitless, interchangeable labor force at the service of a superior guiding intelligence. Sometimes that idea is played for horror, with humans subjugated by an invading alien force, and sometimes it is simply part of the background, a reflection of contemporary conditions that were so invisible that it might have seemed completely natural for them to continue five centuries hence. The uprising of such an oppressed force is thus as dramatically inevitable as the rebellion of the original robots in Čapek's R.U.R., a "return of the repressed" that can be seen as heroic or horrific, depending on one's point of view.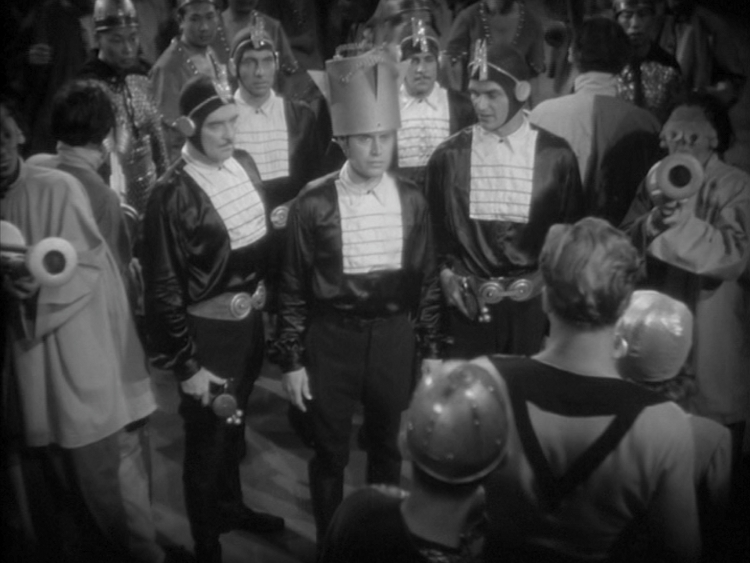 Still, I was surprised to see the Zuggs' turn against the Saturnians play out through another colonialist trope, the outsider revered as a god by primitive natives. (It's more typical to encounter this theme in jungle adventures of the time, but it's marginally more palatable in a completely fantastical science fiction setting: I doubt anyone batted an eye at its deployment in Return of the Jedi.) It's an interesting twist, and one that leaves Kane's "living robots" still firmly under his (or his agents') control. Ironically, it is the Zuggs who are portrayed as easily programmed in this chapter, blank slates whose command by the Saturnians is not replaced with autonomy, but simply overridden by a (seemingly) higher authority. As a picture of colonized populations or underclasses in revolt, it is anything but flattering.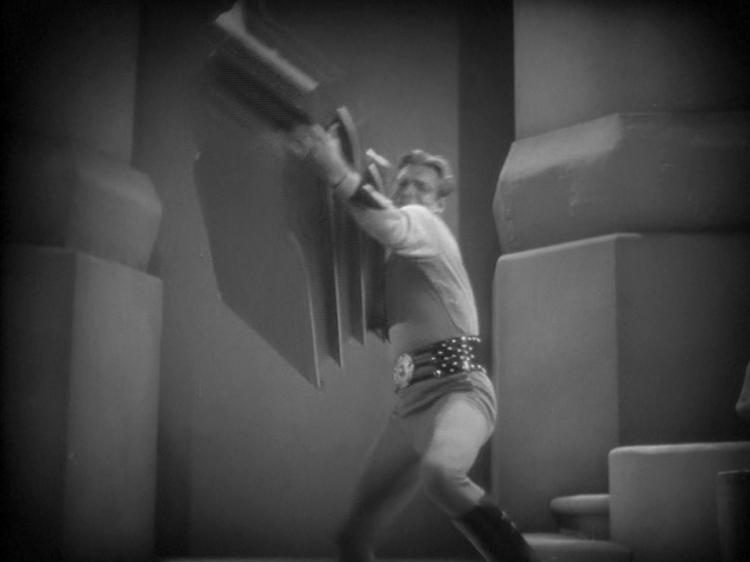 Word spreads quickly that the Zuggs are rebelling, and the Saturnians scurry to muster a defense of the Forum (with Buck Rogers in charge, so quickly has he won their confidence). "It's a little too late for that," sneers Laska as he invades the Council chambers with the Zuggs and their "god." (Laska's really turned into a terrific adversary with a lot of personality, hasn't he?) Laska commandeers the radio to inform Kane of his success and request reinforcements from Earth, but before he can complete his message, Buck Rogers breaks loose, knocks Laska clear across the room, and throws the radio, King Kong-like, into the crowd, destroying it. The mad scramble that follows is the cliffhanger, unusual in its lack of specific peril, but certainly exciting. An interesting and eventful chapter ends like a disputed party convention, descending into chaos.
Tune in Next Week for Chapter Eight, "Revolt of the Zuggs," which I hope will give me plenty of opportunities to use this graphic: