Thanks to Jade, Jared decided not to kill himself. And, he's changed his will, leaving the Towers to Jade instead of Emerald. But, Emerald found out about it, and now she's trying to seduce Chet to give her the new will so that she can destroy it. Montana's planning to kill Jared at midnight so the Towers will belong to Emerald and Montana, but I think she's going to double-cross him and he doesn't know it yet. Poor Chet.
---
Lucy's Recap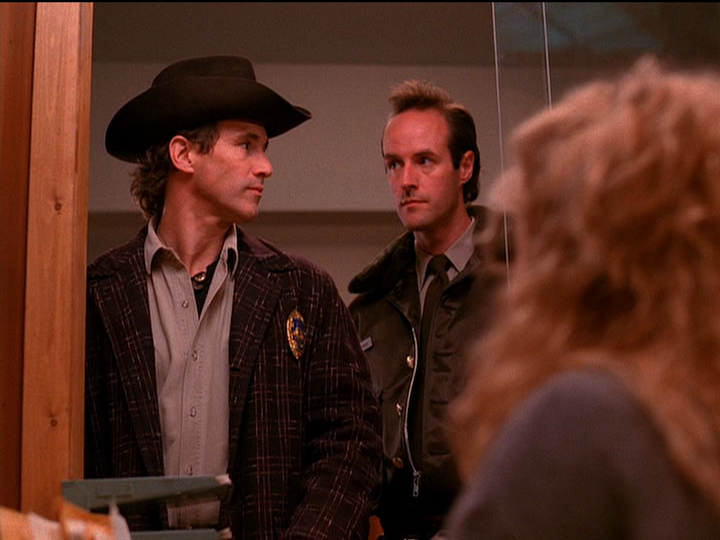 Because Sarah Palmer had a vision of a creepy man behind Laura Palmer's bed the other day, Deputy Andy can make a sketch of this guy, but nobody knows who he is yet. Dale saw him in his dream a few days ago, and IDs the sketch as "Bob," but nobody knows which Bob, nor even who Bob is. For some reason, Leland seems to think that Sarah is just hallucinating things, and tells the cops about her vision of somebody stealing Laura's necklace from under a rock, but thinks that's a delusion too. For some reason, Donna overheard this vision and realizes that Sarah is talking about James' necklace, which they had buried the night they found Laura's body. So, when they go back, they find the necklace is gone. We know, but nobody else knows, that Dr. Jacoby is the one who found the necklace because he was crying with it a few days ago while listening to a cassette confessional made by Laura Palmer. Meanwhile, Dr. Jacoby is being interrogated by Dale Cooper at the police station, where he seems sketchy and defensive at first, a contrast to the sorrowful and regretful Dr. Jacoby we just saw in the graveyard last night. We all know he's hiding the necklace and the tape recordings, but what else is he hiding? The rock did hit his bottle in the Tibetan intuition game after all. Dr. J says that he followed a red Corvette the night after Laura's murder, the same night he stole the necklace, but lost track of the Corvette on Old Sawmill Road. Leo Johnson also owns a red Corvette because he's such a tacky criminal. Leo is still out trying to hide Jacques Renaud, but he's actually been recruited to burn down the mill by Benjamin Horne. Speaking of Ben Horne, Josie Packard was spying on him and Catherine Martel getting down and dirty at the Timber Falls Motel, plotting to burn down the mill and pin the crimes on Josie. But, Josie knew about the cooked books, and I don't know how this plot is going to work so somebody must be double crossing somebody else in this scheme. Just because Catherine hid the book doesn't mean that it doesn't exist anymore…besides Pete the Poodle can confirm Josie's story. Poor Pete. At that same motel, the police track down that one-armed man from a couple days ago. His name is Philip Michael Gerard, and he's a shoe salesman who is visiting his best friend Bob, a veterinarian who was knocked into a coma during a bar brawl in Lotown. Mike and Bob! Like the guys from Cooper's dreams. Anyways, Dale gets a couple calls from Gordon Cole, who tells him about the twine used in the crime and that Laura was bit by a bird; a myna bird. Putting a couple things together, Cooper figures out that the bird that bit Laura was probaby treated by the Bob the vet, and that one of those birds was in the files, and that's when they stumble on Waldo, Jacques Renaud's myna bird. So, they go to arrest Jacques Renaud, who isn't actually in his apartment. But, Bobby planted Leo's blood-soaked shirt in Jacques' apartment that he got from Shelly that morning while they were making out while Leo was off trying to get Jacques across the border to a hideout. So, now, through planted evidence, Jacques and Leo are tied together, even though they actually are tied together, and that shirt might be evidence that Leo Johnson killed Laura Palmer. Still, Donna and Audrey don't know any of this and are trying to get to the bottom of things in their own way. They hatch a plan where Audrey is going to try to work at Horne's Department Store in the perfume counter because that's where both Ronette and Laura worked before Laura was killed and Ronette brutalized. So, she manipulates her father into loving her so that she can double cross him and get to the bottom of the killing, because maybe it was Ben Horne who killed Laura Palmer, even though most signs point to Leo. Though, I'm curious what role Hank Jennings plays in all this. He's Norma's husband, and is about to get out of jail on parole, with the help of Norma's testimony. But, his crime is still a mystery and he's sending cryptic drawings of dominoes to a frightened Josie, who seems to think this is very important. Oh, as for me, Lucy? I'm mad at Andy for some reason, but I won't tell them yet and the cops think I'm just being a dumb girl. So, they can just sit and wait until I'm ready to tell them what's wrong.
---
Moving Forward (organized recap)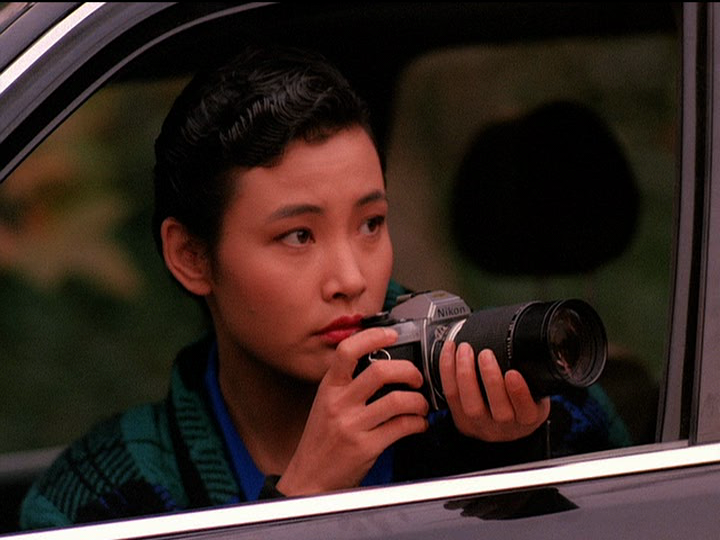 The weight of yesterday's funeral has not eased the residents of Twin Peaks, WA. The mystery of who killed Laura Palmer still hangs in the air, like an oppressive fog threatening to smother anybody who dares to remember. The fate of the mill – where Laura Palmer's body washed ashore – is still being wrestled over by the moneyed people who have plenty of golden parachutes they refuse to offer to anybody else. Laura's death shattered the life and interpersonal connections of everybody she touched. In her absence, the town rearranges their relationships to cover over and heal the hole that she left in her wake. As Robert Frost once said, there is no way out but through.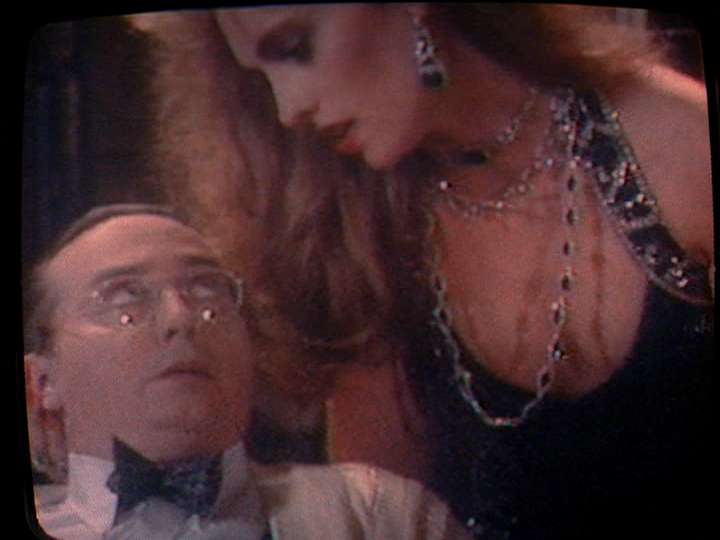 Remember how I said that soap operas love going over points again and again? This episode is the first episode of pure soap opera mechanics. Some plot points are repeated, some plots move forward in incremental fashions. Some move forward in larger steps. But, this episode is all about those small steps of planning that will lead into the explosive season finale. When Lucy Moran recites all of the minute plot developments happening in the soap-within-a-soap Invitation to Love at the beginning of the episode, it's Twin Peaks admitting that this episode just moves the plot ever forward.
At the beginning of Day 5, as Cousin Maddy passes around coffee on a silver platter, Deputy Andy sketches out Sarah's daymare vision of BOB. "I saw him at the foot of Laura's bed. He looked like an animal. His face. MY GOD. HIS FACE!" As she's about ready to crack from the memory, Leland stops by to cynically try to hide BOB's identity by changing the subject to Sarah's other vision of the necklace – "you're gonna love that one." And, so, Sarah gives the deputies a recap of her vision of Dr. Jacoby stealing Laura's necklace in the Pilot episode from four weeks ago.
Cut to Invitation to Love with Emerald's necklace dangling over Chet's head as she tries to seduce him for the copy of the will. "I'm married to your sister, so it's wrong now." "You always said you could never tell us apart, so…" I absolutely adore the chintzy Invitation to Love segments. These spots keep getting better every time I see them.
Donna overhears the neckace vision, and informs James of this development. They go to verify the truth of the vision. Discovering the necklace is missing, they make out in the forest clearing. Of course, James probably has Cousin Maddy on his mind, whom he saw in the Double R and fell in love with because she looks exactly like Laura Palmer, his long lost girlfriend. And, now he's torn between the new vision of his old love and his new love.
Lucy's romance with Andy hits the rocks, kicking off a plot of her own, finally. It gets more detailed later, but for now everybody chalks it up to "I mean…Women, am I right?"
Dr. Jacoby reveals to Agent Cooper that, on the night after Laura Palmer's murder, he followed Leo Johnson, a man Laura had told him about during their "sessions," to Old Sawmill Road where the trail went cold.
Josie Packard is spying on Catherine Martel and Benjamin Horne as they're canoodling in the Timber Falls Motel, where Catherine recaps the plot to burn the mill and the cooked books. Later, Ben hires Leo Johnson to burn down the mill in three nights' time.
Norma Jennings makes an appearance at her husband's Hank's parole hearings, where we hear a little more about his murder sentence, but not enough to pass judgement. She tells Shelly that she maybe wants to give Hank a second chance and won't be leaving him for Big Ed after all, especially since Big Ed hasn't promised to leave Nadine yet. Later, Hank Jennings is freed on parole, and proceeds to blackmail Josie over past debts by sending her a picture of a domino. Benjamin Horne = Poker. Hank Jennings = Dominoes. Later, Windom Earle = Chess. I wonder what new games are coming up in the Showtime series.
David Lynch makes his first auditory appearance as Agent Gordon Cole, Dale Cooper's supervisor. Surprisingly, he doesn't yell over the phone, nor does Dale Cooper have to yell into the phone. He says that the twin from the upper arms was Finley's Fine Twine, but they haven't ID'd the twine from her wrists. Laura had been bitten by a bird of some kind. Later, they reveal that the bird is either a parakeet or a myna bird, and the J is probably a poker chip from One Eyed Jacks. Subsequently, Andy finds a report on a myna bird named Waldo owned by Jacques Renaud.
Also at the Timber Falls, the police track down Philip Michael Gerard, the One-Armed Man who was last seen hanging out in the hospital. He's a shoe salesman who has been visiting his comatose alcoholic veterinarian best friend Bob Lydecker who was assaulted outside a bar in "Lotown." The arm he lost in a car accident had a tattoo on it that said…Mom. Mike has a spiritual connection to the other world, as he has another personality that he keeps sedated with medicine, and he was also the one who screamed out the window in Fire Walk With Me to warn Laura about her father before she realized who BOB actually was. But, we don't know all of this yet, and he's just a normal shoe salesman with bad luck and an alcoholic friend…for now. As a result of this meeting, they find Bob's vet office near a convenience store that sells Fenley's Fine Twine, and they confiscate their files.
Donna and Audrey team up to play the Bobsey Twins and get to the bottom of Laura's case, resulting in Donna trying to work her way through the family businesses with the ultimate goal of getting a job at the same place where Laura and Ronette were both employed, the perfume counter at Horne's Department Store.
While making out with Bobby Briggs in the middle of the day, Shelly reveals her discovery of Leo's bloody shirt. Bobby plants the shirt in Jacques Renaud's apartment, one of Leo's known associates, just as the cops arrive to find the new evidence.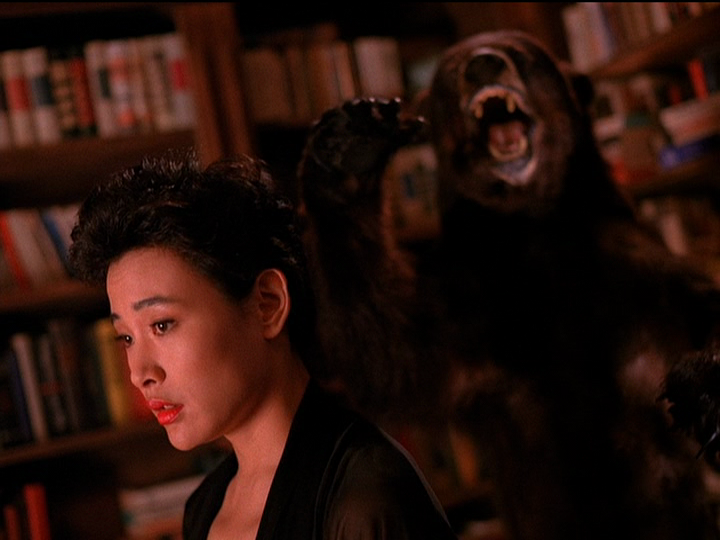 There seriously isn't much in this episode that's anything other than either recapping previous events, or dealing with the minutia of moving the various plots forward in incremental ways. There's even a character introduction – the one-armed man – who is discarded as soon as he provides his vital information. It all feels so…"this needs to happen, so we're just going to throw it all in this one single episode." It's not really a bad episode – there's a lot of intrigue and double crossing and heavy plotting – but, it isn't nearly as rich as the previous four episodes have been. If you've noticed, now that Laura Palmer is buried, she is almost taking a backseat to the machinations of the plot. This is the first episode where the soap opera suds get a little too sudsy. Remove the mystery of Laura Palmer and the compelling doom of the mill, and this is the type of episode that the back end of Season 2 would have put out.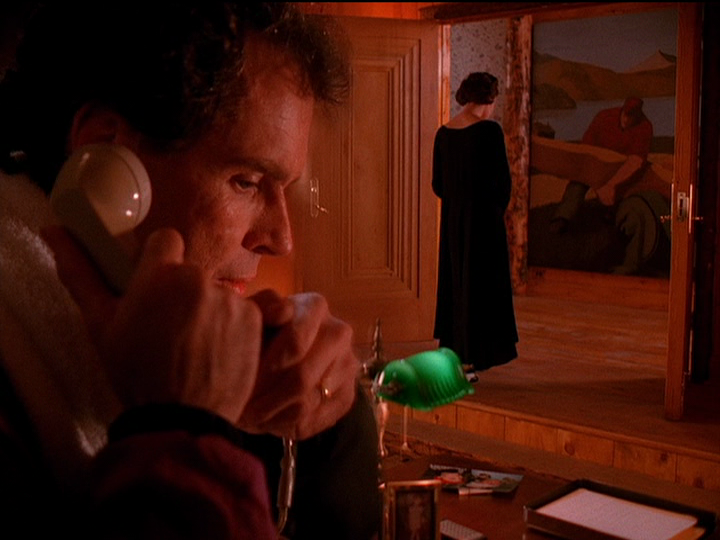 But, like I said, it's not a bad episode. It's just not a great episode, like the previous four. Incidentally, this is the first episode where writing credit belongs to Robert Engels (who would pen Fire Walk With Me) and the first episode directed by Tim Hunter, who later directed the Reveal episode. The plotting comes together nicely, and there are some great images in here, including some great rack focusing between Norma and Hank at the Parole board, this split diopter shot between Ben and Audrey, and the above Dutch angle for Josie when she realizes that Hank is coming for her. But…yeah…Have at it in the comments on this one.