Recap
When we last left the denizens of Twin Peaks, they were all moving into position.
Dr. Jacoby was spying on Maura Purguson hanging out at the Gazebo while James and Donna played the Bobsey Twins and just broke into his office looking for more clues about Laura Palmer.
Dr. Jacoby might not be the only person spying on Maura, as Leland Palmer watched her leave earlier in the night as he sat in a dark living room. Sarah Palmer is nowhere to be found; possibly she has been sedated.
Bobby Briggs had just planted thousands of dollars worth of cocaine in James' motorcycle's gas tank. I hope that was worth it, Bobby. That's a lot of money you're wasting on your petty revenge.
Nadine was super depressed about having been rejected by a patent office, and left alone while Big Ed was out gallivanting with The Bookhouse Boys.
Cooper and Big Ed were teaming up with The Boys to do a quasi-legal sting operation on Jacques Renault at One Eyed Jacks. Cooper was just meeting Jacques for the first time at the Blackjack table.
Ben and Jerry Horne were just taking the crazy Icelandic investors to One Eyed Jacks to sign papers investing in the Ghostwood Development country club.
After leaving a note for Coop informing him of her whereabouts, Audrey Horne is trying to get to the bottom of Laura and has just been hired as the new "hospitality girl" at One Eyed Jacks.
Catherine Martel is just figuring out that she's being double crossed by Josie, but doesn't quite know the full game yet.
Josie is moving pieces all around the board, and was last seen manipulating Sheriff Truman about Catherine and Ben moving in to burn down the mill.
Lucy still isn't talking to Andy.
Hank Jennings is out of jail and ready to seek revenge on Leo Johnson for moving in on his business and on Big Ed for moving in on his woman.
Leo Johnson is getting ready to burn the mill for profit, seeking vengeance on Bobby for moving in on his woman, and seeking vengeance on Shelly for shooting him when he last tried to batter him.
And, with that…the town is primed to explode…
---
Burn It Down
For anybody looking for closure, this isn't the episode for you.
Twin Peaks' mid-season pilot was the highest rated TV movie to date, bringing in 34.6 million viewers (if every viewer had purchased a ticket to the pilot in 2017, it would have a $305m box office). But, Twin Peaks quickly shed viewers as the series went on. With an extremely short season (American shows rarely have 7 episode seasons), and being an end-of-year series, David Lynch and Mark Frost had to come up with a way to bring people back the next year. Their idea was to put as many characters in peril as possible, that way everybody was anxious to discover the fate of their favorite character in September. Day 7, written and directed by Mark Frost (the only episode exclusively credited to him), takes Dallas' "Who Shot J.R.?" cliffhanger to its most extreme.
Day 7 (both parts) is thoroughly drenched in the soap opera and noir aspects of Twin Peaks, but it thoroughly abandons the spiritual side. There is no mystical electricity running through the town. Cooper's dream has borne most of its ripe fruit. The spirits and owls of the town may be looking on quietly, but they are not interfering with anything here. Even Leland Palmer might actually be Leland Palmer for much of this episode (more on this theory later). We're going through pure soapy suspense, and it's so delicious.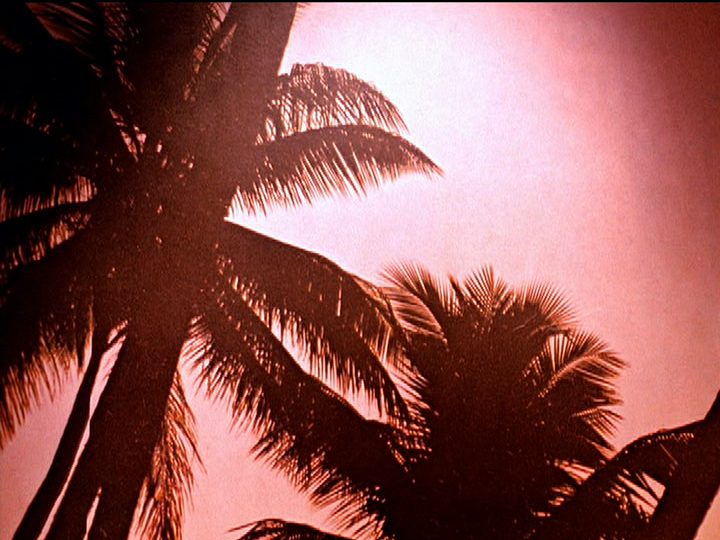 Episode 07 opens on a gorgeous setting sun in Hawaii. Scratch that. It opens on a wallpaper printed with a Hawaiian sunset from floor to ceiling. Warm, bright, inviting, accompanied by the sound of crashing waves, this tropical setting is thousands of miles from the cold, rainy, uninviting Twin Peaks, WA where Dr. Jacoby's office actually exists. Not only is this scene of idyllic bliss far far away from the lives of our small town denizens, promising a land of soothing warmth that live in their dreams if only the smallest number ever get to experiene it, but it's also a symbol of Twin Peaks' artifice, presenting a fake wallpaper as a real setting within a television world that presents fake sets as a real setting that even comes with its own fake soap opera played like it is a real soap opera. The levels of artifice in Twin Peaks is staggering, and it all plays into the idea that we have different surfaces, shells, and presentations that we show at different times when appropriate. The spirituality might be absent from this episode, but it's only one facade of Twin Peaks' complicated worldview. When the soapiness comes to the surface, as it does here, it's also a part of Twin Peaks' heady mixture, as is the kooky sitcom that simmers beneath the surface.
The Bobsey Twins (Donna and James) have just broken in to Jacoby's office to look for Laura's missing cassette. As with the audience, they're greeted by the soothing white noise of waves steadily crashing against a rocky beach somewhere in Hawaii. But, these kids are no expert sneaks. Hell, they're barely even expert detectives. They can't help but let their own biases get in front of them. When they stumble on a box of cocktail umbrellas tagged with a specific landmark memory – one is marked with "Men on the Moon" another with "I first lay eyes on Mimsy" – which they deem "weird." They're teenagers, and they have no sense of memory yet.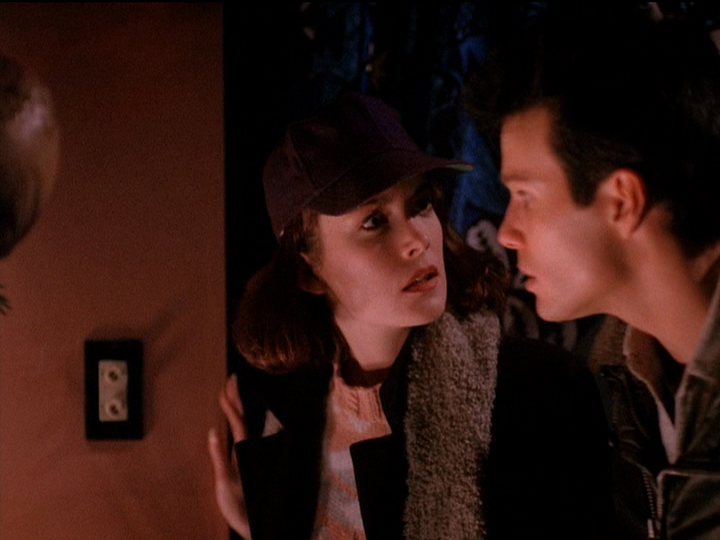 Nor do they have a sense of judgement. Donna comes around a corner and sees two buttons/dials on the wall, and just presses one because…BUTTON! I mean, when you're snooping for things, who doesn't push ALL THE BUTTONS, right? And the music changes and increases in volume, causing them to panic. And then the button presses again and gets to even louder music that's vaguely country/western and vaguely Hawaiian. Amusingly, they can't figure out that Jacoby probably has a cycle of stations and if they keep pressing the button they'll get back to waves. Instead, they turn off the sound…which nobody will notice, right?! Lord, these kids…
The Bobsey Twins do find Laura's missing cassette and the stolen necklace in Dr. Jacoby's hinged coconut. When they play the cassette back, James, Donna and Maddy (she has returned to her dark-haired, bespectacled self) listen to a side of Laura they hadn't heard before. James hears Laura criticize him as Sweet and Dumb, saying that it was good he heard that because he would have gone his whole life missing the girl he thought loved him. James…really? You're getting over this by hearing her hate you? *sigh* But, the other bit of evidence is pointing fingers at Leo Johnson, the man with the red Corvette, as the mystery man in the diary and in the cassette.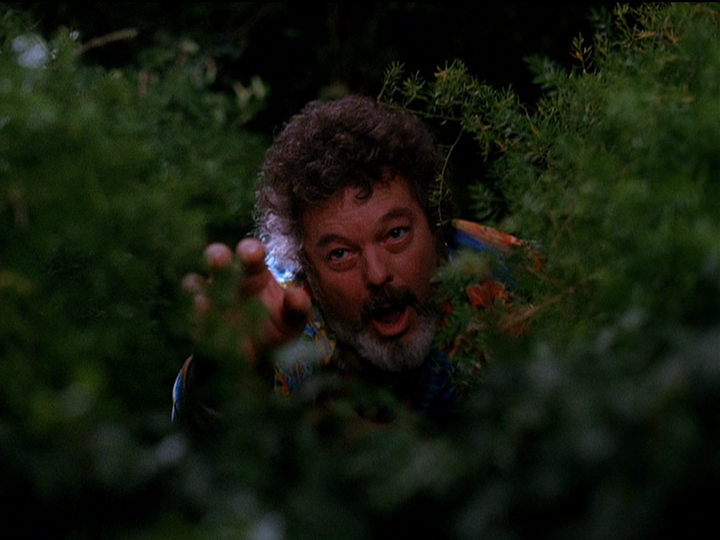 Finding the missing cassette comes at a cost. Dr. Jacoby is busy stalking Maura Purguson at the gazebo while she waits for The Bobsey Twins to come back. But, he's not the only one stalking Maura. While he's watching the group reunite after the heist, he's attacked by a mysterious character in a black mask, giving him a heart attack in the weeds. Though this might spell the end of Dr. Jacoby, Bobby calls the police as Leo Johnson to rat on the cocaine he planted in James' gas tank. While making that call, Lucy hears the chimes of the nearby clock, and the police set up a watch around the park, presumably finding Dr. Jacoby in that process. By the end of the episode, he's in the hospital and he has recovered enough to be "out of the woods."
Twin Peaks never officially reveals who that mysterious character was, but Mark Frost said that he meant for it to be Leland Palmer, who might be taken over by BOB who might have been stimulated to return after being confused when he saw Maura exiting the house earlier that evening. But, this is all extra-textual and never explicitly stated.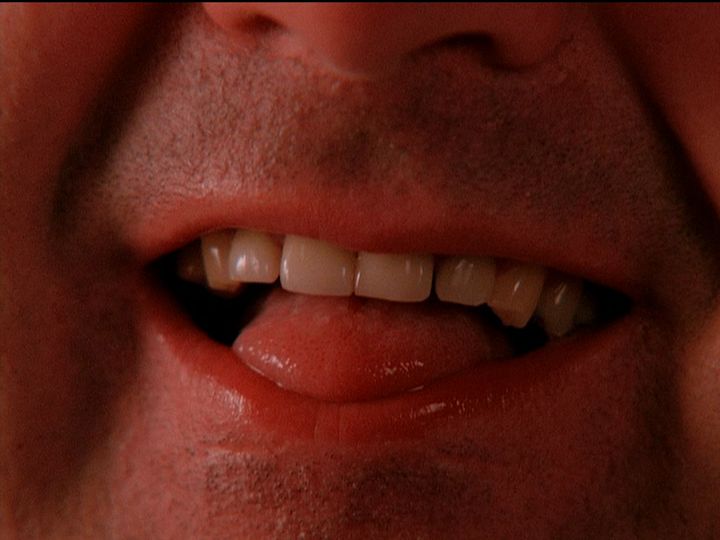 Over at One Eyed Jacks, Cooper is making the move to entrap Jacques Renault in his sting operation. He has no right to arrest Jacques across the border, so the goal is to gain Jacques' trust and then to get Jacques across the border so the cops can officially arrest him. So, Cooper plays like he's the bank funding all of Leo's drug running operations, and manipulates Jacques to fill him on the details of the party on the night of Laura Palmer's murder.
Leo, Jacques, Laura, and Ronette went to Jacques' cabin where they drank, did drugs, tied up the girls, and had aggressive sex with them. According to Jacques, Laura liked being tied up…and, there's precedent for this. There has been much discussion about rape survivors coping with their trauma through the participation in BDSM activities. Not all kinksters have sexual trauma in their past, nor do all victims of sexual trauma participate in BDSM activities. But there are enough where the two meet that this isn't a sensational or caustic lie. Over at the Good Men Project, an ultra-feminist website started by two women, author Jane Devin wrote an article about how she had been repeatedly raped as a child and found her salvation through submissive kinky sex. I've known other victims who became dominants to deal with their pain. It's kind of a thing.
Laura and Ronette had a pattern of engaging in kinky sex with Leo and Jacques by the night she was murdered. But, that night was something different. The owls were flying, so to speak. Laura was freaking out after discovering her father was her nightmare vision of BOB. And, in Fire Walk With Me's depiction of that night, Laura was freaking out over being tied up that night. Something was off, and Leo was not taking No for an answer. Though Laura had previously engaged in consensual kinky activities on previous occasions, fueled by drugs and alcohol, Leo still forged ahead and tied her up and raped her while Waldo pecked at her shoulder. "Love bites," as Jacques recalls. The chip was used to keep her quiet during all of this, and cracked when Laura bit down on it to deal with the pain.
Leo wasn't exactly in a good mood that night either. He and Jacques play fought in overtly aggressive ways. At some point in the evening, Leo hit Jacques over the head with a whiskey bottle and used his shirt to stop the bleeding. But, while Jacques was passed out on the floor of the cabin, Leo took off in his Corvette and the girls were missing. That third man from The Log Lady's retelling is still a mystery…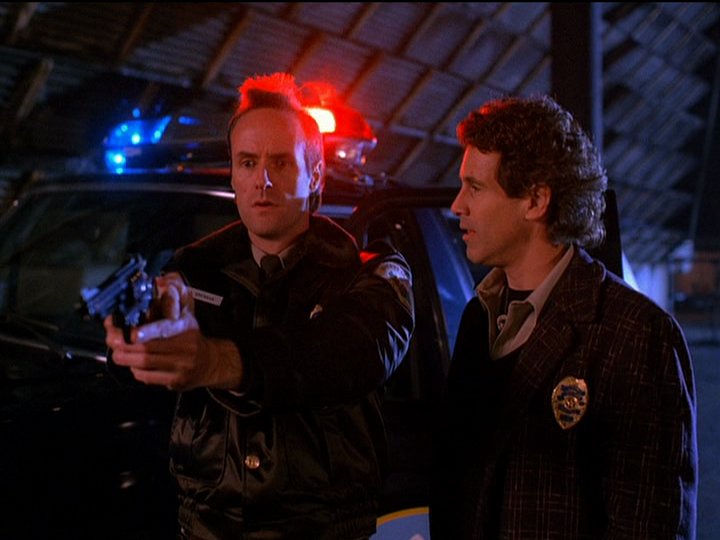 After gaining Jacques' trust, Cooper convinces him to do a drug run for him across the border. While arresting Jacques, he squirms away and is about to shoot Sheriff Truman…except Andy fires off a shot first and hits Jacques in the shoulder. Now, Jacques and Dr. Jacoby are recovering in the hospital at the same time. Which becomes vital when Leland Palmer, after hearing they arrested a suspect in Laura's killing, and knowing that Jacques is a potential witness to his crimes, smothers Jacques with a pillow. Is this Leland, or is this BOB? Is this the act of a loving father killing one of his daughter's corruptors or is it an incestuous rapist who is covering his tracks? The duality of Twin Peaks leaves the interpretation open, but the themes of duality and masks in Twin Peaks points to BOB using the loving father facade to cover over his tracks.
Andy's firing off a shot is significant, considering his dropped his gun in the line of duty outside the Timber Falls Motel, and his firing range antics are hilariously awful. But, given the right amount of adrenaline, and the need to protect somebody he loves, Andy will always do the right thing. He might be kind of a doofus on the surface, but he's a loyally competent man underneath all the kooky behaviors. His heroic antics get him back in Lucy's good graces…but the honeymoon doesn't last long as Lucy reveals that she's pregnant!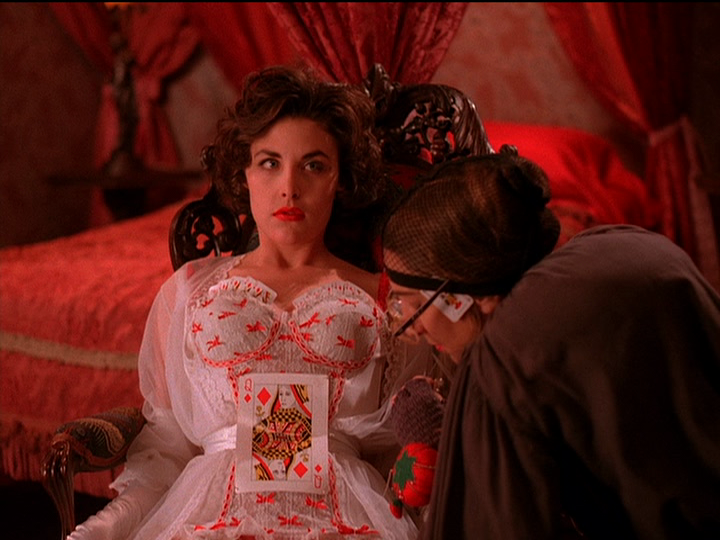 But, we're not done at One Eyed Jacks. Audrey is still there, and is now the Queen of Diamonds. These outfits are so ridiculously tacky. Are there any straight guys out there who want to chime in on this? I mean, putting the cards in the cups of the busy evokes peals of laughter even as I can recognize the sexiness of the lingerie. And, the giant Queen of Diamonds is almost Manchurian Candidate in its obviousness even as Audrey is fitted in a softer teddy with a tone of little red ribbons, almost virginal compared to the more hard edged black-and-red-saturated outfits the other girls have to wear. Those are almost trashy compared to Audrey's soft see-through white shirt/white teddy combo.
Blackie told Audrey she's starting on the right night because the owner is here, and he likes to try out all of the new girls. That owner? Ben Horne, who manages the Herculean task of getting the Icelandic investors to sign on the Ghostwood Development. And, with their signing, he also cosigns on the mill burning one night early, and having Hank get rid of loose threads.
Hank has a deep history with Josie. 18 months ago, Josie hired Hank to kill her husband, Andrew Packard, by blowing up his boat. But, Hank wasn't in prison for that. Instead, he purposefully ran over a vagrant in his car and was sentenced for manslaughter to distract from the Andrew Packard investigation. Now that he's out of prison, Josie owes him $90k for his 18 months of prison, and he doesn't know if $5k a month is good enough. With that, he cuts their thumbs and makes them blood partners.
Leo Johnson is going on a rampage. First he kidnaps Shelly as she's washing her hair in the kitchen sink, and ties her up in the sawmill he has been hired to burn down. In classic wife abusing fashion, he's killing her because she made him do it when she shacked up with Bobby and shot him in self defense. Nevermind that he was busy shacking up with Laura and Ronette all the time. Abusers never realize where they went wrong, or they do and they refuse to acknowledge it. Now that Shelly is taken care of, he returns to his house to kill Bobby who is looking for Shelly. And, just as Leo is about to make the kill…Hank shoots Leo through the window…and now he's in the hospital.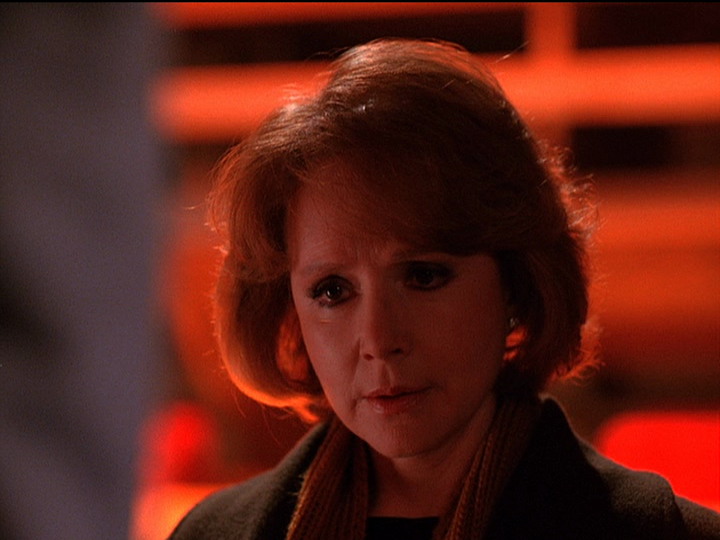 But, Hank isn't done with his own rampage of violence. He tricks Catherine Martel into looking for the missing ledger in the sawmill where Shelly's being tied up and the fire is about to start. Remember that Josie stole the ledger? Between the ledger and the life insurance scam, Catherine knows something's up and has to find that ledger to hold as evidence over Josie so she can get the money and the property for the Ghostwood Estates. She even manages to recruit Pete with one of the most hilariously pathetic sob stories that reminisced about how good they have it. When Hank calls her to look in the sawmill, she pops over there only to find Shelly. Pete stands by to watch, and runs in to save Catherine, but only manages to rescue Shelly. Now, Catherine and Shelly are in the hospital.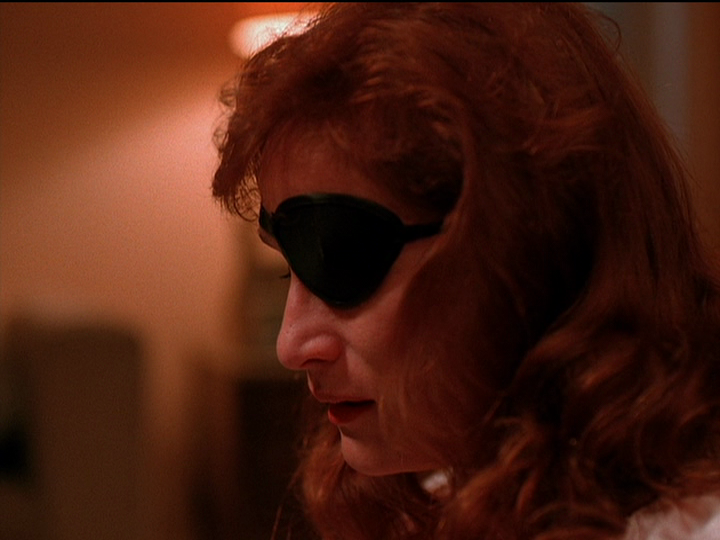 But, there's one more person that still needs to make it to the hospital! Poor Nadine Hurley. Her husband has been stepping out on her, and her patent for her silent drape runners has been rejected. That's her whole story line in these episodes…and, facing rejection on multiple fronts, she decides to kill herself with pills. This is the more traditional cry for help that we're used to. Suicide by pills doesn't work as well as people think, and is usually somebody crying out that their life is wrong. It's a more immediate and sharp bit of self-destruction than Laura's path, and is immediately recognized that Nadine is in trouble. In the hospital, Big Ed comes to her side knowing that their life had been a mess and he need to work to fix it.
As the big evening draws to a close, the cops finally arrest James because of Bobby's Easy Rider tip. Cooper retires to his bedroom, having only seen the Jacques thread from the beginning of this review. He orders a glass of warm milk to help ease his nerves, and is on the phone with Andy when…he's shot three times at point blank range by a mysterious stranger…
---
Final Standings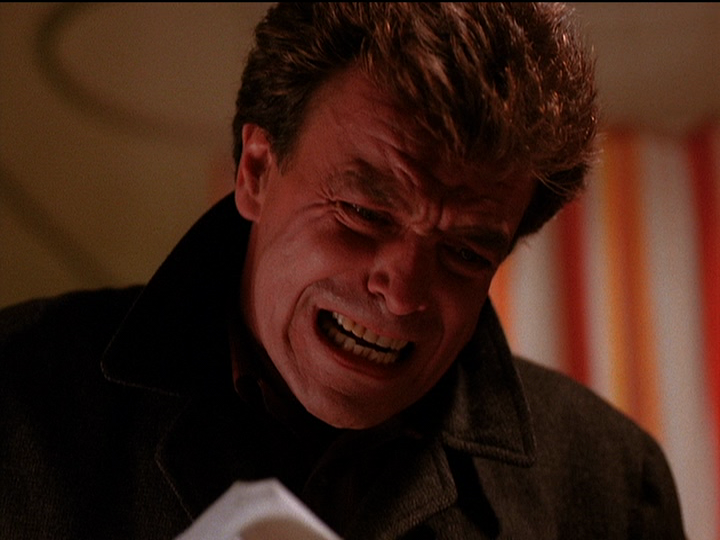 Jacques, after having been arrested, has been murdered in the hospital by Leland Palmer.
Dr. Jacoby is in stable condition after having a heart attack due to a mysterious stranger beating him in the park while he spied on Maura Purguson.
Leo Johnson has been shot by Hank Jennings
Nadine attempted to commit suicide and is in the hospital
Pete rescued Shelly from the fire in the sawmill.
James has been arrested and is in jail.
Leland Palmer is at home, as are Donna and Maddy.
Lucy is pregnant, and Officer Andy is unhappy about it.
Audrey Horne is working as a prostitute at One Eyed Jacks, and her father just entered the room and is ready to make love.
Dale Cooper has been shot in his hotel room after ordering a glass of warm milk.
---
Check In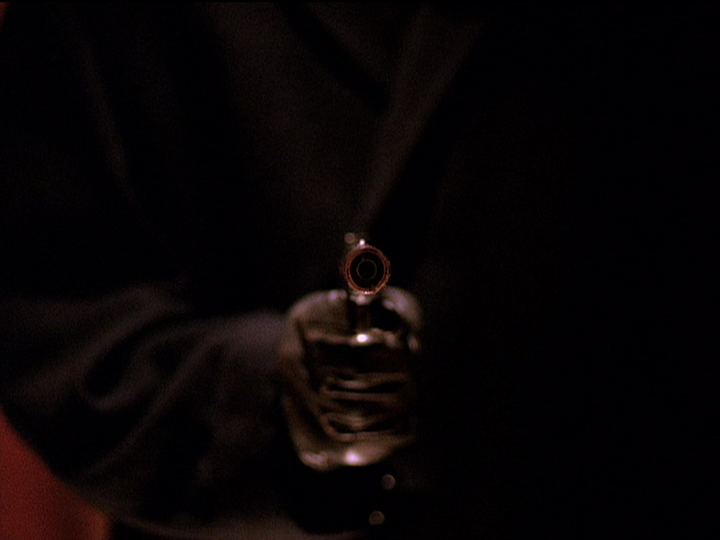 We've come a long way since the beginning of Twin Peaks, but what I just realized was that Season 1 opens with a shot of Josie fixing her makeup, and closes with Josie firing a gun into Agent Cooper's belly. Josie didn't bring evil to Twin Peaks, but she is the embodiment of the outside world, and she has many dark secrets. As the show and canon books extend on, Josie was born the daughter of a Chinese drug kingpin. She had started her own fashion label to launder the money from her drug trade, and soon rose as one of her father's highest in command along with Thomas Eckhardt. Her father was murdered, and most fingers pointed as her trying to grab power. So, she ran off to Twin Peaks with Eckhardt's former business partner, Andrew Packard, and created a new persona for herself. But, she was still in debt to Eckhardt and killed off Andrew for the money.
Basically, Josie's backstory is a global version of the melodrama that happens in Twin Peaks. Drug running, gang violence, power struggles and even foreign invasion. The Renaults come from Canada, bringing their brand of drug-induced misery with them, but it is on a smaller scale of Josie. Though Twin Peaks is frequently identified as the story of Laura Palmer, the other half of the story is the invasion of the illicit drug trade in previously small towns. While it isn't nearly as condemnatory as a "Just Say No" ad, Twin Peaks does seem to think that drugs are one of the major faults of small town America. But, just as Josie didn't bring evil into the city, the familial problems of Twin Peaks existed long before drugs ever took hold.
Even though Twin Peaks is a frequently hilarious show – Lucy and Andy provide more overt comic relief while a strain of Lynchian wit runs throughout – this first season leans heavily on the drama and suspense of noir rather than the kookiness and melodrama of the denizens. Even Nadine's zany drape runner thread becomes a story of woe as she ends up in a coma over it. There's always this anticipation of not knowing who's going to do what in the following days, and a mountain of anticipation over how these events will ping off everybody else. How does Josie's story ultimately affect the Laura Palmer investigation? Why does burning down the mill, near where they found Laura's body, fit in with this story? It's a tightrope balancing act, which leads to the quality downgrade in the back half of Season 2.
---
Stray Notes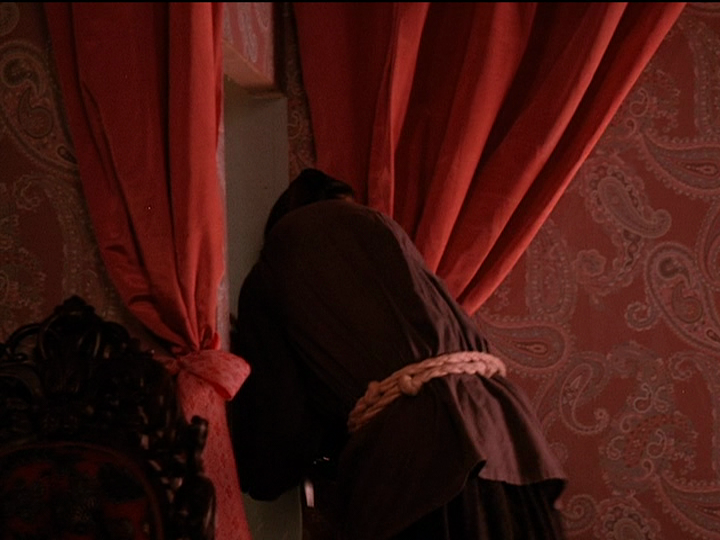 Nitpicking the umbrellas: The date for the Men on the Moon is actually just the launching of the mission. Elsewhere, somebody pointed out that the date he saw Mimsy was also the date of Nixon's resignation.
Do many people wash their hair in the kitchen sink? Especially a sink that's in an unfinished uninsulated kitchen in February in Twin Peaks, where's it's probably like 45 degrees? If Leo Johnson wasn't out to kill her, Shelly is going to catch her death of cold!
The best part of Audrey's stint in One Eyed Jacks so far? The hunchback seamstress who sews the Queen of Diamonds card into the teddy, and then hobbles off into a small door in the wall.