The Storm That Brews
Day 11 is an odd episode. It's another episode that's all about moving pawns into place to get ready for another showdown. There's a storm a-brewing over Twin Peaks, and it's going to rain all night long. Except, it doesn't. A lot of little steps happen. The encroaching storm seems to be saying that there's a big showdown happening tonight. But, just as the pieces get in a good spot…bam. Lights out, episode's over. Surprisingly, this isn't a two-episode day either. Day 11 is contained with Episode 11, and Day 12 begins with a new day…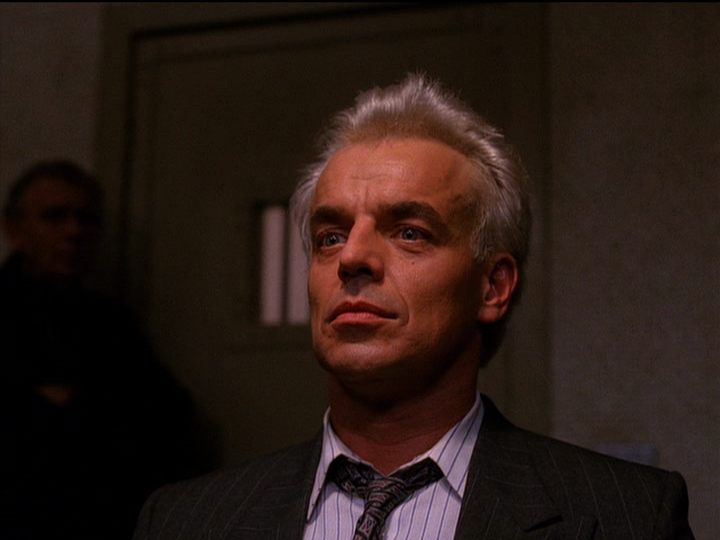 Today begins with an agonizing zoom through a very fibrous circular tunnel. As we pull closer into reality, that tunnel is just a hole in a larger flat panel. That hole is one of many holes that occur in a pattern. That pattern is on a tile, and that tile is on the ceiling of the interrogation room where Sheriff Truman is drilling Leland Palmer about the murder of Jacques Renault. Of course Leland did it. We saw him do it. Dr. Jacoby saw him do it. The police know he did it. And, Leland admits to it. But, Leland says he did it out of grief. He claims that he was justified in doing it because the police would never arrest Jacques is he were innocent. Except that the police now know that Jacques and Leo were innocent of this particular murder.
That's how it plays the first time around.
On repeat viewings, it almost feels like Leland is faking it because we know that he is Laura's killer. Is this Leland Palmer genuinely saying that he killed Jacques out of a genuine sense of loss for Laura's death? Or, is this BOB using Leland Palmer's grief to cover up the murder of a witness? Consider this: it was just yesterday that BOB tried killing Ronnette Pulaski, the only other witness to the crime who isn't in a brain-damaged state. And now, Leland, BOB's primary vessel, is trying to say it was all grief? Either way, he has to be jailed until the county judge can arrive to set his bail.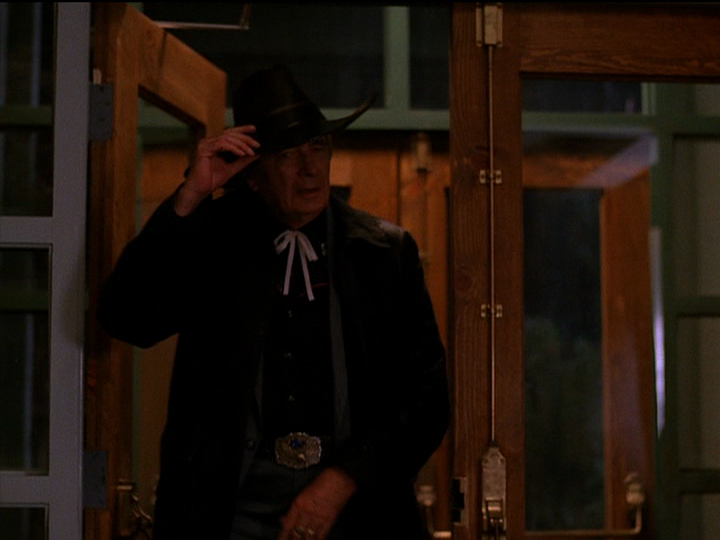 Because of the low population, the local judge actually travels around the county in a Winnebago. There just isn't enough need to have a judge full time, despite all of the random misdeeds that seem to plague the small town. arrives in the middle of the evening thunderstorm. Judge Sternwood arrives in the middle of the rainstorm with a hat almost as wide as a door frame. His grey hair, giant belt buckle, and shoelace bow tie keeps him as a justice man from the frontier, not a man of big city justice. He's at home acknowledging his own biases in support of Leland Palmer, but procedure is procedure and he can't give Leland bail because the prosecutor won't be able to make it to the impromptu hearing.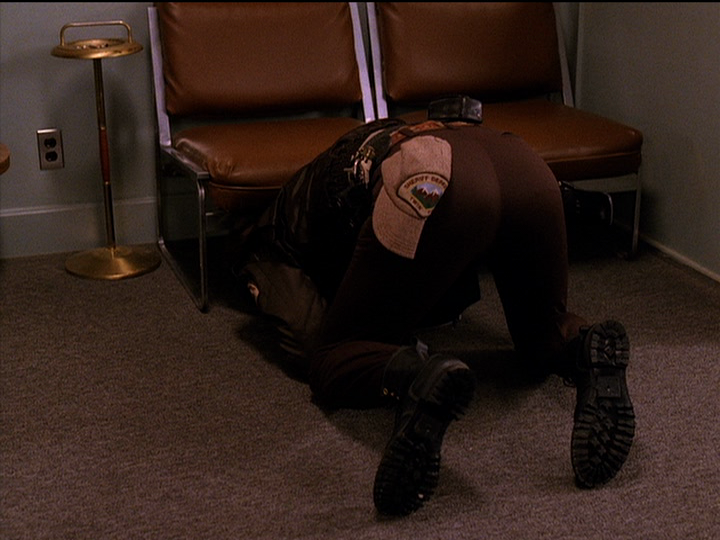 Judge Sternwood isn't just a frontiersman, he's also a local who knows the lawpeople on a deep and personal level. When he enters the police station, he greets Lucy with a big hug and tender understanding, as if they have a friendly paternal relationship that's gone back decades. Right now, he's the only one not trying to tell her what to do. Andy is still trying to see if his sperm came back to life, because he might be the father of Lucy's baby. When Doc Hayward leaves the station in the morning, he demands Andy give him a semen sample, telling Andy to whack one out while he waits in the car. So, Andy grabs a Flesh World magazine (yay erotic evidence!) and heads to the bathroom. On the way, he bumps into Lucy who thinks he's just going to whack one out because he's horny. In my opinion, she seems to be more jealous of his magazine than pissed off that he's whacking one out at work. On his way out, he drops the vial under a chair which exposes his sole as the same type of rare Circle Brand workboots that appeared outside of Jacques Renault's cabin, and that Leo Johnson had under the deck with a bag of cocaine. Andy got them from Philip Renault, the One Armed Shoe Salesman.
Lucy's frustration at her situation has finally boiled enough that Cooper tries getting involved as the clouds are gathering. His whole goal is to get Lucy to tell him everything so that Lucy can calm down and the whole station can get back to work. He cares enough about Lucy to try to make the process painless, but he tries to pry the solution out of her. He doesn't listen to what she's saying, he's trying to solve the problem. And, sometimes, that doesn't help. And, here, it just makes Lucy more upset that there is no easy answer and nobody can help her solve it.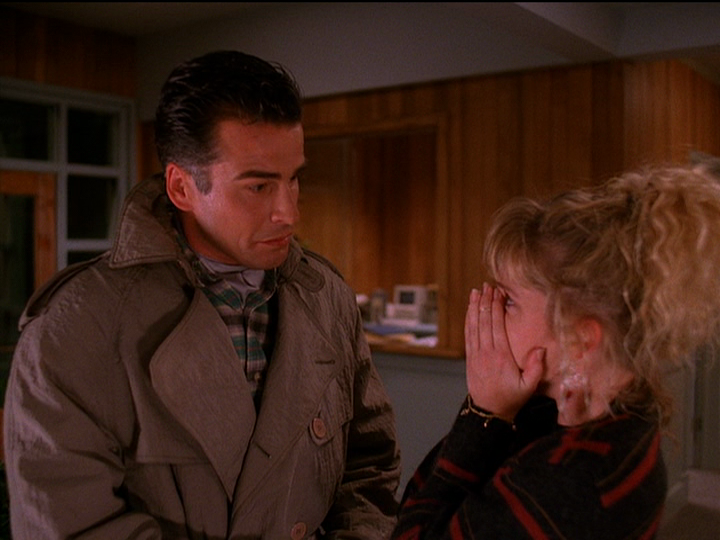 Finally, there's Dick. After a whole day away, Dick is now the storm. He says he's lost sleep over it, and he's here to do the right thing. He gives Lucy $650 to take care of their little problem…by which he means get an abortion. Abortion isn't a solution for everybody, but it is a solution for some. Still, Dick doesn't try to talk to Lucy about the idea, he just thrusts money at her and thinks this is what she wants and what he wants. Lucy, sick of people telling her what to do, tells him to shove off in her most memorable speech.
Richard, here's what you're going to do. Take your money. Put it back in your wallet or your pocket. Turn around. Walk through both sets of doors; the second one sticks sometimes. Go out to the parking lot. Get in your car. Turn the key. And, never, ever, speak to me again as long as you live! Say one more word and I'll scream.
Lucy Moran is a treasure to this show. And she needs to be recognized.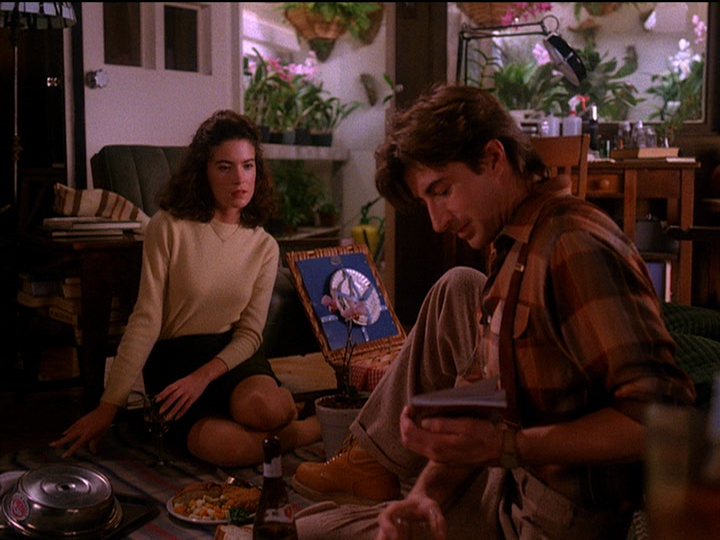 Donna also has boy problems. After running crying to Harold Smith last night, she goes back to his place to hear more about the mysterious sexy agoraphobe and Laura Palmer's diary that he seems to possess. Together, they share a glass of wine as he reads her sections from Laura's second diary, one he keeps in Laura's faith and refuses to hand over to the police. He says he read the book from front to back, and there are no answers in the diary (readers of The Secret Diary of Laura Palmer probably said, in unison, "we know!"). So, Donna, undeterred from having killed Doc Hayward in her last scheme, decides to team up with Maddy for yet another scheme to get Laura Palmer's diary from Harold.
Sheriff Truman has woman problem, as Josie is back and ready to manipulate him with her sexy wiles. But, first is Josie's most hilarious scene of the series when she first gets home to greet Pete. Josie comes barreling through the door with a bunch of expensive looking bags and boxes from her trip to Seattle. As Pete fills her in with the details of the fire, including Catherine's death, she does a very bad job of looking surprised. "Oh no! Catherine died. Sad!" It's fantastic.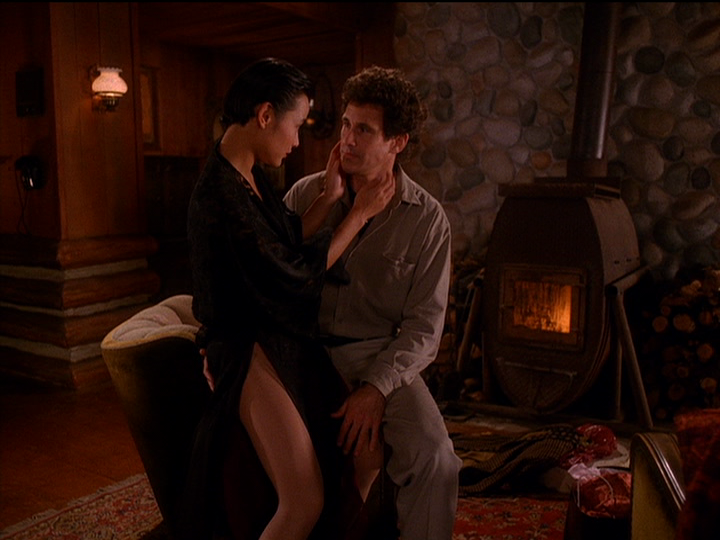 This only barely surpasses her scene with Sheriff Truman where she's dressed in expensive sexy black lingerie while he interrogates her about why she went to Seattle. "I heard the salesperson say, 'The only reason we're still in business is because Josie Packard buys retail." "Look at these boxes. You think I got them at Cash N Carry?" "My God…how could you? How could you hurt me so? *runs off*" Then, when Harry asks her even more probing questions, she has Harry rip her outfit as they get to business while that Asian creeper guy stands outside in the rain and watches them screw from the window. Men are so easy.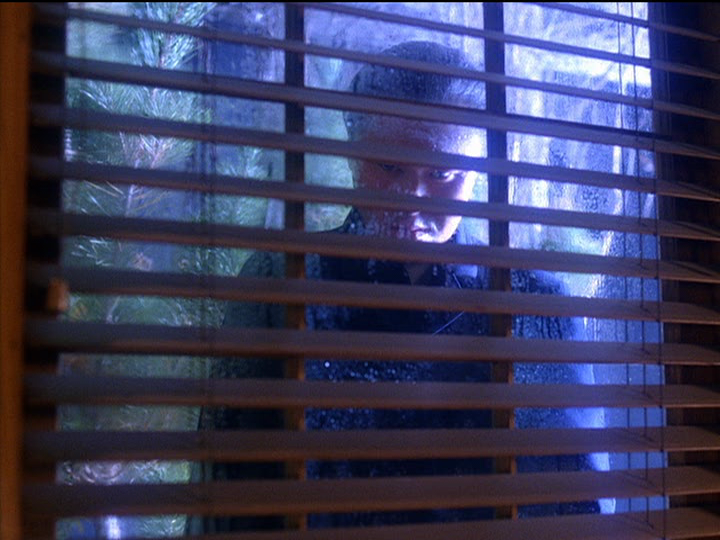 Who is that Asian creeper? He's a servant from Thomas Eckhardt (ex-partner of Andrew Packard, and old partner of Josie's back in Hong Kong) who is trying to extract Josie from that whole situation as soon as possible for some reason. This plot is never very well thought through, and I don't even understand what Eckhardt's goal ever was or what it had to do with anything. Josie was much better when she was just Catherine's equal, being duplicitous and greedy without having a man to back her wily ways. But, at least the Asian creeper is going to take care of Hank Jennings, beating him senseless at the end of the episode to keep him from spilling the beans about Josie.
For his part, Hank Jennings seems to be trying to make a good show of going legit with Norma. There's a hot tip going around that a famous restaurant critic named M.T. Wentz from Seattle is coming to town to write up some places to eat. Norma holds the delusion that people from Seattle will travel all the way to eat at a diner in the middle of nowhere, just as Ben Horne holds the delusion that Wentz's review will do business for The Great Northern. So, Hank dresses up the diner with some table cloths and candles while they bend over backward for every new face in town, including Daryl Lodwick, the prosecutor showing up for Leland's trial. Meanwhile, a new person in a Fu Manchu moustache might be M.T. Wentz as Wentz has a penchant for paying in cash and dressing in disguises or something.
Jean Renault is also a new face to Ben Horne. He's always been the "security" for One Eyed Jacks. He was the force keeping the dangerous criminals and the police out of Ben Horne's hair. But, now he's trying to expand, and he finally visits Ben to set the ransom for Audrey Horne, namely $125k delivered by Agent Cooper (so that Jean Renault can kill him). In return, Jean is going to eradicate Ben's troublesome management team from One Eyed Jacks and deliver the newly addicted Audrey Horne.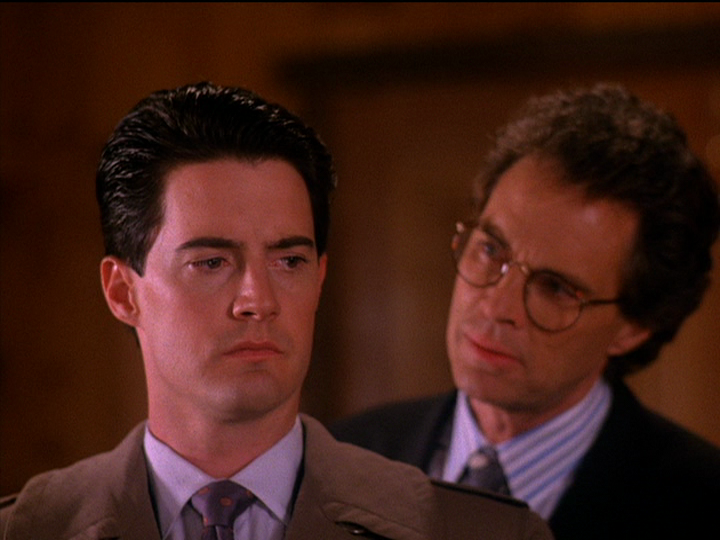 Ben, being sleazy, is game to deliver this, and immediately sets up the transaction with Agent Cooper. But, Cooper knows something sleazy is up, and wants to use The Bookhouse Boys to navigate these dangerous waters, but doesn't want to use Sheriff Truman because of the extra-legal activities. They spend so many scenes building this tension of which Bookhouse Boy is it going to be, and arranging a secret meeting at the roadhouse for Cooper and that boy that…of course it's Sheriff Truman. Wah WAHHHH. Still, Agent Cooper is forgetting something…
So, nothing comes to a head. Hell, Leland's prosecutor barely even makes it into town. The new guy with a Fu Manchu might be a food critic? Actually, us returners know this is yet another silly plot where Catherine is pretending to be a rich investor to screw over Ben and Josie… Is the food critic supposed to be evil? I dunno what the storm symbolizes, because normally storms are climactic in nature. They represent the maximum amount of stress that can happen before all the shit breaks loose. But, here…its all still gathering. What a waste of a good thunderstorm.
---
Stray Notes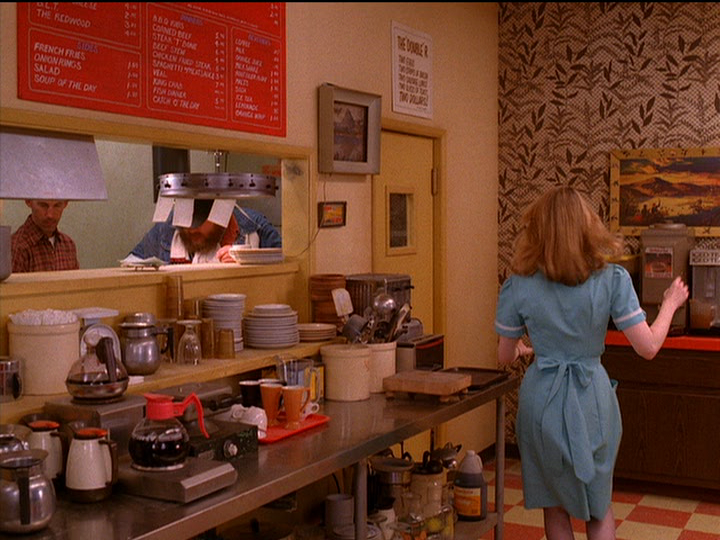 The entry that Harold reads from Laura's secret diary is one of the more explicit ones. Laura writes about her own insecurities and how she holds things back from Donna, especially her fantasies. "…soaked with dreams about big big men and different ways that they might hold me and take me into their control." Laura needs protection and fantasizes about it. Donna is uncomfortable because that differs from the self-assured strong Laura that she idolized.
At The Great Northern, life still goes on, as there's apparently a beauty contest happening while everybody is worrying about M.T. Wentz. The Tri-County Lumber Queen semi-finals is happening in the background, which means fleeting shots of girls in bikinis! Reminder: the Twin Peaks Beauty Pageant isn't for another 2 weeks at least.
Battis Emory is dead, after Jean Renault shoots him in front of Audrey Horne, who is currently half-out of her mind after riding the White Dragon for a few days in a row.
The diner scene is also Toad's big scene! He's the fat trucker who gets scurried off from the dining room when a new guy walks into the diner and everybody thinks he's M.T. Wentz. Toad is portrayed by Kevin Young, Twin Peaks' production designer who had lost his infant son in between seasons. The Season 2 premiere was dedicated to the memory of Kevin Young, Jr., who actually died under weird circumstances. The Youngs had hired a nanny to watch their son when the son mysteriously died of a head injury. The nanny said the son fell, but the autopsy had said that he was hit with a blunt force object. The nanny was tried for murder, with a deadlocked jury the first time and an acquittal in 1994. But, what happened to Kevin Young, Jr. is still a mystery. It's amusing to watch shows about this, but its horrific when it happens in real life.