Antici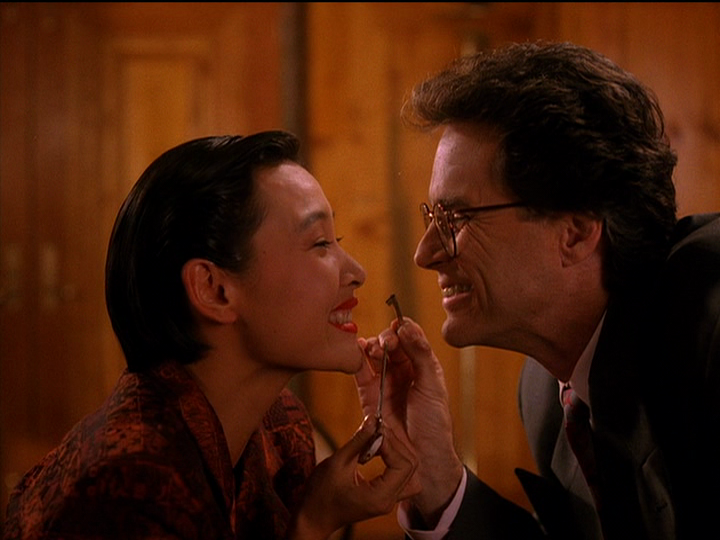 OMGOMGOMG. They're finally getting around to solving Laura Palmer's crime. Who was Laura Palmer, you ask? Nobody cares at this point. She wrote a diary that's being hidden in some creep's house, and was the daughter of some lounge singer. But, who was she as a person? Whatever…we're just here to solve the crime and watch the town devolve into zany antics.
To be fair, centralizing a show on a single mystery is difficult to balance and keep interesting, especially if none of the developments push the story along. Desperate Housewives learned from Twin Peaks and wrapped each season's central mystery up in a single season. Desperate Housewives also learned how to keep its central mystery central to the show. Season 1 of DH centered around the mysterious suicide of a resident of Wisteria Lane. Instead of trying to reconstruct her from the other neighbors' experiences, the dead housewife narrated the story, keeping herself central to the structure of the show.
Unfortunately, as we've discussed before, Laura Palmer is a character created in absentia. She is a character mostly composed by the absence she leaves behind. In Season 2, Laura delivered the Meals on Wheels to Harold Smith, was a childhood companion to Maddy, was a one-time prostitute at One Eyed Jacks, and one of Audrey Horne's competitors for Ben Horne's fatherly (and unfatherly) affections. Laura's absences here are far more abstract than the absence she left behind in her lovers, psychiatrist, friends, and parents.
Due to impatience, low ratings, and distraction from the Gulf War, somebody finally lit a match under the feet of Twin Peaks' show runners, and it's time to start making significant steps to solving Laura Palmer's murder. Before we get anywhere, we have to finish up the plots from Episode 12.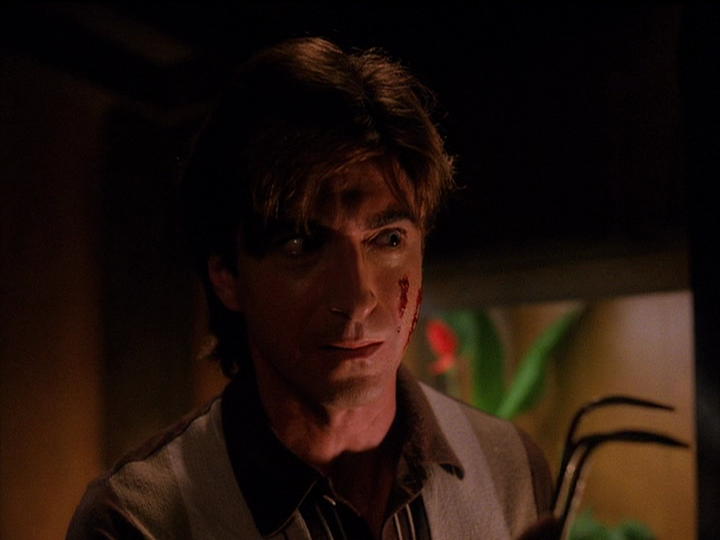 First up is Harold Smith, who holds Laura's secret diary. The cops discovered one diary in Laura's bedroom, but she had a second one that revealed her dark ad dirty secrets. It also eventually revealed the identity of BOB's vessel. Laura Palmer knew who killed her, and she wrote it here. The problem is, those pages have been ripped out long before she gave it to Harold for safekeeping. Donna didn't know that when she went to go steal the diary from Harold, and now she's trapped by Harold having gone crazy because somebody betrayed his trust…again.
To be entirely fair, Harold has a point. Laura trusted him with her secrets. She gave him a part of her that she kept hidden from everybody else. The only person who knew about this secret diary was BOB, and that was only just before she died. Harold was, in his own way, putting Donna through his own type of tests to make sure she could be trusted with people's secrets. Instead of being honest, she lied to Harold about her motives, she betrayed his trust, and she even lied to James to keep him out of this scheme. Even Maddy thought Donna was being cold hearted when she commented, "I thought you liked this guy?" Donna, because Laura's murder has forced her to grow up, has become duplicitous in order to solve her friends' murder.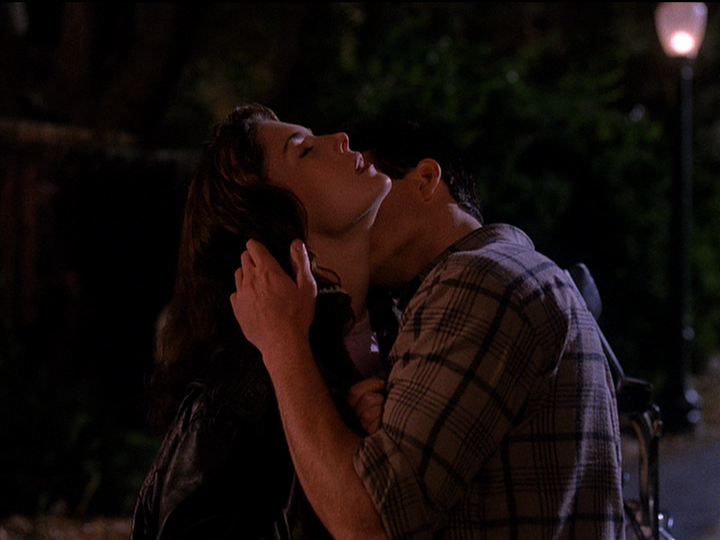 Fortunately, James doesn't have enough sense to stay away. Earlier in the evening, Hawk had to run in to save Cooper and Harry on their rescue mission at One Eyed Jacks, commenting "It's a good thing you guys can't keep a secret." And now James has to run in to save Donna and Maddy when they're on their rescue mission to free Laura's diary. Ultimately, Donna and Maddy fail in their scheme to steal Laura's diary. So, the next day, Donna tells Harry about the diary, but there isn't enough time to anything about it until tomorrow.
Also holding over from last night is Cooper and Harry rescuing Audrey from One Eyed Jacks. They bring her back to the Bookhouse, so she can ride out her heroin overdose and start recovering from her week-long stint of heavy heroin usage. Harry figures out that he saw Jean Renault killing Blackie, sending Cooper into a realization that he too is engaging in schemes that are off the books and endangering people. Where Donna first got Dr. Jacoby murdered trying to find Laura's other cassette (a diary of sorts), Cooper was first responsible for creating the vortex of sin that resulted in the murder of his true love, Caroline.
Windom Earle had been Cooper's partner in the Bureau when his wife, Caroline was kidnapped by three people. Caroline was later found in Manhattan when she was arrested for prostitution and had a heroin addiction, a parallel to Audrey being found in a brothel being forced into heroin usage. While he was protecting her in a safehouse, Cooper fell in love with Caroline and let his guard down while protecting her, after which Windom Earle murdered his own wife and was send to a mental asylum. Cooper didn't let his romance with Audrey get too far, but the parallels between the two stories are clear to him.
Much like Windom Earle, Ben Horne isn't exactly pleased with Audrey's relationship with Dale, and he isn't that happy that Dale is the one to bring her back. But, he is happy that Dale brought back his $125k ransom in cash. Ben knows that Audrey knows something she shouldn't, and he doesn't want to leave her alone. But, Ben doesn't go insane…yet. He does eventually go crazy in the upcoming second worst story line in the show, but he's still sane now and has to pose as a loving father who is all about protecting his money daughter. Even though the audience knows nothing about Catherine, nor Dale's backstory with Windom Earle, this feels like Twin Peaks further developing Ben Horne as Laura's killer.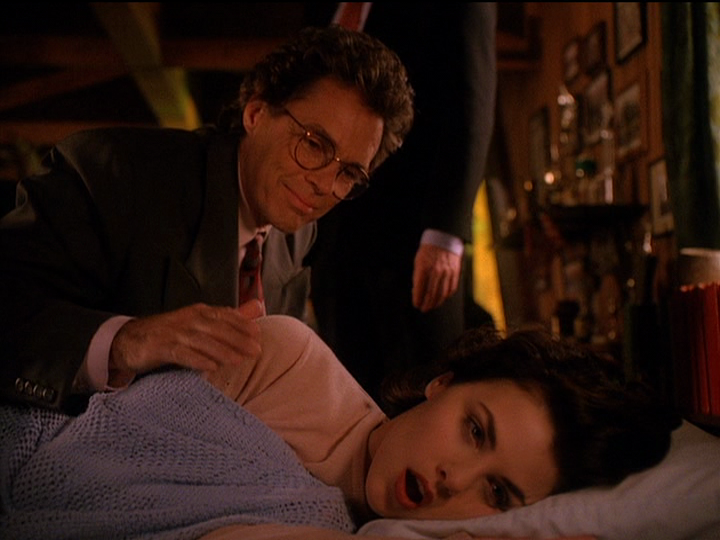 The next day, when Ben pops over to comfort Audrey and take her home, she has enough sense to hold her new information over his head to get her way. He's trying to keep her quiet about his illegal and/or illicit activities at One Eyed Jacks, especially with Dale Cooper looming in the background. She wants to go home with Dale, so all three go in a single car. It was probably an extremely tense car ride over.
Audrey isn't the only one holding information over Ben Horne. Josie is still being pressured to go back to Hong Kong with Thomas Eckhardt's associate. He has a one way ticket already purchased for Josie, but there's a problem…Josie still hasn't gotten her money. She's been planning this scheme for years, from dating and marrying and offing Andrew Packard to manipulating Ben and Catherine and finally figuring out how to burn down the mill. She has the contract signed by Pete. Everything is set, and Josie is damned well going to get her money before she leaves.
Unfortunately, the only money Ben has is the $5m cashier's check from Mr. Tojamura (aka Catherine) for the Ghostwood Development. Ben isn't going to give up $5m all that easily, and Josie isn't going to give up Pete's contract away either. Ben says he's been collecting all sorts of intel on Josie's misdeeds that could bury her deep into the prison system, and Josie has intel of her own to bury Ben. Stalemate is called, and Josie yoinks the cashier's check and is off to Hong Kong.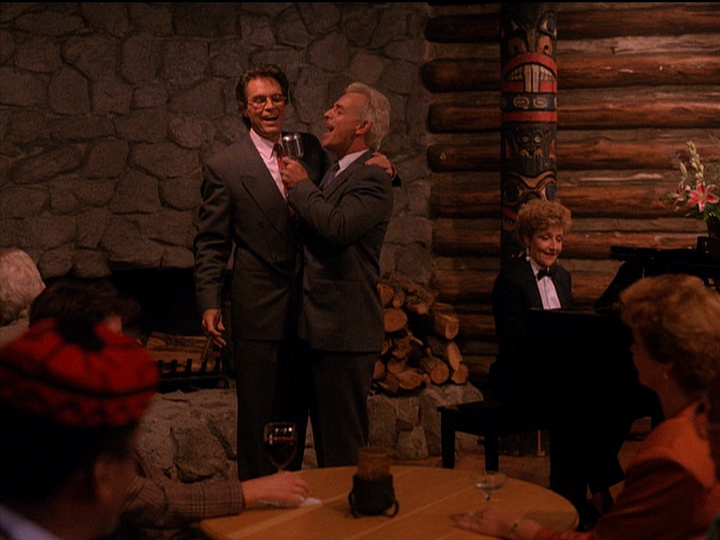 Unfortunately, Mr. Tojamura isn't happy with Ben's delays. Mr. Tojamura is trying to make Ben renege on the deal he made with the Icelandic investment people, and flashed a $5m check to make him see green. For all we know, that check is a forgery because Ben never runs any sort of intel on it before he gives it to Josie. With Ben's delays by trying to keep both sides happy, especially after receiving money from both Iceland and Japan, he's trying to prevent either side from taking their money and running, especially since he just spent $5m keeping Josie happy. The only reason he's saved is because Leland Palmer takes the opportunity to play crappy hotel lounge singer, crooning "Getting to Know You" to the moneyed crowd who drinks there, and distracting Ben long enough to keep the contract going.
Bobby and Shelly have money issues of their own. They were supposed to get $5k/month for Leo Johnson's disability, but only get $700/month because of…whatever. Taxes, medical costs, insurance, etc. Sometimes a big payout is never as big as it should be. Still, it's time to celebrate by making out in front of Leo, who always seems to be looking at them as if his consciousness is trapped in a helpless shell of existence. Bobby will think of something to keep his girlfriend happy. He sold cocaine for Laura, he'll do something else for Shelly. He just has to figure out what. And then Leo face dives into the cake.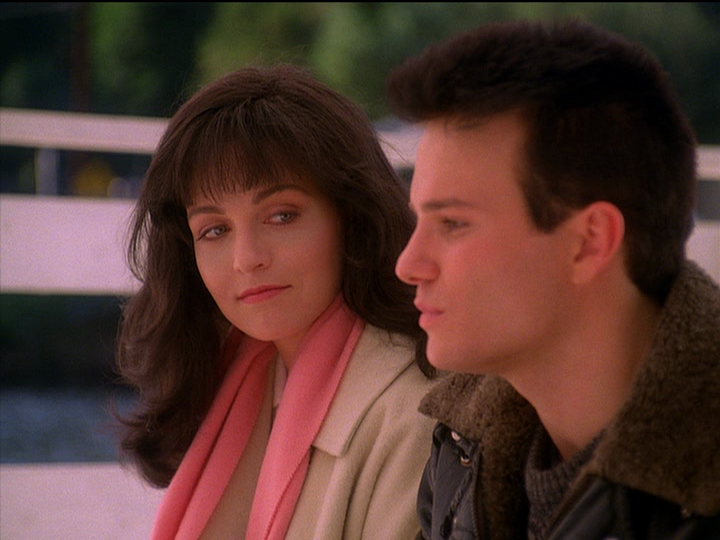 Now that James and Donna are reconciled, it's time for Maddy to leave the show. She only came for a funeral and to help out her aunt and uncle. But, Maddy has been here for a week, she got to pretend to be Laura (she kind of liked it), she has endangered at least one relationship, and she's gotten two people injured. She tells James to be strong, but it's time for her to go. James then pounds her face into the curb, screaming "that's my bit! You can't steal my bit!" OK, he kisses her, and she walks away to get ready for her imminent departure from the series. Really, this whole scene is about Laura shaking her head at James.
But, all this is leading to Philip Gerard, the One Armed Shoe Salesman.
Gordon Cole (David Lynch) is in town to replace Albert Rosenfield in assisting Coop in this dangerous small town where Cooper is finding himself deeply entrenched (though Cooper insists that this case bears no resemblance, not noticing the parallels between Audrey and Catherine). Cole arrives in time to interrogate Gerard, noting that chemical tests on Gerard's medicine (found in the bathroom a couple of days ago) including anti-schizophrenic drugs among a whole raft of other stuff.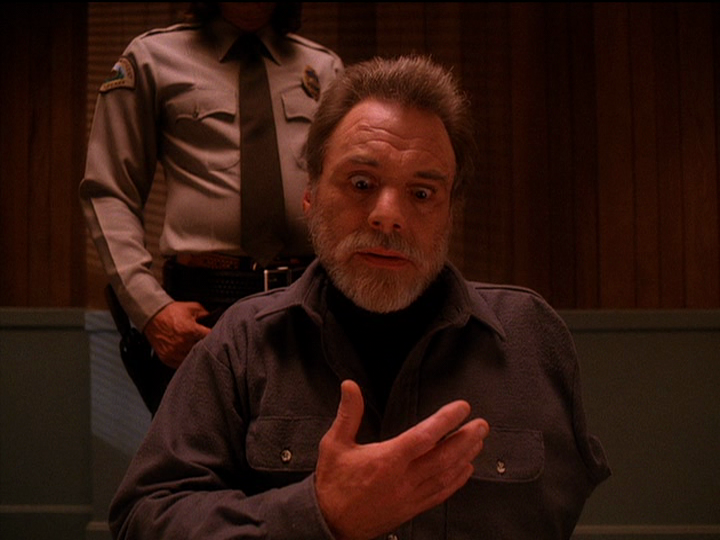 The drugs are to keep MIKE, the One-Armed Man, at bay. By preventing Philip from taking the drugs, MIKE finally appears, taking over Philip's body, much like BOB takes over his vessel's body. MIKE used to be best buddies with Philip, where they play these cruel games to feed from people's misery and pleasures. But, MIKE saw the light – he saw the face of God – and now his goal is to try to stop BOB whenever BOB makes an appearance. In Fire Walk With Me, MIKE is circling around Leland Palmer, knowing that Leland is BOB, the one committing all the atrocities. Without his arm (The Man From Another Place), MIKE is trying to stop the evil from happening. But, the arm is from another place, a side that can't be denied. For all the good that MIKE tries to do, he still feeds off suffering in the same way that BOB does and demands his payment.
But, once BOB's work as Leland was done, is BOB still in Leland? MIKE, without the arm, is trying to relocate him and stop him again. That's why he's been circling around Twin Peaks as long as he has. Now that MIKE is back, he speculates that BOB is in a giant wooden house with many rooms each holding different people night after night. This is where BOB and Leland are singing showtunes to amused old people. They are in The Great Northern.
---
Stray Notes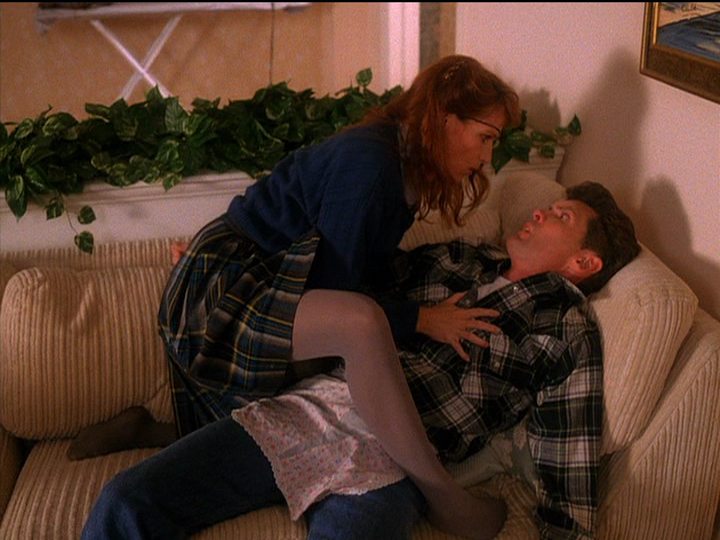 Super Nadine has a brief scene where she comes home from buying new schoolgirl clothes that are age appropriate for her new 19-year-old self. In the process, she punches Ed hard in the gut and then tackles him on the couch to make out with him. I give a lot of leeway for Super Nadine because her violence amuses me and provides some needed dark levity to the show. Plus, she's hiding her disappointment behind an enthusiastic facade of schoolgirl charm and superhero strength. It may has its own thematic connections to the material.
Leland is actually back in his old form, plotting evil with Ben Horne, trying to dig him out of his misdealings. He knows how to throw delays through the American court system in order to buy time while Ben wheels and deals.
Pete wooing Catherine as Mr. Tojamura is one of the cutest and more adorable things I've ever seen. Pete is so in love with Catherine and he doesn't even know what's going on.