Cliffhangers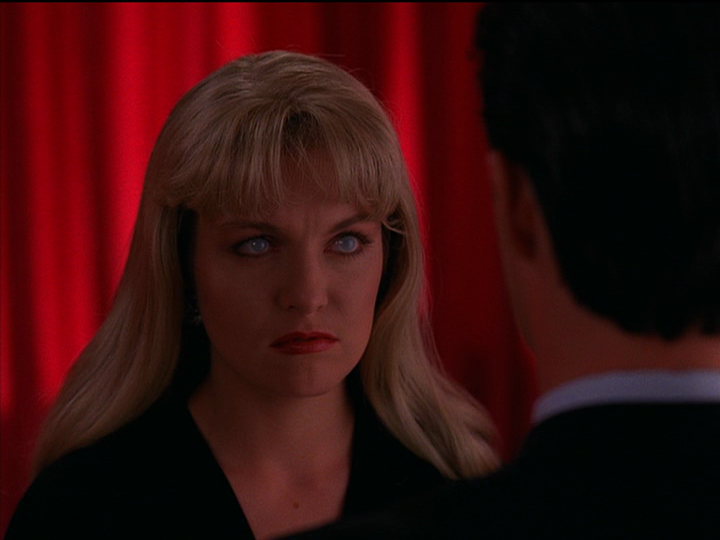 Despite the low ratings and all of the backstage drama, everybody believed they would be back for a third season. The first 30 minutes of this David Lynch-directed 50-minute episode is a series of cliffhangers for all of the characters. Families are wrecked, hearts are bonded, bombs explode, and, in the midst of it all, Dale Cooper enters the Black Lodge. When the series ended, the audiences were left with more questions than answers, and not just from the famed 20 minute conclusion of full on Black Lodge weirdness that concludes the series.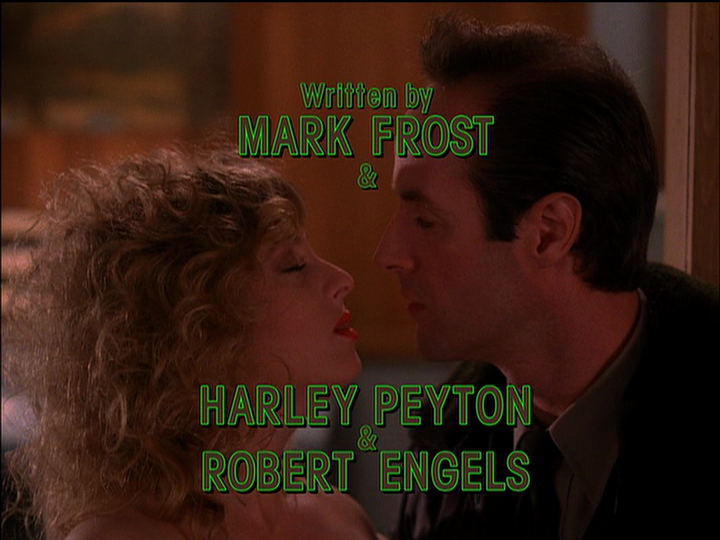 Andy and Lucy actually get a nice neat little bow in the first scene of the episode. Our on-again/off-again couple is finally on permanently. The scare from the Roadhouse, when Lucy was on stage as the lights went out, provided the kick Lucy needed to figure out what she wanted from her life. When your life is threatened, everything comes into shockingly clear focus (probably aided by the adrenaline running through your body). Framed by the credits, Andy and Lucy finally kiss, and Lucy finally admits that she loves Andy. They're about the only story in this finale that actually gets a happy ending.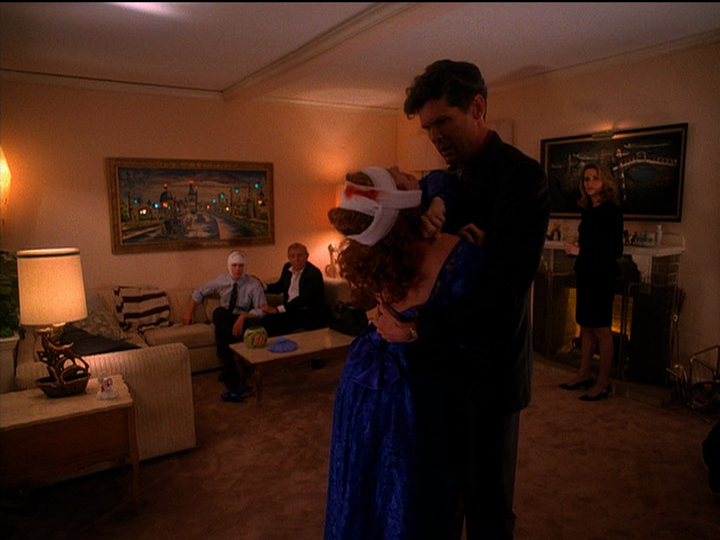 I always forget that Nadine is Super Nadine for almost all of Season 2. She attempted suicide at the end of Season 1, a mere 3 weeks ago, which started the Super Nadine story. She remains Super Nadine right up until the sandbag hit her on the head in the madness at the Miss Twin Peaks contest. Mike Nelson, not Big Ed, is the one to save her from the Roadhouse, getting his own head injury in the process (a tree hit him). Like Lucy, the adrenaline of all this chaos focused his lust for Super Nadine into love, which he professes as Doc Hayward sets about healing the pair. Unfortunately, as the adrenaline leaves Nadine's body, suddenly she's not clouded in her thinking anymore. She's not a 19-year-old girl anymore. She's not a high schooler. Worst of all, she doesn't remember anything that's happened in the past couple of weeks. When Mike leans in for a kiss, she panics with the confusion of being kissed by a teenager, she panics at the sight of Big Ed and Norma making out, and she returns to the breakdown of her drape runners. Her private life was public and she needs the shade of her privacy. The only teenager in the room apologizes, "I let things get a little out of hand." It's almost like David Lynch is apologizing to the audience.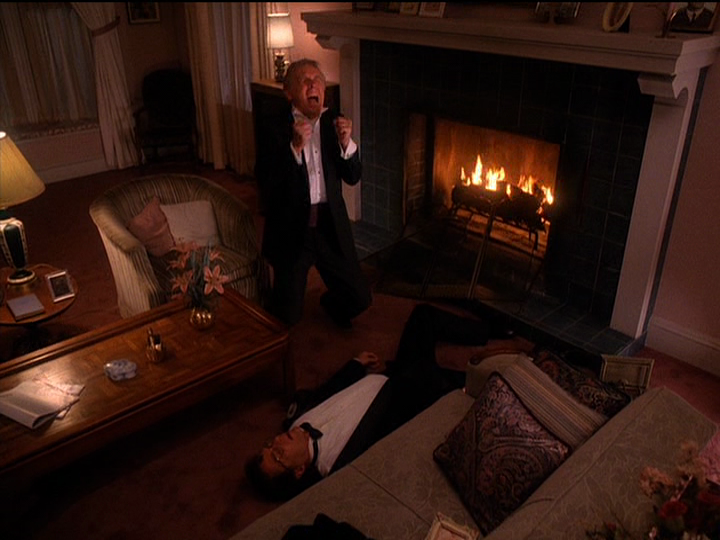 After the chaos of the Miss Twin Peaks contest, and the horror of Ben's revelation that he may be her father, Donna is ready to follow in James' footsteps. She has changed from her red bow dress into a sensible suit, and has packed a single suitcase. Donna needs to leave this whole sordid mess behind her. Maybe she'll join James in Mexico. Maybe she'll have her own adventures. But, Ben and Eileen can't comfort her. Ben is trying to scrub his soul clean, but in the process has created a chaotic environment unfit for anybody. Donna clings to Doc, crying "You're my daddy." Sylvia Horne walks in and demands to know "What are you trying to do to this family?" And, in anger, Doc punches Ben right into the fireplace knocking him out, screaming as he falls to his knees, and Donna is left crying in the lurch.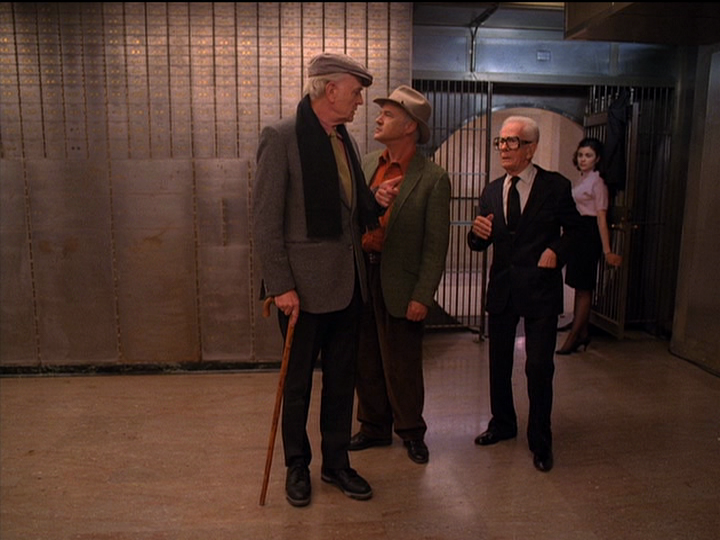 Audrey Horne is really selling out environmentalism. She had discovered from her trip to Seattle, the one that kept her and John Justice Wheeler apart, the Twin Peaks Savings and Loan was a significant economic piece of the Ghostwood project (didn't Ben know this already?) but they're trying to keep the controversial investment quiet. Today, Audrey plans to blow it all open with a very public act of civil disobedience. The next morning, on day 31, she struts right in to the Twin Peaks bank and chains herself to the vault leading to the safety deposit boxes. After having lived in the Pacific Northwest, namely Seattle, for over a decade…this behavior is so PNW. I mean, it has hints of California in it, but the whole rich white privileged act of protest against a bank for investing in something is very Pacific NorthWest. In fact, Seattle recently protested our own government to get them to divest from any bank investing in either Keystone XL or the Dakota Pipelines. I'm just saying…this is probably the most regional scene of the whole series.
It's a sleepy day at Twin Peaks Savings and Loan. The New Accounts lady looks like she could be sleeping or dead. But, Dell Mibbler is still lively. Well, as lively as a shuffling old man about to turn 80 can be. He shuffles over to Audrey to help her when he thinks she's just a normal client. He shuffles around the office to get her water as she tells him to call the local newspaper, the sheriff, and anybody else who will listen. He shuffles around when Pete and Andrew make it into the bank. This is the most action this bank has seen in ages.
Pete and Andrew are checking in with the key left in Thomas Eckhardt's stainless steel box, which Andrew figured out is from one of the S&L's safety deposit boxes. Moving Audrey out of the way, Pete, Dell, and Andrew make their way to the box. I know curiosity will take you so far, but I don't know why Pete, Andrew, or Catherine ever thought Eckhardt would have left them anything good in the box. I don't think they expected he would have set a bomb in there, killing, at minimum, Dell Mibbler, Pete and Andrew (Catherine was left at home). Audrey's fate is unknown.
---
Under the Sycamore Trees
And I'll see you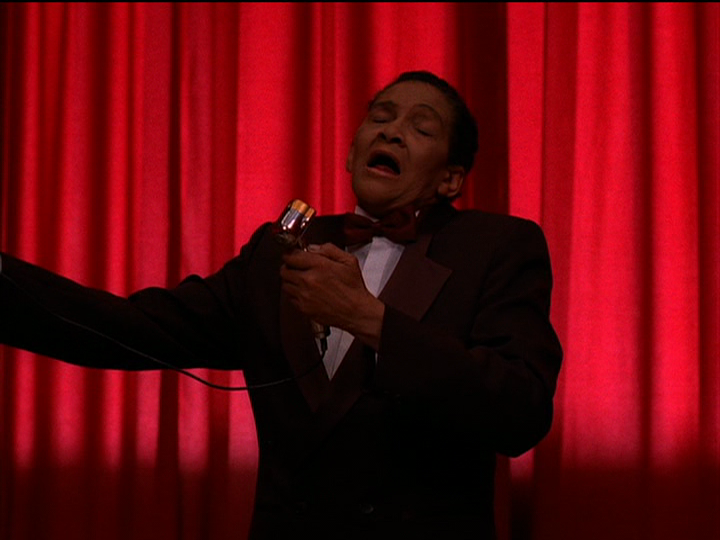 All the hubbub of the Miss Twin Peaks contest was for one thing: for Windom Earle to kidnap Annie and to lure Dale Cooper into the Black Lodge. David Lynch has a particular fondness for the Windom Earle story and the mirrors it created. No one human character of Twin Peaks is all good, and few characters of Twin Peaks are all bad. There's a spectrum of goodness from the abhorrent evil of Windom Earle to the relative goodness of Dale Cooper. Even Windom Earle has a sense of honor among the sadistic games he plays and even Dale has his fair share of moral compromises.
And you'll see me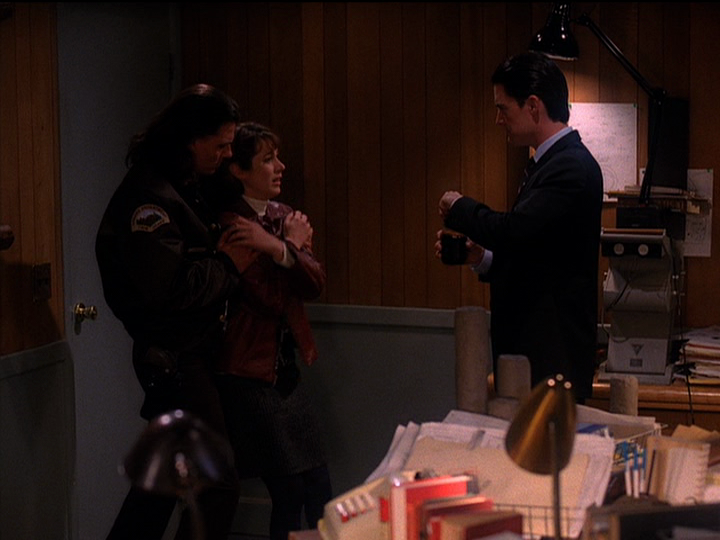 Tonight's episode begins at the police station. Earle already has Annie and is taking her to the entrance of the lodges, while Dale still has to solve the puzzles before Annie is unrecoverable. Lynch parades memories of all the little world-building droppings he peppered throughout the series. The Log Lady brings a scorched engine oil from her dead husband, which Cooper has Ronette smell as she's brought back to the night of the murder. The oil is part of the entrance, as the oil is part of BOB. They have the map, the pieces and, finally, its time to go into the lodge.
And I'll see you in the branches that blow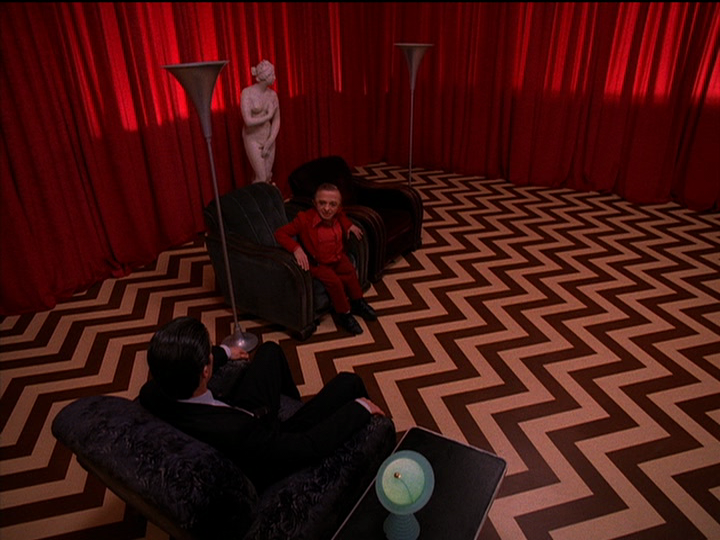 At long last, Dale is able to step into the world of his dreams. The gateway to the lodges is in the middle of Ghostwood Forest, among a circle of sycamore trees surrounding a campfire pit. There, when one is aware of what they are looking for, they are able to enter the land of the lodges. The sources of good and evil, one white and one black, appears as a stretch of infinite red velvet curtains separating them from us, and us from ourselves. Fear opens the gateway to the black lodge and love opens the gateway to the white lodge. Any flaw in a person's soul can and will be exploited by the evil while one strives to aim for the white lodge.
In the Breeze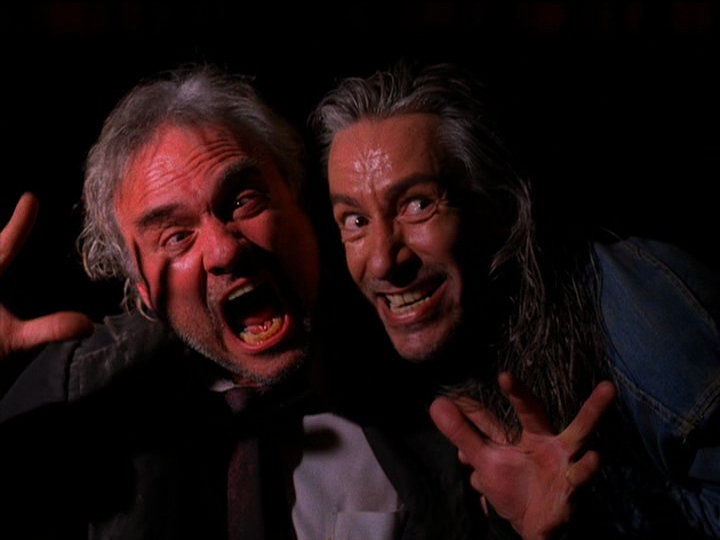 No matter how good or pure Dale's soul is, he has to chase Windom Earle into the Black Lodge, the lair of misfit spirits, to rescue Annie. What does that even mean? Twin Peaks is all about making the metaphor literal. BOB is a cycle of trauma that gets perpetuated from generation to generation, regardless of the possible differences in traumatic experiences. Leland was molested as a child and forced to groom other boys for molestation. He failed to learn empathy or even a sense of moral right and wrong. Laura was victimized by BOB, a literal representation of Leland's moral failure.
The Black Lodge vacillates between being a metaphor for a source of all the evil we do and a metaphor for the pathways into every soul. Is Dale really searching for Annie in a physical place where midgets and giants mingle with doppelgangers and soultakers? Or, is this a metaphor in the vein of Apocalypse Now/Heart of Darkness? Is Cooper having to take a soul scarring journey into himself to rescue both Annie and his own heart? Or, is he actually wandering around a bunch of rooms which don't exist on this plane of existence?
I'll see you under the trees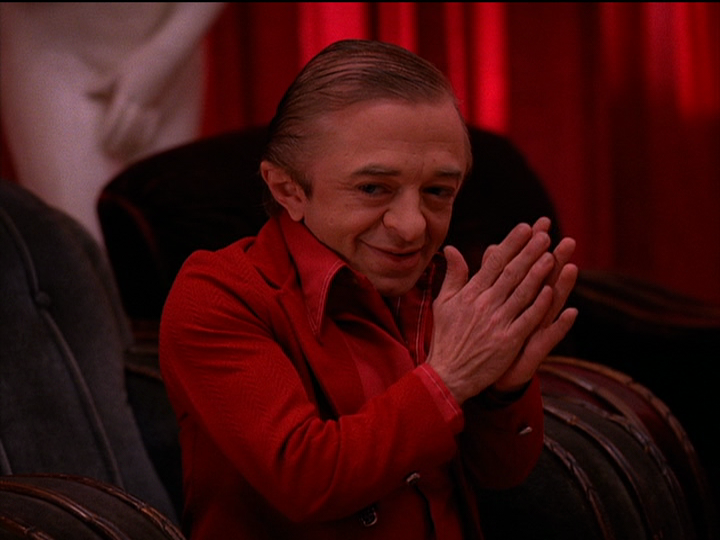 This final major sequence of Twin Peaks is the source of so much fascination. It's the culmination of 2 seasons of a grander mythology. For the first time in the whole series, Dale Cooper is in the same physical space as The Giant, the waiter, Leland, Laura, possibly her doppelganger, The Left Arm, MIKE, BOB, and Windom Earle. But, what it all means has always been up for interpretation. Hell, there's even debate over whether this space is the black lodge or the white lodge at all; maybe, this space is just The Lobby for both lodges and we never see the Black Lodge at all. Does the giant work for the white lodge or the black lodge?
Under the Sycamore Trees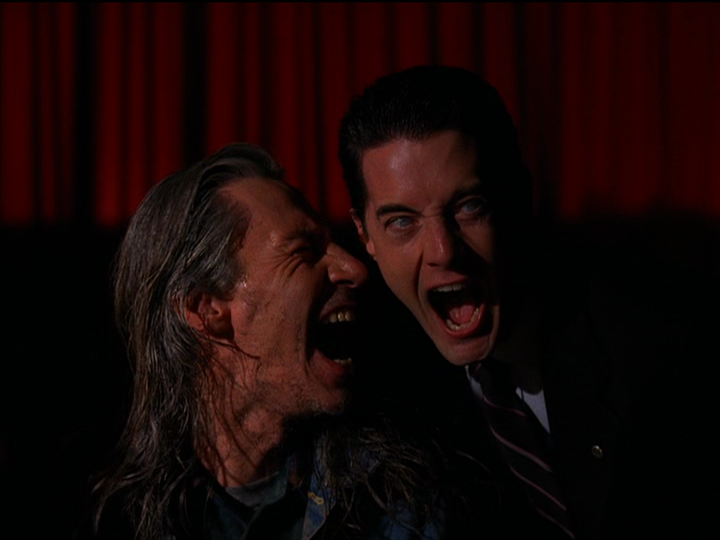 I'm not going to provide those answers for you. There are no defining answers. For me, this grand mythos is only interesting in how it affects the various real world denizens of Twin Peaks. What this sequence always pointed to was an Apocalypse Now/Dark Night of the Soul reckoning between Dale and himself to reconcile his good and his bad. Throughout the series, Dale rarely confronts himself with any sort of honesty; necessarily, this final night is particularly pointed and vicious for Cooper. He has to finally confront how he sees Annie as a surrogate for Caroline. He has to see how he is going to lose her in the same way. He has to confront how he saw Leland. He has to confront how he saw Laura as a victim in a frame. There's a lot of issues he has to deal with in this one night in order to save Annie and himself from the grip of Windom Earle. In the end, he loses.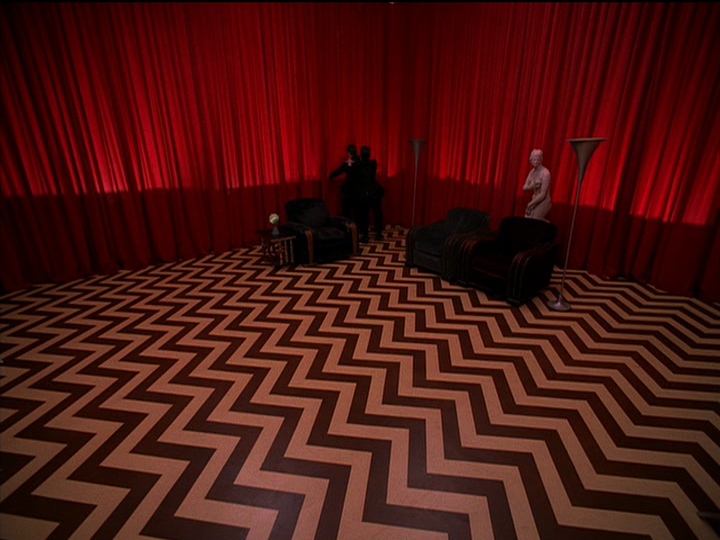 There is one point that needs to be made: the people violating you can't take your soul, you have to give your soul to the dark side. Windom Earle demands Cooper's soul and is subsequently destroyed by the lodge denizens because he is not allowed to do that. But, because of all his faults – because he couldn't save Maddy or Caroline, because he couldn't protect Ronette, Teresa or especially Laura, because he repeated violated various codes of law – Cooper still loses himself. Whatever literally happened in his attempts to save Annie from Windom Earle – whatever he witnessed, and however Windom was destroyed – Cooper loses himself and is replaced by an evil Doppleganger. In the final scene, he looks at the bathroom mirror and sees BOB in his reflection before asking "How's Annie?!" with a maniacal laugh. Cooper is no longer himself. He is trapped in the Black Lodge…with Sarah Palmer.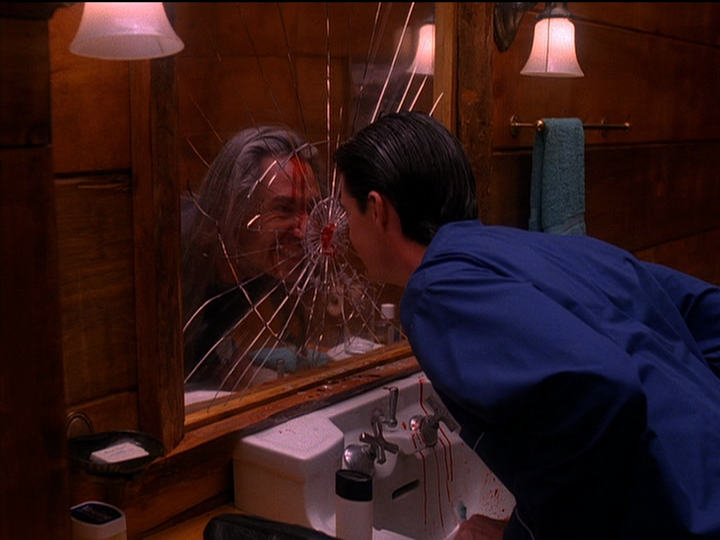 There is a single ray of hope. In the midst of this chaos, Laura Palmer tells Dale that she'll see him in 25 years. Dale will be back. Not today. Not tomorrow. But, in 25 years. Meanwhile, his evil self – the self that was damaged through whatever happened during his search for Annie – will be running rampant in the real world. BOB has control of him. Until Dale finally comes to grips with his darkness – until he can come to terms with whatever flaws he has – he will remain in the black lodge.
---
Final States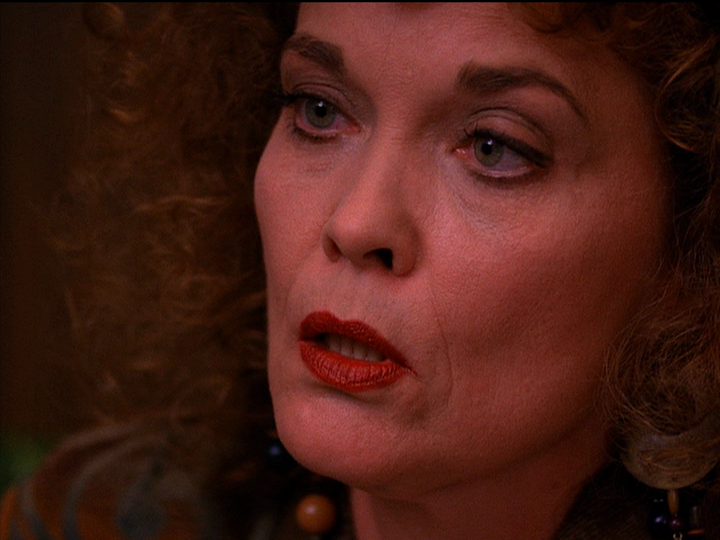 Pete – Dead
Andrew – Dead
Dell Mibbler – Dead
Catherine – Still sleeping?
Audrey Horne – May have blown up in bank
Ben Horne – Unconscious on the floor of the Haywards house with a head injury
Donna Hayward – Crying and trying to figure out who her father is
Doc Hayward – Screaming in pain
Nadine – No longer Super, and confused towards Mike and Big Ed
Big Ed – Still torn between Nadine and Norma
Norma – Now caught between Big Ed and nothing
Mike Nelson – All alone
Shelly Johnson – Not Queen, but engaged to Bobby
Bobby Briggs – Not King, but engaged to Shelly
Andy and Lucy – In love and together at last
Annie – Safe from the Black Lodge, but "How's Annie?!"
Major Briggs – Presumably safer now…
Sarah Palmer – "I'm in the Black Lodge with Agent Cooper."
Dale – Trapped in the Black Lodge while his evil doppelganger is out in the real world
---
Final Thoughts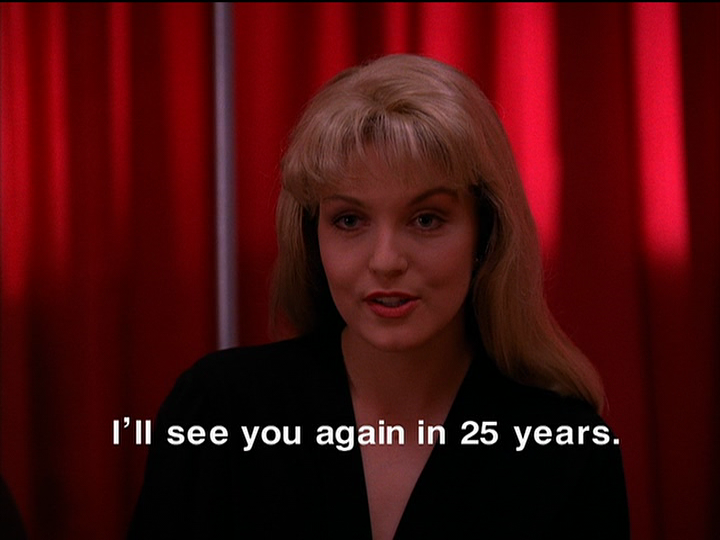 I didn't plan on writing a novel-length recap about Twin Peaks, but I think that's pretty much what happened. The Twin Peaks recaps turned into NaNoWriMo, and, if you've stuck with me for this long, congratulations and thank you for reading. Of course, Twin Peaks isn't finished. You could finish up with The Missing Pieces, the feature-length remainder of Fire Walk With Me that gives a little more closure to Annie's story, but otherwise continues the adventures of the townspeople more than it does with Laura Palmer.
Twin Peaks is a masterwork of deep complexity and deep flaws. Just like Twin Peaks itself, my goals here were to look at the various methods of construction in the show, including various forays into politics of the era and backstage drama. Sure, I wanted to rehash all of the plot points and the drama in preparation for the new season on Showtime. But, I really wanted to do a mini-dive into the deeper meanings behind the stories, unearth some of the more unusual motifs and symbolism, and finally figure out how James/Evelyn and Ben's Civil War actually fit into the plot (if they did at all).
Just the act of writing out each of the episodes has helped immensely with some of the narrative parallels and reflections that make Twin Peaks a dark funhouse of the soul. As always, feel free to tell me how wrong I am in the comments (I know some of you were going to write screeds against Windom Earle, and I am still waiting for those!). And, I would love people to dive deeper into what they know. It's a great show that's heady as hell.