1934 turned out to be a banner year for Agatha Christie. Fourteen years into her career as a published author she'd achieved much success and literary acclaim for her sturdy, ingenious mysteries set amongst the English upper-classes. You know the settings: English villages, manor houses, and drawing rooms peopled with majors and vicars and doctors and wealthy widows. Her facility with dialogue and intricate plotting deservedly placed her at the forefront of the detective fiction genre.
Christie had been steadily turning out about a book per year, but 1934 would see her kick off a decade of ferocious output. This would be the decade that Christie published her most popular books – including Murder on the Orient Express, The ABC Murders, Death on the Nile, And Then There Were None, The Body in the Library, and Five Little Pigs – and the decade in which her literary world expanded. Her characters began moving about the globe (even as their essential Englishness remained) and her writing began to incorporate sly, modernist trickery. By 1934, Christie was writing with such masterful command of the genre, with such inventiveness and skill that she would transcend genre to become an iconic literary figure.
But first a little background…Christie's publishing career began in 1920, and she immediately stood out as a great and popular author, while enjoying a comfortable life as a mother and wife. In 1926 she suffered a crisis year when her mother died (they were very close) and her husband took up a blatant affair with a younger woman, which led Christie to a nervous breakdown and a drawn-out, very public divorce.* She lived through a period of deep depression, but by 1930 she was on the mend. She travelled on the Orient Express to Istanbul and journeyed on to Baghdad where she hooked up with, then married, a young archaeologist. Thus began her second life, involving much travel, archaeology and an apparently very happy marriage. 
So, by 1934 Christie's forty-four years old, fourteen years into her writing career and as happy as she's ever been. She's fifteen books in and getting playful. Let's run through her four(!) books published that year and see how she began her period of greatest activity. 
Murder on the Orient Express
1 January 1934 (Published in the USA as Murder in the Calais Coach, 28 February 1934)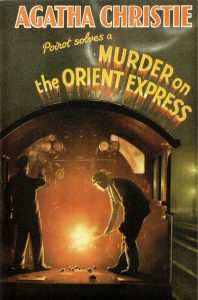 This here is the big one, the most famous title in the Christie canon.** This is largely due to the various popular films based on the book, but I also think it's just a wonderful and memorable title that manages to succinctly pack in a lot of 1930's-style excitement: Murder! Orientalism! Express trains!
In keeping with her new travel-centric lifestyle, Christie wrote Murder on the Orient Express in the Pera Palace Hotel in Istanbul, Turkey, at the southern terminus of the railway. She apparently took copious notes about the train, right down to the size and shape of the door handles, to ensure the story elements could all be confirmed in situ. Then, in what would later become a common mystery-story conceit, Christie pulled the "ripped from the headlines" trick and interpolated into her story the Lindbergh Baby kidnapping (a real-life mystery involving murder and extortion that had yet to be solved at the time).
What makes Murder on the Orient Express so special and memorable, though, is the famously crazy solution to the mystery. Toying with meta-commentary on the genre. Orient features a conclusion so wacky as to be provoking her audience. Christies so confident in her writing that she's prepared to screw around for the sake of it.
Unfinished Portrait
March 1934 (Published in the USA later that year)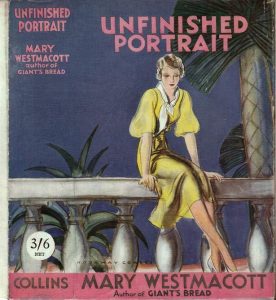 Unfinished Portrait is a romance novel published under Christie's pseudonym Mary Westmacott, although the public wouldn't realise that for another fifteen-odd years. It's generally considered to be at least somewhat autobiographical, based on Christie's divorced years and new marriage. It's about a woman suicidally depressed after losing her mother, husband, and daughter, and her tentative building of trust and rapport with a new love interest. Christie's clearly working her way past some stuff.
Why Didn't They Ask Evans?
September 1934 (Published in the USA as The Boomerang Clue in 1935)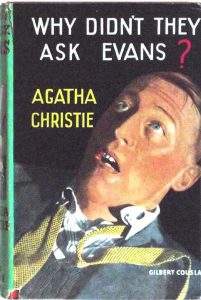 Probably the least of Christie's books published this year, Why Didn't They Ask Evans? is a convoluted story full of false identities (my least favourite Christie trope) and far too many characters to keep track of. There is fun to be had, though, with the plucky young detectives Frankie and Bobby who are a welcome change from Poirot and Miss Marple, and with the then-new exhilaration of motorcar chases and accidents.
Three Act Tragedy
January 1935 (Published in the USA as Murder in Three Acts in 1934)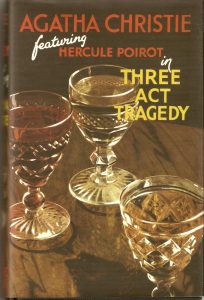 Three Act Tragedy was first published in 1934 by the USA publisher Dodd Mead with the title Murder in Three Acts, but the title and ending was changed for the UK edition in January 1935 which is now seen as the canonical version. It still counts, I think. 
In this one, Christie has a lot of modernist fun with structure and misdirection. The three acts of Three Act Tragedy are broken down thusly: FIRST ACT – SUSPICION, SECOND ACT – CERTAINTY, and THIRD ACT – DISCOVERY. Each of those titles are both true and ironic. The book is set in the world of theatre with its protagonist an actor who is always performing, moving from one role to another according to mood or circumstance. He goes about investigating the case while being the least stable character in the plot. The solution to the mystery is hilariously glib and shows Christie was really having fun with this one.
*Famously, Christie disappeared for two weeks after her husband announced a planned weekend away with his squeeze – her disappearance sparked a national scandal and massive police search.
**Murder on the Orient Express is the most famous title in Christie's canon but it's not actually her best-selling book. That would be And Then There Were None, which was originally published under a couple of other, horribly racist titles, before Christie's publishers settled on something acceptable.