Georges Fraju's Eyes Without a Face is an elegant and effective blend of noir-tinged expressionism and calm documentary-style realism. (Franju's earliest films were all documentaries; this was only his second feature outside the form.) Logically, the combination of the two styles should be jarring, with the stark visuals and exaggerated symbols making the quieter moments ring false or else the documentary-like stretches breaking the momentum and muddying the film's nightmarish clarity. Somehow, though, Franju always senses exactly what mode to work in.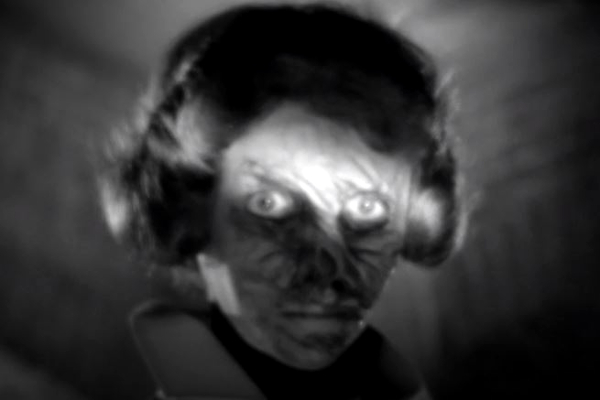 Edith Scob plays Christiane, whose face was badly disfigured–when we finally see it, it looks like a combination of raw meat and tree bark, not so much medically accurate as brutally tapped into the intuitive pairing of our faces with our humanity–and Pierre Brasseur plays Doctor Génessier, her father. Génessier has hidden his daughter away until he can restore her face, which he believes he can do via a heterograft or, essentially, a human sacrifice: another young woman's face will become his daughter's. He works efficiently and often coldly–one of the vilest and best-observed scenes in the movie is when he falsely identifies his victim's body as his daughter's, both covering up his crime and burying her still further, and then pushes the real victim's father away, responding to the man's confusion and terror in clipped tones: "How odd I should have to comfort you."
We learn via Christiane that her father is the one responsible for her accident. She has his gift for sharp, correct diagnoses, recognizing that his need for control caused their car crash and implicitly understanding that that same control keeps her here now. He's a good, caring doctor in his professional life, and he loves Christiane: his desire to restore her to "herself" is surely partly altruistic, but he also wants to fix his mistake. In going this far to do it, he makes her into a mistake, a dirty secret hidden away beneath a porcelain mask, officially dead rather than officially imperfect.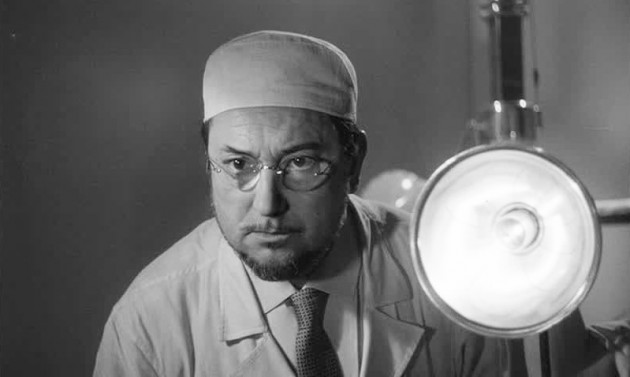 Before the accident, Christiane had a fiancé, her father's colleague Jacques (François Guérin); she was a woman. Now she's dwindled down to girlhood, with her passion confined to hang-up calls, her information limited to what snooping she can do when her father isn't home, and her society limited to the nanny-like Louise (Alida Valli) and a kind of sick parody of "playmates" in the girls Louise brings home for her. Scob's performance is remarkable, especially since she has to do so much of it from behind a mask. It's an intensely physical performance, neatly compensating for her own inability to use her face and suggesting that Christiane may be doing the same thing, living more fully in the body she has left. She's a creature of head-tilts and twitches and dreamlike drifts in her flowing white dressing gown, half-doll and half-animal, as eerie as she is sympathetic. She's been warped into this state, forced to live with either expressionless porcelain or a face that is only and plainly flesh; she hasn't been given the chance to discover that she's still a person. The beautiful, evocative ending lifts her straight past it, turning her into a kind of ethereal phantom.
Edith's mask–a gleaming, unmoving, colorless face–isn't the only image the film presents with this kind of cinematic, symbolic emphasis. There's also Louise's pearl choker, which becomes a kind of visual synecdoche for her. It's a status symbol, one that signifies her as a woman of a certain tasteful income, which may make it easier for her to prey on these strange women, recruiting them as Génessier's donors without their knowledge. It conceals her back-story, and, with the touch of a finger, reveals it: she wears the necklace to hide what little scarring she has from the procedure the good doctor did on her, saving her appearance and winning her undying loyalty … which is why the choker is also a kind of dog collar, permanently linking her with her master. And so she, unlike the doves and real dogs, can't be set free at the end. She can't pass out of the house into the woods. She's tamed.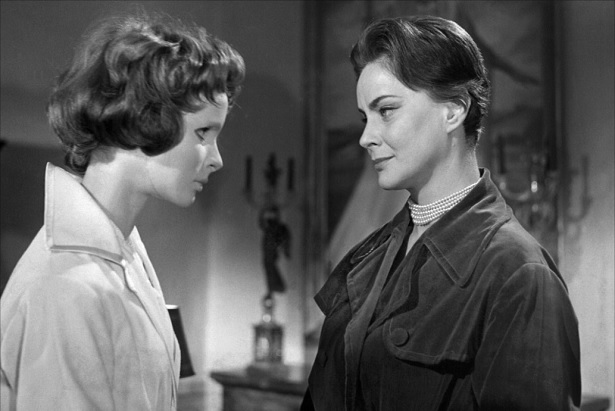 The music is equally overt, especially the jaunty, dangerous, carnival-esque theme that starts up whenever Louise is on the hunt for a new victim or working to lure one in. Played over the opening credits, it's lively and unsettling; used repeatedly throughout the film, it starts to feel like Pavlov's bell, cuing our nausea and dread.
But for all these vivid, purposefully distinct images and themes, the part of the movie you're most likely to remember is the one that feels like medical reference material: the face removal. This sets up the movie's longest and most relentlessly realistic stretch, and the effect of it all is to give the abstract concepts of identity and humanity–thus far symbolic, and powerfully so–a terrifyingly undeniable reality. Christiane's mask is a theatrical allusion to facelessness; what's beneath it is traditional horror. Both work extraordinarily well. And then comes the transplant scene, and all the comforting distance of symbols and genre are seemingly stripped away.
It's a perfectly constructed scene full of precise details. Génessier outlines Edna's face and eyes, drawing a kind of mask on her. And then he begins to cut. Blood spills, dark as chocolate syrup, and we're still in the realm of the fantastic–and then Louise swabs at the blood to stop the dripping and keep the line of the incision clear, and the tone changes from mad science to medicine. Génessier begins to attach forceps to the edges of Edna's face, edges that he's created, and his requests for forceps seem to go on forever. You can see the skin wriggle as he clamps them down. In the end, she looks both like a surgical patient and a figure in a twisted Renaissance painting, surrounded with a grotesque nimbus of silver tools. Brasseur makes it clear that this is work, as demanding as any OR procedure and as unforgiving of mistakes: Génessier's face glistens with sweat, and his breathing grows more and more ragged from the exertion, devolving into short pants. And then he and Louise lift Edna's face up off her skull in one wet and rubbery piece, and we finally, mercifully cut away.
If the getting of Christiane's new face plays out with unflinching realism, so does the loss of it. One day, at dinner, she's slightly flushed … and that's all it takes to set off a horrifying sequence of still images, Christiane staring flatly at the camera, an illustration in a medical textbook as her skin begins to decay bit by bit. Her father narrates the degradation in purely scientific tones, leaving the human implications of it to us, and it has to be one of the most perfect match-ups of narration and images cinema has ever offered. "The necrotic graft tissue must be removed."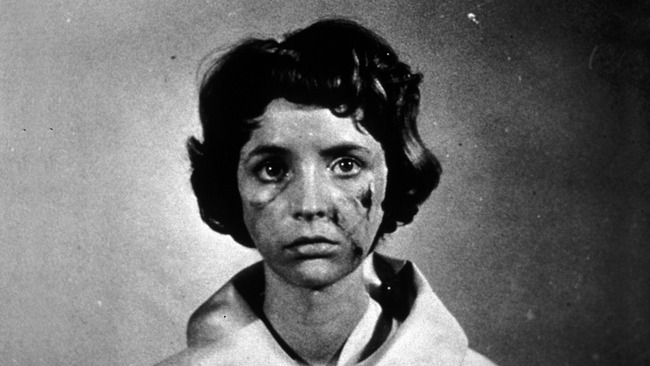 Eyes Without a Face might just miss flawlessness–the police subplot is arguably unnecessary–but it's nevertheless a masterpiece, filled with incredible performances and (sometimes unfortunately) unforgettable images. It has the power to shock even in the jaded, post-torture-porn present–while also offering more beauty and thoughtfulness than its more facile successors could ever dream of.