Cities existing on the edge of reality and unreality, grunge and gloss side by side. Reluctant heroes battling implacable villains. Gender confusion and surprising arousal. Inexplicably fucking up the soundtrack that for fuck's sake should have been nailed down months ago, what the hell you idiots. Rick Moranis. The urban fantasies of 1984 had a surprising number of things in common. It was the best of times, it was the worst of times.
It was the best of times for both Walter Hill and Ivan Reitman, directors who had been steadily rising over the past decade and were coming off big hits — Reitman's Stripes in 1981, his second Bill Murray-starring laugher, and Hill's 48 Hrs. in 1982, which launched Eddie Murphy's career and redefined the action comedy. So they were able to get the OK for some weirder projects. Hill would co-write and direct a movie full of things he thought were "great [as a teenager] and which I still have great affection for: custom cars, kissing in the rain, neon, trains in the night, high-speed pursuit, rumbles, rock stars, motorcycles, jokes in tough situations, leather jackets and questions of honor." Reitman, for his part, would develop a fairly insane treatment by Saturday Night Live vet Dan Aykroyd about dimension-hopping supernatural pest control workers from the future. If nothing else, the concept would need to be punchier.
Does anyone not know the plot of Ghostbusters at this point? Murray, Harold Ramis and Aykroyd, in a classic Looks/Brains/Wild Card dynamic, run around New York City catching ghosts and eventually foil a demon's plan to destroy the world. (They are eventually assisted by Ernie Hudson, who signed on after seeing his character have a lot to do in an earlier script and was disappointed to find out a lot of his lines were given to Murray, relegating him to the rare Muscle/Useless Chick combination). There are laughs from Moranis, romantic overtones from Sigourney Weaver, and special effects that still look pretty damn good today.
And does anyone not know the conservative/libertarian read of the movie at this point either? A bunch of entrepreneurs blow off stuffy academics and set up an unregulated business to fight an Evil Empire, an overzealous federal government (in the form of the sublimely uptight William Atherton) only makes matters worse, and our private-enterprise heroes save the day using nuclear power. None of this is hard to parse, and it's especially clear coming in the middle of the Reagan Administration. It's a right-wing fantasy.
And it is a damn effective fantasy, full of great lines and cool sets and action that, if Reitman doesn't film it on Hill's level, he integrates very well as effects interacting with real people. It's a movie with a lot going on and one that can be rewatched over and over. The Ghostbusters are led by Murray and his effortless cool, the kind of a guy who in the most serious situation of his life will use the opportunity to drop the perfect zinger — "It's true. This man has no dick" — but the team is balanced by Aykroyd's nerdy enthusiasm and Ramis' brusque bookishness; if he can be a bit rude, it's because he actually knows how things work, as opposed to Atherton having authority and using it like a prick. They tear shit up and get things done, and while they're cocky, for the most part, they aren't assholes (again, it is impossible to overstate the necessity of Atherton as counterweight to all this). Aykroyd's concept involves ghost blowjobs, giant devil dogs, a kaiju-sized marshmallow man and demonic architecture out of a Fritz Lieber novel. The movie makes this work by barely stopping to explain it all. But the whirlwind of the explicitly fantastical is there to provide the eye of normality at the center, to re-emphasize the specific choices about our heroes as good old American boys.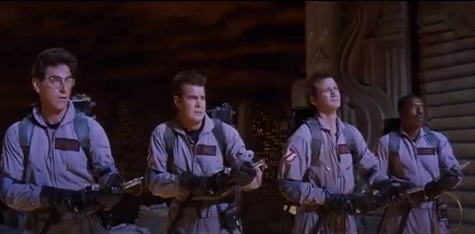 The romantic choices echo the supernatural ones. Weaver, playing a woman being haunted by a relentless creature and also something that isn't Murray, is a happily single cellist, and while she and Murray are obviously going to get together and have the chemistry to make that work, it also feels like the movie would never push back on the idea that Murray shouldn't get what he wants. At one point, Weaver, possessed by the subdemon Zuul, invites Murray over to finally get laid ,and Murray, no dope, realizes something is up and manages to talk the demon down to the point where he can get help. At no point is he trying to take advantage of Weaver, which is all to the good except that it's clear the movie is trying to give him credit for this. It's another part of the fantasy, chivalry reconfigured as not raping someone. And Murray and Weaver wind up as a couple anyway, so it all works out.
And if things that don't conform to the fantasy, they must be eradicated. In the climax, the Ghostbusters finally confront would-be world destroyer Gozer the Gozerian, who has taken the form of Serbian model and actress Slavitza Jovan. With her high hair and high cheekbones, not to mention prominent makeup and outré bodysuit, she is taking a lot of cues from David Bowie and could not be a bigger and more purposeful contrast to these very straight working joes. And while it winds up taking more than just a few shots from their nuclear-powered dicks to destroy this androgynous menace, destroy it they do, to the eternal thanks of New York (well, until the sequel). New Yorkers love them, and "I love this town!" Winston yells back. Cue the legally non-actionable rip-off of "I Want A New Drug."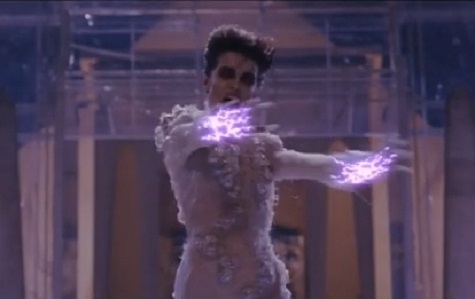 While a large chunk of Ghostbusters was filmed on sets in L.A., Reitman made sure to get plenty of New York footage to make the movie feel real. And the movie has New York types too, cops and bums and yuppies and hacks — David Margulies' mayor in particular feels like he walked out of The Taking of Pelham 1 2 3 — and the no-bullshit honk of (Tennessee-born!) Annie Potts. Audiences have always responded to fantasies at the movies, from musicals to Star Wars. But Ghostbusters' intersection of the fantastic and the contemporary, with action and, more importantly, humor, was something new. Ghostbusters made $300 million on a budget of $30 million, and those numbers would make anyone fantasize about making something similar and perhaps realizing similar profits. A mix of the fantastical and the mundane, with a happy ending of course.
Like Ghostbusters, much of Streets of Fire was filmed on sets and, in one case, an enormous soundstage replica of a city street. The movie's title cards call it a "rock and roll fable" set in "another time, another place." The main district of the city is called "the Richmond" but it is not an obvious riff on anywhere in particular; the electric instruments are current, but the cars are Studebakers. But where Reitman got footage of New York, Hill shot exteriors in Chicago, and that is a reference for the geography here. All of the public transit seems to be elevated and you can drive all day and still not be out of the city limits — you've only gone to a shittier part of town. 
And the Richmond is a place that is not somewhere you hang out if you have somewhere better to go. Hot young band Ellen Aim and the Attackers are only passing through, much to the annoyance of band manager Rick Moranis, who isn't quite Athertonian in his arrogance but is getting there. But this is where Aim (Diane Lane) is from, and the opening sequence shows everyone in town who has ever loved a song getting ready, getting prepped, getting set to have their faces blown off at Aim's benefit show, and in the best sequence of his great career, Walter Hill shows that they were right to feel this way. To the soundtrack of Fire's "Nowhere Fast," the hall fills with people young and not so young, ready for a show that will let them touch their dreams. Hill shows their anticipation and slowly brings out the band to meet and join their ecstasy; Hill and his team of editors use fast but clear cuts to build the song's intensity as a communion between performer and audience, as opposed to a showcase for the performers brought to a different kind of audience. The cutting moves from fast static shots to a final whirlwind camera following Lane as she dances nearly out of control during the song's climax, creating and consuming the crowd's energy. But the audience also includes a menacing man arriving by motorcycle with his gang; Hill delays the reveal of Willem Dafoe's demonic face as long as possible, keeping his antagonists in shadow until the song ends. Then Dafoe leads the charge, kidnapping Lane with his biker gang the Bombers and starting a riot. The dragon has stolen the maiden. It is time for a hero.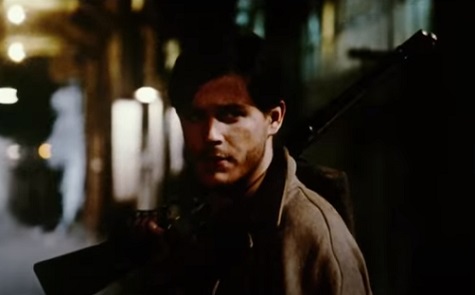 That would be Michael Paré — army veteran, brother to one of Aim's biggest fans and former lover of Aim herself. Called back to town by his sister, he teams up with a fellow former soldier who was originally cast as incredibly badass dude Edward James Olmos until Amy Madigan talked her way into the part instead. She plays the role as butch as possible and explicitly lesbian as she can, but what makes her great is how this is not the point. She is a soldier, as she tells Paré — she wants a job and despises bullshit. "Everywhere I go, there's always an asshole," she says before smashing Bill Paxton's face in at the bar, and while Paré's blankness sometimes gets the better of his toughness, Madigan is extremely convincing as one of the very few people who can get away with running into assholes every day without being the asshole. 
Which makes a great pairing with Moranis, who will always give you shit and always stand up, usually by tossing money around. He pays Paré $10,000, with a tenth going to Madigan, and the three of them go to rescue Lane, who is being held at Torchy's — a bar in "the Battery," the very shitty part of town and one Moranis used to book bands at before moving up in the world. Torchy's is full of bikers and goons and Bombers, and they are all rocking the living fuck out to the live show from the legendary LA punk-rockabilly band The Blasters while an androgynous dancer writhes on top of the bar. These people are the enemy — Paré and Madigan proceed to rescue Lane, who's been tied to a bed upstairs, and Paré proceeds to shoot the absolute shit out of a bunch of motorcycles and burn the place down. All of this is extremely boss — and to be fair, the Bombers started everything. But Hill plays fair with Torchy's and makes it look like an awesomely horny place to be — the sweaty band tearing it up, the audience drinking and hollering and getting down to that dancer's erotic moves. This isn't the confused aggression of the Ghostbusters confronting the deviant Gozer, it's a wild saloon that gets busted up as the black hats and white hats shoot it out. Hill's movies are always Westerns, the most mythical movies of all.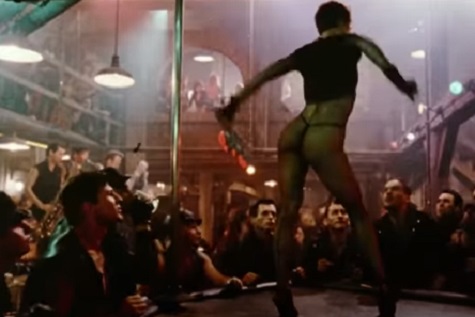 But we're not ready for the final confrontation just yet. Out in the streets, which are now literally on fire, Dafoe strides up shirtless to stare at Paré. Dafoe got this gig on the recommendation of Kathryn Bigelow, who had just filmed him as a biker in The Loveless, and I'll defer to beloved Soluter Wallflower for a description of the man: "He's skinny to the point of what the 19th century would call consumptive, and he calls up that kind of doomed-Romantic vibe that so much of the biker genre had. The eyes and cheekbones were always too prominent then, the lips too thin, a face that's scary and instantly iconic." Dafoe says very little. With a face like that atop giant leather fireman's overalls and no other clothing he doesn't need to. But he promises a showdown before the movie's end.
Before that can happen, Paré and his crew have to escape back to the Richmond, which they do by picking up a few other folks. E.G. Daily's superfan Baby Doll recognizes Lane and helps them out of a jam, and the group hijacks the tour bus of the Sorels, a Black vocal group still hunting for their break, like Lane was not too long ago. And Lane and Paré have it out about their break-up — he didn't want to follow along as she moved up the musical ladder — and then about Paré taking money to rescue her, which is a pretty dick move. Paré ultimately refuses the money, Lane finds out and runs after him and as the music swells the two — you guessed it — kiss in the rain.

After some make-up sex, Lane tells Paré she'll run away with him, the hell with her career. And Paré has been told to run away by the local cops, who know about Dafoe's ultimatum and don't want to see the town torn apart. Paré agrees to leave, but on the subway ride out of town he cold-cocks Lane, passes her off to a skeptical but obliging Madigan, and heads back to the old neighborhood. Because this fantasy isn't about the relationship between him and Lane, and he's got a final showdown to get to.
And what a showdown it is! For all the movie's intensity, no one actually dies — the only guns are used to blow up cop cars and motorcycles, not to be used on people, and even knives seem to be verboten — so of course Dafoe and Paré battle each other with giant sledgehammers before giving way to fisticuffs, the Bombers on one side and the Richmond residents on the other, a few cops who tried to keep order and realize things are out of their hands looking on. Paré finally knocks out Dafoe, the day is his, and the Bombers drive off in shame and won't bother anyone again. 
It's interesting to look at this in the context of another piece of pop confrontation from a few years earlier, Bob Giraldi's video for Michael Jackson's "Beat It," which briefly includes a knife fight ripped off from Hill's The Long Riders and was filmed on Skid Row with a cast of actual Crips and Bloods. And a young Stoney Jackson, the leader of the Sorels, is one of the dancers! Young people in two gangs crowd the mean streets as those gang leaders prepare to square off in mortal combat, as Jackson narrates from outside, stuck in a crummy room dreaming about this clash of titans. But he winds up working his way into the conflict, taking it over in a joyous dance that unifies the warring enemies. The person fantasizing enters the story; the singer, and not the fighters, is the hero. 
In a quiet moment earlier on, Daily talks to Lane about how she wants to write songs too, and Lane a bit roughly but honestly says she merely sings the material Moranis gives her. Daily isn't quite having that:
"I always thought those were your songs."
"I just sing them."
"Yeah, but when you sing them you make it yours, that's the way it is, right?"
"I guess so, who knows," Lane trails off. She's a bit of a cipher through most of the movie; Hill's characters are defined by their actions, and while Lane opens the movie with a bang, for most of it she's either an object or a reactor, not a subject. Until the very end, where she and Paré meet for a final time and come to an understanding — they're going different directions and while he'll come if she needs him (hey, Dafoe is still out there), they won't be together. That fantasy is over. And as Paré heads for the door, Lane is once again ready to take the stage with a song to make her own.
Which is ironic considering what she's about to sing, which was originally intended to be, what else, Bruce Springsteen's "Streets of Fire." That song and its slow, wrenching verses exploding into the emotional chorus would've made for a strong finale, and Ellen Aim would surely have made it hers. But as a choice for this movie it's also a bit off. Springsteen's fantastic guitar solo is the crux of the song, and that wouldn't translate to a vocalist. And while the lyrics fit anyone on their own, as Lane and Paré both are now, the energy of facing the darkness and walking through those streets of fire feels more like Paré's story. Maybe that's why it was chosen in the first place, and filmed and in the can before the producers could get Springsteen to sign off on the rights, and the Boss was ultimately not cool with the filmmakers' plans for rerecorded vocals. So Jim Steinman — the writer of "Nowhere Fast" here and "Paradise By The Dashboard Light" and "Total Eclipse Of The Heart" elsewhere — was given two days to come up with a new track. A different fantasy.
After a great performance by new opening act the Sorels, who are clearly on their way up (Jackson does the hold-the-mic-stand-and-lean-into-the-crowd move — it is a cliche and a great one, and everyone goes nuts), Lane takes the stage to thunder rolls and ominous piano, very different than the immediate energy of "Nowhere Fast." The opening lyrics are pure Steinman nonsense — "I've got a dream 'bout an angel on the beach/And the perfect waves are starting to come" — that are meant to evoke more than describe, and to do so on the power of the vocalist (here it's the combined voices of Laurie Sargent and Holly Sherwood). Springsteen's protagonist walks with angels; Lane doesn't see any angels in the city. But as the music slams in as the second verse begins, moving with an energy absent in Springsteen's weary yet purposeful push forward, she has a band and an audience. This is where the heart of the movie's fantasy lies, not in the clash between cool outcasts and archetypes, or true love conquering all, but in the idea of people coming together because of a song.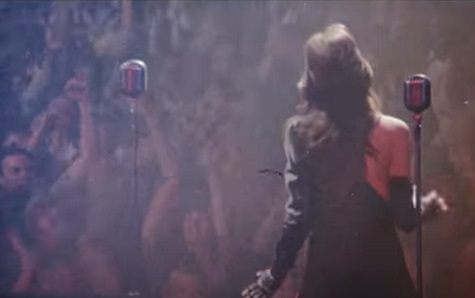 Hill films this with a similar emphasis on performance and audience as he did in "Nowhere Fast," but even as the music builds, he initially keeps things at a greater distance. And he keeps cutting back to Paré, standing in the doorway, the remove of the shots emphasizing what he's leaving behind — not just his lover, but the fantasy that she's writing him out of even though he's the reason she's here. "It's only a dream and tonight is for real/You'll never know what it means, but you'll know how it feels/It's gonna be over before you know it's begun," Lane sings, laying claim to the moment while she can, before dropping Steinman's title: "Tonight is what it means to be young."
What happens next is my favorite part of the movie, as the chorus swells and the Sorels strut out, singing and dancing to the song like they were born to it. The fantasy here is open to whoever wants to join in, and if Paré doesn't want to because it doesn't fit how he wants to be in the world, that's on him. Everyone else is singing: "Let the revels begin, let the fire be started/We're dancing for the restless and the broken-hearted." Lane, the bands, the crowd — they're all in this together, dancing for each other and even a broken-hearted stoic like Paré, and the perspective changes from Paré looking from a place of remove at the show to the show becoming its own entity that he can no longer stand. He finally turns and walks out that door. But at least he's not alone. Madigan drives up, now offering him a chance for a partnership, and he takes it. They drive off for more adventures as the chorus fades. Paré beat the bad guy, but he didn't get the girl, but while he rejects one fantasy he can still create his own myth, even if Lane had him pegged from the start. "Even if you don't have anywhere to go/You go down on the pedal and you're ready to roll," she sang during "Nowhere Fast." "God speed, speed us away."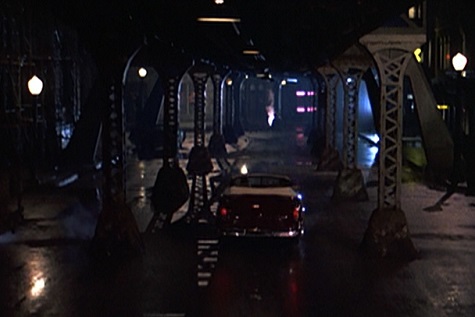 Madigan and Paré disappear into the night, but Hill wanted to revisit his reluctant hero in a trilogy of films. Those plans were scotched almost immediately when the movie barely made back half of its $14 million budget, a budget that had at least an extra million tacked on to recreate the entire concert hall set, after it had been torn down, so Hill could reshoot the ending with Steinman's new song. Always the kind of thing that endears one to the suits. Hill's ode to teenage dreams lived fast, died young, and left a good-looking corpse. A corpse that's always ready to be plundered — a few years later, the language Hill used to film the ecstatic anticipation and realization of "Nowhere Fast" was deployed for another show — low-cal yuppies at a faux dive preparing to be tastefully blown away by Eric Clapton wheezing "After Midnight" in a beer commercial. "The night belongs to Michelob," the announcer purrs. Not to you or me or us, being young, dancing for the restless and the brokenhearted. The fantasy is commodified, no space for jokes and rumbles and questions of honor. Maybe some kissing in the rain, if the censor OKs it. Commodification is as inevitable as fantasy itself, but the inevitable tawdriness of the whole thing is what's so depressing.
I mean, now it is. When my brother and I were younger, we had dozens of Ghostbuster action figures, their fire station headquarters, a wearable proton pack and, much to my mom's dismay, various never-to-be-filled-when-they-could-be-left-out containers of slime. The producers apparently did not anticipate merchandising the original film but had figured things out a few years later when they introduced The Real Ghostbusters cartoon (and a cartoon allows for so many more action figures to be marketed anyway). I was two years old and my brother two months old when Ghostbusters first came out, but the movie and its aftermath, even the widely disliked Ghostbusters II — focused on being kinder and gentler, finding evil in offensive art and single motherhood, very much the George H.W. Bush to the original's Reagan — dominated our world. At least, it did until another quartet of wisecracking New York heroes came along, eating pizza and wielding ninja weapons. 
And while it took a while, the alchemy of Ghostbusters has come to dominate many of the most popular movies today. It's had plenty of high-concept descendents, some loved (Men In Black) and some not (R.I.P.D.). But while the first modern superhero movie, Batman '89, is more similar to Streets of Fire in many ways, with an auteur following outsized personalities through a heavily stylized retro landscape, the most successful superhero films would hew to the Ghostbusters style of fantasy grounded in reality, action leavened with humor. The "Well, that happened"-style quippery of the Marvel flicks has gone stale for a lot of people, but it was done best by Murray, watching his girlfriend turned into a hell beast: "OK. So, she's a dog." It's not exactly the stylized bluntness of Paré's "You know something? The only trouble with kicking the shit outta you is it would be too easy."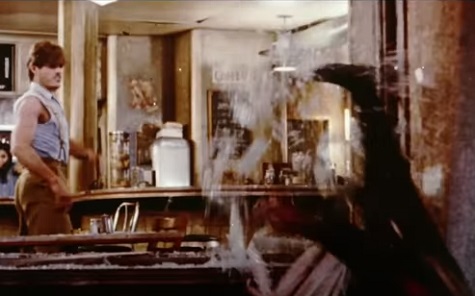 It's not surprising the fantasy of Ghostbusters has thrived, considering how deep the original has sunk into the minds of many fans who encountered it while young. (Insert tedious discussion of response to Ghostbusters 2016 here, or the even uglier response to Genevieve Koski's criticism of the original.) Because for all the political undertones and adult jokes, the fantasy here is most aspirational for children. Live in a big house in a cool city with your friends, drive an awesome car, zap crazy monsters with boss guns! This sounds pretty great to me as an adult, actually, although it seems to be missing something. Despite being about adults, the closest Ghostbusters comes to dealing with sex between its human characters is that possession/attempted seduction scene. Blow jobs from friendly spectres aside, no one is getting any here. No one is really going anywhere with one another.
Streets of Fire is about teens and people just into adulthood, and while the ages of the actors don't always line up with their characters — Madigan and Moranis are in their 30s — everyone has the intensity of the young, and it's interesting that this fantasy actually shows people getting laid while the one about adults has no real adult situations. Its fantasy is of desire, and desire is messy, and desire doesn't always work out for the people on either side. 
Ghostbusters ends in a declaration of love for a real town, Streets of Fire with a break-up with a fake one. Ghostbusters ends in unity, all dischord vanquished, and Streets of Fire lets two people walk away in opposition, each spinning the fantasies they need to keep going. Neither of these endings is better than the other, but one has been embraced by people looking to sell it over and over, while the other is largely forgotten and has to be sanded down if it can be sold at all. As a kid, I wanted to be a Ghostbuster; as an adult I want to drive through the neon-soaked streets to a concert packed with people ready to burst from the music, to feel the way I did going to shows when I was younger. Maybe it's because that second one is tied to something lost as well as found, that fulfills a need without quenching desire by providing a happy ending or a cheap beverage. And maybe because it's something true, and the fantasy that it could happen again makes it so potent and precious. It was only a dream, but for a night, some other people made it real.