Soapdish is an interesting case of a movie thatd oesn't get much discussed these days aside from its pretty insane cast for the time.  Obviously, this is partially because of a late twist that we'll get to, but let's dig into the details of the plot first.
The movie is set at a fictional daytime soap opera with the fantastic title The Sun Also Sets.  Sally Field plays Celeste, an analogue of Susan Lucci for how long she's been the star of the show.  Her ambitious co-star, played by Cathy Moriarty, is Montana who is conspiring to replace Celeste by preying on her insecurities and forcing her into a terrible plot turn that will make the audience turn on her. This all gets upended when Celeste recognizes the actor playing the deaf person she's supposed to kill as her niece Lori, played delightfully by Elisabeth Shue and the network (headed by Garry Marshall at his most delightfully unctuous) decides to keep the character alive and play up the relationship .
So Montana and producer David (Robert Downey Jr) move to a second plan, bringing back Jeffrey Anderson (Kevin Kline) who had been killed off by decapitation decades earlier when his offscreen romance with Celeste went sour.  (One of the funniest bits of the movie is how the writers and actors argue how to get past that he was decapitated.)  They find him doing dinner theater in Florida, bring him back to the show and we're off to the races to…
French bedroom farce time!  One of my favorite farces is Noises Off!, a simply delightful play (with a decent movie, worth checking out for watching Christoper Reeve do comedy), and this starts getting into that mode as romances rebloom, people who definitely shouldn't be together flirt, there's more machinations (I haven't even mentioned Teri Hatcher as an ambitious new actress on the show, or Whoopi Goldberg as Celeste's favorite writer who's conspiring with her to fight against Montana's plots) and lots of, of course, slamming doors.  
How this all gets resolved in a ratings-grab live show is generally delightful and goofy and then it all comes slamming down with one of the worst-handled plot twists I've ever seen and kind of why, much as I like this movie, I chose this to talk about.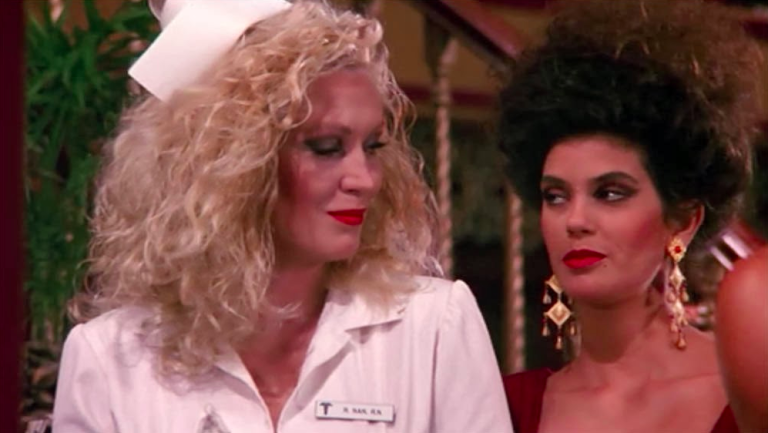 Rose (Goldberg) and Ariel (Hatcher) crash the climatic live scene between Celeste, Jeffrey, Montana and Lori and announce they have new medical evidence about Montana's character on the show and produce her high school yearbook where you see her picture and old name…Milton.  Yes, Montana is a trans woman.  And they play this for freaking laughs and it felt sour to me in 1991 and it's much, much worse now.  And ha ha, Montana loses, Celeste wins, Jeffrey and Lori stay on the show, and we see later that Montana is doing dinner theater in Florida at that same place they found Jeffrey but as Milton.  Which, look, I know this is 1991 but that's not how this works!
I'm fully of the belief that sometimes, you have to consider the tenor of the time a piece of art is made and can't just dismiss it.  But good lord, even so this never feels right.  Tootsie, which has never been a favorite movie of mine, handles it better for crying out loud.  (Noting, of course, that is cross-dressing and not trans.)  I'm getting on a soap box here, I know, but I think it's worth acknowledging that a movie you generally like has a really sour point to it.
Look, I still kind of recommend this movie.  All the actors are really digging into the material and having a lot of fun (and Cathy Moriarty is in great form here).  There's never a dull moment and I think it's never talking down about soap operas, but enjoying that they can be kind of wonderfully ridiculous. I was a Days Of Our Lives fan at the time Marlena was possessed by Satan and it was the absolute best. But if you're going to watch it, just fair warning about that twist, hence why I chose to spoil it (also, it's 32 years old now so why not).
Stray Thoughts
Soapdish

was directed by Kevin Hoffman, a pretty workmanlike director whose best other film, I think, is

Game 6

(2005), a movie where Michael Keaton portrays a playwright from Boston whose big Broadway debut is about to open on October 25, 1986 – the day of an infamous World Series Game involving his beloved Red Sox – and is a really interesting look at the intersection of art and fandom.  (It's also one of the movies that's the beginning of Robert Downey Jr's renaissance as an actor who wasn't just a risk.)


I completely forgot to mention that one of the writers is Carrie Fisher, parodying her career as a punch-up writer.  This movie's cast is nuts.