First off, my apologies for this being a bit late.  I discovered, once again, that hollandaise simply does not agree with me and I got a light case of food poisoning.  Suffice to say, it sucks.  But on to the show! 
This year for the Halloween movies, I decided I want to try something I'd never seen before.  Looking through the Letterboxd list for 1931 movies, I lit on Dr. Jekyll and Mr. Hyde, directed by Rouben Mamoulian and starring Fredric March in an Oscar-winning role.  Boy howdy, does he deserve it.
I'm going to assume we all know the basic story of this, from the novel by Robert Louis Stevenson; Dr. Jekyll is a successful doctor in Victorian England, a bit of a man about town who is also romancing Muriel Carew, whom he wants to marry immediately while her father wants them to wait.  While being driven home one night he observes a bar singer, Ivy (Miriam Hopkins), being attacked on the street and saves her, taking her back to her flat and tending to her.   She makes a pass at him and he demurs, though he is tempted.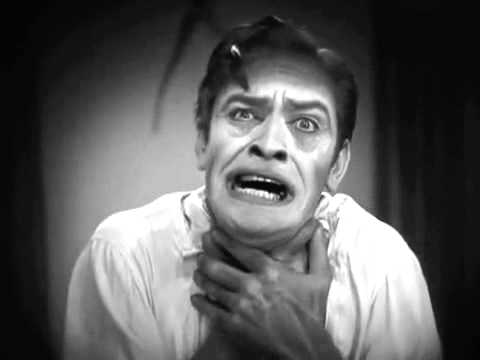 Jekyll has theories about the duality of good and evil in man, decides to test them with potions and turns into the evil side of himself, Mr. Hyde.  Chaos ensues, he attacks and mocks those who Jekyll loves and flips back and forth between the personas.  He's finally stopped by his friend Dr. Lanyon, who has figured out the two men are the same person.  Hyde dies and turns back to Jekyll, very reminiscent of the ending of the original The Invisible Man.  
The devil is in the details, as they say, and one of these details is this absolutely fantastic Fredric March performance.  March was an actor who could do both drama and comedy (I particularly like him in Design For Living, again with Miriam Hopkins) and he gets to do a bit of both here.  He's stylish when needs be, a charming brute when it's required and you can't but feel for him as Jekyll when he figures out that he is also Mr. Hyde.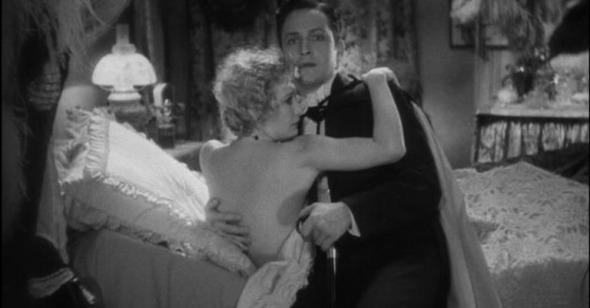 Something worth bringing up; this movie is very pre-Code and almost surprisingly sexy.  I had a serious moment when Ivy sits up in her bed to see they showed a surprising amount of breast, even for pre-Code.  Miriam Hopkins is very effective as Ivy who is very much into Jekyll and expresses her feelings and then it becomes incredibly cruel how Hyde turns her words against her just before attacking her in a shockingly violent scene.  The movie is quite effective at the duality of charm and brutality that way.
I'd like to end with some of the odd shooting choices in this movie; it starts with a POV sequence from the POV of Jekyll that goes quite a while until you finally see him in a mirror at his gentleman's club.  That comes back once in a while in the movie and it works quite well.  There are also a decent amount of actors looking right down the barrel at the camera, something almost no one uses these days except for a faux-documentary look.  It's done really well here (and of course, gets used for the transformation scenes, which work naturally for the time time-lapse shots).