So, sat you're at EON Productions in 1969.  Since 1962, you've been reliably pumping out Bond films, most of them pretty good, one of them even great (that's From Russia With Love). All of a sudden, you hit a roadblock: Sean Connery is tired of playing Bond and wants out.  But hey, you can't let this cash cow go! So what do you do? Well, you take a page from three years earlier, when Doctor Who had the audacity to recast the Doctor, and you simply hire another guy to play Bond.  Thing is, you never come up with a reason why he looks different now, leading to almost fifty years of jokes about "Bond is a Time Lord" or speculation that the name James Bond is more of a title passed down from 007 to 007.  
So in comes the well-known and respected actor…
Wait.
Strike that.
In comes George Lazenby, an Australian model who producer Albert Broccoli spotted because they had the same barber.  Now, this was essentially Lazenby's first big acting job. To his credit, he's actually pretty good, if a little stiff at times.  But boy, it seems like audiences were mild at best about this guy coming in and taking over for Connery, who just oozed creepy charm in a way Lazenby couldn't quite pull off.
Anyhoo, it's in a lot of ways a fairly standard Bond filmm with Blofeld (in this case played by Telly Savalas) having a plot to blackmail the world with an adaptable virus that he can use to kill any particular species.  Bond discovers the plot, stops him, everyone goes home happy. But not quite. See, this is a rather weird Bond movie for a couple of reasons, reason number one being Dame Diana Rigg.
Dame Rigg plays the Contessa Teresa di Vicenzo, a socialite Bond runs across while on Blofeld's trail (though supposedly on vacation).  Bond falls for her, as Bond does, but it's obvious from about minute one that these two have a deeper connection than the usual Bond and Bond Girl shenanigans.  Rigg walks into the movie and really takes it over every time she's onscreen; she's not taking any crap from anyone, whether it be Bond, her father or Blofeld. It's a really fun performance that always makes me think I should go back someday and watch The Avengers (the other one – ed.) because I kind of wish she was the spy in this one.
So after the defeat of Blofeld, happy ending for everyone…and James marries Teresa.  The international playboy of mystery actually gets married, and it's nice and lovely and everyone is happy for them.  Until they get ambushed by Blofeld as they head off on their honeymoon and Teresa is shot in the head. The last shot of the movie is Bond cradling his wife's body in his arms and repeating "We had all the time in the world."  I can't even imagine how that went over with audiences in 1969. Bond always wins the day, and he does here again, but it's the most bittersweet ending, really, of any Bond film until Casino Royale and the death of Vesper Lynd in 2006.
Now, I'm not the biggest fan of George Lazenby as Bond.  He delivers a decent performance, certainly, but he's no Craig or Connery.  But I kind of wish they had made just one more film with him, where they would deal with the murder of Teresa and the fallout from it.  Apparently, they filmed that scene meaning to use it as the beginning of the next movie with Lazenby but since he never returned to the role, they dropped the whole story outside of little references to it over the years.  It's a shame, really.
I don't think anyone would claim Secret Service is top-level Bond.  It's far too long, the action sequences are shot pretty abysmally (there are a ton of close-ups hiding that) and it doesn't have the greatest of plots.  And yet, there's something kind of fascinating about this one time one guy played Bond and it has this bittersweet ending that is just never returned to.  I was kind of happy to revisit this.
Some minor thoughts on the movie:
John Barry, as usual, does a great job with the score.  It's one of the last Bonds to have an instrumental title theme.  The really weird bit about the titles is that it shows a lot of clips from the previous five films but not clips of Connery.
This movie continues the wonderful Bond goofiness that if you meet someone and then go to a completely different country, they will be staying at the same hotel.  All cities only have one hotel.
Lazenby being Australian reminds me of the oddly funny fact that only two Bonds were actually British.  (Connery is Scottish, Pierce Brosnan is Irish, Timothy Dalton is Welsh, and Barry Nelson was American.)
I think this every time I see an early Bond movie: I'm not convinced Baccarat is a real game and not something made up for Bond.
Some of the weird outfits, including the Sex Kilt, remind me that this is the one Bond that the Austin Powers movies are riffing on for the outfits and even more so for how Dr, Evil is doing Telly Savalas as Blofeld (who even has a bizarre monologue about his upbringing).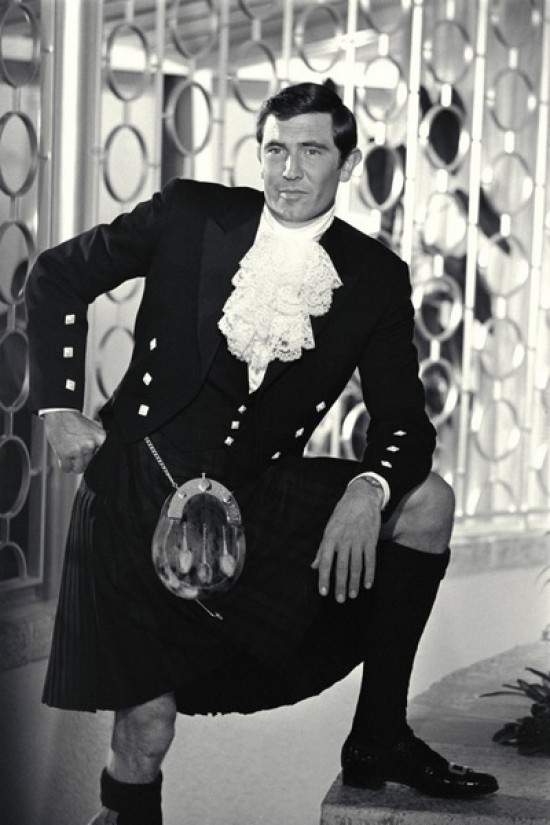 Bond at one point toasts a picture of Queen Elizabeth and it makes me think that it does seem slightly weird, in retrospect, that Bond has had only one Monarch, one whose reign predates the movies by almost a decade (and who has survived two Bond actors at this point).
There's a small flaw in the Bond/Teresa relationship: it feels like it's missing a step.  She loathes him for twenty minutes and then suddenly it's all lovey-dovey in a sequence that feels like it was filmed for The Courtship Of Eddie's Father — a lot of vaseline on the lens as they wander around whatever country they're in.
Bond is a terrible, loud spy. This is nothing new but it's hilarious how often he announces who he is to everyone he meets.
Oh, one of Blofeld's flunkies is played by Joanne Lumley!  This is her movie debut after a successful Swinging '60s modelling career in London.
It wouldn't be a Bond movie without some casual racism.  The Angels Of Death, Blofeld's female flunkies, all have different dinner dishes and anyone who's not white is getting a supposedly appropriate ethnic dish. Aaaaand the black woman has a dish of bananas. No, I'm not making this up.
Looking at the history of Bond, the weird list of Blofeld actors is fascinating. Charles Gray, Telly Savalas, Donald Pleasance, Christoph Waltz and Max Von Sydow, among others, have played him.  That's a murderer's row of actors.
A flunky gets chewed up by a snowblower (and spit out with the snow).  This may be the single most disgusting thing in a Bond movie outside of Benicio Del Toro's fate in License To Kill.
Toward the end, Bond doesn't check to see if Blofeld is dead or anything after tossing him into a tree. Again, Bond is a terrible spy.
Who the heck are all these people at the wedding?  Does Bond have relatives? Is it all five of Bond's work friends and the rest are Teresa's family?  Does Bond have the saddest groom's side of the church ever?
Finally, I've had some fun with Lazenby here, but he's legitimately quite good in the final scene with his grief.   There's some damn fine acting there and he deserves praise for it.