It took me three and a half years to get from a mall in Western New York to a dingy store in Ottawa whose merchandise was roughly 70% vintage pornography, 30% used albums and CDs, and one paperback copy of The Wit and Wisdom of Harry Truman. You may be asking yourself, how did I get here? Who put me on the crooked path that led to this destination? Those damn Butthole Surfers, that's who.
But back in 1996, I was walking a straighter road. I'd listen to the radio, 95.1/95. THE NERVE (and you better believe that call sign was uttered with the sneeringest attitude imaginable), hear the latest modern rock singles, and go off to the FYE in the mall to buy the bands' albums if they sounded decent. These were the days of CDs that cost close to $20, and dorks like me would buy them on the basis of a four-minute song, but I wasn't really aware of any other option. In the spring and early summer, Sponge's "Wax Ecstatic" from the album of the same name and Porno for Pyros' "Tahitian Moon" off of Good God's Urge were getting lots of play, and so was this weird song "Pepper" by the Butthole Surfers, whose name was still said on the air with skepticism that this kind of thing was allowed. 
"Pepper" is an exemplary pop song, catchy without actually being all that good. It was derided as a Beck knock-off, which is not unreasonable considering how Gibby Haynes' semi-rapped vocals ride a drum machine beat until the chorus kicks in and the chorus is pseudo-profound nonsense over booming, chiming guitars. Singing about "the ever-present football player rapist" gives a slightly subversive kick though, and Paul Leary's gorgeous fuzzy guitar outro finds a higher high than the simplistic sparkle of the chorus. Worth a buy, I thought. And hey, it's on the radio — it has to be good! So I got Wax Ecstatic, Good God's Urge, and the Buttholes' Electriclarryland.
Buying mostly blind can lead to surprises, like the squealing guitar buzzsaw that kicks off opening track "Birds," a heavy rocker that was clearly by the same band I'd heard on the radio but one hell of a lot more animated than they were in "Pepper." Which is sequenced third on a 13-track album, leaving room for more surprises to come with nothing stable to anticipate. More hard rock in "Ulcer Outbreak" and its sick little bass riff? The lighter but ominous and insistent "Jingle Of A Dog's Collar?" "TV Star," a lazy country song that is so straightforward it feels like a parody? "The Lord Is A Monkey," which comes off as "Pepper's" skeevy, tattooed, meth-dealing cousin? "Thanksgiving's coming on the Fourth of July/iI the form of a girl with a needle in her eye," Haynes leers over pounding trip-hop drums and wah-wahing guitar. We are far away from the radio here.*
And then there was the really weird stuff. "Let's Talk About Cars" might be about people talking about cars, I don't know — the man and woman who converse over a very chill, loungey vibe and Leary's mournful guitar licks do so in French. Haynes drops in every so often with couplets like "Goodbye/Hare Krishna/It's been the best/Goodbye, earth/Goodbye, Richard Nixon's breasts." Breasts also factor into the menacing "My Brother's Wife," where Haynes' altered voice covets said wife, her breasts, her ass, even her car, as drummer King Coffey bashes the shit out his toms in a stalking stomp. It is creepy and juvenile, amusing and awesome. "I am king of my dominion," Haynes intones. "I know the secrets of the clown."
When you don't have a lot of albums — and I was just starting to really get into music at this time — you tend to listen a lot to the ones you do have. Leary's thick, hazy guitar, Coffey's pummeling drums, Hayne's blasted Texas drawl, the voice of one of those prophets who went mad wandering in the desert — they wound up soundtracking bits of my life in weird ways. The midtempo melancholy of "Cough Syrup" ("I hate cough syrup, and I hate the food in Europe," Haynes declaims) and its cello outro played as I read the bittersweet ending of A Tale Of Two Cities for English class, just as Dickens intended. But Electriclarryland didn't just stay in the background, the way those other albums I bought at that time did. It was too disjointed, too weird. Listening to it now, I can hear the sounds of mid-90s alternative more clearly, how many of the songs still follow verse/chorus/verse and how the album's loud mix is a big factor in its bite. It's not Swans or Pere Ubu or the Boredoms or even older Butthole Surfers. But it's a door standing open to those sounds, its scattershot oddness indicating a whole world out there beyond the radio.
Like the internet, for example, and the infinite reference of allmusic.com, listing discography and history and related bands. I started working backward. I can't remember where I got Independent Worm Saloon, the band's previous album and first for a major label, but it made Electriclarryland look staid in comparison. (Its last two tracks are the acoustic "Ballad of Naked Man," which is what it says, and "Clean It Up," nine minutes or so of people puking and guitars that sound like they're puking.) But I do know I got their prior album, Pioughd, from a used CD store, the kind of place that had bands FYE wouldn't bother with at prices that were a lot more in line with my income. And it was the kind of place that would take CDs you no longer wanted — boring stuff like Sponge and Porno for Pyros, which now seemed insubstantial, empty — and give you money or trade. It was another one of those stores where I found a vinyl copy of Locust Abortion Technician, pure, uncut '80s Buttholes, and that was it. "If you see your mom this weekend, you be sure and tell her SATAN! SATAN! SATAN!" Haynes screams at the start of opening track "Sweat Loaf," and it's true, rock music had led me to the devil.
And eventually to Ottawa — on a school trip for a music conference, I was literally a choirboy, shut up — and into this odd emporium that I had immediately clocked for weird music potential. And lo and behold, there was the ultra-rare (only 5,000 CDs made) Butthole Surfers Double Live album. I snapped it up (the Truman book too, though I was too lame to grab any pornos). Later that trip, I'd score some more rare albums from Naked City, John Zorn's thrash jazz band that I learned about by poking through Allmusic links off Butthole Surfer pages. To this day, I'm still grubbing in the stacks looking for weirdness.
I threw on Double Live the other day; the recording quality is not great, and of course there's no way something purely audio could document the band's infamous shows, full of nudity and video footage of penile reconstructive surgery and lighting cymbals ablaze (to a cover of R.E.M.'s "Fire," of course). But it can still hit hard, and I noticed this time out that in this recording, the breakdown of "Sweat Loaf," that Satan-summoning lead off Locust Abortion Technician, shares some DNA with the buildup to "Space," the last track of Electriclarryland. A nebulae of guitar noise and agitated drums, building to a happy embrace of chaos.
It's easy to dismiss "Pepper" and Electriclarryland as a sellout move, and the band didn't help matters by successfully suing respected indie label Touch & Go, which put out their wilder '80s albums, to get control of that now-valuable back catalogue when "Pepper" hit big. I don't know what it was like for someone who had been a fan of their weirdness for so long, only to see them jump for the brass ring. All I can speak to is my own experience as a person eager to hear what the radio had to sell me who got lured into a world of noise and degeneracy, ugly sounds beyond my imagining, because of what was waiting just beyond a catchy tune. The biggest lie of the counterculture is that it exists independently from the world it rejects, an island of cool folks that you magically appear on instead of a place you reach by stepping stones. No one gets to Ottawa's presidential/porno/music paradise on their own.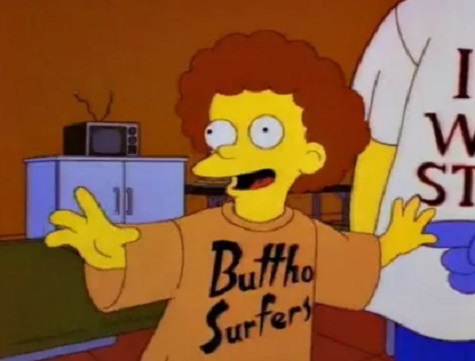 *Although not too far from commercial potential — this was the golden age of labels slapping their bands together for movie soundtracks, and "The Lord Is A Monkey" is there on Beavis And Butthead Do America and Black Sheep. Capitol flogged the Butthole Surfers pretty hard here — non-album tracks also appear on Escape from LA (not surprising) and Romeo + Juliet (????).