We watch films for a variety of reasons. Word of mouth, a desire to keep up with new releases, an intriguing trailer. To date, The Shout is the only film I've sought out to answer this question from a friend:
"Are there any horror films that revolve around cricket?"
As it turns out, there are a few! And while I Know How Many Runs You Scored Last Summer is, improbably, a real film, for some reason we gravitated towards the one with the amazing cast instead: Alan Bates, John Hurt, Susannah York, Tim Curry and, in a small, early role that requires him to smear himself with cow shit while screaming, Jim Broadbent.
Cricket only appears as the framing device in this unusual film, but it sets up the quaint, extremely British feel that remains throughout. Tim Curry arrives at a nursing home to help out with a short-staffed match, made up of patients, staff and local villagers; tasked with keeping score, he finds himself sharing a small wooden shed with Alan Bates, who offers to tell him a story. A story he has told before many times, though he warns Curry that each telling is a little different…
On a North Devon beach, John Hurt – who we have previously seen as another patient of the nursing home – wakes from a shared dream with his wife (York) and, disturbed, they both head for home. The couple live a rustic cottage in a small town, where they apparently subsist on the earnings from Hurt's career as an experimental composer. In a series of scenes that further enhance the film's brilliantly unusual feel, we watch Hurt as he records the sound of marbles rolling around on a metal tray, a wasp trapped in a jar and (let's be honest, who hasn't done this?) the rustling noise that a microphone makes when he rolls it around on his Labrador's head.
Their idyllic, bohemian lifestyle is interrupted when Hurt, returning from helping out as backup organist at the local church, finds Bates waiting. Introducing himself as a tired traveler, Bates talks his way into joining the couple for lunch, and – with a genuinely frightening, hushed intensity – begins to slowly disrupt their lives. His topics of conversation are startling – within minutes, he has confessed to the murder of his own children – and when he excuses himself from the table, he purposefully moves objects and explores rooms he has no right to visit. All is clearly not quite right with this confessed child-killer!
Needless to say, this malevolent visitor proves reluctant to leave, and the rest of the film effectively follows the shifting balance of power between these three. The wife, initially horrified by their visitor's confession, begins to find him interesting company; the husband, timid and skeptical, finds that he no longer has the leverage to get rid of this unwanted house guest. And, of course, there's the matter of his powers.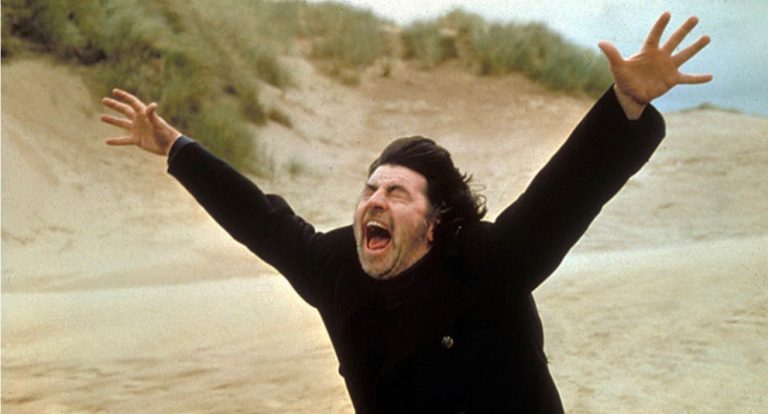 The Shout is not your average horror film. There's no gore, no real scares, and most of it takes place in broad daylight. It does have a supernatural element, though; Bates' darkly charismatic intruder, when he's not boasting about infanticide, frequently mentions his studies of the dark arts. Naturally, Hurt's skeptical nature means that he doesn't take these claims too seriously, but Bates is prepared to demonstrate – and does so, in an incredible scene that perfectly justifies the film's title. After all, how can an experimental musician possibly resist the opportunity to hear a completely new sound?
Given that two of the major characters are so attuned to sound, The Shout has fittingly superb sound design and music (provided by members of Genesis), and along with the scenic British beaches and countryside, they make for a film with a bizarre, hypnotic atmosphere. It's light on conventional narrative, heavy on character moments and arthouse vibes, and full of unusual decisions. The fact that the framing device  shows us that the villain of the piece is telling the story raises interesting questions, and the conclusion to both tales – Bates' wandering fable and the cricket match that surrounds it – is likely to raise a few eyebrows. But for viewers who enjoy films that leave the beaten path to tell truly unusual stories, this is an exhilarating piece of filmmaking.