Only one in twenty thousand has the nervy genius of Iggy [Pop] or Jonathan [Richman] of the Modern Lovers and is willing to sing about his adolescent hangups in a manner so painfully obvious as to embarrass the piss out of half the audience.  (Lester Bangs)
If Super 8 isn't J. J. Abrams' best film, it's at least his most personal.  Often, "personal" is used as a synonym for "original," and Super 8 is not that.  Abrams has always been a genre filmmaker, content to recycle plots and characters; his personality comes through in the undisguised, undistant, even intimate affection for those characters and plots.  If he's vulnerable to criticism that he's a mercenary commercial filmmaker, that's half right:  it's simply that for him, the commercial is the personal.  For that reason, his directing Star Wars:  the Force Awakens goes past opportunism into something like pop-culture destiny.  He's not a great popular filmmaker, but our moment's greatest nerd filmmaker (nerdiness is in this year!), and Super 8 is the clearest demonstration of that with The Force Awakens as a fairly close second.
Super 8 follows a lot of strict and story beats, the kind favored by Spielberg or Steven King or The Twilight Zone:  in an Ohio factory town in 1979, an alien-carrying train crashes (there are elements of The X-Files' first great episode, "E. B. E.," here too) and said alien wreaks havoc in said town.  (If the alien isn't the Cloverfield monster, it's definitely a relative.)  Our main characters are a group of kids, with Joe (Joel Courtney) and Alice (Elle Fanning) as the two leads, and Charles (Riley Griffiths), Cary (Ryan Lee), Preston (Zach Mills), and Martin (Gabriel Basso) all serving as supporting players.  Alice gets captured, the gang's gotta rescue her; there are evil government employees and minor characters who get killed off (it's predictable down to the edit when that will happen); and there are a lot of moments where the emotional arc of the characters and the alien lines up:  Joe's mother dies just before the story begins, and his last act is a literal letting go.  Call it stale if you don't like it, and satisfying if you do, but Abrams pays off everything he sets up.  (He does go overboard with the lens flares, though, with the header image being one of the rare moments where a flare makes sense.)  He tells a story that's familiar to him, and to us, and that familiarity can be a pleasure, and more:  it can be an affirmation of community, that these images and stories are things we all have in common.  That's one more definition of "myth."
What makes Super 8 work, what makes it personal and not just nostalgic, is that these kids are filmmakers:  director/producer/writer Charles (he's essentially Orson Welles in training, and I wonder if the name is meant to call up C. Foster Kane), special effects firebug Cary (do you think his bag of fireworks will be important?  All signs point to yes); cast and crew members Preston and Martin, with Joe as the makeup department and Alice as the ingénue.  In Super 8's B-story (impossible not to use television terms when talking about Abrams), they're making a zombie movie that Charles wants to show at a Cleveland student film festival; that plot thread pays off with a crucial collision with the main plot and some moments that are just as fun as the real thing.  Charles keeps yelling "production values!" like the junior anti-Ed Wood, cameras break, film has to get developed, and we still get to see the craft of makeup and modeling and framing.  It's a story about the community aspect of filmmaking, the fun and the passion, that's present at all levels, budgets, and ages.  (Somewhere, there's a music video from 1982 or so of Jethro Tull's A Passion Play with me playing an undead trumpeter.)  When Abrams drops the full film alongside the end credits, it feels like the dessert for Super 8:  we got something good, and here's just something purely fun too.
Abrams, Joe, and I were all born at about the same time, and Abrams does so well in calling up a particular time, both in the sense of historical time and the time in my life.  There's no way a nerd like Abrams would get the details of Joe's models wrong:  seeing those squarish jars of paint (I immediately remembered the horizontal boxes of eight that they're packaged in) brought me back to the hobby stores of my Joehood.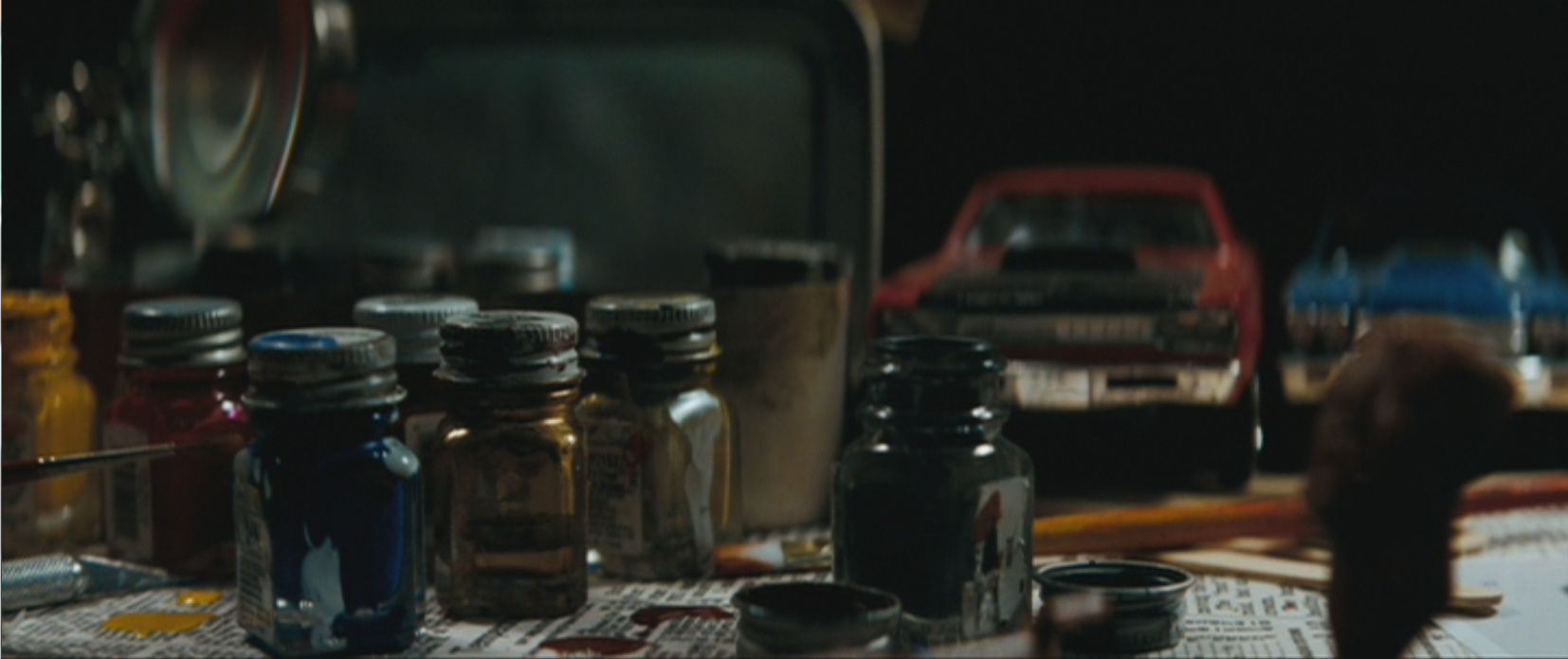 Abrams got the right look for his factory town (set in Ohio, shot in North Carolina, it could also pass for the western suburbs of Chicago) with its houses and the spaces between them; he also got the right look for his interiors.  Kyle Chandler and Ron Eldard, as Joe's and Alice's fathers, both come through with great performances that are not exactly realistic and shouldn't be; to steal a description of Gregory Peck in To Kill a Mockingbird, they're playing a child's idea of a father.  Eldard, in particular, is both touching and scary; as in Justified, he implies that he's capable of great violence that he can't control.  There are only a few moments where Abrams falls into the Hey Look, the Past! mistake (one involves a Walkman); for the most part, he creates a world that's real and remembered.    
Of course this calls up E. T. most clearly, and the Spielberg Face o' Wonder is present all through Super 8.  Its most compelling and layered appearance comes when Charles, Joe, and crew shoot the scene at the train station with Alice.  They do a rehearsal, she starts acting, and in a double layer, both Fanning and Alice disappear and everyone just stares at her–even Preston, who's supposed to be a background actor.  (As I've said before, I'm a total sucker for this kind of transformation.)  They've got the Face, but the dislocation and the fun of the moment is that the Wonder is becoming Steven Spielberg.  For the first time in their lives, these kids are taking the myths of their own and making something else of it; they're dealing with all the hassles and minutiae of filming, but they're also seeing what can happen when light reflects off people:  sometimes it's magic.  You see something no one ever has, and the kicker is you get to preserve it and show it to others.  In that moment, Joe, Spielberg, and Abrams are all the same.  Spielberg built a career off the wonder he felt as a child, and his ability to go back to that; Abrams goes back to his own wonder, the sense that he could do it too.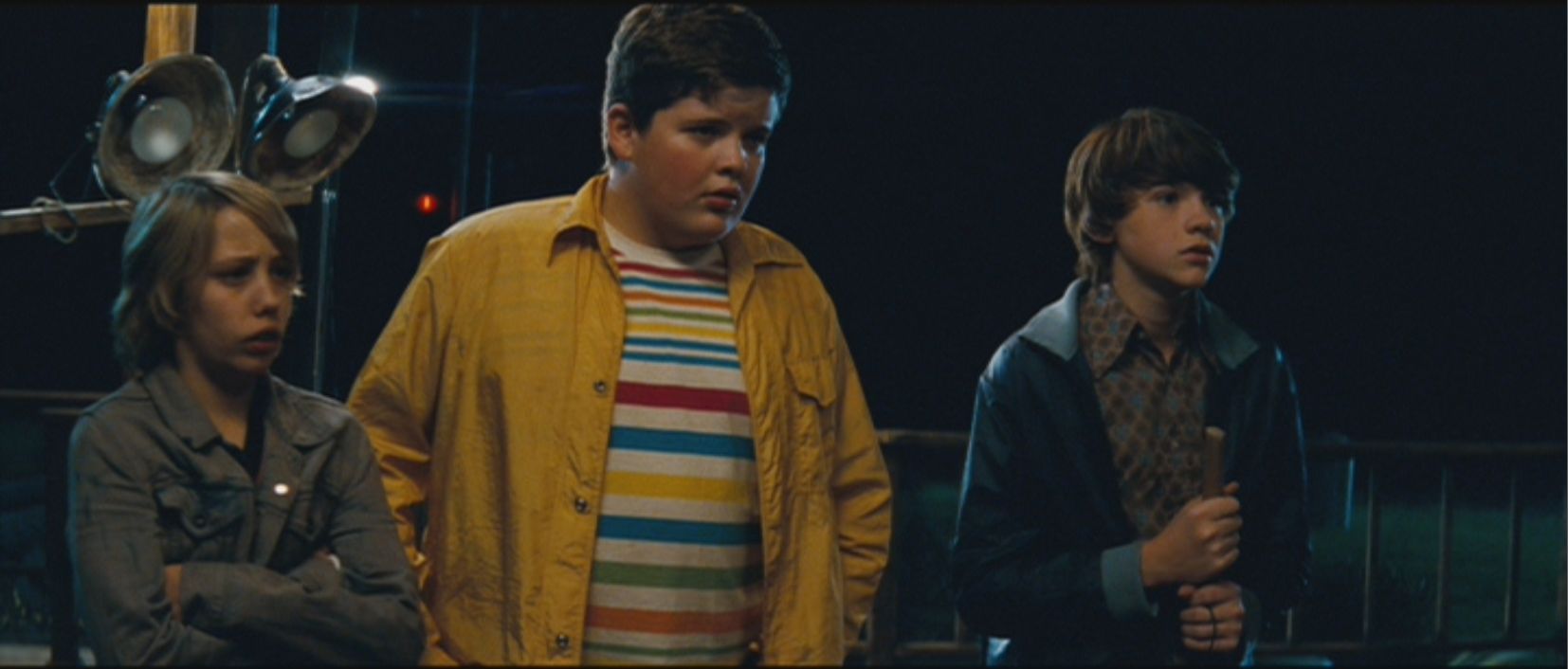 What Fanning does brings another layer into the game.  In this moment, she goes almost blank, which is to say, she becomes a star.  Stars exist as projections for the audience, in two senses:  first and obviously, as a projection of light.  Robert Towne said that stars had "ruthlessly efficient" features (think George Clooney or Charlize Theron or Taye Diggs); another way of saying that is to use Scott McCloud's idea from Understanding Comics, and that gives the second meaning:  stars are icons, in that the simplicity and efficiency of their features lets us project ourselves onto them.  Actors get identified with their characters; starts get identified with the audience, and that's why they get to be stars.  We see, almost physically leaving her on the screen, her personality, and I couldn't tell you if it's hers or Alice's.  That's the sort of thing that makes a star, and you get both the wonder of it happening and also the sense of what it costs.  (In the way that both films are about Elle Fanning's absorption into a world of images, Super 8 and The Neon Demon are mirrored movies.)  
You could call this moment the birth of the male gaze, the moment when the males of the species start looking at the females and in this case, start filming them.  The timing of Super 8 matters here, because it's something that's pre-adolescent and even pre-sexual.  Alice gets objectified, actually imagified, but as something to protect and not to own.  (The Force Awakens' Rey will have something to say about that.)  Either way, it's a way of not seeing women as equals and as real, desiring people, and many boys never grow out of that; it leads directly to the number of ways men dehumanize women.  (I wish I could remember who said one of the Truest Things Ever:  men idealize women, and then hate real women for not being the ideal.)  At this age, boys have become aware of the existence of women but haven't quite learned how to deal with them as fellow creatures; certainly I hadn't.  They see themselves as knights.  It's the exact moment when they look to find legends to become the heroes of–the exact age, in other words, to go see Star Wars.
Abrams succeeds because he so honestly embraces this moment, even if he hasn't pushed himself yet to understand all of the consequences; he hasn't made his A. I. yet, let alone his Catch Me If You Can.  He makes adventure, not drama.  His protagonists do not have conflicts within themselves, only with the world around them, and that became a fatal problem with Star Trek Into Darkness, which set up a necessary conflict for Kirk between self and duty and then never made him choose; he didn't have to grow up.  For Super 8, though, it works.  After all, J. D. Salinger picked a similar moment of life to build a career on, and Abrams has done much better at staying in the game.  Much as Spielberg's childhood was built on Southern California suburbia and The Twilight Zone, Abrams' was built on Lucas and Spielberg, and he doesn't hide from that.  Even his concept of the "mystery box" comes from fanboyhood, from the experience of talking to your friends about what it all means that Darth Vader was really Luke's father.  He's continued to develop this, more as a producer than as a director, but I hope he keeps directing.  His successful path will be through his instinct, not outside of it.
Embracing this moment isn't all there is to being a good filmmaker, because you could say the same thing about Michael Bay and Zack Snyder, and their films have become increasingly unwatchable.  Comparing Abrams to them highlights a lot of what he does right.  First, Abrams doesn't mistake darkness for depth.  His films have a teenage energy but not teenage angst; he's willing to believe that there's such a thing as goodness.  Abrams gets, in a way Bay and especially Snyder never do, the awkward nature of heroism.  When Finn (John Boyega) breaks Poe Dameron (Oscar Isaac) out of Starkiller Base in The Force Awakens, Poe asks him why and Finn says "because it's the right thing to do."  The same beat comes near the end of Super 8, Joe telling Alice "I'm just doing the best I can to save you."  Both Boyega and Joel Courtney play those moments–really all their moments–with shifting levels of confidence and fear.  They don't know if what they do will work, and that's the real heroism.  (Snyder has no heroes in his movies, let alone superheroes.  He films supervillains fighting each other.  God help us all when he adapts Mark Millar.)  Abrams' characters aspire, they are good because they want to live up to the good, Finn especially–Boyega plays him like he wants to be worthy of wearing Poe's jacket, like Sal Mineo in Rebel Without a Cause.  Abrams creates what he calls "realistic characters in unrealistic situations"; his worlds may have aliens or suns drained to nothing, but we can still identify with the heroes, with their confusion and happiness.  They're not strong, they do the right thing because they can't help themselves.
Abrams' filmmaking energy gives him another virtue:  he has always had a great sense not just economy but also of scale.  The former I'm sure he got from television, and it serves him and us well.  One of the hallmarks of Abrams' work (besides guest shots for his college roommate Greg Grunberg, for which I geek out every time) is a stunning opening scene.  Abrams always throws us directly into the action, often jumping forward into the story to do it.  Lost, Star Trek, Alias, and The Force Awakens all have openings like this, but the best is Mission: Impossible 3, done with nothing but two great actors and presences going after each other.  The expressions of Philip Seymour Hoffman and Tom Cruise in the moment before "Ten" are what's meant by great acting, and the kind of great acting that can only be captured in movies.  
The opening of Super 8 is slower, sparer, but just as good as the others.  The first shot of the "Days Without an Accident" board at the factory getting changed plays a little slower than normal and that sets a dreamlike tone.  (Michael Giacchino's imitation of John Williams is my favorite John Williams of the last decade.)  Abrams goes from there to the funeral, all hushed voices and static compositions, and Joe alone on a swingset with his mother's picture.  Adults are worried, kids are being annoying kids, and we see Eldard's character get thrown out.  It takes only a few minutes of this to completely set the emotional stakes, the characters, and the look and feel of the community.  
After his openings, Abrams wastes no time on backstory or character-setting, moving his characters through careful steps between setpieces.  That opening half-hour of Super 8 may be the best thing he's ever done, as each scene advances the plot of filming Charles' movie at the railway station–and then the film takes a spectacular turn with the train crash.  It's clearly a CGI crash and I've objected to that in the past, but this one works; it's physics-defying but not space-defying and bracingly intense.  Abrams keeps a linear line of action going, but more importantly, at every moment this scene is about one thing:  the kids trying to escape.  He also pulls off a great concluding shot, the kind of team-comes-together moment that he did in Star Trek.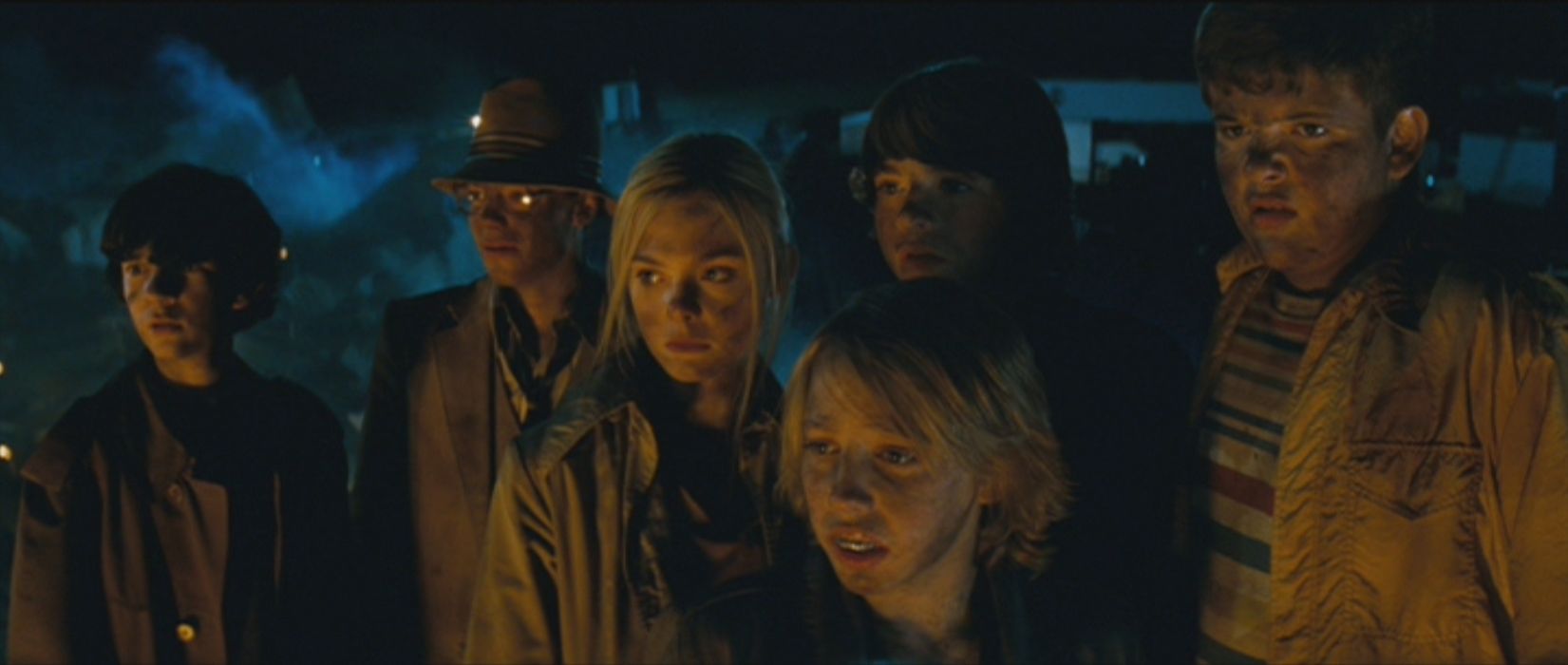 That lack of attention to setting and backstory works here, but it became a problem on The Force Awakens; as a lot of people have noted, there's a lot between Return of the Jedi and this that's completely unexplained, in a way that makes the action incomprehensible.  (My biggest question was that we have no understanding of how Stormtroopers get trained, so we don't get the sense of the stakes for Finn.)  Narrative drive will always come at the expense of world-building.  Super 8 and The Force Awakens get away with this because the setting and the characters come across as deeply felt, if not deeply explained.  It's not a problem on the Twilight Zone-sized Super 8, but it weakens the epic status of The Force Awakens.
That may be a feature, not a bug.  For all the special effects and setpieces of Abrams' films, they're not the reason for the films the way they are for Snyder and Bay.  Both The Phantom Menace and The Force Awakens finish with spectacular three-way lightsaber fights, but George Lucas' is all about the choreography and Abrams' is all about who Finn, Rey, and Kylo Ren are.  Listening to his commentaries makes it clear that Abrams cares first about character, and that may be why he cares less about the details of his worlds.  (Also, listening to them gives you the opportunity to hear the always-goofy Damon Lindelof.)  He uses that care to give his films a sense of scale that becomes more unique in the world of pop culture with each year.  Abrams understands plot in the classical sense, as a means to the revelation of character.  He understands that the entire planet doesn't have to be at stake in order for the characters to be at risk.  That was the difference between Abrams' Mission: Impossible 3 and Brad Bird's Ghost Protocol; the latter had a villain who wanted to destroy the world but was completely forgettable.  (It also killed off its most charismatic actor, Lost veteran Josh Holloway, in the first scene.)  Abrams organized his film around the pursuit of an all-powerful weapon (the "anti-God") but treated it as a pure MacGuffin.  We know nothing about it except that the characters want it, and then he went a step farther and made it a MacGuffin to the characters themselves:  it was being stolen to frame another government for stealing it, so there had to be stories that it was valuable.  This allows characters to be understood as allies, betrayers, lovers, and that's what matters.  (Although he wasn't involved as the show moved forward, the plot of Lost had the same function.)  For all the aliens, effects, and 'splosions, Super 8 stays at the level of the kids and their suburb, and tells the story of what they see.  It's not Pacific Rim and it's not trying to be.  The Abrams movies that don't work–looking in your direction, Star Trek Into Darkness–lose this sense of scale and go bigger in their effects and events than the characters can handle.  The worst and most accurate thing one can say about that misfire was that it resembled a Bay film.
Another virtue Abrams has over Bay and Snyder: his world welcomes women.  He got his break with a TV series centered about a woman's coming-of-age story (Felicity) and then kept going.  His second TV series, Alias, was never fully successful; after about two and a half seasons, it fell victim to an increasingly convoluted master plot.  (The turning point was in the middle of the third season, a very bad decision about Melissa George's character.)  Still, it was a hugely entertaining throwback to The Avengers–not the Marvel property but the Diana Rigg/Patrick Macnee 1960s "spy-fi" classic.  Like a lot of Abrams' work, it took a fairly conventional story (twentysomething as a covert superspy) and brought an ensemble of goddamn charisma bombs to play it:  a pre-fame Bradley Cooper (Oscar Isaac does a Cooper imitation in the first scene of The Force Awakens), a post-Titanic, post-Light Sleeper Victor Garber, Kevin Weisman, Ron Rifkin (never better, never slimier, never more threatening), Merrin Dungey, Carl Lumbly, Lena Olin (her arrival in the second season forced everyone to raise their game), David Anders, and Jennifer Garner anchoring it all as the lead, Sydney Bristow.  (Yes, Michael Vartan is not on this list; Alias would have been a better show with Cooper in his role.)    
Abrams and Garner created a compelling character in Sydney:  the square-jawed action heroine, literally and figuratively.  Sydney's work may require to dress up in a lot of rubber suits and lingerie to seduce various men with secrets, but Garner always came across as all business.  More physically imposing than her TV contemporary Sarah Michelle Gellar, Garner always seemed at her most fulfilled when kicking ass.  Abrams and his crew created a lot of opportunities for her to do that and a world that was fascinating, extreme, and still believable on its own terms.  (Abrams did a lot better on that count than Chris Carter did on The X-Files.)  The plot was about loyalty and betrayal and, at its best, how the two necessarily require each other.  Like 24's Jack Bauer, Garner played the still center of it all when everyone else was threatened or challenged; the plots were about Sydney's strength rather than her emotional or moral risk.*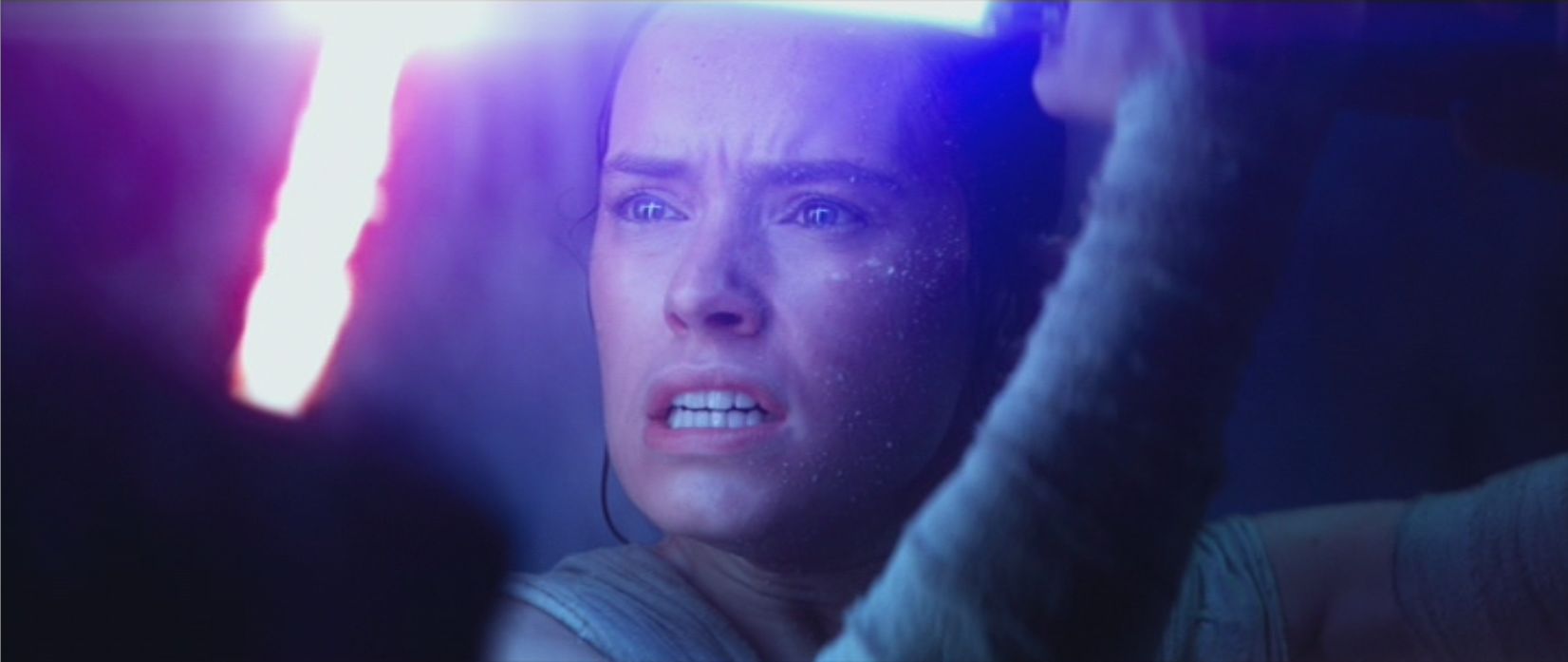 Sydney Bristow was a necessary step on the path to Abrams' best female character yet, maybe his best character, period:  Daisy Ridley's Rey in The Force Awakens.  That her function in the plot is identical to Luke's in Star Wars doesn't diminish what Ridley does here, and it actually makes it a lot clearer.  Mark Hamill's Luke had a great laid-back 1970s California feel to him in the original, but Ridley brings in a rawness that's unique to the series.  Abandoned by her parents (it's all but stated that Luke is one of them), counting the days that they've been gone, Rey often gets filmed alone and with lots of shots on that stunning, emotional face.  She's alone, and always has been, and is no one's damsel in distress, certainly not Finn's; again, her "stop taking my hand!" in the escape from Jakku is a good, funny, necessary step up from the Joe/Alice relationship in Super 8.  Rey's anger, joy, and wonder seem to burst without her awareness; when she says "I didn't know there was this much green in the whole galaxy" or jumps at the chance to be Han Solo's co-pilot, it feels like it comes from Ridley, not Rey.  (A small but telling detail:  few actors are so convincingly hungry on-screen.)  The moments when she swings into action, or when the Force, well, awakens within her are mythic moments not of a strong woman, but a woman discovering her true strength.  Of course it's the Journey of the Hero again, but Ridley makes it something new and fresh and joyful, and Abrams has the self-confidence to just step back and watch her do it.  It's an aching, electric performance, in tone and range comparable to the work of Walton Goggins.    
Ridley's rawness seems to spill over into Adam Driver's Kylo Ren.  Driver and Abrams put a distinct spin on the Darth Vader character here.  (Warning, critical cliché imminent:) Driver plays Ren as confused and unformed as his character (really all the characters) on Girls, but the decisive insight here is that Ren is much more dangerous because he's confused.  Driver has a face that's both skinny and puffy, and he never has to do anything to come across as unsure of himself.  (Like all great producer/directors, Abrams gives great cast.)  He's not seductive at all, and he knows it; there's a self-loathing here that's, again, different from anyone else in the Star Wars universe but fits right in with Abrams' characters:  Ren could easily be Joe gone bad.  Driver suggests the moody teenager who turns his self-hate against the world, and this kind of character would be a great path for Abrams to follow.  Kevin Smith saw this in Hayden Christensen's Anakin, but Driver and Abrams really bring it off:  
. . .the most haunting moment of [Attack of the] Clones for me: when Anakin breaks down to his puppy love, Amidala, and confesses that he butchered that no-good bunch of sand-eating bandage wearers with his hi-tech Zippo. This scene really resonated with me, because Amidala wears this expression that very quietly says, 'Holy Christ I'm in love with a human time-bomb[,]'. . . .the little slave-boy that grew up to be a conflicted, impetuous hat tank who insists everyone's giving him a raw deal. In high school, the really hot chicks always went for the massive ****-ups, and eventually wound up married to them. But this marriage doesn't end in small town affairs and divorce; this marriage ends with the girl scattering her kids across the galaxy to save them from their father, who by that point is more machine than man.
Ren confronting and killing Han was yet another moment that copies the original, but gets played with different emotional layers.  Without question, my favorite moment of fanservice was Harrison Ford yelling "Ben!" revealing that Han and Leia named him after Kenobi.  Abrams replicates something else from Star Wars, but it's not fanservice, just good casting and directing:  not just a multigenerational but intergenerational cast.  Placing Ford, Boyega, and Ridley in the Millennium Falcon and just letting them spark off each other gives a greater sense of their characters' life journeys, and where each one is in them.  It also makes Ford funnier than he has been in years, because his shaggy get-off-my-lawn charm has something to play against, especially Boyega's quickly shifting expressions and emotions.  He's a damn good actor but he's an even better reactor, and Abrams lets him interact with pretty much everyone.  
Boyega pulls off the difficult trick of being both funny and touching in his scenes with Ridley.  They play different kinds of social awkwardness better than anyone since the cast of Real Genius.  Neither of them has much experience dealing with other people, but for different reasons, and Boyega conveys a sense of "well this is what a heroic person would do, right?" with Finn.  The Rey/Finn relationship here feels a lot like Alice/Joe in Super 8, something not based on sexual attraction (our own Anthony Pizzo makes a strong case that Rey is asexual) but on wanting to do right by the other person; in both cases, the guy idealizes the girl, but that makes him want to do better.  Finn and Joe want to be worthy of Rey and Alice.  At the end of The Force Awakens and Super 8, Abrams gives Rey and Alice a moment where they acknowledge that:  a kiss for the unconscious Finn and Alice taking Joe's hand.  It's not sexual and it's not at all submissive; with both couples, that last gesture means that they're partners, not lovers.
The most decisive difference between Abrams and other directors is in all the works discussed here and most clearly in Super 8:  Abrams understands the teenage moment in his life for what it is, a moment, a step on a longer journey.  He doesn't project it forward into adulthood, doesn't try and build a worldview out of it.  All his works, whether they succeed or fail, have that sense of what comes before and what might come after:  in Super 8, Abrams simply takes that sense of growth and incorporates it directly into the story; in The Force Awakens, Ridley gives Rey a different, more mature look in the final scenes; in Alias, Sydney ends the series as a young mother out of the spy business.  Abrams may be the perfect director for origin stories and rebooting franchises because he gives such hope for what will come next.  
Abrams' movies are indeed a lot like Jonathan Richman's goofy, moving, and perfectly crafted songs (both authors never go on one second longer than necessary) but a more contemporary analogy would be an author who has his own cult following, a direct and accessible style, a focus on teenagers, and a fair amount of static from critics:  John Green.  Neither is without faults; what they essentially have in common is the ability to present a teenage sensibility openly and without distance.  If you want to criticize their characters, neither Abrams nor Green gives you a place or a character from within the work to do that.  Part of the achievement and popularity of The Fault in Our Stars is how its characters are, without question, teenagers, and Green writes entirely from their perspective.  Hazel and Gus' love feels idealized because first love usually is.  What hurts is that they will not live long enough to have an unidealized love.  They will not live long enough to become critics of that perspective.  (His Looking for Alaska also emphasizes the finitude of this moment in life, and has perhaps his most poignant expression of that:  "Because I will forget her, yes."  If you've read it, you know what I'm talking about.)  Both writers have a full bag o' narrative tricks that they use to express something fundamentally sincere, and sincerity may be a better virtue for a creator than criticism.  I'm no longer in the world that Green and Abrams present, but that world is still in me, and there's that artistic shock of recognition to have them show it to me so honestly.
*The Americans would go a lot farther than Alias on this point, and not just because of the freedom of language, nudity, and sex available on basic cable.  In The Americans, actually fucking other people comes with the job of being a double agent.  That's not restricted to women, either; in fact, Matthew Rhys' Philip Jennings has to maintain an entire second marriage as part of his work.  (There's a disturbing, moving flashback in season three where we see him training himself to have sex with anyone, regardless of age or gender.)  What sets The Americans apart is the sense of real emotional and moral risk that comes with using your sexuality to deceive on a regular basis; Sydney seduced oh so many men to get access to the MacGuffin-of-the-week, but she was never at risk of getting seduced herself.  Philip and Elizabeth Jennings (Keri Russell, who had the lead in Abrams' Felicity and essentially played Sydney Bristow in his Mission: Impossible 3) have a fake marriage as part of their cover, but it turned into a real one in the first season, and the moments where one of them wonders if it's still fake are heartbreaking.  Also, The Americans may end up with even more wigs total than Alias–there's still two seasons to go.