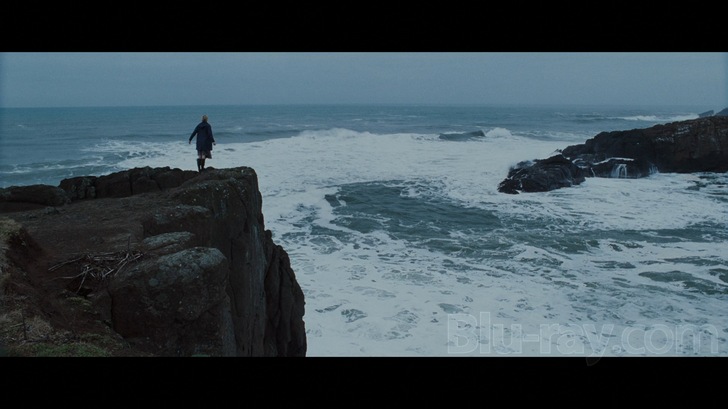 Who Shot It: Robert Elswit. Elswit is best-known today as the man who shot Paul Thomas Anderson's Hard Eight, Boogie Nights, Magnolia, Punch-Drunk Love, There Will Be Blood, and Inherent Vice, and certainly he would earn his screen immortality just based on those excellent six films, each gorgeously-shot from beginning to end. But he's done more than those, much more, in fact. He started his career off with Rob Reiner's The Sure Thing, the lesbian drama Desert Hearts, and the Best of the Worst-approved heavy-metal horror flick Trick or Treat. Soon afterwards, he started to move into the mainstream with the help of director Curtis Hanson, for whom he shot Bad Influence, The River Wild, and The Hand That Rocks the Cradle. After River Wild came the beginning of his PTA collaboration, as well as the beginning of his minor sub-career shooting instantly-forgotten Miramax movies, including The Pallbearer, Bounce, and Impostor. Around this time, he also shot the forgotten middle child of the Pierce Brosnan Bond movies, Tomorrow Never Dies, plus Joel Schumacher's 8mm (coming soon to this series), David Mamet's Heist (they would work together again on Redbelt and Mamet's Funny Or Die skit Lost Masterpieces of Pornography), and previous entry Gigli. After this period, Elswit settles into something of a groove, alternating between action movies both dumb (Salt, The Bourne Legacy) and reasonably smart (the last two Mission: Impossible movies) and (mostly) superior adult-focused movies, like Good Night and Good Luck, Michael Clayton, The Town, Duplicity, and Syriana (let's forget about American Dreamz, shall we?). Other than Mission: Impossible – Rogue Nation, Elswit's most recent work is the surprisingly fitting double-feature Nightcrawler, a disturbing and blackly-comedic thriller which depicts California as an after-hours nightmare where the darkness doesn't do enough to hide the awful things going on, and Inherent Vice, whose vision of California is one of a gorgeous place, when you can see it past the fog, murk, and weed smoke. Elswit shot today's entry, Guillermo Arriaga's The Burning Plain, but he had to leave halfway through the production, handing the duties over to another great cinematographer…
John Toll. Toll's career as a cinematographer (he had previously done second-unit work and worked as a camera operator for the likes of Conrad Hall, Allen Daviau, John Alonzo, Haskell Wexler, Michael Chapman, and Jordan Cronenweth) took off rather quickly, given that by the time he shot three films that had been widely released in theaters, he was a two-time Academy Award winner. Those two Oscars were for Edward Zwick's Legends of the Fall and Mel Gibson's Braveheart (his work on the latter is one of the few parts of the film I can wholeheartedly get behind), and following the epic nature of those two films, Toll would go onto become one of the best cinematographers out there for shooting mid-range-to-big-budget movies. After those two, Francis Ford Coppola got him to shoot two of his films. One was the critically-successful The Rainmaker, the other was fucking Jack (as if you couldn't guess, that's coming soon). From there, he shot Terrence Malick's The Thin Red Line, one of the most gorgeous films of all motherfucking time, the poorly-received Sam Shepard adaptation Simpatico, and Cameron Crowe's Almost Famous, where he gave Crowe's vision of California just the right glow to fit the film's nostalgic tone. He would work with Crowe twice more, on Vanilla Sky and Elizabethtown (which is also coming soon). Other than The Last Samurai, his second film for Edward Zwick, after this, he would spend a decade bouncing back and forth between directors without starting new collaborations, working with Ben Affleck (Gone Baby Gone), Ben Stiller (Tropic Thunder, the number-one movie of its summer), George Nolfi (The Adjustment Bureau), Peter Hedges (The Odd Life of Timothy Green, or the one about the plant-boy), and Nancy Meyers (It's Complicated, which I've noticed can be found on the shelves of every used-DVD and Blu-Ray store in existence), plus the slightly-obscure likes of Rise: Blood Hunter and Seraphim Falls. After this, he began a collaboration with the Wachowksis, shooting their portions of Cloud Atlas, which led to him shooting their Jupiter Ascending (which, regardless of what one thinks about it, although the only right answer is that it's a lot of fun, has some massively purty colors) and the entire first season of Sense8, his second recent TV gig after shooting the pilot of Breaking Bad. Recently, he's also shot Iron Man 3 and is currently working on Ang Lee's Billy Lynn's Long Halftime Walk, which is being at 120 frames(!!!).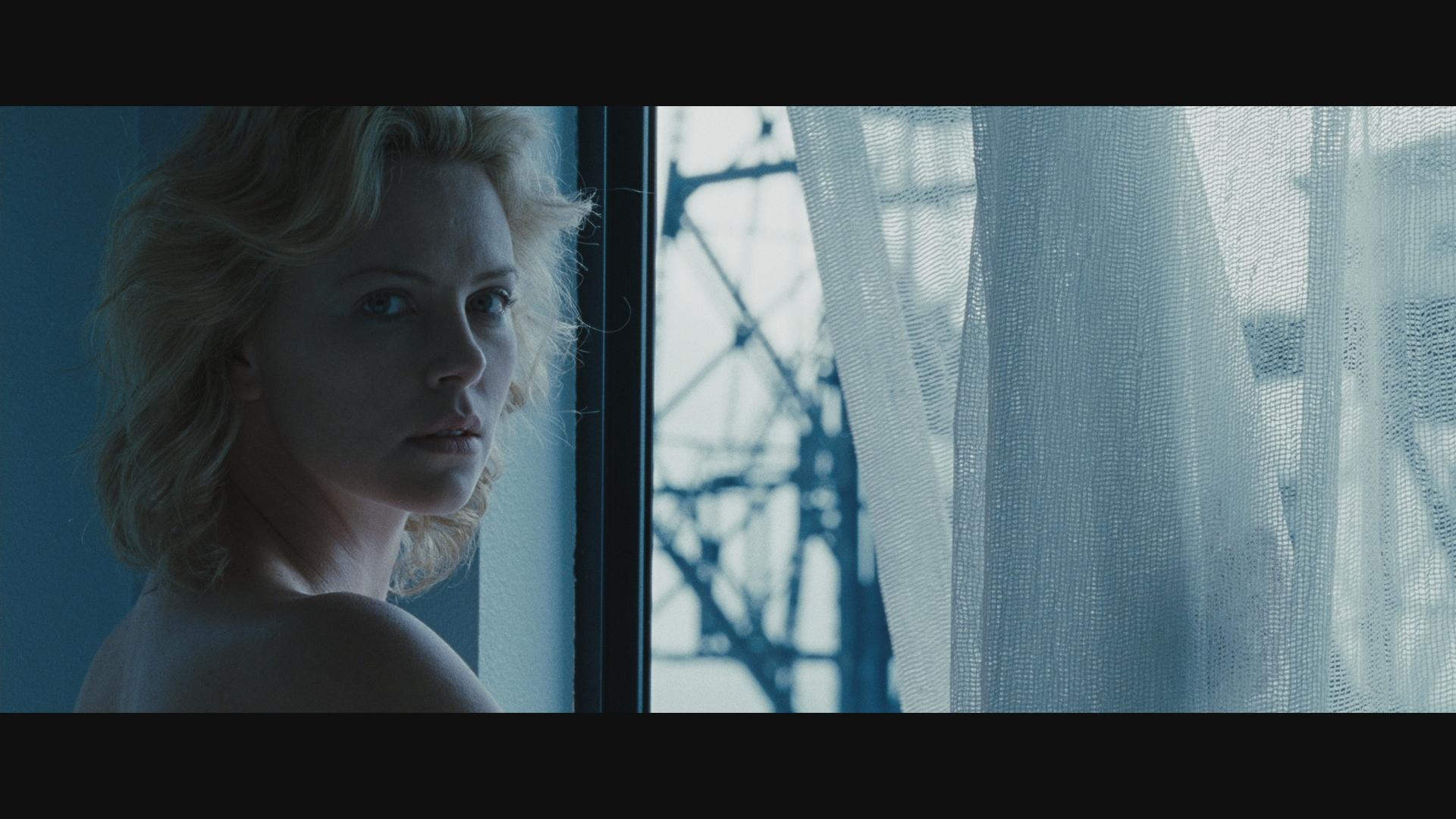 What Do You Mean, Story?: A pretentious fraud does not simply come into being. Often, the pretentious fraud must be lifted up by other pretentious frauds. Alejandro González Iñárritu (we'll shorten it to GI) needed that help, and it came in the form of Guillermo Arriaga. For a while, the two were inseparable, with GI directing Arriaga's scripts for three films and a short film for BMW. Their first collaboration, Amores perros, took the world by storm with its seat-of-the-pants filmmaking, moving so fast and so energetically that it barely even slowed down to acknowledge its semi-message of "everyone is connected". The seams began to show when they started to slow down, first with the aforementioned BMW film, Powder Keg, which is a great car chase rudely interrupted by unnecessary message-making, and then with 21 Grams and Babel. But a rift grew between the two over the credits for those last two films. GI argued that Arriaga's contributions to both of them were minimal, and he was the true auteur of the pair, Arriaga disagreed (for obvious reasons). GI banned Arriaga from attending Babel's Cannes premiere, and the two went their separate ways, onto solo careers of sorts (Arriaga had previously written Tommy Lee Jones' excellent directorial debut The Three Burials of Melquiades Estrada). GI would go onto stumble further critically with Biutiful, before redeeming himself in the eyes of most (i.e. pretty much everyone except ten-elevenths of the commenters here, plus the Dissolve staff) with Birdman. Arriaga was not so lucky. He made his directorial debut in 2009 with The Burning Plain, which collectively made the world wonder if GI was actually onto something about him being the talented one of the two. The film stiffed and was promptly forgotten by most. But we've established that I may be more susceptible to GI and Arriaga's form of filmmaking, so is this better than the anti-hype?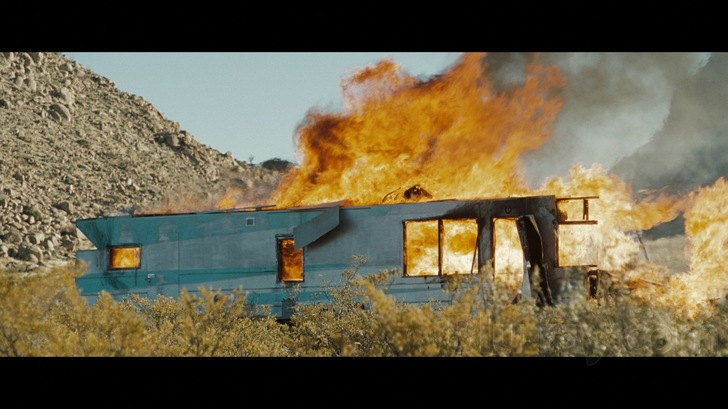 We open with a perfectly-centered image of a trailer burning. We cut to a closer shot with a more aggressive sound mix, and then we're onto a shot of a naked Charlize Theron's backside, as she stares out a window in a blue-tinted room. There we go, there's the first scene that we're in a Guillermo Arriaga joint, the kind of movie where chronology is seemingly decided, as Mike D'Angelo sez, by writing scenes on index cards, throwing them towards a fan, and filming them in the order they land. In this film, we have four separate timelines, two pairs of adjacent scenarios. Two of them revolve around the fire in the trailer. Two of them follow the aftermath of the events in the first two timelines. They all add up to approximately zero.
Sylvia (Charlize Theron) is a waitress. She's sad. She has a lot of sexual partners, and that makes her coworker John (John Corbett) sad too. She likes to cut herself with rocks and stare moodily at the sea and at birds flying (if there was a drinking game for this movie, it would be "take a shot whenever there's a shot of birds flying", and it would kill 193% of its participants). She's sad. She even sadly bares her breasts at one point. She's sad. Mariana (a young(er) Jennifer Lawrence) is also sad. Her mother (Kim Basinger) is having an affair with a Mexican man (Joaquim de Almeida) because she's sad and her husband can't get it up. They're the ones who die in the trailer fire. Mariana then shacks up with Santiago, the son of the dead man, presumably as a way to be less sad. Maria, the 12-year-old daughter of Santiago and Mariana, is also sad, because Santiago crashed his crop-dusting plane and is in the hospital and wants her to see her mother. Santiago's coworker Carlos takes Maria to see Mariana in America. Please, don't reveal the stunning surprise of who Mariana turns out to be. Nor what causes the trailer fire. God knows Arriaga went to enough trouble to obfuscate this movie to make those seem like surprises, although even then…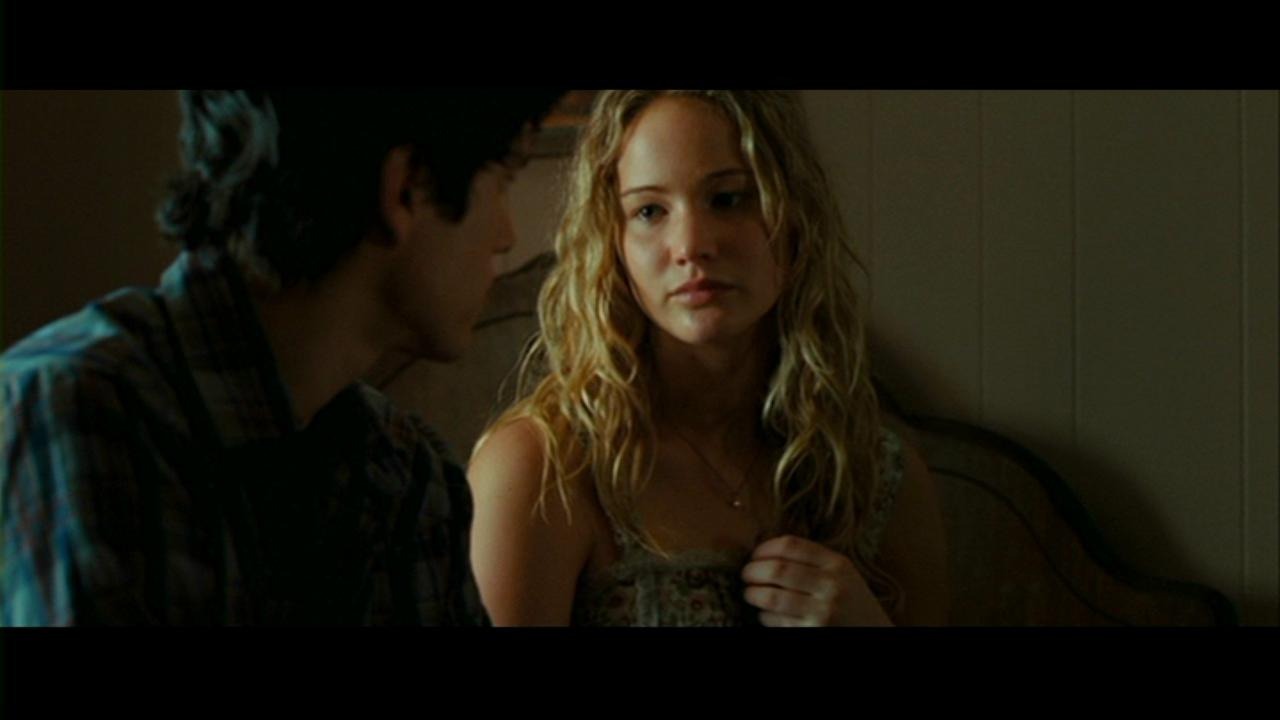 Included on the DVD of Lodge Kerrigan's Keane is an alternate cut of the film, much more elliptical than the theatrical version, by Steven Soderbergh. I bring this up because The Burning Plain distinctly resembles a version of that done by an idiot, a cut of a conventional movie where the scenes are all out of order to hide things that don't need to be hidden (not to mention they're pretty badly-hidden, as I, someone who's the prime candidate to get fooled by fakeout deaths in big-budget movies, guessed all of its "secrets" pretty early on). The timelines are chopped and mixed up for minimum flow, bits stuffed together like misfitting puzzle pieces. We're watching Mariana flirt with Santiago, when we flash back to Basinger and Almeida's fling, at which point we're flung back into Charlize Theron being sad, and then we're back to the past. It all feels very much like Arriaga is showboating, scrambling everything up because he can, and because that's what he did before, and maybe because he knows that his hand is weak and wants to distract the audience from that. The approach adds jack-shit to the movie's "meaning".
But would the movie be any good if it was arranged normally? No, no it wouldn't. It would be less annoying, for sure, but it would still be a tedious borefest. The cast is full of good actors, but all they're called upon to do is look sullen and depressed. Sure, that can be interesting under the right directorial hand, but Arriaga doesn't have the skill to get much out of them, leaving their characters to be ciphers even as they're explained. Say what you will about GI, at least he's shown that he gets many great performances out of his actors. Also, GI has considerable filmmaking chops, knowing how to viscerally stage large-scale sequences. Arriaga must not have been paying too much attention to GI when he made their previous movies, because his direction here is pretty boring stuff, rarely making much notable use of the camera besides as an object to record birds flying and people staring mournfully at things. Even the big centerpieces, the explosion of the trailer and the crop-duster crash, are boringly- and predictably-staged. GI may be a dick whose success rate is shaky at best, but at least he adds some spice to the proceedings. This combines the flavor of unseasoned mashed potatoes and the feeling of trying to eat while your mouth is still numb from dental surgery.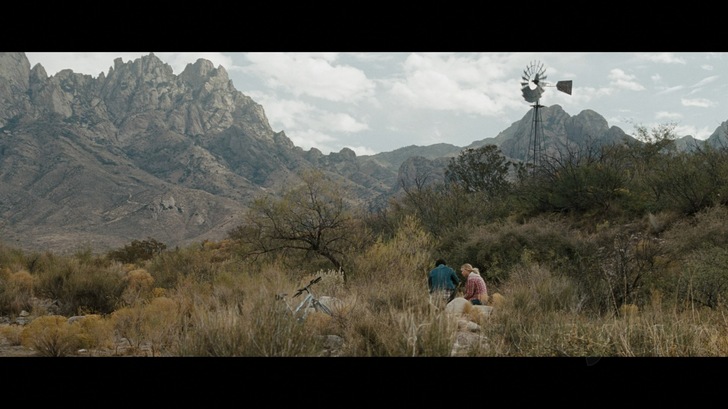 Screw That, Let's Talk Pretty Pictures: As should be expected from a Elswit/Toll joint, the photography is one of the film's saving graces here. From those first three shots, the visual rhythm of the film is established; the past timelines in New Mexico are full of gorgeous landscape shots and rustic colors, while the present timelines in Oregon are cold and seemingly bereft of any life at all. According to Arriaga (in the most pretentious terms possible), the stories represent different elements, earth being the dusty Kim Basinger storyline, fire being the Mariana-Santiago romance, water being Sylvia's story, and wind being the "neutral" Maria story. Each story looks beautiful in its own way, from the blues of Sylvia's workplace and the coast just adjacent to it to the shack where Maria observes her father's crop-dusting. I'm afraid I don't have much more to say about it besides this, it's the kind of beauty that doesn't lend itself well to explanations of its beauty.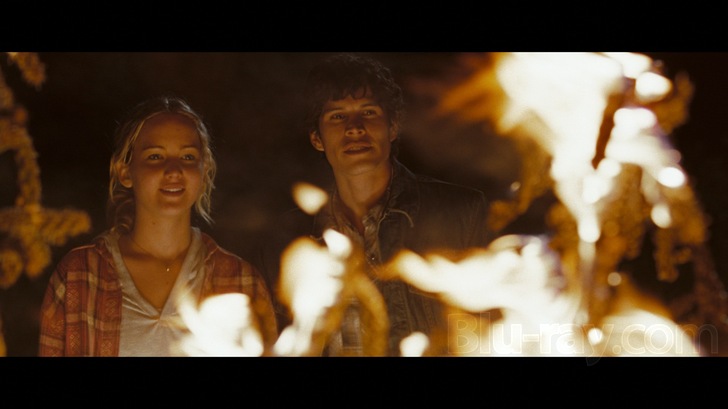 Favorite Shot: Leaving aside, the opening trio, I'm a big fan of the shot of Santiago and Mariana lit by the fire they've created, their skin tones practically lighting up the screen in comparison to anything else.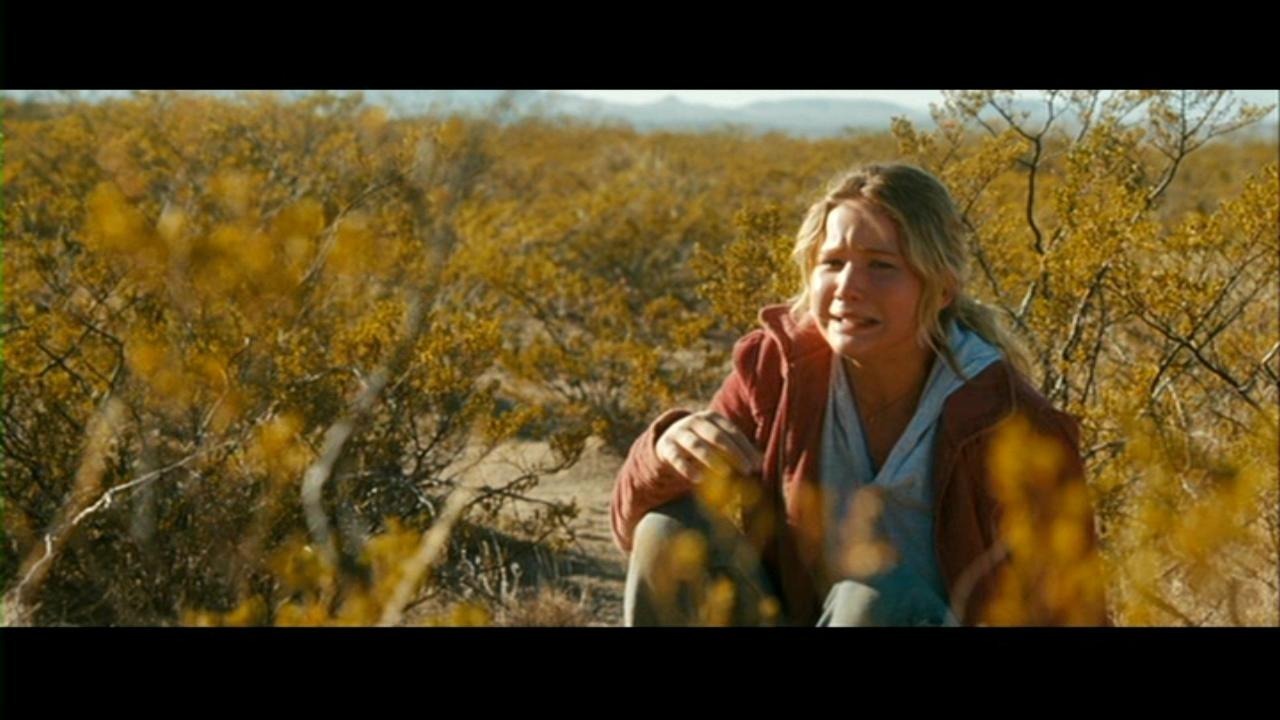 Is It Worth Watching: Fuck no. Or, as Arriaga would put it, no fuck.
Stray Observations:
The early reviews are coming in, and I'm officially getting my hopes up way high for The Revenant. If you let me down GI, then hoo boy, I'm still going to have to moderately defend you to most on this site.
I got nothing else to say. This movie is just bad.
Up Next: I dunno.