I recall a time when the dogs barked every night and the moon was always full.  On August 9, 1969, I was sitting in the shallow end of my sister-in-law's swimming pool in Beverly Hills when she received a telephone call from a friend who had just heard about the murders at Sharon Tate Polanski's house on Cielo Drive.  The phone rang many times during the next hour. These early reports were garbled and contradictory. One caller would say hoods, the next would say chains. There were twenty dead, no, twelve, ten, eighteen. Black masses were imagined, and bad trips blamed.  I remember all the day's misinformation very clearly, and I also remember this, and wish I did not: I remember that no one was surprised.  ("Diamond" Joan Didion, The White Album)
"It was, once again, a glorious wave, with hues in its depths so intense they felt like first editions—ocean colors never seen before, made solely for this wave, this moment, perhaps never to be seen again." (William Finnegan, Barbarian Days: A Surfing Life)
wallflower: From a career perspective, the most obvious thing about Inherent Vice is also the most interesting:  over forty years later, Pynchon went back and retold The Crying of Lot 49:  the search through a disappeared California real estate mogul's life leads the protagonist through all sorts of encounters with various odd characters and an entire culture.  Coming just three years after the mountainous Against the Day, just the fact this book showed up so soon was a thorough surprise, and discovering that Pynchon, the modernist who kept lighting out for new territories with every book had come back to one of his earliest works was even more unexpected.  The differences between Vice and Lot 49 are the most revealing of the new book's uniqueness, so let's go right into them.
First, Pynchon changes the time and place of Lot 49's setting.  It's several years later (Vice explicitly happens after the Manson murders during the winter and spring of 1970) and whereas Lot 49 took a few excursions into Southern California, pretty much all of Vice happens there, in fact largely in the South Bay of Los Angeles.  This was Pynchon's home at the time and place (Manhattan Beach gets transposed into Gordita Beach), and that shows:  after the grand excursions through time and space of Mason and Dixon and Against the Day, Pynchon has come home, writing about somewhere and somewhen that matters to him in a way that he hasn't since Vineland, maybe even since "The Secret Integration."  Pynchon's love for this world and all who live in it is another, continual surprise here, especially after the overjammed and underindividuated cast of Against the Day.  Burnouts, dreamers, and quite a few "flatland" citizens who are more understanding of the psychedelic world than I'd expect (there are definite echoes of Oedipa Maas in the character of Penny, Doc Sportello's girlfriend in the D. A.'s office), all of them come off as people that Pynchon cares about and wants us to remember.  They might well be.
The time of Vice matters, a lot.  The past action of Vineland was about what Hunter Thompson called "the high-water mark" of the 1960s, "the place where the wave finally broke and rolled back."  Lot 49 was about the onrush of the first wave, but Vice gives us the immediate aftermath; Lester Bangs, continuing the tidal metaphor, calls it the time "when the self-destructive undertow that had always accompanied the great sixties party had an awful lot of ankles firmly in its maw and was pulling straight down."  Post-Manson, everyone's still out for a good time but everyone is nervous, and the attention of the world–and Pynchon–are coming back to the institutional structures that turned out not to be sandcastles after all, but were in fact durable and maybe even untouchable, rising out of the water as the wave drew back.  The most obvious of these would be the L. A. P. D., in the person of Doc's nemesis and friend (fremesis?) Det. Lt. Bigfoot Bjornsen. We'll get back to him.
Maybe the biggest difference between now (2009, anyway) and then is that in Lot 49, Pynchon used Pierce Inveriarity's will as the means to draw Oedipa into a detective story, and here, he plays the detective story absolutely straight.  The detective protagonist works as a (checks notes) detective. (Checks notes again. Yup.) There's no attempt to innovate here; Pynchon follows the genre so closely that you know when Doc's old girlfriend Shasta shows up on page one to give him the case and disappears a few pages later, she'll be back late in the book when Doc discovers that she had an agenda in hiring him, one that she didn't let on.  Pynchon has always loved genre fiction, and the Los Angeles noir of Raymond Chandler et al. has the same appeal to him as his Manhattan Beach apartment:  a special place he called home for a while, and that he happily writes his way back to here, like Didion sitting homesick in her tiny Manhattan apartment, where she "wrote myself a California river" for her first novel.
We'll get into more of the details of Vice as we move on here, but first, how do you see this in relation to the rest of Pynchon's work?
Avathoir:  Of all the books Pynchon has written, this is the most normal (in that it lasts the longest before it dissolves into his usual Pynchoness at a good two thirds ratio before it all goes oh so gloriously off the rails) in both plot (of course, that's relative too) and prose (there are remarkably fewer musical numbers, in this regard). There was a lot that surprised me about this, for one this is without a question the most dialogue heavy Pynchon book by a few shorelines. People gab in this book a lot, making strange little jokes to themselves that nobody else really listens to. I often would encounter a paragraph of a person rambling on about something to Doc's complete indifference, and once I realized I wasn't supposed to pay any more attention then he would, I got the effect right away.
It's also perhaps the one that has the most contemporary sense of humor. Most of Pynchon's earlier books, which can be hilarious, seem anachronistic, similar to the popular webcomic Wondermark in regards to the tyranny of their costuming. This, on the other hand, feels like a very intelligent Will Ferrell movie, or perhaps a more sunkissed Confederacy of Dunces: the jokes are more based in character then in linguistic virtuosity or surrealism.
That's all I have for style at the moment, now let's talk about context: in a lot of ways this is Pynchon summing up everything he's ever learned: The bohemian feel of V. and the locale of Lot 49 combined with the more musical prose of his historical epics, all reflected in the nostalgia and need for family that we see in Vineland. That being said, unlike the Whole Sick Crew, the Beats which Pynchon as a youth wanted to be a part of, and the old radicals of Pynchon's era which he seems to regret not being able to call himself a member (this reminds me of the theory that he was the Unabomber. Did whatever FBI agent suggest that read Vineland?) this feels like the first scene Pynchon was an active member of as it happened. I can see him hanging out with girls like Shasta and dudes like Denis. You've talked about his love of people, but this is the first one where I actually felt like these were people he was familiar with, as much as such a statement makes sense.
So if I had to answer your question, I would say this is his most personal book since Mason & Dixon, and probably the book that most reflects where he came from and what he did. Do I think it's perfect? Of course not. But if you told me it was his best overall book, I probably wouldn't complain that much. I might actually agree. That's my take. What of yours?
wallflower: it's easily the best of the Third Wave of Pynchon, which stands right now at a total of (squints) two books.  I could also call this his The Departed, his best non-groundbreaking work, a master riffing on an old standard with comfort and ease, and still blowing just about everyone else off the stand.  Your observation that Pynchon seems to know these people calls up to mind another obvious connection: The Big Lebowski, not just for plot and locale but also because the Coens drew a lot of the characters there from specific people.  (Once you know Walter was derived from John Milius, he becomes ten times funnier, and also makes me wonder how many times "Francis, you're out of your element!" was yelled during the making of Apocalypse Now.)  Part of the charm of Inherent Vice is Pynchon's voice; he's achieved a kind of peace here that's new to him.
Coming home seems to have given Pynchon a love for his characters, for all of them, that was missing from Against the Day.  He scores his best character pair here with Doc and Bigfoot, a reimagining of the Zoyd and Hector team from Vineland–it helps here that the characters have something of a professional bond and aren't just prey and predator.  Like Dixon and Mason ("Actually, that's–") these two get on each other's nerves but only because they really do know each other so well and also because they have things to teach each other; it's a neat plot and character point when Doc reminds Bigfoot to check a bite wound for traces of copper.  Also, there's just all sorts of moments for klassic komedy, usually based on misunderstandings or misreadings of dialogue.  Probably my favorite passage in Inherent Vice (until the transcendent ending) is Bigfoot's lament as the plot amps up:
"You begin to see?"  Bigfoot glumly nodding.  "You think it's all one big monolithic funfest at the LAPD, don't you, nothing to do all day but figure out new ways to persecute you hippie scum.  Instead it might as well be the yard at San Quentin. Gangs, addicts, butches and bitches and snitches, and everybody's packing."
Compare that to any dialogue from Scarsdale Vibe and you see the difference between a character and a plot device.  You saw the basic problem in Against the Day as Pynchon trying to force himself to not like who he was writing; here, more than any other novel of since except Vineland, he really seems to care about the whole cast.  You're right about the familial nature of that cast, too; in addition to Bigfoot, Doc's parents come across as great and fun people, and I even enjoy the very Big Lebowski/Noah Cross-like Crocker Fenway.  (Appropriate to the genre, he first meets Doc when his daughter goes missing.) Pynchon replays some of the lines from his last novel ("Forget who–what was he working for any more?") but doesn't feel the need to turn Fenway into a political cartoon.  I may like this guy more than Pynchon does–it's my own sympathy for those aristocratic characters, from Bruce Wayne to Alexander Hamilton and beyond, who take responsibility for the world's continuity ("It's about being in place")–but I still don't think Pynchon wants us to hate this guy like Vibe.  No one here exists to make a point.
The mystery structure gives Pynchon a nice throughline here to meet all these interesting characters, but it also allows him to make some of same political points as Against the Day more gently and more personally:  the Old Guard is still in control here, and as Fenway sez, the hippies will pack up and move on, and those who take their profit from them will do so and remain.  There are references all through Inherent Vice of other worlds, like the alternate Americas of Mason and Dixon:  the lost island of Lemuria (the Atlantis of the Pacific); the alien planet that gives us the earlier, more dense version of Doc, Xqq; and developer Mickey Wolfmann's dream of free housing in the Nevada desert, Arrepentimento, which is really what launches the plot, even if Doc doesn't know it at first.  All of these things get forgotten and abandoned. These alternate worlds, and the mystery structure that makes the book about a searcher, give Inherent Vice a melancholy as well as a comfort:  Pynchon doesn't just go back to where he was, he goes back to a time of (in the great line from Mason and Dixon) what may yet be true and shows us how that slips away from possibility.
Avathoir: It's very interesting to me how you choose to focus on idealism here: this is probably in a weird way Pynchon's most innocent book: the least amount of perverted sex, the least amount of lechery, and even when Penny gets mad at Doc's various adventures and he comes up with a ridiculous excuse of how it's Not What It Looks Like, Honest. . .I get the feeling he's telling the truth. Pynchon's still Boschian, but the earthly delights are the pleasures of touch rather than the desire of flesh.
At the same time, there's this element of idealism that I think shoots him in the foot in some parts. Now, you can't have any story set in the late sixties in California without a token Manson family reference somewhere in it, and we get one here and. . .the result feels very, I don't know how else to say it. . .cliché, an adjective I'd never expect to use with this author. It's the standard demonic barking, this idea of it being a demonic mass, and though I hated a lot of Against the Day, Pynchon in that mode I think would have been able to see what Manson really was, just another racist failure with grudges he solved with violence. This is, to be fair, a realization that has taken us a long time to come to understand (Didion couldn't do it, and she otherwise has a perfect track record of defeating bullshit), I like that there's now a Pynchon when he loves people, but he can be blindsided.
Not to say that he's lost his cynicism: this is a book after all about a subject dear to his heart, the death of the dream of the sixties, a subject he's been writing about since roughly. . .1960, and here he gives us a sense of it truly slipping away, of Doc watching and realizing the people he knows and loves will move on, move out, die, or just slip away until he's the only one left.
Jesus, that was dark. Let's talk about Doc, who I think holds the distinction of being the first protagonist Pynchon follows without a single cutaway besides Oedipa (odd that in one of the biggest states he stays focused with one person. Maybe he doesn't want to get lost.) I'll be real with you: I like him tremendously. He's a traditional Mystery Protagonist (you can imagine a different, less interesting Pynchon writing a whole series about him) but he reminds me of Embi from Under the Glacier: he's a good sport and a good listener, and those qualities serve him well over the course of the book. He can be kind of a flake in the bad way, but for the most part he's a dazed professional, to be contradictory.
I also appreciate your love of Bigfoot, who is a fascinating character in Pynchon's ouveure: the cop who isn't pure evil. To say Pynchon has a problem with authority would be laughably understating it, but Bigfoot is to my mind the first time he's invested someone who believes in order with pathos: his desire to keep the peace, his bizarre taste in food, his temper, which is this sort of halfway point between melancholy and sputtering rage, and of course, his terrible, terrible acting. It all adds up to someone who you love even if you technically want to hate his pathetic ass, a great contrast to Scarsdale, who is hilariously evil but whom Pynchon wants us to hate with a passion.
wallflower: Pynchon has never really resolved his feelings about authority; it's like he can never hate it as he feels he should.  Sometimes that lack of resolution produces great stuff for him, like Brock Vond and Franz Pökler; sometimes you get Scarsdale Vibe.  Bigfoot isn't as complex as Vond, but he and the story of his partner Vincent Indelicato are compelling enough that I wanted to see this story told, Joseph Wambaugh-style, from the perspective of the LAPD.  I've written before that Pynchon has moved away from writing about the Systems of our world to writing about the families that have to live with them; I'm glad he did, but something has been lost along the way.  You're right that there's an innocence here, almost a naïveté, that's been developing in his work in the decades since Gravity's Rainbow; it's why, as much as I like this, it's in the second rank of Pynchon's novels.  
That ambivalence about authority lives in Doc, too, and it's what gives him that sense of professionalism.  One of the fun elements of Inherent Vice is seeing how good Doc is at various aspects of his job and life:  this guy knows how to give himself an Afro, choose a fake business card, or talk his way into someone's house.  Part of his commonality with Bigfoot is that he recognizes his own desire for order; Doc may hang out with the occasional revolutionary but he most definitely isn't one.  He's a Southern Californian with a history there and one who wants to keep it a nice and weird place to live. (That Pynchon grounds the counterculture in a specific history was a great achievement of Vineland and Against the Day, and he continues that here.)  We haven't had a Pynchon protagonist since Mason and/or Dixon who cared so much about doing his job well, and we may not ever have had one who cared so much about his home.  
That care comes straight outta Pynchon, and it spills over into the prose.  There's an almost Updike-level attention to detail here, rendering not just people but locations so lovingly:  the beaches, the restaurants, the streets (I'm pretty sure I've walked Gummo Marx Way a few times, not sober), the television sets, the hotels, the late-night fog.  Pynchon's sense of place has always had this skewed quality to it, researching lots of details but then skewing everything ten degrees off-center; here, it feels like this stuff matters too much to him and to Doc to play it any other way but straight.  (Well, OK, he still has stuff like a pizza-size head of Thomas Jefferson that talks to Doc, because of course he does.) Same goes for the dialogue; like you said, this is perhaps Pynchon's most talky novel, with perhaps one-quarter of the talk thoroughly stoned, and it doesn't have the affecting strangeness of his last two novels.  The language is funny and nearly conventional, and that seems appropriate for what it some ways is a hangout novel: these aren't characters of his invention but people he wants to remember.
Maybe that's what makes this so different from his other works, so conventional yet compelling.  (Also, you're right that there are fewer songs, but by God he nails each one of them.) After fifty years in the biz, perhaps the most inventive mind in American literature stopped inventing:  he took an off-the-shelf plot and worked up a place and a cast from memory, and told it with as little embellishment as he could. (Style is the thing you can't help doing.) There are a lot of other great artists (Bach, Kubrick, Willem de Kooning come to mind; Michael Mann may yet bring it off) who've done something similar:  turn towards simplicity after a lifetime of complexity and produce stuff that no one else could do, including themselves.  Inherent Vice fits well into that tradition, a book that anyone could attempt and no one but Pynchon could write.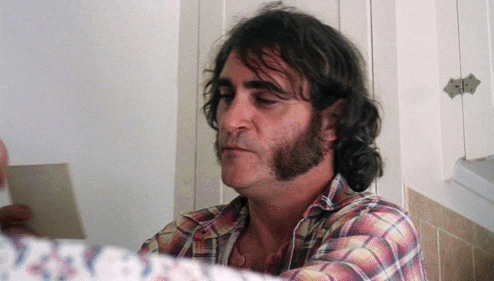 And now, the moment you have been waiting for, the Avathoir/wallflower LIVE BLOG OF INHERENT VICE, THE MOVIE, AS DIRECTED BY PAUL THOMAS ANDERSON!
Avathoir: All right, I'm off work, I've got some garlic pasta on my lap let's DO this baby! Joanna Newsom with that voiceover and that fourth wall breaking right out of the gate.
wallflower: Some PT Anderson coloring too.
A: This was Waterston's first screen role right? First major one at least. It's amazed how fully formed she is right out of the gate.
w: This is a fascinating hybrid already of Pynchon and Anderson's sensibilities.  Compare to the opening of There Will Be Blood, which is all PTA, zero Upton Sinclair.
A: I know the first choice for Doc was Robert Downey Jr. but he REALLY would have been miscast.
w: RDJ is too old and more importantly too self-confident, and Joaquin Phoenix's style is always hesitant (it's what made him work in Gladiator).  Way better choice here.
A: Interesting that the loony bin stuff comes up, come to think of it. Reagan made committing people much more difficult, which was a colossal mistake.
w: As we close in on the title, it feels like PTA takes the story away from Pynchon and sez, "this is how we roll here."  That's as it should be.
A: Greenwood's score is basically nonexistent, which is correct. But check out that SUDDEN CAN NEEDLEDROP.
w: Those are the two modes of music in PTA's films:  nonexistent and overbearing.
A: The guy who plays Denis–I feel like he appeared in this and just vanished. I just looked him up and he's going to play Kato Kaelin in a movie, which is hilarious.
w: Hey, the narrator shows up, Big Lebowski-style!
PTA has decided to incorporate the text in an interesting way.  Pynchon's voice is too distinctive to ignore, but he still wants to keep it around, so he moves the narration in and out of this world.
Aunt Reet!  Getting some good comedy here, and also dragging in a lot of information too.
A: Bigfoot's debut is very reminiscent of the Mattress Man commercial, isn't it?
w: Yup!  The off-center medal is my fave touch.
NOT SINCE THE FOUNDING FATHERS HAS THERE BEEN SUCH NOBLE SIDEBURNS
A: Only Myron Magnet comes close, and that weirdo TRIES.
Omar comin', yo.
I remember reading PTA apparently wrote the script by writing a line by line adaptation, and then cutting, cutting, cutting.
w: That is not the way to a good adaptation.  William Goldman breaks things down into actions, not lines, and then tries to find a story there.
Placing Phoenix and Michael Kenneth Williams, these two huge and strange presences, in a white-walled, blank space, is Altman-level weird.  PTA's typical slow dolly-in heightens it. (And then the word "Hallucination" fills the screen.)
A: Honestly surprised Pynchon believes in Horseshoe theory. I would have thought him too far left.
w: Not 20 minutes in and we've already seen more plot than most movies.  PTA isn't shying away from that; he wants to make this world as confusing to us as to Doc.  That's the most faithful aspect so far.
A: God watching this movie with a strep infection years ago means I don't remember ANY of this. It's like I'm watching it for the first time. It's great.
Notice how the sound editing is designed to drone, making us feel high.
w: I have literally no idea how the pussy-eating scene plays if you're not expecting it.
A: Dig that little karate chop thing Doc does before he goes down for the count.
w: You want to see an edit?  Cutting to Doc and the corpse on the ground, THAT'S an edit.
OK, now I'm starting to find the voiceover a mistake.  You don't use it there–we already know who Bigfoot is–you hold all dialogue until "What's up, Doc?"
A: The description and PTA precedent makes you think Bigfoot Bjornsen would be played by Hoffman (RIP), but Brolin is so perfect because he LOOKS like a brutal cop. He'd make a great Big Pete Bondurant.
w: He also gives the least mannered performance so far; he ain't having anybody's shit here, not Doc's or Pynchon's.
A: Del Toro's presence here makes me think this movie is in continuity with Fear and Loathing in Las Vegas.
w: The orange jacket popping into the desaturated blues is pure PTA.  Also, "99%. . .hippie" is a genius line reading.
A: Sauncho Smilax: "He's very good!"
I love the weird homosexual subtext with everything Brolin's doing here, even if I'm not quite sure WHY he's doing it.
w: I also assume that's a Bluth frozen banana.
Good character detail that Doc tries to get Bigfoot to be professional.
A: At a certain point I think the voiceover is PTA's attempt to put his favorite lines in the book in the movie, quality be damned.
w: Agreed, and he forgot the first or second rule of adaptations:  kill your darlings.
A lot of long dissolves here, which is exactly what you want for a film where 75% of the characters are stoned.
A: I love how Doc listens to this utterly disgusting story and treats it like he would a crying widow.
w: Your point that Doc is an Embi-level listener comes through in this scene.  The scream is more klassic komedy, and you gotta dig that Hope doesn't react to that either.  Joaquin Phoenix is killing it in this whole movie–I'm starting to wish for that Doc-and-Bigfoot series you mentioned earlier.
A: "Uranus. The planet of rude surprises." THE AGE OF AQUARIUUUUUUUS.
w: Really don't want to live in a world without that joke.  (Also, there's no way you don't have Owen Wilson in this movie.)
OK, I am officially sick of the voiceover.
A: Wait have you listened to Joanna Newsom's albums? If you don't like her voice here you're gonna HATE her music.
Also casting a Bond girl as Sloane was GENIUS.
w: The candle pointing at Riggs Warbling's dick was pretty good too.  And Newsom's voice is fine, but shut the fuck up and stick to the action.  The shot of Riggs, Sloane, and Doc says everything there is to know about all three of them–Riggs and Sloane are fucking and Doc knows this.  PTA knows how to use voiceover; look how carefully he deploys it in Hard Eight/Sydney and Magnolia, so he's gotta know this shit is a distraction, I suspect it's even more distracting for those of us who've read the book.
A: I'm one of those weirdos who likes to listen to people say certain words, so it DOES distract me, but for a different, lesser pleasure.
w: I'd be completely happy with an audiobook of Newsom reading Inherent Vice (or, even better, "The Secret Integration"), just not while I'm watching this.
A: Luz is played for less melancholy here then I recall in the book, which fits genre conventions more but I feel is less interesting.
w: Also less interesting:  those ties are clearly painted by someone whose experience with vaginas has largely been with shaved ones.  Some things about the past are hard to recapture.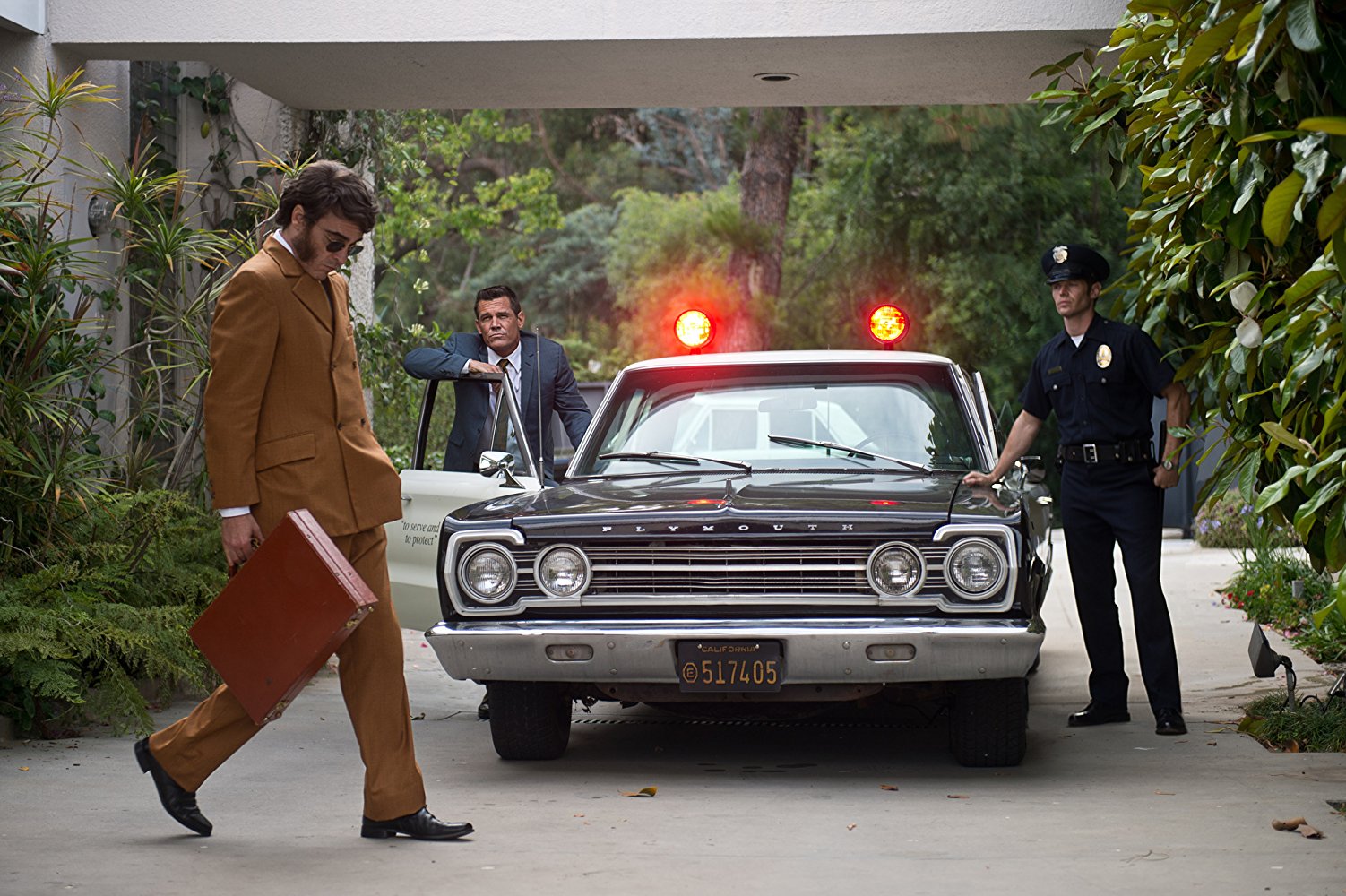 A: The dissolve to Bigfoot wailing on Doc as he tries to escape is one of the wackiest things he's ever filmed, if not the wackiest.
It's fun to see Witherspoon like this. You can imagine her as Tracy Flick's aunt.
w: She's nailing the "huge chemistry with Doc and trying not to reveal it" vibe.  She's completely naturalistic in whatever facade she chooses to display, if that makes sense.
A: The mutual tsundere ("It's not like I LIKE you or anything") thing Doc and Penny have going on becomes so more apparent here then it is in the book, where it seems like they're more…strained as a couple in some ways? All it takes is a couple minutes for me to think they're a better couple than Doc and Shasta.
This is a reminder that at this time it was harder to get into the FBI then it was into Harvard. And they're STILL absurd and focused on the wrong stuff.
w: Having Veep's Jonah (Timothy Simons) play Agent Borderline is sheer casting genius.  I'm waiting for him to start swearing and yelling at any moment. And yeah, Doc and Penny are a way better couple than Shasta/Doc; it's part of the theme of the book, the letting go of the past.  (Also, the whole movie needs an award for hairstyling.)
A: There's some symbolism in PTA casting his wife as Petulia here, but I don't know what.
w: Speaking of hairstyles, I didn't recognize Maya Rudolph at all until you pointed that out.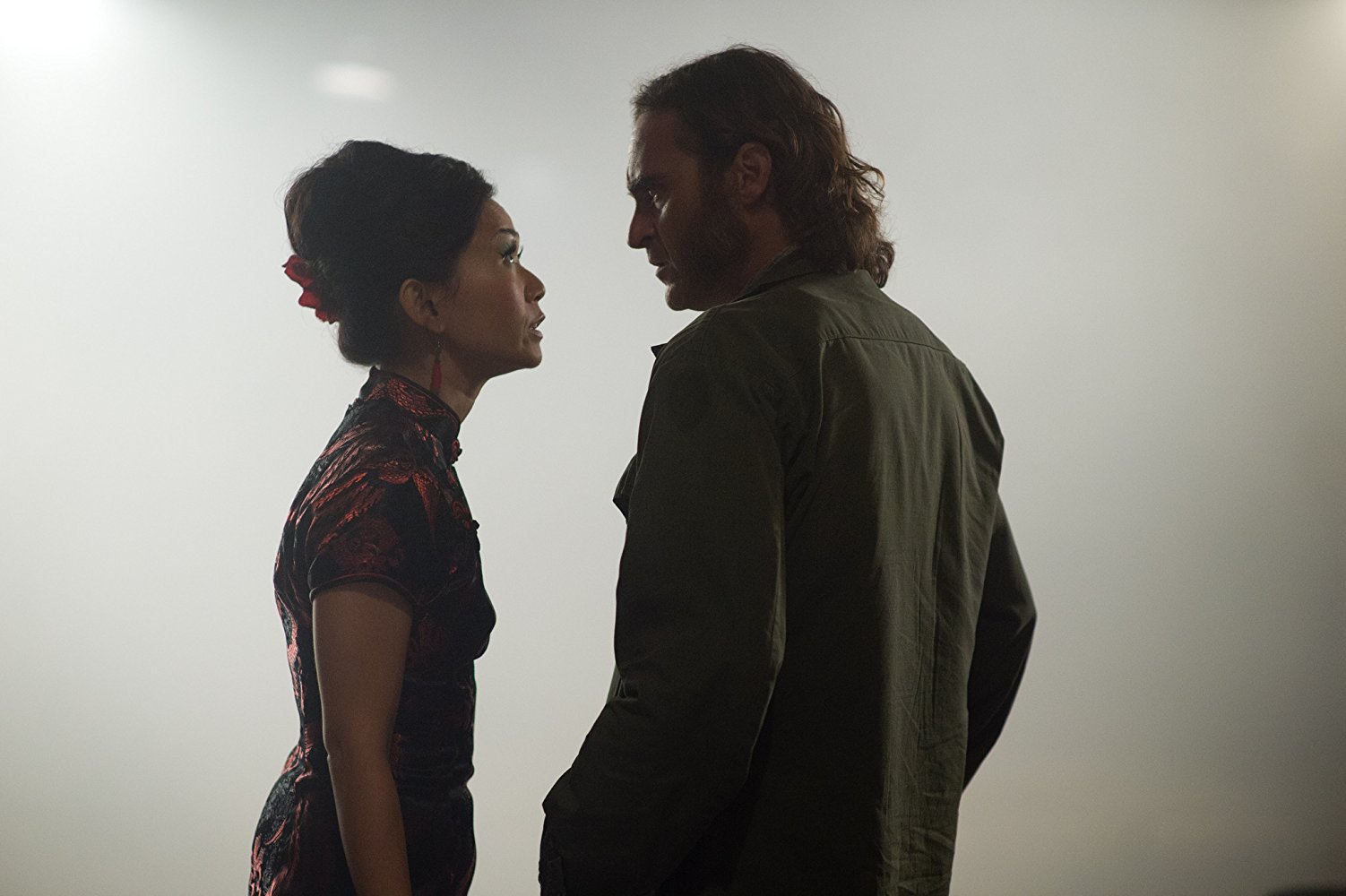 PTA is doing a lot with blank backgrounds here; that's a Shield kinda thing, dropping the background and focusing on the action.  
A: This reminds me, I saw Wilson in Anaconda last night and was shocked to realize he did not ALWAYS sound like he does here. Also, he's a fantastic actor who should really pick more projects like this instead of doing stuff for money.
w: At some point, PTA made the choice to get everyone to talk fast to get this under four hours instead of cutting the plot.  Wilson's talking too fast for the character. His Girl Friday this ain't.
A: It makes Coy more paranoid than he probably is.
w: I SWEAR TO GOD PTA THIS VOICEOVER IS REMINDING ME OF WATCHMEN AND I WILL GODDAMN END YOU
A: "The world will look up and should 'Save us!' and I'll look down and whisper 'More voiceover for you.'"
w: Another time-displacement problem:  the waitress who says "l'il buddy" has never seen Gilligan's Island.  For another movie (say, There Will Be Blood), that wouldn't be a problem but PTA and Pynchon are so committed to a specific time here that a detail like that screams out.  (See, del Toro gets it.)
A: Italians are white, Sauncho.
The Howard Hughes thing reminds me we should probably listen to Jarvis Cocker's album about the Chateau Marmont sometime.
Okay, I'm now 100 percent convinced that Sauncho is supposed to be Dr. Gonzo, AKA Oscar Zeta Acosta. I'm amazed Dr. Thompson hasn't shown up.
This music cue covers more information and longing then the voiceover, that's for certain.
w: Going back to your early comment about Katherine Waterston:  she has a great movie face, the kind that conveys feelings by holding still and letting the camera and the lighting do the work.  She's always had it, as far back as Night Moves (where I first saw her).  
A: "I could bring you a pizza."–This might be the most romantic line I have ever heard.
w: Again, Shasta is Doc's dream; Penny is his life.  The visuals convey that.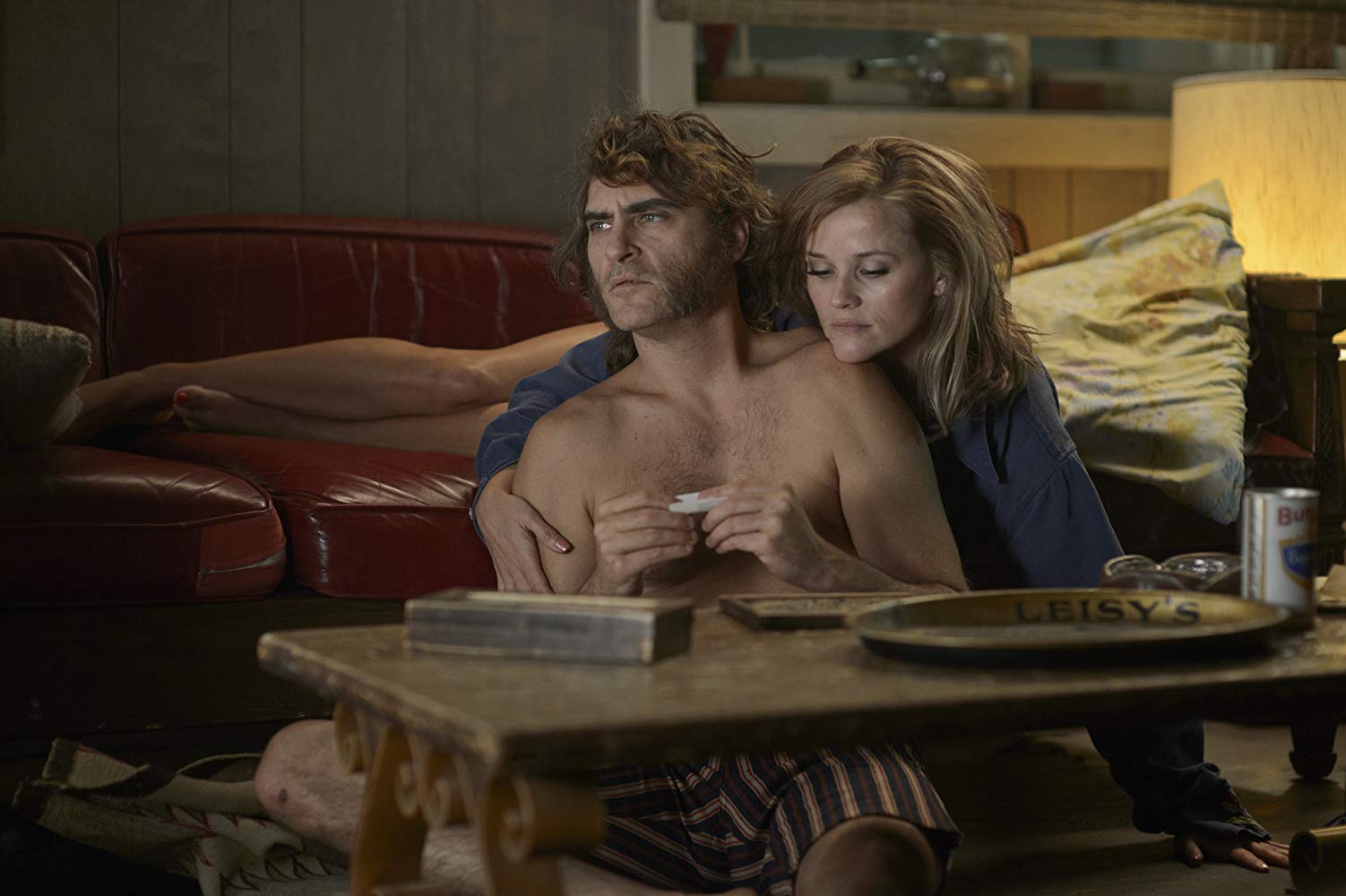 A: RICHARD NIXON: Now. More than Ever.
w: Between this and Big Little Lies, damn, Reese Witherspoon has become one amazing actress; she no longer needs a role that calls attention to herself, she now knows she owns the screen.
I reiterate my belief that the tagline should have been "Based on Thomas Pynchon's least confusing novel.  We're doing the best we can here."
A: "She's big on the dick!" I laughed. I have no shame.
w: We've had Uranus and Dick jokes here.  I apologize for nothing.
A: Really it's fascinating that there even IS a score in this movie. It's so minimal but the pieces are essential.
w: PTA likes cutting sequences to long pieces of music, and they give the scenes a unity–the continual (but minimal) music keeps your attention focused.  He learned this as far back as Boogie Nights but really developed it in Magnolia.
Doc has a definite Hunter Thompson stare in this scene, and Coy gives a very Thompson-style monologue.  (Of course, the name Doc is something of a reference.)
A: Interesting how PTA has only had one moment so far where he's made Doc question reality. He hasn't been hitting the pot as much as I thought he would.
Also I'm coming out as a Pynchon Cameo-Denier. He's not in this movie, at least not in any form where we'd recognize his face.
I love how Denis is utterly lost here.. He's the Carl to Doc's Master Shake/Frylock/Meatwad.
w: That carries over from the novel, too; Denis isn't involved in any kind of plot, he's just trying to get through the world.
A: Notice that Doc sits in Judas' spot at the pizza party.
w: So noticed.  I also noticed earlier that was one horrible job of making the crust.  Holes everywhere.
ANOTHER scene that works better without the voiceover.  Just a centered shot of Doc walking up and getting knocked off-center, that's all you need.  ("Can't we just once do what we're supposed to, and then stop?")
Interesting touch:  in the novel, when Coy has his line about "talk to Shasta Fay," that's exactly what happens next.  Not here.
A: I love how there's a blink and you miss it Chinatown reference.
You probably have an enormous more amount of knowledge of the absurdity of California and housing, but I'm now thinking about how this whole story is essentially about how much California citizens don't believe in Zoning Reform.
Doc jesus man don't mix your highs.
w: Much of the history of California, especially Southern California, is fundamentally about real estate.  Many institutions, like the LA Times and the California Institute of Technology, came about because landholders wanted to increase their property values.  Sometimes I thought the book was the missing third part of the Chinatown trilogy, which Robert Towne and Jack Nicholson wanted to be about the Trinity of Southern California:  water, oil, real estate.
Maya Rudolph killing it in one line.
A: DOC DON'T USE SPRAY DEODORANT DO YOU WANNA KILL THE OZONE LAYER
w: Oh honey, I can assure you we didn't know shit about that in 1970.
Perfect shot of the postcard there.  Robert Elswit does contrasting colors better than almost anyone else; maybe Larry Smith is the only contender.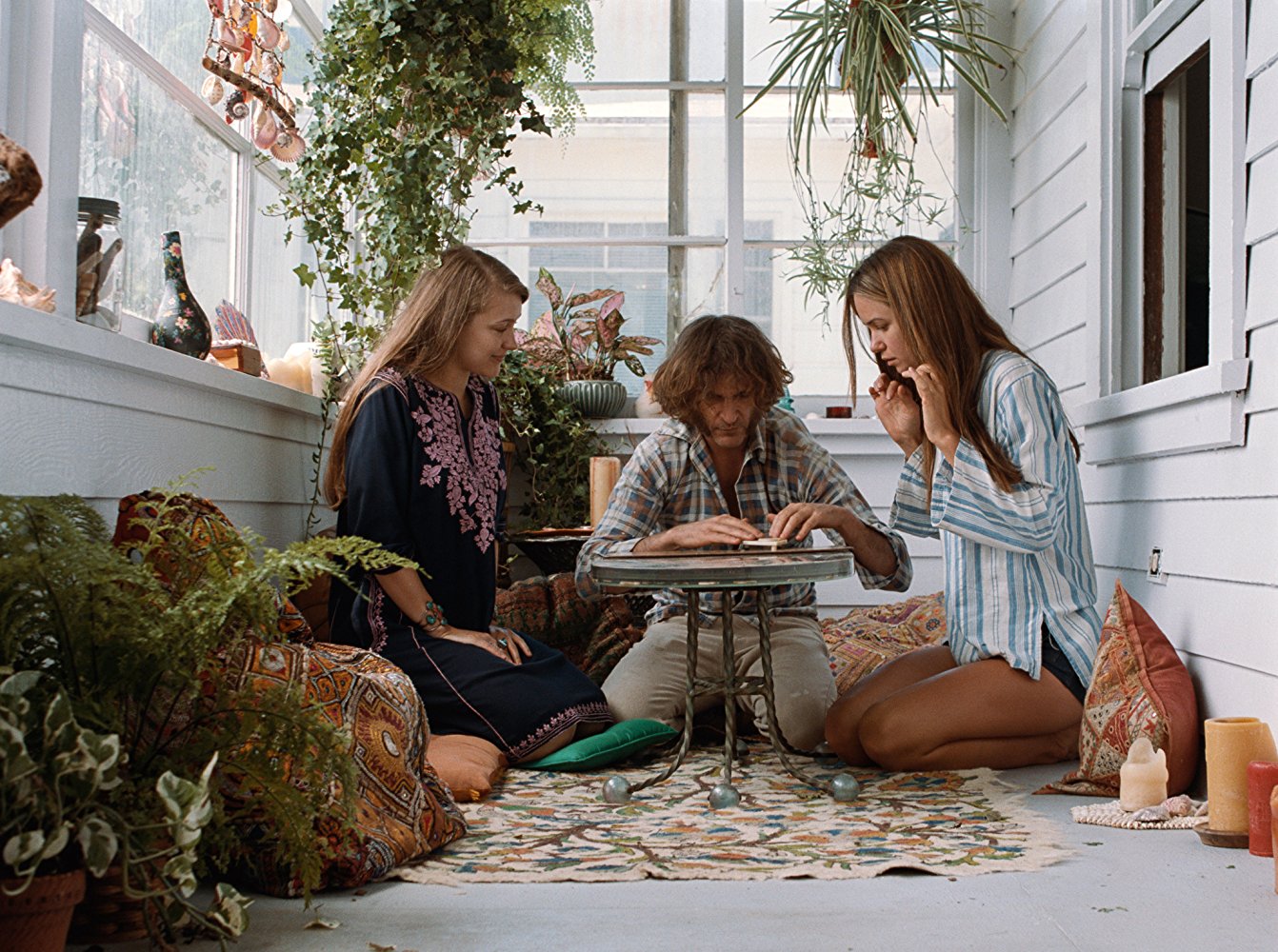 A: This might be the only time the supernatural explicitly shows up in Pynchonland. It's usually disguised as Sufficiently Advanced Science.
I love how Pynchon did an enormous dolly shot and he hardly used any of it.
w: The vacant lot is a neat symbol for the whole story–appropriated by the System, but never used, and it can still be a place where Something Happens.
A: I feel like this movie is giving me a contact high after I found that typo.
w: I'm digging that the sets are all hallucinatory, but not more so than L. A. and environs actually are.
A: Martin Short is too old for him to play Rod Stewart in his prime and that is an honest to god shame.
w: He's also too Martin Short.  The last time he disappeared into a role was on Damages several years back.
A: Noel Fielding would be better anyway.
I love how as the movie goes on Doc's encounters go from normal to crazy quicker and quicker.
w: You noted how the novel is more dialogue-heavy than usual for Pynchon; the movie is more exposition-heavy than usual for, well, a good movie.
HOLY SHIT, PTA really went for the Bunny Lebowski look here for Japonica.
A: HOLY SHIT I JUST REALIZED THAT HONG CHAU IS JADE I CAN'T BELIEVE I DIDN'T NOTICE.
w: That's a great shot with Japonica's and Blatnoyd's outfits matching the wall.  And then Denis and Jade come crashing in and wreck everything. I am forever a sucker for that kind of thing.
(You know, we're not paying much attention to the plot, but it doesn't really matter.  However, I will say that anyone who praises this movie–at least for its story–and gives shit to True Detective's second season loses all my critical respect.)
A: I love how they all switch seats before we even realize what's happened.
w: And the cop doesn't even care.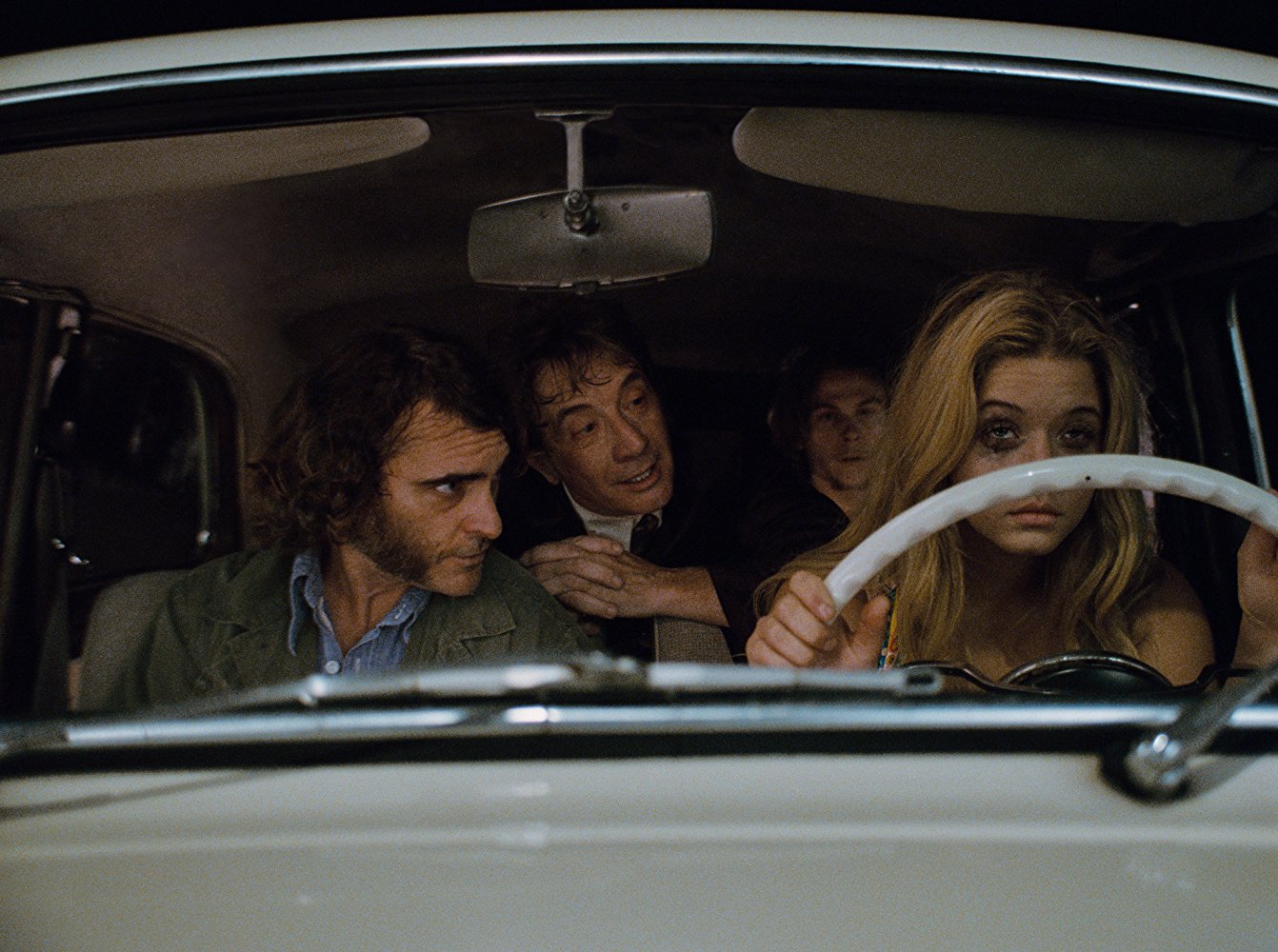 A: I pity everyone who didn't make it in to this. Sorry Doc's parents. Sorry Downstairs Eddie.
w: I really want to see Doc go full Pepe Silvia here.
Also, Bigfoot's bar and choice of drink (Johnnie Walker Red) are both bang-on.
A: I'm always surprised at movies set in the west or the south where people actually wear long sleeves. Doc's in a turtleneck here. What is this, New York? Or my own Minnesota?
w: Seriously!  I've seen people wear scarves in San Diego.  SAN DIEGO. When it's like 65 degrees!
A: I really want to believe that Japanese pancake places exist.
w: I need to give this script to Brian Helgeland and tell him to work the magic he did on L. A. Confidential, cutting 60% of the plot while keeping the characters.  
A: Curtis Hanson is DEAD, wallflower.
You know I'm beginning to think you might hate this movie, wallflower.
w: Hate, no, but I am somewhat disappointed.  PTA comes across here as reverential towards Pynchon, and that's not how you adapt anyone.  
A: I don't think PTA's going to do another adaptation in the foreseeable future.
w: However, Phoenix and Brolin killed it in the pancake scene.
A: This makes a fascinating contrast to Impolex, which takes the hardest Pynchon book to adapt and Perry just turns it into a meditation on Katya and Slothrop's relationship.
Huh, I have the timeline for Reagan shutting the mental institutions wrong. Such terrible results.
w: Visually, this is stunning; PTA uses centered compositions here like David Fincher; they're even more disturbing when the universe is this chaotic.  He's also color-coding like a motherfucker.
Something I want to get into later; this is as dense with references as a Coen Bros. film, but it's not working for PTA the way it does for them.  Not sure why yet.
A: It could be that the Coens adaptation of say No Country for Old Men is based on a skeletal plot, while Pynchon is a colossus of incidents.
w: Good point, and point of comparison.  The Coens adapted No Country so thoroughly that there are passages they invented for the movie that I thought were straight from the book.  PTA hasn't tried to bring his own voice in here, and he most definitely has one. He also didn't skeletonize the plot beforehand.
MICKEY SIGHTING!  (I'd call Eric Roberts a casting coup, but you know someone just called him up and asked.)
A: Is this the only good movie Eric Roberts has done in literally decades?
w: There's The Dark Knight, but that's all I can think of.  
A: Shit, forgot he was in that.
I am kind of really nervous about Pynchon taking Reagan's side with the whole "mental hospitals are Not Good." thing. Dude, the alternative was WORSE.
w: It's one of the places where sticking to genre rules (dude was stashed in. . .the loony bin!) leads him to a politically fucked position.  
By the way, that's the second restaurant here I've been to.
Shasta's back!  The third act is nigh.
A: I really wanna know what Wolfmann's free housing project was supposed to look like.
w: There was a zomelike structure literally right outside my window in college, so I already have an image for that.  Bucky domes were a brief craze in the 1970s.
A: I love how we don't see Bigfoot's wife's face. That's a good visual gag, like something in a Peanuts cartoon.
w: This would be way funnier if we heard a mwah mwah mwah trombone here, yes.  Also, who is doing that voice?
A: That's Brolin's wife, I think!
w: This scene–Shasta coming on like a "Manson chick"–is just about impossible to do and Waterston and Phoenix are giving it their all.
A: This scene really should not work at all but somehow they're pulling it off.
w: Agreed; part of it is that Doc is the one who's invisible.  Also, PTA's tendency to not move the camera plays well here.
A: This scene really feels like Pynchon saying "Shit, Free Love was just an excuse for misogyny even before the squares caught on, wasn't it?"
w: It's one of the moments in his later career where he feels like he's directly criticizing his earlier career.
A: I really don't know how to feel about how this scene is er, um, resolved.  Part of it is I think that Shasta is hoping at least a little bit that Doc won't take the bait.
w: Yeah, holding on her face for the whole scene does that.  It wouldn't surprise me if this went through multiple takes to get it right.  (The music is a little too intense and horrorshow for this–it's pointing where the scene is supposed to go rather than accompanying it.)
A: I remember this was about the point in the movie the first time I watched it where it kinda lost me, as much as I loved it overall. Mostly because of that scene.
w: Also, in general, having a direct reference to the title isn't a good idea, and explaining it in a voiceover is worse.  Readers, I expect lots of jokes about this in the comments.
A: I don't understand why PTA didn't just have Newsom and Doc talk more instead of doing the voiceover.
w: Going handheld is a cheap kickstart, but it works and I almost always enjoy it.  (Also, y'know, I don't think we're going to Vegas.)
A: I really wonder what Altman would have thought about this. I know he loved the There Will Be Blood script but he might have told his young mentee this was too indebted and kind of weird.
w: Altman would say "Paul, you know I love ya, but there are so many more opportunities to get the ladies naked here."
A: Also the Vegas part is kind of unnecessary, let's be real.
w: Well, yeah, but that doesn't seem to stop PTA anywhere else here.
A: Really the whole problem with this movie is that there's too much stuff this movie mentions we DON'T SEE HAPPEN. Japonica and Adrian embody this.
w: Agreed.  My one-sentence review would be "That just raises further questions!"
A: Also that wall full of baseball bats is pretty awesome, and I don't even like baseball a ton.
w: Good visual cue on the necklace.  Again, PTA has lost none of his talent in making this, just made some fairly colossal errors in judgment.
HA!  Great touch that it's Shasta's credit card.  Also, that's a NewsRadio gag–running back and forth across a static frame.
A: Doc is capable of SUCH ownage when he wants to. He dropped a neo-nazi, truly the dream of us all.
w: Hey, let's all have a debate about the morality of that!  Oh wait, let's not.
A: It was him or Doc, man.
I love how deadpan Brolin just doesn't even give a shit that he's ripping off an evil syndicate. It's like that one meme of detectives interviewing someone at a loading dock who doesn't stop working.
w: Again, Brolin wants none of anyone's shit here.  He acts like he'd been given only his lines and scenes in the script and PTA told him "your motivation is you don't give a fuck."  
Hey, notice how the movie is moving forward now?  Like briskly?
A: Wait a minute this is literally Walter's plan in The Big Lebowski.
w: If Doc realizing Bigfoot planted the heroin in his car was the only voiceover, it would kick ass.  Perfect cut afterwards to Doc's home with half the gross national product of Vietnam in it.
A: Crocker Fenway's name doesn't feel right for a man whose voice is that terrifying.
w: I like it, the name too.  He'll have a bodyguard waste you and then say you attacked him, and lose no sleep over it whatsoever.  The drinks are accurate; I like that Crocker stood Doc to a rum-and-coke.
A: Crocker's a monster but I honestly can't say he doesn't have a point of how awful Rudy was.
I love that he says the Broadway musical line with a straight face. I'd love to see Rudy's record collection.
w: I am Team Crocker all the way; what makes him work is self-awareness.  No hypocrisy here; he isn't acting in the name of justice and he knows it.  Pynchon started writing (as we once said) in an age of stable class relations, and he recognizes now that for people like Crocker, they never changed.  Martin Donovan plays him so simply and confidently.
Also dig that Doc forgets the "watch your ass" closing line here.
Kids carrying blocks of heroin in the background, never not funny.
A: The utter pity Doc has when he looks at Japonica and her mom might be some of the best acting Phoenix's done.
w: "You're a dangerous hombre."  Well played. There's a really great movie here that has the same first fifteen minutes and last half hour.
A: I love how Coy didn't change his clothes at all this entire movie. He must utterly reek.
w: Heroin addicts are not known for hygiene.  So I'm told.
A: Okay this is the worst voiceover bit I would say. Mostly because it doesn't fit the tone of the movie.
w: You need the story of Lemuria to make this work.  Also ONCE AGAIN, it's stating what we're seeing.
A: If Smilax actually is based on Acosta this is even more hilarious because he went missing after boarding a boat.
BROLIN WUZ ROBBED.
w: I can't argue with a Doc/Bigfoot ending.  Although "Bigfoot gets stoned" isn't quite right–if he was gonna do it, he woulda done it by now.  OK, again, the tone here is just way off.
It's like without Pynchon's ending, PTA doesn't know what to do.  AND ONCE FUCKING AGAIN HE DID WHAT ZACK SNYDER DID, he didn't know how to keep an exit line ("Bigfoot's not my brother, but he sure needs a keeper") so he wrote a much worse scene to use it.
A: Now I'm pissed no Doc/Bigfoot slash fanfiction exists.
w: Oh it's out there, no doubt.
A: This is a beautiful ending, in composition, music, and acting. It's also the wrong one for the plot. Doc gets in a car with the wrong movie, and I don't know if PTA wants us to think that.
w: Yup.  Has the name Sortilège even been mentioned yet?  We've seen her all movie, but I don't think she was named.
A: Doc how dare you break the fourth wall on us. At least say hello.