Like Thomas Pynchon, Michael Mann has made a series of genre works in his later career that are both formulaic and utterly unique.  Both of them use genre as a method of exploration, a familiar structure for new worlds.  In Inherent Vice and Bleeding Edge, Pynchon used what could be called the Chandlerian detective story as a way to understand particular places (1970 Los Angeles in Vice, 2001 New York in Edge); in Collateral (2004), Miami Vice (2006), Public Enemies (2009), and now Blackhat, Mann tells the most standard crime dramas to illustrate the new global order of criminals and police.  (Public Enemies seems like the odd film out here, but it's about the origin of the order.)  Collateral remains the most successful of these (on some days, I consider it Mann's best), Public Enemies the weakest, and Blackhat joins Miami Vice in the middle rank.  (There are SPOILERS for all these films coming up.)
Like so many Mann films, Blackhat takes as its spine a straight-up cops 'n' robbers thriller.  (Note:  I'm reviewing the version released in theatres and on currently on DVD, not the re-edit that Mann recently premiered at the Brooklyn Academy of Music.)  We begin with an unknown hacker's attack on a Chinese nuclear power plant.  Chen, a Chinese "rising star in the PLA's Cyber Defense Section" (Leehom Wang) begins working with the FBI (in the person of Viola Davis' Barrett and her boss John Ortiz) and recognizes the code for the virus as the work of his former MIT roommate, Hathaway (Chris Hemsworth).  Hathaway's serving a 13-year sentence for cyber-bank robbery (he's been spending the time bulking up and reading Foucault), they get him out in order to help catch the bad guy, Chen also brings in his sister Lien (Wei Tang) to help the investigation, and we're off, eventually going across half the globe in pursuit.  There are guns, cell phones, occasional visualizations of swarms of data packets (thankfully not overused), surveillance, 'splosions, shenanigans involving soy and tin futures, quite a few restaurants (as ever in Mann, a place for characters to reflect and soliloquize), and stunning images that never let up.
Beginning with Ali, Mann has been using digital cameras and he has developed this from a technique into a real aesthetic.  As our most excellent Narrator has noted, Mann doesn't use digital to imitate film but has exploited the medium for its unique properties, and has gone from there to establish an entire look from it.  From Collateral onward, Mann's films don't look like anyone else's, not even his own pre-digital works.  The most obvious difference between digital and film is the colors.  In this time where desaturated, sickly blue-green-gray has become accepted, even a norm, Mann's films burst with color like Brakhage's hand-painted short subjects.  In particular, digital captures low-light colors that film can't, something you can see in the unique gray-orange of Collateral's Los Angeles or the deep blues of the ports in Blackhat and Miami Vice.  (Stuart Dryburgh was the cinematographer here, but all three of these films have a remarkably unified look.)  As a fellow Chicago native, I wonder if Mann lives with the deep blue of Lake Michigan on a summer night imprinted in his brain, and if he's been un- or semi-consciously trying to show that to us.  Digital also captures the depths of black skin in a way film rarely does, which means we finally have a movie that does justice to Viola Davis.  Capturing low-light colors gives us what could be called the colors underneath the colors.  (On the Collateral supplements, there's a moment where Mann requests the cab to have a color of orange with blue underlying it.)  In Mann's films, digital reveals depths where film shows surfaces.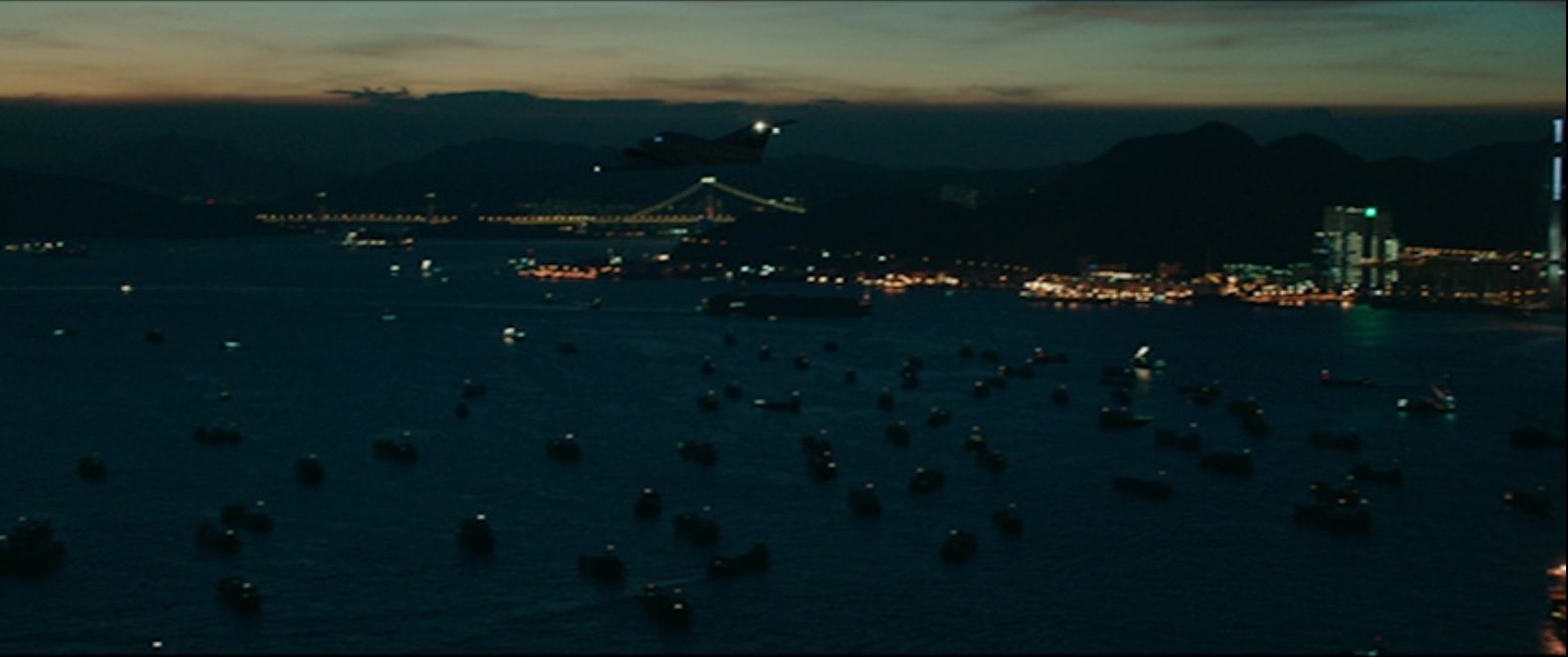 Looking at Mann's pre-digital films, they appear as much more static and composed, favoring vista-like wide shots, with The Last of the Mohicans and Heat having some of the best of these shots in all cinema.  Smaller digital cameras have allowed Mann to go handheld in the more recent films and because of that, he's gone for more closeups.  A signature move of the later Mann, showing up as reliably as a Spike Lee dolly shot, has a character's face (sometimes turned away) filling half the frame in a handheld shot.  The necessary jitters of handheld combined with the closeup makes it both intimate and heroic, Leonean presence without Leonean certainty, and it works to give foreground and background equal weight.  The small cameras also contribute to the motion of the image, with Mann staying close to the characters, tracking them, taking a position with the action rather than observing it.  It's a style that's suited to urban spaces, with the colors of neon and the crowds, and Blackhat provides plenty of both.  Another aspect of the low-light capture:  backgrounds become far more prominent in digital.  In Collateral, Miami Vice, and here, Mann can show us actors in the foreground but keep the lights and depth of the cityscape behind them, not in focus but present.  When the final showdown takes place among a vast Indonesian ceremony, it's the kind of scene where everything comes together–character, aesthetic, and setting.  (The slow, operatic death of Dillinger in Public Enemies does not work with these techniques.)
Although handheld digital cameras create an unsteady image, Mann doesn't go from there to the unsteady, manic editing of Bayhem.  He still creates action sequences that breathtakingly clear and exciting–the feel and look of the image has changed but not the overall construction; maybe "neoclassical" describes what Mann does best.  The Korean nightclub scene in Collateral stands as the best action sequence of the millennium to date, but Blackhat adds a few more to the Mann pantheon.  Like a classic painter, Mann organizes his best action around imaginary lines.  In the bank robbery in Heat, it was the line between the cops and the criminals, creating a no-man's-land between the two; the battle was really over controlling that space.  In the final fight in Manhunter, the line was back-to-front, with William Petersen running along it and breaking the screen-in-the-screen.  In Collateral's nightclub, there were two lines of action converging to a single point and Jamie Foxx caught in the space between.  Here, near the middle of the film, Chen, Hathaway, and a team chase a man (Ritchie Coster, owning a small role here just as he did in The Dark Knight and True Detective) into a curving underground space that opens out onto a shipping dock.  The use of a curving line is new and effective.  Since no one can see around the curve, it automatically provides cover for the shooters but doesn't clutter up the image at all.  It forces everyone to move at a slower, more suspenseful pace–Coster because he's backing away and the police because they are effectively always coming around a corner.  When he sets off a Claymore mine, we know how helpless the targets are, and Mann slows down the image just a little as we see them all hit.  (No gory closeups here–ownage in a Mann film is brutal but never gratuitous.)  The chamber-like nature of the space allows Mann to prolong the echoes of gunshots even more than in Heat; these shots sound like they don't die away at all.  He is our most elegant director of action right now; sequences like this hit our visceral and artistic feelings all at once.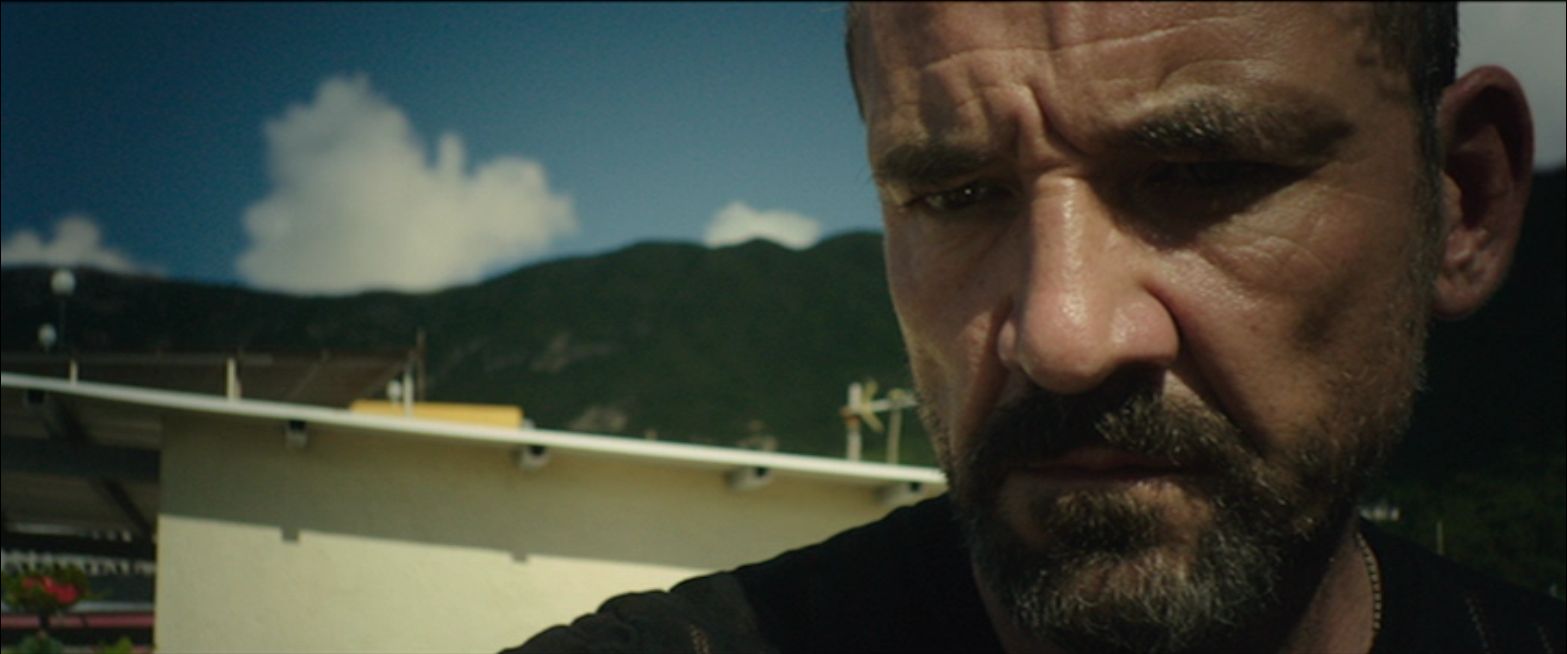 In addition to the digital look, Mann has broadened his scope to look at how both crime and law enforcement have gone global.  (Blackhat begins with a shot of Earth and then starts closing in.)  Even Collateral, with its focus narrowed to a single night in Los Angeles, demonstrated ties to Central America, Asia, the FBI, East Germany, and Interpol; Public Enemies showed the complexity and techniques that were there from the beginning of this world.  Blackhat works on Mann's largest canvas yet, beginning with nuclear sabotage in China, moving to America from Pennsylvania to L. A., then back overseas with Lebanese assassins and finishing the story in Jakarta with a Dutch hacker.  It's not just about settings, too; the tensions between America and China play into the uneasy collaboration between Davis' Barrett, her boss, and Chen.  The backstory between Chen and Hathaway takes this even farther.  No matter how big he goes, Mann commits to building the world down to the details.  There are no minor backgrounds here; every image, even the most fleeting, has a history and a weight to it.  My favorites were the apartments in Indonesia–you can tell that these have been occupied by hundreds of people since they were built.  A close second would be the empty, dry Malaysian river valley with only Hathaway and Lien in it.  
Possibly because they're so much part of the world he's building, Mann has the most success here with the minor characters; this was also true of Public Enemies and Miami Vice.  (In those films, Jason Clarke, Stephen Lang, John Hawkes, and Elizabeth Rodriguez made the biggest impression on me.)  Here, Leehom Wang, John Ortiz, Viola Davis, and Holt McCallany all play with the kind of professionalism and focus that's the defining element of Mann's ensembles, going all the way back to Jim Belushi in Thief.  There's no wasted emoting in these performances because, as it should be, these characters are all about the action; the best scenes come near the beginning, professionals acting and speaking with the force and directness that defines them.  McCallany in particular gets a magnificent and, again, elegant scene of ownage, enacting a strict one-shot-one-kill policy.  They're the most noticeable, but really all the minor characters here do well, right down to Yorick van Wageningen (he was the social worker/rapist in David Fincher's The Girl with the Dragon Tattoo) as the hacker.  He's nicely bewildered by his confrontation with Hathaway, like it simply doesn't occur to him that there are motivations besides money.  
If appreciating minor characters and setting sounds like damning with faint praise, that's because it is.  As in Public Enemies and Miami Vice but not Collateral, Blackhat runs into irreparable trouble with the main characters and story.  In these films, Mann puts incredible energy and craft into the settings, the look, and the background, and then assembles the main characters and plot from the spare parts of his previous movies.  Hathaway gives a speech about "I'm doin' the time, time isn't doin' me" that feels like it's straight from Thief (Chris Hemsworth is not James Caan); he has a moment of revelation that's straight from Manhunter (he's not William Petersen either).  Blackhat stumbles badly here, and it has to, because what Mann does so well is to take clichés and invest them with such detail and commitment that they become archetypes.  Without that commitment, they fall back to clichés and become boring.  
Chris Hemsworth isn't a bad actor; I enjoyed his Thor but my favorite performance from him was in JJ Abrams' Star Trek.  In a few minutes at the beginning, he brought a wonderful late-50s sci-fi openness, joy, and tragedy as James T. Kirk's dad.  Here, though, he does as well as he can but he's doubly miscast.  He doesn't convey the specific kind of intelligence of hackers or the caution and reserve of ex-cons.  He doesn't come off like someone who's shutting down his physicality as, say, Matt Damon did in The Good Shepherd, only as stiff, dull, possibly constipated.  Because the character as written doesn't make much sense, I'm not sure any actor could have brought it off.  With a rewrite, someone else could have done it.  The detail of Hathaway and Chen as college roommates made me wish that this film had been reconceived as an update of Pat Garrett and Billy the Kid; Andrew Garfield, who really does convey a live-wire intelligence, could take the Hathaway role.  Another possibility would be a version closer to this one with McCallany as Hathaway, because McCallany does give the feeling of someone who's done at least eight years in maximum security.
The off-the-shelf method of assembling character creates moments that are unusually off for a Mann film.  It's so dislocating to have a character 1) motivated by a spouse dying on 9/11 and 2) actually bring that up–that's more than cheap, it's fucking unprofessional, and Mann shoulda known better.  And yes, there's an exciting scene in a small restaurant where Hathaway fights off a gang of attackers, but I have no idea how he got the same Israeli Defense Forces training as Vincent did in Collateral.  Contrast that with the climax, where he suits up with homemade body armor and weapons of sharpened screwdrivers and delivers a full-on jailhouse shivving to van Wageningen–that works.  (Back to what doesn't work:  Hathaway saying "you killed my friends."  Huh?  These people you've known for a week?)  And there is simply no Viola Davis character, ever, who says "you can call me chica anytime."  
The way Mann doesn't avoid action-film tropes like that makes for some aspects here that aren't just off–they're missed opportunities.  Trying to fit a hacker into the veteran-criminal archetype of Thief and Heat denies us the chance to see a new, specific kind of professionalism; Chen describes different kinds of coding at the beginning but nothing comes of that.  Not long after, Lien warns Hathaway that he's not thinking as fast as he has to, but nothing comes of that either.  Hathaway is always the smartest guy in the room, the one who always sees the connection everyone else misses, which undermines the team aspect of getting the work done that's been part of Mann's best work since Thief.  (The exceptions are The Last of the Mohicans and The Insider, which isolated its protagonists out of necessity.)  Blackhat shares with Miami Vice an antagonist that's invisible (here almost literally so) for most of the film.  That rules out the strong conflicts of Heat and Collateral, but it does create the feeling of a transnational world of crime; in Miami Vice, the villain (Luis Tosar) remains at large at the end.  In Blackhat, Mann could have kept the hackers entirely off-screen, maybe even given them a motive beyond greed.  However much ownage there is, having an actual showdown between van Wageningen and Hathaway feels too conventional without being archetypal, ending it like McCauley and Waingro in Heat without any justification.  
Public Enemies, on paper, had a strong antagonistic relationship between John Dillinger and Melvin Purvis very much like McCauley and Vincent Hanna in Heat.  What sunk that film were inexplicably weak performances from Johnny Depp and Christian Bale.  In these later films, the relationships between characters have been the most noticeable flaw.  Collateral is the best of these for several reasons and one of them is that Tom Cruise and Jamie Foxx have a real chemistry and develop a strange, genuine relationship over the course of the film.  (Foxx taking off his glasses at the end remains one of the most delicate, even graceful moments I've seen in an action movie.  It's easily the equal of Heat's ending, a moment of true respect for the adversary.)  
Relationships between men and women have always been a challenge for Mann, because he simply has never written women to the depth that he writes men.  In Heat, the relationships worked because most of them were already in progress in the world of the film, and because Ashley Judd and Diane Venora played the shit out of their characters.  The relationship between McCauley and Eady that developed there also rested on a great performance by Amy Brenneman, playing an undecidable mix of love, infatuation, fear, and possibly Stockholm syndrome.  Public Enemies had an underwritten love between Dillinger and Billie, but Marion Cotillard still went all in on her character; the Colin Farrell/Li Gong relationship in Miami Vice was a lot weaker, not based in chemistry or plot necessity but, well, I guess they look pretty.
These are all still better than the love story in Blackhat, where the movie doesn't so much stumble as get its foot stuck in a hole and blow out the knee.  There's a good early moment in a car where Mann gives us Hathaway's POV on Lien, recalling the Dolarhyde/Reba scenes in Manhunter–a male gaze in operation.  There's something effective and disturbing about that moment, too, because she's in a confined space with a guy who's been in prison for eight years.  That gets dropped almost immediately as she jumps into bed with him (there are other reasons to get Chris Hemsworth naked, you know), and not long after that her brother says "I've rarely seen her happier" and then she's ready to walk away from her life and go on the run with him and what is this I don't even.  Wei Tang plays Lien as well as she can–she plays intelligence a lot better than Hemsworth–but there's no motivation here at all and barely any character, she's just there to do whatever the plot requires and look pretty.  It's not just the love story; I have no idea how a network engineer gets access to black-market passports, and Mann never tries to explain.  I've seen Mann make mistakes with characters before, but she's the first one where I felt he just didn't care.
What makes it so strange is that there's clearly so much Mann still cares about.  Like Martin Scorsese, Mann feels so vital, far more so than most younger directors.  It's only his stories that have gotten formulaic.  He's still exploring things with movies, still taking the technology of the moment to make images and sequences that no one else does and understand the contemporary world like few others do.  If he can come back with an equal commitment to story and character, he'll give us another masterpiece.