It is hardly surprising that, given John Cassavetes's acting and directing philosophy that went sharply against the mainstream views of Hollywood, his depiction of an actor's life would be quite different than what we would normally see. Rather than pitting the actor against the critic, as Birdman does, Opening Night (1977) suggests that an actor's friends can often pose the greatest obstacles to her creative expression.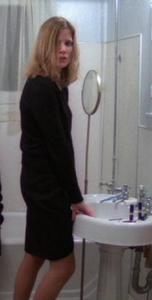 Gena Rowlands stars as Myrtle Gordon, an actress in a play who is profoundly affected by the accidental death of a teenage girl outside of the rehearsal theater. The ghost of the girl returns to haunt Myrtle, a parallel with how Myrtle is struggling to play an aging female character who has lost her vitality. Myrtle at various times reaches out to her friends—but each one of them expresses a cliché view of acting that Cassavetes always resisted, and which she must overcome.
The play's director, Manny Victor, has a close relationship with Myrtle. In an early scene, he accepts a late-hours phone call from Myrtle, while his wife looks on. He acts tender at first to her (suggesting he was a past lover of hers), much to his wife's dismay. Then he gradually becomes worried that Myrtle is unhappy about the play, which causes him to resort to increased bullying to get what he wants. This pattern will repeat frequently during the film.
Played by Ben Gazzara with an understated bravado, Manny is bored with his life and takes it out on Myrtle. At one point, exasperated, Manny shouts out that a scene has to "bounce." Of course, Cassavetes always was against any artificiality—such as a false enthusiasm Manny is trying to instill in the actors—and therefore his films, unlike the play Manny directs, have the unpredictable rhythms of real life.
The writer, Sarah Goode, has created a bitter, world-hating play (rather similar in tone to Birdman) that views as tragic a woman's aging. Once Myrtle realizes that this is what the play is really about (how Sarah feels about herself), she feels trapped into playing what she believes is a "loser" role. As a constant thorn in her side, even her bad conscience, Sarah hectors Myrtle during an argument by saying all she has to do is to say the words as they are written. Anyone familiar with Cassavetes's philosophy will realize this statement borders on outright satire. As Ray Carney documents in his biography of Cassavetes, he frequently told actors, "Don't worry about the words!  I don't care about the words.  I don't care if there is not one word right.  Go through your mind what the attitude would be if there were no lines."
Myrtle's fellow actor, Maurice Aarons, is the nastiest piece of work, played by Cassavetes himself. His self-aggrandizing pose as a professional is a means of protecting himself. He is entirely superficial and throughout slyly mocks Myrtle's feeling of artistic crisis. In an early encounter with Myrtle, he exudes the venom of a scorned lover (they were in some kind of prior relationship) who actually resents that his character is unlikable. If there is truly an actor Cassavetes would hate, it would be Maurice. As Cassavetes said, "I try to have the actors try not to be better than they are. . . . It's critical that my actors don't censor themselves or clean up their act—don't try to give an overly sympathetic image of themselves to the audience."
With these pressures intensified because Myrtle trusts these people, it forces her to turn to fantasy (living her role through the ghost)—and thus the film departs from the documentary-style realism of Cassavetes's previous films. Not only are the offstage scenes filled with theatricality, exemplified by Myrtle's enormous hotel suite that looks like an empty stage; what happens in the second half of the film suspends reality in an almost careless way, as if Cassavetes is trying to distinguish between superficial criticism and a more reflective viewing of the film. The point is not that it would be extremely unlikely that a leading lady who acts so erratically and disagreeably would not be replaced, if only temporarily; the real question is how does Myrtle's artistic commitment and honesty become a form of self-destruction?
Asking this question brings the play within the film and film itself into a productive tension. Myrtle's constant wearing of sunglasses offstage suggests a vulnerability that is difficult to conceal much like for her character in the play. And the scenes leading to the premier are pitched at such a high level of acting difficulty, it is thrilling to watch Rowlands perform. First she battles the ghost—her working through of what is holding her back: her living in the past, when it was easier to do what she wanted onstage because of her youth, her vitality, her sexuality (we might possibly conclude that seducing directors and actors was one way of exerting her artistic freedom: Myrtle is certainly no saint). Then she arrives at the theater falling over drunk, no reason given. Perhaps what she now realizes about herself has pushed her self-disgust to the breaking point.
At first Myrtle still appears drunk; her performance during the early scenes of the play is shaky, but remains magnetic. What we see of the play suggests that her acting is from a place of deep confusion. It is as if she is discovering the character in front of the audience, a daring chance to take, possibly enabled by her being intoxicated.
By the end of the play, Myrtle is sober enough to want to settle the score with Maurice; the last scene is the two of them together. But Cassavetes, in this scene, pretty much sheds the character of Maurice.  He and Rowlands depart entirely from Sarah's play and perform a scene that was partly improvised during the filming. What we now see is vintage Cassavetes: zany, inspired, and emotionally moving. Cassavetes and Rowlands act out a tentative solution to feeling anxious about aging by celebrating the loosening of their identities—they free themselves by losing themselves onstage.
The final scene reflects Cassavetes's care for the actors who worked with him. While he was not above playing mind games with actors, he said that he was always concerned that if they didn't give it their all, they would be disappointed when they watched themselves on film. As Carney reminds us, he was particularly sensitive to the treatment of female actors, as doubtless he was aware of by being married to Rowlands.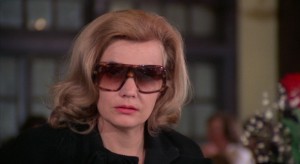 Opening Night is also inspired by Rowlands's acting approach: she often spoke of being "possessed" by a character. Throughout the film, her acting is extremely layered, as if we are seeing the partial selves of Myrtle refracted off of one another. Therefore Rowlands's performance breaks down the traditional view of the actor as narcissist—Mark Harris remarks that this view influences the Academy's choice of films it has recently honored: the success of Birdman follows the similarly-themed films, The Artist (2011) and Argo (2012), that both won Best Picture.
Of course, Cassavetes couldn't have cared less about simplifying the acting experience to make a film more appealing. The gambler that he was, he counted on the audience to be fast emotional processors, to be able to handle the intensity of the last scenes of Opening Night that appear as if they were maybe from a different film altogether. That he was often accused of being a sloppy filmmaker therefore is rather ironic: few directors could color outside of the lines as precisely as he could.