One way to examine the impact of a new art form is to look at its depiction by an older form. By the late 50s, film was socially established: it could boast of a lineage, tradition, and the creation of genres, such as musicals, westerns, and noir. But film was now faced with the burgeoning popularity of television, serving up the pleasures of moving images on a smaller screen in the comfort of the home.
Will Success Spoil Rock Hunter? (1957) deliriously sends up the changes in cultural patterns of production and reception caused by TV. Good Morning (1959) more subtly shows that the arrival of TV in Japan is set against, but does not significantly alter, a postwar climate of emotional stasis.
A telling moment in Rock Hunter is when Tony Randall, who plays Rock, enters on the stage of a sound set around halfway through the film. Rather than announcing an intermission, Randall tells us this stoppage is for the benefit of TV viewers, who expect commercial interruptions. The widescreen then shrinks down to the size of a TV screen, which proceeds to experience problems with reception, creating fuzzy, shaky, and distorted black-and-white images of Randall—recurring issues when TV sets relied on rabbit-ear antennas.
Projecting at times a resentment of TV that borders on caustic, Rock Hunter tosses a series of filmic in-jokes at the viewer. In the cold opening, Randall announces that the film's title is The Girl Can't Help It (1956), an earlier film also directed by Frank Tashlin and featuring Jayne Mansfield. She stars in Rock Hunter as Rita Marlowe, a composite figure of Rita Hayworth, Jean Harlowe, Marilyn Monroe, and a thinly-veiled fiction of the celebrity life Mansfield was leading, or imagined to lead, at the time.
The plot is a convenient way to hold together these references that are one of the film's comic layers. Rock is a harried executive at a Madison Avenue ad agency, who, to save his job, works at convincing Rita to endorse a lipstick of one of his clients. Rita, in a lovers' quarrel, uses Rock to make her current boyfriend jealous.

Mansfield dives into her role with gusto, without the slightest hesitation playing Rita as a self-parodic cartoon, transforming her high-pitched voice into something like a dolphin's call. Another comic layer is Rock's jealous girlfriend, whom he's wanted to marry all along, imitating Rita to get back at him. Meanwhile, Rock is so stressed by the demands of his job, which now requires him to pose as Rita's "Lover Doll," that he can't keep his pipe lit— a rather hard-to-miss double entendre, one of Tashlin's specialties.
A TV special starring Rita features a surprise appearance by a former boyfriend, whom she has long pined after (a cameo by none other than Groucho Marx). The two being happily reunited frees Rock of his obligations, and he can now marry his girlfriend, quit his job—after having become the head of the agency, a conventional signifier of business success—and pursue his dream of raising chickens on a farm.
Sure, it sounds ridiculous, but it conveys the message that dreams lead to happiness, a pitch used by Madison Avenue to sell countless varieties of consumer products. What Tashlin's appropriation of advertising, which conveniently partnered with TV, suggests is that he's in the forefront of exploiting the chameleonic possibilities of film which would make it, decades later, a catalyst for postmodernist thinking.
The frantic energy of Rock Hunter counterpoints the reflective, yet pointed, look at the cultural trait of harboring resentment in Good Morning. The refusal of a boy and his younger brother to speak in order to force their parents to purchase a TV set is joined, in Good Morning, with the plight of a woman in charge of collecting community fees, a collection that appears to have gone missing. The neighboring women suspect her of using the money to buy a washing machine.
It's entertaining to watch the shifting loyalties play out in the ensuing comedy of manners. The woman turns the tables on one of her accusers by charging her with being stingy. She tells everyone they had better return everything they had borrowed from her to avoid her wrath.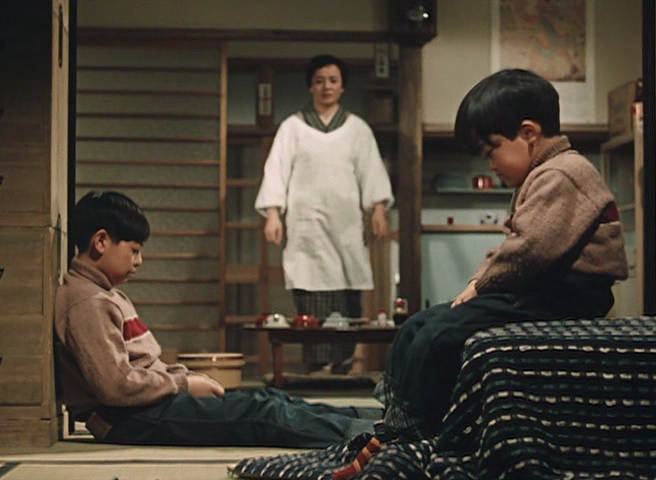 But director Yasujirō Ozu turns the tables on us as well. His stylistic trademark of positioning the camera as if we were viewing what's happening from a sitting position, where much of the socializing takes place in Japanese homes, builds empathy with these characters. We're relieved when the money is found, and the woman is innocent.
We feel, however, the collective resentment at another, more Westernized, couple who invite all the neighborhood children over to watch TV. It takes some time to realize that we're seeing the couple from their neighbors' point of view—outside of this perspective, the couple is considerably more open and less uptight than everyone else.
Ozu looks for something good in U.S. cultural imperialism. He finds it in its offering possibilities for more relaxed attitudes. One of the children's complaints is that endless polite small-talk, a long-honored cultural ritual, is simply boring and that it dampens their spirits.
That the children find release in farting is a joke Ozu seems never to tire of—showing that social repression, even in this rather benign incarnation, has a breaking point. Yet rather than leading a crusade for change, the children's vow of silence is taken as a rude gesture that reflects badly on their parents and further raises the tensions in the neighborhood.
Ozu would insist that any change, no matter how seemingly insignificant, is critical, which happens when the parents finally give into their children's demands and buy a TV set. In the next scene, there is a marked return to formality when the local bachelor romances the children's single aunt, which consists of their exchanging pleasantries about the weather. The scene is ambiguous: is Ozu stating the social necessity of small-talk or making fun of its ubiquity? Or, even, both?
Another reading, however, is possible. The romantic elevation of such banal dialogue is the hallmark of that most American art form: the shaggy dog story. It turns out that in Good Morning, getting there is all the fun.
If Randall and the rest of the cast's waving goodbye to us calls attention to the staginess of the ending of Rock Hunter, then Good Morning calmly defuses our expectations for a grand finale by giving us the faint, and therefore poignant, hope for happiness that momentarily displaces the resentments that are played for increasingly high stakes, not because they're not, but because they are, so petty.